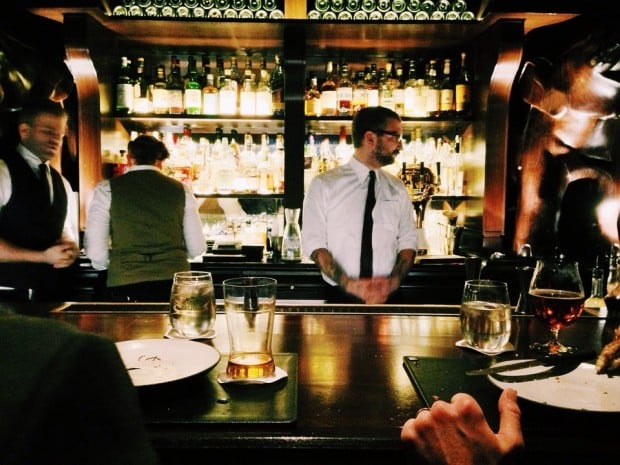 Everybody must have dreamt about it at least once – travelling the world as a job. Although the reality might be different than the dream, it is definitely possible to choose a career that will present great opportunities for travel. Let's have a look at your options.
1. Crew on a cruise ship
You are in your early twenties, you want to travel the world, but you don't have any money. Getting hired on an international cruise ship is the ideal solution. Your life will become a mixture of hostel-style and full luxury. Working on a cruise ship, your daily expenses will be low, since everything is covered. You will even be allowed to use most of the facilities on board. All your money goes straight into your savings. As the cruise ship will be docking in different harbours around the world, you get to see a lot of different places. To be fair, you probably will be working a lot, but hey, it'll be fun and you will make friends from everywhere.
2. Mixologist
Never underestimate a good bartender, because he might be earning more than you, has seen more of the world than you, and can drink more than you. The F&B industry has grown tremendously with conventions and competitions every week somewhere around the globe. For example, follow the podcast of the New York bartender Steve Schneider and check out his life – he is travelling every other week to drink and have a good time.
3. Freelance writer
Guess where I am writing this from right now? No need for an office in my world. Sitting in a café, drinking coffee and smoking a cigarette, while scribbling a few notes – the romantic ideal of a freelance writer is unfortunately just a romantic ideal. In the real world, most freelance writers spend their day in front of a computer, pitching article ideas, researching and writing. During the start of your freelance writing stint, you will end up working all the time, instead of whenever you want – if you want to make money, that is.
4. WWOOF-er
It isn't really a profession or a career, but hey, you can make it into one if you really want to. Willing workers on organic farms (WWOOF) is an international network of farms that allows you to work pretty much anywhere in the world. If you are travelling for a long period (or call travelling your job), then WWOOF-ing is the perfect solution to get by. Arrange a stay in a farm near you – 4-6 hours of work a day will cover your accommodation and food. On top of that, you will meet plenty of interesting people and learn many useful skills.
5. (Extreme) athletes
We are not only talking about the Olympics and other international sporting events. Skateboarding, snowboarding and the likes are no longer just a hobby; they can be real professions as well. Endorsement deals, such as from Red Bull and other companies, allow many extreme sport athletes (as the media calls them) to travel the world doing what they love. You would be surprised to know how often skateboarders travel to Australia, Europe, the US, and even China.
6. Photographer
Not every photographer gets to travel frequently, but if you choose your focus wisely you might be out and about more than you want to. No matter if you will be doing some fashion shooting or documenting global warming – the chances of travelling as a photographer are pretty high. Well, you have to make it in the industry first, though.
7. Flight Attendant
Let's be clear – you will have a messy schedule, your sleep cycle will be wrecked, and your life will be far less glamorous than you think. You'll spend lots of time on the road (or rather, in the air) and in hotels around the world. But if you have the looks, height and all the necessary prerequisites, then you have found your dream job. One of my friends flies weekly to New York and gets a day-off when she is there – every time. It makes me kind of jealous.
Also read: How To Be A Bleisure Traveller
8. Business consultant
This may sound really boring, but working at an international business consultancy firm will get you around the world in less than 80 days. But you should only get into this specialised field if you have the interest. Of course, you need the necessary knowledge and experience too. On some trip you might only see the visiting city on your taxi ride to the airport; on other trips you will have more time.
9. Geologist
Just like the business consultant, you will need very specialised knowledge in your field to be able to travel the world. However, once you are on the road, you will stay on the probably-very-scenic location for a while. You should have more than enough time to go for walks and inspect the area that you are working in. It's not a job for city lovers, as you most likely will be far off in no-man's-land.
10. Interpreter
The life as an interpreter is perhaps not as exciting as Nicole Kidman tried to make us believe in the movie The Interpreter (2005), but if you are in the right position you will be boarding several planes a year. There are plenty of international organisations, such as the UN and the EU, that constantly need interpreters. If you are fluent in one or two exotic languages as well as one or two common languages, you are set for a life of travelling – simply by talking and interpreting.
Of course, it's not all easy as it seems – most of these jobs require you to have a set of skills, and to excel in a particular industry. If you find that none suits you, fret not! Keep on searching, work on your strengths, and set your mind to it. You'll make it around the globe for sure.