There are two kinds of people – those who wonder why anyone would visit Iran, and those who have been there and rave about it. The former don't know they are missing out on gorgeous Persian architecture, a culture steeped in history and many chances to experience Iranian hospitality within modern cities. As for the latter group, they know that all these can be had on a budget without sleeping rough, subsisting on bread and water or evading fares.
Also read: Debunking Stereotypes and Discovering the True Beauty of Iran
Here's the itinerary my two companions and I followed, with some sample costs (S$1 = approximately 25,000 Iranian rial):
Tehran (2 days, plus 1 day at the end)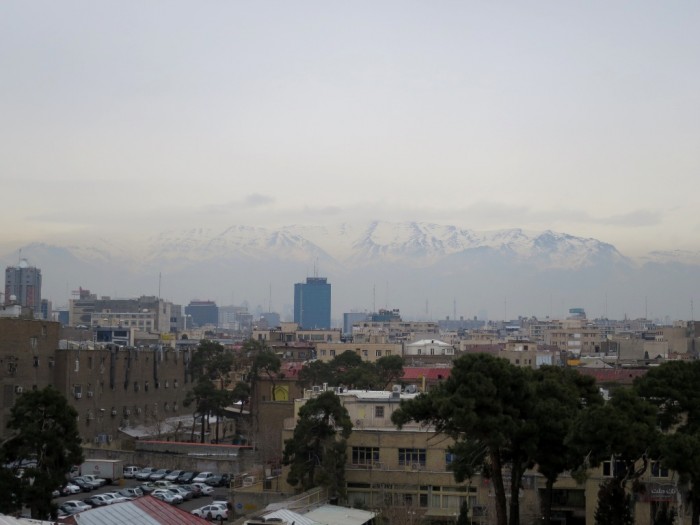 Obtaining a visa at Tehran's Imam Khomeini Airport at 5am was a long, nerve-racking process, but we still got into the city by 8. It's a sprawling city with many alleys, not unlike Bangkok, and the picturesque Alborz mountains to the north.
Getting around is easy with the metro and the BRT (bus rail). Flat fares of 20,000 IRR and 30,000 IRR applies for all single trips. Ladies are better off in the women-only cabins; at rush hour it's every man for himself (and every woman for herself). That said, we found many Tehranis worldly and genuine in their dealings.
The splendour of Golestan Palace is worth a look but the admission charges to different parts can add up quickly. I would recommend including at least the Mirror Hall. From the host of museums we picked the Tehran Museum of Contemporary Art for its collection, which boasts works by local and famous Western artists such as Warhol, Rothko and Giacometti.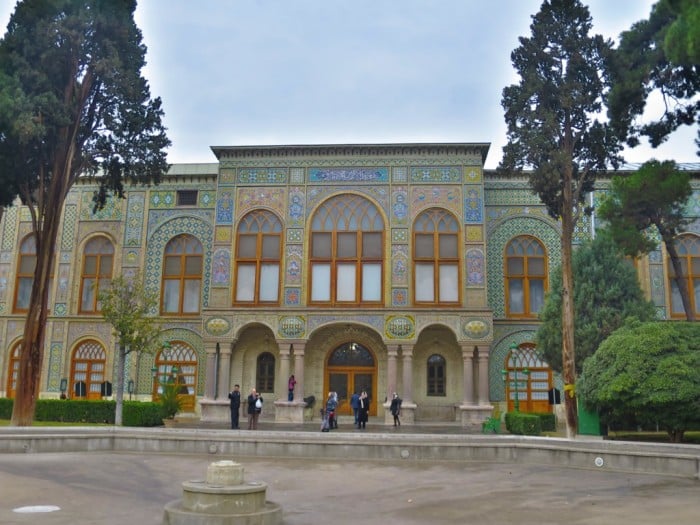 Golestan Palace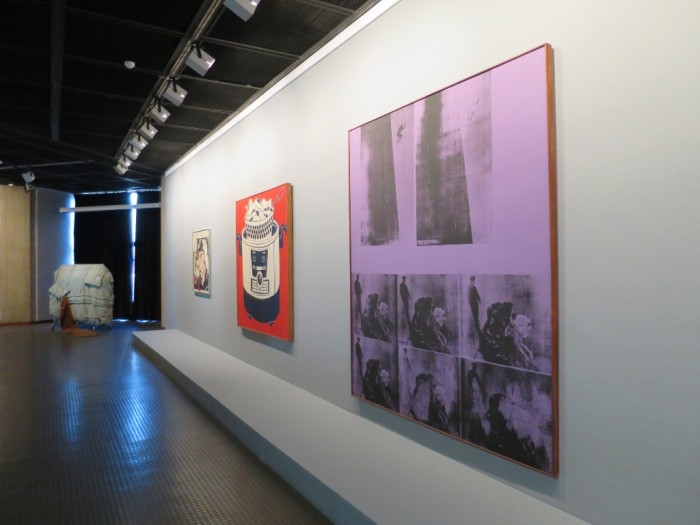 Warhol's Purple Jumping Man at TMOCA
Sample costs
Taxi to/from Imam Khomeini airport (IKA): 650,000/800,000 IRR

1 night in a dorm at Tehran Hostel (yes, that's what it's called): 11 Euro per person
Admission to Golestan Palace and Mirror Hall: 300,000 IRR
TMOCA admission: 150,000 IRR
What we didn't splurge on: Fresh powder is just 2 hours away, up in the mountains, and the ski slopes are very popular with the locals on wintry Fridays. They're cheaper than comparable places elsewhere in the world too.
Yazd (1 Day)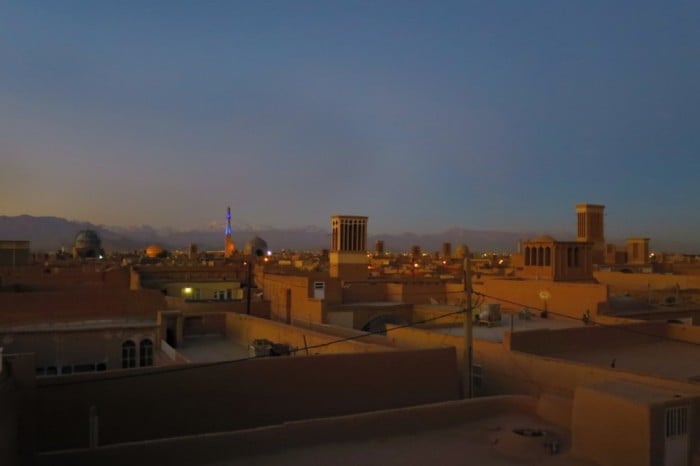 Rooftop view of Yazd
The rooftop panoramas in Yazd are the stuff of dreams. Mudbrick buildings extend as far as the eye can see, punctuated by domes, minarets and wind towers. Sights such as the Amir Chamakh complex and Jameh mosque are free, as is wandering aimlessly around the old city and meeting warm and generous strangers.
Zoroastrianism is a religion that predates the Abrahamic religions but it doesn't get much coverage back home, so we visited the fire temple and the towers of silence. People used to let vultures consume their dead here, a practice so alien to us.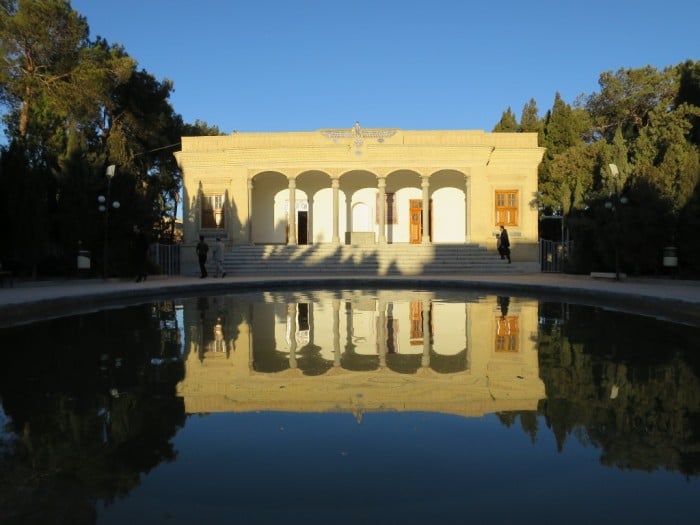 Zoroastrian fire temple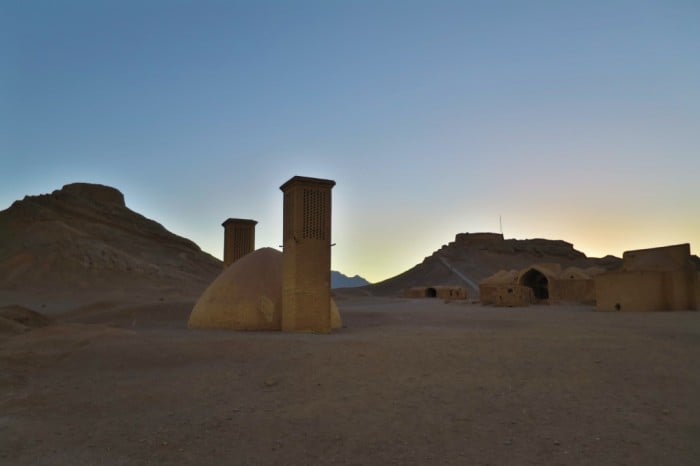 Towers of silence
If there is one wind tower worth paying to enter, the Dowlat Abad compound is one of several UNESCO-listed Persian gardens. Any local architecture student within earshot will spill everything he learnt about the country's tallest wind tower in class, as we found out.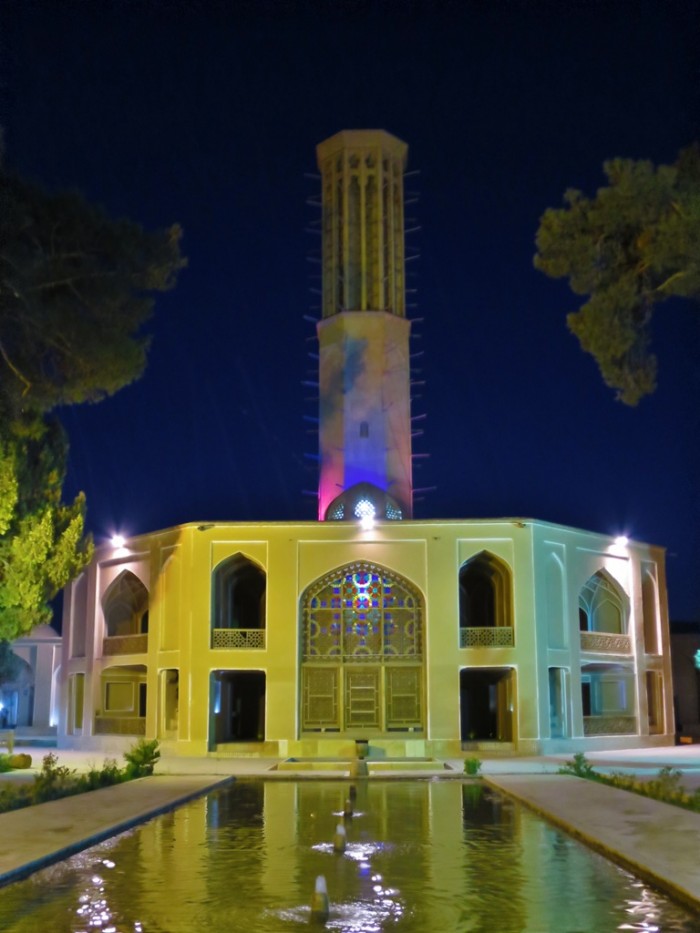 Dolat Abad tower and garden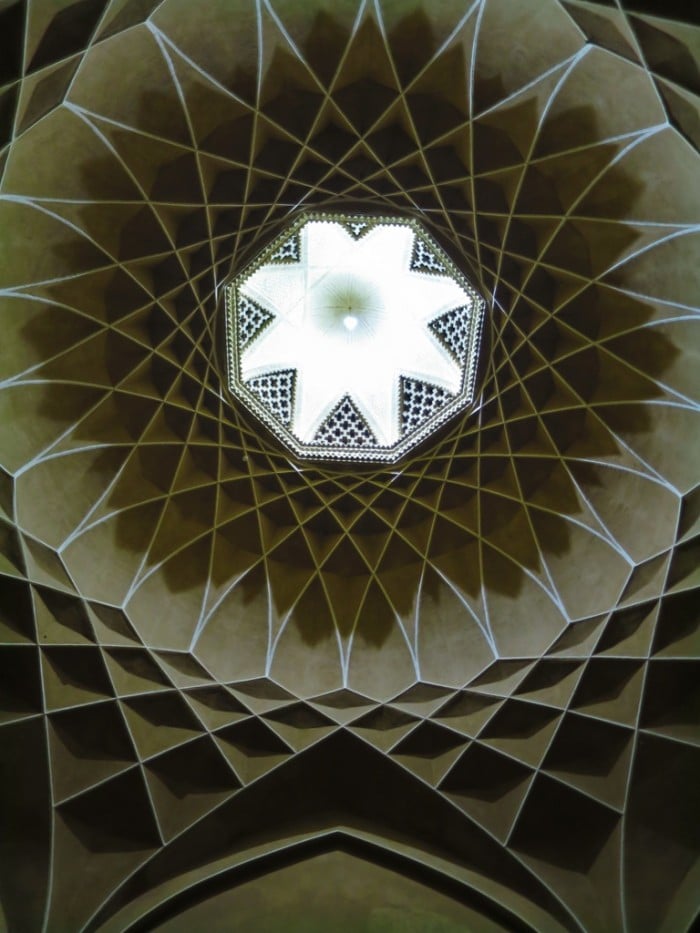 The ceiling inside the wind tower
Sample costs
1 berth in 6-person train cabin from Tehran: 370,000 IRR

1 night in a triple in Kohan Traditional House: 1,600,000 IRR
4-hour tour of Dolat Abad/Zoroastrian temple/tower of silence: $45 + 100,000/50,000/50,000 IRR
Jameh mosque: Free
Rooftop views: Free
Isfahan (2.5 Days)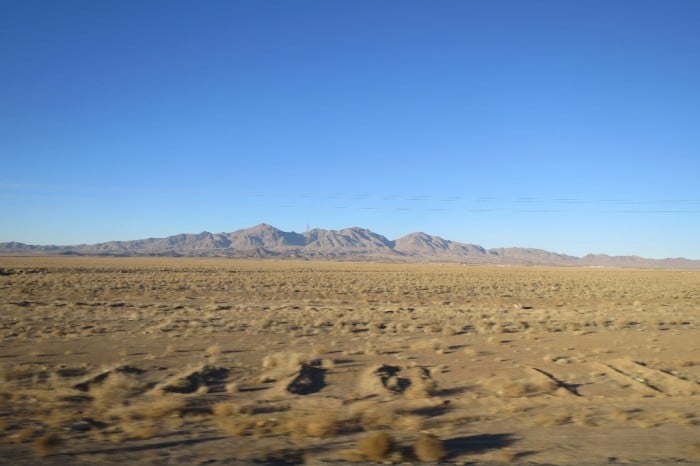 News of David Bowie's death reached us in Yazd. Not being able to read the Beeb's orbituary affected me more than the lack of access to Facebook (thank you, Mr Censor). On the way to Isfahan, it was impossible to gaze out of the window and not wonder, 'Is there life on Mars?'
Naqsh-e-Jahan Square may be second only to Tiananmen in size, but what impressed us even more was the number of unique souvenirs in the shops surrounding such a popular tourist spot. Shops selling gaz (the local nougat), camelbone miniatures and enamelled copperware were a dime a dozen, but we also found antiques, cockerel whistles, pepper and salt shakers and more. Here and in Shiraz, more people started conversations with us to cut a deal but they weren't pushy.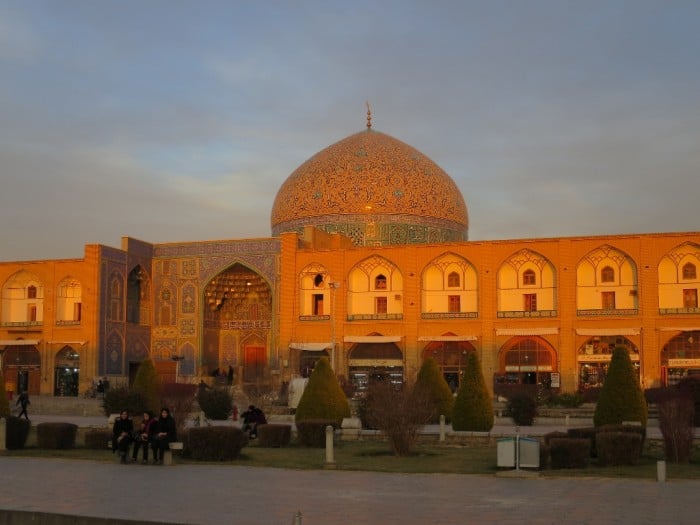 Sheik Lotfallah mosque in Naqsh e Jahan square; just one of the caravan motels connected to the bazaar
On the ancient (and toll-free) bridges, we found people picnicking in the day and taking romantic walks at night.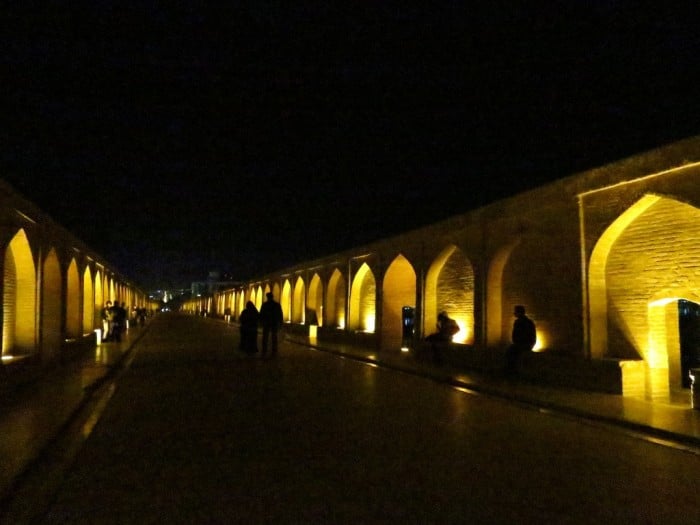 On Siosepol bridge
And in the New Julfa neighbourhood, there is an ornate Armenian cathedral. Practically the entire Bible is painted on its walls and adorn with gold paint and Persian floral motifs. Admission to its collection of liturgical objects, paintings and books is included.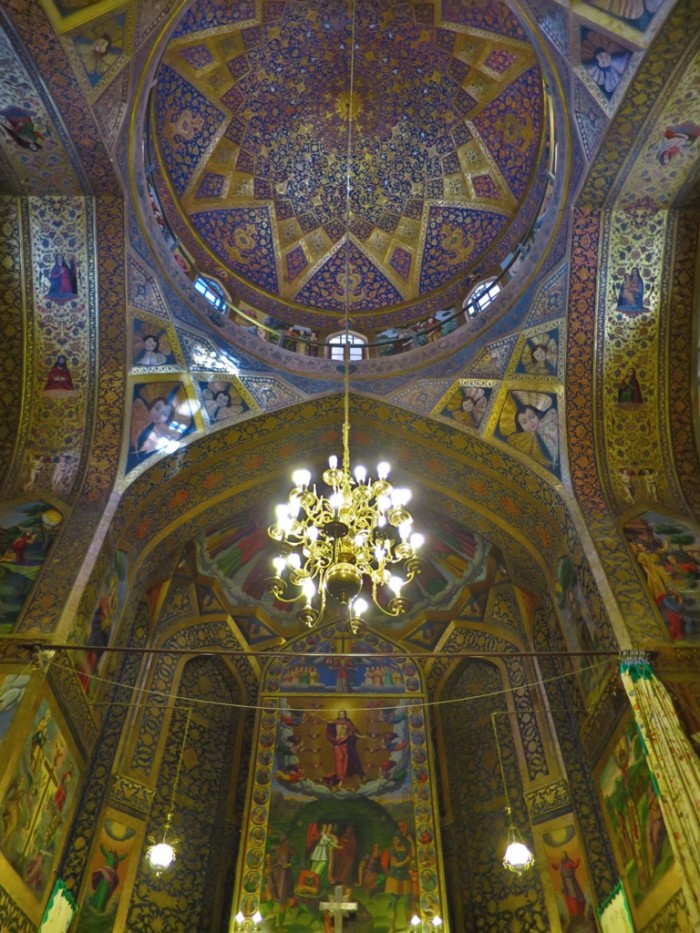 Inside the Vank Cathedral
Sample costs
VIP bus from Yazd: 230,000 IRR

1 night in Hasht Behest Apartment: 2,300,000 IRR
Jameh mosque: 200,000 IRR
Vank Cathedral: 200,000 IRR
Walks on any of the bridges: Free
1 box of gaz: 170,000 IRR
Shiraz (2.5 days)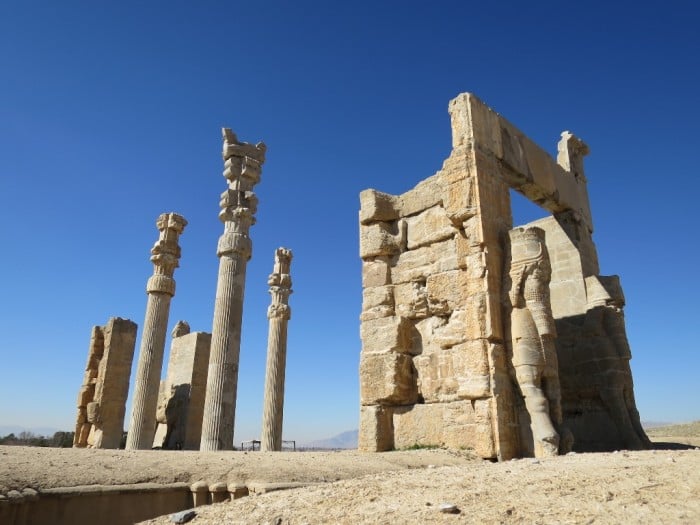 The Gate of All Nations at Persepolis
Shiraz is so packed with attractions that I would never recommend leaving it out, and they include both (relatively) pricey and free options.
It's an hour's drive to the UNESCO-listed ruins at Persepolis, the former capital of the Persian empire.
Remember Xerxes from the film 300? He expanded his father's work here. As with everything else UNESCO-listed in the country it's pricier than other sights in the city.
Also read: Desert Getaways Around The World For The Tough Traveller
The same goes for the beautiful gardens the Iranians built, such as Eram Garden, Karim Khan's citadel and those around the tombs of the local poets. Since we had a book of Hafez's work, we went to the Hafezieh. Only the strains of his poetry set to music broke the tranquillity.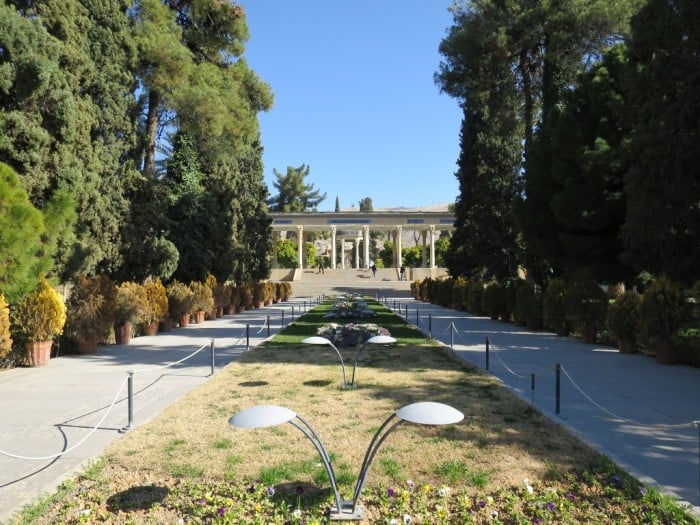 The tomb of Hafez the poet
On the other hand, it costs nothing to watch Shia Muslims revere their martyrs at the shrines of Shah e Cheragh and Ali Ibn Hamzeh. The walls are covered in dazzling mirror mosaics.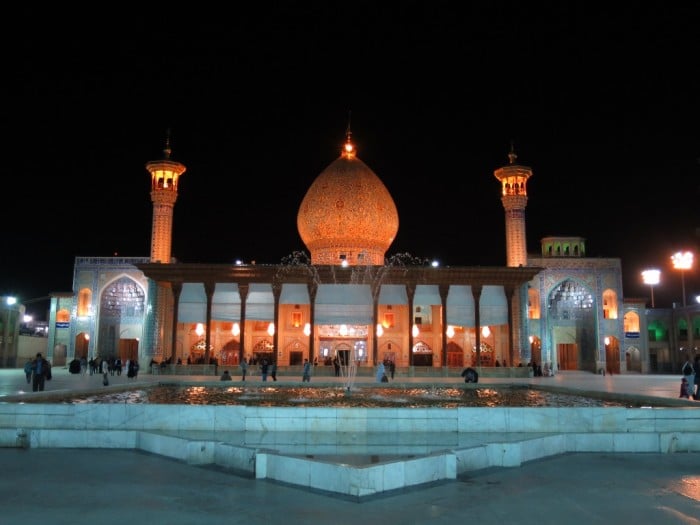 Shah e Cheragh
Inside the Ali ibn Hamzeh shrine
In between the two, the price for a morning at Masjid Nasir al Mulk is 100,000 IRR. Time flies when you're busy taking photographs of the stained glass windows and the pink-tiled vaults.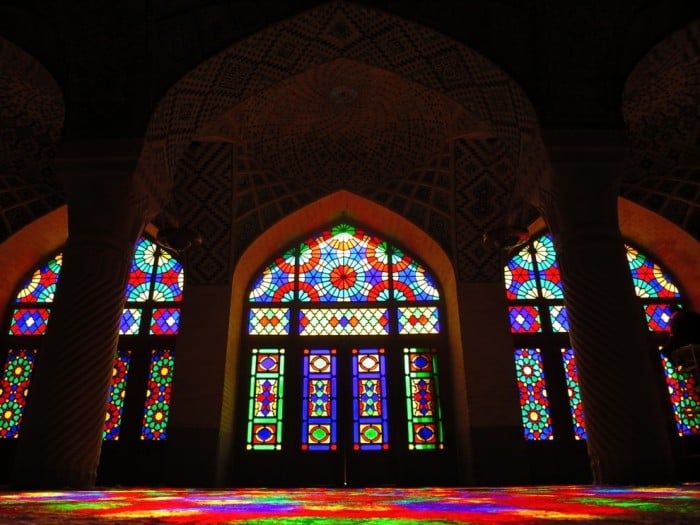 Stained glass at Masjid Nasir al Mulk
Sample costs
VIP bus from Isfahan: 280,000 IRR

1 night in a triple in Golshan House: 2,000,000 IRR

Tour to Persepolis and

Nasq-e-Rostam

necropolis: US$50

Persepolis/

Naqsh-e-Rostam

: 200,000 IRR for each site

Masjid Nasir al-Mulk

: 100,000 IRR

Hafezieh

: 150,000 IRR

Shah-e-Cheragh

,

Imamzayeh Ali-ibn-Hamzeh

: Free

Taxi to train station: 500,000 IRR
Berth in 4-person train cabin to Tehran: 703,000 IRR
Other trip costs
Visa and insurance: 75 Euros

AirAsia return flight – SIN to KUL with baggage allowance: $90
Mahan Air return flight – KUL to IKA: $640
3G SIM card with credit for 2GB: 500,000 IRR
Even I surprised myself by having change left over from US$600 after spending 10 days in 4 cities. Best of all, not a single meal was wasted on instant noodles! Coupled with flights that were also ridiculously cheap, each of us spent less than what some people plonk down for a last-minute flight to Europe.
Budget Tips
Currency
The local currency is the Iranian rial, which you can exchange US dollars, euros or even Chinese yuan for at the airport. While prices are written in rial the way you would expect them, ordinary people prefer to use toman in conversations. They would say 20,000 toman, or just 20 toman, when they mean 200,000 IRR. It takes some getting-used-to.
Did I mention that international credit cards are not accepted yet? While we had to carry all the cash we needed, we took only the absolute necessary, plus a little extra for an emergency flight. The lifting of the trade embargo means this will probably change soon.
Accommodation
The concept of a hostel has been slow to catch on in Iran (there are only two in the capital Tehran) but sociable backpackers will be pleased to know traditional houses have shared dormitories. The private en suite rooms in these places cost only a little more, and there are plenty of hotels in the cities to suit every budget. Most of them have free wifi too.
Solo travellers who are keen on meeting locals will find plenty of hosts on Couchsurfing. Use it for cultural exchange rather than to save money – any savings would be negated unless you can split taxi fares and share tours with other people.
The inability to make bookings with credit cards before the trip wasn't an issue for us. We reserved our accommodation for the first night via e-mail and booked the rest on the go. It's fun and it works in winter; however rooms are hard to come by around Easter as it coincides with Nowruz, the local New Year.
Food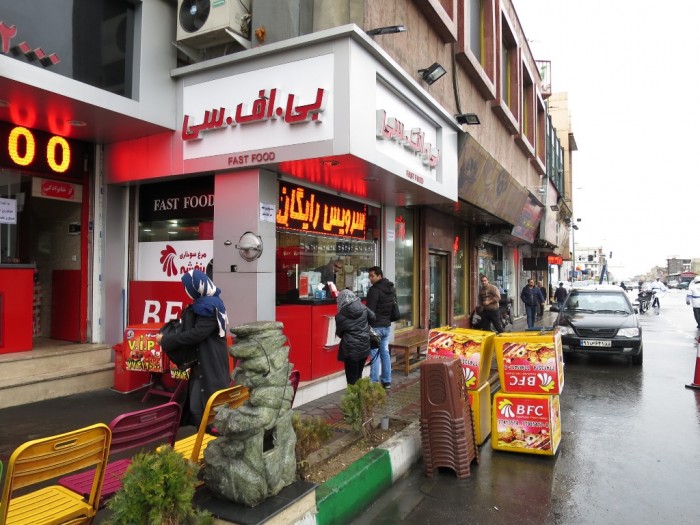 Shops with names like this are not uncommon
$15 – $20 can be set aside for each day's main meals. Our accommodation at the traditional houses included a simple Iranian breakfast of boiled eggs, cucumbers, tomatoes, cream cheese and flat bread. Coffee is not as popular as black tea but an appreciation for quality espresso is growing. There's no need to buy bottled water when it flows from drinking fountains everywhere.
There's no lack of food choices under 150,000 IRR, though you may want to double that for very satisfying restaurant meals. A sales tax of 7% is often tacked on for the latter, but it's still one-third of the price you'd pay in Singapore for massive lamb and chicken kebabs. If kebabs are not your thing, there are stews, thick soups, roast chicken dishes and local fast food outlets.
Also Read: 11 Alternative Destinations to Visit in 2016
Transport
Taxis
In all cities taxis are inexpensive and frequently used by locals. Rides start from as low as 40,000 rial (for less than 5 minutes) and depend on the distance. Just ask the driver when you flag down, then take or leave it. Groups of three or more may struggle to fit their luggage into the boot though, as some taxis have a tank of natural gas in there.
Trains
The overnight trains and buses are a great way to save on accommodation costs. There are mixed and women-only train cabins which are shared among four or six people. The velour seats convert into rather uncomfortable beds but they come with pillows, blankets, fresh linen and refreshments.
Intercity buses
The VIP buses operated by Hamsafar, with their generous leg room and leather seats, feel positively plush in comparison to the trains. Expect no rest stops, however. Ladies' headscarves will also need to stay on throughout the trip, unlike the trains.
Following the end of the trade sanctions, the Iranian government has been working on normalising relations with the rest of the world. The introduction of international credit cards and online bookings will herald an influx of visitors and an increase in prices. Until then, it's still easy to travel independently the old-fashioned way, by making arrangements on the go – and there will never been an easier time or a more beautiful place to try it.