If you're planning to visit the Land of the Rising Sun this summer as part of your next big adventure, Mt. Fuji might be the real deal. Mystical, revered and Japan's national symbol, Fuji-san – as the locals affectionately call it – has appeared in the country's earliest record of literature. In 2013, it was declared a UNESCO World Heritage Site and saw some 300, 000 people climbing its apex, the highest peak in Japan.
While most tourists flock to Mt. Fuji to marvel at its grandeur from a distance, some choose to challenge themselves and experience the mountain's topography up close by hiking to its summit. Climbing season only lasts between early July to mid-September, so now's the best time to make plans for your adventure!
Hiking up Mt. Fuji is known to be grueling and routes are often packed with other visitors, especially during the peak season. Therefore, choosing the right tour group is important for a great experience. This
Mt. Fuji Climbing Tour 2018
package takes first-time hikers right to the top, from only 27,800 Yen (~
SGD $342
)! Departure dates start from 1st July and last till September 9th 2018.
Feeling nervous about your first hike up a mountain? Don't be! The tour guides will ensure that you're always taken care of. There will be an English speaking conductor and an experienced mountain guide guiding you throughout.
Even beginners are welcome, so how about watching sunrise from the summit as a whole family? Furthermore, two delicious meals will be provided during your one-night stay at the mountain hut (vegetarian meals are included in the menu) and all tour members will have insurance coverage.
Read on to see what this thrilling package has to offer!
Day 1
Shinjuku → 5th Station
The big adventure starts from Shinjuku, Tokyo, with 2 professional climbing guides
Start your big adventure from Shinjuku, Tokyo, with your friendly guides welcoming you to the tour family! The bus will take you from Shinjuku to the 5th Station of Mt. Fuji where you will then change into more comfortable clothing to start your hike up the highest mountain in Japan!
If you're worried about wearing the right attire for hiking, the tour offers an affordable rental gear plan so that you don't have to prepare climbing gear in advance. The wholesome
Mt Fuji Climbing Tour package include of climbing gear and equipment
such as headlamps, rain gear, climbing boots, stocks and more will cost you just 36,800 yen (~SGD $451)!
5th Station → 8th Station
Start to ascend to the original mountain hut at the 8th Station.
Slow and steady wins the race! As you hike up the first leg of the mountain, maintain a more relaxed pace and take appropriate breaks as you acclimatize with the surrounding environment. The certified mountain guides will ensure your safety and support you throughout. Breathe in and enjoy the beautiful scenery all around you.

Tomoe-Kan, the mountain hut at the 8th Station
After a day of hiking, rest your tired legs and stay for one night at the famous mountain hut, Tomoe-Kan. Supper will be served here before you get ready to experience sunrise at Mt. Fuji. Help yourselves to comfort foods such as cream buns and hot Chai tea after your early morning hike – you'll definitely need all the energy you can get! As night falls, be mesmerised by the kaleidoscope of glittering stars in the night sky – nature's canvas that is best viewed when you're at a high elevation.
This
Mt. Fuji Climbing Tour 2018
package takes first-time hikers right to the top, from only 27,800 Yen (~
SGD $342
) each! Departure dates start from 1st July and last till September 9th 2018, so there's no time to lose. Get ready for the climb of your life now – resplendent views await you at the peak, with a glorious sunrise to boot!
Day 2:
8th Station → 9th Station
Finally, it's time to get to the top of Japan!

If luck is in your favour, you will be able to catch the beautiful "Kage-Fuji (Shadow Fuji)", a gigantic shadow cast by the cone at sunrise.  
9th Station → Summit (Kengamine)
Enjoy the sweet taste of success when you finally reach the summit of Mount Fuji, the tallest peak in Japan! As you rest after the hike, be blown away by the unparalleled beauty of the rising sun. Get your cameras ready as you watch the sky become awash with golden orange hues – it will definitely be one of your best moments during this tour. Once you've had a good rest, taken enough photos, and admired the magnificent sunrise, begin your descent back to the base.
The party is not over even as you make your way down. At only a small additional cost of 800 yen (~SGD 10), soothe your aching body at the beautiful Benifuji no Yu, a restaurant with a spa, located in the lakeside of Yamanakako near Mt. Fuji.

Soak in the open-air baths where you'll enjoy a dynamic view of the beautiful mountain. The hot springs offer two different temperatures, so you'll be able to choose your preferred option and relax to the fullest.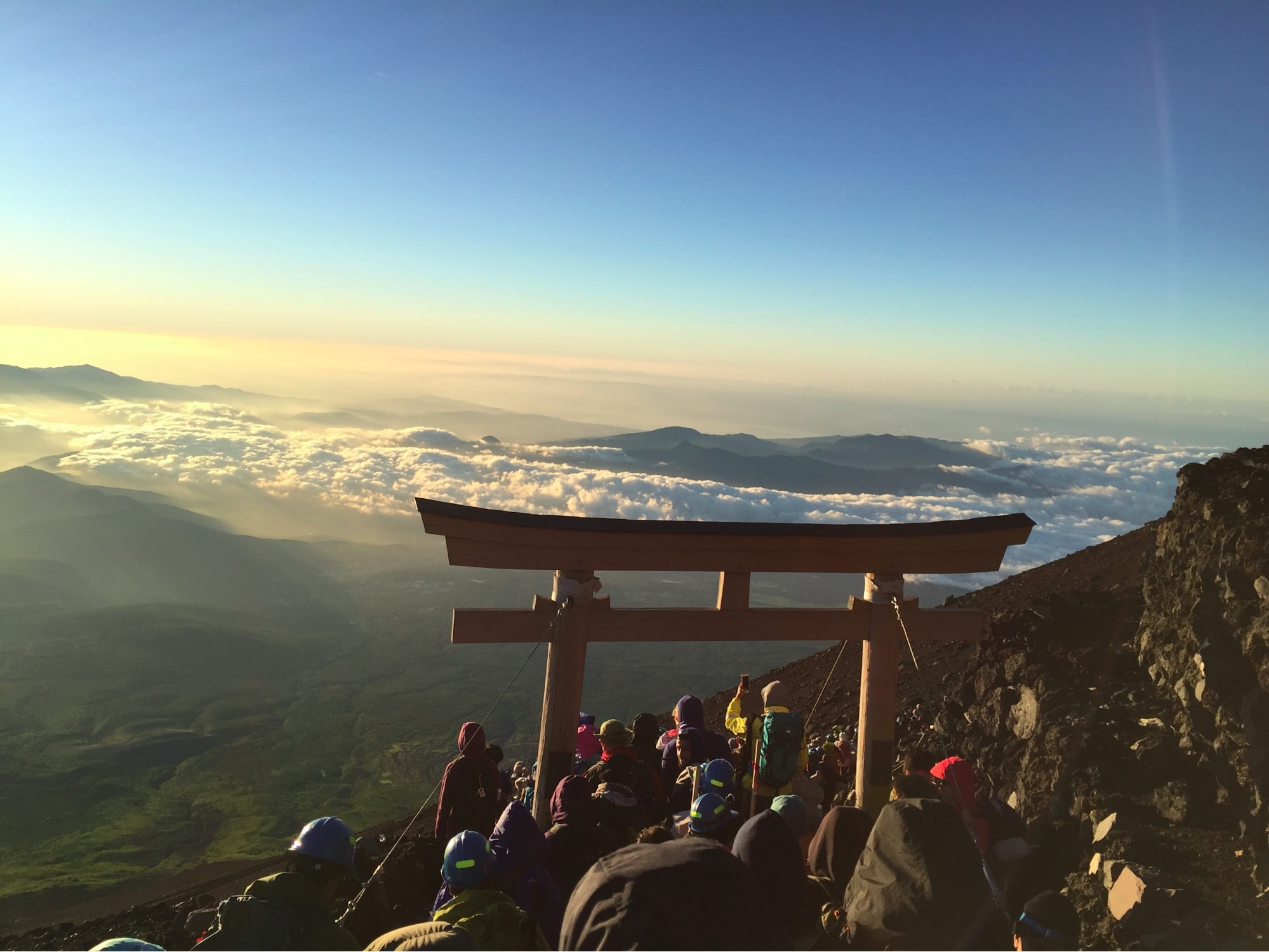 So what else are you waiting for? The Mt. Fuji Climbing Tour 2018 is all you need to truly explore and admire the beauty of Japan's pride, Mount Fuji. Take on the challenge and forge unforgettable memories during your trip. Plus, you can proudly strike "conquering the peak of Mount Fuji" off your bucket list after completing this tour!
---
Brought to you by WILLER, Inc.