Contributed by The Occasional Traveller
Besides getting an education in K-culture and searching for street art on my last trip to Seoul, one other thing I really enjoyed was venturing outside Seoul to experience a Korean winter. The last time I visited Seoul on my first solo trip was in July, and it was in the middle of the rainy monsoon period and quite warm in general.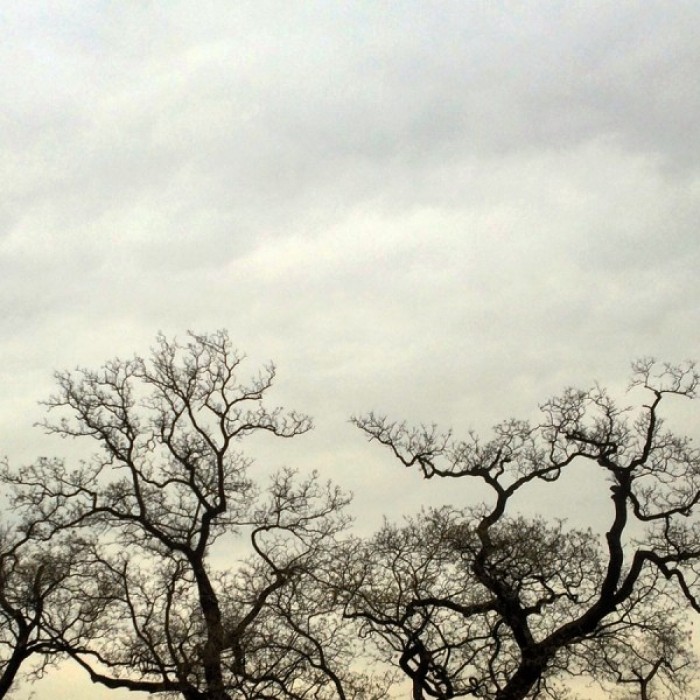 I love bare trees – the shapes are just so interesting!
Also read: 3 Places in Seoul Every Hallyu Fan Must Visit
Korean Tourism Organisation (Singapore Office) invited me to Korea in mid-December 2015 at the start of the ski season, and my fellow Singaporean and Malaysian media entourage spent the trip bundled up like little round balls of wool and Uniqlo-heat-tech every day. Still, we shivered our tropical butts off. Meanwhile our Korean guide and other hosts just looked at us bemusedly and claimed that it was a rather 'warm winter'.
That's right folks, average temperatures when we were there were around -3 to 5 degrees celsius and the locals are pooh-poohing the weather as 'oddly mild' for that time of the year. And that was evident especially when were in the mountains to ski – there was a lot less snow around.
(Later on in Seoul, there would be a day where the temperature dropped to -7 to -1 degrees celsius all day and was deemed 'properly cold')
But still, they had generated enough snow on the ski slopes such that we could still troop out and have a nice time. I hardly got to ski when I was in Melbourne's Mount Buller previously, so I was really looking forward to this!
High1 Resort
We spent one night at High1 Resort at Jeongseum in the Gangwon region, located in the north-eastern part of South Korea. There are several parts to High1 Resort – besides the ski area, we stayed at High1 Hotel (a bit further afield from the ski area – there are other accommodation options right next to the ski slopes) and there is a pretty big casino called KangwonLand which you can connect to by shuttle buses.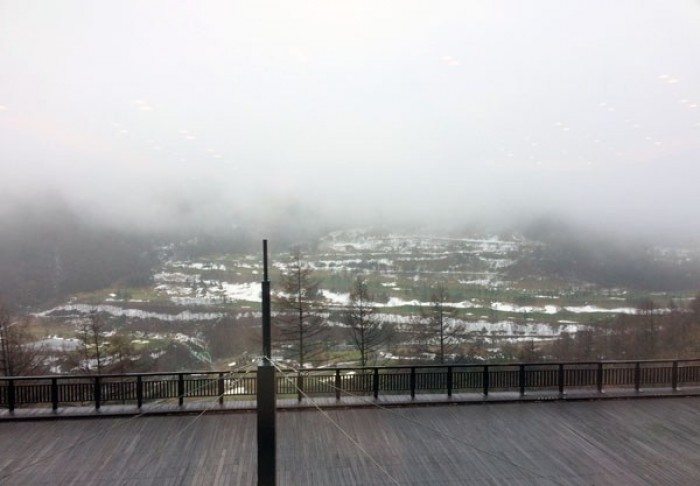 We stayed at the High1 Hotel, it was a really foggy morning when we headed out to ski!
The slopes are open in sessions – we got to ski in the afternoon session which is from 12-4pm – we only had about 2 hours though by the time we had lunch and were all geared up! While most in the media group hadn't skied before, M and I begged off the basic ski instruction and got to try our hand at the beginner slopes.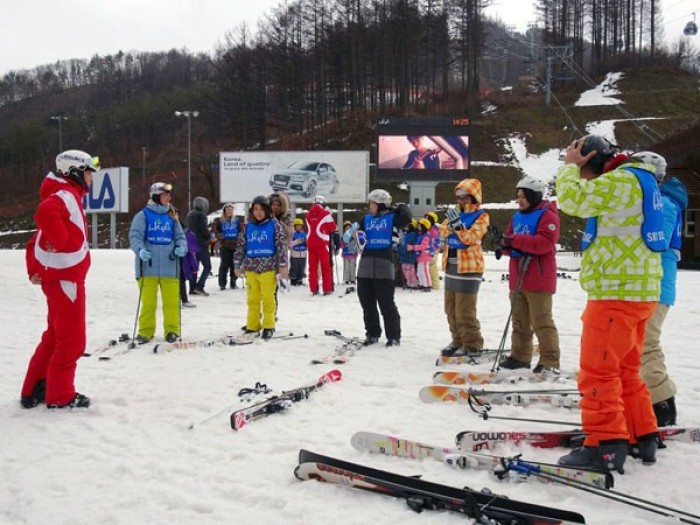 Lots of little groups learning to ski – I'm the all black one in the center. You may notice that there's very little snow on the slopes behind us.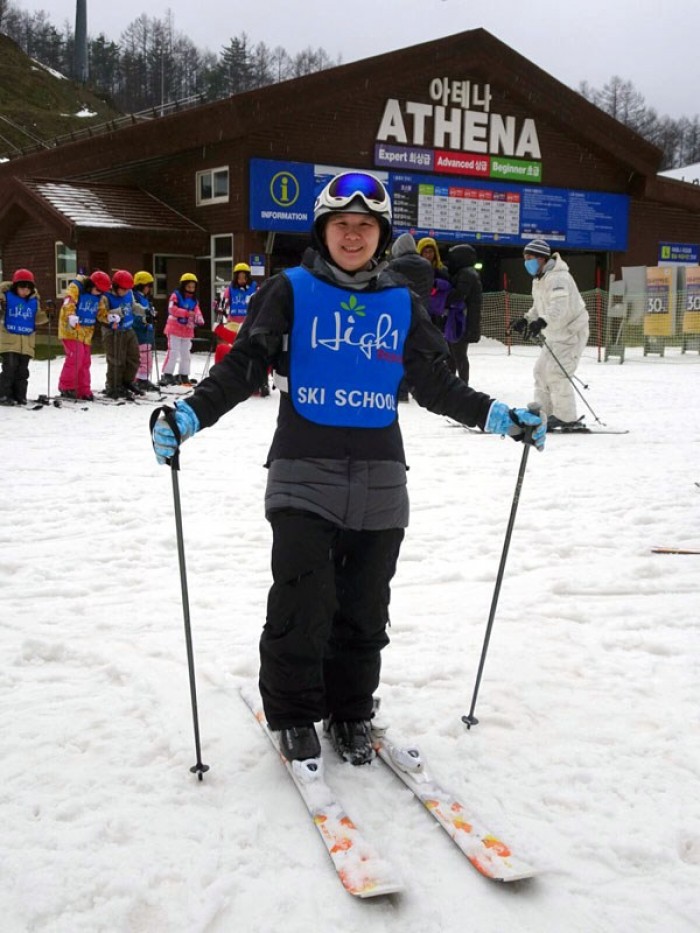 Refresher on removing your skis – all raring to go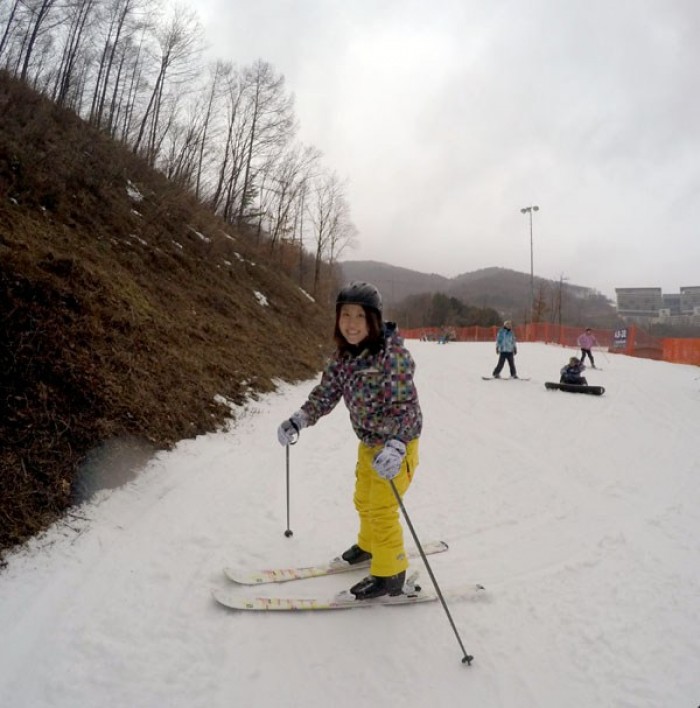 That's M my ski buddy
We skied down from the Mountain Hub to the Valley Hub – You can see an interactive map here. I was trying to identify the route on the map and I think it's Intermediate AT2 – M decided to take a break earlier while I kept on skiing down to the Valley Hub. From there I took a chairlift up, and it took me a bit further up than I expected! I ended up at the Valley Top right about 4pm where our time was up, skied as fast as I could back down to the Valley Hub and then took the Gondola back to the Mountain Hub.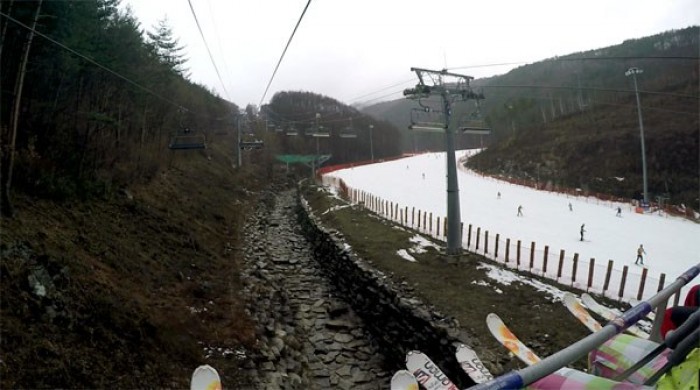 Taking the ski lift up to the top of the slope
I was a lot more careful this time around not to get stuck up an advanced slope with no other way down! I definitely learned my lesson after what happened to me while skiing in Hokkaido a few years back, when I had to be rescued by ski patrol.
Also read: 12 Things You Must Try for Your First Seoul Winter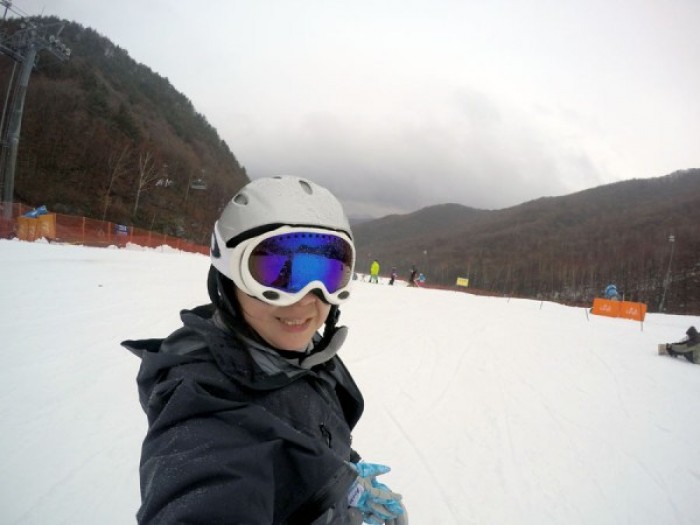 Managed to ski down without any mishaps, wooh for me!
More about High1 Resort over at KTO website.
I did a rough cost estimation for what my 1 afternoon of skiing and overnight stay at High1 Hotel would have cost based on current website rates:
Ski Lift 1-day PM pass (you need this to access the gondolas and ski lifts): 60,000 KRW (a 7.5hr day-pass for 74,000 KRW definitely is more worthwhile!)
Ski Equipment Half day: 24,000 KRW (again, a day time rental is just 28,000 KRW)
1 night x standard room at High1 Hotel: 160,000 KRW
Alpensia
The next day before heading back to Seoul, we headed up north to Pyeongchang where we visited Alpensia. While we didn't have time to ski here, our hosts took us to check out the Ski Jump Tower, one of the main sites for the Pyeongchang Winter Olympics 2018! You could see quite a lot of construction going around despite the cold weather as they gear up and ready the place for the next Winter Olympics.
As you can see, it was another fine 'warm winter' day. Let me just say though that it was really, really windy and that windchill factor was like woah~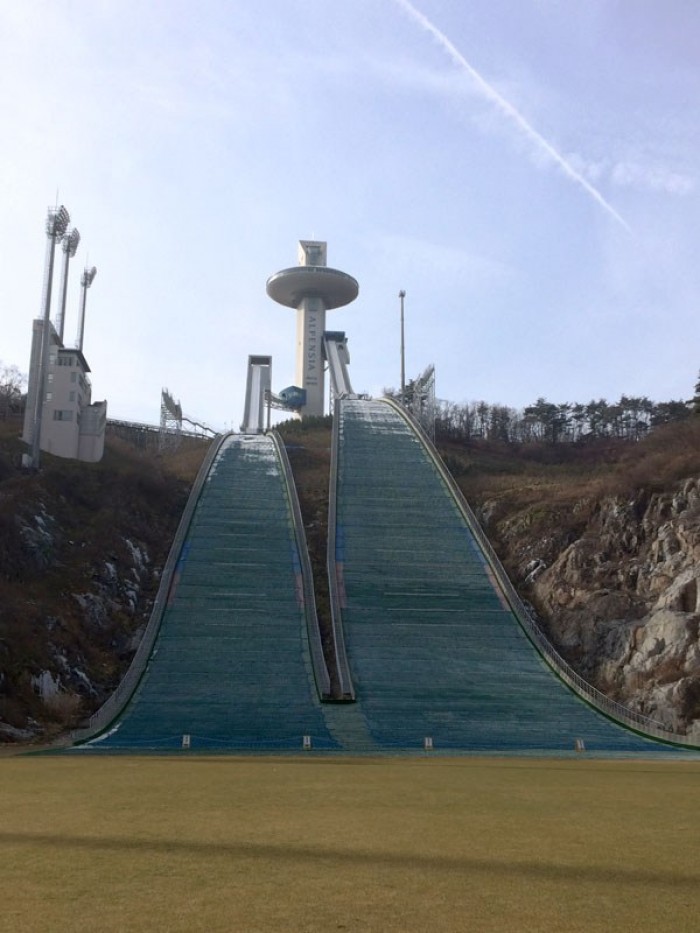 I can't imagine sliding down that! I already get a bit nervous about my speed on the beginner ski slope, something like that is… quite unimaginable
We took a mini tram from the field up to the base of the tower. From there we took a lift up to the ski jump platform – you can visit the top of the tower, but the ski jump level is not open to the public, so it was a really cool experience for us to see what it would be like for the athletes up there!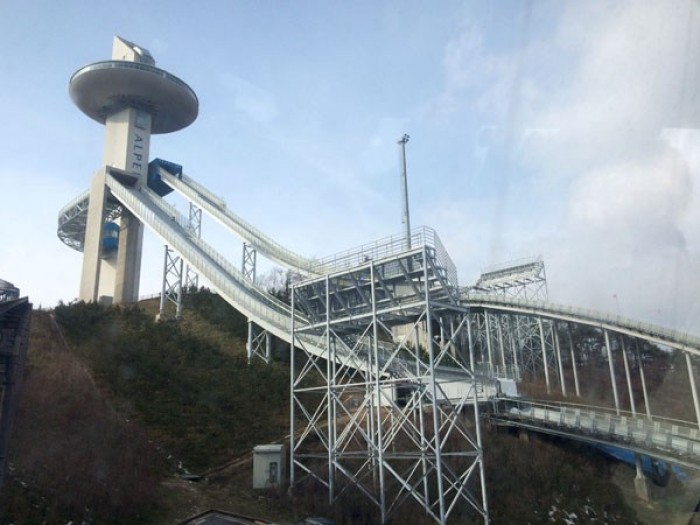 we would take the lift up to the platform on the left hand side (the slightly lower ski jump)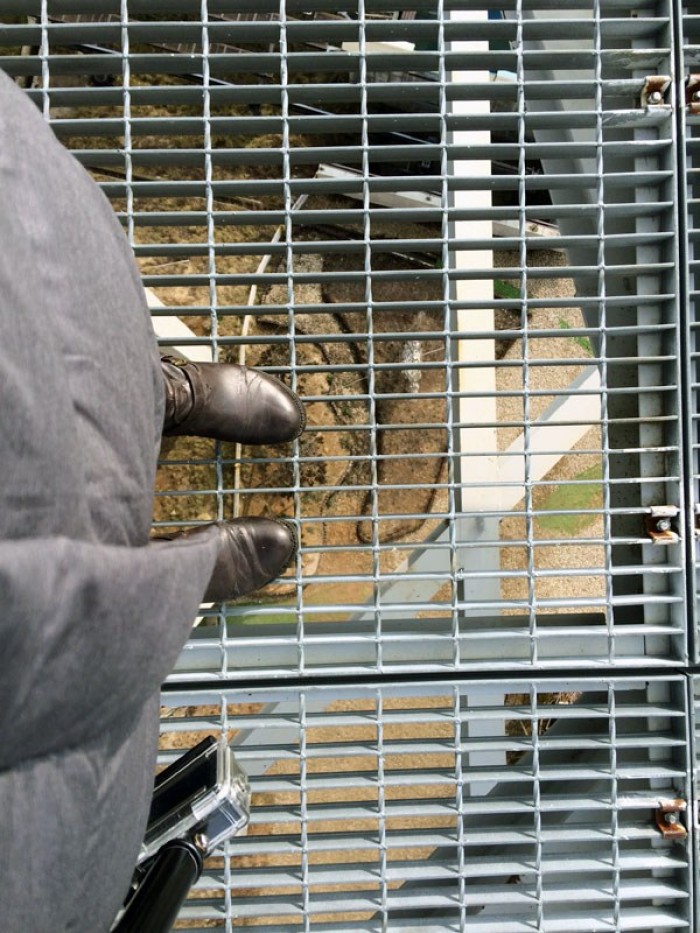 Good golly looking down was scary stuff! Also, I thought it was windy  below but up here it's like, 2x windier my gosh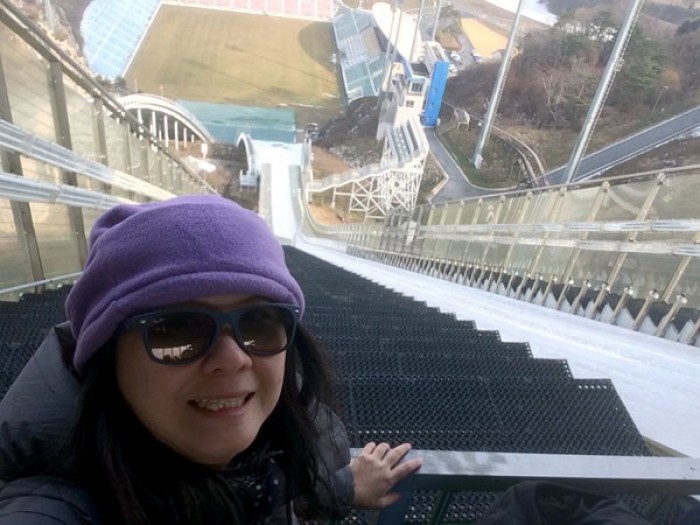 That white ramp on the side? That's where the ski jumpers slide down, down, down all the way and land in that field down below. It's pretty surreal and scary!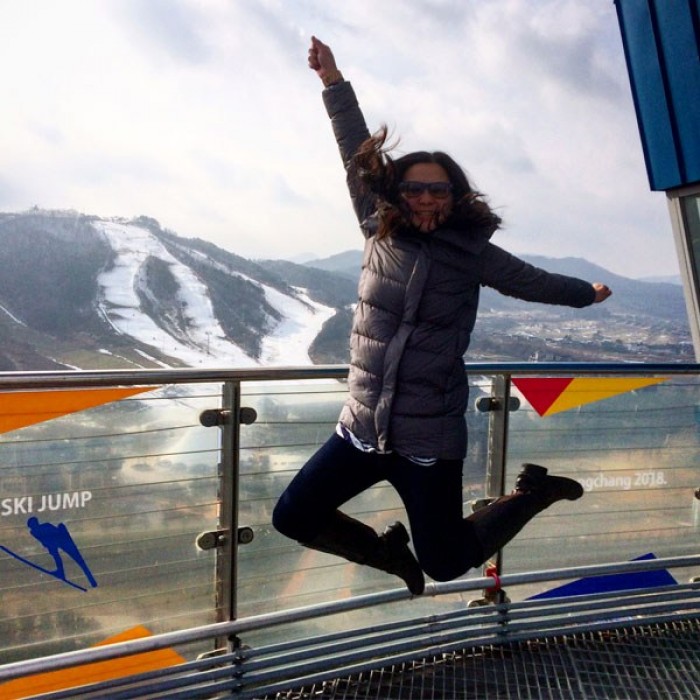 Of course, obligatory jump shot with the Alpensia ski slopes in the background! It was a lovely clear day even if it wasn't snowing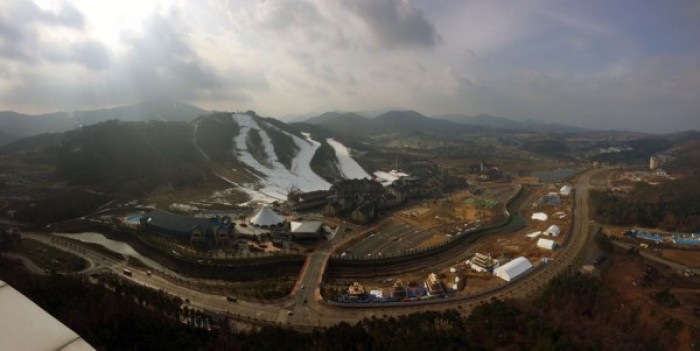 Here's a more panoramic view of the area from an outside terrace – the ski slopes are on Mount Balwangsan, and if you notice to the left there is a blue bit – there's a water park here! In summer when there's no skiing, this place still continues to thrive with its other entertainment options. There's also a huge concert hall here for K-pop fans!
Again, many thanks to Korea Tourism Organisation (Singapore Office) for this trip to Korea and letting me see a different side of Seoul and its surroundings! They are a great resource for all things Korea.