Malaysia is no doubt one of the best destinations for a quick weekend getaway from Singapore, considering the proximity of these two countries. It is a destination with endless possibilities too – whether you're looking for a beach, shopping or food getaway, there is a destination perfect for you. To give you some ideas for your next weekend getaway, we have gathered 12 of the best travel destinations in Malaysia.
Watch the video here:
Beach Getaways
1. Rawa Island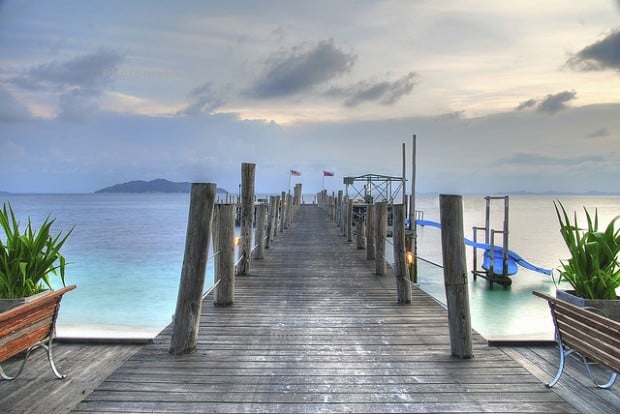 Image Credits: Yiping Lim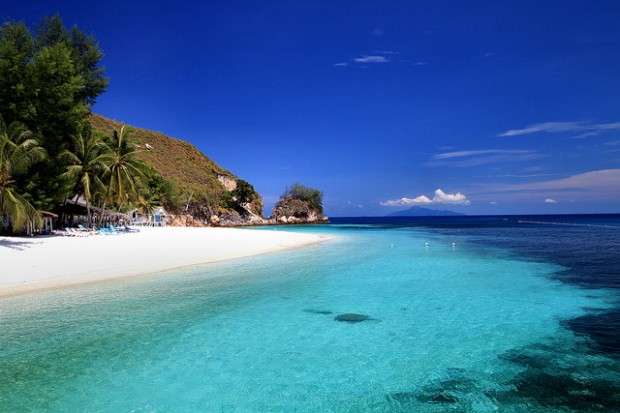 Image Credits: Phalinn Ooi
Located 16 kilometres from the east coast of Malaysia, Rawa Island is one of Malaysia's beach paradises. This island only have two resorts, but plenty of sunshine and gorgeous beaches. Go snorkelling to admire the reef fish and corals that live off the coast, or simply swim and enjoy the crystal clear waters. With quite a number of activities available on Rawa island, you will not be bored on your weekend getaway. This is the place to go to if you are looking to get away from the city.
2. Tioman Island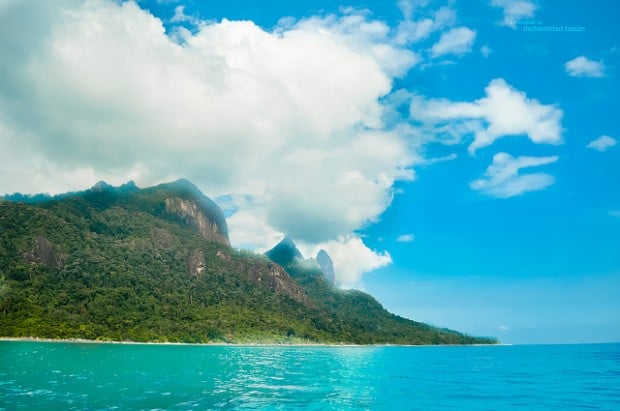 Image Credits: Mohammad Hasan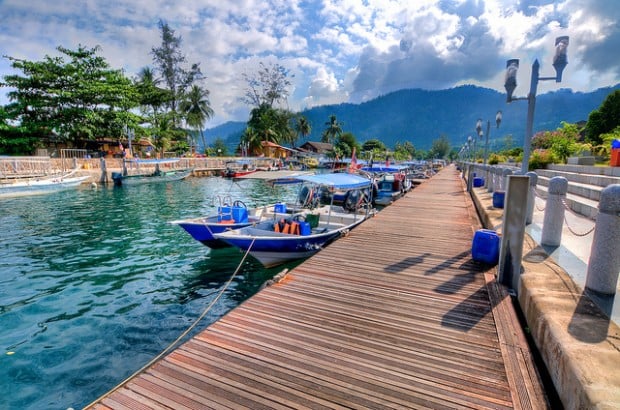 Image Credits: Adib Wahab    
Although Tioman Island is a little far away from Singapore – a bus ride to Mersing plus a ferry ride to Tioman – it is definitely worth the journey. With beautiful cerulean waters and white sand beaches, Tioman is a heaven for beach lovers. Other than just lazing on pretty beaches, visitors can go fishing. And if you love turtles, you can also head down to help with hatcheries like at the Juara Turtle Project, where turtle eggs are collected to be hatched in the hatchery and then the baby turtles are released into the wild.
3. Port Dickson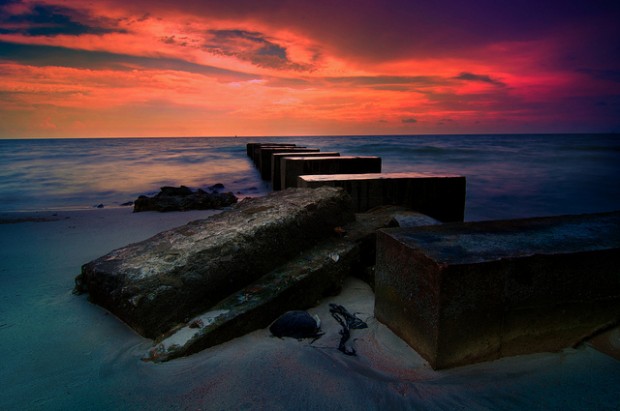 Image Credits: Raffaello Rodiman
A 3.5 hour drive from Singapore, Port Dickson is an excellent destination for those who are looking for a quick beach getaway. With amazing waters and a sea breeze to enjoy, Port Dickson is the ideal place to sit by the beach to enjoy a good book or watch the sunset.
Also Read: 8 Obscure Islands in Malaysia for an Exotic Beach Vacation
Cultural Getaways
4. Georgetown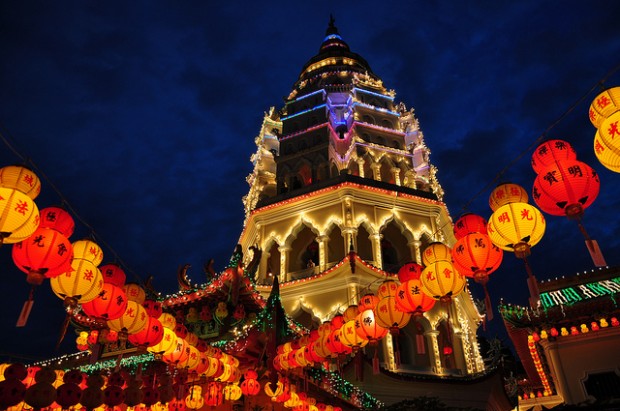 Image Credits: Cindy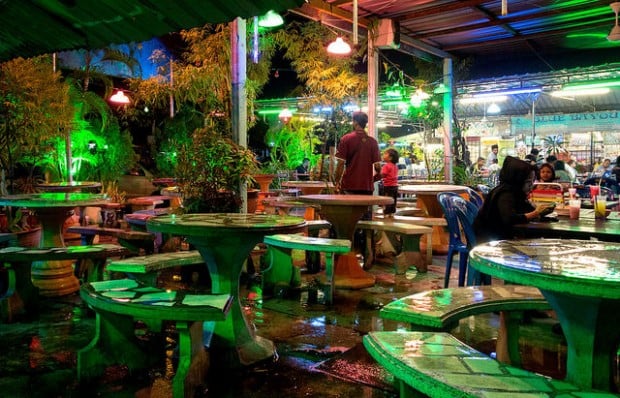 Image Credits: stratman² (2 many pix!)
Penang is a mere 1.5 hours away by flight, which makes it an ideal destination for a weekend getaway or even a day trip! Take a walk down the streets of Georgetown, which are edged with wonderfully preserved buildings. These preserved houses have granted Georgetown, like Malacca, UNESCO World Heritage Site status. Of course, one must not miss out the food in Penang. With many famous eats having fantastic Penang variations (like Penang laksa and Char Kway Teow), you will be spoilt for choice!
Also Read: Penang Food Guide: Best Places to Eat as Recommended By a Local
5. Ipoh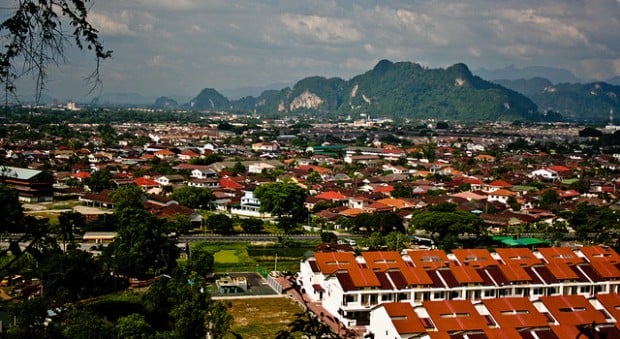 Image Credits: Robert A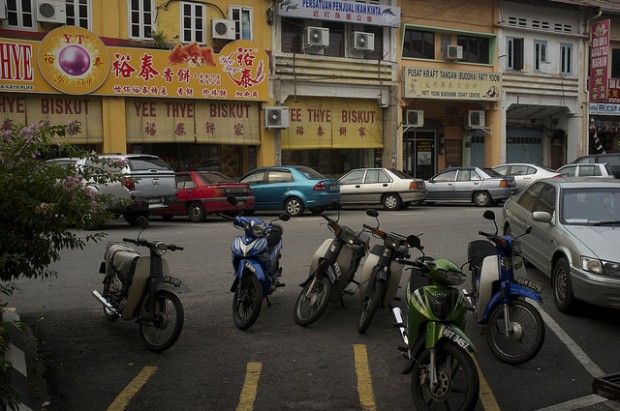 Image Credits: Aleksandr Zykov
Ipoh may not be the first place that comes to mind when think of places to go in Malaysia, but Ipoh offers all the conveniences of the city with the laid-back vibe and charm of the countryside and delicious food. To top it off, is only a 1.5 hour plane ride away.  So what is there not to love about Ipoh?
Also Read: 7 Reasons Why Ipoh Makes a Great Weekend Getaway
While in Ipoh, you have to try the white coffee from Sin Yew Loong, which is widely considered the best white coffee in the city, as well as the Ipoh hor fun which is famous all throughout Malaysia and Singapore. While you are in Ipoh, you can also take a look at the largest cave temple in Malaysia which is only located a few kilometres outside of Ipoh.
6. Malacca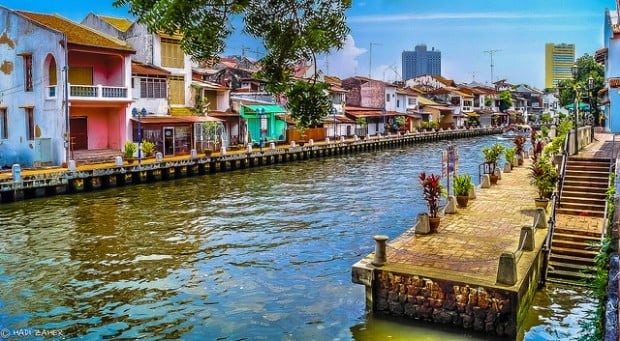 Image Credits: Hadi Zaher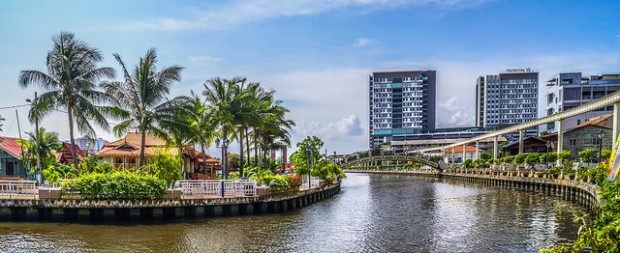 Image Credits: Hadi Zaher
Malacca is a city steeped in culture and heritage. With the oldest functioning Catholic church, mosque and Buddhist temple in Malaysia, Malacca is a one-stop destination to learn about different cultures. Architecture buffs can also enjoy the shophouses that can be found in Malacca's Old Town. Malacca's cultural richness has not been lost on the world either – Malacca was designated as a UNESCO World heritage site in 2008.
Shopping getaways
7. Johor Bahru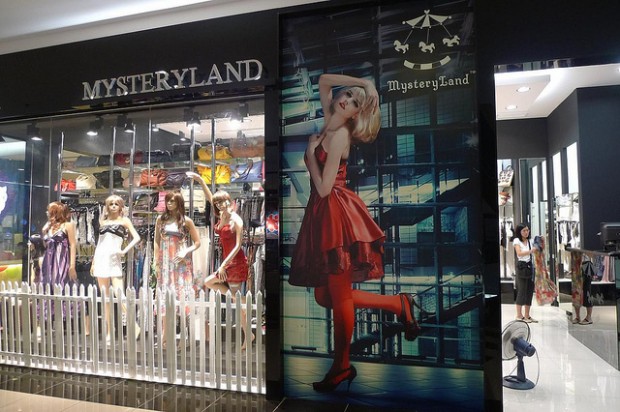 Image Credits: Walter Lim
Johor Bahru has always been a perpetual favourite among Singaporeans heading to Malaysia, especially the budget conscious. So why not take a trip across the border? With affordable shopping, cheap food and theme parks like Legoland and the Sanrio Hello Kitty town, Johor Bahru will keep the whole family entertained and happy.
8. Kuala Lumpur

Image Credits: LWYang
Kuala Lumpur [fzPrice]kul[/fzPrice] has everything you could dream of for a city getaway. While shoppers with big pockets can head over to glitzy malls to purchase the latest in branded goods, bargain hunters can scour the pasar malams (night markets) to get the most bang for their buck.
Adventure getaways
9. Langkawi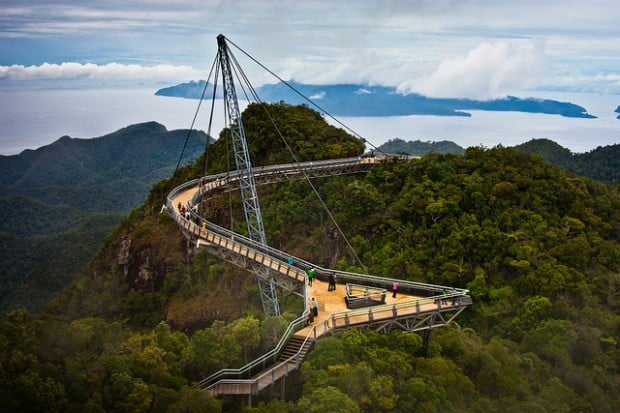 Image Credits: Jim Boud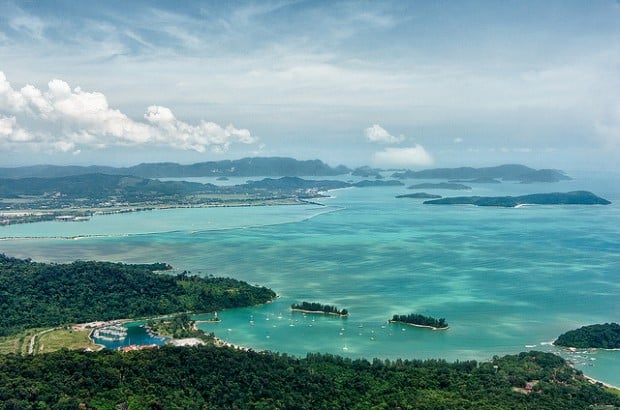 Image Credits: Jakub Michankow
Langkawi is accessible from Singapore via a 1.5 hour flight and is also an excellent place for a weekend trip, especially for the adventure seekers.
Instead of going cafe-hopping and being surrounded by the occupational hazard of eating way too much food, why not go island hopping instead? With many interesting rock formations to admire and sparkling waters to enjoy, visitors are bound to find Langkawi amazing. Those who enjoy scenic views can head to Langkawi's sky bridge. Built on top of the Machinchang Mountain, the bridge offers stunning aerial views of the forest beneath and the seas beyond.
10. Kuching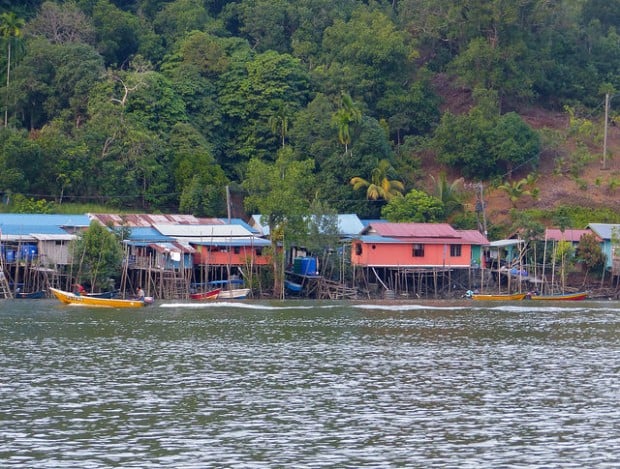 Image Credits: Bernard DUPONT
Also a 1.5 hour flight away from Singapore, Kuching is another destination that adventure junkies must have on their radar. Kuching's verdant rainforests have great hiking trails, perfect for day hikes or long distance treks. Kayaking is also another excellent option, both for an alternative way to experience the rainforests of Sarawak and for the physical kick of the entire matter.
11. Kuantan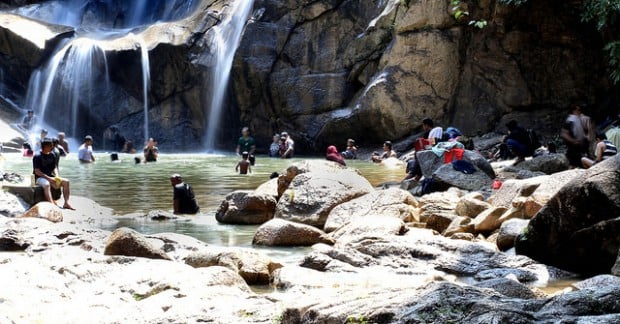 Image Credits: Phalinn Ooi
Kuantan is a mere 1 hour flight from Singapore and it is a fantastic destination for those looking for a little bit of an adventure on a weekend trip. Start your day with an drive and hike to the picturesque Rainbow Falls waterfall where you can take a dip in the water and admire the greenery. Afterwards, have an unforgettable exploration adventure down at the Sungei Lembing mines.
Speciality getaway
12. Kahang Organic Farm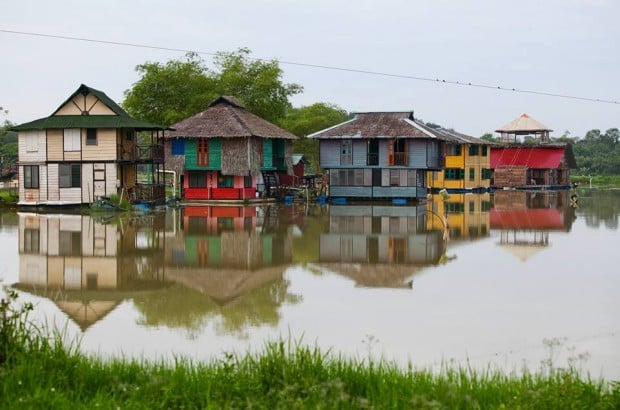 Image Credits: Kahang Organic Farm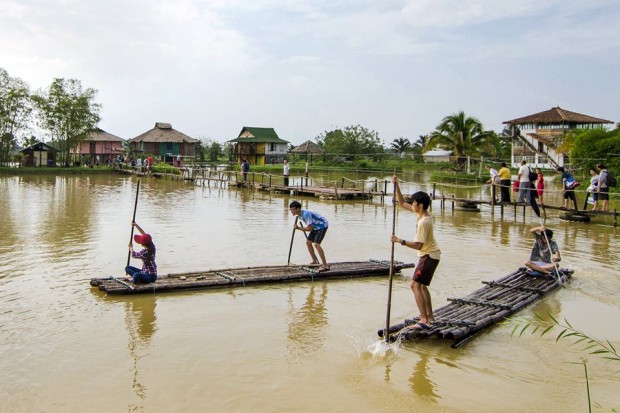 Image Credits: Kahang Organic Farm
A getaway at Kahang Organic farm is heaven for those who want to get a glimpse of the kampung life. With accommodations that are a throwback to the times when kampungs were the norm, and activities like bamboo rafting, trawling for fish and even barbecuing, you can unleash your inner kampung child here.
Ready to make a trip to Malaysia? Pick your destination and pick a great travel deal now!