Most people know Penang as a city of glorious street food, quirky street murals, and charming heritage buildings. However, did you know that there are also many options for a much-need Penang nature escape?
From the timeless Penang Hill to newer attractions like The Habitat, Penang is a treasure trove of exciting nature escapes. Here are 10 must-see attractions in Penang for all nature lovers looking to experience this underrated side of Penang!
1. ESCAPE Theme Park
Nothing speaks fun and excitement more than ESCAPE Theme Park. For the uninitiated, ESCAPE is often touted as one of the best theme parks in Malaysia. It offers exciting activities for the whole family. In fact, you're guaranteed to have so much fun that you won't even look at your phone screen!
Out of all the enjoyable activities in the theme park, ESCAPE Water Park is the most popular among tourists and locals. As the name suggests, it is a watery wonderland filled with enticing rides and attractions.
If water slides and mega drops into the pool aren't your thing, you can also take part in adrenaline-pumping activities in the jungle zone. Live the life of a jungle explorer as you trek through the verdant jungle trail. You can even soar across the air like a bird as you zipline through the lush trees in the area!
With so much to see and do, we're left to wonder why we'd feel bored without our smartphones in the first place!
2. Penang National Park
When we mention 'national park' in Malaysia, most people immediately think of the massive Taman Negara in Pahang. And while Malaysia's oldest rainforest is indeed a magical experience in its own right, did you know that Penang has its own national park that's often overlooked?
Covering an area of 23 square kilometres, Penang National Park is the smallest of its kind in Malaysia – but don't let its size fool you! There's plenty to do in this nature escape filled with alluring scenery and untouched nature.
From thrilling jungle walks to pristine beaches, Penang National Park is proof that sometimes, good things come in small packages.
There are multiple jungle trails here that you can trek through, some of which hug the mesmerising coastline. You can even head for a refreshing dip at some of the swimming holes along the way! 
Feel free to hop on a boat and be ferried to some of the most pristine beaches in Penang. You won't want to miss Teluk Duyung (also known as Monkey Beach) and Pantai Kerachut, which is a highly recommended spot to have an enjoyable picnic with loved ones.
3. Taman Rimba Teluk Bahang
For a more rustic nature escape, head on to Taman Rimba Teluk Bahang (or Teluk Bahang Forest Park). This is where you'll get a chance to fully take in and admire the rich biodiversity of Penang's rainforests. Since many of the trekking trails here are untouched, come prepared for a more challenging experience.
For those just looking for a relaxing day away from the heat and monstrous crowds in the city, you can also enjoy leisurely strolls underneath the cool shade and frolic in the dipping pools. If you're travelling with friends or family, you can also plan a picnic here. Enjoy a light meal as you soak in the calming sights and sounds of the forest.
4. Entopia by Penang Butterfly Farm
We can't all be Disney princesses (or princes), but if you've ever wanted to walk among a dazzling troupe of over 15,000 free-flying butterflies, you certainly can in Penang! Entopia by Penang Butterfly Farm is a massive living garden vivarium that has quickly become one of the top nature attractions around the city.
You'll be able to walk among colourful butterflies of various species in the Natureland, the main attraction. Make sure to take part in the special "Release a Butterfly" programme! As you might have guessed, you'll be given a container holding a butterfly that's about to enter the dome for the very first time. Make a wish and open the container, then watch as the butterfly carries your wish closer to the heavens!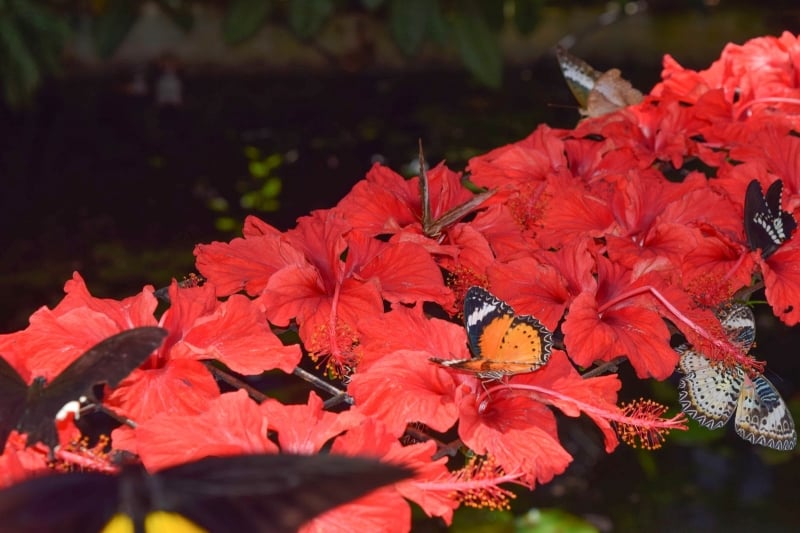 Besides the Natureland, there are various activity and learning centres designed to educate visitors on the lifecycle of these magnificent creatures. At the Breeding Ground, you'll find the cocoons and pupae of the butterflies. When we were there, we were lucky enough to witness a butterfly emerging from its cocoon right before our eyes! So, you might want to stick around for a bit when you're visiting.
5. Penang Hill
There is no attraction in Penang quite as iconic as Penang Hill. This timeless destination has graced many a postcard and is the sight to behold in Penang. Everything from the classic funicular to the lush greenery at the summit exudes an irresistible charm that keeps visitors coming back.
When you board the funicular, try to get in at the front. While the journey takes a mere ten minutes, seeing the city blocks gradually give way to emerging fauna and flora as you ascend to the top of Penang Hill is quite the experience. Some might even say it feels magical!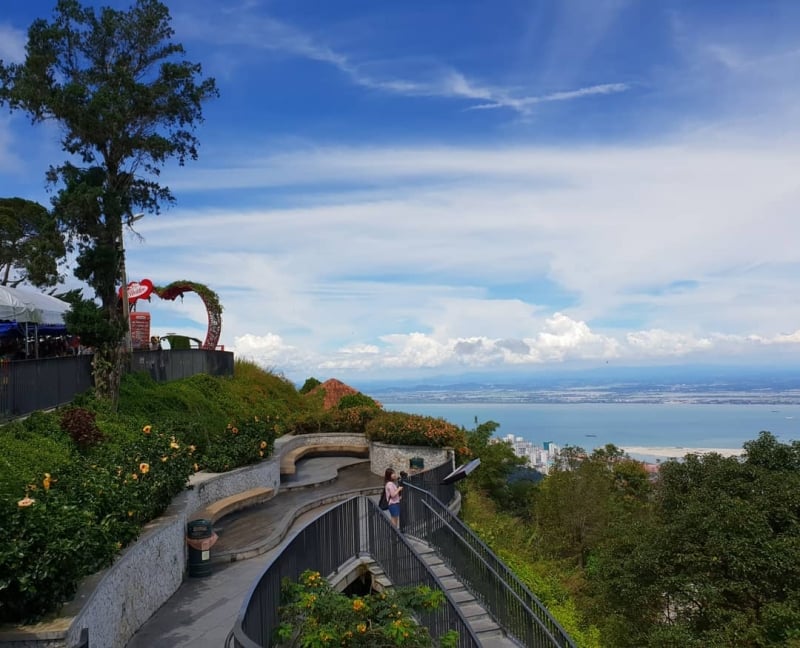 Upon arriving at the top, you'll be treated to some truly spectacular views of Penang. On clear days, you can easily spot some of the city's iconic buildings like KOMTAR and even the Penang Bridge. You can also visit some of the cultural buildings in the area such as the Penang Hill Mosque. As icing on the cake, there are several quirky attractions like the Owl Museum and Love Lock Bridge!
6. The Habitat
A short ride away from Penang Hill is The Habitat, a natural haven nestled within Penang Hill's virgin jungle reserve. If ever there was a place in Penang to escape the hustle and bustle of city life, this is it! Here, you'll have unrivalled access to Penang's plethora of rainforest habitats (pun not intended), allowing you to experience one of the oldest rainforests in the world like never before.
Apart from crazy beautiful views (the Curtis Crest Tree Top Walk is the highest viewing point in all of Penang), you might even run into rare rainforest critters while you trek through the dense rainforest trails and canopy walks! And if that doesn't sound exciting enough, then the Habitat's latest attraction is sure to get you off your seat.
The Colugo Zip is a thrilling adventure course that will get your adrenaline pumping. Comprised of five ziplines, an abseil and a rope bridge, the course offers you the chance to see the beauty of Penang's rainforests from an all-new aerial perspective.
Up high with the singing birds that call The Habitat home, you'll glide from tree to tree alongside trained rangers as you take in the beauty of the forest in an experience you'll keep with you for a lifetime. How's that for a Penang nature escape?
7. Tropical Spice Garden
What's a trip to Penang without a glorious street food feast? But more than just a treat for your palate, there is another way to experience the culinary culture of Penang – just visit Tropical Spice Garden! As you might have guessed, Tropical Spice Garden is all about the fragrant and flavoursome spices that make Penang (and Malaysian) food all the rage.
Set within an 8-acre wide forest, the garden is a welcome escape from city life. For your trek through the various spice trails, you can choose to have an expert guide share with you interesting facts about various spices used in Malaysian cooking. You can even sample them in a multisensory experience!
If you want to REALLY get to the heart of Penang food, there are also multiple cooking lessons that you can join. Learn how to masterfully combine simple ingredients to create mouthwatering classics! What's more, for those looking for an alternative night activity, Tropical Spice Garden also offers weekly night walks (every Saturday) to explore the garden and forest at night.
8. Tropical Fruit Farm
Many durian connoisseurs know about Penang's famous durian orchards in Balik Pulau, but few know about Penang's Tropical Fruit Farm, an impressive 25-acre organic orchard growing more than 250 tropical and subtropical fruits!
The farm was originally set up as a means to preserve rare, exotic fruit trees. However, it has since turned into an educational and fun nature escape for the weekend. Using only organic fertilisers, the farm has successfully cultivated various fruits of the highest quality from around the world!
A guided tour includes sampling of the juicy fruits in addition to interesting tidbits along the way about the trees they come from. On weekends, the farm even hosts sessions of light buffet lunches and barbeques!
9. Penang Bird Park
Located in Seberang Perai on Mainland Penang, Penang Bird Park is the first and largest attraction of its kind in Malaysia. Boasting over 300 bird species, Penang Bird Park promises to be a fun-filled yet informative tour of wildlife. For those with kids in tow, this is definitely an attraction worth the trip.
The beautiful park, surrounded by various colourful flowering plants, has two walk-in aviaries. Inside, visitors can hand-feed the birds and even try to get a picture with them as keepsake. Outside, free-roaming pelicans and other waterfowl adorn the park grounds, crossing paths with visitors on a regular basis. There is also an animal show on schedule that visitors can enjoy. Make sure to time your visit so you don't miss it!
10. Boulder Valley Glamping
For an even better Penang nature escape, why not plan an entire stay surrounded by its verdant forests? Boulder Valley Glamping offers visitors the unique opportunity to experience the tropical jungles of Penang without compromising on comfort and modern-day convenience.
Not only will you be able to wake up to the fresh forest air and lovely sight of greenery, you'll do so in a soft, comfy bed! There's also a 100m-long suspension bridge here. So, if you feel like going on an adventure but don't want to stray too far, you're covered.
Don't feel like going out? You can simply laze on the open-air veranda and admire the simplistic beauty of your natural surroundings instead. A nature escape in this new establishment is sure to rejuvenate your mind and soul!
Also read: 22 Fun Things to Do in Penang On Your First Trip
And there you have it, 10 exciting places to check out to fully appreciate the beauty of nature in Penang. So, the next time you're there and need a well-deserved Penang nature escape, you know what to do!
---
Brought to you by Penang Global Tourism.