Ah… Valentine's Day – that one day we're licensed to be the cheesiest, corniest and cringiest versions of ourselves to our other halves. We muster up all the romantic juices we have stored away for the other 364 days and proudly proclaim our love, whether it's through a bouquet of 999 roses, a good ol' staycation, or a fine-dining meal in the fanciest French restaurant you've ever been in.
Truth be told, it's also that one day where every possible spot in town is flooded with couples. If there's a time when the phrase 'love is in the air' comes to life, it's 14 February. This year, try escaping the crowd of lovebirds instead; catch a breather 100 metres above sea at Faber Peak with one of the hilltop Valentine's Day dining activities they have thoughtfully planned!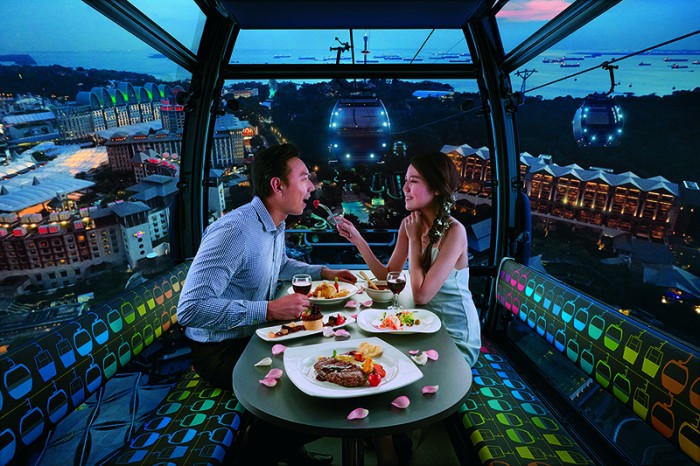 This Valentine's Day, Faber Peak Singapore has planned a sweet evening for couples at Singapore's unique hilltop destination, where picturesque views of the forest, running cable car line and the Sentosa-HarbourFront precinct, set the scene for romance.
Image credit: Faber Peak
Inspired by the theme "Sweet Pairings", couples will enjoy pre-dinner activities to start off the evening on a sugary note. The lovebirds can bond through a session of making the all-time popular cocktail Strawberry Mojitos, which can be enjoyed during their dinner. Couples can also indulge their sweet tooth at a chocolate fountain and create memories together at a photo booth, accessorised with romance themed props.
On Valentine's Day on 14 February, choose from a selection of dining venues to choose from at Faber Peak Singapore, including Dining on Cloud 9, Spuds & Aprons and Faber Bistro.
Dining on Cloud 9 (Sky Dining)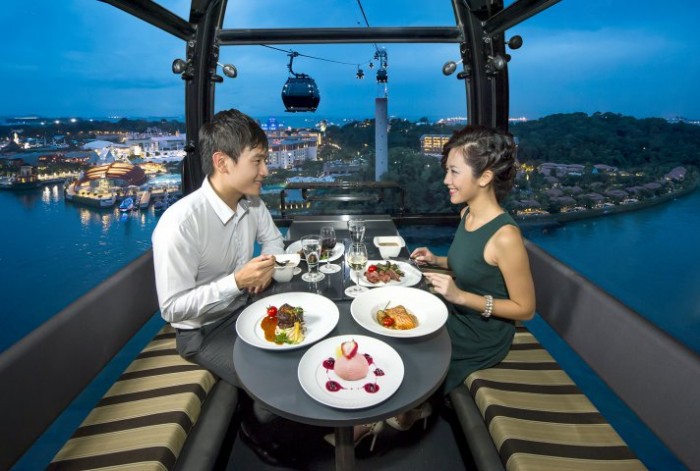 Image credit: Faber Peak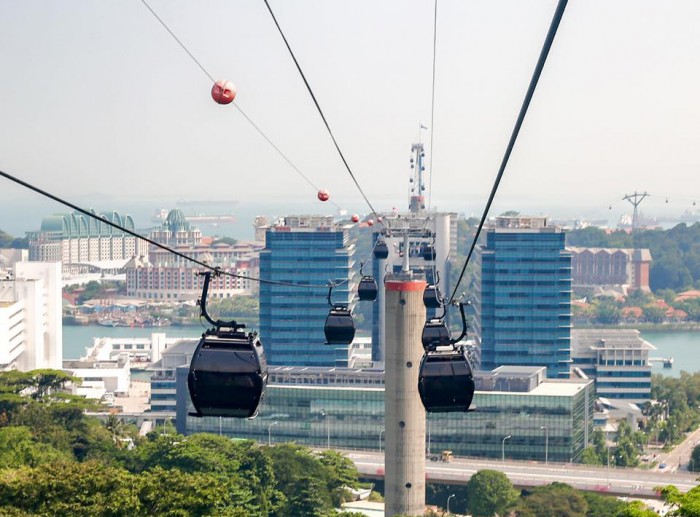 Image credit: Faber Peak
Couples can choose the ultimate private dining experience for an all-time high, and spend Valentine's Day on Dining on Cloud 9 ($328++ per couple). The 4-course dinner stretches about 90 minutes with changing views of the HarbourFront and Sentosa Island as the backdrop. Dinner starts off with a glass of champagne and Salmon appetiser, with a choice of main between Red Quinoa Crusted Black Cod with mashed sweet potato, or a 36-Hour Slow Braised Bobby Veal Shank, ending with a luscious dessert of Fruite Praline Mousse with Manjari Ganache and Raspberry Elderflower Jelly.
Spuds & Aprons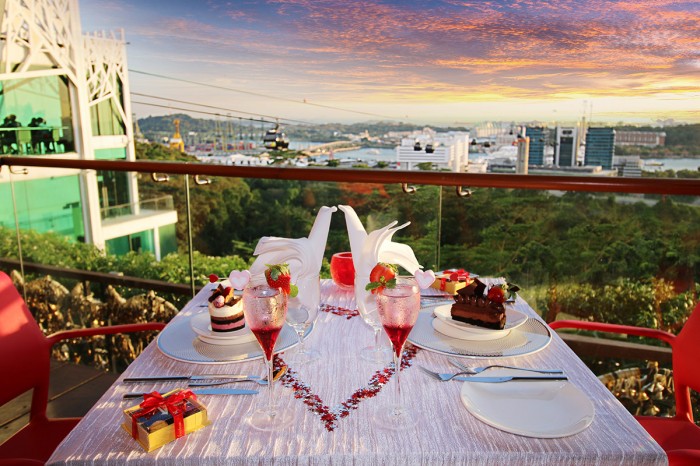 Image credit: Faber Peak
Faber Peak Singapore's restaurant-with-a-view, Spuds & Aprons offers a 4-course set dinner ($248++ per couple). Starting off with an appetiser of Smoked Duck Salad with crispy yam duck dumpling and Truffle Scented Silken Hen Consommé, choose from a main of Roulade of Codfish and Shellfish Mousse or Pan Roasted Fillet Mignon with marrow crust. Also, look forward to the Warm Mellow Xocoline Chocolate Cake with Caraibe Sorbet for dessert.
Faber Bistro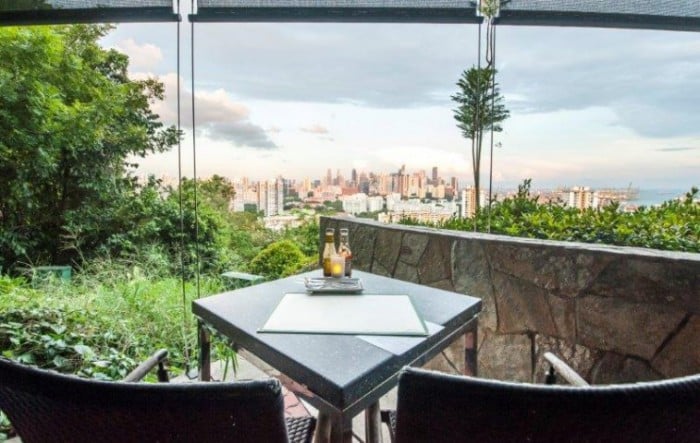 Image credit: Faber Peak
Down the hill from Faber Peak Singapore and tucked away in the cosiness of the forest, Faber Bistro offers a 4-course set menu ($200++ per couple). Appetiser starts with Hokkaido Scallops Tartare, with crispy fish skin and passion fruit vinaigrette and Veloute of Cauliflower and a main course of Chilean Sea Bass Fillet with kataifi prawns. Dessert is Apple Toffee with caramelia mousse and calvados jelly
Each couple will receive a box of handmade chocolates to take home for a sweet ending to the evening and a reminder of their celebration at Faber Peak Singapore.
Come this 14 February, skip the usual spots you're planning to bring your beau to. Instead, up your Valentine's Day game to a whole new level that's 100m above sea, and have the most memorable date of a lifetime!
---
Information is extracted from Press Release issued by Faber Peak Singapore.