With approximately 36,900 stores worldwide, McDonald's is as good as an integrant to today's society. Serving a whopping 68 million customers a day, we bet that YOU have found yourself sneaking into a McDonald's queue for some of their limited edition offerings! We are here to take you around the globe in search of other unique bites that McDonald's has to offer to each country. Get ready to drool after you've set your eyes on these exclusively 2017 items!
1. Ayam Kremes (Indonesia)
Sink your teeth into McDonald's Ayam Kremes, topped with a generous portion of crispy crumbs and drizzled with sambal sauce. If this gastronomic delight isn't sufficient enough, opt for a hearty portion of eggs as well.
2. Pikachu McFlurry (Japan)
Pikachu McFlurry?! Only one country could've come up with this – Japan. This uber-cute treat is a fancy amalgamation of Nintendo's iconic Pokemon Pikachu and McDonald's perennial crowd-pleaser the McFlurry. The result? A chocolate banana flavoured McFlurry held within the confines of a Pikachu cup. Enjoy.
3. Cheeseburger Fries (Australia)
This limited edition shaker fries sent Aussies scrambling to their nearest McDonald's upon its release! We don't blame them, who wouldn't want to pair a delicious Chicken Big Mac with your Cheeseburger fries when you're Down Under?
4. The Louisiana Stack (United Kingdom)
The Louisiana Stack is a delectable creation comprising two beef patties, Pepper Jack cheese, red and yellow peppers and spicy ketchup in between toasted golden buns. Take a bite into it and you'll be begging to stay in the UK.
5. Belgium Chocolate Honeycomb Frappe (Ireland)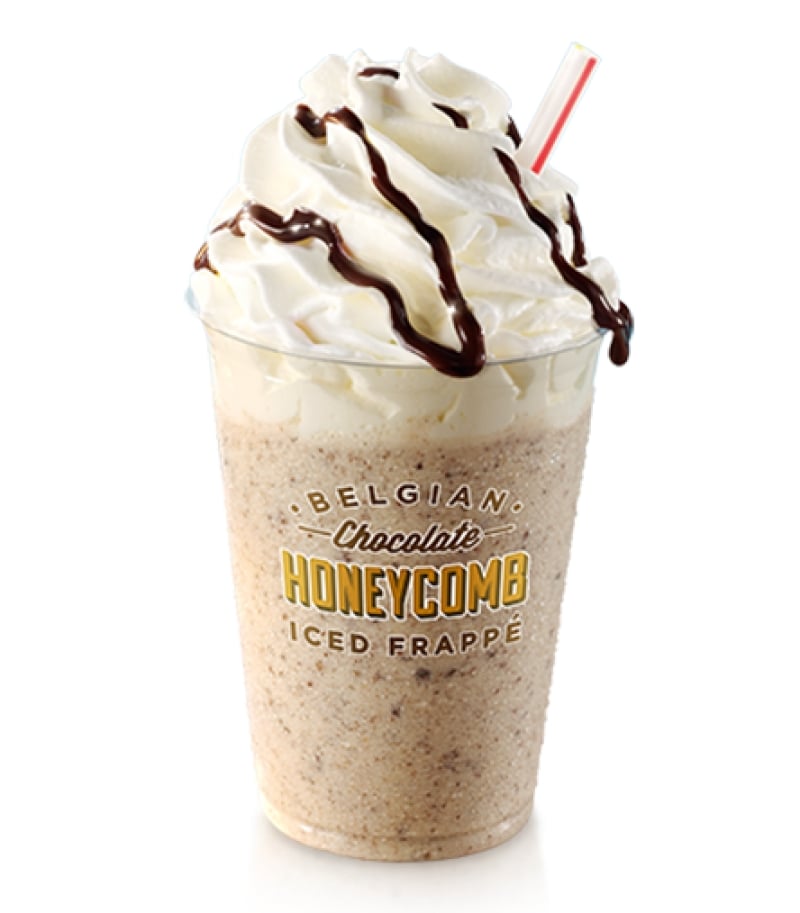 The Irish do have a way with their desserts! The sumptuous Belgian Chocolate Honeycomb Iced Frappé is McDonald's latest offering in Ireland. Luxuriously filled with honeycomb flakes, chocolate chunks and topped off with a generous portion of whipped cream, this frappé will complete your Irish escapade.
6. Crispy Onion Angus Burger (Hong Kong)
A sizzling 130g beef patty drenched with a bountiful of cream cheese and gravy sauce is sure to trigger your hunger pangs. With crispy onion angus fillings to top it off, the Crispy Onion Angus Burger is the epitome of a guilty meal.
7. Fish and Fries (Thailand)
Fish and Fries from McDonald's, what more can we say? The American fast food giant has replaced their conventional burgers with a zesty portion of battered fish. Think only Britain and Australia serve up lip-smacking fish and chips? Think again.
8. Sladoled DeLuxe Nougat Dream (Serbia)
This sundae layered with hazelnut syrup, nougats and ice cream promises a burst of flavours when you take a bite out of it! With every bite, the Sladoled DeLuxe Nougat Dream teases with mild undertones of caramel, making it the perfect savoury dessert on a hot Serbian summer day.
9. Nasi Lemak Burger (Singapore)
A succulent coconut-infused chicken patty topped with fresh cucumbers and smothered with sambal sauce, the Nasi Lemak burger is a dream come true for Singaporeans. Locals will fondly remember this burger for years to come – especially since it's meant to commemorate the nation's 52nd birthday!
We're pretty sure these treats left you drooling right from the start! McDonald's continues to surprise its patrons over and over again, dishing out creative indulgences from time to time. Head over to a McDonald's the next time you find yourself abroad and let yourself be surprised by what's in store!