Contributed by The Occasional Traveller
South Korea's streets are very colourful – street art can be found throughout the city, whether it's a cute mural which has people lining up to selfie with it, or graffiti scrawls of expression. Art is such a large part of the cityscape, that it has even succeeded in rejuvenating entire slum villages (Daldongne or moon villages) within Korea by transforming once unremarkable spaces into outdoor galleries that draw tourists and local visitors alike.
I had two days to wander the city on my own and since I'd already explored most of the major tourist sites in my previous trip, my street art quest took me to some areas slightly further afield – they are easily accessible by Seoul's extensive subway network and I'll tell you more about how to get there, and as always there is a handy Google Map below which maps out where things are.
Ihwa Mural Village
This little village on the slopes of Naksan Park has lots of colourful murals throughout its midst – 60 artists were invited to decorate and revitalise this sleepy little village, and these days it attracts lots of visitors who brave the steep slopes to go mural hunting, so much so that there are many signs reminding people to keep the volume down as it still is a residential area. It's a nice way to spend an afternoon, and you are rewarded for your efforts with a panoramic view of Seoul from this elevated park.
If you follow the suggested route (see map below in 'how to get there'), your path will be like this:
Naksan-gil >> Naksan-4-gil >> Ihwajang-1na-gil >> Naksanseongwakseo-gil>> Yulgok-ro-19-gil >> Ihwajang-1-gil
Take your time to wander, it's a bit of a climb and there are lots of artworks hidden around the buildings, but some of the highlights: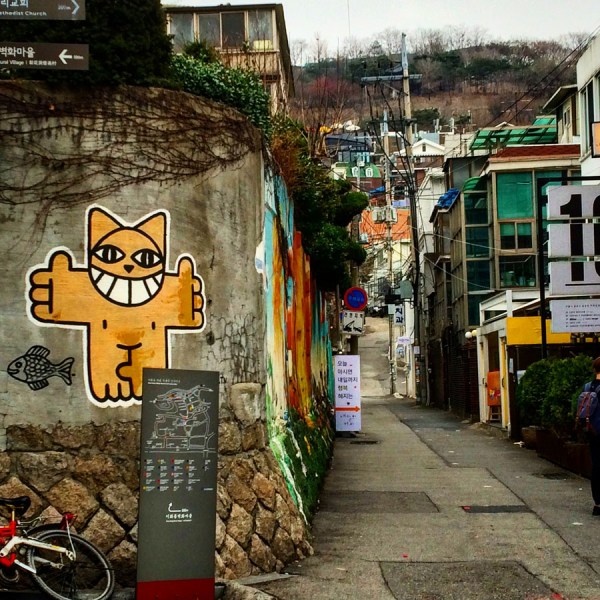 I had missed the earlier turning so I was backtracking my way to Naksan-gil – Sharp eyes might recognize Monsieur Chat who I first saw in Lisbon! I always get excited when I recognize street artist's iconic styles in new places. He left this piece after visiting back in 2008, wow!
This piece is halfway up the super steep Naksan-gil slope and how you know you're on the right track! I try to attribute if I can find a credit and read it, and Hangul is actually quite readable but it takes me a lot of effort – this work was done in Oct 2013 by Seo Jeong Min, Jim Se Na and Ngim Jae Song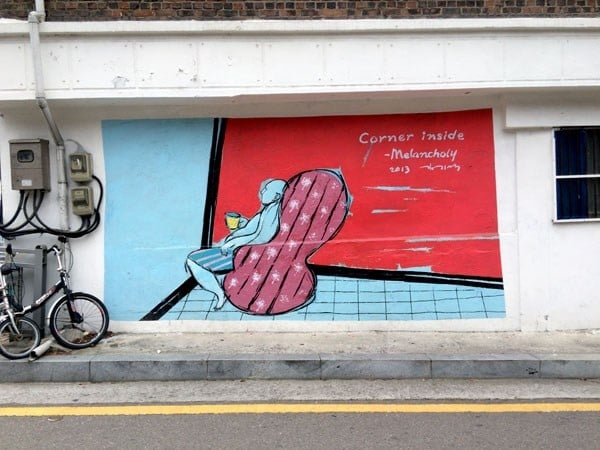 Melancholy – further up the street from the grass mural. There's a pretty cute cafe along this stretch which has hella expensive fried chicken but it's a nice place to just grab a cuppa before you continue walking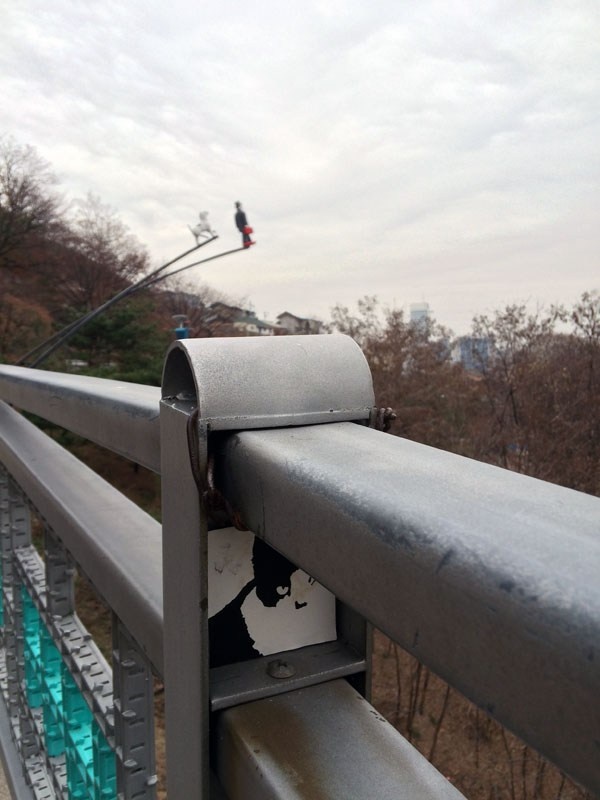 Look out for small bits of art! There's a bunch of metal sculptures along Naksan-gil as well as the slightly offbeat Man and Dog in the background, but I kinda love the little hidden kitties in the railing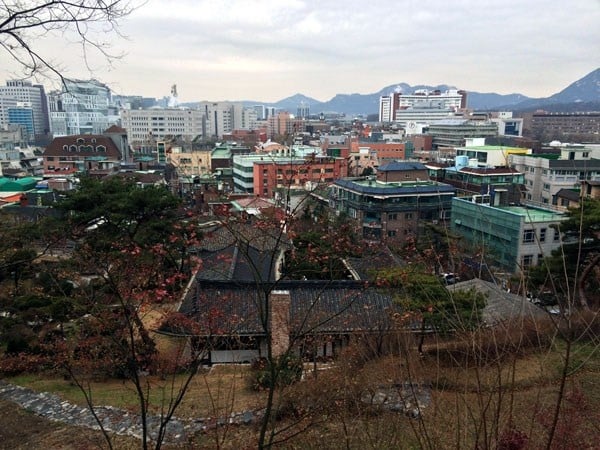 There is a park below which you can stroll down to, and along that wall you can find some works as well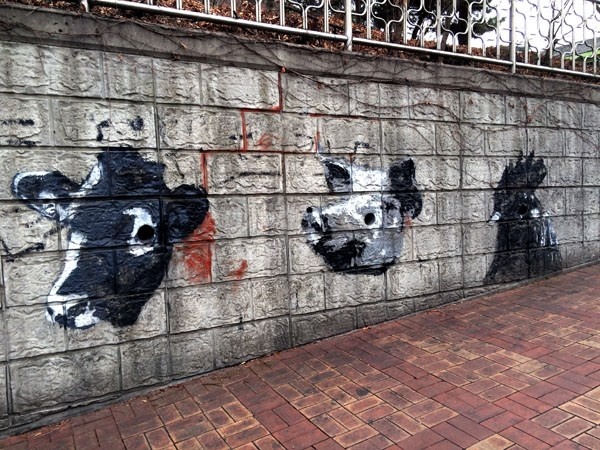 I
quite like these animal heads along the pathway to the park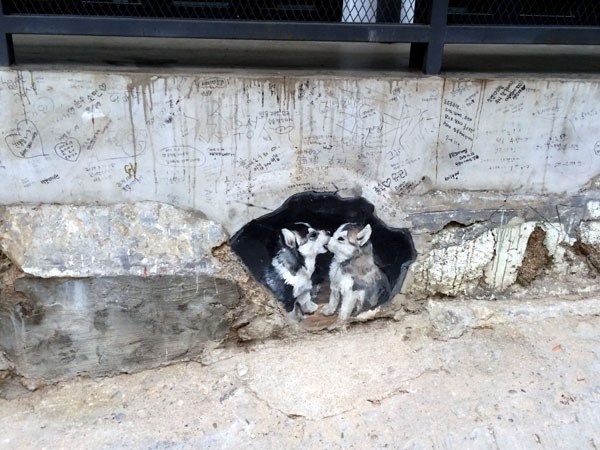 Cute little puppies! This is just before the staircase below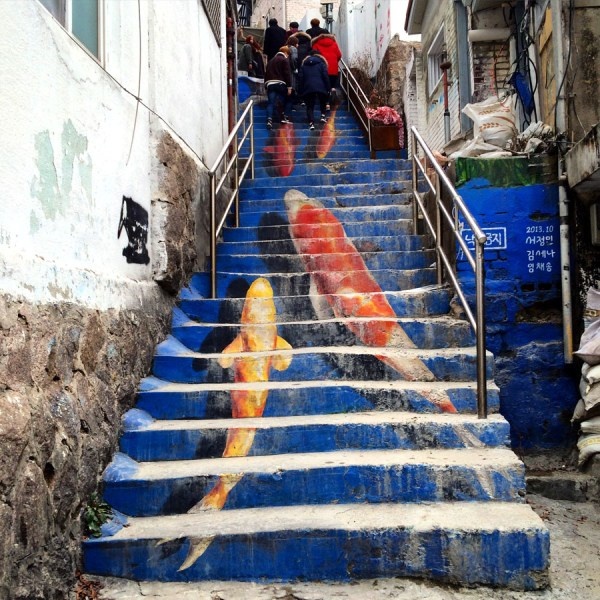 One of the more impressive murals is this Koi staircase. If i'm reading the credit on the side correctly, same as the folks who did the grass mural easlier
Also read: 25 Photos that Will Make You Want to Move to Korea Now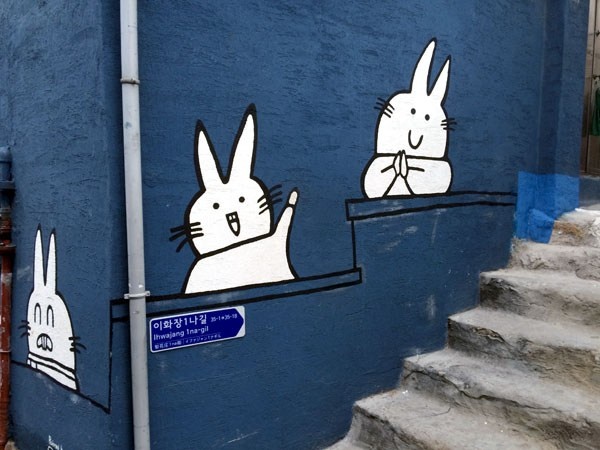 Somewhere along the way up the stairs, another cute cartoony rabbit mural. Done by a group of 4 called DKU – my credit pic is a bit blurry unfortunately~ That picture was taken at the junction of ihwajang 1-na gil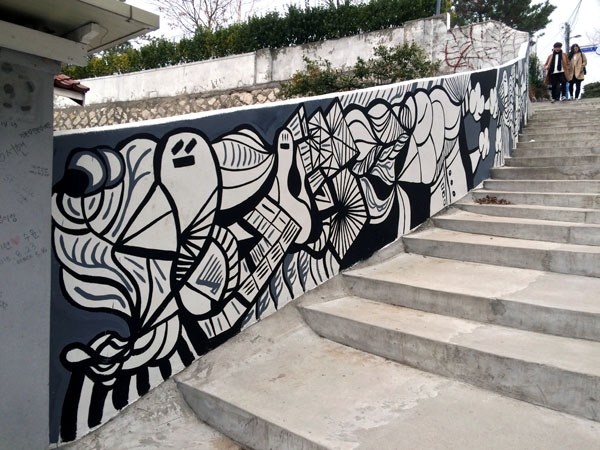 The styles all around are wildly different. I kinda like how this shot turned out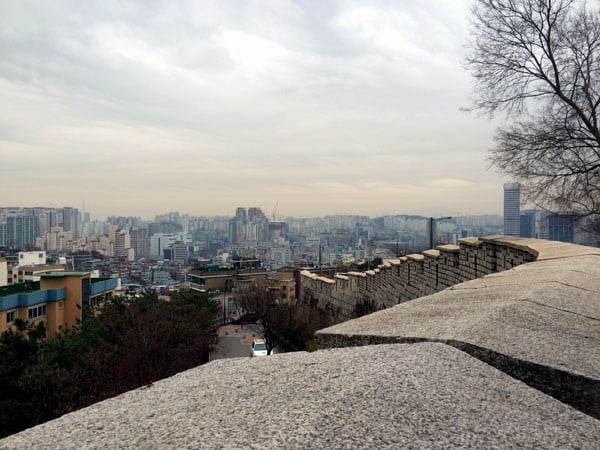 The old Seoul city walls against a practically unblocked panorama of Seoul, sadly it was a bit of a grey day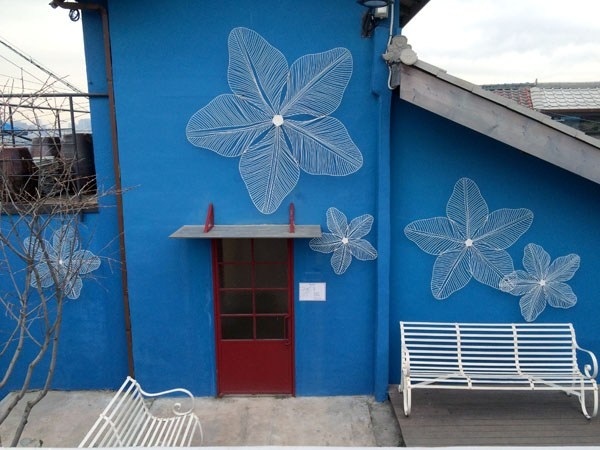 Simple but pretty flowers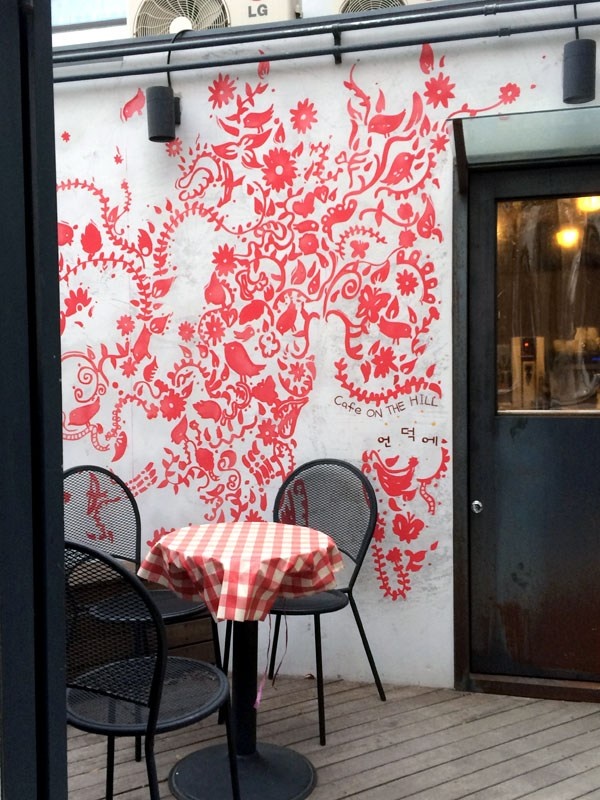 This little Cafe on the Hill is at 68-7/9 Yulgok-ro 19-gil just before the flower mosaic staircase below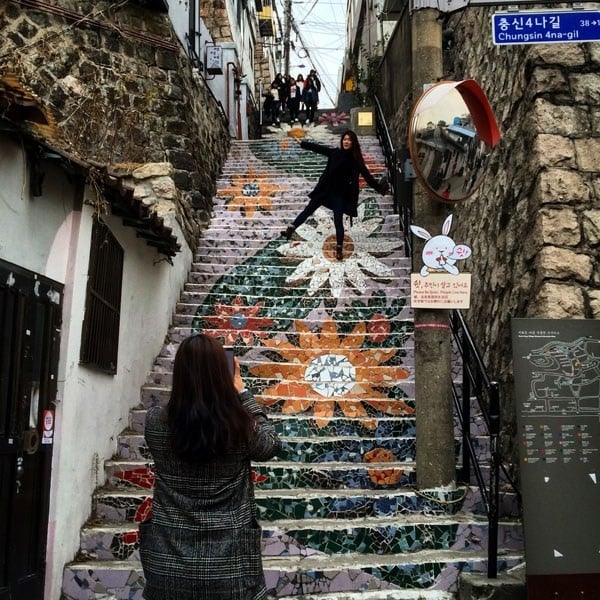 Your photos are probably going to look like this mostly because there are lots of people all around!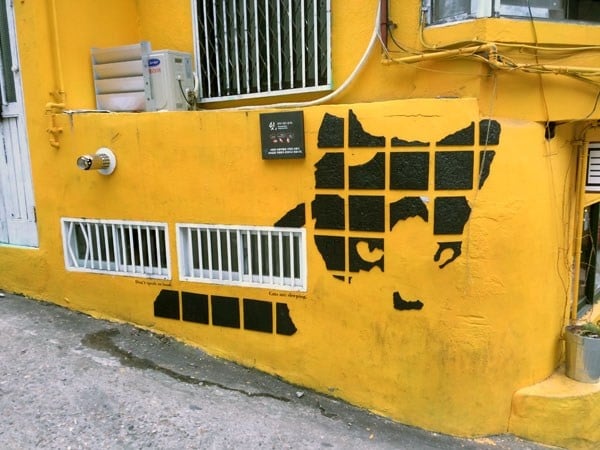 Kinda like this graphic cat at the foot of the flower mosaic staircase. There are more murals in the alleyway to the left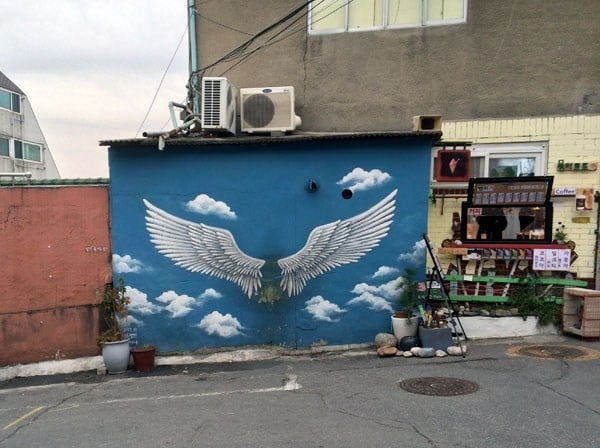 This pair of angel wings is pretty popular, so much so that there are several copies around the village, but this is the 'original' one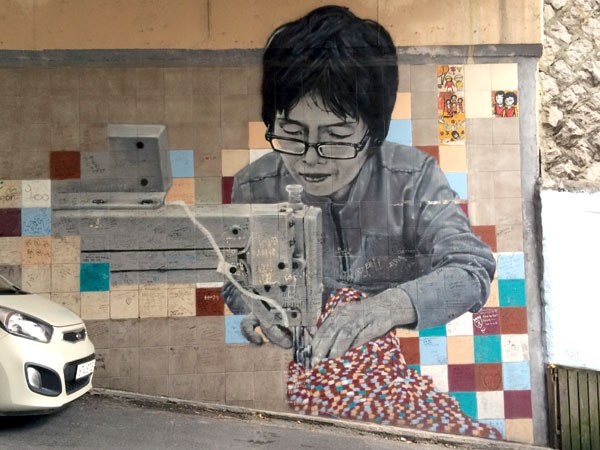 As
I was leaving the village, I rounded the corner past the weird Avengers work and found this stunner under the bridge
Getting there:
Blue Subway Line 4 – Hyehwa (Exit 2)

Walk straight down

Daehak-Ro

– the main road should be on your right, the hill (Naksan Hill which you will be climbing) should be on your left. There should be a bronze sculpture

When you see

Marrioner Park

, turn left onto

Daehak-Ro-8-gil

. If you walk along this road, Arco Art Center should be on your right. (If you see Dongsun-gil it means you've gone a bit too far, but you can turn left onto Dongsun-gil and left again to reach the same spot)

Keep going down Daehak-Ro-8gil, past Daehak-Ro-12gil, until you reach

Dongsun-gil

cross junction, then make a right. A landmark to look out for at this junction is Handok Pharmacy

Look for

Naksan-gil

on your left – this sloping street will lead you up to

Naksan Park.

It's a very steep sloping street and you should see the green hills artwork, from there just follow the artworks

There are several signages scattered around the area that will point and tell you how far it is to Naksan Park – if all else fails, follow those signs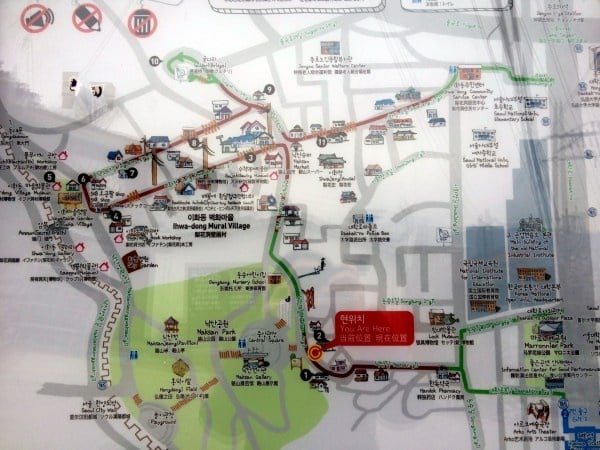 This is the original map that you will find in the area – the path I'm describing is in the bottom right corner (blue and green paths) – click on image for high resolution picture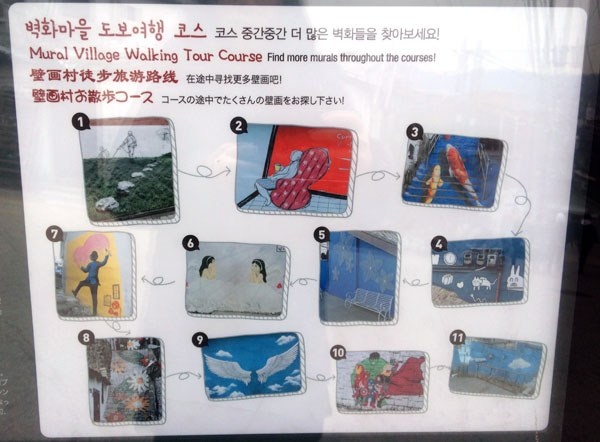 Some of the recommended key artworks to look out for… I didn't see 6 and 7 but I saw everything else!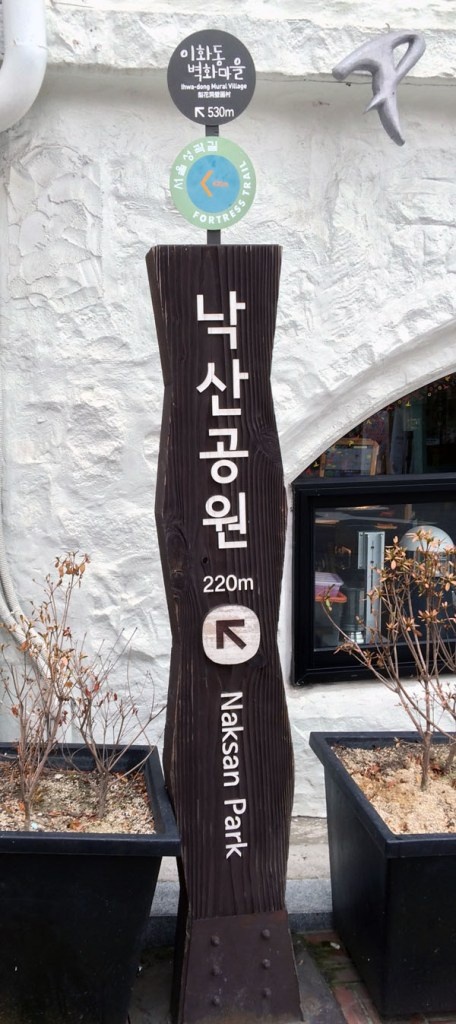 These signboards point you up to Ihwa-dong
The area around here is known as Daehangno ('college street') and was the old home of Seoul National University. There are many art centres in this area, and you might catch public performances if you are lucky. Daehangno is found in the Jongno district to the east of the Changdeokgung palace – I walked back to the Bukchon area where I was staying from Ihwa, but I suggest taking the train because the Naksan Hills are no joke.
Mullae
This industrial area south of the Hangang river is filled with the soft whine of drills and the muffled buzz of machinery isn't somewhere you'd associate with art, but there's something quite fun about discovering fun, colourful little murals as you explore these gritty little alleyways. Hidden amidst this gritty light industry area are doorways to cute indie cafes and unexpected artworks, so definitely take the time to get a little bit lost here. I explored 2 main areas here:
Area 1 (bordered by Dangsan-Ro, Dorim-Ro and Dorim-Ro-128gil)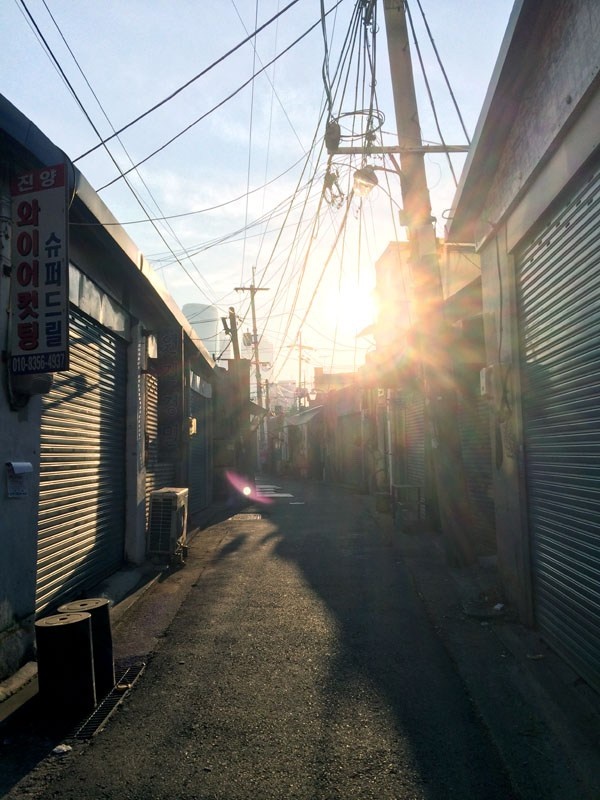 Most of the area is like that – little low shuttered buildings and narrow alleyways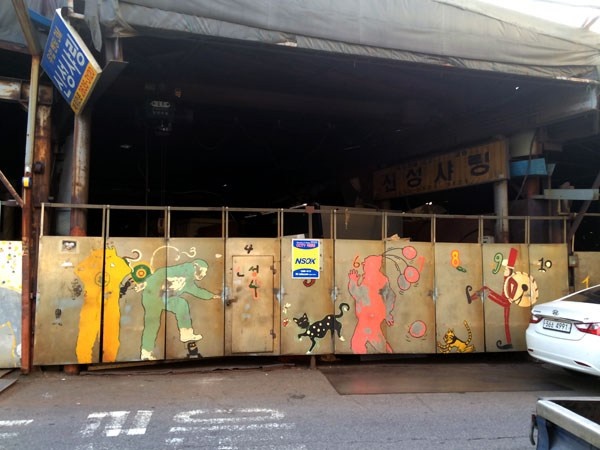 This marching circus parade can be found along Dorim-ro-128gil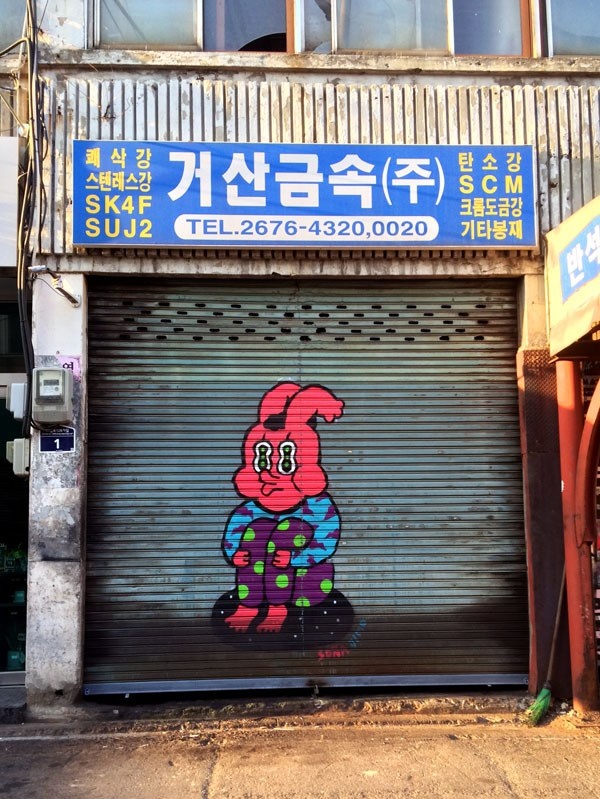 Bright pink alien on a shutter – not sure if a lot of these places are closed for the day or permanently shut?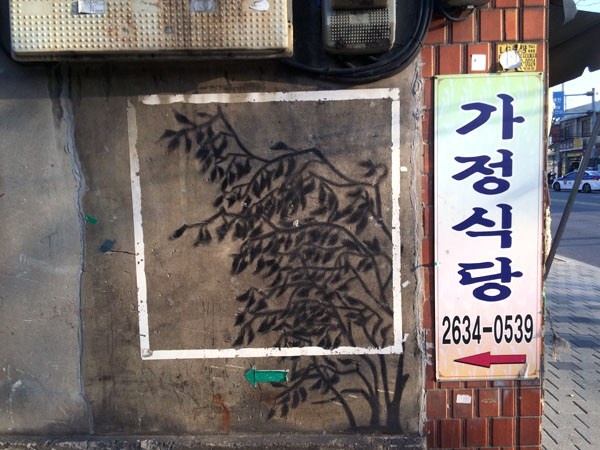 Many artworks can be found at the start of the alleyways connecting to the main road, which is what draws you in to explore the place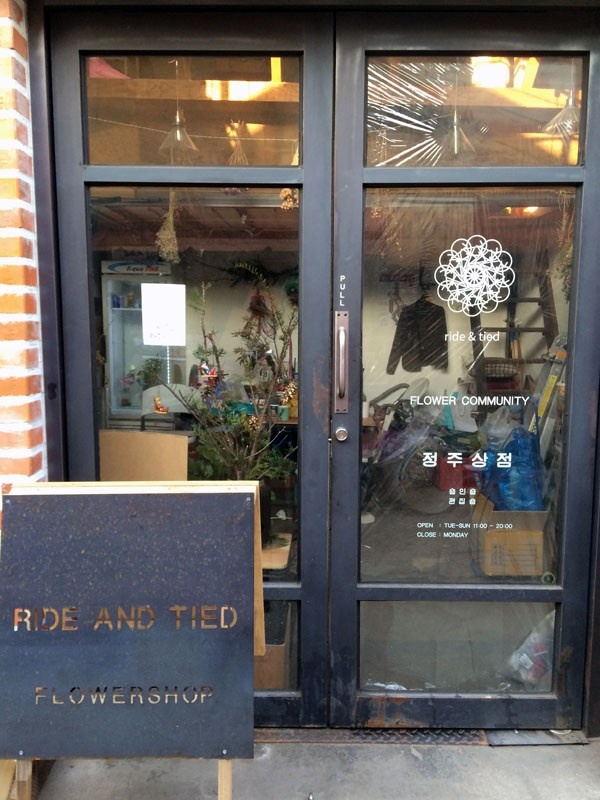 Besides steel workshops, there are a number of hipster spots like these to check out as well! Keep your eyes peeled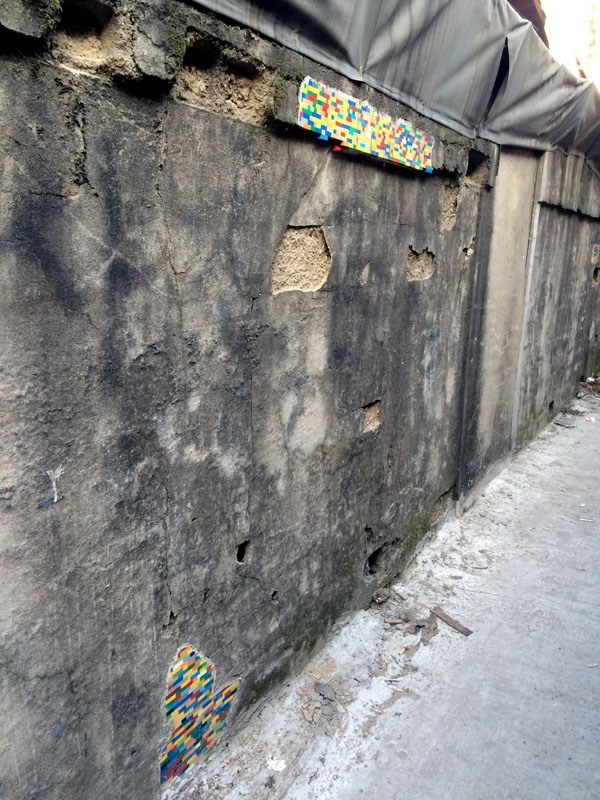 I always see these posts online but it's the first time I've seen it in action!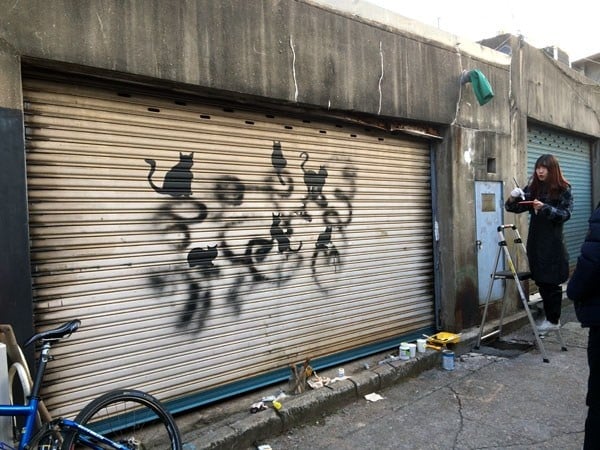 Mural painting in action. Cats of course are always a hipster favourite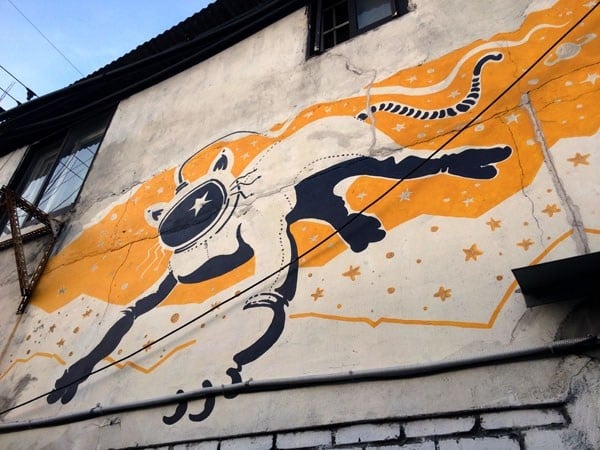 This space cat is actually kinda cool – you can find it closer to the Dangsan-ro side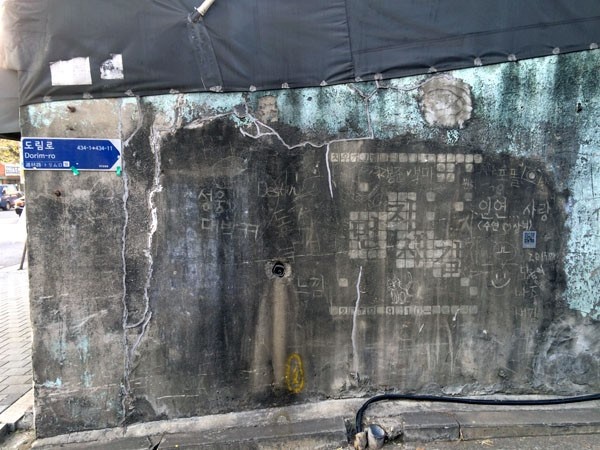 This subtle etching is also quite interesting
Also read: Important Phrases You Need to Know When In Korea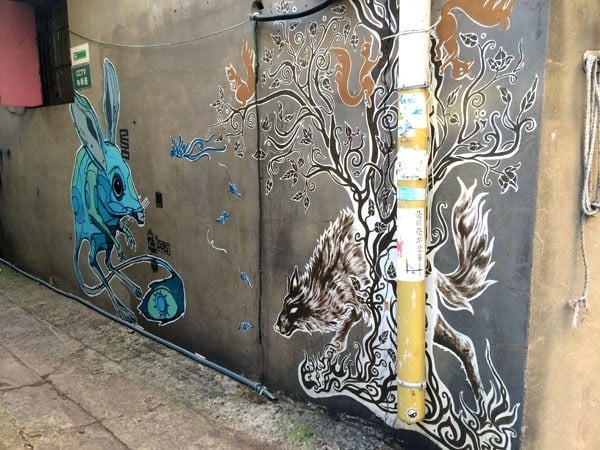 What I thought was a mouse is actually a Jerboa by French street artist Psoman done in March 2015 – you'll see another of his works later on. The other is part of a larger fairytale series in this very narrow alleyway
I
like how they used the ugly water mark to form the tree bark!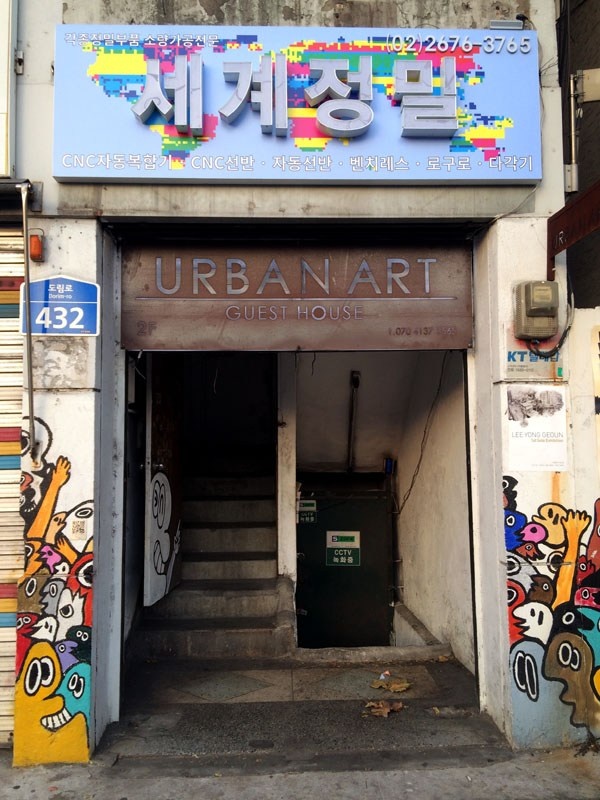 There is a guest house in the area if you are interested
Area 2 (bordered by Dangsan-Ro, Gyeongin-Ro-77gil, Gyeonggin-Ro, Dorim-Ro)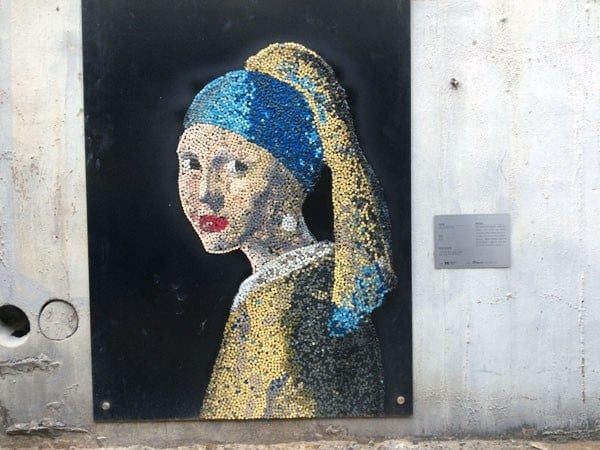 I can't remember where exactly I came across this, but if you look closely this visual is made up of many little coloured circles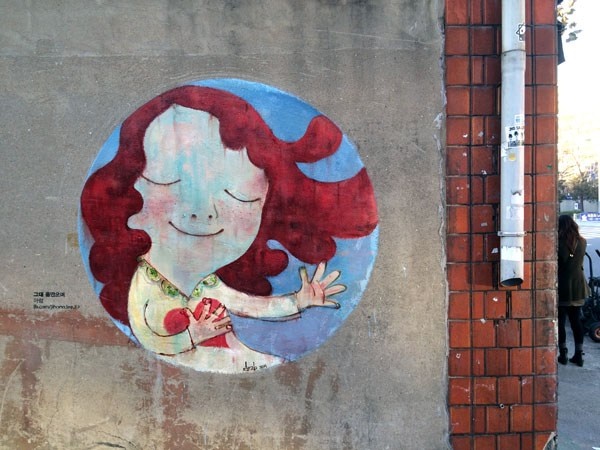 Cute little redhead by Jihoon Lee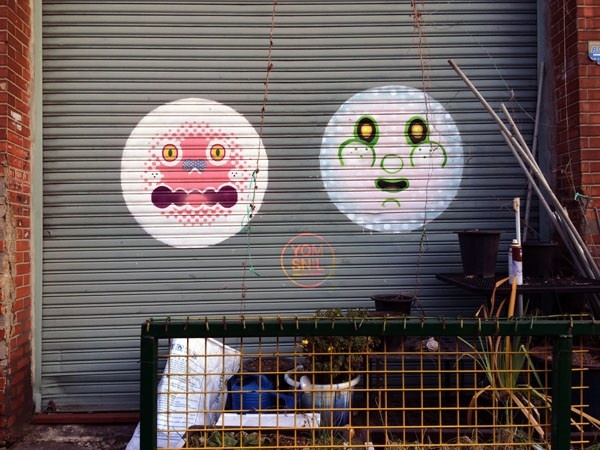 These fun faces are by Yomsnil, a Korean artist with a pretty graphic style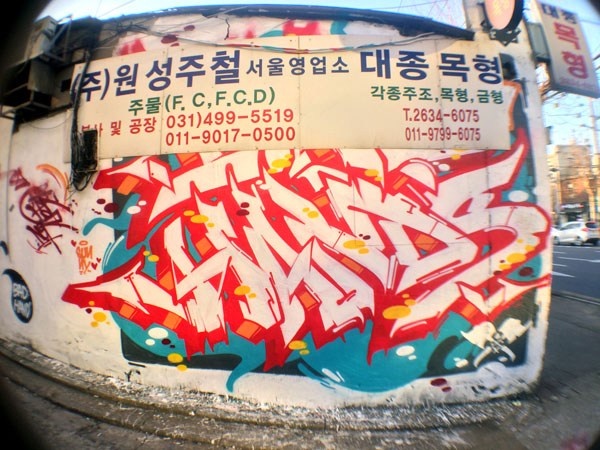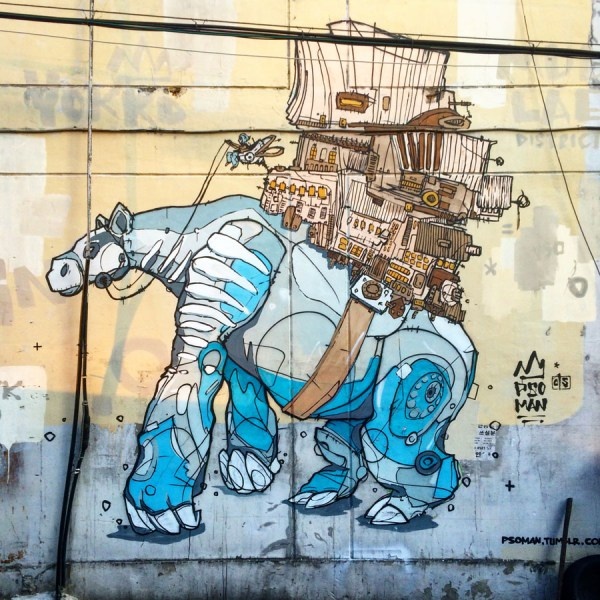 Psoman's work again and probably my favourite from Mullae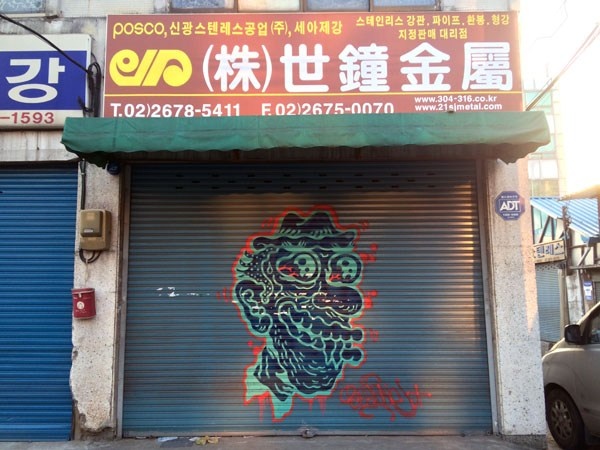 Scary green face
This row of appliances is quite cute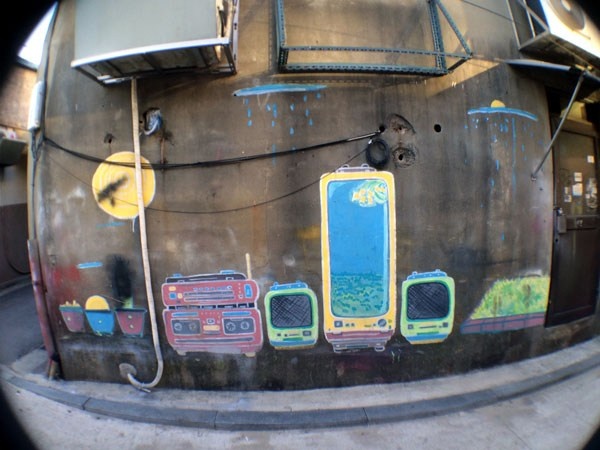 Don't forget to look up!
Getting there:
Green Subway Line 2 – Mullae (exit 7)

From exit, walk straight out of entrance and follow

Dangsan-ro

Take a slight left to Dorim-Ro-128gil and you should see a bunch of low buildings on your right. That was where I started my exploration of Area 1
Apgujeong Graffiti Tunnel
There is an underpass lined with graffiti tags that connects Apjugeong to the Han River Park which has apparently appeared in several K-pop music videos. It seems to be a sanctioned area for graffiti, with signs listing some rules and regulations on what street artists can do here. The lined walls lead you down to the Hangang where you will encounter avid cyclists and a gorgeous view of the river on a clear day.
p/s most of the photos in this post are kinda wide angle because my phone DIED right as soon as I managed to find this place.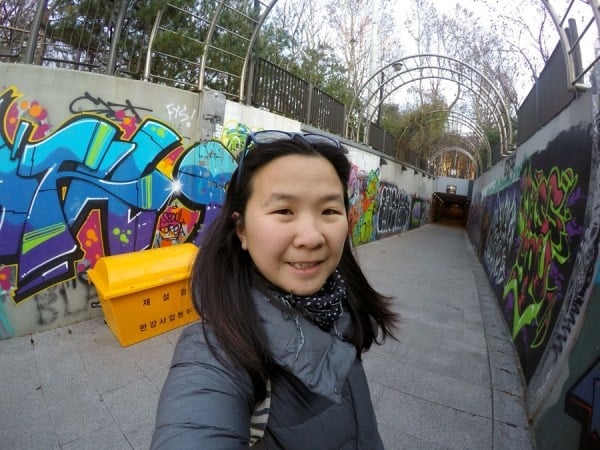 Selfie in front of the tunnel. You have no idea how far I walked just to find this place! Read on to find the real short cut to get here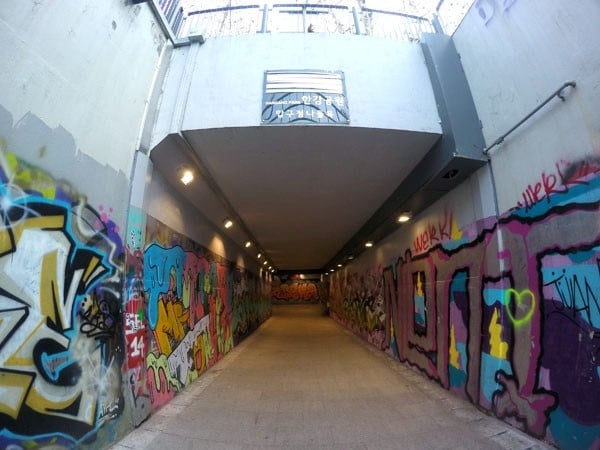 Clearer view of the entrance from Seolleung-Ro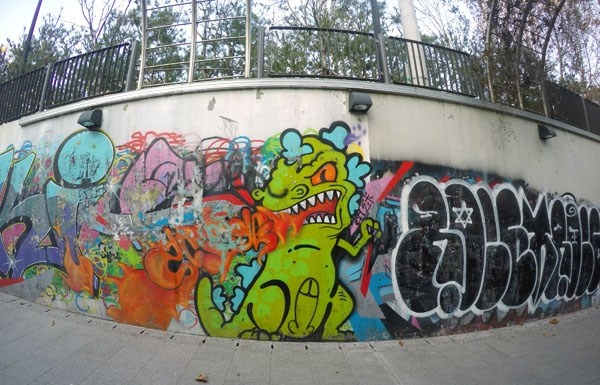 Kinda like this dino – there were mostly graffiti tags, this one of the few more pictoral works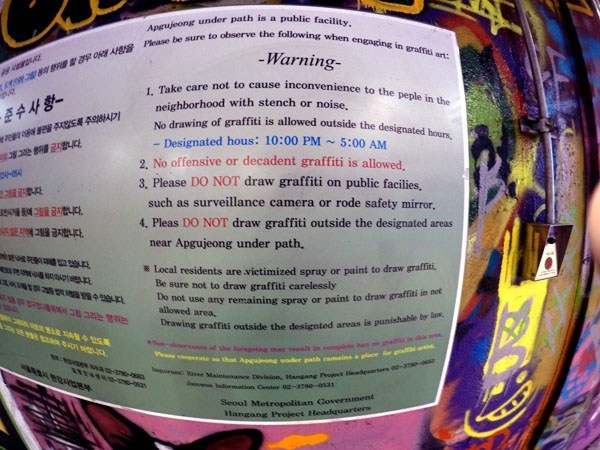 It seems like budding artists can just come here to paint at anytime, as long as they follow a few rules!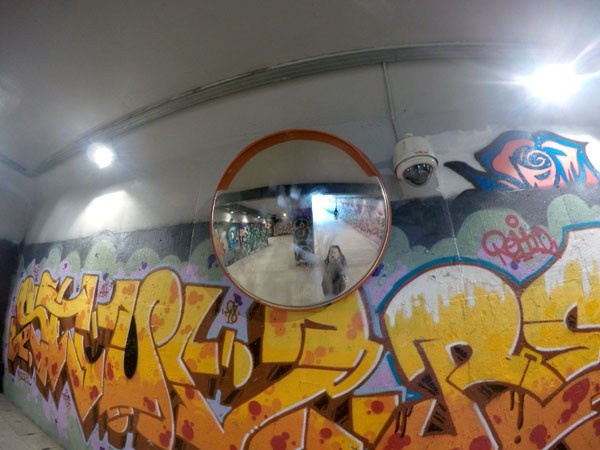 Trying to take a mirror selfie, yes there was a cyclist coming in behind me, not some strange apparition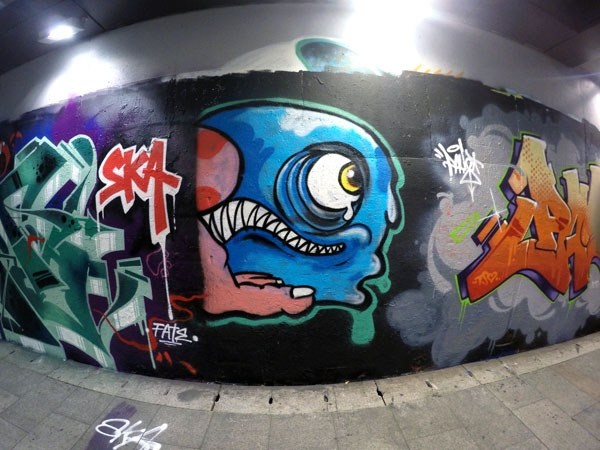 This little blue fella is kinda cute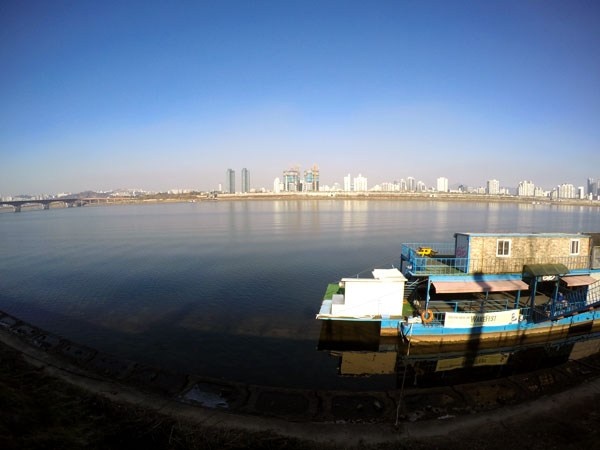 You are rewarded with quite a spectacular river view when you exit the tunnel at Jamwon Hangang Park though!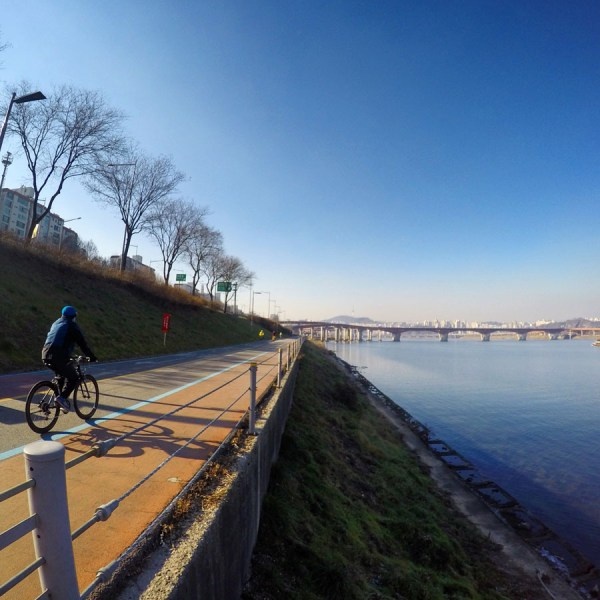 One of my favourite pix – all these cyclists wondering who this crazy girl is haha
Getting there:
Yellow Subway Bundang Line, Apgujeong Rodeo Station (Exit 1)

Go around the exit and walk along

Seolleung-ro

away from the

Galleria Mall

buildings until you reach the end of the road – you should see

Hanyang Apartments Blk 21

(Look for the HY mark on the top of the building)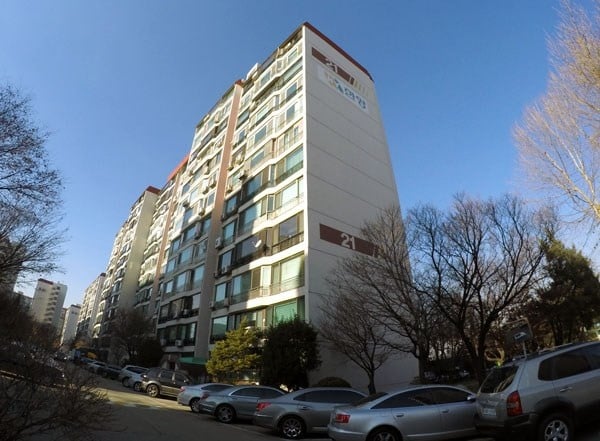 It's not so clear, but right on top under the first 21 is the letters HY. The entrance is just out of sight on the right side
Cross the small road

Seolleung-ro-189 or 190-gil

to a small park and turn right, you should see the entrance to the graffiti tunnel that leads down to the park

Walking through the tunnel should bring you to the waterfront at

Jamwon Hanggang Park

Most of the internet will tell you to walk from

Apgujeong Station (Line 4) Exit 1

, and you can do that but let me just warn you first that it is

quite

a walk (according to my Google Map, 1.6km to be exact). You basically go straight out of Exit 1 and follow

Apgujeong-ro

all the way, past

Eonju-ro

cross junction (it's a large flyover bridge) and walk allllllll the way till you see Galleria mall and reach Seolleung-ro. You'll walk by a lot of apartment buildings, but don't try and cut into the park from those because they don't connect up! (I say this from A LOT of personal experience getting lost)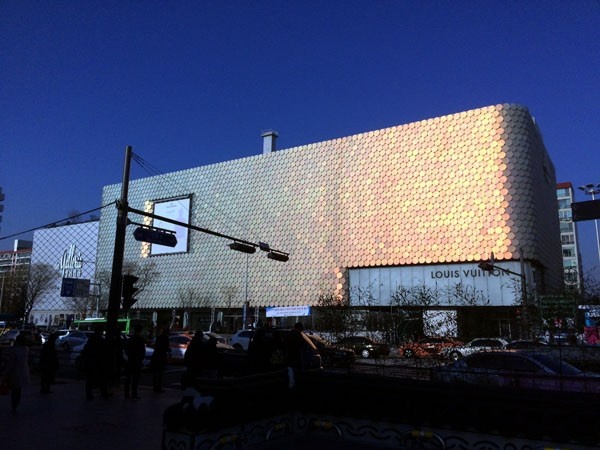 The fish scales of galleria mall – this is the view from Exit 6 across the street. Exit 7 brings you up somewhere in front of the Louis Vuitton store. The road leading to the graffiti tunnel and Exit 1 is on the right of this building
Also read: How to Travel Korea on a Budget
Hongdae
This area around Hongik University is pretty well known as a super vibrant one with lots of shops and restaurants, and lots of young people busking, dancing or just performing along the streets in the evening. The graffiti all around the area really just adds to the energy in the streets and while most of it isn't particularly refined, it does add great colour to the streets.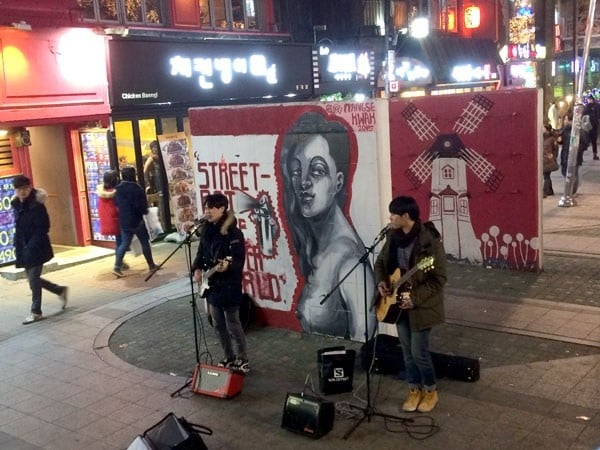 Buskers amidst little graffiti boards. It was winter and cold, like -3 at least!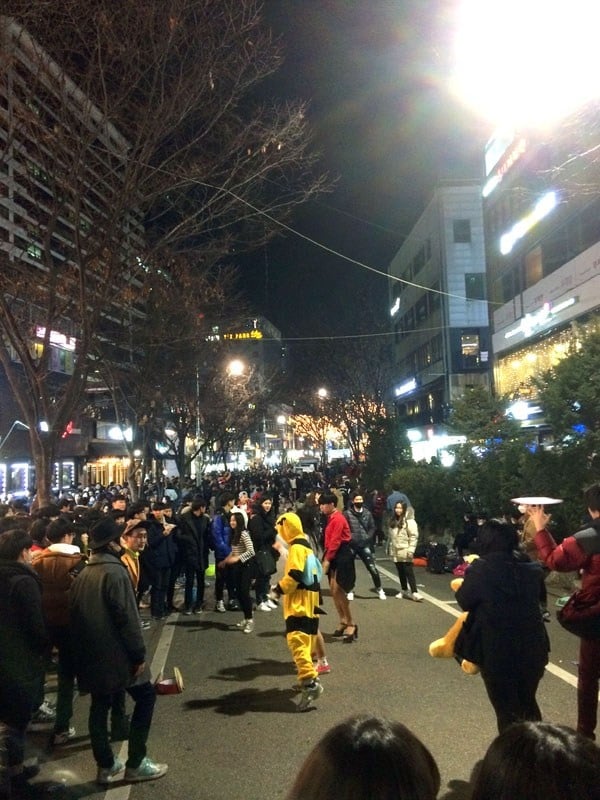 There were a lot of random groups like this just dancing in the streets. Yes that is a dancing bee
There is an actual Hongdae Mural Alley near Hongik university that is popular for murals – I visited it the first time I was here, but by the time I reached Hongdae this time around it was already getting dark (damn these short winter days) so I mostly wandered around the central area quite randomly.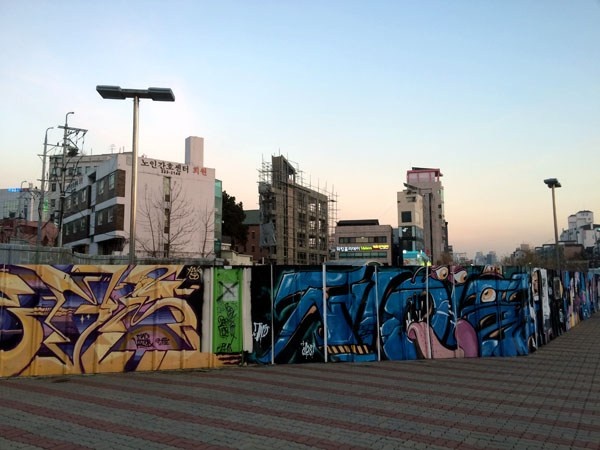 Rows of hoarding – it's quite a sight! wonder how permanent it is though?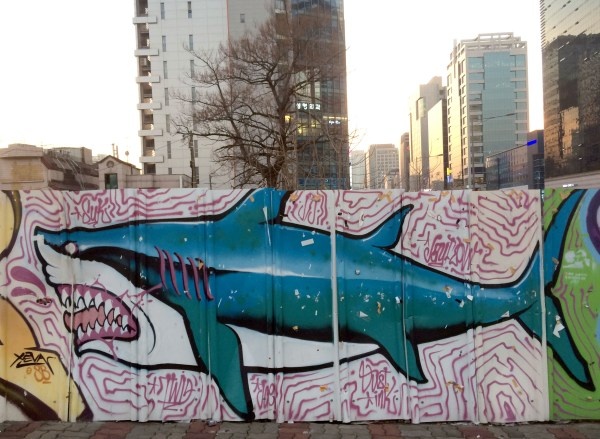 Kinda like this angry shark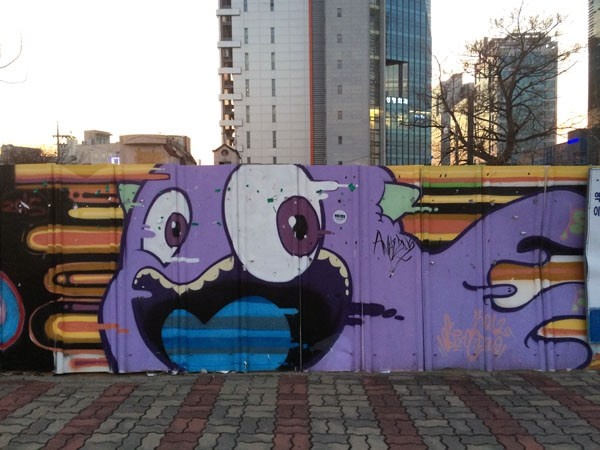 This is kinda random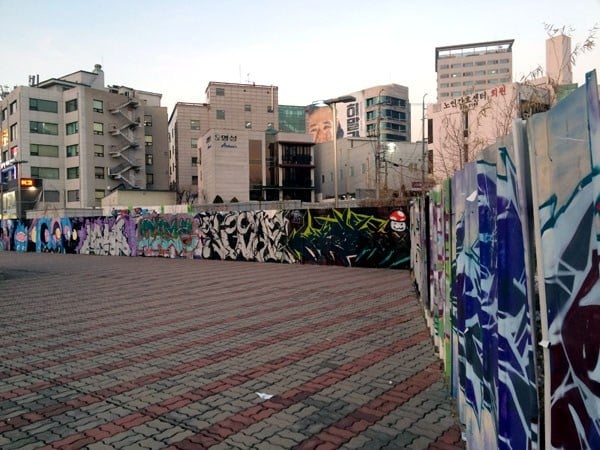 Lots of hoarding all around, and all of it is covered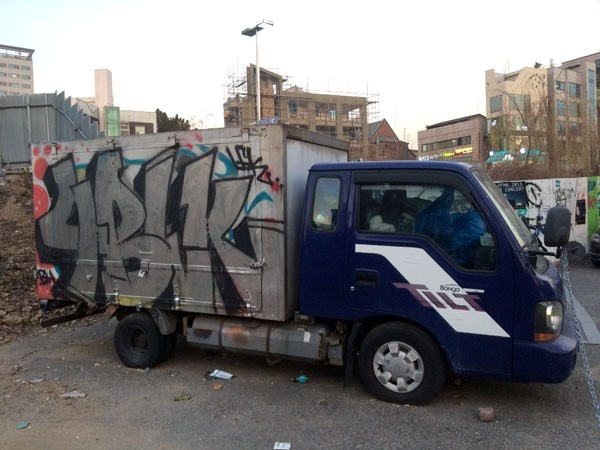 Even the vehicles parked in the area can't escape the graff
I just wanted to share this awesome sunset picture because I love bare winter trees
Getting there:
Green Subway Line 2, Gyeonggui-Jungang or AREX line to

Hongik University Station

Exit 4-7 (the blue line side). Once you come out the exits, you should see lots of hoarding covered with tags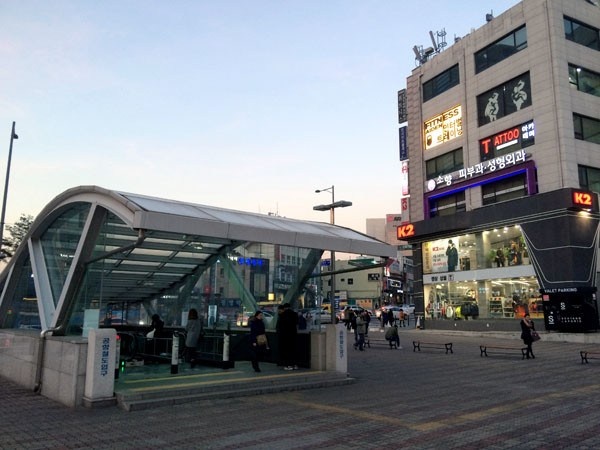 The exit is quite a bit of a walk from Line 2 – you might want to exit at Line 2 #9 and then slowly meander over instead
Looking for more street art? Check out my other street art related guides:
Thanks to Korea Tourism Organization who organized and sponsored this media trip.