Japan may not have won the World Cup in 2018, but they've certainly won our hearts with their spirited displays and their willingness to stay back and clean up after themselves after each game. That's just it, isn't it? There's something attractive about the "Japanese way". That's probably why Japan is such a popular travel destination.
Of course, it doesn't hurt that the Land of the Rising Sun is home to some incredibly picturesque scenery either! Hokkaido, in particular, is often touted as one of the most beautiful places in the world, particularly during the spring and autumn seasons. But did you know that apart from ogling at the otherworldly views, there's also a ton of interesting things you could do in Hokkaido?
Here are 17 unique things to do which should be added to your Hokkaido itinerary.
1. Explore the volcanic region around Showa-Shinzan
When we see a majestic mountain range, we often envision a time that's long passed us by. After all, most mountains are ancient, right? Well, not all of them. Showa-Shinzan was actually formed as recently as 1943, making it the youngest mountain in Japan. Spaying sulfurous fumes even today, it is located right next to the volcano which 'birthed' it: Mount Usuzan.
Ride the Usuzan Ropeway towards the summit of the active Mount Usuzan and you will be in for a real treat. At the observation deck, stunning panoramic views of Show-Shinzan and the volcanic caldera Lake Toya await. While these sights are beautiful all year round, time your trip to coincide with autumn and you'll be able to enjoy some truly awesome foliage.
2. Marvel at the scenic natural beauty of Akan National Park
Without trying to overshadow any of the other scenic locations in Hokkaido, Akan National Park is undoubtedly one of the top destinations in Hokkaido for great scenery. Despite being full of hiking trails that cut through lush greenery, Akan National Park is most famous for its three beautiful lakes: Lakes Akan, Mashu, and Kussharo.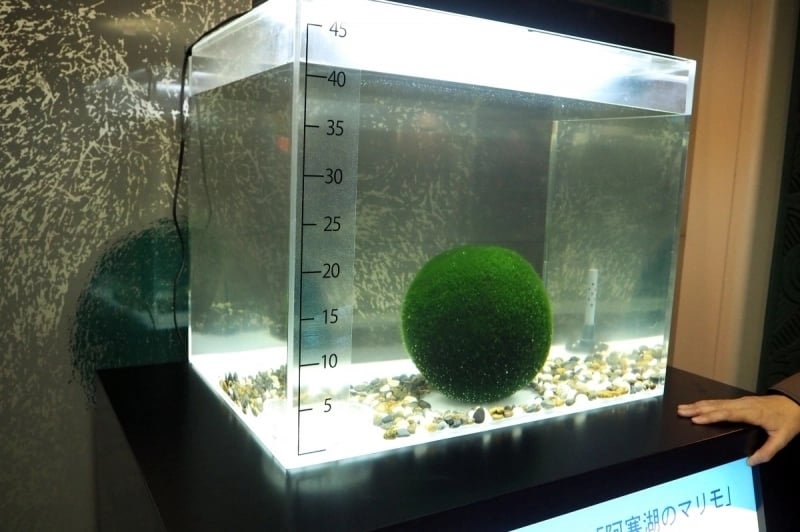 Lake Akan deserves special mention for being home to the enigmatic marimo. Essentially green balls of algae formed by the currents, marimo can grow to the size of soccer balls! On the other hand, Lake Mashu is known as one of the clearest lakes in the world, offering impeccable views from the observation decks around the lake. You will most often find the lake covered in a dense fog, giving it a mystical vibe.
3. Spend a day on the flowering fields of Shikisai no Oka
Located in the quaint town of Biei, Shikisai no Oka is a breathtaking collection of flower gardens occupying a 15-hectare-wide field. The flowers here bloom seasonally (from spring to autumn), transforming the surrounding area into a kaleidoscope of different colours depending on the season. It is definitely one of the best places for a memorable keepsake photograph.
What's more, Shikisai no Oka recently added an alpaca farm to its attractions, allowing visitors to interact with these cute farm animals while they're there.
4. Admire the alluring scenery at Sounkyo Gorge
Found in the northern section of Daisetsuzan National Park, Sounkyo Gorge is narrow gorge surrounded by forested cliffs. The town centre in the gorge is a perfect base for hiking tours and excursions into Daisetsuzan National Park and offers access to a ropeway to Mount Kurodake. There are also several onsens and public baths here which visitors can enjoy.
The gorge is an ideal place to escape the hustle and bustle of city life and simply ease into the serenity of nature. Many trails within the area lead to spectacular natural sights which are often even more alluring under the fiery colours of the autumn season.
5. While you're there, check out the 120-metre-tall Milky Way Waterfall!
6. Set sail on the icy Sea of Okhotsk
If you're visiting Hokkaido in winter, one highlight you should seriously consider adding to your itinerary is an ice-breaking cruise on the Sea of Okhotsk. As you set sail on the icy waters off the coast of Hokkaido, you'll be able to view drifting sea ice in abundance.
While drift ice can be seen generally throughout the entire area between the months of January and February, it is thickest around the coast of Abashiri. As global warming continues to impact our Earth and gradually reduce the thickness of these drifting ice, you really wouldn't want to push back this opportunity to "the next time" you visit Hokkaido.
7. Discover a winter wonderland at Mount Sahoro
Speaking of winter in Hokkaido, one of the most popular ski resorts in the area is found on Mount Sahoro. The Sahoro Ski Resort allows patrons to indulge in their very own winter wonderland thanks to the thick snowfall which is common in the area. Besides skiing and snowboarding, visitors can also go on snowmobile excursions!
Experience and savour the thrill of zipping through the thick snow in these sleek machines which you can rent from the resort. You won't be able to help but feel like an international super spy as you suit up and rev the engines!
8. Take a scenic stroll through Jigokudani (Hell Valley)
Do not be intimidated by the name of this place. I can assure you, it is far from hellish. Located above the town of Noboribetsu, Jigokudani is a valley filled with steam vents and sulfurous streams. It got its name thanks to its otherworldly appearance caused by the dense steam in the area. On the flip side, it sustains Noboribetsu's hot spring waters.
The various walking trails and paths in Jigokudani will lead you to many fascinating sights and offer you the chance of taking a dip (or a footbath) in natural hot springs and rivers. While Jigokudani is pretty all year round, the best time to visit is during autumn or winter, where the steam combines well with the red autumn leaves and white winter snow to produce some truly picture-perfect scenery.
9. Be awestruck by the surreal night view of the Otaru Canal
10. Attend a high-end catwalk penguin walk at Asahiyama Zoo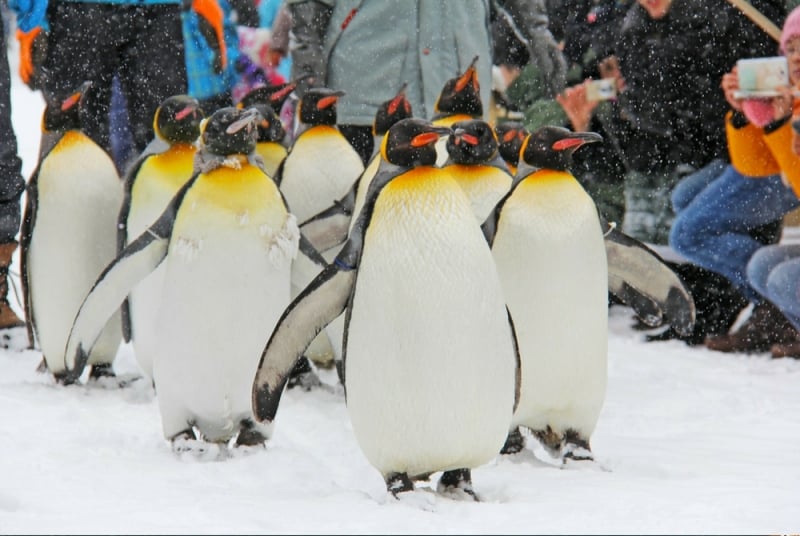 If there's ever a day in Hokkaido where it snows, quickly make your way to Asahiyama Zoo. It is during this time, and during this time only, when you will be able to witness the adorable procession known as the penguin walk. It is as it sounds. You'll be able to see the resident penguins of the zoo waddling through the snow at specific times. And nothing is cuter than that.
11. Touch a seal at the Okhotsk Tokkari Center
The Okhotsk Tokkari Center is neither a zoo nor an aquarium. It is more accurately described as a protection centre and hospital for seals. Here, visitors can learn about the ongoing efforts to protect these majestic creatures and get up close and personal with them as well.
Children (and I think most adults as well) will no doubt be exhilarated by the opportunity to touch a seal when they visit. One tip that I can offer is to visit during feeding time as this is when the seals are most active.
12. Interact with the bears at Mount Showa Bear Ranch
You can even take part in a hands-on feeding session under the supervision of the ranch employees!
13. Fall for the charms of Japan's indigenous heritage at Lake Akan Ainu Kotan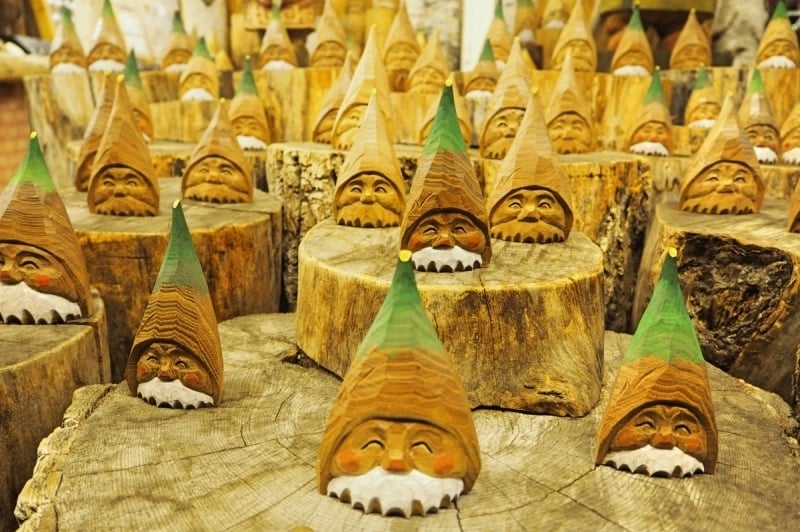 The Ainu are the aboriginal people of Northern Japan whose culture and racial identity differs slightly from that of ethnic Japanese. There are several museums in Hokkaido dedicated to the heritage of the Ainu people but none are as dynamic (and indeed, fun) as Ainu Kotan in Akankohan.
In Ainu Kotan, you will find a small museum which showcases the many facets of the Ainu culture, including traditional costumes and tools. Occasionally, you can also witness live cultural performances at the hall next to the museum. In addition, the streets in Ainu Kotan are lined with souvenir shops selling traditional Ainu handicrafts, allowing you to bring back unique souvenirs from your trip to Hokkaido.  
14. Pamper your taste buds with a traditional Japanese Kaiseki Dinner
Kaiseki is a traditional Japanese dinner which involves multiple courses. The term "kaiseki" also refers to the various skills required in the preparation of the dishes. The dishes aim to thrill and excite not just the palette but also the eyes, ensuring that the visual aspect is just as impressive.
Only the freshest ingredients are used in the preparation of kaiseki dishes with "balance" being the main theme throughout. A typical kaiseki consists of an appetizer, fresh sashimi, a simmered dish, a grilled dish, and a steamed dish. Of course, the chef of the day can decide to add on even more dishes if he or she sees fit.
A kaiseki dinner would be a highlight of any tour in Hokkaido, but if you're looking to visit Hokkaido over Christmas and want to include this in your itinerary, check out this package which also includes the aforementioned Jigokudani and Mt Showa Bear Ranch.
15. Sample authentic sake at the Otokoyama Sake Museum
16. Make your own mochi from scratch
17. Become a master glass smith at Furano Glass Forest
The Furano Glass Forest is an exhibition of a variety of glassware ranging from tableware to jewellery and even mosaic art pieces. While it's one thing to admire the elegant masterpieces on display (and on sale), what's even more exciting are the interactive workshops on offer here.
Become a master glass smith yourself as you try your hand at glass blowing and sculpting. You can even make your own DIY souvenirs to bring home. How nifty is that! Criminally underrated, the Furano Glass Forest is certainly one place in Hokkaido you should consider visiting for an unforgettable experience.
Start planning now!
And there you have it, 17 unique things to do in Hokkaido you'd definitely want in your next itinerary! Many of the attractions on this list are either only available during winter or at their best in autumn, which makes now the perfect time to start planning your ideal Japan getaway!
But if you're feeling stressed out by the hassle of planning the perfect itinerary, then why not let H.I.S International Travel do the planning for you?