There's no lack of novel themed restaurants to visit in Japan and if you're a sashimi fanatic who can't get enough of fresh fish – you'll hit the jackpot here at Zauo Fishing Restaurant.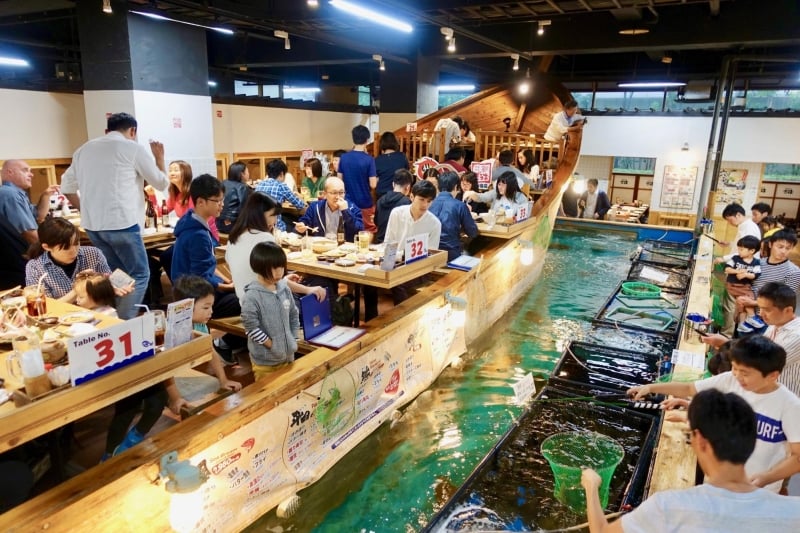 The restaurant's exterior is rather unassuming, looking somewhat like any other food establishment; but step inside and you'll be greeted by a giant boat surrounded by a bubbling moat. The atmosphere is buzzing, punctuated by occasional cries of triumph from a patron who has just snagged him/herself a fish. Suddenly, drum beats fill the air – upon investigation, it turns out that the staff beats a drum whenever a fish is caught. We felt as if our senses were being assaulted from every direction, and in a way that had us raring to get started.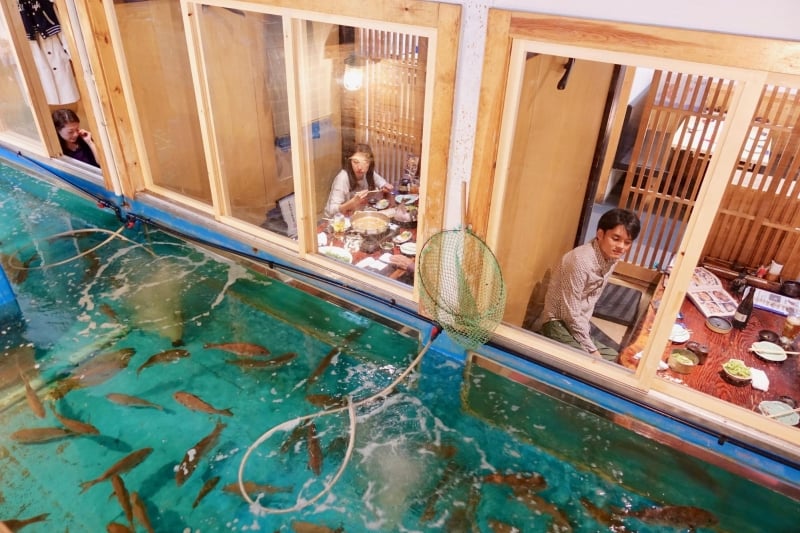 The restaurant has a couple of seating areas. There are rooms with tables beside windows opening up to the moat and some rooms situated further off. The best seats in the house are, of course, the tables up on the boat itself. If you're seated on the boat or in the rooms pictured above, you'll be able to go fishing directly from your seat.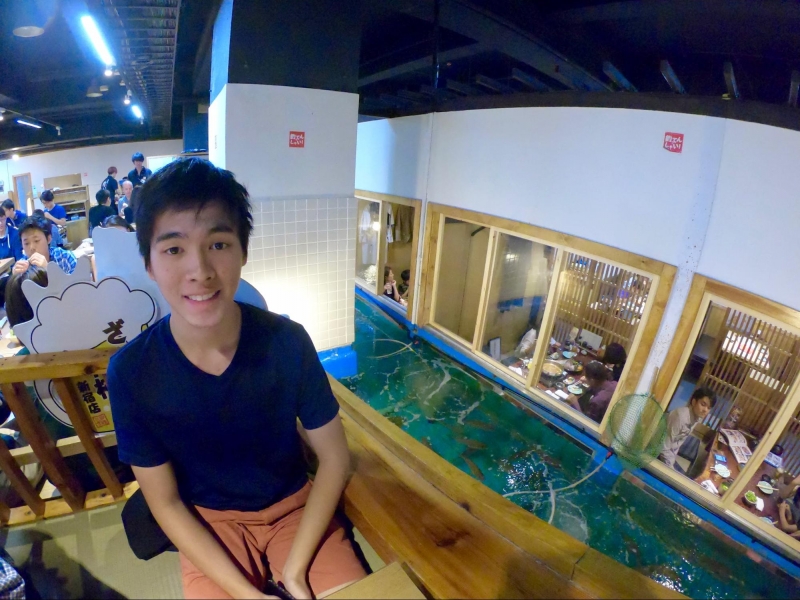 We made prior reservations (do note that reservations are highly recommended as the restaurant is often operating at full capacity) and requested to be seated on the boat.
Once we were seated, one of the waiters came over to explain the process – it's cheaper if to catch your own fish as compared to ordering it off the menu. Fishing rods can be rented for JPY100 (~SGD1) and fishing bait is free. You can choose the type of fish that you want to catch, with the choices including sea bream, flounder, lobsters and various clams. The only catch? Once you've caught a fish, you can't release it back into the water. In other words, you have to eat what you catch!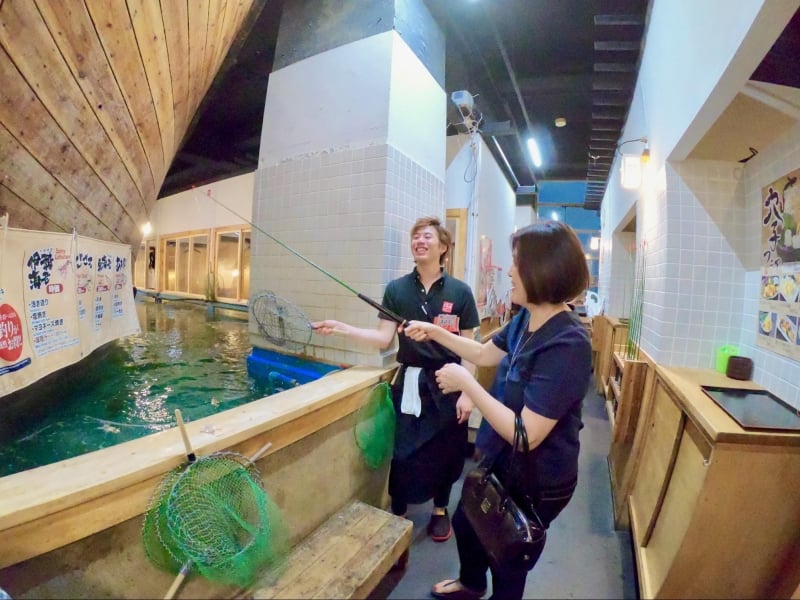 We decided to join in the fun and do our fishing down on the floor instead of from our seats on the boat. Fishing here is a two-man job or, if you're adept enough, you can do it by yourself. First, you'll have to put some bait on the hook and dangle your fishing rod in the water. Once a fish catches on, you'll have to use a net to scoop the fish up.
We didn't have any prior fishing experience and still managed to catch two fishes in no time at all. If you require any assistance, there are plenty of waiters and waitresses who will readily lend a helping hand.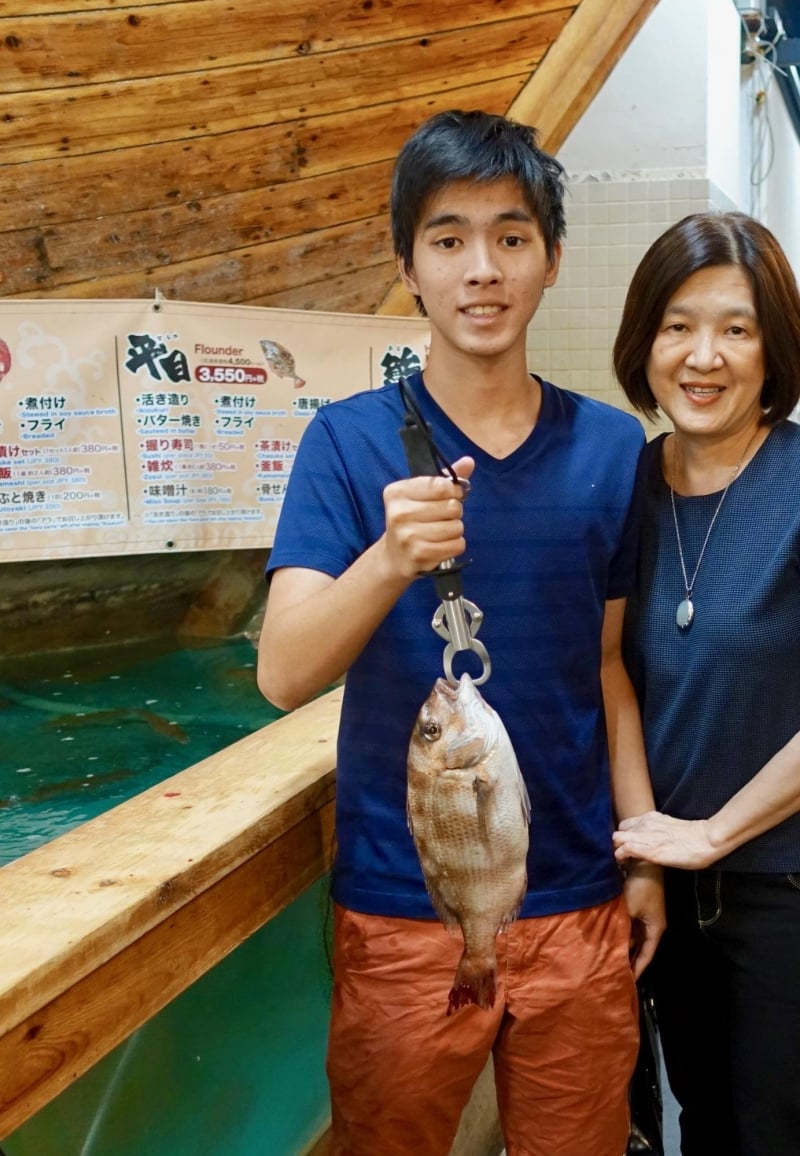 Once you've caught your fish, don't forget to take a victory photo! The staff will come over to retrieve your prize, which you can choose to have cooked in a few different ways. Take your pick from having it served fresh as sashimi, grilled, boiled or deep-fried. These are all included in the price of the fish but you can also choose to top-up a little for your fish to be served in the form of sushi. In addition, if you wish to try the different cooking styles, one fish can even be prepared in two different ways!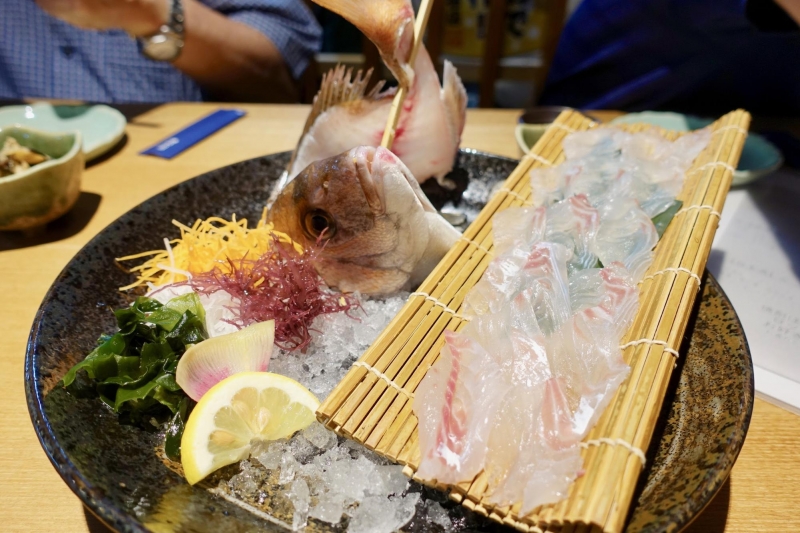 Our favourite was the sashimi, which tasted unbelievably fresh. We wouldn't expect anything less; after all, we only just caught the fish moments ago! We caught two sea breams in total, one of which we chose to have half served as sashimi and half grilled, the other we chose to have half sautéed in butter and half deep-fried.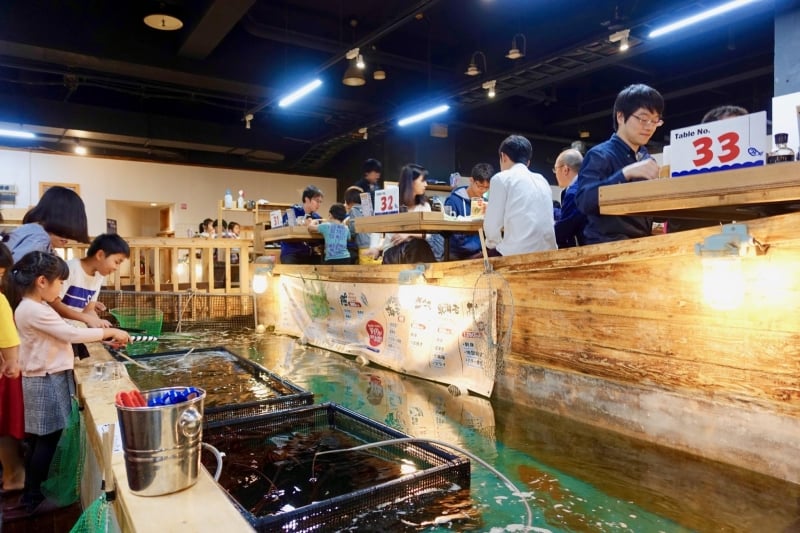 If you wish to dine on lobsters and clams, you'll be scooping them out of submerged containers. Not much challenge there, we'd say. It's a whole lot more fun fishing with the rods!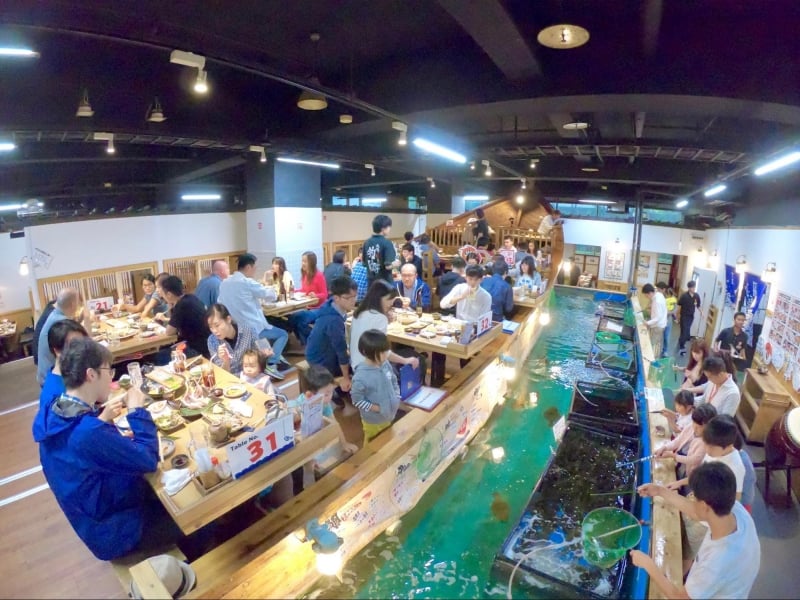 Besides the dining experience, the restaurant also offers a sushi-making class for kids. Do note that fishing is available for weekday dinner and weekend sessions. Fishing is only allowed for weekday lunches if customers book a full-course menu at least a day in advance. This information is for the Shinjuku branch that we visited, with timings varying for different branches. We heard that many walk-ins have been unsuccessful due to the restaurant being fully-booked, so do remember to make your reservations in advance via their website to avoid any disappointment.
So, do you think you're up for this fishing challenge? Best of luck!
Zauo Fishing Restaurant
Address: 3-2-9, Nishi-Shinjuku, Shinjuku-ku, Tokyo 160-0023 (located on 1F of the Shinjuku Washington Hotel)
Opening hours:
Weekdays:
11.30am – 2.30pm (lunch; last order at 2pm),
5pm – 11pm (dinner; last order at 10pm)
Weekends and holidays:
11.30am – 2.30pm (lunch; last order at 2.30pm),
4pm – 11pm (dinner; last order at 10pm)
Check the website for more information on other branches.