Taiwan is filled with mouth-watering food aplenty, ranging from the original Din Tai Fung to all-you-can-eat hot pot restaurants. But that aside, come on who are we kidding – we know that everyone comes to Taiwan for the night markets!
Taipei, being Taiwan's capital city, boasts some of the best night markets in the country. Which is the best night market though, we wonder? We put this question to the test, and trawl through 6 night markets to see which is the best. Here is the Ultimate Guide to Taipei's Night Markets, for your reading and gastronomic pleasure!
Also read: 21 Taiwan Street Snacks You Must Try
1. Shilin Market
Image credit: druchoy
First off, the most famous one of them all – the ever-so-popular Shilin Market. Having been moved several times, the market is now half open-air, half hidden in a basement. Despite this, the market remains a huge magnet for hungry locals and tourists alike. The market offers every kind of street food imaginable, and is chock-full of shops selling bargain clothes and accessories. The Shilin Market opens from 4pm till late – perfect for any shopaholic going on a raving shopping spree.
In the mood for oyster omelette, stinky tofu, fried buns of caramelised tomatoes? Here at Shilin Market, you've got it all. Remember to go with an empty stomach, you definitely won't regret it!
2. Keelung Market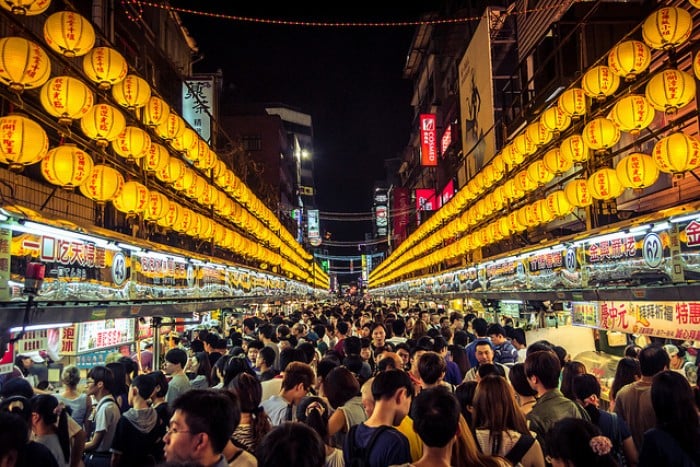 Image credit: Alexander Synaptic
Having visited quite a few night markets in and around Taipei, the one in Keelung definitely emerged as a personal favourite. Although the market is located about half an hour outside of Taipei's centre, the trip there is well worth your time. Keelung Market is less touristic than Shilin, and is definitely less crowded. Take it from me, it's definitely easier to breathe here!
You can find all the typical Taiwanese dishes here at Keelung, plus the prices are much more reasonable! Besides an abundance of seafood, one should also try suckling pig and gluttonous rice. Stuffed to the brim? Check out the beautiful temple right next to the market. Feast on food and culture both in one night – Mm mm, sounds like a plan to me!
3. Raohe Market
Image credit: Connie Ma
Located in the centre of Taipei and close to the Keelung river, Raohe market enjoys a prime location. Guarded by the Song Shan Fu De Temple, the market isn't the biggest in Taipei, but what it lacks in size it makes up for with charm. While the other markets do not offer much seating space, the Raohe market has plenty of tables right in the middle of the street – all the better to enjoy a sumptuous feast with a group of friends! If you judge by the long lines that snake in front of the stalls, one of Raohe Market's culinary highlights would be the black pepper buns. After all, as the saying goes – if there's a queue, it must be good! However, should it be raining, you might be better off going somewhere else – the market is primarily in the open and doesn't offer much cover from the downpour.
4. Ningxia Market
Image credit: llee_wu
Ningxia is a sure favourite among locals, as the market offers plenty of reasonably-priced traditional dishes. One of my favourite dishes from the market was the LinJi rice cake. Filled with sesame seeds and peanuts, the rice cake was very tender and smooth. Besides going on a food hunt, why not try your luck at one of the gaming stalls, or even try to catch a few fish to bring home? Ningxia Market, above all, is tremendously authentic, and what else is anyone really looking for in any night market experience?
Also read: Don't Leave Taiwan Without Visiting These 7 Night Markets
5. Tonghua Market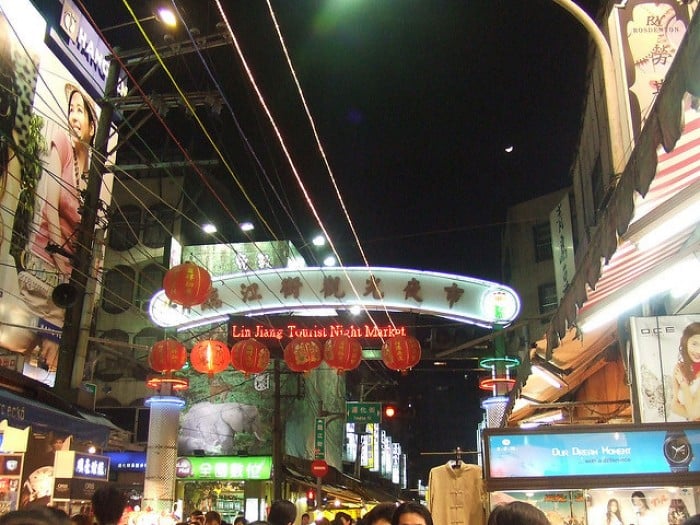 Image credit: Ray Tsang
Despite its close proximity to Taipei 101, the market exudes a surprisingly local authentic vibe. The market is still relatively undiscovered by tourists, so do visit it before it becomes overcrowded! Shopaholics, rejoice – the streets surrounding the market are lined with shops peddling cheap clothes. Be prepared to end the night with a significantly lighter wallet!
One of the more popular snacks found in this market would be the salted crispy chicken – it's so good that I guarantee you won't be able to stop at one! Should you not be a fan of chicken, you're able to get tofu, mushrooms, or other veggies that is deep-fried with the same salty pepper sauce. So. good. Of course, you're also able to find the obligatory stinky tofu, oyster omelette, chicken cutlet… the works.
6. Shuangcheng Market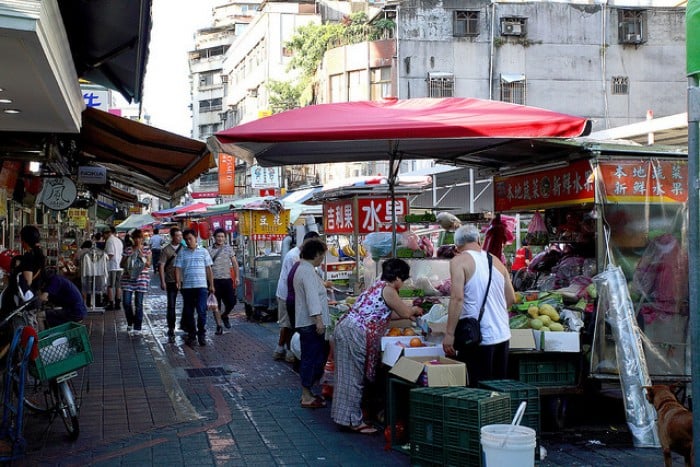 Image credit: Kabacchi
Shuangcheng Market is one of the older markets in Taipei, and retains a sort of rustic charm hardly found elsewhere in the city. Mingle with the locals over a bowl of mee sua or a cup of fruit juice, or watch as they go about their daily affairs. The Market isn't very big, but offers most of the foods that you can find in other night markets – from soy sauce braised pig's shanks to chicken rice to goose soup to jelly fig rice. Anyone else feeling hungry already?
So which night market is the best? I don't know about you, but I'm definitely spoilt for choice. Someone bring me back to Taipei already!
Also read: How to Travel Taiwan on a Budget