Full of charm and character, Morocco overflows with sheer beauty and bedazzling architecture! Kasbahs rise up from the sandy landscapes of the Sahara, winding alleyways of the souks criss-cross in a frenetic fashion and the majestic peaks of the Atlas Mountains glimmer with snow in the backdrop.
If you have limited days of leave but still want to travel to an unconventional destination and satisfy your wanderlust, fret not! I've got you covered with the ultimate nine-day itinerary to discover Morocco. Drawing inspiration from my personal trip, I have curated this guide for you to experience the best of the country in this order: Rabat > Fes/Chefchaouen > Merzouga > Marrakech.
Day 1: Rabat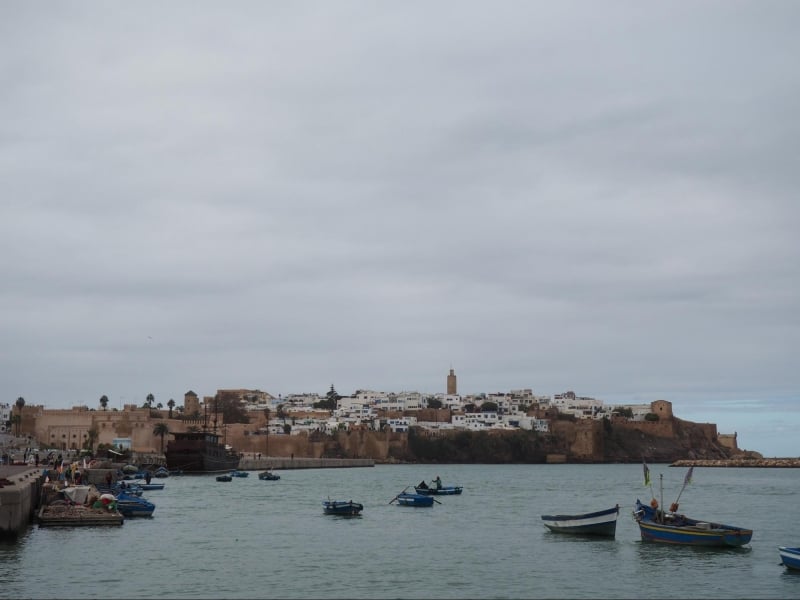 For those looking to kickstart your adventures with a laid-back destination, Rabat is the place to be! Located on Morocco's Atlantic Coast, it is the capital city of Morocco and the perfect place for you to experience the authentic Moroccan way of life.
Kasbah of the Oudayas

For the first stop of the day, head to Rabat's most famous attraction, the Kasbah of the Oudayas. Built by Muslim refugees from Spain in the 12th century, this kasbah was the original site of the city and boasts stunning ocean views and peaceful streets. Just gazing at the majestic walls of the fortress will bring you back in time to historical Rabat.
Kasbah: A fortress building or a fortified part of a city. A ruling king would build a grand kasbah as a sign of wealth and for protection from enemies.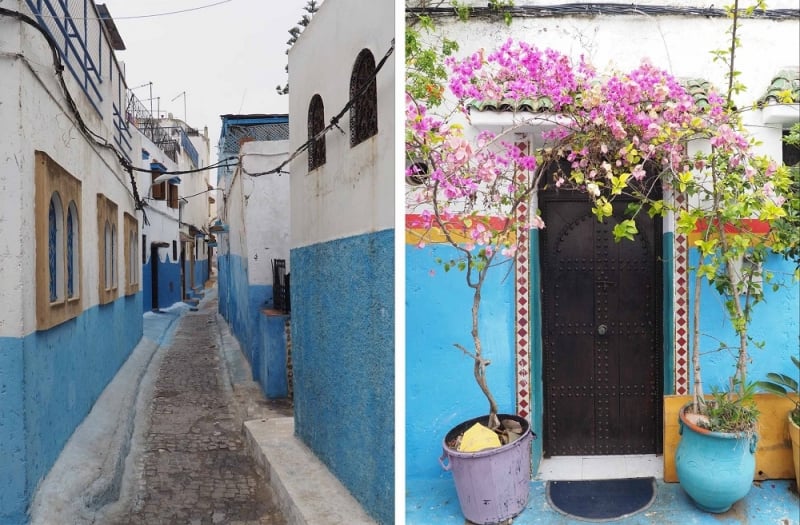 Kasbahs look very different and vary from city to city. The Kasbah of the Oudayas is very unique – the walls are painted a clean white and vibrant shades of blue, giving those who visit serious Santorini vibes! What's cool is that people are still living in the kasbah, and it was interesting to see the locals going about their daily lives.
Tip: Don't fall for scams where the locals claim that the kasbah is closed and therefore you need a 'guide'. Just politely refuse and wander the lanes on your own!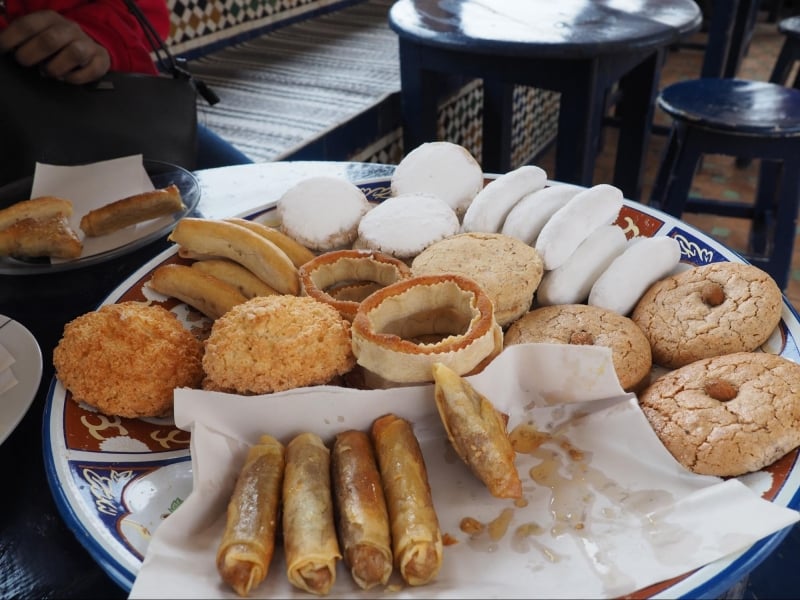 After wandering the grounds of the kasbah, be sure to visit the snack joints which serve refreshing mint tea and delectable snacks and sweets. Most are made with an almond-pastry base and have different textures.
Mausoleum of Mohammad V & Hassan Tower

Just a five-minute taxi ride away is the Mausoleum of Mohammad V. This mausoleum, which houses the tombs of the present king's father and grandfather, is made of marble and is decorated with patterned tiles and an iconic green roof. As you enter the building, look up to gaze at the carved cedar ceiling covered in gold leaf and look down into the tomb from the viewing gallery.
Across from the mausoleum is the Hassan Tower, which is all that remains of a gigantic, unfinished 12th-century mosque. This was meant to be the site of the world's largest minaret and mosque, but work stopped when the then sultan passed on.
Day 2: Rabat & Fes
Rabat Medina

The medina is definitely not to be missed from the list of things to do in Rabat, or in any Moroccan city for that matter. It is full of market shops selling various goods such as rugs, ceramics, hand-crafted items and more. The medina here is not heavily reliant on tourism, so you can actually get a real snapshot of the local way of life here. The pace is less frenetic and you can haggle prices in a more relaxed atmosphere.
Medina: A medina is where the first settlements were started, and it is the centre of everyday life where people lived, ate and traded. It usually is made of narrow and almost maze-like streets.
En Route to Fes
After exploring the medina, grab your bags and head to the Rabat Agdal Train Station for your train ride to Fes. Moroccan train lines are run by the national rail company ONCF, and there are trains every few hours. The ride will take about 3.5 hours on average.
Tip: Don't panic about getting the train tickets online, you can easily get them at the train station itself. If you're travelling with suitcases, it is highly advisable to book the first class tickets as the main cabin is usually crowded.

There is something raw about Fes that never fails to fascinate its visitors. Till today, this city is heralded as one of the most well-preserved cities in all of the Arab world and also boasts the oldest medieval medina. Housing one of the first universities in the world, it is known to be the birthplace of well-known scholars and artisans.

When in Morocco, one MUST experience staying in a riad and you can easily book them through Airbnb. This spectacular riad (which was considered a mid-range one) costs only S$65 per night for three, and it included a hearty breakfast spread! You may choose to pay more to book fancier riads which have more posh furnishings and swimming pools.

After checking in to your riad, head out to explore the old medina and be sure to try the various types of street food. I tried the harira (Moroccan soup) and a bread dish served with heavily spiced minced meat. Also, try the date baklava pastry for dessert!
Riad: A traditional Moroccan house or palace with an interior garden or courtyard.
Day 3: Fes
Chaouwara Tanneries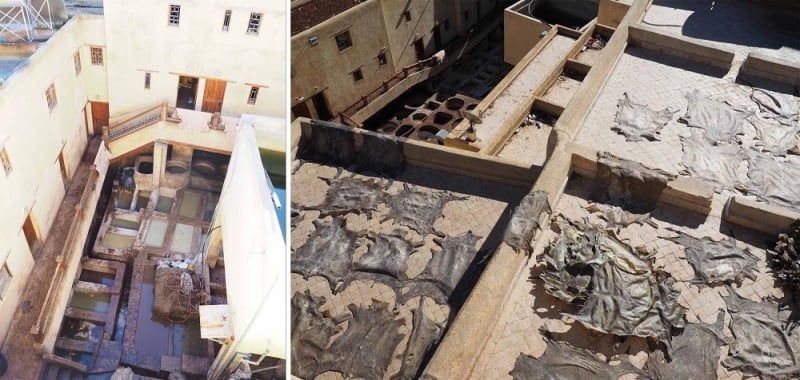 The Chaouwara Tanneries offer one of the city's most iconic sights and smells, and it showcases the pungent, natural process of producing leather using age-old traditional methods that have changed little since the medieval times.
Medersa El-Attarine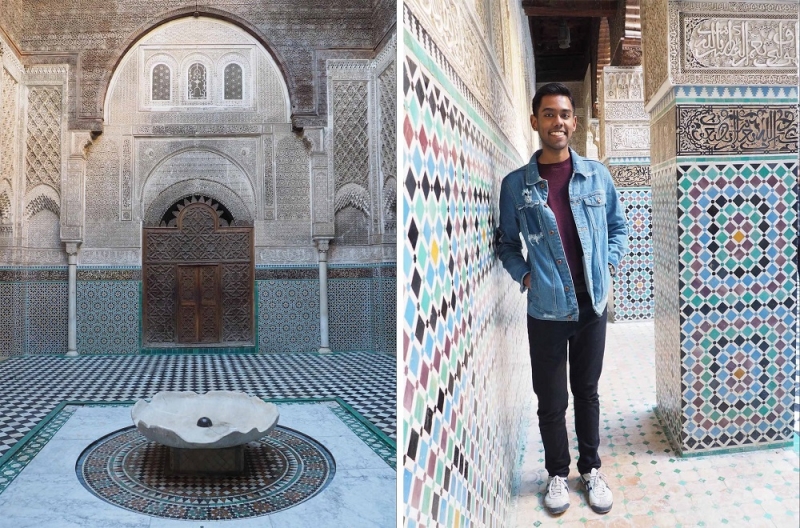 Located just a seven-minute walk away from the tanneries is the gorgeous Medersa El-Attarine. The medersas in Morocco are witnesses to the city's intellectual and scientific past and they played a crucial role in the country's political, educational and cultural life.
The central courtyard boasts the traditional and intricate patterns of Merenid artisanship with magnificent zellij (tiles), meticulously worked mosaics, onyx columns and carved cedar wood arches. This is as fine as Moroccan Architecture gets! Do note that only Muslims are allowed to enter this medersa.
Medersa: An educational institution or school, usually of religious nature (Islamic, in the case of Morocco)
Medersa Bou Inania
For non-Muslims, you may want to visit the Medersa Bou Inania instead. Also located within the Fes medina, this beautiful religious building was built by the Merenid Sultan, Bou Inan, between 1351 and 1357. Take some time to explore every angle of this place for awe-inspiring photographs!
Fes Medina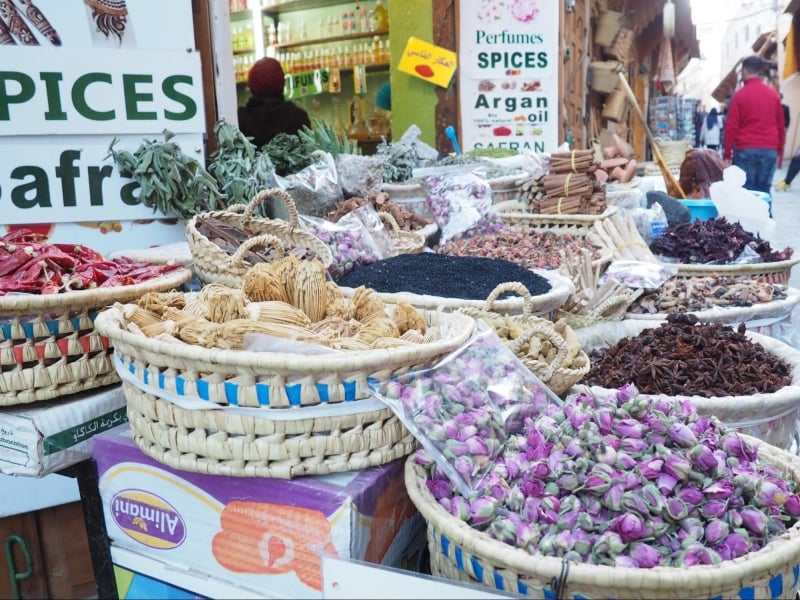 Souvenirs, ceramics, leather goods and textiles tend to be cheaper in Fes, so this would be a good time to source out for gifts for loved ones and yourself. Be sure to also get some exotic Moroccan spices and herbs if you're looking to enhance your skills in the kitchen!
Day 4: Chefchaouen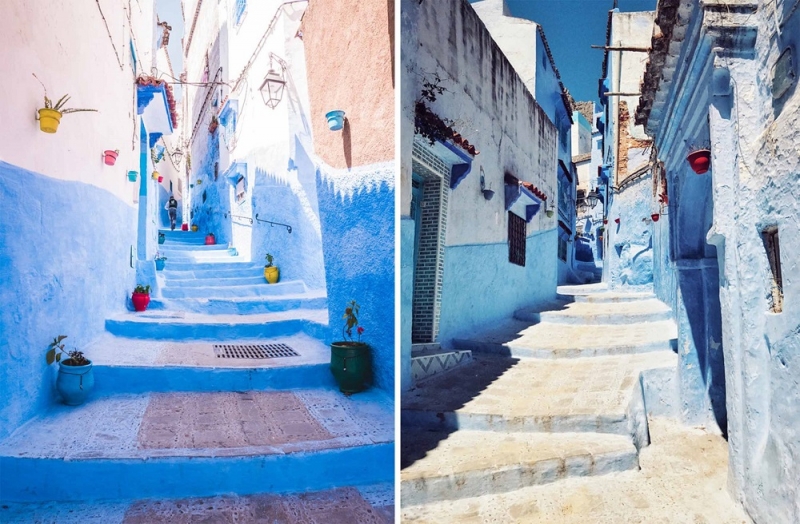 Enter the Blue City of Morocco! Chefchaouen is undeniably the prettiest town in Morocco, and it has a distinct otherworldly feel to it. The artsy, Instagram-worthy blue-washed village is beautifully perched beneath the peaks of the Rif Mountains. Every corner of this town presents a photo opportunity and although it is a popular tourist spot, it still very much retains its charm.
The town is about a 4-hour bus ride away from Fes, so it's highly advisable to take the first bus out to make the most out of your day. The route is served by the CTM bus company, so do check their website for the latest schedule.
Tip: Ask the staff at your accommodation to book the bus ticket for you as they require a Moroccan bank card for bookings.
Chefchaouen Medina / Plaza Uta El-Hammam
You will probably reach Chefchaouen just in time for lunch. Chefchaouen's medina is relatively small and compact, and here you will be treated to a hundred shades of blue. Feel free to get lost in the criss-crossing alleyways – this paradisiacal place comes with a peaceful sense of calm and awe-inspiring wonder.
The heart of the medina is the cobbled Plaza Uta El-Hammam. The square is lined with a decent array of cafes and restaurants, and it is a peaceful spot to just sit, relax and people watch with some Moroccan tea.
Chefchaouen Kasbah
The kasbah in Chefchaouen is a heavily restored fortress that offers stunning views over the medina. The premises also hosts one of the most beautiful gardens in all of Morocco, as well as a small Ethnographic Museum. Learn more about the culture of the people who live at the Rif Mountains, and be sure to also visit the art gallery that showcases works of local artists, old and new.
Day 5: Chefchaouen & Return to Fes
Sunrise at Spanish Mosque / Ras El-Maa
After catching the sunrise, take a short hike up the hill to the nearby Spanish Mosque. This mosque was built in the 1920s but was never used, and then it was subsequently restored by the Spanish. From here, you can gaze over at the mountains and the town, and breathe in the clean air of the Rif Mountains.
Talassemtane National Park
If you're looking for a dose of trekking, be sure to visit the Talassemtane National Park. There are numerous trails of various lengths and durations in the vast park, which begins just an hour's drive outside Chefchaouen. Trails can range from three hours to eight hours return and due to relatively poor signage, it is highly recommended to have a guide with you.
Popular spots in the park include the village of Akchour (which houses the waterfalls Cascades d'Akchour ) and God's Bridge (a majestic natural formation in the shape of a stone arch). The dramatic sight of the verdant landscapes, waterfalls and rivers will give you a much-needed break from the sandy rustic scenes that would have been used to. After exploring the mesmerising city of Chefchaouen, take the bus back to Fes.
Day 6: En Route to Merzouga
No trip to Morocco is complete without a desert expedition to the Sahara! Most hotels and riads in Fes offer tours that will bring you to the Sahara, so do book your trip a couple of days in advance. The bus ride takes about nine hours, but you'll be treated to amazing landscapes along the way to make up for the sore bum!
Depending on the traffic situation, you will reach the camp's guest house just in time for sunset. Prepare to leave WiFi and modern amenities behind, as you'll soon be following the footsteps of the Bedouin Arab tribes. You will be greeted by your guide, who will help you to get on your camel and lead your group to the desert campsite.
After the hour-long trek to your campsite, the sky transforms to offer another view – an awe-inspiring blanket of stars! The stars in the Sahara are on another unparalleled league of their own. This would probably be the best stargazing experience that you would ever have in your entire lifetime.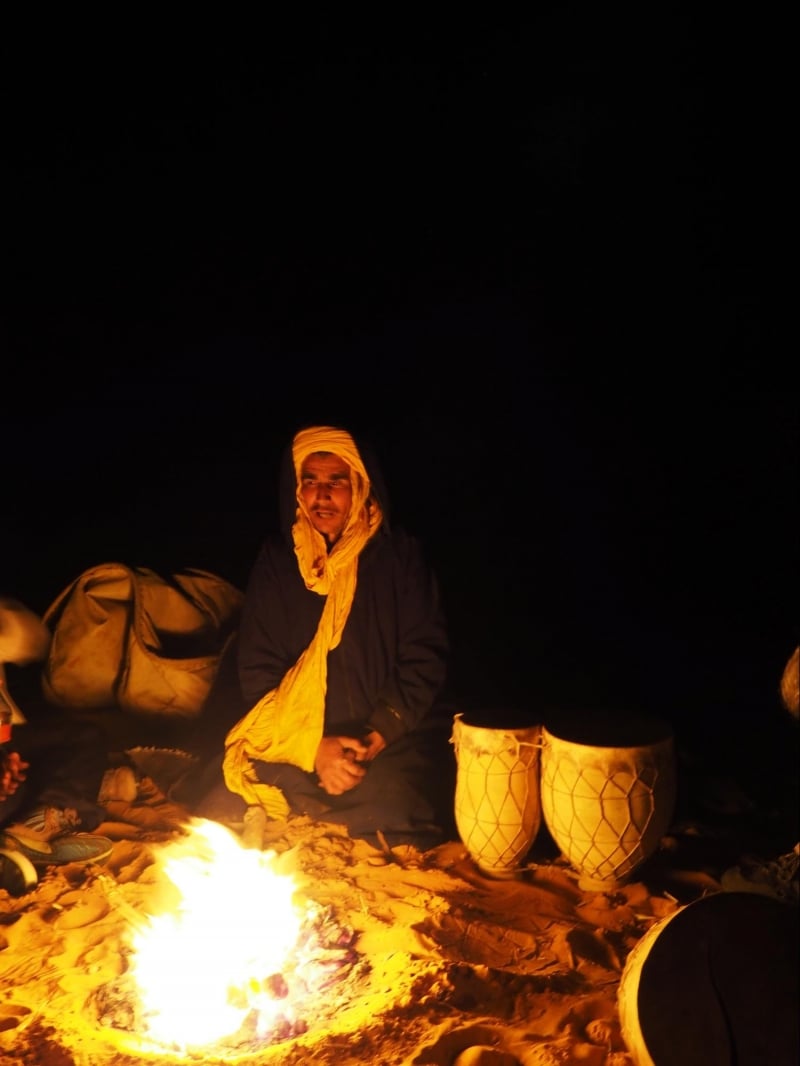 Huddle around the campfire and warm yourselves up as you feast on more tagines and bread in the middle of the desert. The evening livens up with Berber music and other performances. The desert gets really cold at night, so be sure to pack in an extra layer of clothes and a jacket to protect you from the freezing temperatures.
Day 7: Merzouga & Return to Marrakech

Your guide will wake you up at around 5am in the morning and you will set off for your camel trek to the top of the dunes. Watch the sun slowly inch out from the horizon and gaze at the landscape being bathed in a warm orange glow. Truly, you will be awestruck at the wonders of nature.
After witnessing the sunrise at the dunes, ride your camel back to the guest house for your breakfast. You will then set off for Marrakech right after breakfast. It'll be dark (at about 7pm) by the time you reach, so check yourself into your riad and spend the rest of the evening lounging.
Day 8: Marrakech
Marrakech is no doubt one of Morocco's most memorable experiences. It is a sensory-rich city where you can experience a unique amalgamation of ancient traditions and modern conveniences. Marrakech might be a bit overwhelming for some, which is why it's recommended to leave this frenetic city as your last stop.
Jemaa El-Fnaa
Said to be the busiest square in all of Africa, Jemaa El-Fnaa is the central marketplace in Marrakech, and its history goes back almost a thousand years. Almost all locals will tell you to start off your Marrakech leg here. The square buzzes with activities all day long, with snake charmers and henna tattoo stalls in the day and numerous eating establishments and Berber musicians at night.
Day 9: Marrakech
Visit a Hammam
Rise and shine, it's your last day in Morocco! Don't shower just yet – you'll be starting your day with a trip to a hammam. You could either visit a private, luxury hammam (Les Bains De Marrakech) or a public one (Hammam Es Salam). Strip down and immerse yourself in a sauna, body exfoliation session and dip in the pool. It is also advisable to bring your own towel and flip-flops.
Hammam: A local bathhouse
Jardin Majorelle & El Badii Palace
After your relaxing hammam experience, head over to Jardin Majorelle, one of the most visited sites in Morocco. Saunter along the picturesque lanes and feel the passion and dedication of Jacques Majorelle, who spent over 40 years creating this enchanting garden. This place is perfect for those looking for a break from the bustling city.  
Visitors to the Red City of Marrakech must also visit the fascinating El Badii Palace. The palace dates back to the 1570s and it was built by a Saadi sultan, Ahmed el Mansour. The royal residence is known to have housed more than 350 rooms, on top of sprawling gardens, and pavilions. Built with carefully sourced materials such as Italian marble, this palace boasts the best decorative styles from the Saadi era.
Bonus Tips
1. Keep contact numbers handy
I had a hard time finding our Airbnb in Rabat as Google Maps isn't exactly precise in Morocco. So do take note of your hotel's or host's contact number so that the driver can contact them for directions.
2. Insist for the meter to be turned on during taxi rides
Petit or Grand Taxis are the main means by which you would be getting around from place to place. To avoid being scammed, refuse their quoted flat-price and instead insist for the meter to be turned on.
3. Never pay the first price quoted
Haggling is common and depending on your bargaining skills, you can expect to get your items at half the price that was first quoted.
4. Weather in Morocco is unpredictable
While you may think that a desert country is going to be just hot and dry, think again. Temperatures can fluctuate and it may get chilly at times, especially if you're visiting the Sahara.
5. For the ladies, pack modest clothing
Ladies, expect to experience catcalling from the local men. To reduce the attention that you'll be getting, try to wear at least leggings and avoid sleeveless tops altogether. You must also be modestly covered (long sleeved tops /pants) with a shawl if entering places of religious importance.
This ultimate 9D itinerary will showcase the best of what Morocco has to offer! If you can afford more days, squeeze in other equally intriguing cities such as Meknes, Ouarzazate as well as the coastal city of Casablanca. Morocco is indeed a country that promises to enthrall and engage all your senses – no wonder it is trending as a must-visit destination in 2018!