By all accounts, Brisbane is pretty underrated.
When people think of an Aussie getaway, their first instinct tends to veer towards places like Sydney, Melbourne and Perth. There's no doubt that those are amazing cities, but it's really time to show Brisbane some love! As the capital of Queensland, Brisbane embodies a strong and vibrant spirit that reverberates throughout the city. It also happens to be the most populous place in the state, so its fortunate that its people are all filled with love and energy.
It's high time that more attention is spent on discovering Brisbane for all its sights, sounds and people. To convince you, here are the top 10 things to do here!
1. Learn about the city with a walking tour  
There's no better way to discover a place than with locals. With the Brisbane Greeters, you not only get to spend some quality time with the friendly locals, but they will also be your tour guides for the day. This free, local ambassador service was initiated by the Brisbane City Council, and seeks to engage tourists in a comfortable and novel fashion. Choose from their specially curated list of the best sights and sounds of Brisbane, or propose your own itinerary and let them show you around. Whether you want to explore the city precincts, lose yourself in the gardens or chill by the riverside, the Brisbane Greeters will be there to lead you and provide you nuggets of information along the way. At the end of it, you may have gained a new best friend on op of a more in-depth understanding of the city!
Do take note that greeters have to be booked at least two days in advance, and that tours are only conducted in English.
Entrance Fee: Free!
Opening Hours: 10am onwards (daily). Tours can last up to four hours.
Meeting Point: Outside Brisbane City Hall, King George Square Entrance
You might also be intrigued by themed walks – such as Brisbane's HerStory Tour. Famous author Rosa Praed (1851-1935) has returned to life, just to be your personal guide on all things female! As you tour the city,  you'll also transcend time and revisit the lives of prominent women from the past. Learn about their struggles and achievements, and reflect on how much things have changed since a few decades ago. It's an understatement to say that this would be an eye-opening experience.
2. Go cafe-hopping in the heart of town  
Forget about the naysayers, and cafe-hop as you please! Brisbane is teeming with trendy cafes that serve up delectable delights at every turn. Enjoy the relaxed ambience of the compound, and feast both your eyes and stomach on mouth-watering plates of classic dishes. Complete your meal with a healthy bowl of acai, or give the local craft beers a try! With Brisbane as an up and coming food haven, there's no doubt that the cafe experience here will surpass all your expectations.  
3. Work your way up the Brisbane Story Bridge  
Thrill seekers, this is for you! You may have scaled skyscrapers or mountains, but you have probably never climbed on a working bridge that overlooks the whole of Brisbane. The Brisbane Story Bridge is the most striking icon in the city, and what better way to explore it than to climb it Strap up and make your way along hundreds of steps to the top – it's definitely a workout with a view.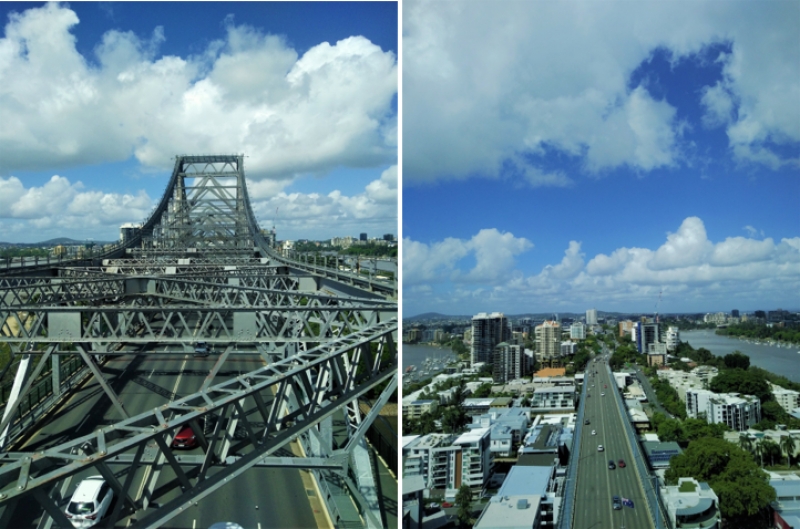 As you proceed with your climb, plug into the earpiece set to receive a commentary about the Story Bridge and its surrounds. It's both a workout for your mind and body! You will be duly rewarded at the top with stunning views of the city, river, and even mountains in the distant horizon. If you're daring enough, look down to hundreds of cars whizzing beneath your feet (we promise the structure is secure!). You won't be able to replicate a view like this. With the variety of selections available at the Brisbane Story Bridge, you can choose between different time slots (dawn, day, twilight, night) to get a varied experience of the climb and views. In addition, there are tailored climbs to cater for special events and celebrations. You could practically have a party up there!
Entrance Fee: AUD 119 onwards/person (depends on the type of climb)
Opening Hours: 6am to 10pm (daily)
Address: 170 Main St, Kangaroo Point QLD 4169, Australia
4. Enjoy a free river cruise on the City Hopper
Did you know that the Brisbane River is the longest river in South East Queensland? Many would argue that the city is defined by this long and meandering beauty, so you definitely need to check it out. While there is a variety of cruises for you to choose from, the CityHopper is the most fuss-free way to enjoy a river ride. Not only is it a convenient hop on and off service along eight stops, but more importantly, it is free! This cruise provides the perfect spot to just sit back and relax (or even stand on the top deck) while you traverse the Brisbane River and take in the scenic views of its surrounds.
5. Relax along the Southbank Parklands  
It is undisputed that everyone's must-go destination in Brisbane is the South Bank Parklands. As the city's premiere lifestyle destination, it is a mini-utopia for the perfect day out. Not only are its museums and exhibitions pivotal to the cultural scene in Brisbane, but it is also populated with markets and quaint diners that would satisfy even the pickiest of eaters. Most impressively, there is an artificial beach and lagoon – think sunbathing, swimming, picnics and barbecues! What more could you want?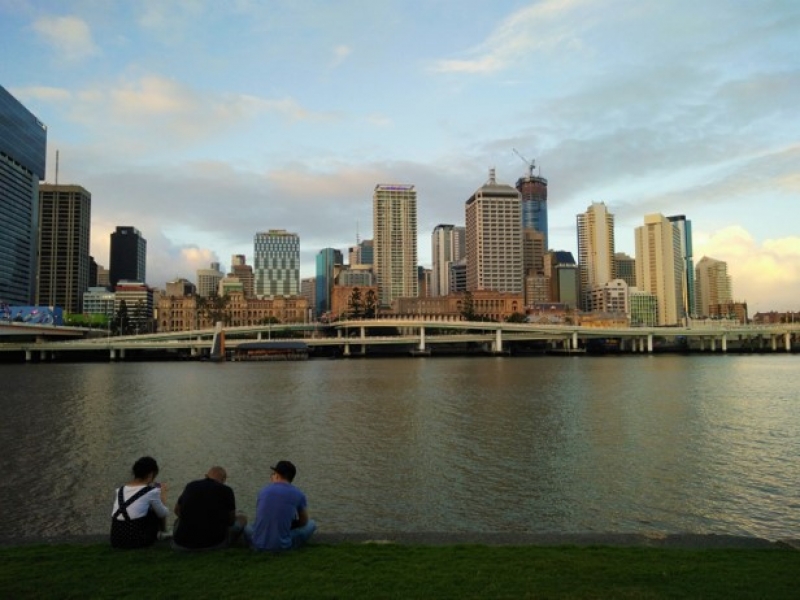 Strategically located along the Brisbane River, South Bank Parklands is a pastime spot where locals take slow walks along the bank, or simply sit by the grass and people-watch. The city view across the river serves as the perfect juxtaposition to where you are – there, all things are fast-paced and hectic. Here, everything is calm, peaceful and zen. This is where you want to be.
Opening Hours: 5am to 12am (daily)
Address: South Brisbane QLD 4101, Australia
6. Take a ride on the Brisbane Wheel
Many great cities have its iconic ferris wheel, and Brisbane is no exception. While you are at the South Bank, hop onto the Wheel of Brisbane for breathtaking views of the city. Take full advantage of the 60m high vantage point to relish in the 360-degree panorama, all while being seated comfortably in the fully air-conditioned gondola. If you are looking for a bit of indulgence, you could even opt to be served cheese and crackers as you embark on your ride! The best time to get on the Wheel of Brisbane is at twilight; watch as the sky changes from light to dark, and marvel as the city comes alive at night.
Entrance Fee: AUD 14 per child (4 to 12 years old); AUD 20 per adult (above 12 years old)
Opening Hours: 10am to 10pm (daily); 10am to 11pm (Friday, Saturday)
Address: Russel Street, South Brisbane QLD 4101, Australia
7. Cuddle up at the Lone Pine Koala Sanctuary
One of the things you absolutely have to check off your list is the Lone Pine Koala Sanctuary. Not only is this the world's oldest Koala sanctuary, but it is also the largest, with 130 cuddly marsupials residing there. Contrary to what its name might suggest, Lone Pine is also home to a whole range of other animals – wallabies, kangaroos, duck-billed platypuses, and many species of birds. Here, you get the opportunity to cuddle with koalas, and hand-feed kangaroos in their enclosure. Talk about getting up and close!
Although there is often debate over the ethicalness of animals in captivity, this sanctuary is truly dedicated to protecting and rehabilitating these native animals. In addition, the profits from the sale of tickets are redirected to medical rescues, research, and raising awareness about their counterparts in the wild. The staff also prioritise the welfare of their animals, and ensure that visitors remain friendly and respectful.

Image credit: (left) Kim, (right) Paul Schreiber
While the koalas and kangaroos tend to be the most popular animals here, don't forget to give the others some love as well! Check out the colourful lorikeets, admire the freshwater crocodiles from a distance, and be impressed by the natural herding instinct of the sheepdogs! You'll definitely leave the sanctuary with more love for these animals than you expected. The Lone Pine Koala Sanctuary can be accessed by a 30-minute car ride from the Brisbane City centre, or through a leisurely 75-minute cruise from Southbank.
Entrance Fee: AUD 22 per child (3 to 13 years old); AUD 36 per adult (above 13 years old)
Tip: Purchase tickets online in advance to enjoy discounted prices!
Opening Hours: 9am to 5pm (daily)
Address: 708 Jesmond Rd, Fig Tree Pocket QLD 4069, Australia
8. Admire the view from Kangaroo Point Cliffs
Looking for a short respite out of the city? Head to Kangaroo Point Cliffs, located within Kangaroo Point. Enjoy the tranquillity of this recreational hub, join a segway tour, or engage in adventurous activities like abseiling and rock climbing! After which, have a relaxing evening with a picnic or barbecue with the Brisbane city skyline as your backdrop. It doesn't get any better than this!
9. Get artsy at the Museum of Brisbane
Get to the heart of the city by visiting the Museum of Brisbane, located on the third floor of the City Hall. Aside from admiring the architectural beauty of its exterior, you will also be treated to the spectacular display of modern art that it houses. Expect to be enthralled by the plethora of exhibitions, and get hands-on with the array of activities that are available. While some exhibitions are ticketed, most of them are free. As they are not permanent fixtures, do remember to check what's on before dropping by.
Aside from just showcasing contemporary art forms, the Museum of Brisbane has also exemplified their support for various social movements through their exhibits. The Voices in Action display describes the cross-cultural effects of Aboriginal and western influences in Australia, while the One Million Stars to End Violence project demonstrates the commitment against violence; these, among many others, achieve the perfect balance of being thought-provoking while maintaining an aesthetic touch.
Opening Hours: 10am to 5pm (daily); 10am to 7pm (Friday)
Address: City hall, 54 Adelaide St, Brisbane City QLD 4000 Australia
10. Chill out at the Eat Street Markets
If you're in Brisbane over the weekend, you're also in for a real treat! Eat Street Northshore is a one of a kind outdoor market – not only does it have a stage for live music, but it comprises an eclectic mix of old shipping containers that have been refurbished to resemble old-school food trucks. Expect to be immersed in festival-esque vibes, and for your taste buds to be tantalized by the diverse range of international cuisine available. Whether you want to just chill, grab a bite or check out the novelty shops, there'll definitely be something here for you.
Entrance Fee: AUD 2.50 per person (12 years and above)
Opening Hours: 4pm to 10pm (Friday, Saturday); 12pm to 8pm (Sunday)
Address: 221D MacArthur Ave, Hamilton QLD 4007, Australia
Need I say more?
With much to do in Brisbane, there's no reason why it shouldn't be your next holiday destination! You will definitely be left wanting more after being pleasantly surprised by how much it has to offer.