From its fancy streets of Ginza to its numerous World Heritage Sites, many would think they would have to spend a bomb in order to enjoy a trip in Tokyo. However, that is not true. Here, I'm sharing my favourite budget-friendly places that capture the essence and beauty of Japan's capital city.
For eats
1. Depachika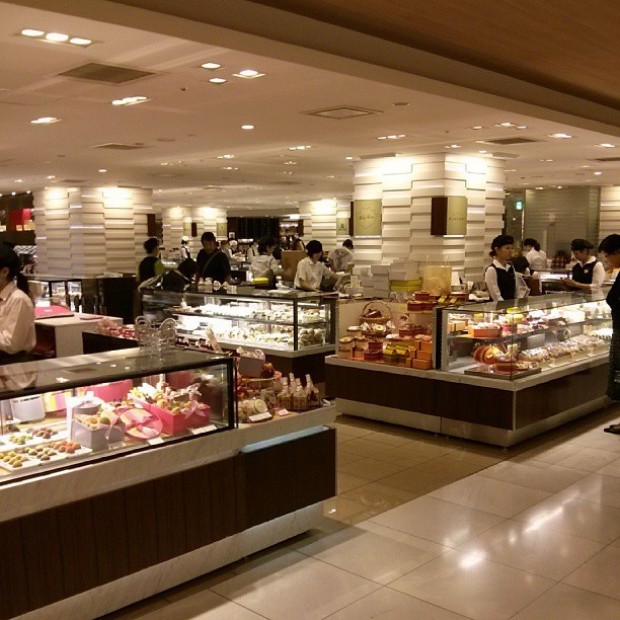 Image credit: alq666
Go to the basement of any department store and enjoy free food samples in the depachika (デパ地下). This foodstuff market area offers a variety of food types, and you might be able to fill your stomach with all the samples available. You can head to Isetan in Shinjuku, Mitsubishi in Ginza, or Takashimaya in Nihombashi for a start.
2. Tsukiji Fish Market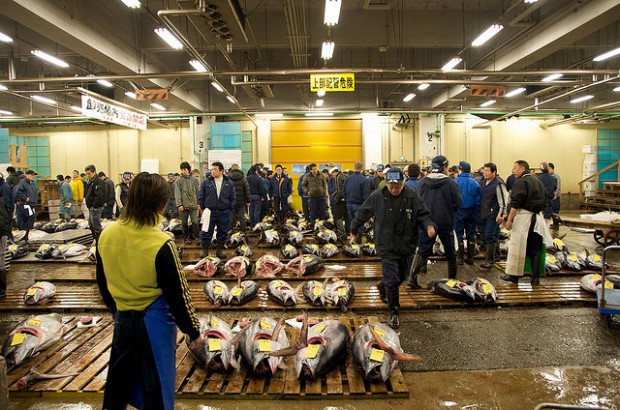 Image credit: Larry Haiff
You can also head to Tsukiji before day-break to witness the famous tuna auctions! Better set your alarm way before 5:00 AM as there are only a maximum of 120 daily viewing places. Do your homework at the Tsukiji website as the market is not open everyday. Of course, this doesn't provide you with free food, but you would be able to savour the fresh fish at a cheaper price if you do turn up earlier.
For drinks
3. Kirin Yokohama Beer Village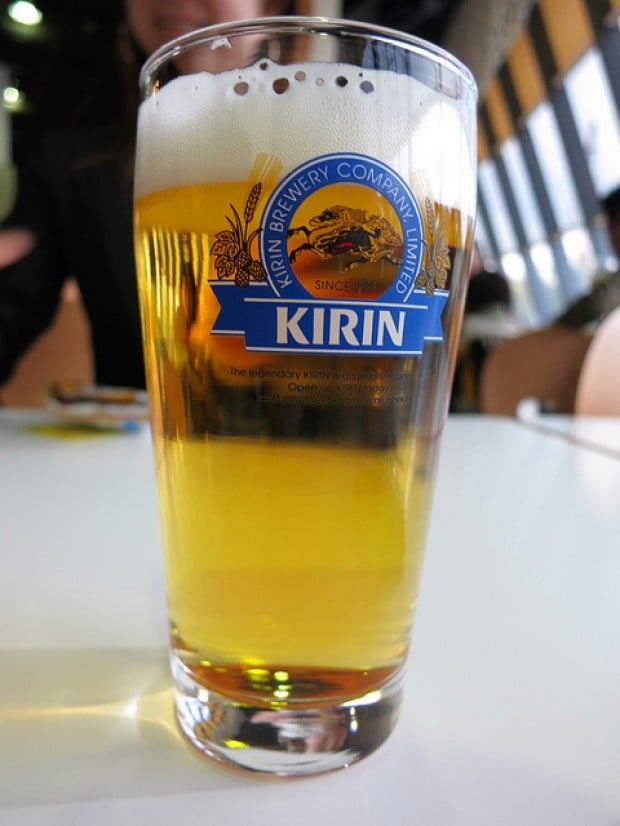 Image credit: Victor Lee
If you absolutely love beer, you can go to the Kirin Yokohama Beer Village which is approximately 45 minutes away from Tokyo station. The free tour around the brewery allows you to understand more about the production of Kirin beer. The best perk of this trip? FREE beer samples! Hooray!
Also read: 11 Awesome Breweries in Japan for Alcohol Lovers
For scenery
4. Tokyo Metropolitan Government Building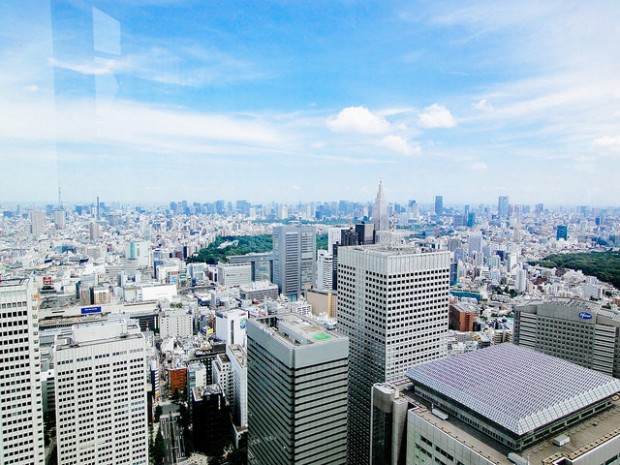 Image credit: Dick Thomas Johnson
Be wow-ed by the gorgeous views of Tokyo at the public observation decks located on the 45th floor of Tokyo Metropolitan Government Building, also known as Tokyo City Hall. No need to pay for anything because the viewing opportunities are absolutely free!
5. Rainbow Suspension Bridge / Odaiba Waterfront

Image credit: Sacha Fernandez 
Walk across Japan's famed Rainbow suspension bridge which links the heart of Tokyo to Odaiba waterfront. The distance of the bridge spans 1.7 km, and can be covered on foot in 20-30 minutes. This could be a romantic night walk for lovers and couples; with benches placed near the towers for rest. Walkers are also able to watch ships sailing in Tokyo Bay or appreciate the view of Mt. Fuji far in the distance. There is also a scale copy of the Statue of Liberty near Odaiba for all to see!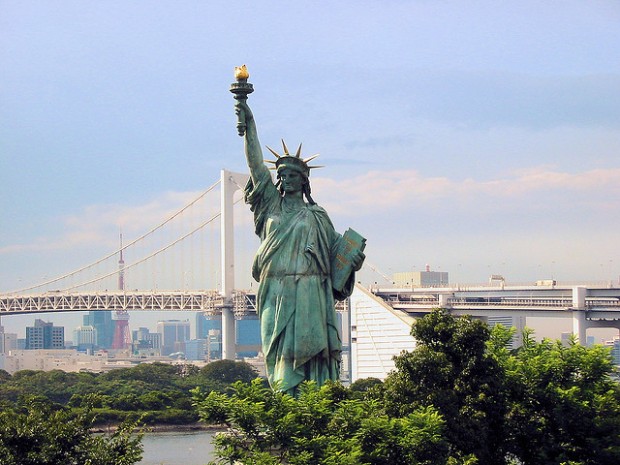 Image credit: Stéfan
For people-watching
6. Akihabara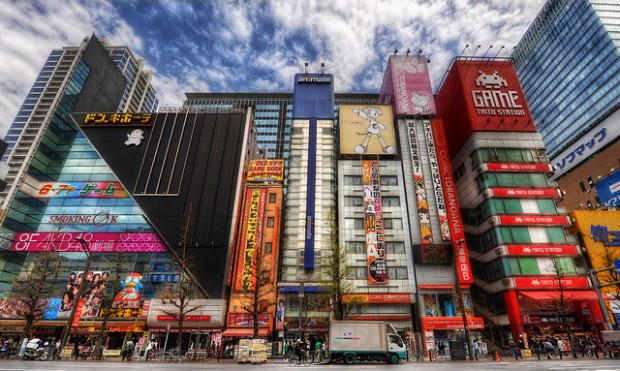 Image credit: Trey Ratcliff
The district of technology insanity, Akihabara is a geek haven for otakus and technology lovers alike. Every street is full of huge towers filled to the brim with gadgets, anime cafes, robotics, and games, and is complete with cos-play individuals. Anime lovers can also consider visiting the Tokyo Anima Centre as part of their exploration of Akihabara.
7. Shibuya Crossing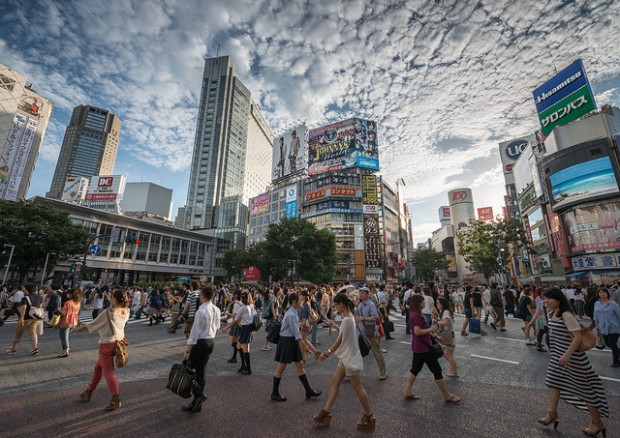 Image credit: Thomas
Touted as the world's busiest crossing, you will be able to view the Shibuya crossing from all restaurants surrounding it. There's a good view from the Starbucks on the 2nd floor of the Q-front building from across the street – that is, if you manage to scramble for best seats that give you a view. Shibuya Crossing is a great place to watch different kinds of people from salary men in suits to even teenage gyarus in colourful clothes and high-heel boots.
8. Harajuku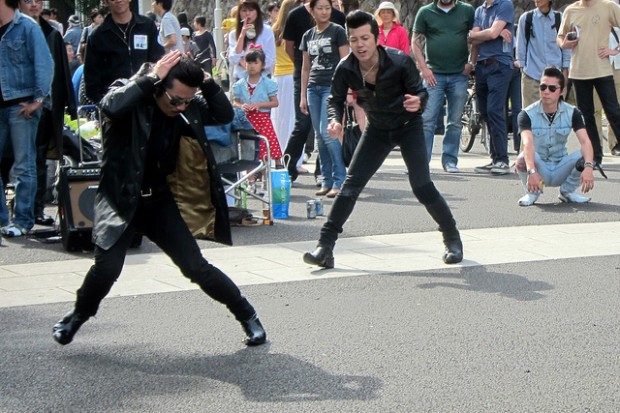 Image credit: Wally Gobetz
Near Harajuku station, in the nearby Yoyogi Park, you'll see many interesting characters as you stroll through. Many young basker bands play around the perimetre of the park. Magic trick performances, martial art showcases and other forms of entertainment are abound. There are also a ton of Elvis impersonators who go around to prove their credentials.
For sightseeing
9. Imperial Palace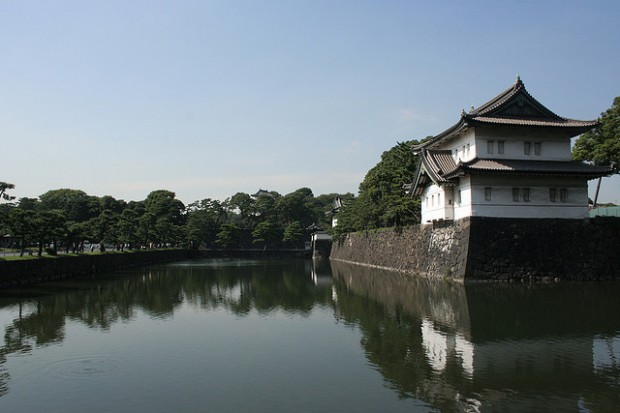 Image credit: Marta Sadowska 
Being the Japan Imperial family's residence, this attraction is to be visited by all tourists that pass by Tokyo. Although the inner grounds of the palace are not open to the public, the attraction offers guided tours around the palace grounds. Do note that you cannot enter the buildings during the guided tour, and reservations are needed to join the tour. You may also opt to spend a day strolling around the Imperial Palace East Gardens, which are open to the public throughout the days except for Mondays, Fridays and special allocated holidays.
10. Senso-ji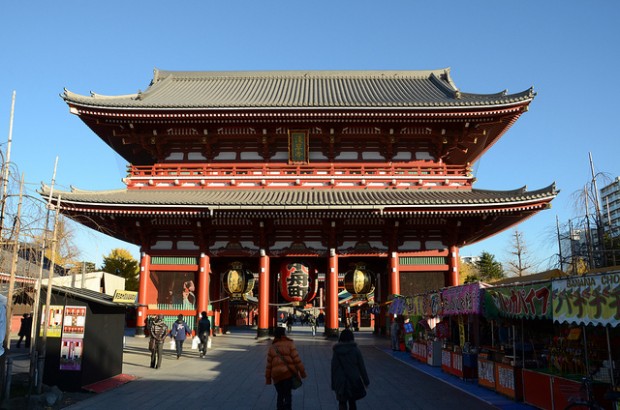 Image credit: Bradjward
Sensoji is one of Tokyo's most popular and colourful temples. Visitors enter through the Thunder Gate, which is the symbol of Asakusa and the city of Tokyo. After the Thunder Gate, visitors are then made to walk through a shopping street of approximately 200 metres before arriving at the second gate, the Hozomon. The shopping street, Nakamise, offers various knick-knacks and souvenir local snacks, and has a history of several centuries.
Past the Hozomon Gate lies the temple's main hall and a pagoda. However, these are reconstructions as the originals were destroyed in the war. Sensoji also hosts many events throughout the year; the biggest being the Sanja Matsuri, is held in May. A must-visit for any virgin Tokyo-goers!
11. Sony building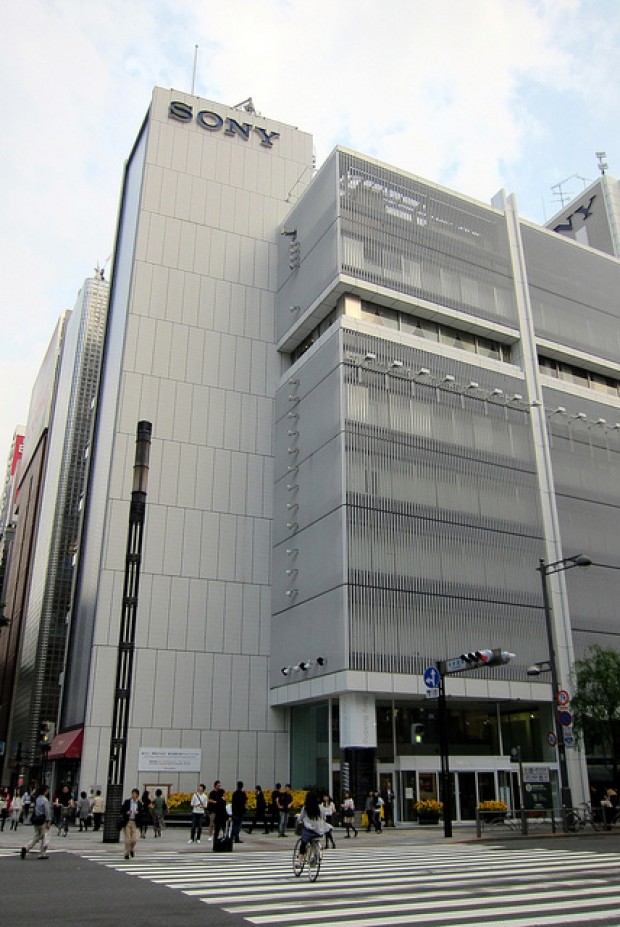 Image credit: Wally Gobetz
One of the bigger names in Japan, Sony hosts a building of its own in the heart of Ginza. The atmosphere and style of this building makes the Sony flagship store stand out from the masses of electronic stores that rest in Tokyo. Not only does the Sony flagship store have the full range of their products, new and upcoming prototypes of products are also showcased at the same location. There is also a special "Tax Free Floor" that allows tourists to purchase products without paying sales tax, if you display your overseas passport at the counter. 
The flagship store is cool and modern, and presents interactive games and trials around the showrooms. Fun for all ages to visit!
Festivals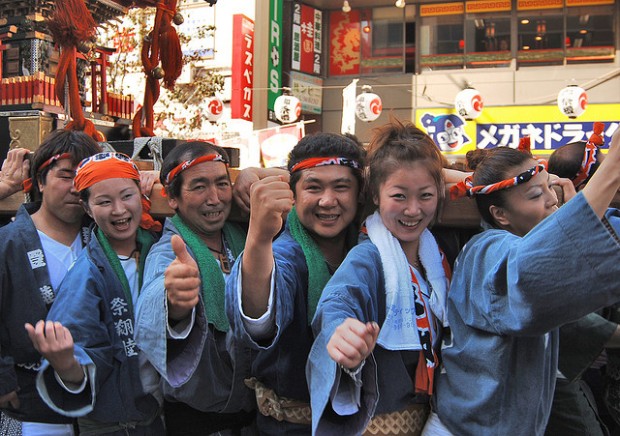 Image credit: Masayuki Takaku
There are always festivals happening in Tokyo – from cherry blossom viewing parties to costumed parades. Do google up the upcoming festivals before you leave for Tokyo so you don't miss out on any action!
Also read: Exciting Seasonal Festivals in Japan You Don't Want to Miss
That's it! Pack your things now and get ready to go on a wallet-friendly trip to Tokyo!