Fukuoka is the capital city of Japan's Kyushu Island. A modern and vibrant city, Fukuoka is easy to explore and has many places of interest. Key attractions include a variety of shrines like the Hakozaki Shrine and Atago Shrine, along with temples and cultural sites in the interesting area of Gion. Lovely beaches are close by and nature lovers can relax in picturesque parks and gardens such as Nishi Park, Ohori Park, Kin-In Park, Shufu-en Garden and Rakusuien Garden. You can admire sweeping views from atop Fukuoka Tower.
The small amusement park of Kaashi Kaen and the large Marine World are ideal for families with little ones, and people of all ages are bound to be impressed by the exhibits at Robosquare. Foodies are sure to be delighted with the tempting treats at Nagahama ramen market, while the vibrant Nakasu is a hotspot for late-night shenanigans.
Wondering where to stay? Book one of these fantastic budget hotels in Fukuoka!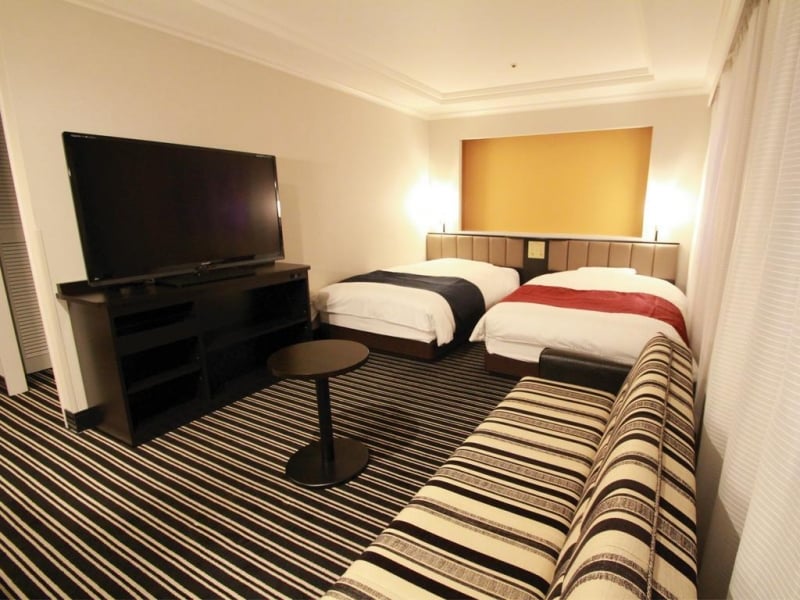 There are several APA hotels around Japan, and the one in Fukuoka lives up to the brand's solid reputation. The chain encourages environmentally-friendly behaviour by providing free bottles of drinking water for guests who skip on having their room cleaned every day. Rooms are fairly minimalistic, but the attractive décor adds to the appeal and cosy vibe. Soft mattresses help you to get a good night's sleep and all rooms have a private bathroom, air conditioning, a TV, and free Wi-Fi. There are guest rooms for one, two, and three, with a choice of smoking or non-smoking rooms. The onsite restaurant is convenient, serving Japanese meals throughout the day. You can start your day with a filling breakfast from the buffet selection (extra charges apply), or turn to vending machines for a quick bite. There are computers that guests can use and the coin-operated washing machines help you to keep on top of the essentials.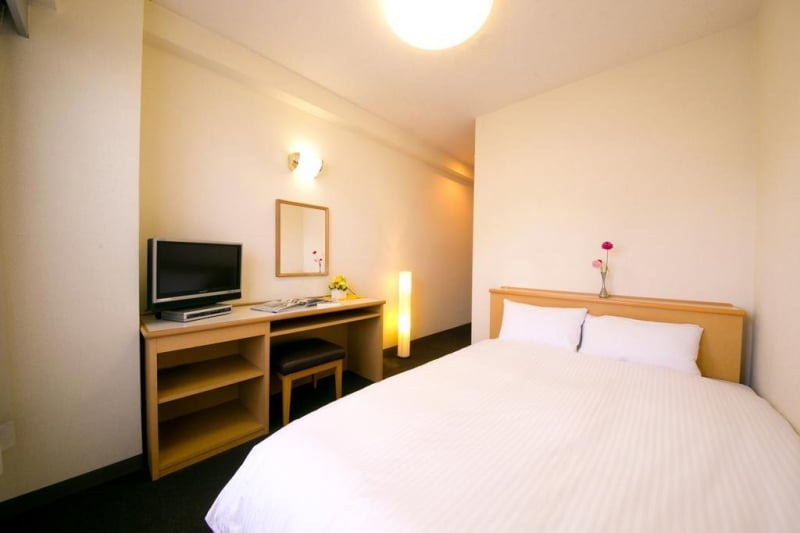 A ten-minute walk from the Tenjin Subway Station, Heiwadai Hotel Tenjin is good for business travellers and tourists looking for budget accommodation in Fukuoka. Places of interest close by include Tenjin City Park, Fukuoka Parco, Kego Shrine, Fukuoka Castle, and Nagahama Ramen Street Fukuoka. The hotel reception is staffed around the clock and convenient features include free Wi-Fi, laundry facilities, fax and photocopying facilities, vending machines, onsite parking (additional charges apply), and baggage storage. There's also an onsite restaurant and you can book a massage to unwind after a busy day. There are single and double rooms with smoking and non-smoking options. All rooms are en suite and bathrooms have a shower over the bathtub, free toiletries, and a hairdryer. Rooms are air-conditioned and have a fridge, desk, dresser, and TV.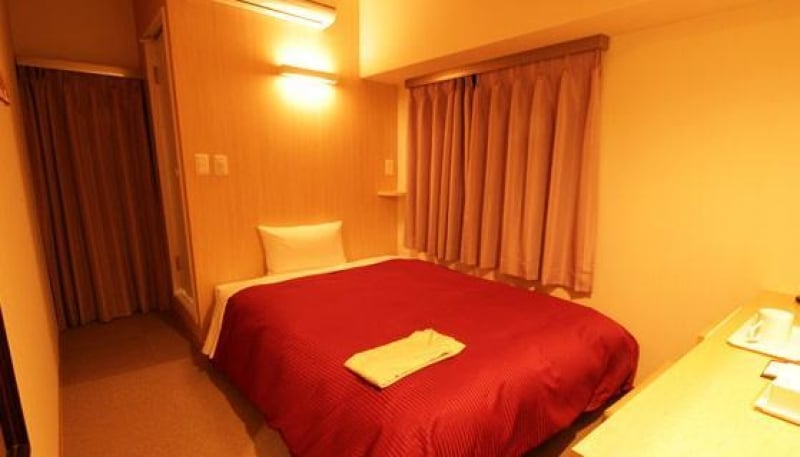 In an excellent location for both business and leisure travellers, Hotel New Gaea Hakata is ideally situated for access to Hakata and Tenjin – two centres of Fukuoka. While most budget hotels in this city don't have a lift, this one does. Each room has a private bathroom, some with a shower only and others with a shower over a bathtub. The economy double rooms are ideal for travellers on a tight budget. There are also standard double rooms and single rooms. All rooms have air-conditioning and a TV. There's someone on reception at all times and the hotel offers free Wi-Fi to guests. With a well-stocked library of books, comics and magazines, the business room may also come in handy for those looking to unwind within the hotel compound. For those driving, an onsite parking lot is available for an extra charge.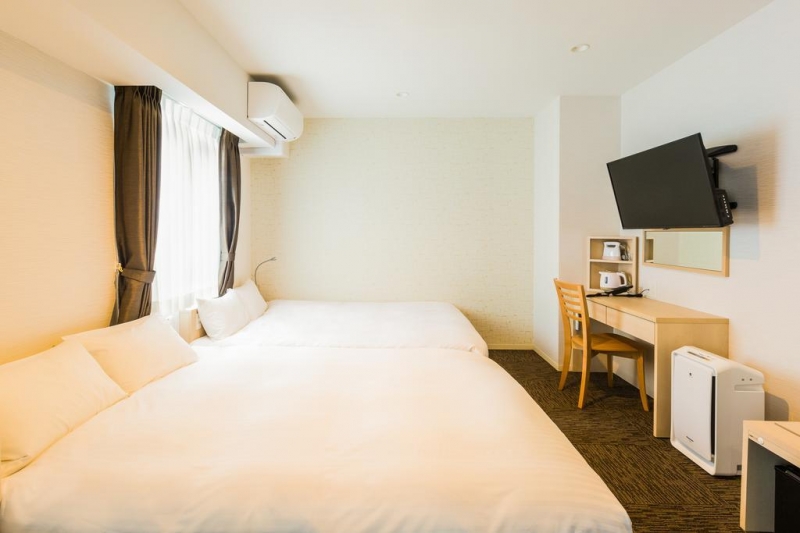 Hotel Ninestates Hakata is a comfortable condo-hotel with clean and spacious rooms of different sizes (up to five people). All rooms have a private bathroom with free toiletries, a hairdryer, and a bidet – it's a great place to feel right at home. The air-conditioned rooms also come with a kettle, fridge, desk, TV, and free Wi-Fi. There's a lift in the building too – perfect for tired legs! Everything is automated, so you can check in and out whenever you like (within specified times of course). Vending machines are available for times you need to combat late-night hunger and thirst.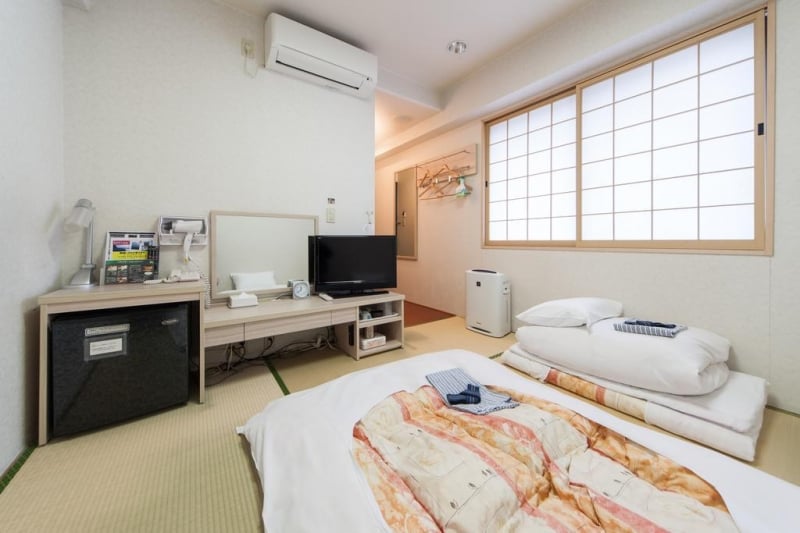 The three-star Accord Hotel is close to Sumiyoshi Jinja Shrine, Canal City Hakata, Rakusui-en Garden, Shofuku-ji Temple, and other places of interest. The modern hotel has both western-style rooms and traditional Japanese-style rooms with tatami mats and futon beds. All rooms are comfortable, clean and come with an attached bathroom, which is stocked with a hairdryer, free toiletries, and a bidet. Rooms are air-conditioned for your comfort and are equipped with a kettle, fridge, and TV. Guests can use the free Wi-Fi too. The café serves tempting treats and a hearty buffet breakfast is available each morning for an extra charge. Other bonuses include luggage storage, laundry services, daily housekeeping, and vending machines.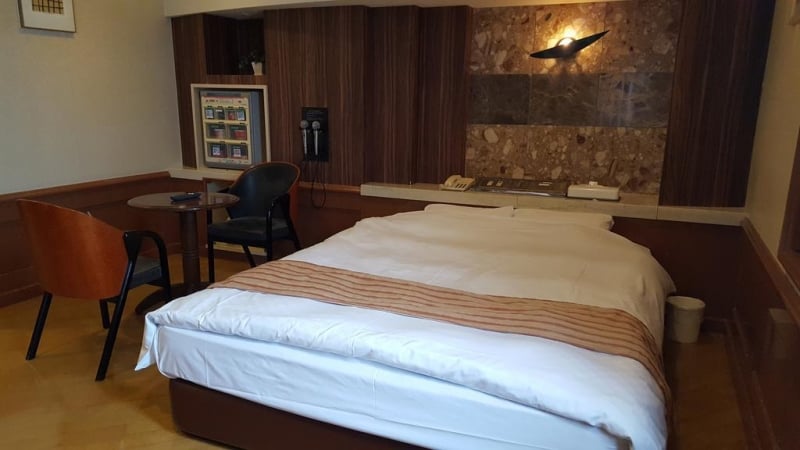 Hotel Dio is a 'love' hotel in Fukuoka. Rooms are available to rent for various durations of time (short stays and overnight stays are both possible). It's a popular choice with couples, though it's also a good budget option for travellers who just want somewhere comfortable and cheap to rest their heads. All rooms are en suite and have a separate seating area, TV, telephone, and free Wi-Fi. You'll find an extensive array of toiletries and products in the bathroom for freshening up. There are basic self-catering facilities in the rooms too, including a microwave, fridge, and a kettle. Some rooms have karaoke functions and the hotel has free onsite parking for guests too.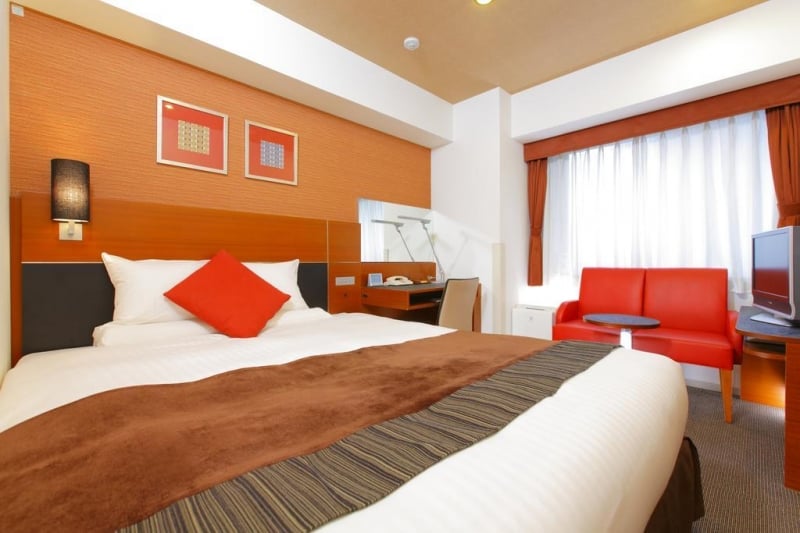 HOTEL MYSTAYS Fukuoka Tenjin Minami has cheerful, bright, and welcoming rooms for one or two. Rooms come in various types; smoking or non-smoking, double or twin beds, and with or without a kitchenette – prices vary accordingly. All rooms have their own bathroom. In-room amenities and facilities include a hairdryer, TV, air conditioning, telephone, kettle, and refrigerator. Free coffee is available all day long in the lobby and guests can tap onto the free Wi-Fi in public parts of the hotel. The onsite restaurant serves tasty Japanese fare. Other convenient features include a round-the-clock reception, laundry facilities, vending machines, and luggage storage. For ultimate relaxation and rejuvenation, you can arrange massages onsite too.
Japan may be an expensive country to visit, but with our selected budget hotels in Fukuoka, you never have to spend a fortune on accommodation whenever you're headed over there. The best part of all this: You have more money for the finer things!