New Zealand isn't the most accessible or affordable place to visit, but don't let that dissuade you from travelling to this stunning part of the world. While I can't help you with the 'remote' aspect of New Zealand, I can, however, help you make your travel to the 'Land of the Long White Cloud' more affordable.
Cut your travel costs by taking note of these budget travel tips. Your trip to New Zealand will be an incredible one.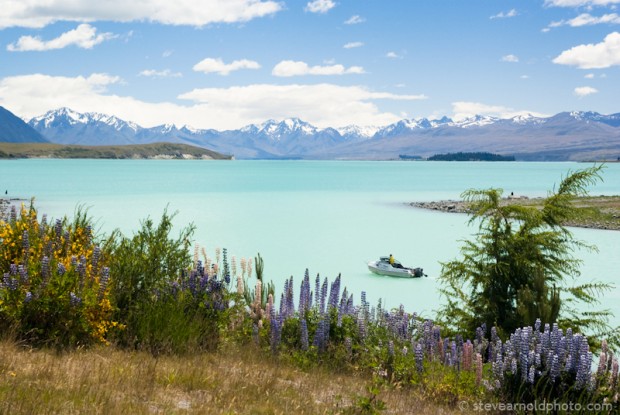 Image Credit: Steve Arnold
1. Use Grab A Seat for cheap flights
Grab A Seat is an Air New Zealand service offering budget flights between major centres, often at 'inconvenient' times of day. If you don't mind a little disruption to your sleep schedule, you might just snag a great flight deal.  

2. Use Naked Bus
Naked Bus is a budget bus service where you can get long-distance fares for as low as $1. It has stops in over 300 towns and cities, so be sure to check if there's a bus running your desired route. You can also consider InterCity and ManaBus (only for North Island).

3. Stay in hostels
In a beautiful country like New Zealand, you will be spending most of your days outdoors exploring, so save money by booking cheap accommodation.  All the main centers will have a variety of comfortable backpacker hostels for as low as NZD 20–25 a night.
4. Use Airbnb
Airbnb is becoming more popular in New Zealand. It not only offers affordable accommodation but gives you the opportunity to experience life in a Kiwi home and get insider information about the local area.

5. Visit daily deal sites
Save money on accommodation, activities and meals by regularly visiting daily deal sites as these feature tourist friendly activities all over New Zealand.  The main ones to watch are: Bookme, Grabone, Dailydo, Treatme and Firsttable (for meals).
6. Mix free activities with paid
New Zealand has a wealth of stunning scenery which is 100% free to enjoy; instead of paying for a guided tour of an area, consider doing some research and exploring it on your own.  Be sure to visit the iSite (visitor information centre) in every town as the staff will be able to give you helpful advice about free or cheap activities in the area.  

7. Drink tap water
New Zealand water is safe to drink so invest in a reusable water bottle and refill it wherever you go.  Keep your dining bill low by only ordering food and drinking water. NZ cafes and restaurants are also happy to provide a jug of (free) water for diners.
8. Avoid dedicated foreign exchange bureaus
This is a great budget tip regardless of where you travel: exchange money at a NZ bank or Post Shop instead.  The majority of NZ businesses accept electronic (credit card or bank card) payments, and depending on the currency conversion rate and fee of your bank, this might be more economical way of paying for goods and services while travelling.

9. Buy food from supermarkets
Buying meal ingredients from supermarkets is substantially cheaper than having a meal in restaurants, and it will save you a lot of money. Pak 'n Save is the most economical supermarket, followed by Countdown and then New World. This is another reason you should stay in hostels – they usually have a communal kitchen for you to use!
10. Stock up on necessities in big towns
New Zealand has many small towns which may only have a little convenience stores so best take advantage of cheap supermarket prices by stocking up on essentials in bigger towns.
11. Eat out for lunch
If you would like to taste local cuisine, eat out for lunch rather than dinner; portions may be a little smaller but so will the price.

12. Check when eateries have specials
Most eateries have specials, whether it's a $10 lunch or 2-for-1 dinners.  The best way to find out is to take a stroll around town when you first arrive and look out for promotional banners. You can also pop in and ask the staff.

13. Don't tip
Tipping is not customary in New Zealand so you don't need to factor it into your budget.

14. Hire a relocation vehicle
Hiring a relocation vehicle is sometimes completely free and other times incurs a minimal charge. Generally vehicles need to be driven from the South Island to the North Island, and you can do the driving! Two sites to look at for more information are: Transfercar and relocation car rental.
15. Get an AA Smart Fuel card
If you are buying or hiring a vehicle to travel, New Zealand petrol is going to be one of your biggest expenses so an AA Smart Fuel Card is a must.  Every time you buy petrol you swipe the card and receive a discount ($40 minimum spending applies). The card can be picked up at participating petrol stations and registered online (it needs to be registered to give you discounts). The best part: it's completely free!
16. Be careful where you buy petrol
Petrol prices can vary a lot in New Zealand; visit  PriceWatch to see price comparisons in your area.

17. Manage your mobile data
Mobile data is relatively expensive in New Zealand and free WiFi is not readily available so be mindful of data usage. Libraries and visitor information centres will have free internet access as will some cafes and public places. Skinny Mobile is an economical mobile provider in NZ and offers a variety of pay-as-you-go options.
18. Travel during the off season
Easier said than done in New Zealand as it is a desirable travel destination in both summer (adventure activities and general sight seeing) and winter (ski fields). You may find that travel during February to May and August to September is slightly cheaper than other times of the year.
19. Make a general plan
Travelling can become expensive if you don't have a plan in mind and have to book accommodation and transport at the last minute. Have a general idea of what you want to do and where you want to explore; by planning in advance you can incorporate some of the budget tips listed above.

20. Be flexible
A possible contradiction to "make a plan" but if you're flexible and prepared to make changes to your plans, you can get affordable deals on transport, accommodation, activities and meals. This is especially so if you regularly check out the daily deal sites (#5).
Some of your best NZ travel moments are guaranteed to be 100% free yet priceless! But be sure to bring an extra sum of money for emergencies! Enjoy the adventure.