As a destination for many domestic and international tourists, in recent years, Da Nang is known as a modern city with a lot of continuous innovations. Consequently, there is a variety of accommodation types to meet the increasing demand for in-house guests. Whether you are looking for a hotel to relax or a place to stay for your next business trip, these following top 10 hotels in Da Nang will definitely be the ideal choices for you.
1. Danang Golden Bay Hotel
A hotel in Da Nang is providing "gold" services — yes, literally. Danang Golden Bay hotel boasts 949 rooms and suite with a feature of gold, each of which combines ultimate luxury with the view of either Da Nang Bay, Son Tra Mountain or Da Nang city. Gold dominates the interior, during daytime, the hotel's golden color contrasts with silver water and the blue sky of Da Nang Bay.
Danang Golden Bay features 06 food and beverage outlets, where cuisine from all cultures meet and come together to create a blend of exotic flavors.
With Wonder Park, Kid's Club, Gym & Fitness Centre Danang Golden Bay Hotel is the ideal hotel for leisure activities. The luxurious Golden Luxury Spa offers treatments, massages or facials and aims to foster a sense of balance and serenity while delivering heightened overall wellbeing. In particular, the highest and biggest 24k golden infinity swimming pool in the world is one of the most ideal places to catch the beautiful twilight moments in the city.
Address: 01 Le Van Duyet Street, Son Tra District, Da Nang City
Contact: +842363878 999 or [email protected]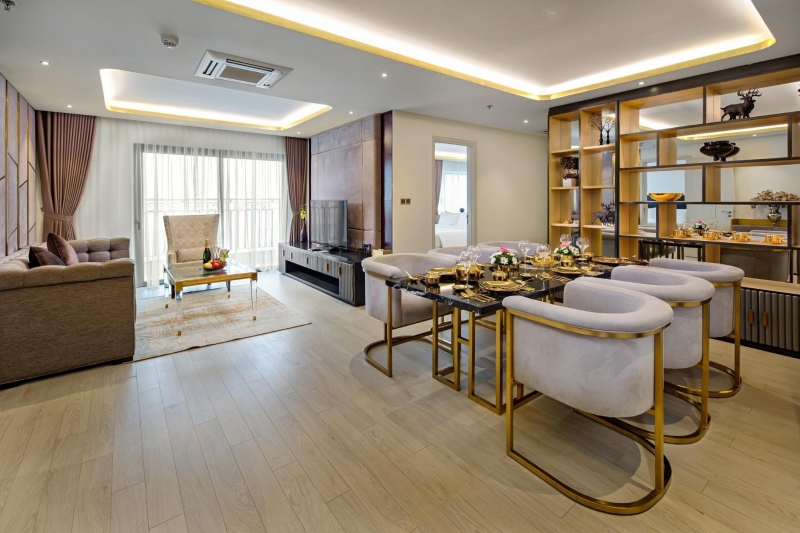 2. InterContinental Da Nang Sun Peninsula Resort
With an excellent location, combining the wonderful natural landscapes and sophisticated architecture, this is worthy of being one of the most appealing and modern ecological resorts. InterContinental Da Nang Sun Peninsula Resort is only a 30-minute drive from Da Nang International Airport and a 45-minute drive from Hoi An Old Town.
Anyone who has ever been to the InterContinental Da Nang Sun Peninsula Resort is amazed and impressed by the charming beauty of this luxury resort. It is the perfect combination of nature and traditional Vietnamese architecture.
InterContinental Da Nang Sun Peninsula Resort contains four floors along with more than 200 rooms, suites, and villas. Especially, each hotel room has a sea view and the minimum area shall be about ​​70 square meters.
You might have opportunities to discover culinary arts at the famous restaurant – La Maison 1888. Along with that is the entertainment area provided by the resort such as spa center, fitness center, outdoor activities such as fishing, cycling…  
If you want to find a luxurious and polite venue for business meetings, then The Summit convention center will be the perfect option, with impressive infrastructure combined with high-quality service. For years, InterContinental Da Nang Sun Peninsula Resort has become a destination for politicians, entrepreneurs, and famous people.
Address: Son Tra Peninsula, Da Nang, Vietnam
Phone: +84 236 393 8888
Fax: +84 236 393 8887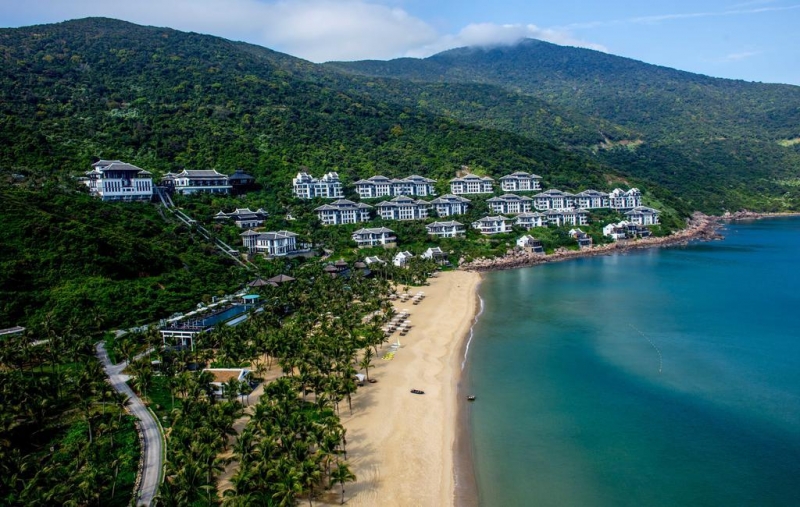 3. Holiday Beach Da Nang Hotel & Resort
Holiday Beach Da Nang Hotel & Resort is an international hotel, located right in front of My Khe beach. This hotel is a 15-minute drive from Da Nang International Airport.
Holiday Beach Da Nang Hotel & Resort is built on creativity, a delicate combination of classic and modern quintessence of the world. Holiday Beach has provided roughly 100 rooms,  which are divided into six different categories from Superior, Deluxe Room and Studio, Junior, Executive and President Suite with beautiful sea views. You can choose yourself the most suitable room to have a great vacation or your business trip.
Besides, the hotel also suggests for you the entertainment activities to ensure that you are always excited during your holidays. Holiday Beach Da Nang Hotel & Resort also offers great recreational facilities such as a sauna, a swimming pool, a golf course, a garden, and game rooms … to make your stay become plenary.
Address: My Khe Beach, 300 Vo Nguyen Giap, My An Ward, Ngu Hanh Son District, Da Nang, Vietnam.
Phone: +84(0) 236 396 7777
+84(0) 236 396 7555
Email: [email protected] Nang.com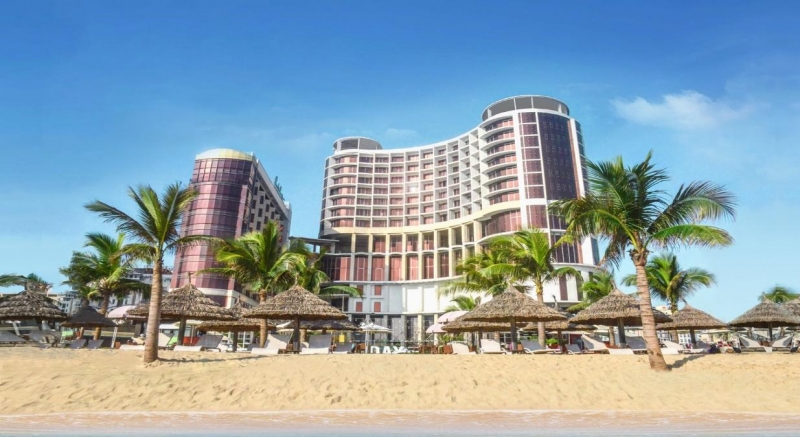 4. Royal Lotus Hotel Da Nang
Located on Nguyen Van Thoai street, which is about 200 meters from My Khe Beach, Royal Lotus Hotel Da Nang gives you a great gift after a long day. In addition to its convenient geographical location, Royal Lotus Hotel is also known for the modern accommodation system and attentive service.
The hotel rooms are designed in a modern way, with the main color is blue. Additionally, the reasonable layout of each room is also a featured characteristic of this hotel. You can choose for yourself an appropriate room among Classic, Premium, Deluxe, Suite and Executive suite options.
In-house guests of this hotel can enjoy on-site features such as 24-hour room service, free wifi in all rooms, wifi in public areas, 24-hour security service, 24-hour front desk, … In addition, you will also experience other utilities such as a swimming pool, a fitness center, a children's club, … Moreover, the professional team of Lotus Wine Dine Restaurant having a capacity of over 300 people will provide you with delicious and attractive dishes, and the combination of cooking techniques and types of cuisine may enrich the experience of diners.
Address: 120A Nguyen Van Thoai, Da Nang, Vietnam
Phone: (84) 236 6261 999 l  Fax: (84) 236 62 63 999
E: [email protected] Nang.vn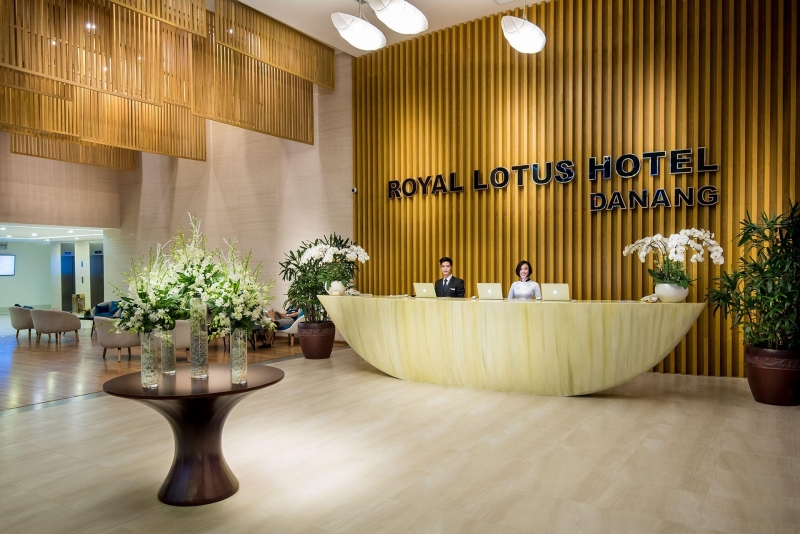 5. Nhu Minh Plaza Da Nang Hotel
With a convenient location, from this hotel, visitors can easily explore other attractions of Da Nang. Nhu Minh Plaza Da Nang Hotel consists of roughly 90 rooms and suites, all furnishings are decorated with wood, equipped with modern amenities to meet the growing demands of people, whether during your business trip or holiday. All rooms at Nhu Minh Plaza Da Nang Hotel are fitted out with seating area, a flat-screen TV, a desk, an electric kettle, and private bathroom. Some rooms also have a balcony. There are a lot of options for you to consider, which are: Deluxe Twin, Deluxe King, Premier Deluxe Triple, Executive King, Family Apartment and Signature Penthouse. Therefore, Nhu Minh Plaza Hotel Da Nang is definitely an ideal choice for your stay.
Along with a restaurant, this hotel has an indoor pool and two bars/lounges. In addition, there is a fitness center, a café and a sauna in the hotel premises. These services are really convenient for leisure, business and travel purposes.
Address: Lot 2 – A2 – KH Pham Van Dong Street, Son Tra, Da Nang
Phone: 0236 3555 666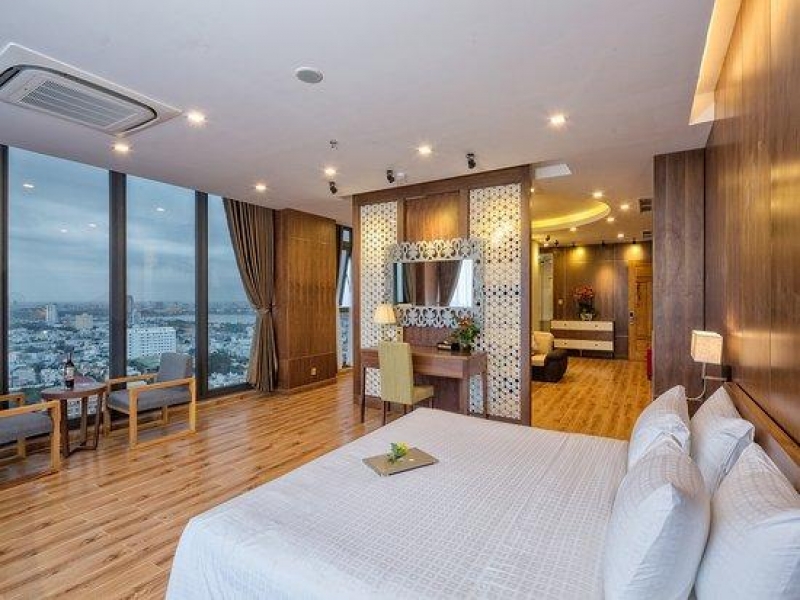 6. HAIAN Beach Hotel & Spa
With a total of 21 floors and nearly 220 rooms, HAIAN Beach Hotel & Spa provides a large number of beautiful rooms to meet the needs of travelers when choosing Da Nang as a stopover for their trip. This hotel has five types of rooms: City View Oasis room; Partial Sea View Oasis; Beach Front Oasis; Beach Front Diamond; and Royal Pen-House.
In order to offer an unforgettable and impressive vacation, HAIAN Beach Hotel & Spa not only provides beautiful rooms but also supplies high-quality utility services. Specifically, the large outdoor pool will be a place where you can have relaxing moments and the spacious restaurant located on the 3rd floor is a place where diners can freely choose a variety of dishes prepared by professional and talented chefs. Besides, the conference room area accommodating more than 350 guests can organize various types of meetings and parties.
Add: 278 Vo Nguyen Giap St., Ngu Hanh Son Dist, Da Nang City, Vietnam
Tel:  (+84) 2362  228 666
Email:  [email protected]
Website:  www.haianbeachhotelspa.com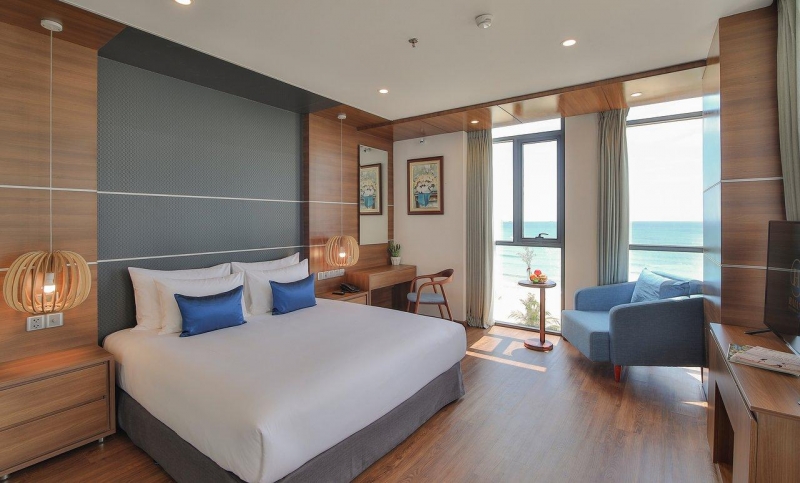 7. Muong Thanh Grand Da Nang Hotel
Bring the style of Northwest combined harmoniously with typical culture, surely Muong Thanh Grand Da Nang Hotel will bring a whole new experience to visitors when coming to Da Nang city. Muong Thanh hotel is located at 962 Ngo Quyen Street, Son Tra District, Da Nang. From the hotel, people can visit famous places in this beautiful city and it will take you only 30 minutes to Hoi An Old Quarter.
Muong Thanh Grand Da Nang Hotel has 370 rooms and rooms here are designed in a modern architecture that gives a pleasant, cozy and luxurious feel. Also, all these rooms have been provided with modern and comfortable equipment, which met the needs of all businessmen and tourists.
Coming to the restaurant system of Muong Thanh Grand Da Nang Hotel, diners will enjoy a varied menu, rich from unique dishes of the Northwest as well as the specialties of Vietnamese and European cuisine. People may definitely have unforgettable experiences these dishes' flavor. Besides, your trip to Da Nang will be more enjoyable when choosing a karaoke room in this hotel.
Muong Thanh Grand Da Nang Hotel is also equipped with three conference rooms having a capacity of up to 500 seats and a hall with a capacity of 32 to 380 people with a full sound system, up-to-date supplies, and enthusiastic support staff team.
Address: No 962, Ngo Quyen str, Son Tra dist., Da Nang
Tel: +84 2363 929 929
Fax: +84 2363 929 929
Website: www.grandDa Nang.muongthanh.com
Email: [email protected] Nang.muongthanh.vn
8. Novotel Da Nang Premier Han River
The rooms here are designed in the style of a new generation and oriented architecture will target all customers, both business customers or leisure travelers (with friends or family). From the balcony system in almost all rooms, visitors or apartment owners may have opportunities to admire and enjoy the panoramic beauty of Da Nang city. Another featured characteristic is that the open space playing an important role in the design of Novotel's rooms. Novotel always has a desire to give guests a comfortable space as if they were in their home.
Novotel Da Nang Premier Han River has a large hall and four conference rooms fully equipped with the most modern equipment, along with professional and enthusiastic staff will surely satisfy visitors who need to organize events and meetings, …
Furthermore, The Square international restaurant, Pier 36 – "tapas cafe bar"  in the lobby and Premier Executive Lounge always welcome you with wonderful and impressive dishes. This is also an attractiveness appealing in-house guests to stay at Novotel.
Also, Novotel can satisfy your health care and entertainment requirements, with outstanding facilities such as: relaxing therapies at InBalance Spa; InBalance fitness center with high-quality gym equipment; yoga classes taught by experienced teachers and children's clubs with useful entertainment services for many ages.
Address: 36 Bach Dang Street, Hai Chau District, Da Nang City
Phone: +84 (0)236 392 9999  – Fax: +84 (0)236 392 9998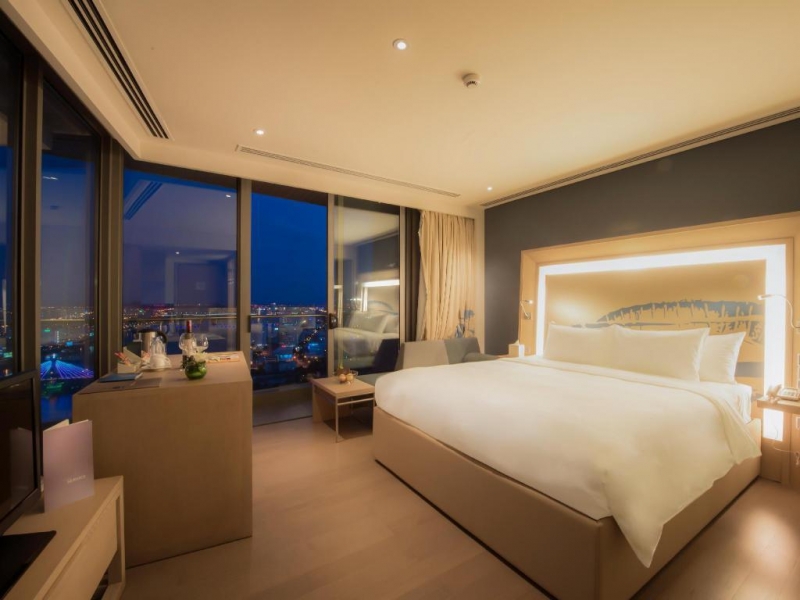 9. Brilliant Hotel
Brilliant Hotel has been designed and built on the criteria of prioritizing the health and safety of visitors. With modern facilities, high quality and comprehensive services, this four-star hotel has quickly affirmed its brand with domestic and foreign tourists. This hotel contains about 102 rooms equipped with the most modern facilities such as wifi, air conditioner, refrigerator, television … The main types of hotel rooms are Superior Standard, Superior River View, Deluxe, Junior Suite, Grand Suite, Apartment, and President Apartment.
When staying at Brilliant Hotel, you may enjoy meals at Sense Riverside and Fusion Lounge restaurants, accommodating roughly 250 people. These two restaurants serve popular dishes from diverse cuisine of different countries around the world. On the other hand, the Pool Bar and Brilliant top bar are extremely great suggestions for people who want to enjoy high-end drinks as well as find exciting spaces.
The difference which has contributed to the attractiveness of Brilliant Hotel is an extremely diverse range of services, from three conference rooms (Ballroom 1, Ballroom 2 and Vip room); a comfortable space at Brilliant Spa to a relaxing room; a swimming pool; a gymnasium and a Karaoke room.  
Address: 162 Bach Dang Street, Hai Chau I Ward, Hai Chau District, Da Nang
Tel: +84 236 3 222 999
Email: [email protected]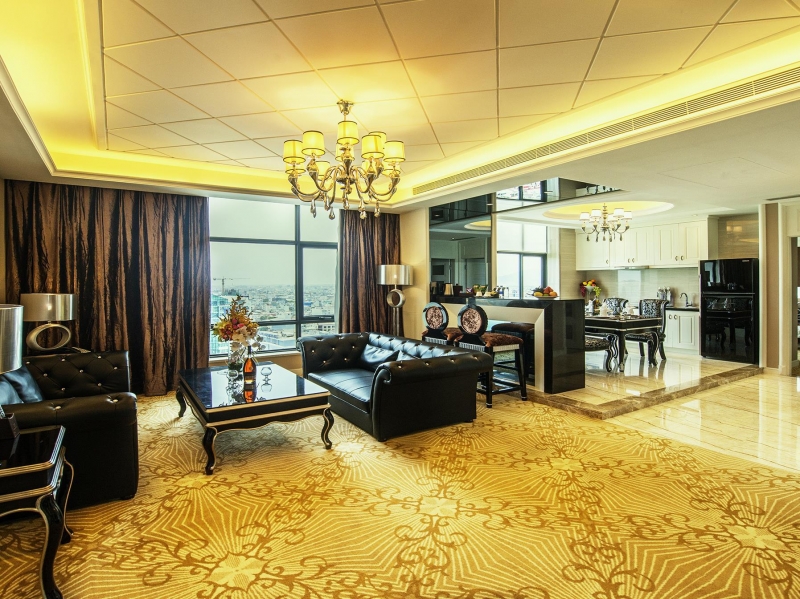 10. Pullman Da Nang Beach Resort
The system of rooms which is modernly constructed in the space being close to nature, the spa system, the luxurious restaurants, a bar near the sea, the swimming pool with a beautiful view and many choices for event space is the highlight of Pullman Da Nang Beach Resort.
Pullman Da Nang Beach Resort consists of 186 rooms and villas, including 158 Superior and Deluxe rooms; 17 Suite rooms of all kinds from Junior Suite to Penthouse Suite and 11 villas with one or two bedrooms. All these rooms are designed with colorful architecture and contemporary décor ideas, combined with an overall layout to create a lively and relaxing space.
If you are interested in exploring intangible cultural heritages or enjoy experiences with nature, Pullman Da Nang Beach Resort will give you tour booking services, or you can try delicious specialties here…
Besides restaurants, bars and lounges with classy style and other high-class entertainment facilities, Pullman Da Nang Beach Resort also has a fancy butterfly garden. This will definitely be a unique attraction of this resort.
Address: 101 Nguyen Giap street, Khuê Mỹ, Ngũ Hành Sơn, Đà Nẵng 055000, Vietnam, 550000 Da Nang, Vietnam
Tel: +84 236 395 8888
Fax: +84 236 395 1898
Email: [email protected]