Travelling to Sapporo for a few days and need some places to go? If you Google "things to do in Sapporo," you'll get about 960,000 results. Some guides are more detailed than others, while some will only list place names and locations. With all that info, how are you supposed to know what's legitimate and what's not? Is this place that everyone says you should go to really worth it? Or is it just one of those places you probably should go to, but it's not all that exciting?
Plus, what if you have kids? What if you don't? What if you really like beer? What if you hate beer? What if you love chocolate? Or don't? Or love history? Or hate it?
The bottom line is, there won't be a Sapporo guide to please everyone. But if you're looking for a wide range of things to do, from places you can bring the kids to a giant beer factory, this is the guide for you. And I marry the best of both worlds – a short and snappy description with location names and how to get there! Some transportation info (though not very detailed) is also included.
Just remember, this list is by no means exhaustive, and Sapporo is bigger than you think. Even if you don't find anything here that strikes your fancy, you'll definitely find something to do in Sapporo.
1. Sapporo Beer Museum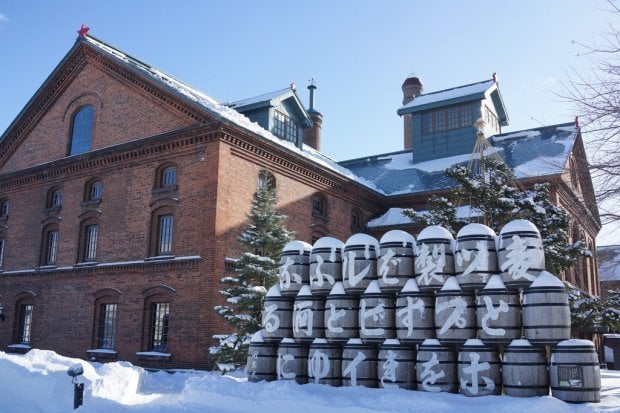 Image credits: Jerry Wong
Japanese beer isn't German beer, but it's still pretty good (and I say this as someone who doesn't like beer all that much). You can take anyone here even if they are under 20 (the legal drinking age in Japan) and have a free tour of the factory and the museum to find out how beer is made and what the history of beer is in Japan.
However, the real treasure is at the end of the tour, when you can have a half-hour tasting of ALL THE BEER YOU WANT. The tour is free, but if you're worried that everyone visiting Sapporo the day you are will also want to drink all the beer they can in 30 minutes, be sure to make a reservation. There is also a pretty famous beer garden inside the building that serves Genghis Khan, a local Hokkaido dish made with mutton that is so good you will never in your life think you'd associate the word "delicious" with the name "Genghis Khan."
Transportation: You can walk for about 25 minutes from Sapporo station or 15 minutes from Higashi-kuyakusho-mae station (Toho subway line). Or you can take the Loop 88 Factory Line bus from Odori station.
2. Moerenuma Park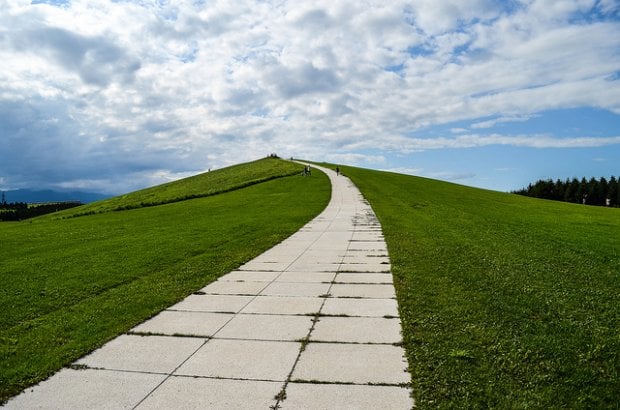 Image credits: inefekt69
Sapporo – Hokkaido in general – has a lot of land, and thus a lot of room to make parks. The structure of the park was created by Japanese-American artist Isamu Noguchi, and there are several sculptures (such as the famous glass pyramid) and large artworks scattered throughout the land. You can ski there in the winter and there is a small beach within the park that opens in the summer.
Also read: Japan's Naoshima Island is Every Art Lover's Paradise
Transportation: Take a bus from Kanjodori-higashi station (Toho subway line) or you can take a taxi from the JR Sapporo station or Sakaemachi station on the Toho subway line.
3. Hitsujigaoka Observation Hill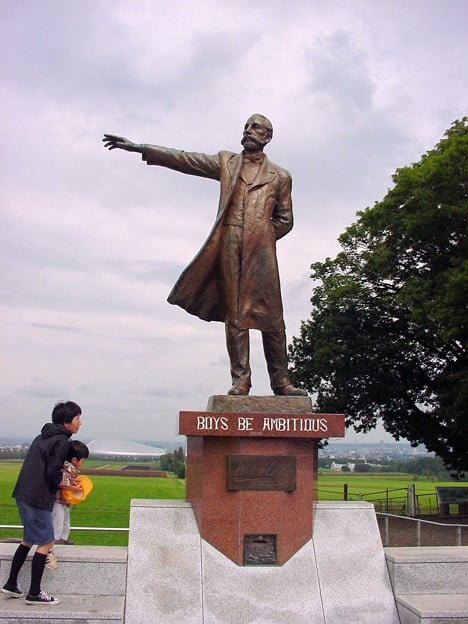 Image credits: photozou.jp
In Japanese, hitsuji – as in Hitsujigaoka – means "sheep." If you guessed that there are sheep on this hill, you are correct. They also have their own little house that you can look into, where you will see lots of sheep. And where there are lots of sheep, there is a rather unpleasant smell. They are cute, though!
One of the main attractions of Hitsujigaoka, besides the view you get of Sapporo and its very green, very Hokkaido-like surroundings, is the statue of Dr. William S. Clark (pictured above). Clark helped establish the Sapporo Agricultural College in Hokkaido and worked with the people of Hokkaido to develop the land. One of his famous sayings, "Boys, be ambitious," is well-known in Japan and is written on the statue.
You can also visit the small chapel (where actual weddings are held), have fresh grilled lamb and peruse the gift shop, which has goods from all over Hokkaido. Hitsugaoka is a good place to wind down and take in Sapporo with a beautiful sunset in the background.
Transportation: Take the Fuku 84 (Chuo) bus from Fukuzumi subway station.
4. Curb Market (Jogai Ichiba)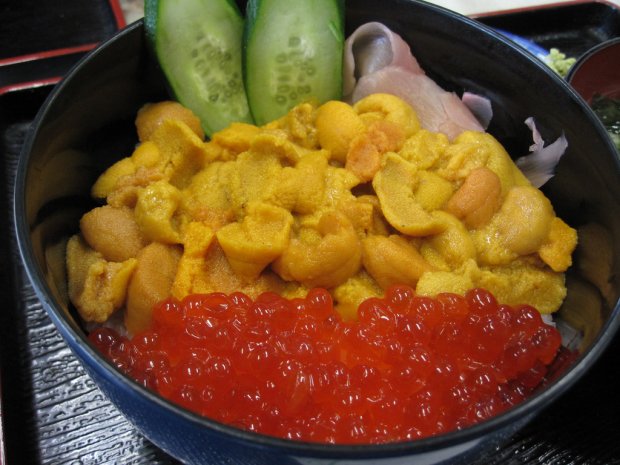 Image credits: Koichi Taniguchi
If there is one thing that Hokkaido is all about (besides snow and skiing), it's food. The produce, meat and seafood in Sapporo are always super fresh and taste exactly the way they're meant to taste – not the way they do anywhere else in Japan.
At the Curb Market (called the Sapporo Jogai Ichiba), you'll find seafood and locally grown produce at real prices, a.k.a. not ridiculously expensive like they are in Tokyo. If you can't buy anything because you don't have a kitchen or just don't know how to cook it, no fear – the BEST thing about the market is that there are restaurants using all of this fresh, fresh food. You can have seafood donburi (like the one pictured above, with uni sea urchin and ikura salmon roe) at cheap prices and it will taste like no seafood donburi you've had before or will ever have.
Transportation: Take the JR line from Sapporo station to Soen station (towards Otaru and Teine). The market is a 10 minute walk from Soen. You could also take the Tozai subway line to Nijuyonken station and walk from there (also about 10 minutes).
5. Shiroi Koibito Park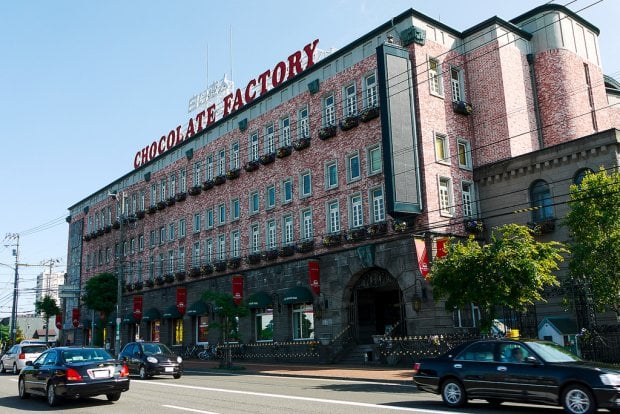 Image credits: Wasin Waeosri
"Shiroi koibito" literally means "white lover," which is the name of a famous cookie produced in the Hokkaido area (there's white chocolate in it, just in case you're wondering where the "white" part comes from). This park, which is more of a theme park than another green park, was made by the head company that makes Shiroi Koibito.
You can only observe the chocolate-making process; there are no tours, but there are workshops where you can make your own cookies. Otherwise, there is a shop (of course where you can buy many things made from chocolate) and a restaurant. The building itself is also nice, and there are outdoor seating areas where you can enjoy the day if it's nice out.
Transportation: From Miyanosawa station on the Tozai subway line, the park is just a 10-minute walk.
6. Sapporo Art Park
Image credits: underclasscameraman
If you like art, especially big art, you'll enjoy yet another one of Sapporo's many parks. The park is basically an outdoor museum with 73 pieces of art scattered throughout the woods, including a large ring of bright yellow people-shaped figures. It costs JPY700 (approx. SGD8) to enter, but again, if you like art and being outdoors, this is pretty much the ideal place to go. There are also art-related activities for children and adults alike.
Transportation: From the Makomanai station on the Namboku subway line, take the Hokkaido Chuo bus bound for the Sapporo Art Park Center.
7. Historic Village of Hokkaido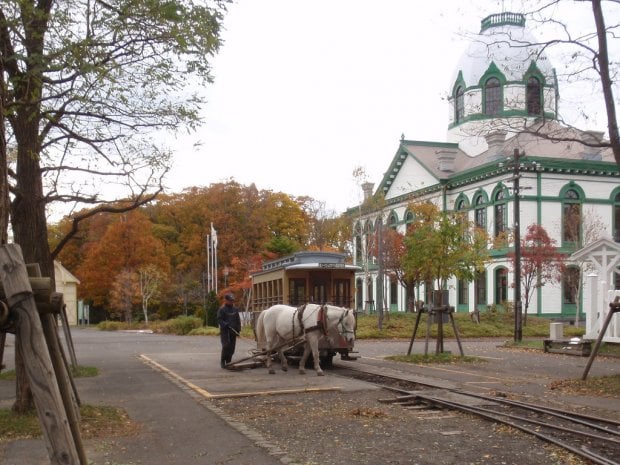 Image credits: Kzaral
If art bores you, but you really like history, and you like seeing history live, then this is the place for you. The historical village is exactly that: a historical village on the outskirts of Sapporo made to look the way Sapporo looked when it was making the transition between "that place nobody lives in" to "the Japanese frontier."
In the historical village, you can walk through a town, a fishing village, a farm village and a mountain village and see buildings, roads and transportation all dating back to the Meiji and Taisho eras. Of course, there is also an indoor museum documenting Hokkaido's history from the very beginning (literally) to WWII to today.
Transportation: From Shinrin Koen station, a bus will take you to the historical village in 5 minutes, or you can take that same bus from Shin-Sapporo station.
8. Susukino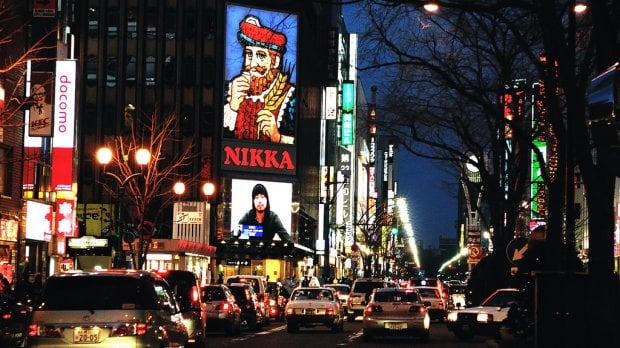 Image credits: Kiks Balayon
Susukino is where you leave the kids at the hotel and give your oldest a few bucks to babysit for a few hours. But really: Susukino is Sapporo's entertainment and nightlife district, and unless you're having a ramen dinner somewhere along the Ramen Yokocho in this area, which only serves Sapporo ramen, and planning on heading back right away, the place can get pretty wild at night. The area is also historically Sapporo's red-light district, and some places still carry that business with them.
On the other hand, this is where you'll find most of Sapporo's bars, restaurants, karaoke and pachinko. It's worth a visit, especially if you've never been to Japan before.
Transportation: You can reach Susukino station on the Namboku subway line.
9. Takino Suzuran Hillside Park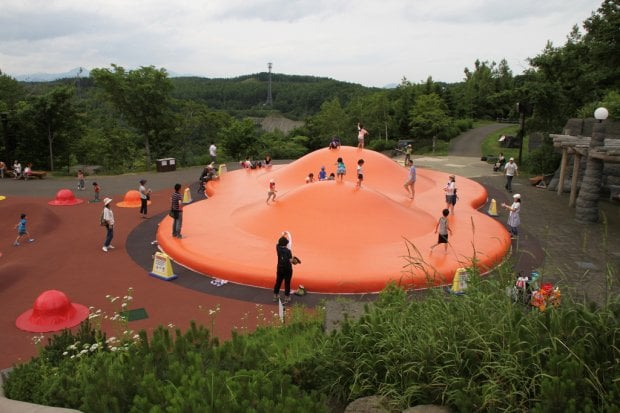 Image credits: MIKI Yoshihito
Yes, another park! This one is SUPER fun, though, for both kids and adults. This is the only park in Hokkaido that's owned by the national government. If you come to the park during the spring, summer and fall months, you can walk through this giant green space and come across huge sculptures and structures that are meant to be played on or with. Of particular interest is the Rainbow Net, which is a huge crocheted net that you can hang from and climb all over.
In the winter, the park becomes Takino Snow World where you can experience different kinds of winter activities.
Also read: 16 Things To Do in Japan This Winter
Transportation: From Makomanai station, take the Takino Line bus and get off at either the Suzuran Kōen Higashi-guchi stop or the Atsubetsu no Taki stop.
10. Mt. Moiwa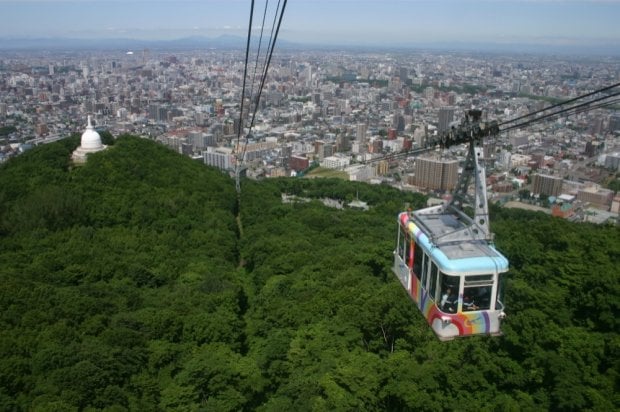 Image credits: Takuya Yoshimura
If you're looking for a good lookout spot in Sapporo that isn't full of sheep, look no further than Mt. Moiwa. From up there, you don't only get to see Sapporo, you can also see out to the Sea of Japan. You can hike the mountain trails or take the cable car to the middle of the mountain and then from there take another mini cable car to the very top.
Transportation: You'll have to take the streetcar line from Susukino to the Ropeway Iriguchi (Ropeway Entrance) station and then take a shuttle bus or walk to the ropeway where the cable cars begin.
Also read: 10 Weird and Wacky Things to Do in Japan
Contributed by tsunagu Japan.