Marrakech is a historical and cultural city in Morocco. It's a popular tourist destination and an old imperial city. Often referred to as The Red City because of the deep red sandstone used to construct the old city walls, the city has many excellent things to see and do. Vibrant and colourful, enchanting and chaotic, it's still possible to find pockets of peacefulness throughout the frenetic streets. Here are the city's many highlights to add to your bucket list.
1. Djemaa el Fna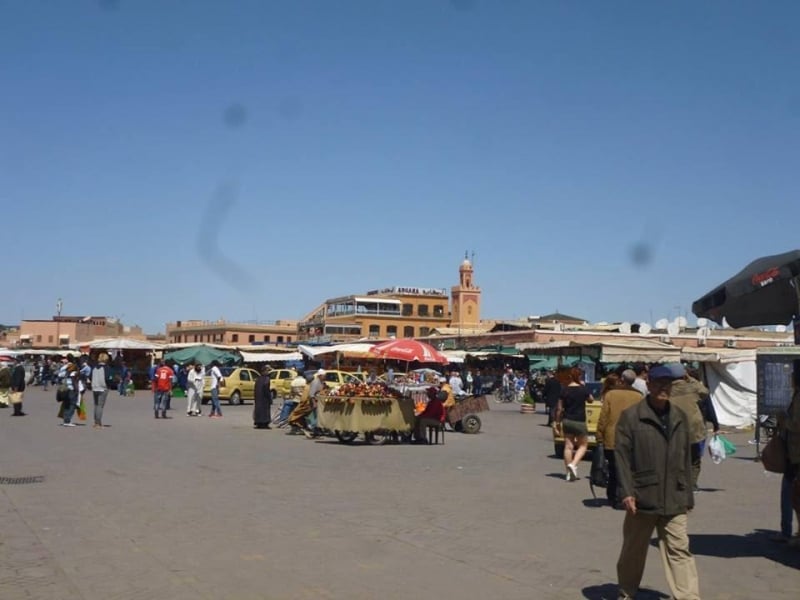 A visit to Djemaa el Fna is one of the top things to experience during a stay in Marrakech. Built during the Almoravid era, the ancient courtyard was once an important crossroads on the Saharan trading routes. Today's daytime visitors can browse at many stalls and feast on tasty street food, relish glasses of fresh and delicious orange juice, watch henna tattoo artists at work, see snake charmers, and dodge performing monkeys. In the evening the square takes on even more of a carnival-like ambience, with an array of street performers and entertainers. Traditional water sellers, musicians, dancers, storytellers, fortune tellers, and artists are just a few of the characters that add to Djemaa el Fna's vibrancy. There are numerous cafes around the edges, most with roof terraces where you can take a break and watch the scenes from above.
2. Koutoubia Mosque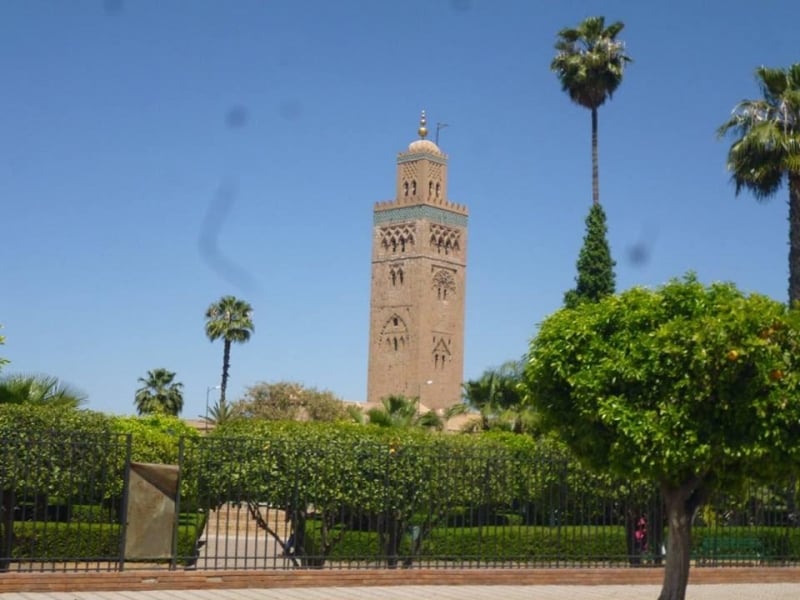 One of Marrakech's major landmarks and a much-photographed sight, the Koutoubia Mosque can be seen from far and wide, thanks to its soaring minaret with decorative tile work. The name translates as The Booksellers' Mosque, as the area was once home to a number of book vendors. Displaying traditional Moorish designs, the mosque isn't open to non-Muslims. You can, however, wander around the outside, discover an old washhouse, and explore the lush gardens.
3. Dar Si Said
Dar Si Said was once a beautiful palace. Today, it is a museum. The glorious building showcases fine Moroccan craftwork and there are interesting exhibits and displays related to 19th-century Moroccan life. Jewellery, carpets, weapons, pottery, and clothing are among the items displayed in the museum. It's a great window into the past and into the world of a wealthy local from times gone by.
4. Medina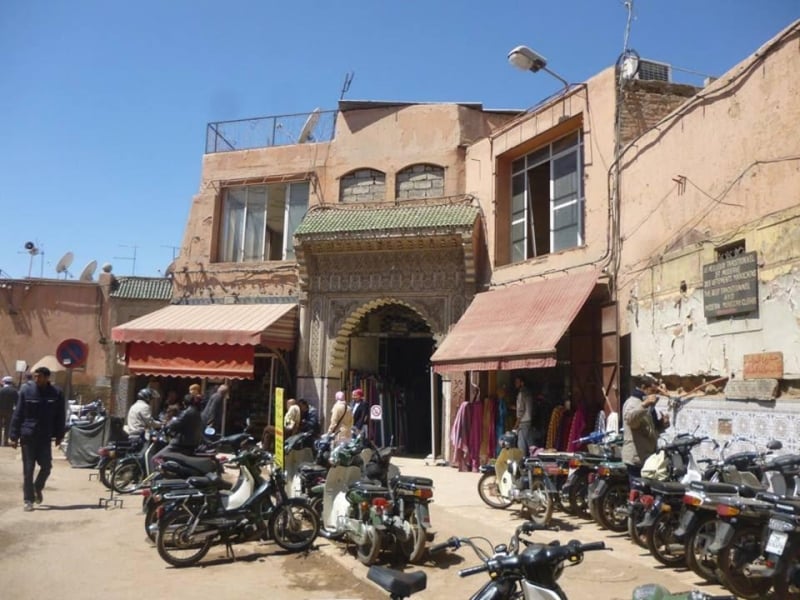 The medina is the old walled area of Marrakech. The heart of the old city, several large gateways lead through the fortified walls. Inside the high red-coloured walls you'll find a maze of small alleyways and streets, squares big and small, numerous historic sites, fountains, mosques, and traditional riads. People of the medina live a lot like they did in the past, and many glorious old riads have been converted into charming guesthouses, restaurants, and cafes.
5. Mellah
Mellah is the old Jewish quarter of Marrakech. Though few Jews remain today you can see the old cemetery, synagogue, and homes. It offers an interesting contrast to the rest of the medina.
6. Calleche Ride
Horse-drawn carriages, known locally as calleches, trot around the city. They offer sightseeing rides to tourists and also serve as a mode of transportation for locals. The square near Koutoubia Mosque is a central waiting point for calleches; negotiate the price for a ride and see Marrakech from a different perspective.
7. Ben Youssef Madrasa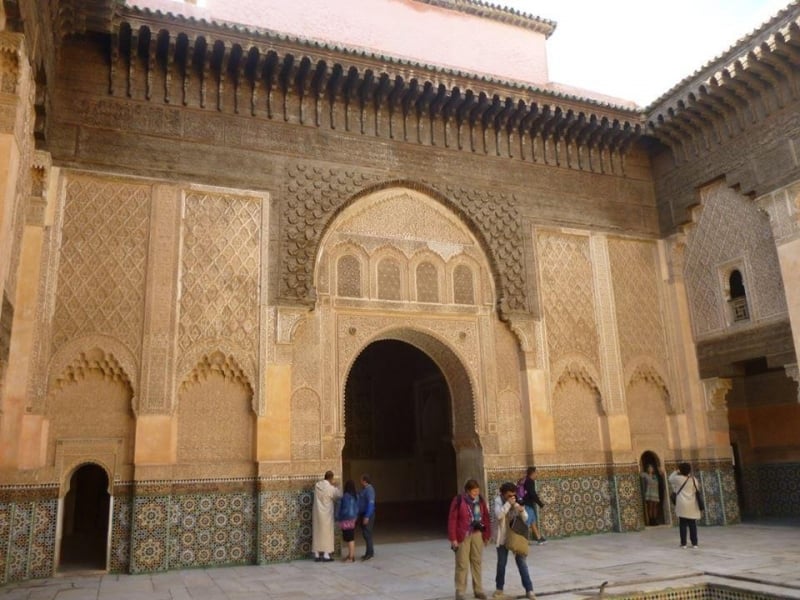 A historic religious centre, Ben Youssef Madrasa was once an important place for people to study Islam. The building is ornate with fine details; Quranic inscriptions in calligraphy adorn the walls, complemented by carved wood, geometric patterns, and decorative stucco. You can see the small rooms where people would sit to immerse themselves in study and stroll through the pleasant courtyard, complete with fruit trees and other plants.
8. Museum of Marrakech
Located inside a former palace, the Museum of Marrakech has been a private residence, a school, and now a museum. The interior courtyard is in an Andalusian style, with grand pillars and doors, colourful tiling, stained glass, carved wood, and many eye-catching details. Artefacts and pieces of art are found throughout the museum, telling the story of the cities past and present. You'll find pottery, coins, clothing, calligraphy, and more.
9. Souks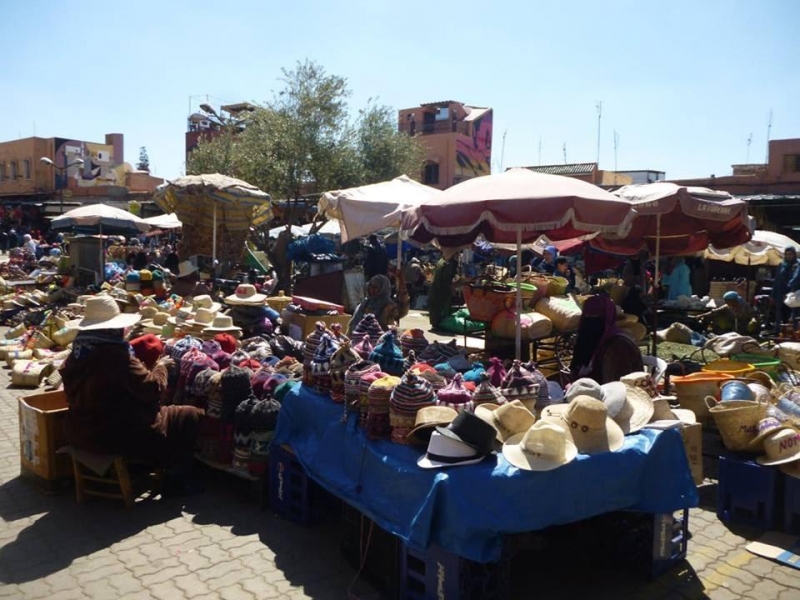 Marrakech is known for its extensive and busy souks. Spreading across many streets in the old medina, there are numerous goods in the many stalls. Artisans create beautiful wares in their workshops and the area is bustling, chaotic, and lively. From spices and shisha pipes to clothing and lamps, the souks are a terrific place for browsing and buying. Don't forget to haggle!
10. Sidi Ghanem
A former industrial area, Sidi Ghanem is today an up-and-coming shopping and art area. There are several workshops, studios, and showrooms here, and those in the know come here to buy local products and unique handicrafts.
11. Saadian Tombs
A grand final resting place for deceased royalty, nobility, and those in the king's favour, the Saadian Tombs feature gorgeous pavilions, mausoleums, and tombs. Fine craftsmanship adorns several of the monuments, paying respect to those that they honour. Sealed by the rulers of the following dynasty, the tombs were forgotten and hidden for many years. Only discovered fairly recently, they were in a good state of preservation when found. Today, they are open to the public, letting people admire the beautiful architecture and enjoy an air of tranquility.
12. Majorelle Gardens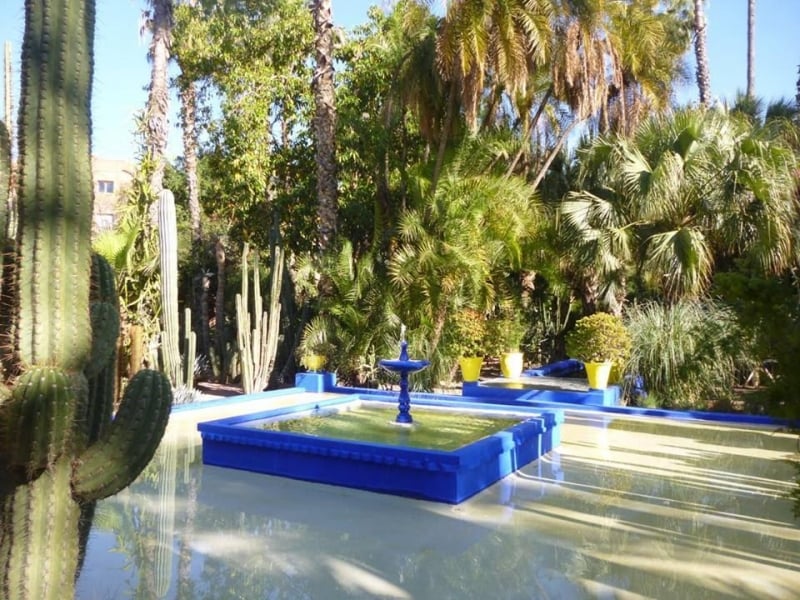 One of Marrakech's most popular outdoor spots, the Majorelle Gardens were rescued and preserved by the late fashion designer Yves St Laurent. Filled with native and exotic plants, leafy pathways run through the attractive gardens, leading to secluded seating areas, water features, statues, and a fish pond. Quiet and serene, the gardens also have a museum dedicated to preserving Berber artefacts and showcasing the Berber culture.
13. Tanneries
While not as famous as the huge tanneries of Fez, Marrakech also has interesting and important tanneries where people work tirelessly to treat and cure leather. Watch as people cart heavy hides between the vats and observe the back-breaking work that takes place here. A heavy stench often hangs in the air—a spring of mint held under your nose can help!
14. The Palmeraie
A large palm oasis on the outskirts of Marrakech, the Palmeraie is known for its outdoor activities, lush greenery, and fancy resorts. You can ride a camel through the shady palms, have an adventure with an ATV, shop in exclusive stores, and more.
15. Marrakech Train Station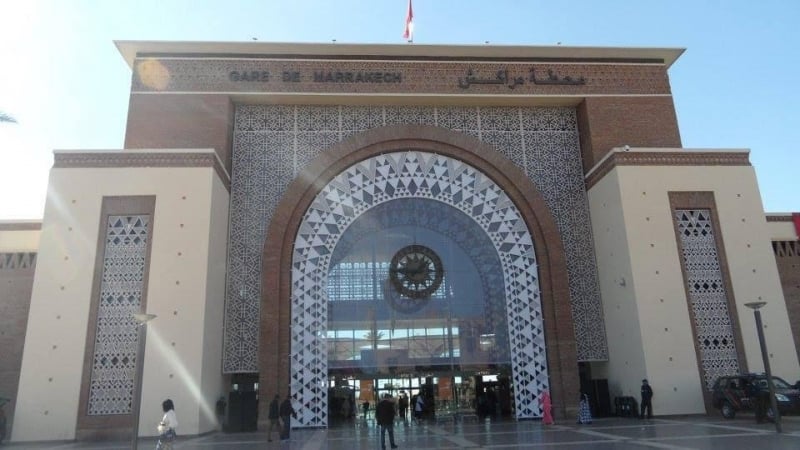 It may not sound like much of an attraction, but it's well worth stopping by Marrakech Train Station to admire the grand architecture. It's impressive both inside and out, and there are also interesting sculptures and artwork to snap pictures of.
16. El Badi Palace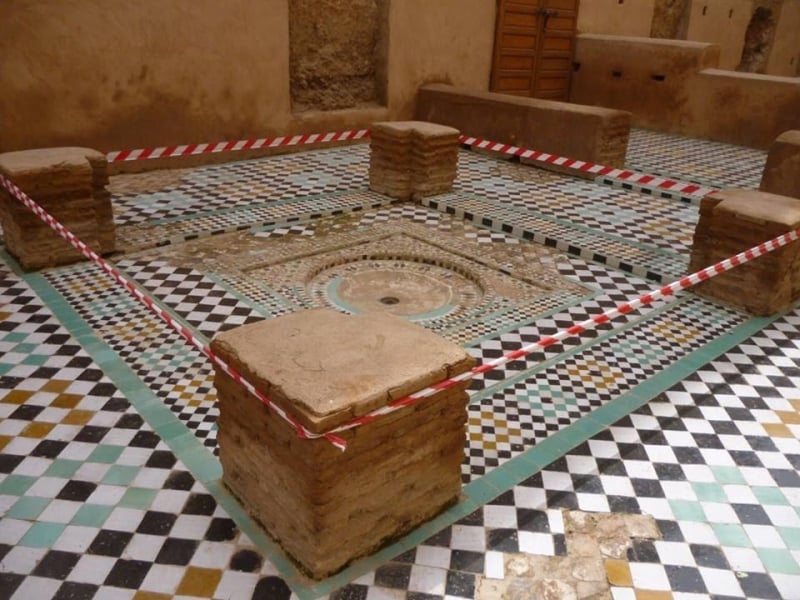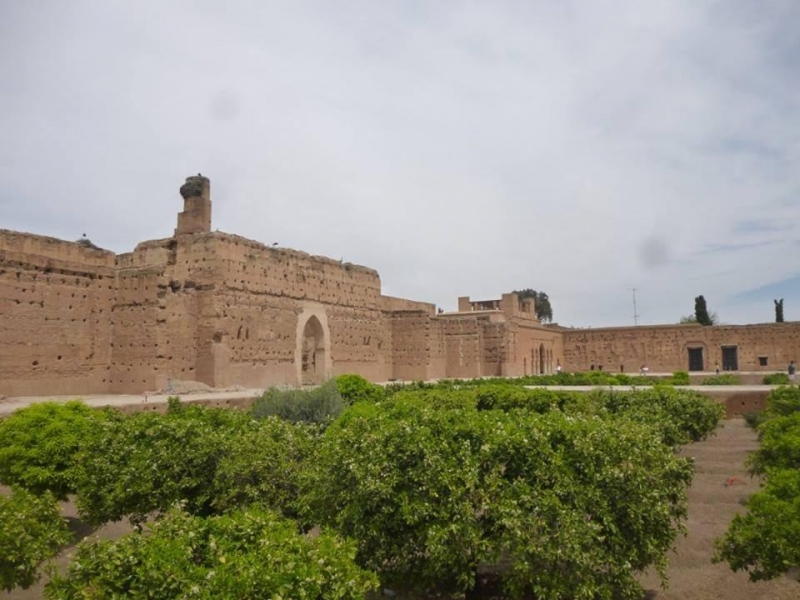 The atmospheric ruins of El Badi Palace are all that remain of a once-magnificent palace built by the Saadian Kings. Later kings stripped the palace of its splendour, taking all valuable items to build a new palace in Meknes. Storks nest on the ruined walls today and you can only imagine the grandness that was once here.
17. Bahia Palace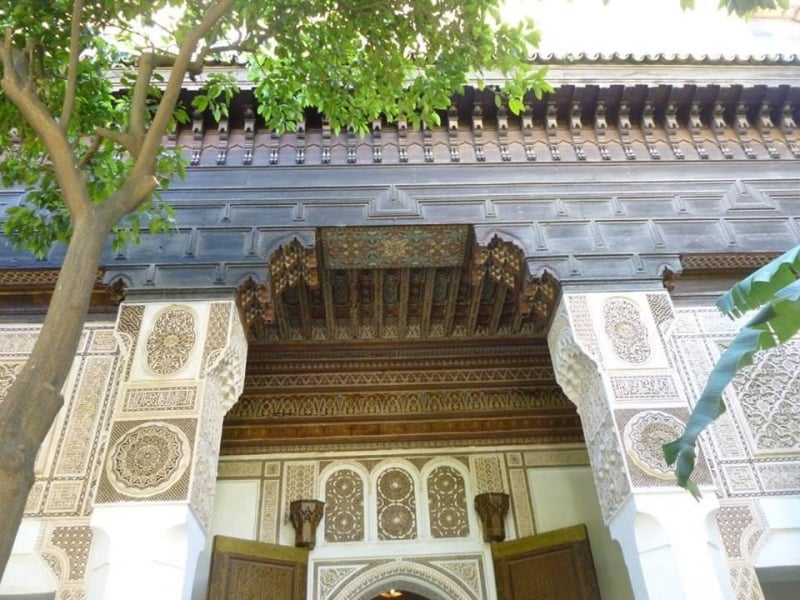 A newer palace in Marrakech, Bahia Palace dates back to the 19th century. Constructed using the best materials and techniques, it's a visual gem that combines Berber, Arab, and Andalusian arts and designs. The name means "Brilliance" … and it's easy to see why!
18. Maison de la Photographie
Maison de la Photographie has a large photography collection showing Morocco in the past. Some items are rare. There are also historical documents, postcards, and old glass negatives.
19. Agdal Gardens
One of the oldest parks in Marrakech, the Agdal Gardens were built by royalty. Well tended orange groves, olive groves, and other gardens fill the large park, and there's a stunning reflecting pool at the centre of the complex. A lovely place to relax and enjoy nature, the site is only open on Fridays and Saturdays.
20. Seven Towers
Erected in honour of seven saints, Marrakech's Seven Towers stand solemnly just outside the medina's walls. There is little information about these identical box-like towers, and if you didn't know what they were you may be a bit perplexed by them! They stand alone, quite forgotten, with an air of mystery.
21. Tiskiwin Museum
With a focus on Morocco's trading heritage, the Tiskiwin Museums takes visitors on a visual journey along ancient trading routes and through major trading posts. Learn more about the different communities along the Saharan routes, running from Marrakech to Timbuktu.
22. Menara Gardens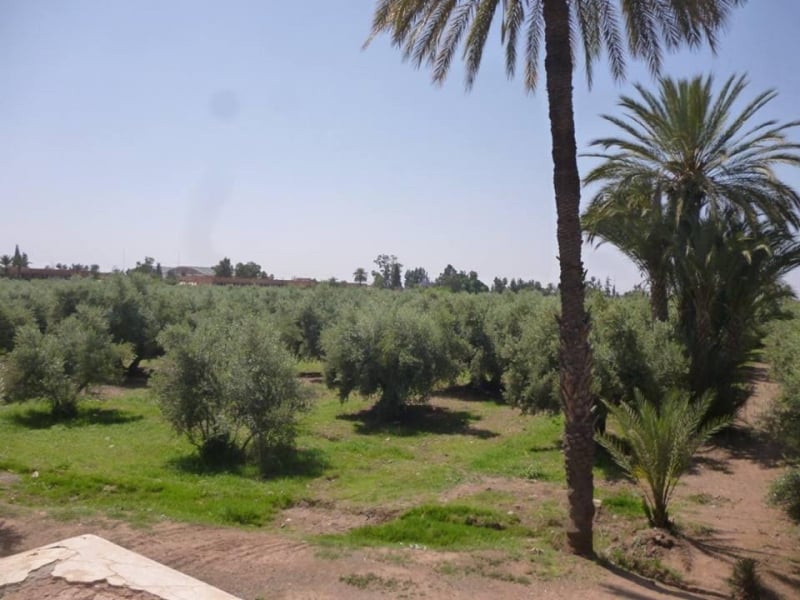 An attractive pavilion reflects off the water in a large basin, and there are walking trails through olive groves. Peaceful and relaxed, Marrakech's Menara Garden is a popular place with people looking for some respite from city life for a short time. There are great views of the Atlas Mountains from here too.
Other things to do
There are many art galleries in Gueliz, and you'll also find modern shops and shopping centres here. Gueliz and Hivernage have the biggest concentration of bars and nightclubs and are the best places to go for a night out in Marrakech.
Watch an exciting Fantasia show at Chez Ali, unwind in a hammam (traditional steam bath), admire the architecture of the theatre, see a large collection of traditional rugs at Musee Boucharouite, and visit the Mouassine Museum with its stunning Saadian-dynasty designs. Spend a few nights in a traditional riad, cool down at a water park, dine on the local speciality of tangia, and discover what makes Marrakech such a popular destination.
And, if you want even more diversity, day trips to places like Essaouira, Ourika Valley, and Ouarzazate are sure to please.