Thailand is a predominantly Buddhist nation and there are thousands of temples dotting the length and breadth of the nation. While there are some temples that are classified as must-sees, like Bangkok's Wat Pho, Temple of the Emerald Buddha, and Wat Saket, and Chiang Mai's Wat Chedi Luang and Wat Chiang Man, it can be easy to start suffering from temple fatigue. Or, to use a common expression, it often doesn't take long before travellers start to feel "templed-out" when exploring the Land of Smiles.
No matter how many temples you've already visited on your Thailand adventure, however, there are plenty of interesting, unusual, quirky, and spell-binding temples that are very different to the norm. Here are some of Thailand's most beautifully unusual temples:
1. Wat Rong Khun, Chiang Mai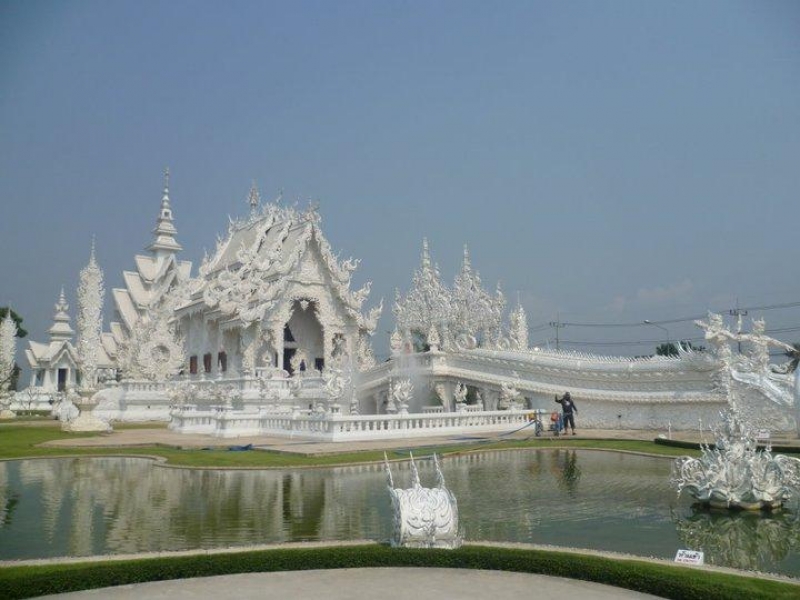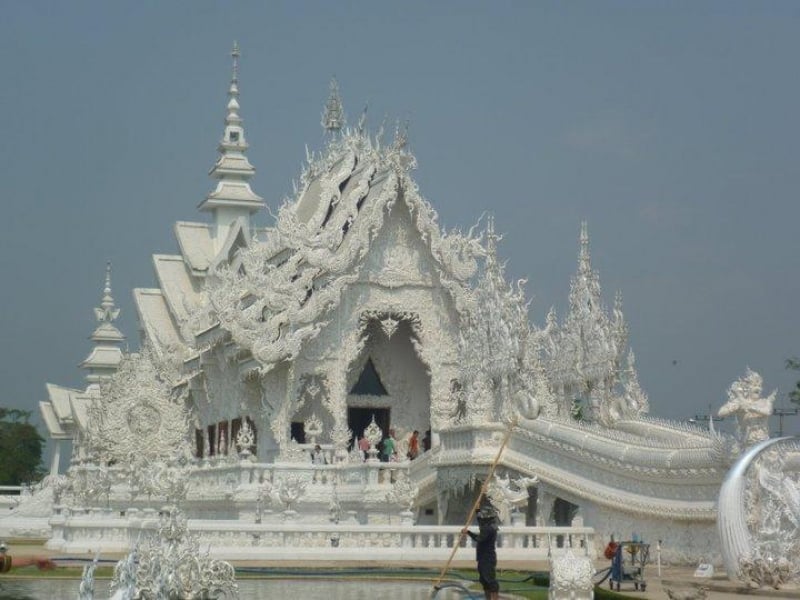 Located in Northern Thailand's Chiang Rai and accessible on a day trip from popular Chiang Mai, Wat Rong Khun is a breathtaking vision of white fairytale-like beauty. Also referred to as the White Temple (for obvious reasons!), the pure white building with its intricate details looks like it's been made from cake frosting. Or clouds. Visit at the right time of day and you'll be able to snap a picture of the gleaming building reflected in the water of a pond in front. You must cross a bridge to reach the temple, with grasping hands and body-less limbs reaching up ominously from below. There's interesting artwork inside the main building and many fascinating statues scattered throughout the grounds.  
2. Phra Prang Sam Yot, Lopburi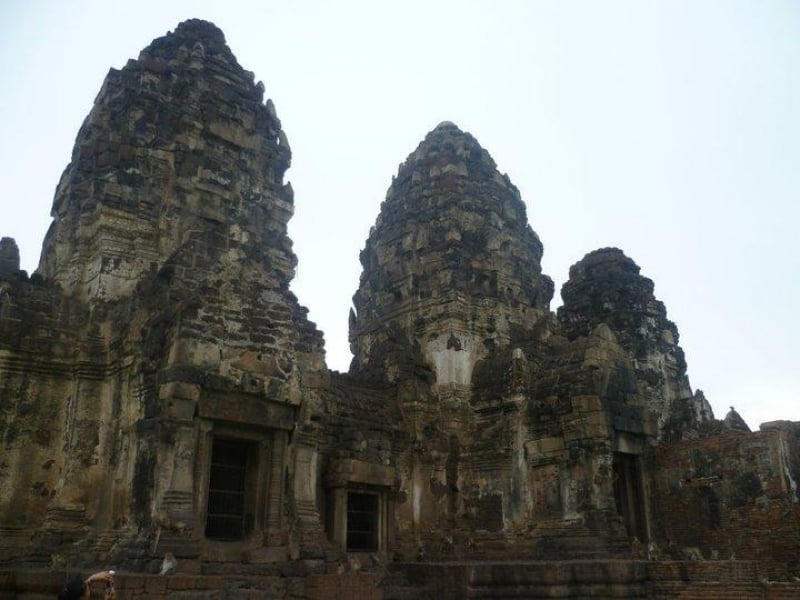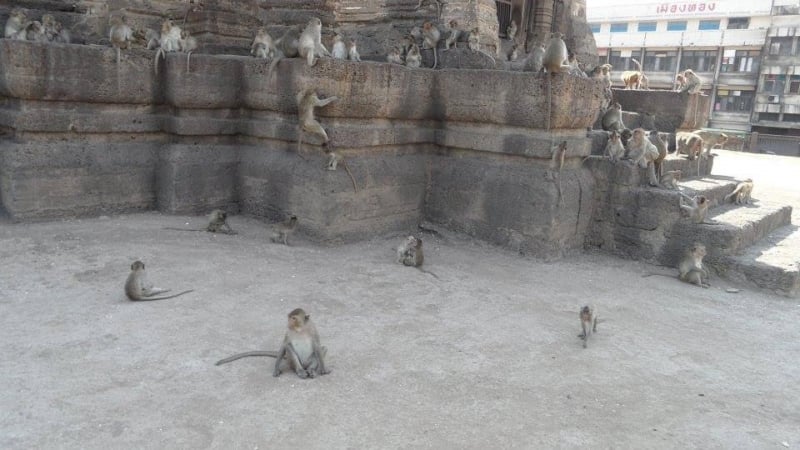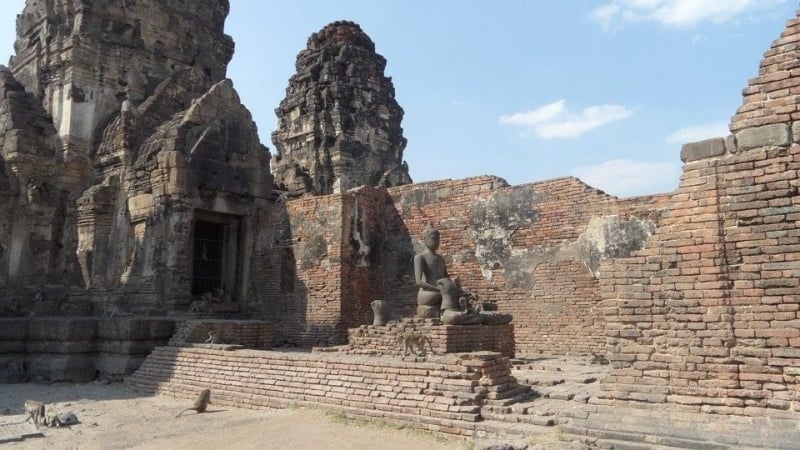 Phra Prang Sam Yot is an old Khmer-style ruined temple in Central Thailand's Lopburi. The three-towered temple is attractive, but the many monkeys that roam the grounds are what really make this temple so different to the norm. Many tourists coax the monkeys onto their shoulders for selfies, though I am deathly afraid of being bitten and prefer that the cheeky macaques keep a safe distance! Top tip: go inside the temple to watch the monkeys' antics from behind bars. Almost like a reverse zoo, they frolic outside while you're safely tucked away inside with just the odd bat to contend with.
3. Phra Pathom Chedi, Nakhon Pathom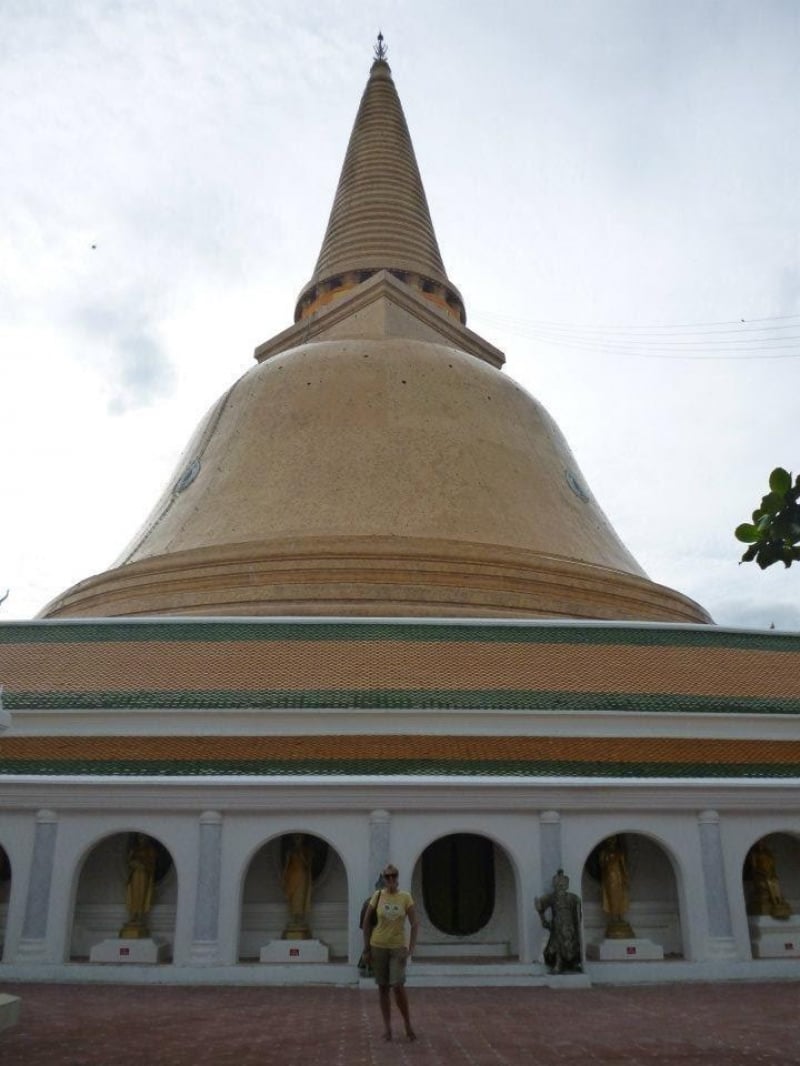 The soaring Phra Pathom Chedi in Nakhon Pathom is home to the country's tallest stupa. It is often also said to be the tallest stupa in the world. Off the beaten track, though also pretty easy to access from Bangkok, the impressive stupa stands at 120 metres tall. The circumference is 233 metres, and small enclaves around the stupa's base contain statuettes of the Lord Buddha. The gigantic stupa is said to mark the spot where Buddhism first entered the country in days of old.
4. Wat Traimit, Bangkok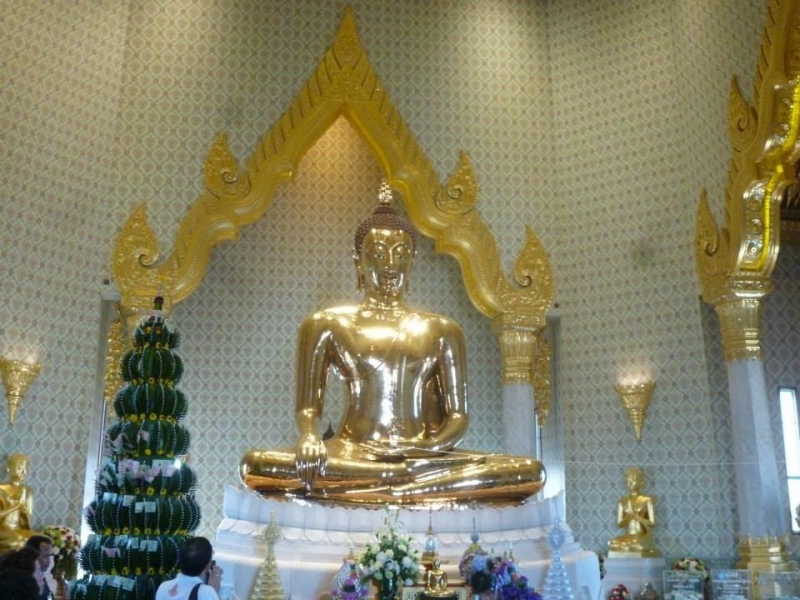 Located in Bangkok's bustling Chinatown, Wat Traimit is unusual because of one of its statues. It contains the biggest solid gold Buddha statue in the world. Weighing around five and a half tonnes, the shiny Phra Phuttha Maha Suwana Patimakon has an interesting tale too. Thought to date back to the ancient Sukhothai era, it is believed that parts of the statue were cast in India and then moved to Siam. To conceal the statue's worth, particularly when the country was being pillaged and plundered by invading Burmese forces, it was covered with thick concrete and decorative glass. Moved from place to place, the heavy statue was eventually dropped in 1954. People were astonished to see gold glinting through where the plasterwork had broken away and the statue's great worth was finally realised after many, many years of concealment.  
5. Wat Pa Thewapithak, Roi Et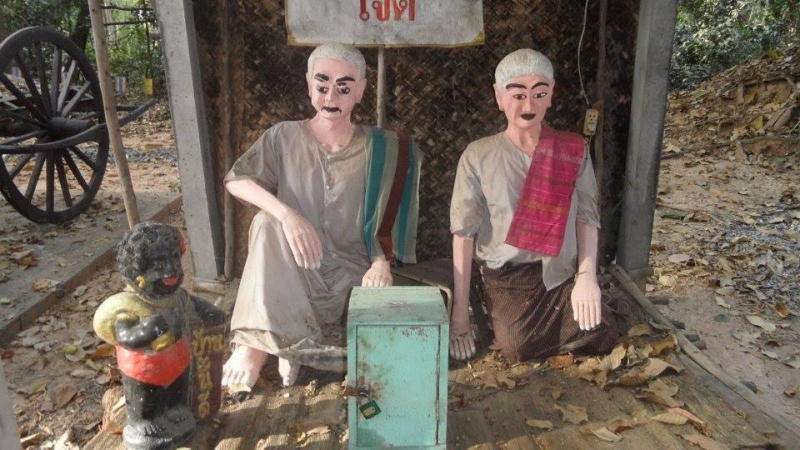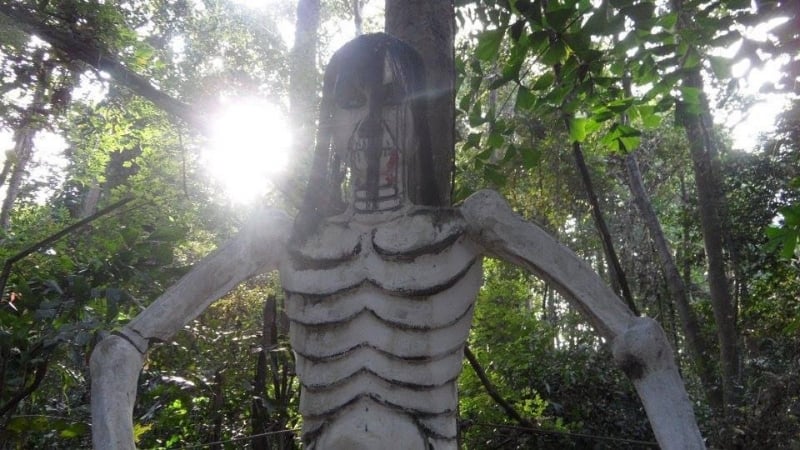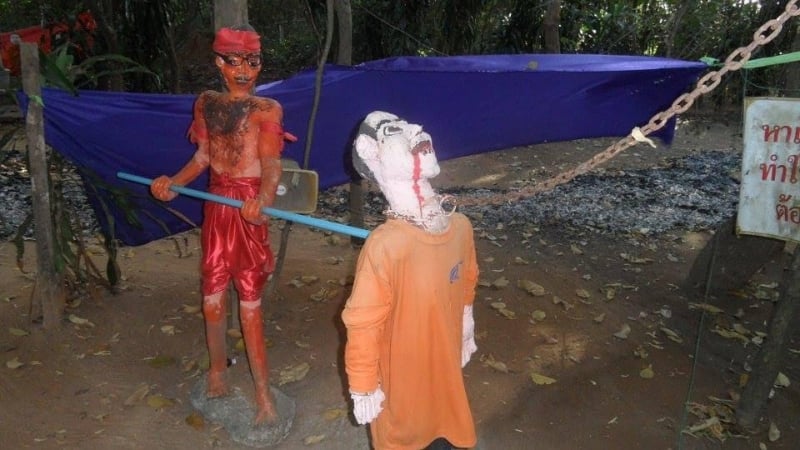 Visit Roi Et's Wat Pa Thewapithak and take a spooky and chilling walk through the eerie hell garden set throughout shaded woodland. You can insert coins into many of the statues to break the sound of bird song with terrifying screams, wails, and moans. Many also chant in Pali and offer words of wisdom in Thai. You'll certainly feel like you've stepped onto the set of a budget horror movie as you explore this unusual temple!
6. Wat Pa Maha Chedi Kaew, Si Saket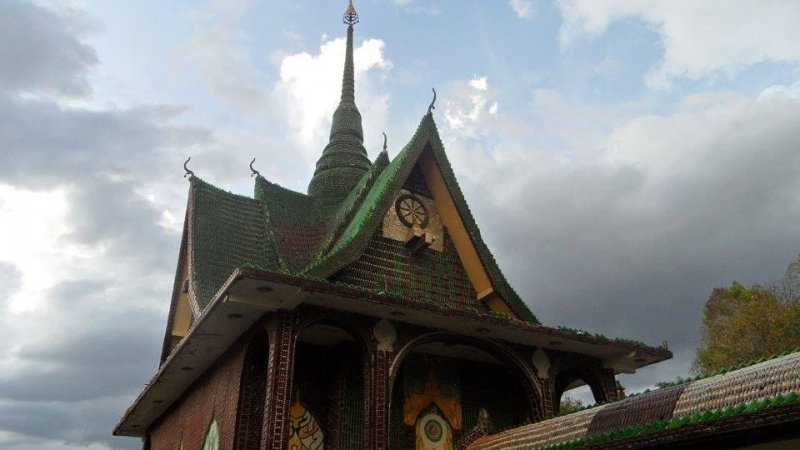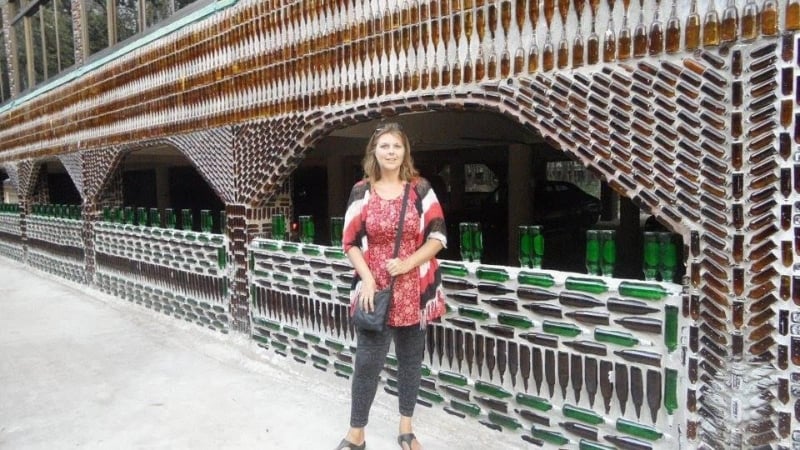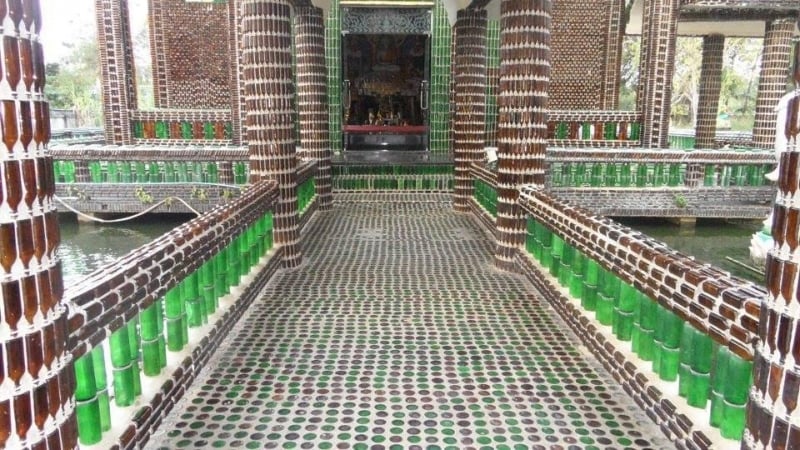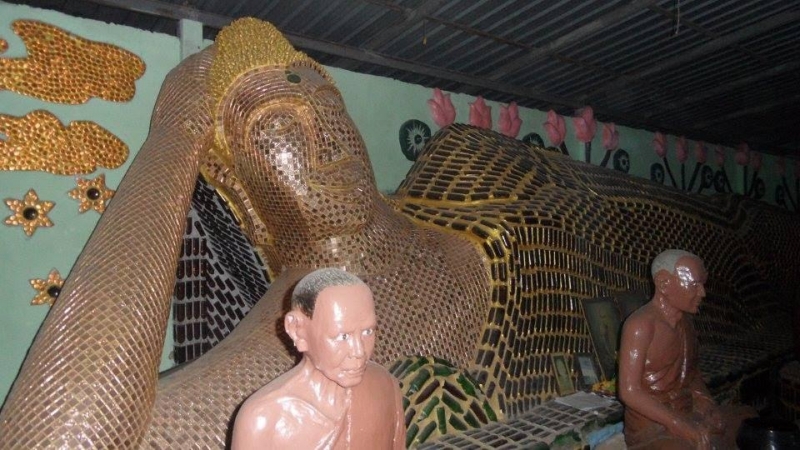 Also known as Wat Luan Kuat, or the Temple of a Million Bottles, Si Saket's Wat Pa Maha Chedi Kaew takes recycling to a whole new level! The monks started collecting empty glass bottles in 1984 and, two years later, completed the main temple building. The complex was expanded over following years to include other buildings, walkways, and even a reclining Buddha statue, all made from old bottles. Beer bottles and small bottles that once contained energy drinks are the most common, with the contrasting brown, green, and clear glass creating a striking sight. Bottle caps are used to embellish the concrete casing.
7. Wat Tham Tha Pan, Phang Nga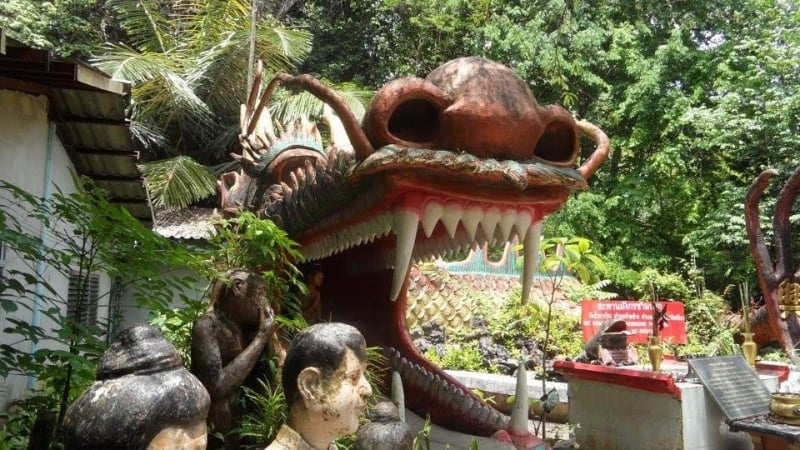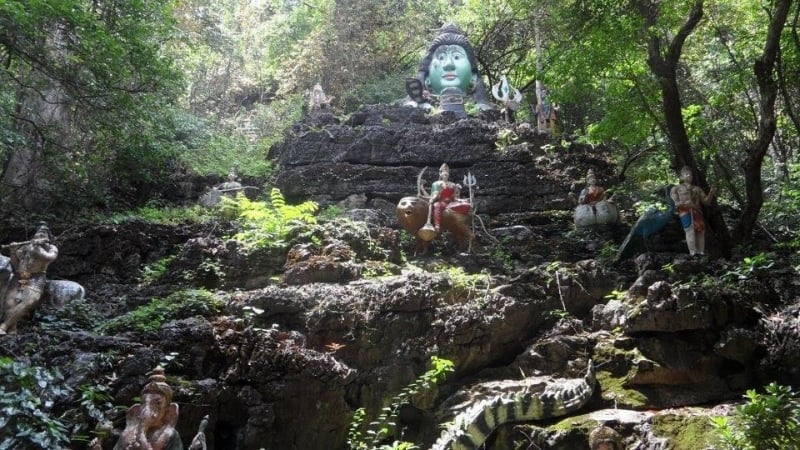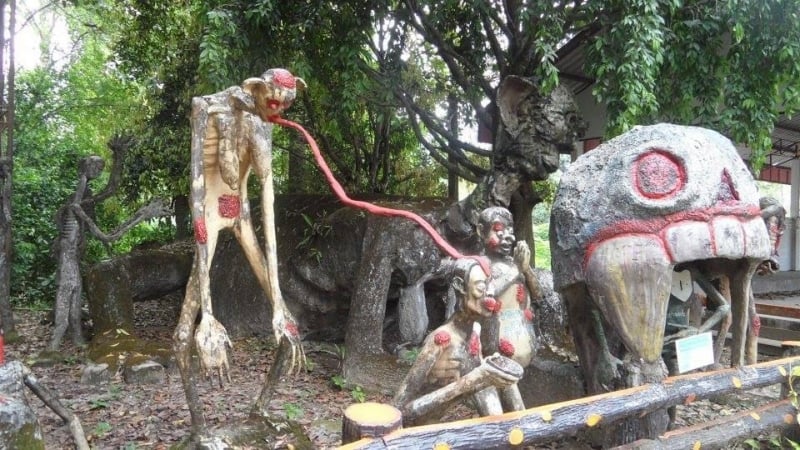 Within easy reach of the popular holiday destination of Phuket, Wat Pa Maha Chedi Kaew in Phang Nga Province is one of Thailand's gory hell temples. Beautiful statues sit on a rock face, representing heaven, creating a stark contrast before visiting the hell garden. First, however, you must pass through a dimly lit tunnel that snakes through the belly of a stretching naga. As you emerge into the sunlight you'll find yourself quickly reminded of what Buddhists believe will happen to them if they acquire bad karma during their present lifetime. Graphic and gruesome, torturous scenes and ghostly figures are dotted throughout the clearing.
8. Wat Ban Rai, Nakhon Ratchasima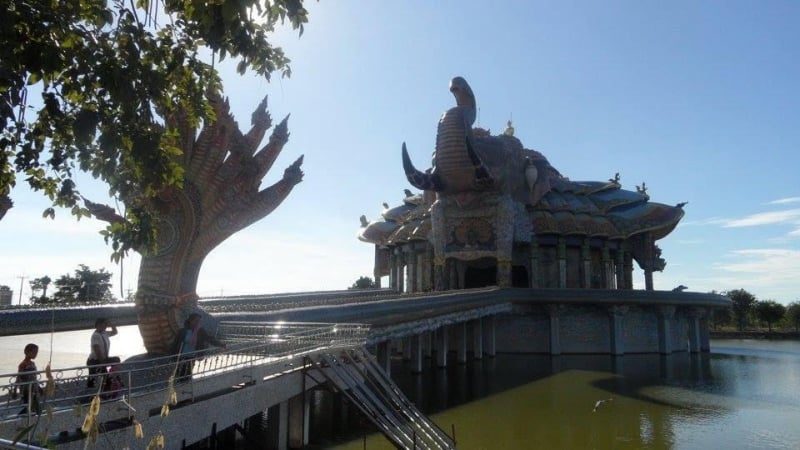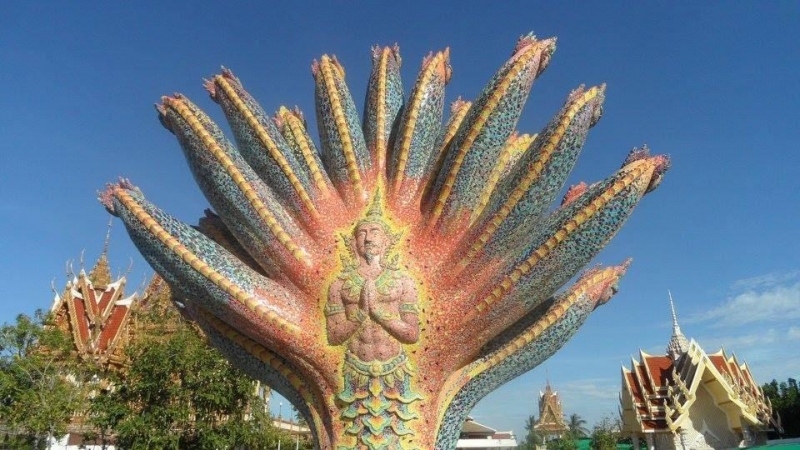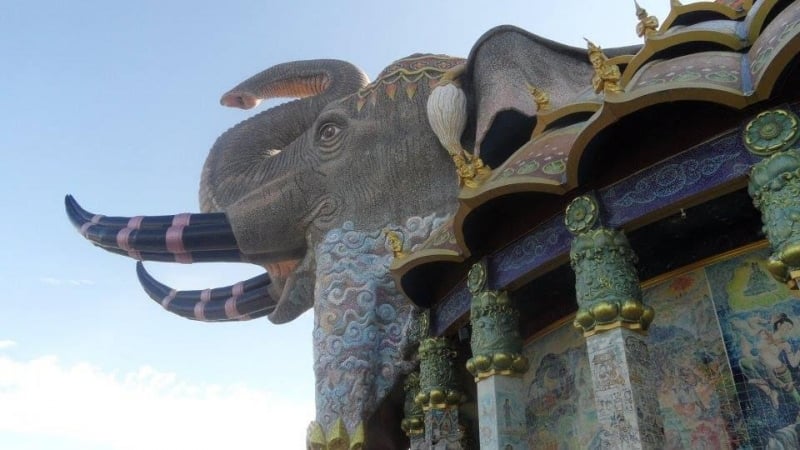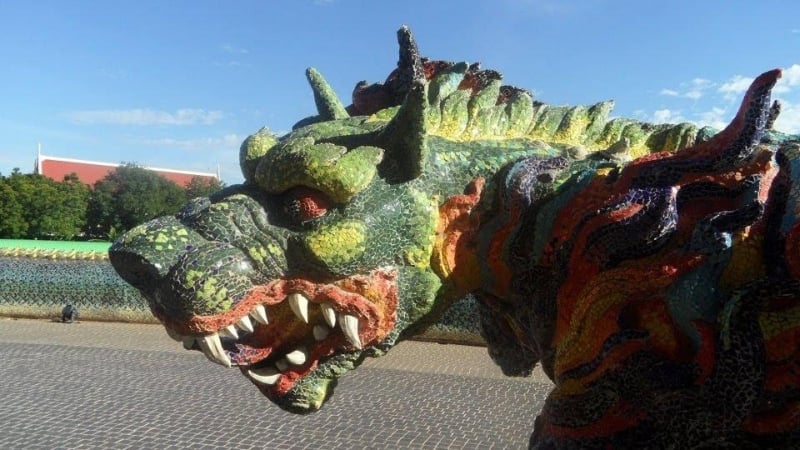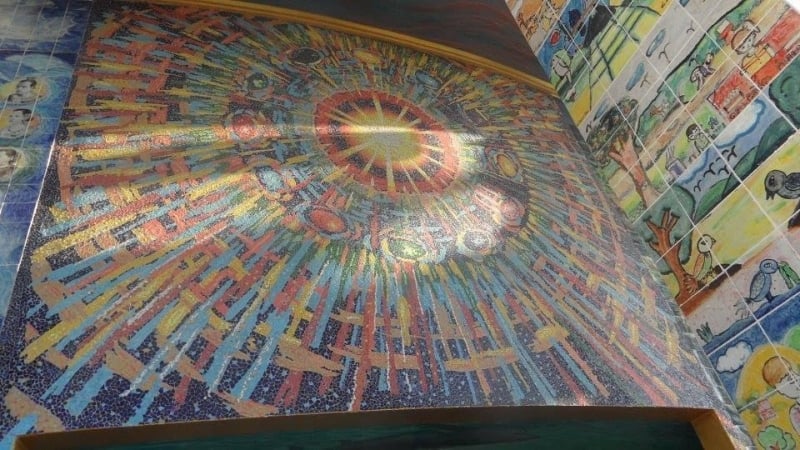 Wat Ban Rai is a truly splendid and spectacular temple in Thailand's largest province of Nakhon Ratchasima. A gigantic and colourful elephant building sits on a small artificial island, with a bridge flanked by mosaic-covered naga statues leading to the entrance. Walk around the outsides and marvel at the fine details, with tile work, mosaics, and statues depicting various spiritual, cultural, and folkloric ideas. There's interesting artwork inside and you can go to the top of the elephant for great views over the surrounding area. This awesome temple is among my favourite temples in Thailand—and I've seen a lot!
9. Wat Tham Khao Luang, Phetchaburi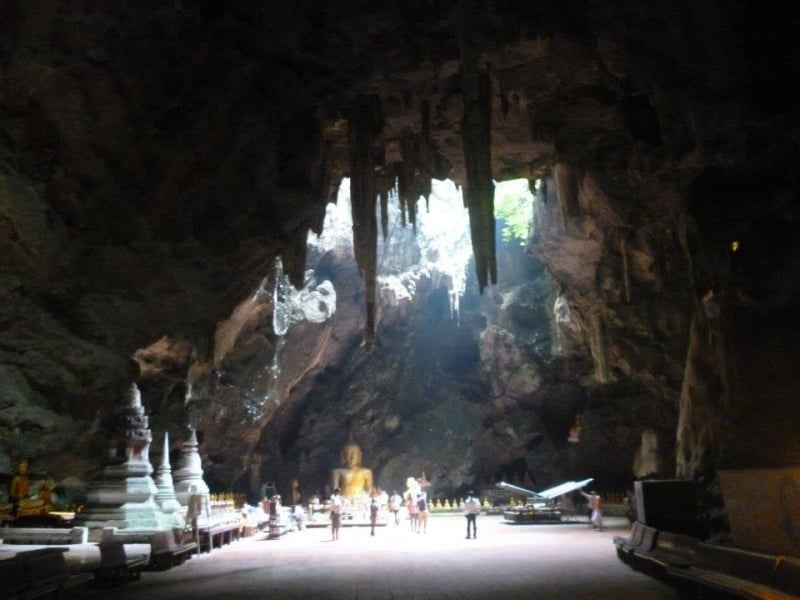 Wat Tham Khao Luang in Phetchaburi is an interesting cave temple. Dodge the mischievous monkeys as you climb the steps to enter the cave and you'll be rewarded by a sense of spiritual calmness and an interesting sight. The chambers and passageways have many rock formations and the complex is filled with Buddha statues in all shapes and sizes, along with shrines and pagodas. Peer into dark recesses and explore some of the smaller passageways and you'll also come across rather eerie animist statues, draped in animal-print cloth and with bones, beads, and feathers as adornments. The highlight, however, is the main chamber; a hole in the roof lets the sunlight spill through to cast a warm glow in a large Buddha statue positioned below the stalactites.   
10. Wat Sai, Singburi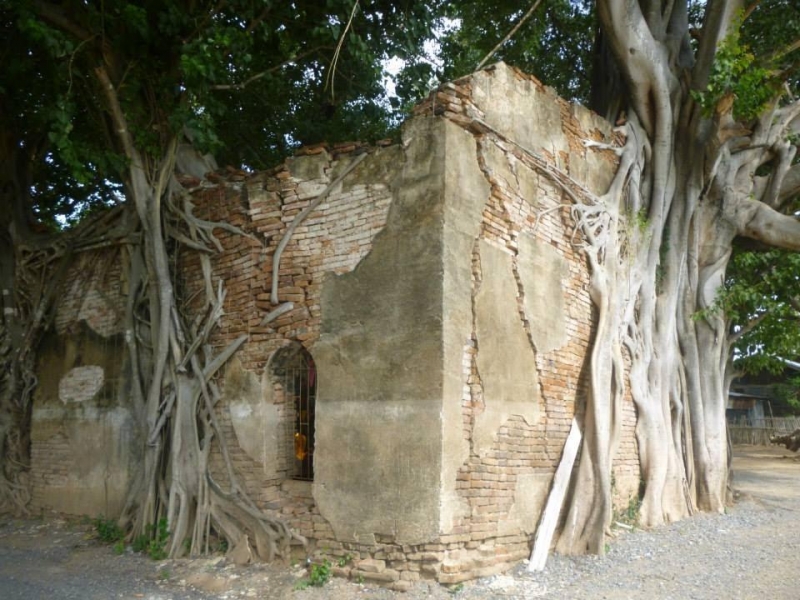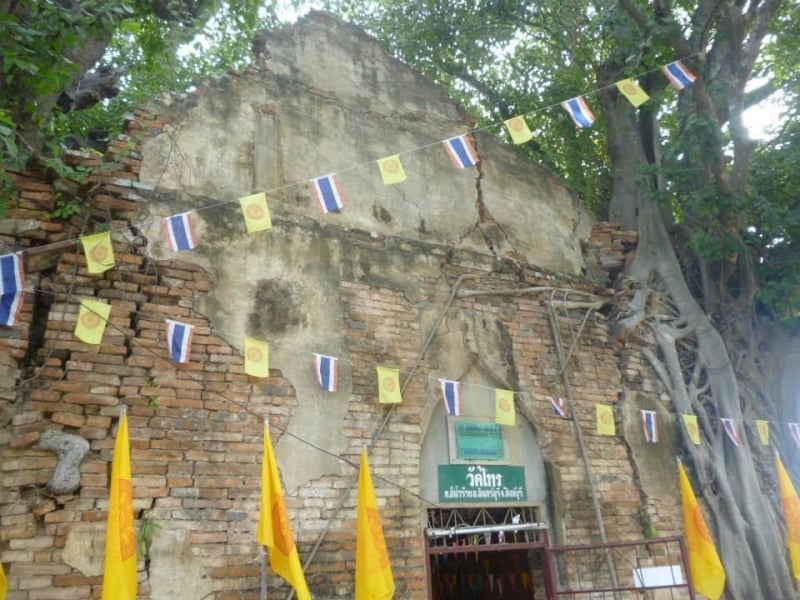 A tiny off-the-beaten-track temple in Singburi Province, Wat Sai sits alongside the river. The ruins have been taken over by nature, with tree roots lifting the earth around the temple, tendrils creeping through the open roof, and branches cracking through the brickwork and snaking down and across the walls. Golden Buddha statues, candles, and colourful prayer flags add to the ambience.
11. Wat Khunaram, Koh Samui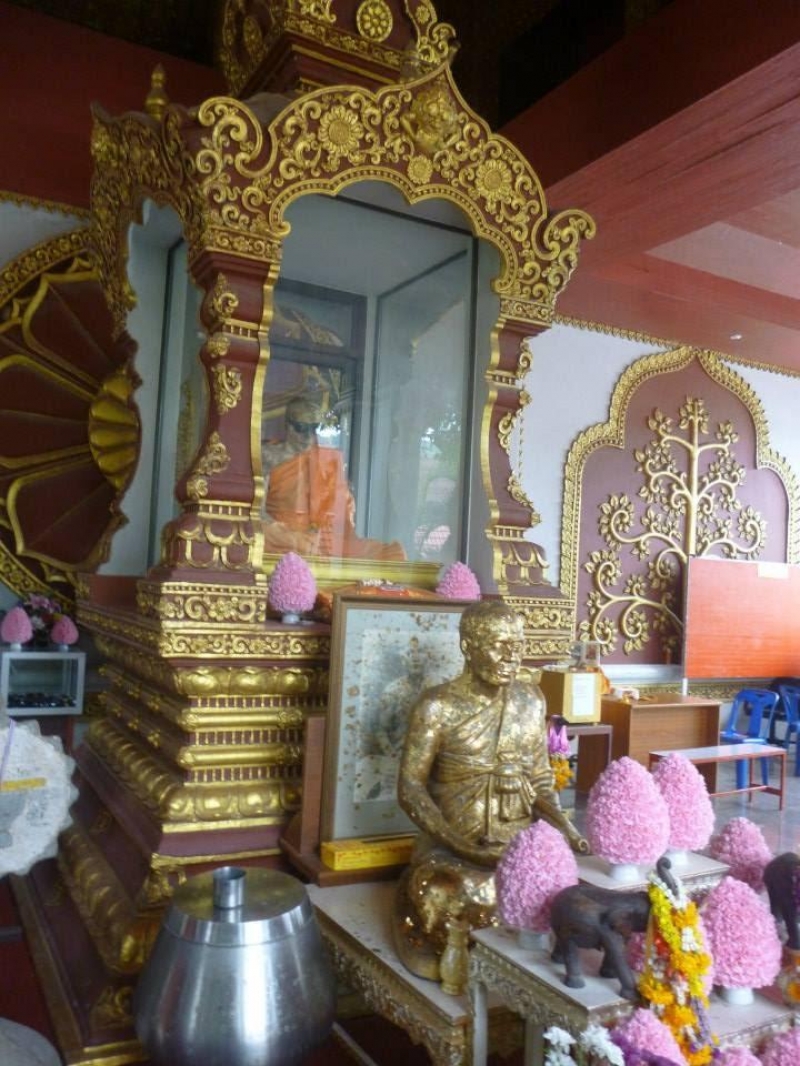 While Koh Samui is famous for its splendid beaches and laid-back island lifestyle, the island has a rather remarkable temple: Wat Khunaram. As you wander around, you'll come across a glass case that contains the mummified body of the temple's former head monk! Withered flesh clings to the skeletal remains, with a saffron-coloured cloth wrapped around the corpse. The body sits in a meditative position and is wearing sunglasses. (In case you wondered, the sunglasses are to prevent people from seeing the decayed eyeballs and hollow eye sockets!)
12. Wat Pha Sorn Kaew, Phetchabun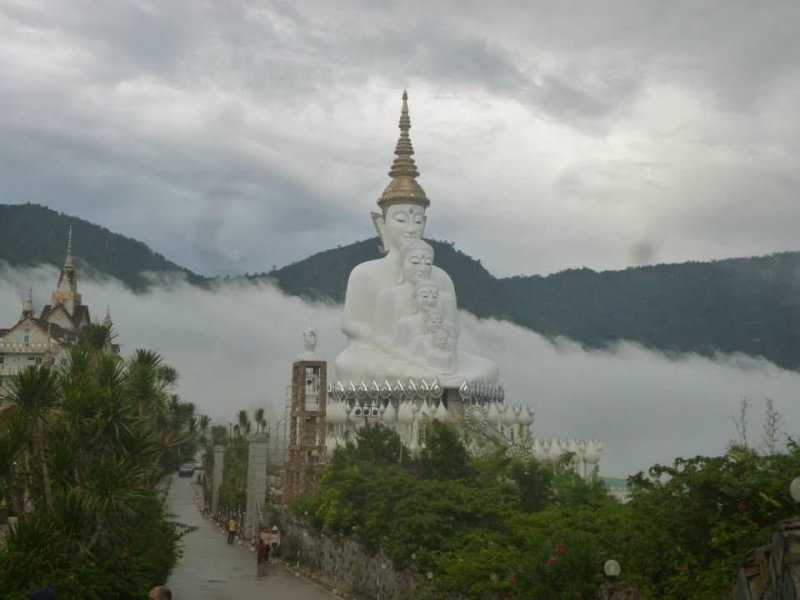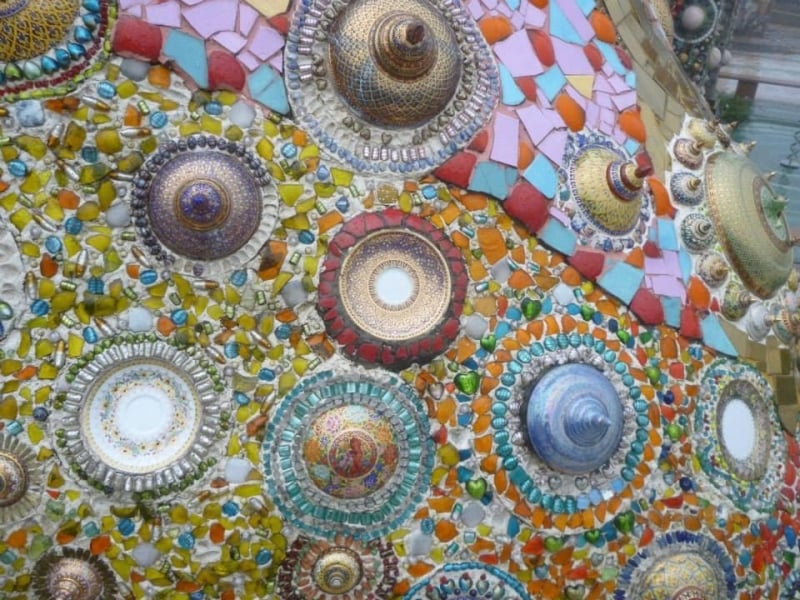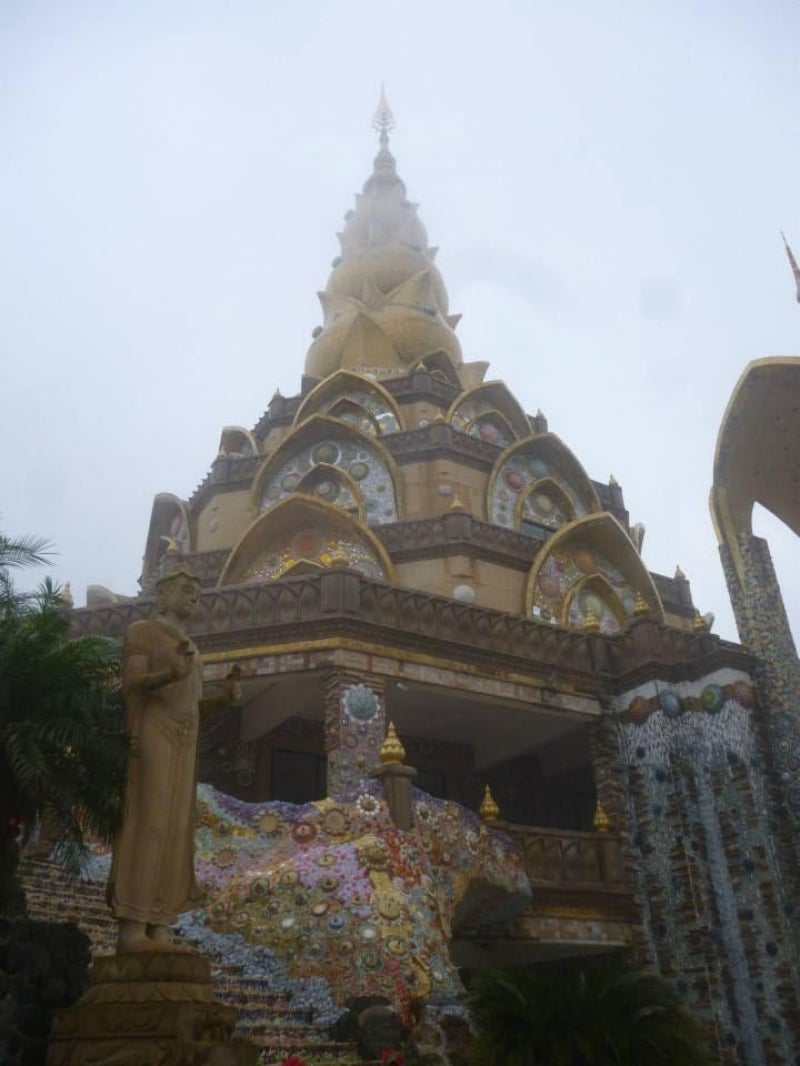 Another of my favourite temples in the Land of Smiles, Wat Pha Sorn Kaew is located in the rolling mountains of Phetchabun Province. A fairly modern temple, it was constructed using donated plates, bowls, and other pieces of pottery. Broken glass, chipped ceramic, and beads are inset in concrete to make gorgeous details—even the steps are lined with striking details. Whole pieces of crockery decorate the outer walls and a golden pagoda rises proudly into the sky. The large white statue of five Buddha images is especially enchanting. The elevated position means that the temple is often surrounded by low-hanging swirling mists, further adding to the dream-like feel.   
13. Wat Puet Udom, Pathum Thani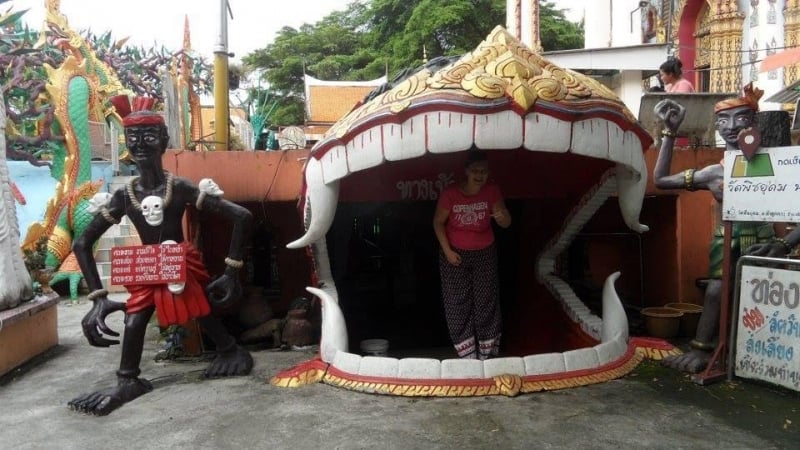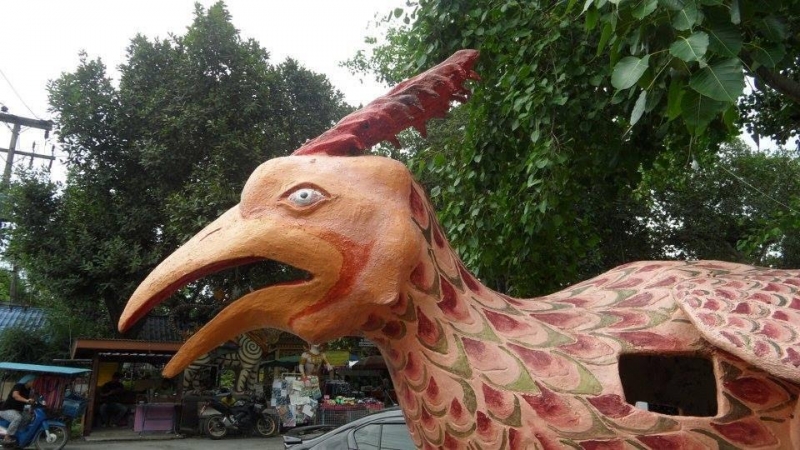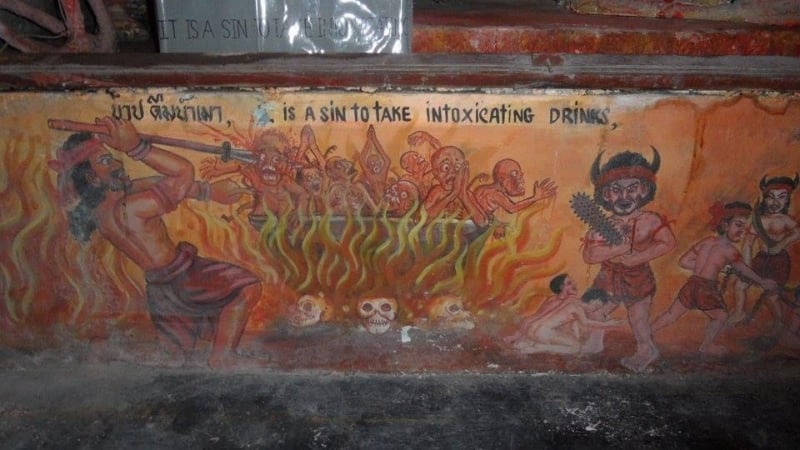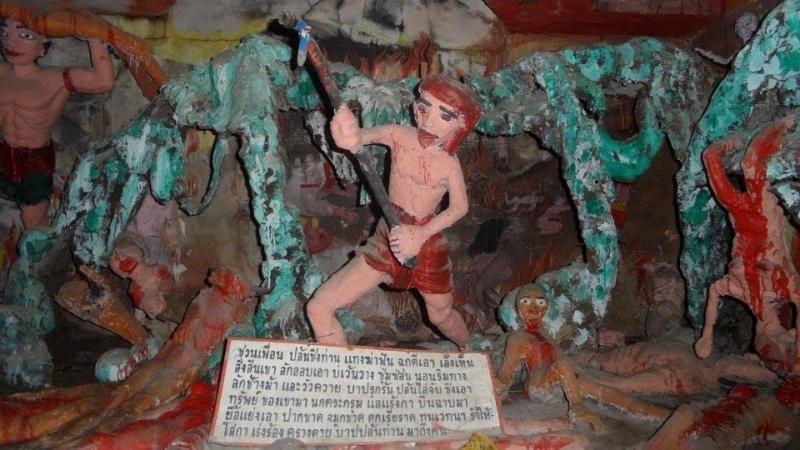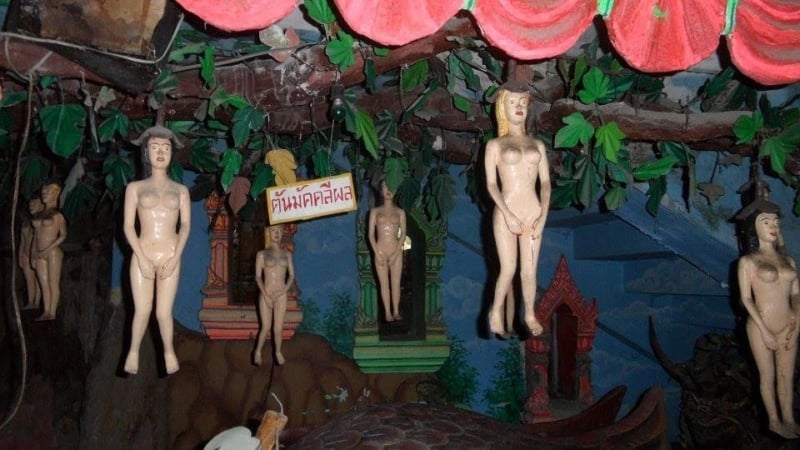 A short distance from the energetic heart of Bangkok, Wat Puet Udom is known for its graphic scenes of the afterlife. The temple building is glittery and attractive statues surround the main pagoda. Unlike many of Thailand's hell temples, the ghastly statues here aren't out in the open. Visitors must pass through a gaping mouth to go underground for a dank and dismal journey through a hellish realm. Pop a coin into the mechanical sculptures to fill the air with monstrous sounds—it's definitely creepy!  
14. Wat Mahathat, Ayutthaya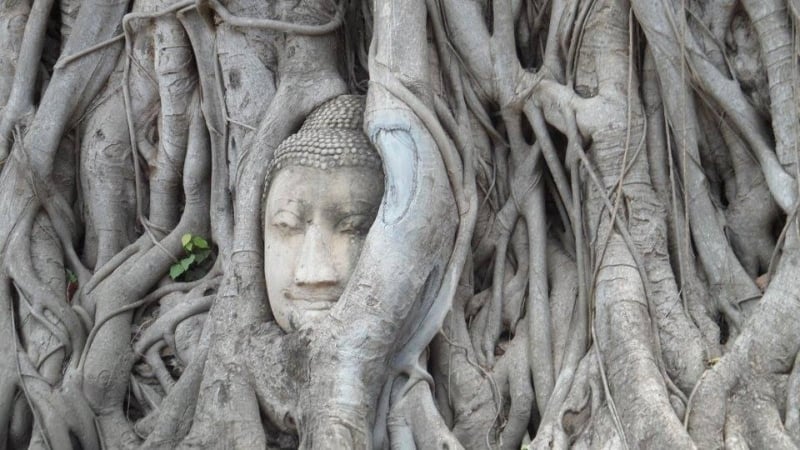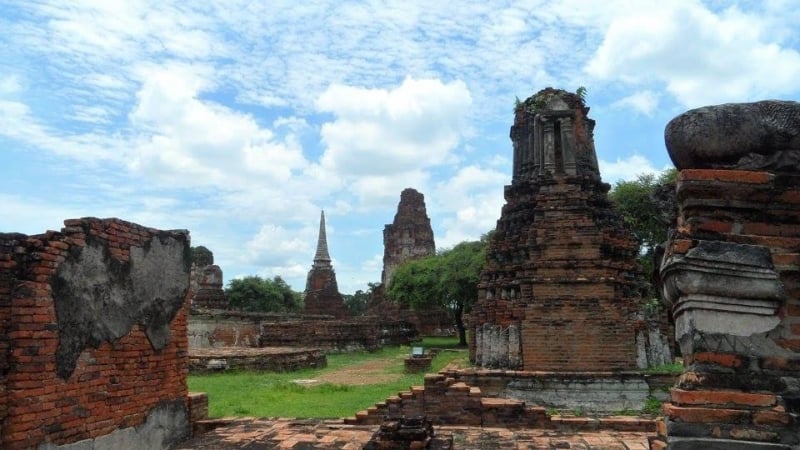 The former ancient capital of Ayutthaya has many glorious ruins and remains that hearken back to the city's heyday as a mighty Siamese capital. Wat Mahathat has one of the city's most unusual features, though: a stone Buddha head lodged in a tree. Many of the statues throughout the historical park do not have heads; they were looted by Burmese invaders. It is thought that one head was dropped and a tree grew around it. Today, twisting and gnarled branches completely encase the head, presenting an unusual sight.  
15. Sanctuary of Truth, Pattaya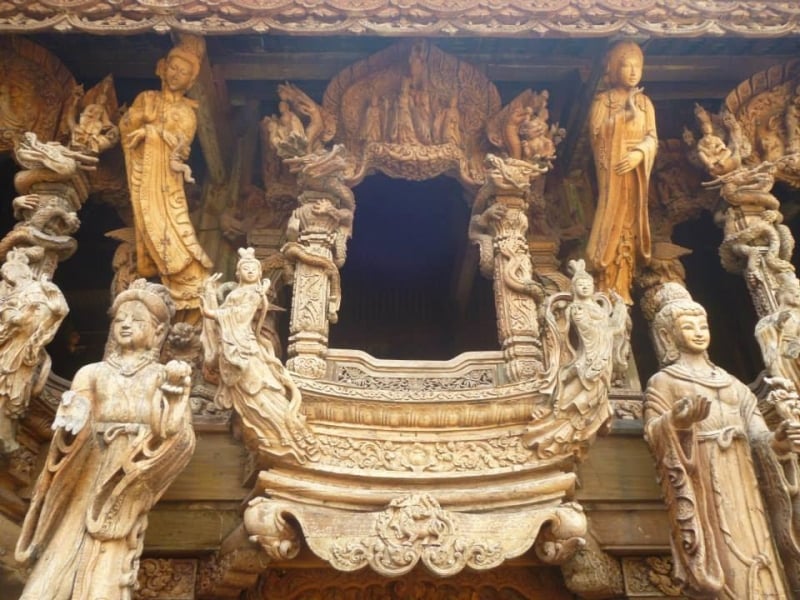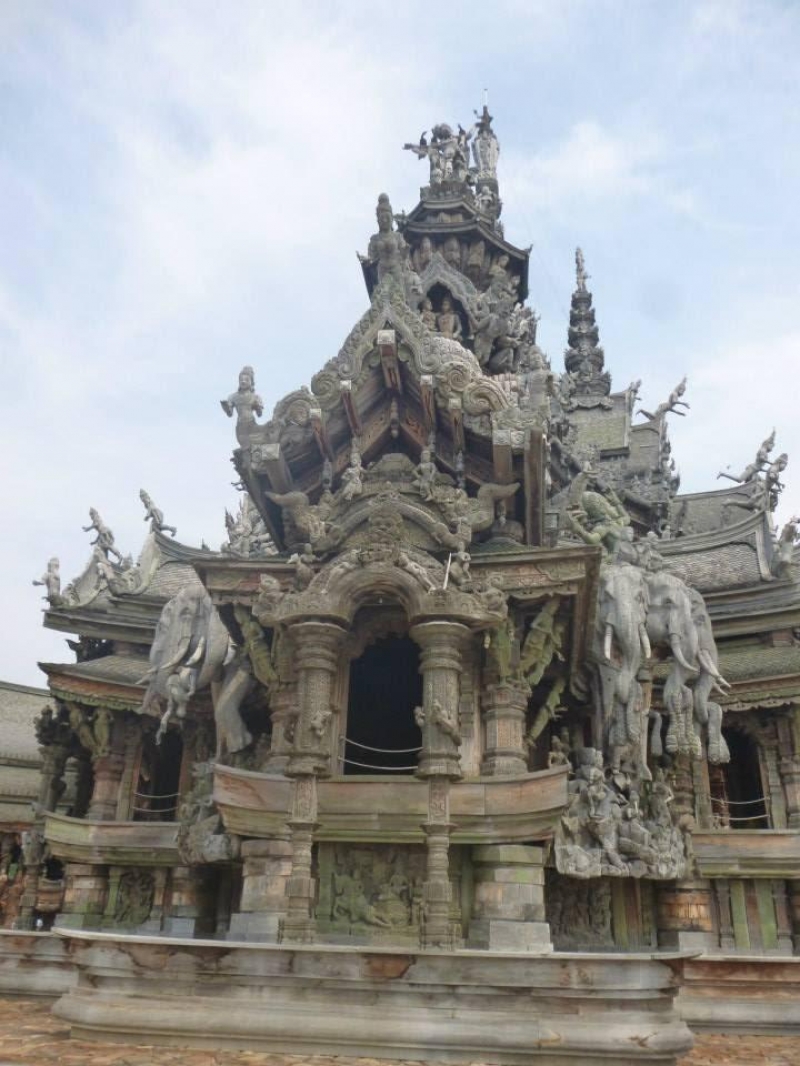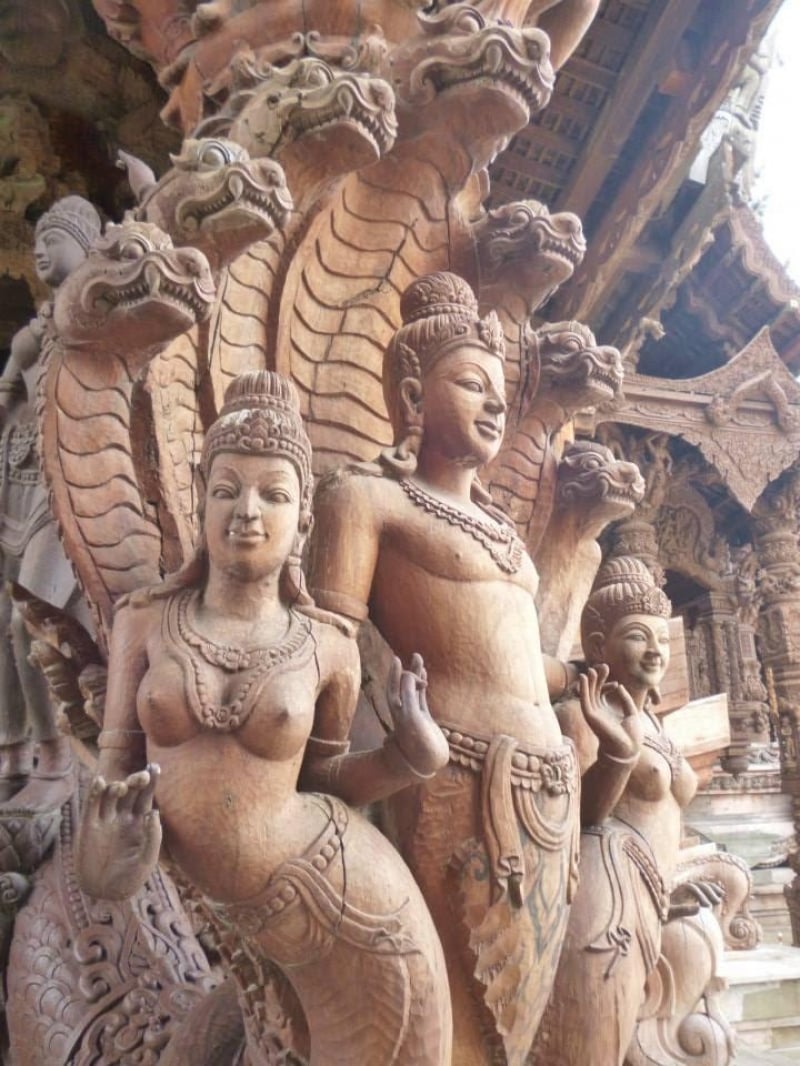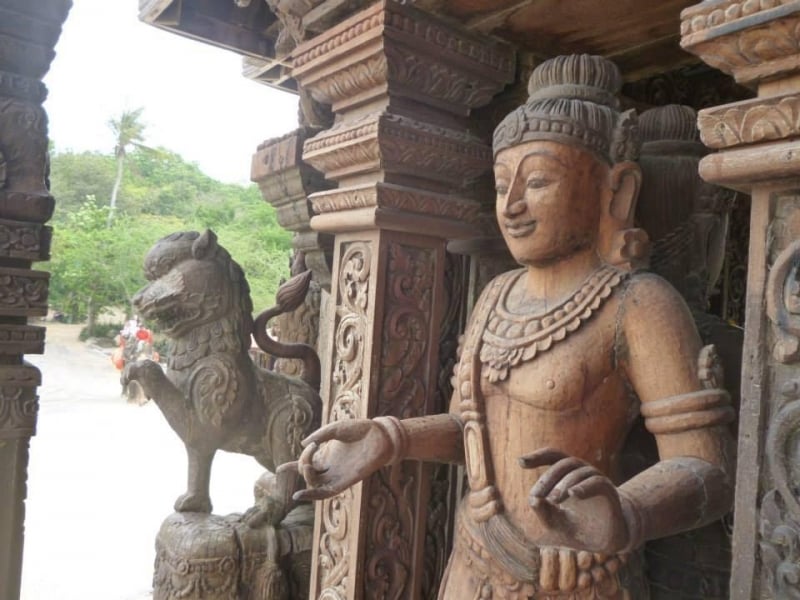 Pattaya's Sanctuary of Truth is an eye-catching temple next to the sea. Built entirely from wood, the carved details are truly impressive. Carvings cover almost every surface and walls that are still bare are as yet unfinished. New pieces are constantly created in the nearby workshops to further embellish the beautiful building.
16. Wat Muang, Ang Thong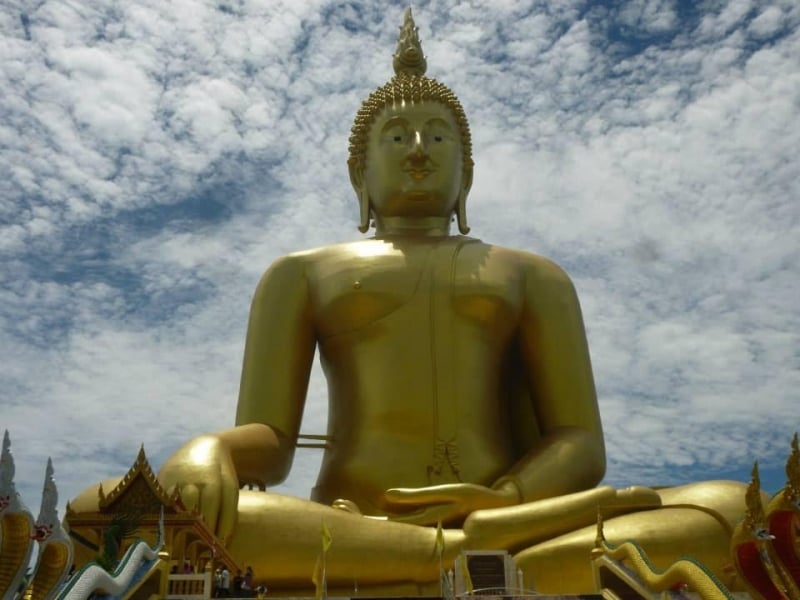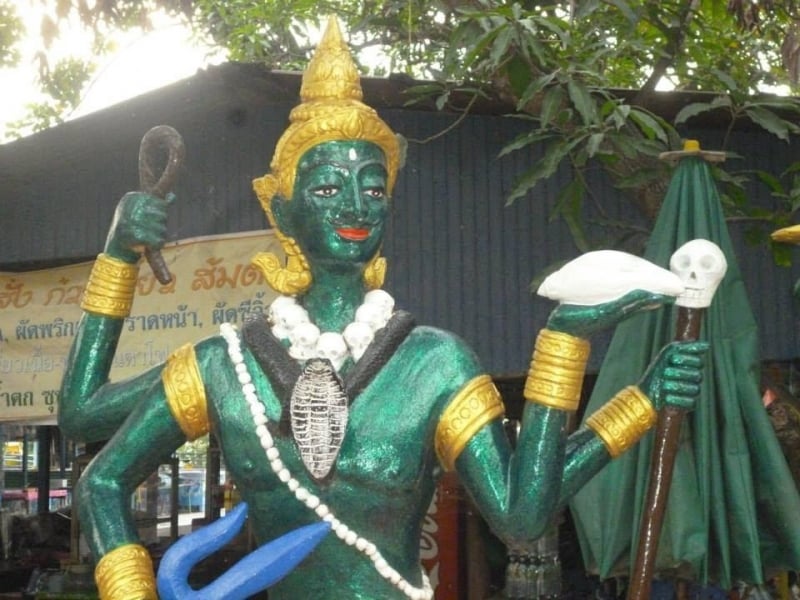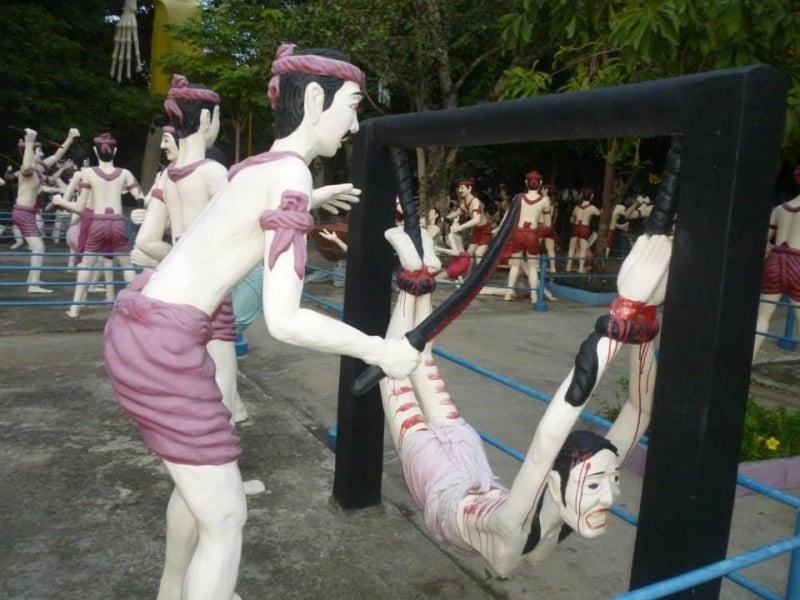 Wat Muang, located in Central Thailand's rural province of Ang Thong, is home to the biggest Buddha statue in Thailand. If seeing the majestic statue rising from the rice fields isn't enough, the temple has a colourful and well-maintained hell garden too. Scenes of heaven are also depicted, along with statues that seek to teach people how to lead a righteous life. Plan to spend at least a couple of hours exploring the complex to fully take in the details.  
17. Wat Saman Rattanaram, Chachoengsao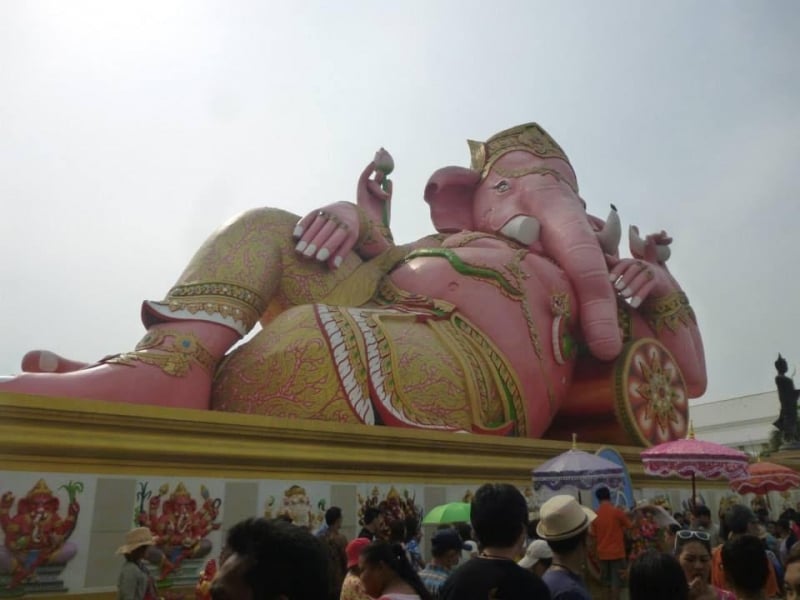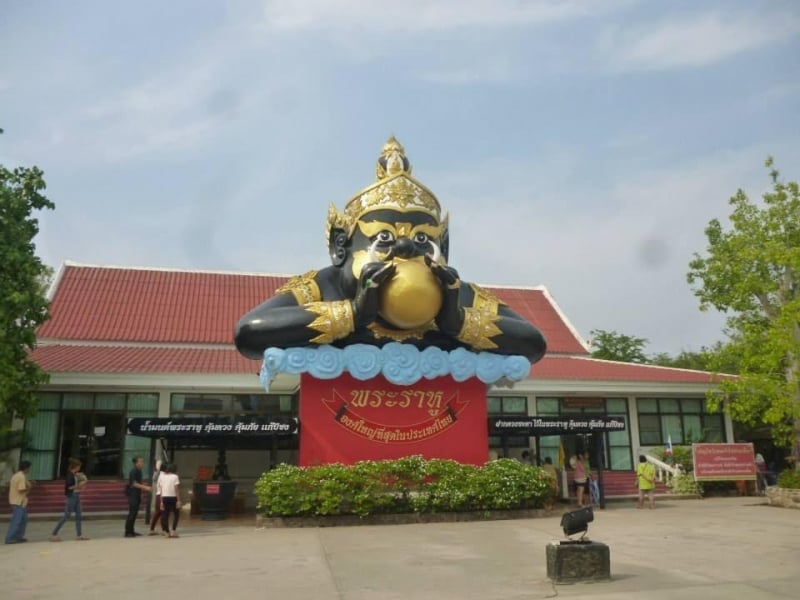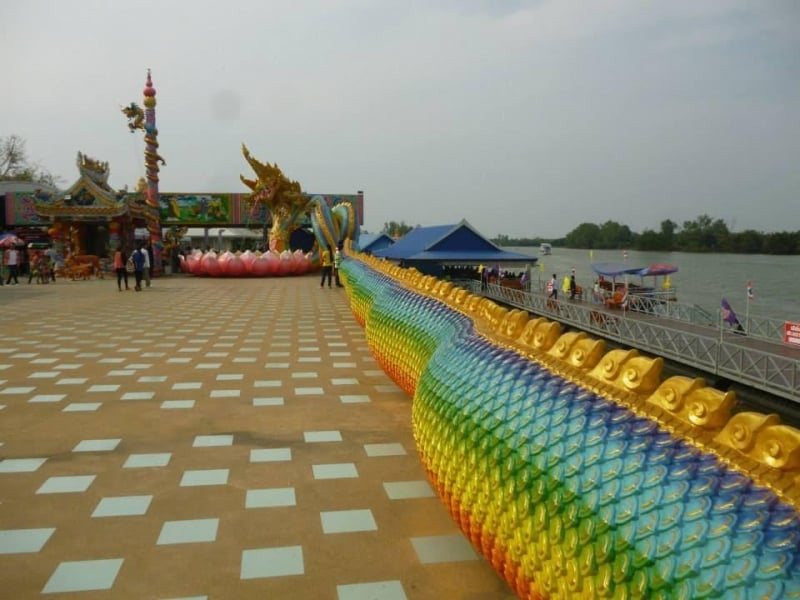 Something of a rainbow-coloured spiritual wonderland, Wat Saman Rattanaram is in Central Thailand's province of Chachoengsao. The extensive complex is filled with unusual large-scale statues, including a long multi-coloured and scaly naga along the riverside and an enormous pink reclining image of the Hindu elephant god of Ganesha. Bright Chinese shrines, a tall statue of Guanyin, realistic-looking statues of monks, and a pagoda sitting in a lotus flower on the water are also sure to catch your eye.  
18. Wat Phai Rong Wua, Suphanburi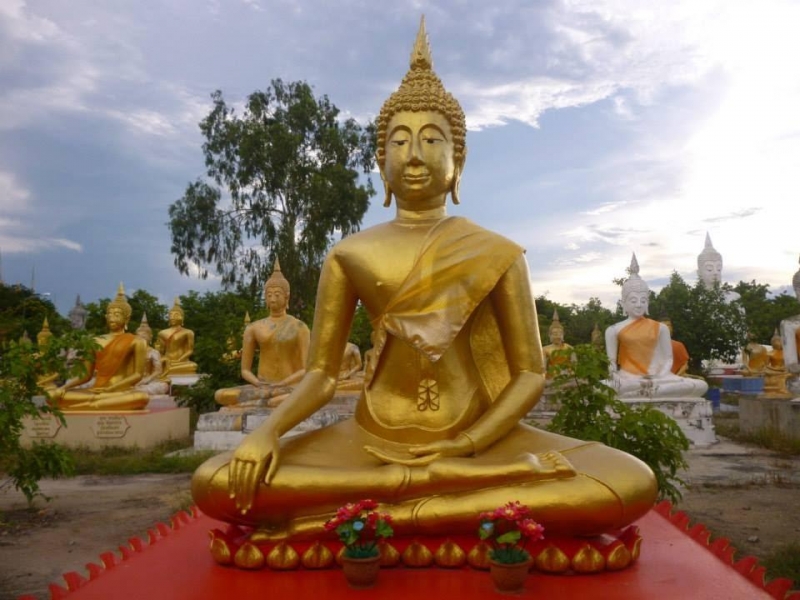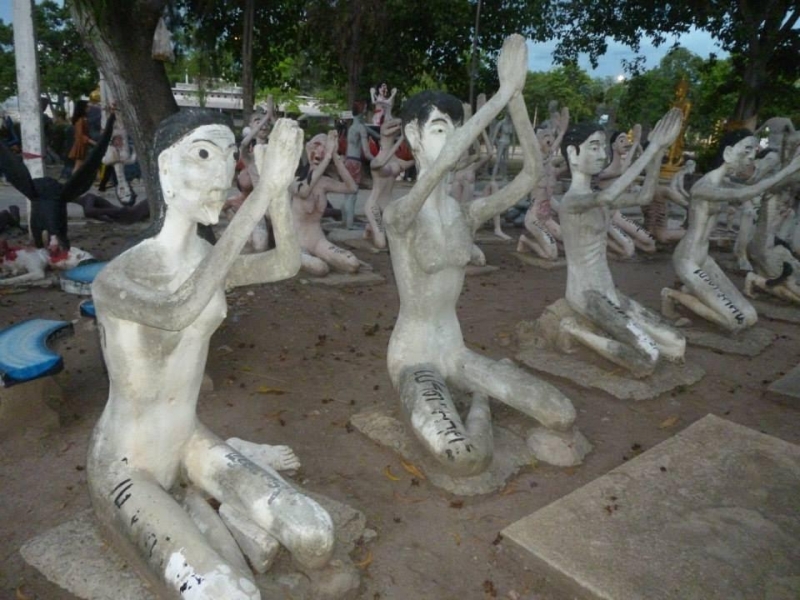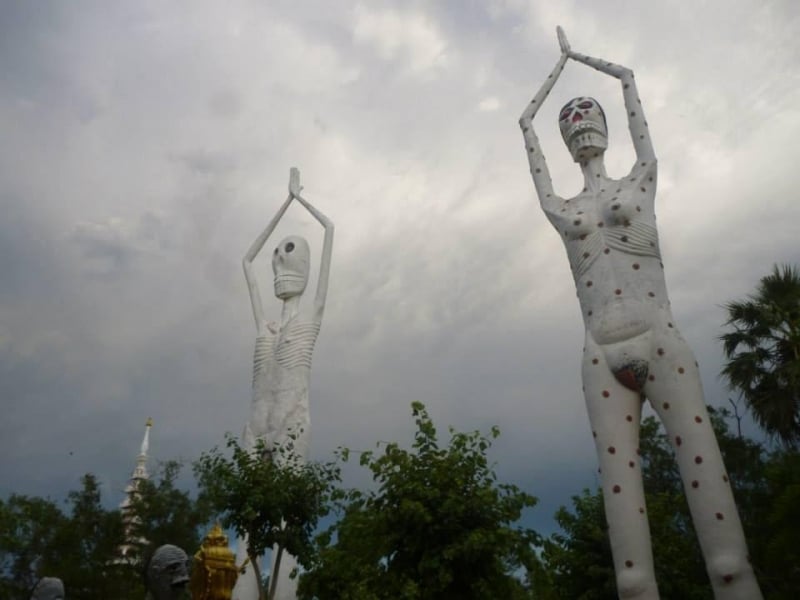 All parts of Wat Phai Rong Wua are fascinating, from the rows of saffron-clad Buddha statues and the beautiful scenes of heaven to the gigantic naked ghosts and scenes of torture in hell. Take a trip through the Buddhist afterlife and admire stunning buildings with influences from India, Sri Lanka, and other Buddhist nations.
19. Wat Mai Plai Huai, Phichit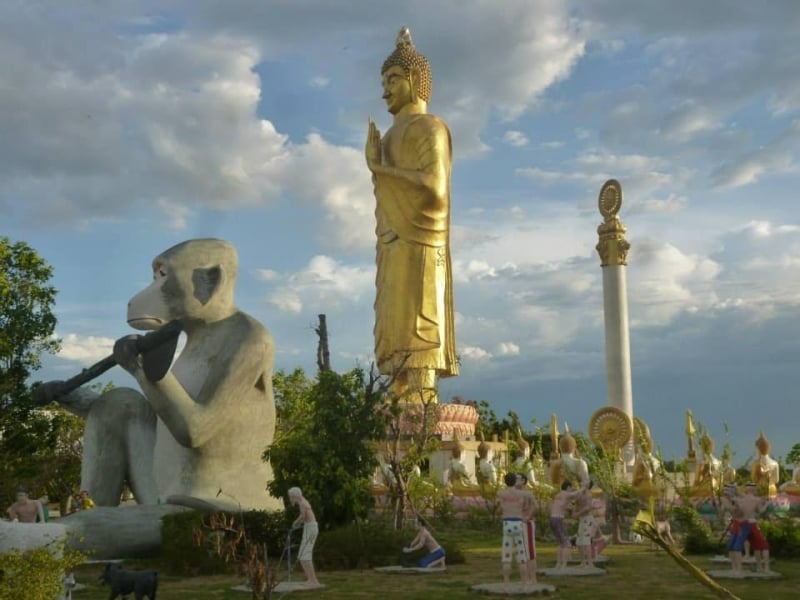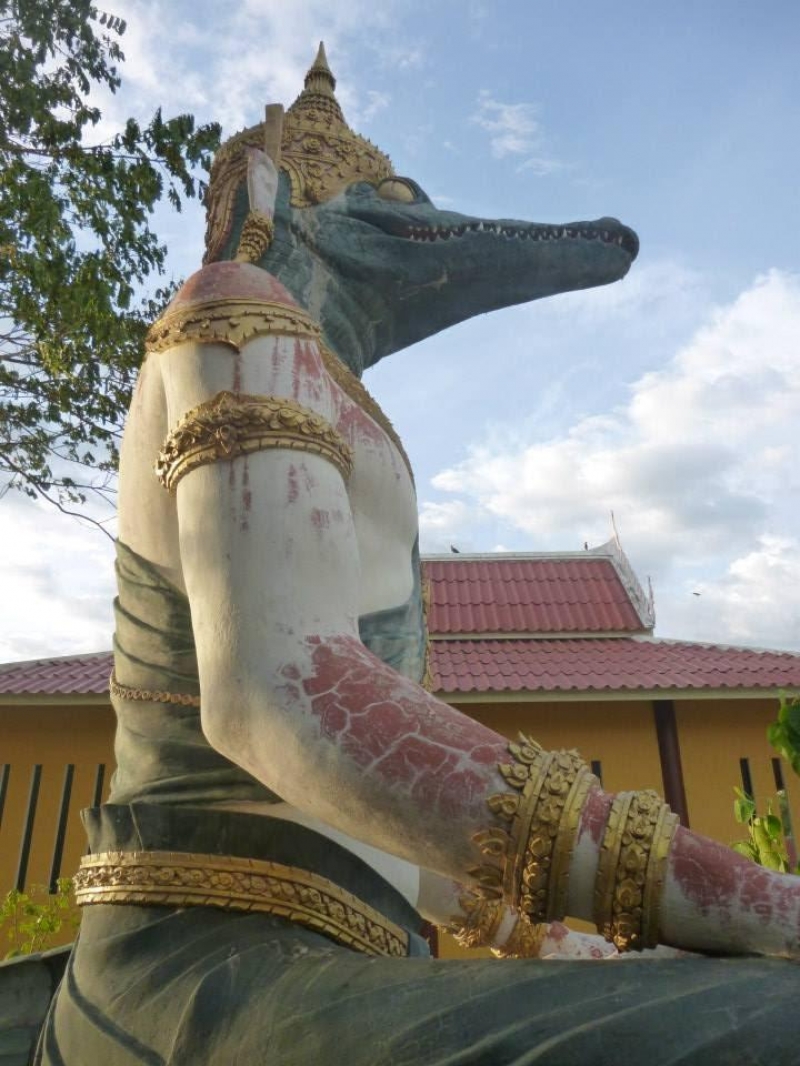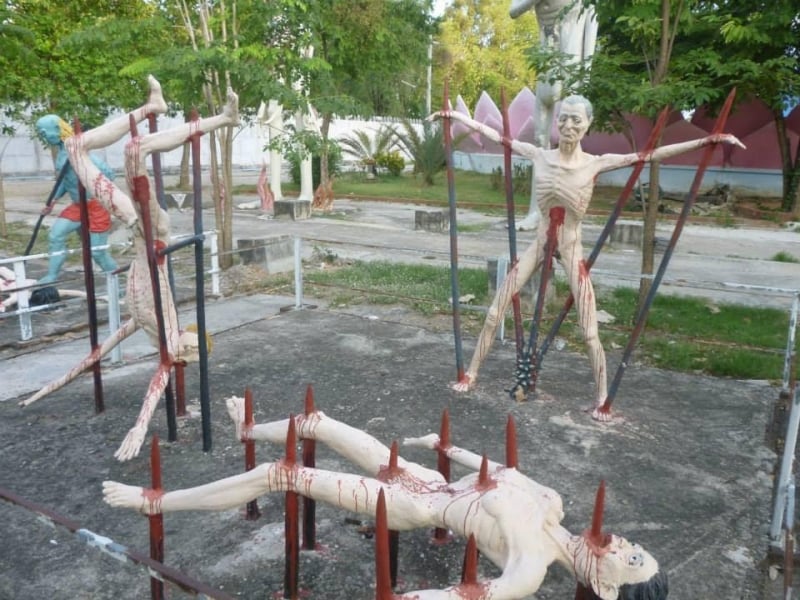 Imagine a place where horrific scenes sit alongside gigantic statues of crocodiles, beautiful Buddha statues, and sacred shrines, and you'll be thinking of something similar to Phichit's Wat Mai Plai Huai. You cannot help but be in awe of the ferocious-looking and sneering statue of Chalawan, the local crocodile king, the enormous glittering mosaic-covered crocodile with a pagoda on its back, and the attractive pagodas, while the graphic hell garden is sure to send a shiver down your spine.   
20. Wat Pa Non Sawan, Roi Et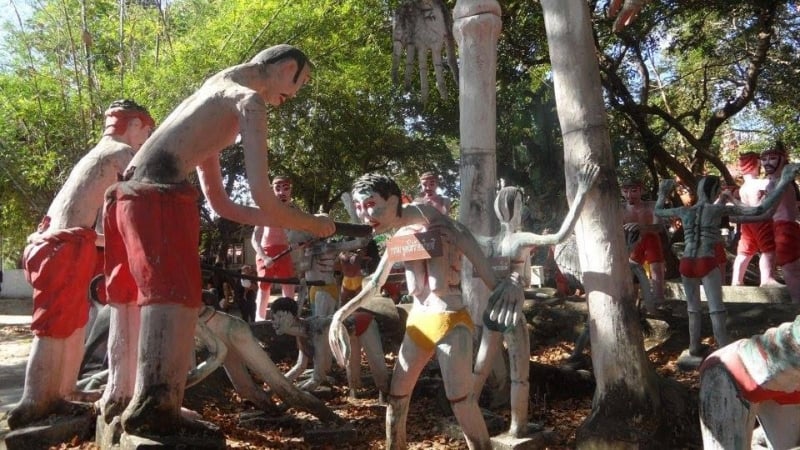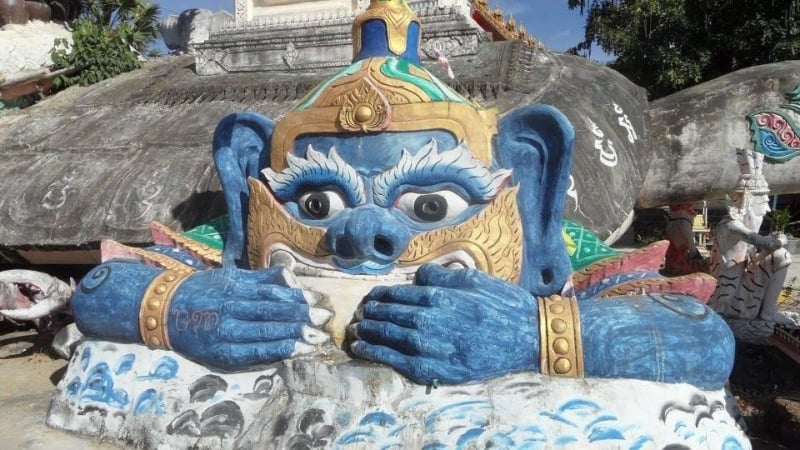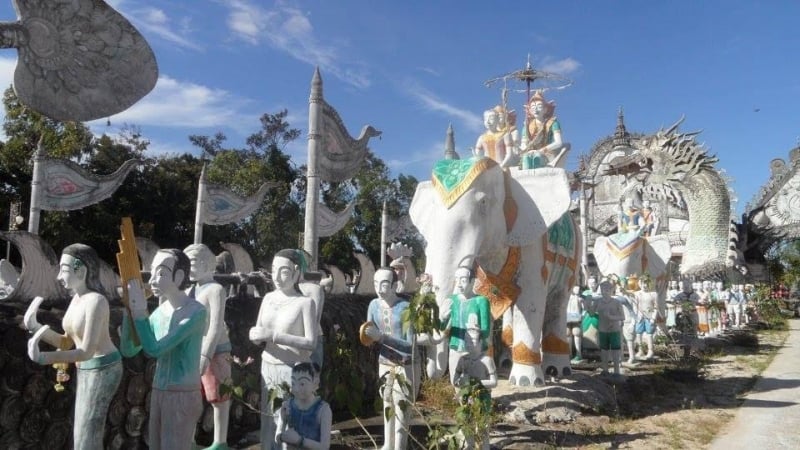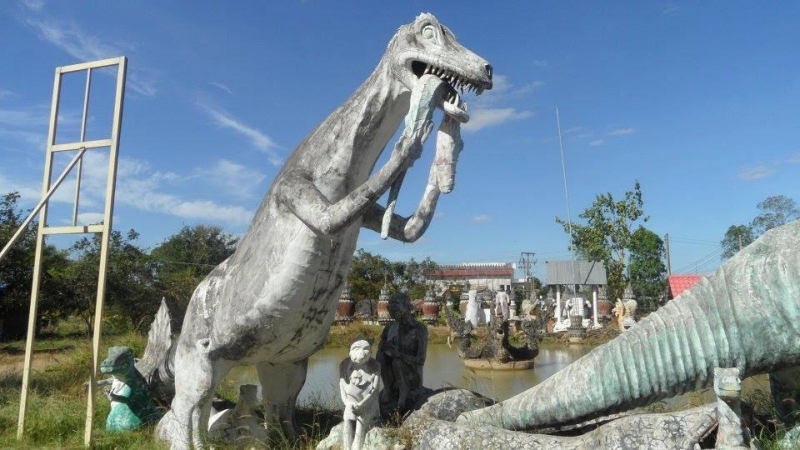 The first things that you're likely to notice as you approach Wat Pa Non Sawan are large dinosaur statues standing around a pond. Yes—dinosaurs at a Thai temple! The oddness doesn't stop there as you pass under archways with strange carvings or follow a walkway flanked by gigantic nagas and lined with processional scenes and statues from Thai spiritualism, folklore, and mythology. The gigantic tortoises will definitely catch your attention! There's a small hell garden behind a large and colourful pagoda, and the grounds are filled with whimsical statues.  
Add some of these 20 unusual Thai temples to your bucket list. You will certainly discover that the nation's religious sites offer much more diversity than you thought!