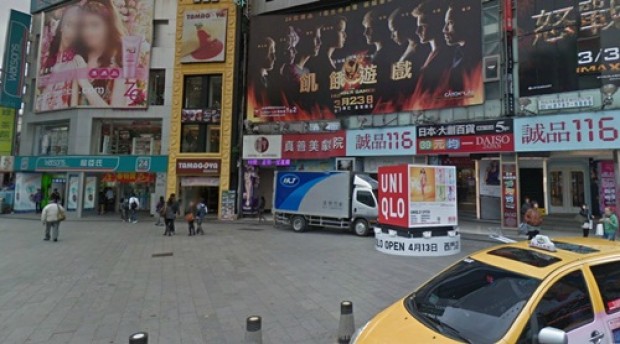 Image credits: euphonicsins
屈臣氏 (西門店) Watsons Ximending
台北市萬華區成都路15號
No. 15, Chengdu Rd, Wanhua District Taipei City, Taiwan 108
Nearest station: Ximen Station, Exit 6
You will be able to spot Watsons opposite Ximen Station Exit 6 when you exit Ximen Station from Exit 6. Watsons Ximending is just beside Eslite 116.
The Watsons in Ximending is not one, two, but four storeys! What's more, it's 24 hours! Woohoo! And that means I need not worry about having to rush back to Ximending area at night if I were to head off to further places in the day because normally when I step into Watsons, Watsons in Taiwan to be specific, I don't just come out empty-handed. I wouldn't want to lug my buys from Watsons out in the day when I go out so I normally shop at Watsons back at Ximending near my hotel at night. And because it's 24 hours, I can even head back to my hotel to leave my shopping bags from the day, freshen up myself a little before heading down to Watsons Ximending to stock up on beauty and skincare products.
Also read: Top 10 Cult Korean Beauty Brands for Your Shopping Haul
The first brand that caught my attention was Divinia 蒂芬妮亞. It's exclusively available at Watsons in Taiwan. I like how Watsons always have brands that are exclusive to them be in Singapore, Taiwan or other countries.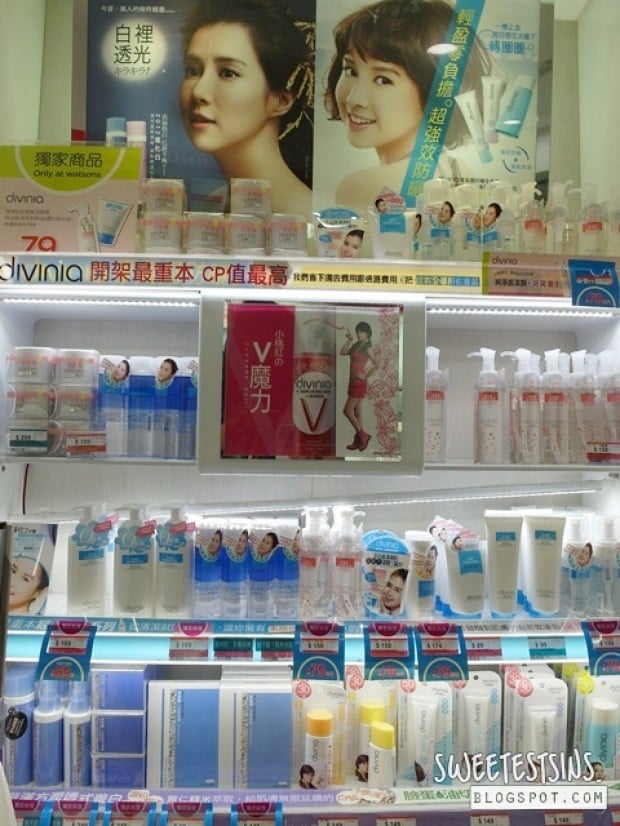 Divinia 蒂芬妮亞
https://zh-tw.facebook.com/diviniaTW
http://www.watsons.com.tw/divinia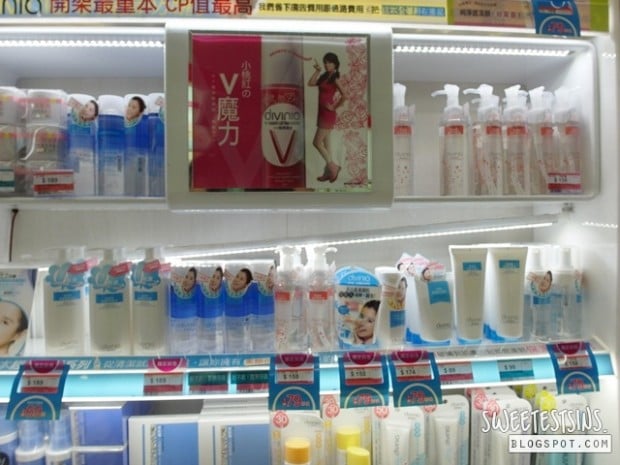 Divinia 蒂芬妮亞 highest rated product on UrCosme is 輕快眼唇卸妝液 (literally translated as Quick Eye & Lip Makeup removal liquid), NTD199(approx. SGD8.7). It was UrCosme's No. 2 Eye and Lip Makeup removal in 2011.
Here are what I found interesting from Divinia 蒂芬妮亞.
1. V-Shape lifting serum 小V臉緊顏露 NTD450 (SGD19.6)

Doesn't this remind you of Clarins Shaping Facial Lift Lip-drain serum? Only that it's retailing at less than 1/5 of the price. While I haven't tried either of the products from Clarins or Divinia, my Uni friend whom worked at Clarins is a fan of Clarins Shaping Facial Lift Lip-drain serum. She says that it does help to lift the face and make it more V-shaped looking. Have any of you girls tried Clarins Shaping Facial Lift Lip-drain serum? Does it work for you girls? Let me know by leaving a comment at the end of this post.
2. Amino acid cleansing milk 溜滑肌胺基酸卸妝乳 NTD189 (SGD8.2)

I have tried Amino Acid products for my hair and I liked it. I went for a facial recently and my facialist was asking me what kind of makeup removal do I use. When I told her that I use cleansing water, she was quite shocked and she recommended that I use cleansing milk instead as cleansing milk contains a bit of oil and it helps to remove makeup and impurities better compared to cleansing water. Although I don't know how true that is, I think I'm still going to stick with my Biorderma Micelle Solution aka cleansing water at least until I finish using it.
I don't know about you guys but for me, I like different makeup removal during different stages or period in my life. I started off with using Fancl Mild Cleansing Oil and I swear by it until I had very bad breakouts when I was in Poly and I switched to Cleansing Milk. My favourite was Eucerin Gentle Cleansing Milk. When I discovered cleansing water, my first bottle was Uriage L'eau Demaquillante cleansing water micellar solution, I knew there was no turning back. So far, I have tried cleansing water from brands such as Dr Wu, Caudalie, Avene and Uriage just to name a few.
3. Amino acid facial cleanser 溜滑肌胺基酸洗顏霜 NTD189 (SGD8.2)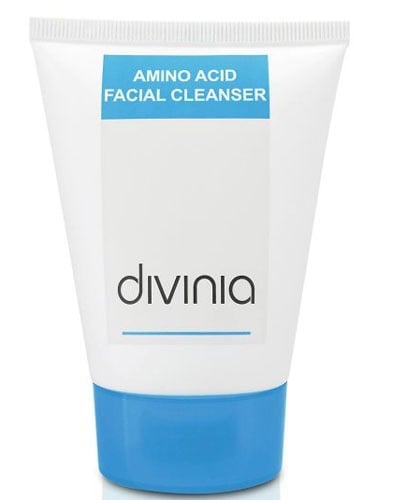 As much as I love buying cleansers when I'm overseas, I have no idea why I didn't pick this up when I was in Taiwan earlier this May. You know, it's really tough on me writing this post without blaming myself, "Ah, why didn't I get this product back then when I was in Taiwan?" But then again, I wanted to share with you guys the products available in Taiwan Watsons so that you guys have an idea of what to buy and expect on your next trip there and maybe prepare / budget how much you are going to spend on beauty and skincare products (this never ever happens to me haha).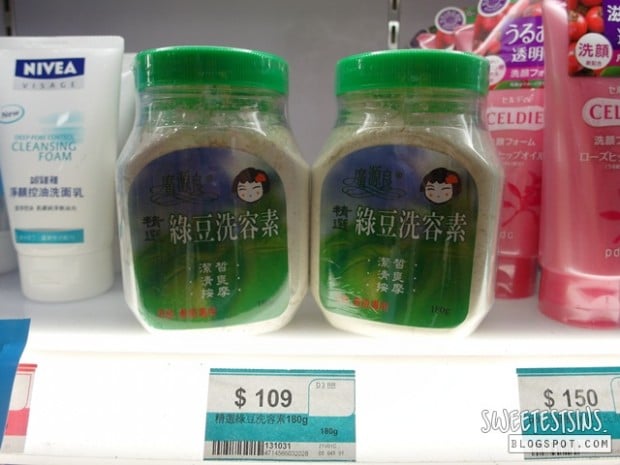 廣源良綠豆洗容素 Mung Bean (Green Bean) Cleansing Powder
I first came to know about the benefits of Mung Bean (Green Bean) Cleansing Powder through a Taiwan drama, 犀利人妻/ Xi Li Ren Qi (The Fierce Wife). Xie An Zhen 謝安真 played by Sonia Sui was a happily married housewife with a kid. She was the typical easily contended housewife and in one of the episodes, she was out shopping with a friend or family member who asked her to get herself some skincare products to maintain her youth and Xie An Zhen went like, "I have my Mung Bean (Green Bean) Cleansing Powder – it's super affordable and it does the trick." I remember asking my Mom where I can get Mung Bean Cleansing Powder right after watching the drama and we came across it in one of the Organic store in our neighbourhood while we were there stocking up on our organic supplies.
Also read: Eccentric Beauty Treatments Around the World: Semen, Poop and Snakes
The main ingredients are Job's tears / coix seeds and it contains no preservatives. It's a multifunction product. You can use it to cleanse your face, as a face mask, as a mask or even add it to your cold mask.
I was super super super excited when I saw the following –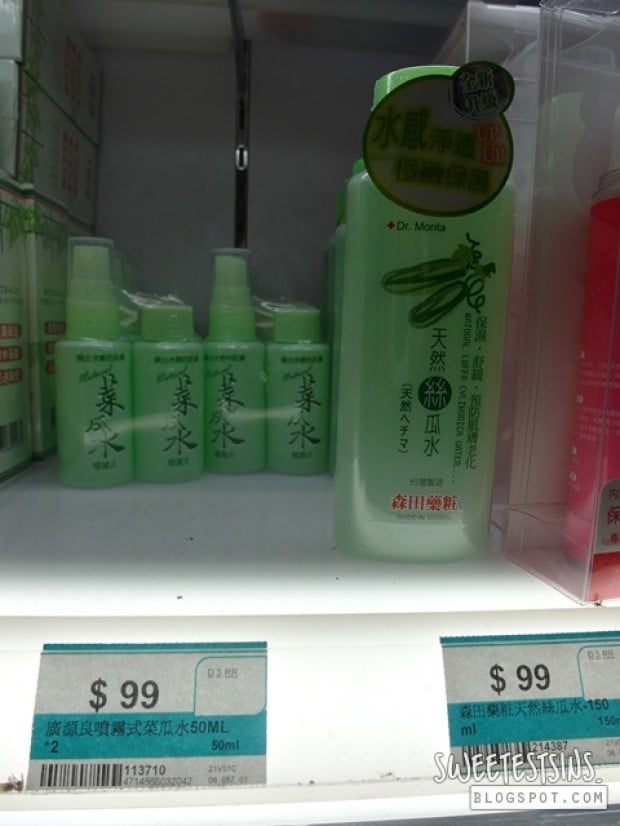 森田藥粧 天然絲瓜水 Dr Morita Natural Luffa Cylindrica Water
Why am I so excited upon seeing 森田藥粧 天然絲瓜水 Dr Morita Natural Luffa Cylindrica Water? Well, it is because I read from Taiwan Beauty Blogs that 絲瓜水 Luffa Cylindrica Water is good in combating redness on the face and also helps to clean and shrink pore size. Since it's only NTD99 (approx SGD4.20), I grabbed one to try.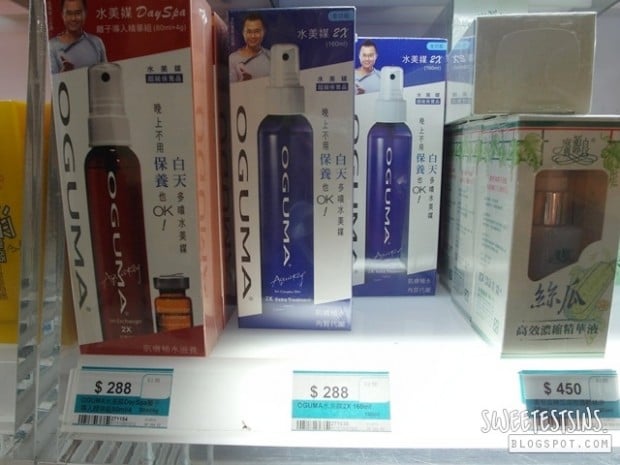 Oguma 水美媒聰明購
Oguma is a brand that I frequently see in 女人我最大 Nu Ren Wo Zui Da magazine.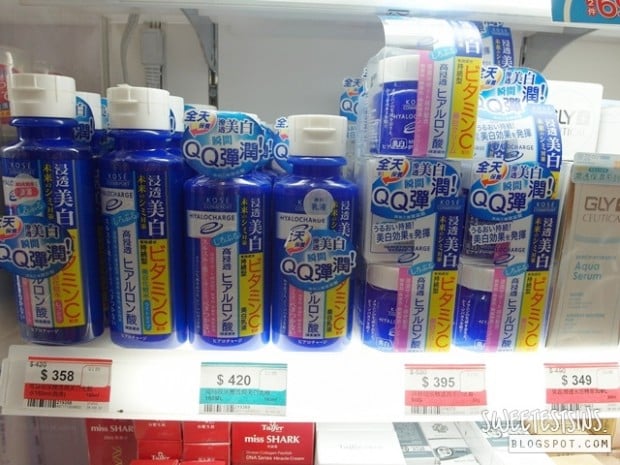 Kose Hyalocharge series 高絲玻尿酸淨白
I would have gotten a product from Kose Hyalocharge series to try if it's not for whitening as my skin can't really take whitening products now apart from a few brands.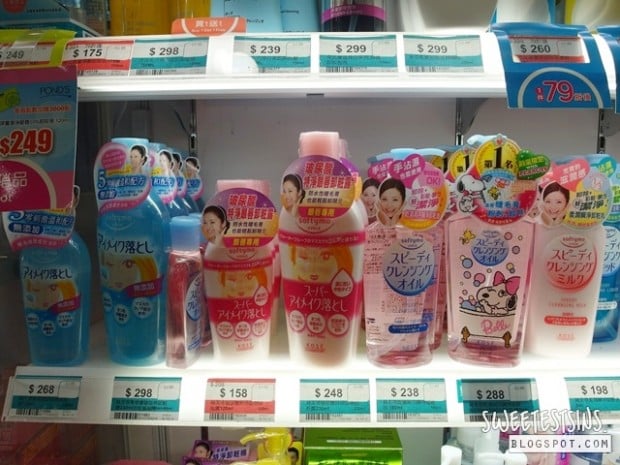 Kose Cosmeport 高絲蔻絲魅寶
I bought Kose Cosmeport Softymo Hyaluronic Acid Facial Washing Foam when I was in Hong Kong and both Mommy and I love it. You can read my review here, http://sweetestsins.blogspot.sg/2012/06/back-to-basics.html.
Next, I checked out the haircare section. When it comes to grooming, the most important would be 1) face, followed by 2) hair.
I get a lot of questions on how to maintain long hair. Actually, maintaining long hair isn't as difficult as you think it is. In terms of shampoo, choose a shampoo that is suitable for your scalp. You can have oily hair but dry scalp or oily scalp but dry hair so make sure you choose your shampoo correctly. You wouldn't want to end up with an itchy scalp, trust me. After shampooing, you would want to condition the ends of your hair. For conditioning, you can use either a conditioner or hair treatment/hair mask. Personally, I skip conditioner and I use hair treatment/hair mask after shampooing. If you recall, in some of my blog posts, I mentioned before how fast I run out of cleansers and toner/lotion. Another product that I use up very quickly and need replenishing is – hair treatment/hair mask. I think I use up a tube or a tub every other month! My friends were like, "Are you serious?"
I love hair masks and hair treatments. And I love trying out brands that ain't available in Singapore so imagine how hard I had to control myself when I was in Watsons Ximending and try not to pick up every other product.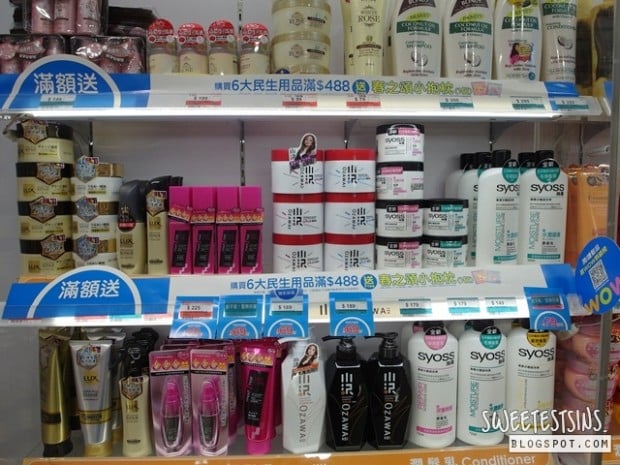 LUX, Ozawa, Mod hair, Syoss and Living Type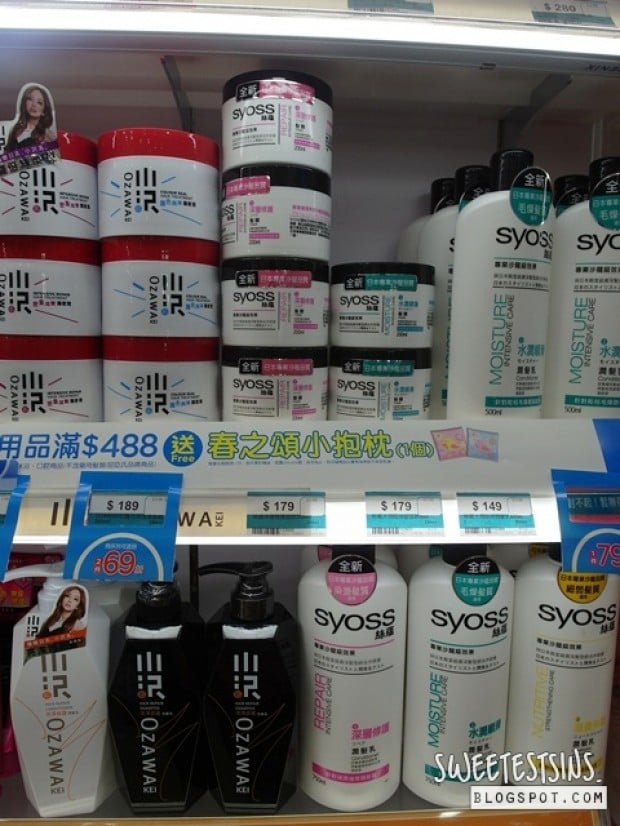 Ozawa and Syoss shampoo and hair treatment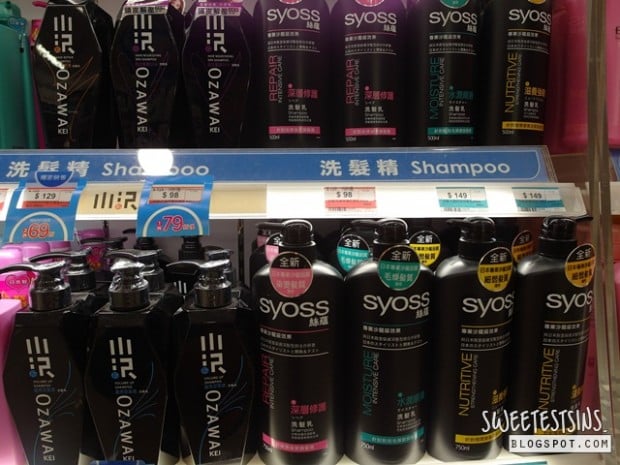 more Ozawa and Syoss shampoo
While checking out the hair products available, I came across this LCD screen that featured Tony 老师 / Tony Lao Shi 's recommendations from one of 女人我最大 Nu Ren Wo Zui Da 's segment.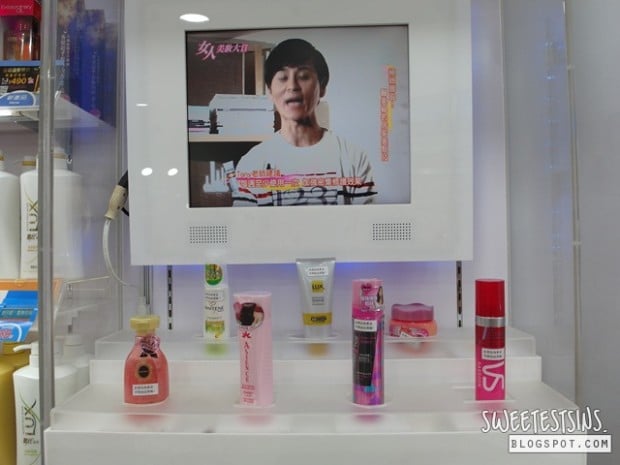 1. Pantene Pro-V Natural Care Lift Up Mist Leave On Treatment2. LUX Japan Black Diamond Super Rich Shine Hair Treatment
3. KAO Essential Damage Honey Shea Butter Hair Treatment Mask Nuance Airy
4. Ma Cherie Air Feel Shampoo
5. Asience Shine Therapy Shampoo
6. Mods Hair Glamourous Make
7. VS Moisture Shine Water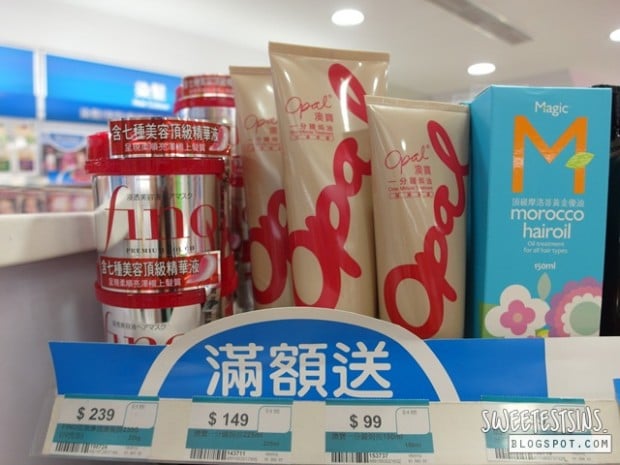 Fino, Opal and Magic
I was really interested in getting Fino premium touch hair essence mask as I was attracted to the fact that it contains 7 different types of beauty essence and it's by Shiseido. Kinda regretted why I didn't pick this up now.
I haven't tried Opal personally but I have tried Magicboo whose formula is provided by Opal. You can read my review on Magicboo here, http://sweetestsins.blogspot.sg/2011/08/korean-beauty-haul-recent-hauls.html
Here's a little background on Opal. It is Supermodel, Qiqi's favourite and was recommended on 女人我最大 Nu Ren Wo Zui Da. It is Hong Kong's no. 1 best-selling product for 6 consecutive years.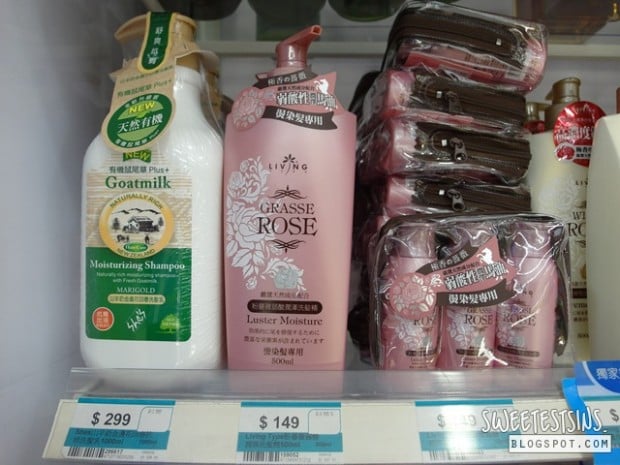 She's Goat milk shampoo, Living Type Grasse Rose
Wow, I have seen and tried goatmilk shower gel and cream but certainly not goatmilk shampoo! I can imagine how pampering that would be!
Living Type Grass Rose hair products reminds me very much of Kose Happy Bath Day Precious Rose series.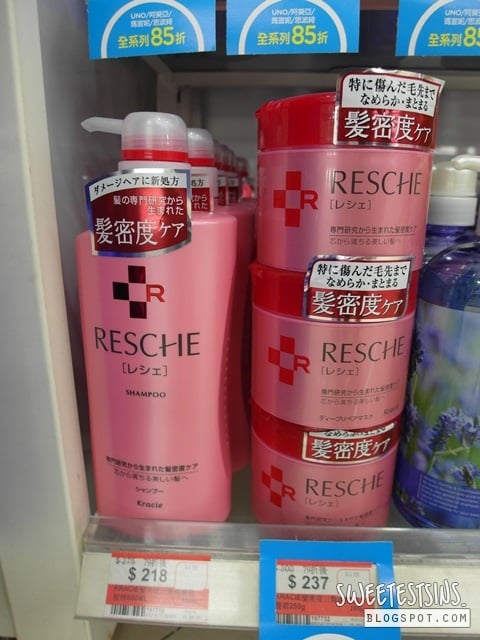 Kracie Resche shampoo and treatment
Kracie Resche hair treatment looks like it's worth a try too. Ah, why don't we have more brands in Singapore to choose from in terms of hair products?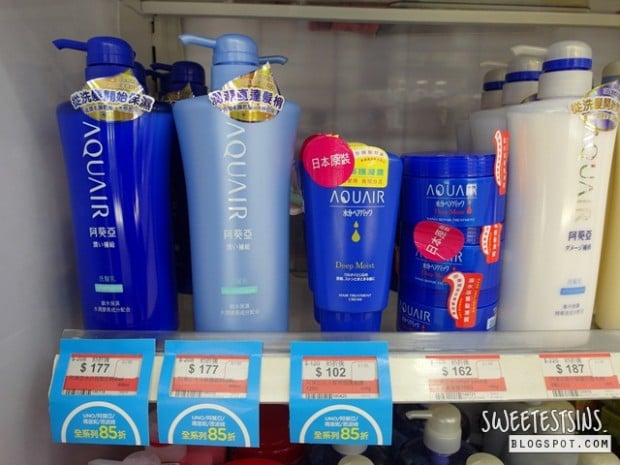 Aquair hair products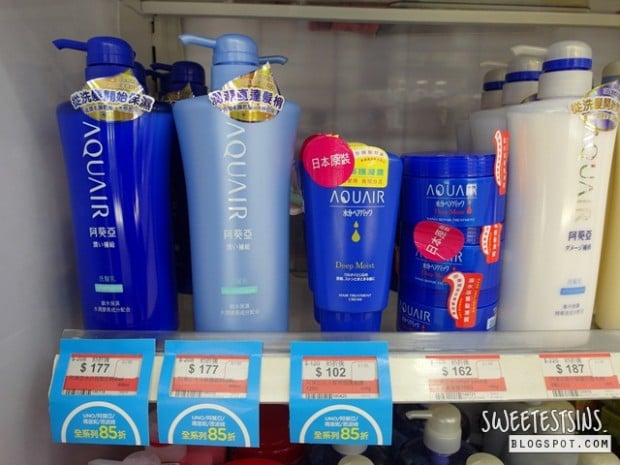 Sunflower shampoo
I thought that this sunflower shampoo was rather interesting, no?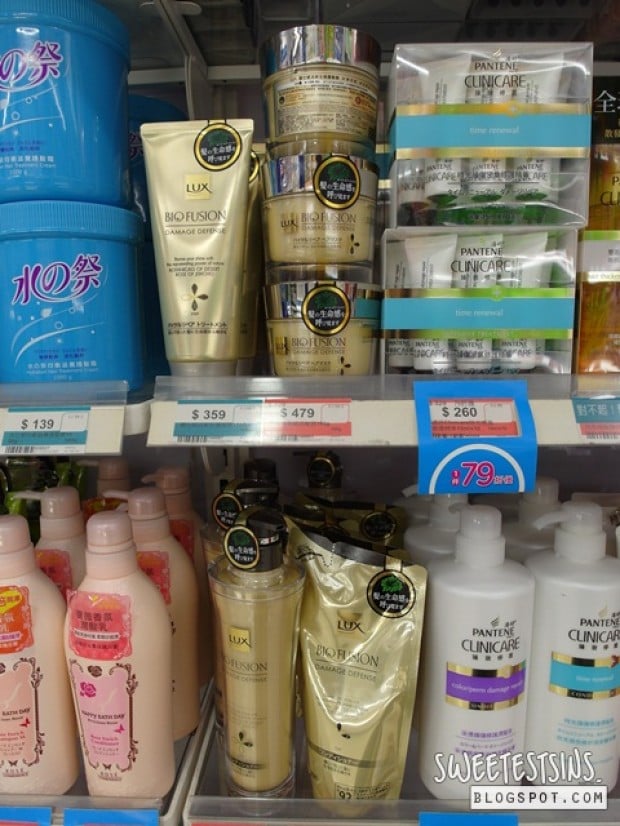 LUX Bio Fusion, Pantene Clinicare, Kose Happy Bath Day hair products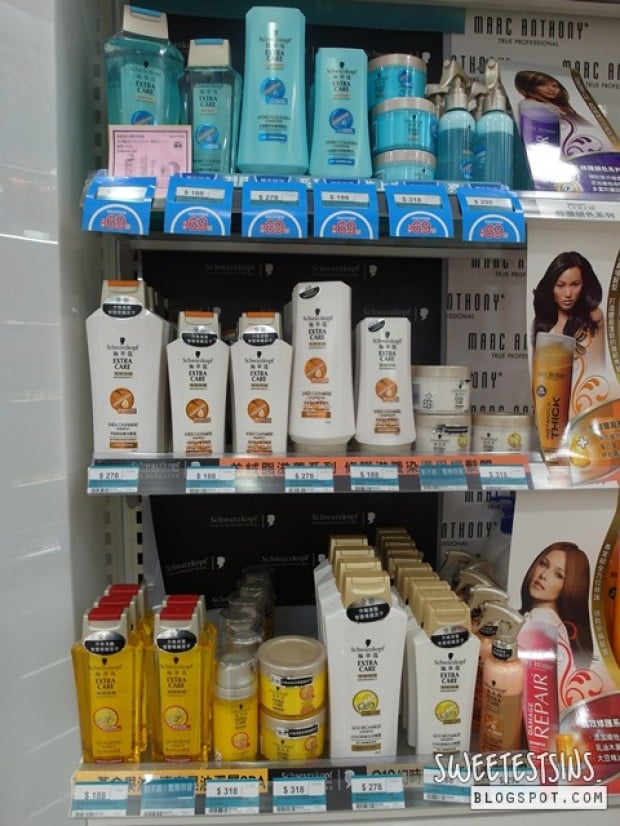 Schwarzkopf hair products
I also came across this organic brand, Amma Garden that has got repairing and anti-dandruff shampoo!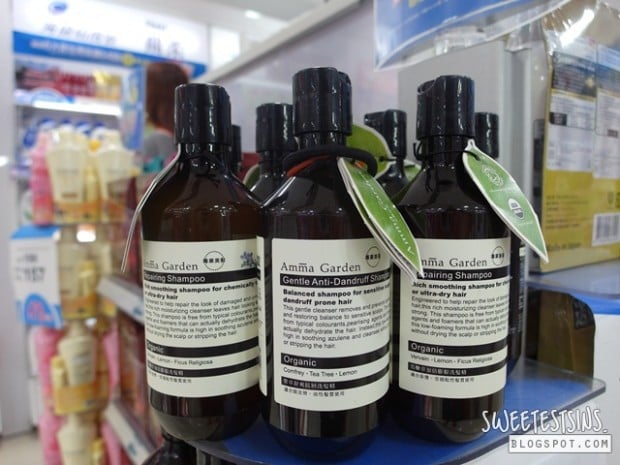 Amma Garden
The packaging of Amma Garden's products reminds me so much of Sukin! Maybe it's due to the fact that organic products packaging are all pretty similar?
The last section that I checked out was – sunblock and sunscreens. A must-have in Taiwan especially during summer! We all applied and reapplied sunblock religiously every other hour because the sun was scorching hot. Even so, my cousin, Bing and I ended up with watch tan-lines. Eeks, hope it goes away soon because it looks so ugly. T_T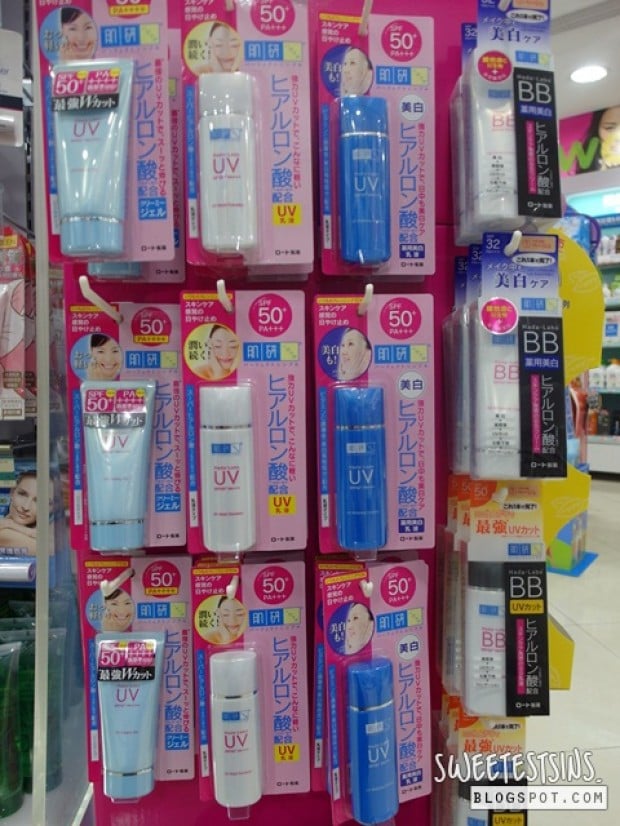 Hada Labo sunscreen
Of all the Hada Labo sunscreens above, I have only tried Hada Labo SHA Moisturizing UV Milk before. You can read my review here, http://sweetestsins.blogspot.sg/2012/05/hada-labo-sha-moisturizing-uv-milk.html.
I tested Hada Labo UV Creamy Gel out and I think the texture feels like Biore UV Aqua Rich Watery Essence.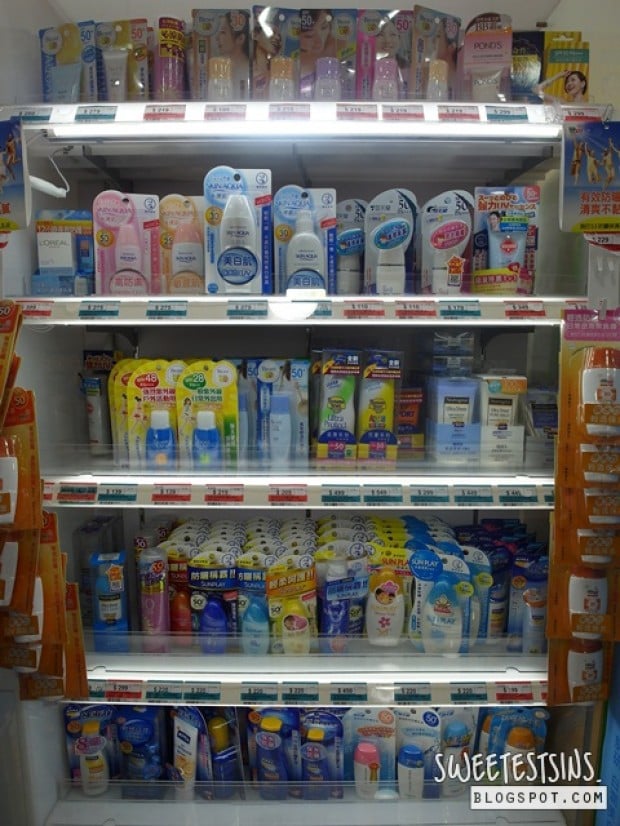 Biore, Mentholatum Skin Aqua, Nivea and Sunplay sunscreen and sunblock
I spotted my holy grail Biore UV Moist Face milk (purple cap) that has been discontinued in Singapore. To read my reviews on Biore sunscreens, click here.
I also spotted Mentholatum Skin Aqua sunscreens that was recommended by Kevin 凯文老师 on 女人我最大 Nu Ren Wo Zui Da.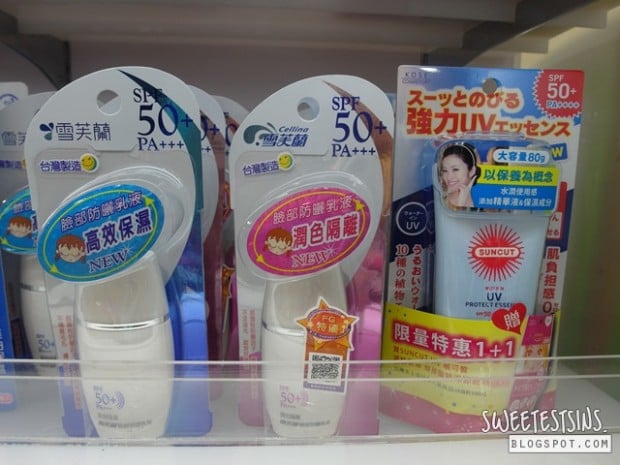 Cellina and Kose Cosmeport sunscreen
I just realised that I haven't posted my Taiwan Trip 2012 's Watsons haul. So here's my Taiwan Taipei Ximending Watsons haul for both last year and this year, 2012 and 2013.
2012: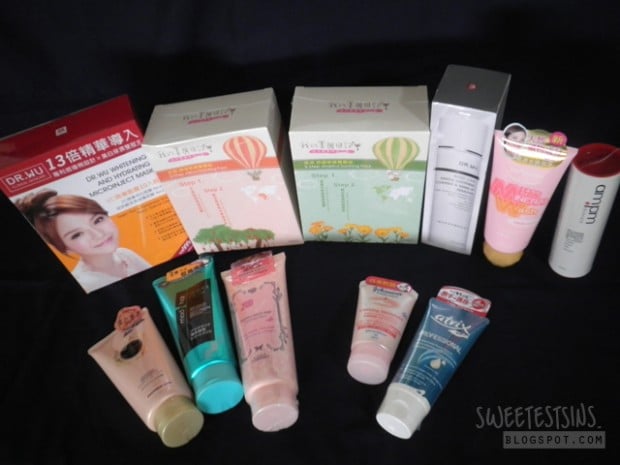 1. Dr Wu Whitening and Hydrating Microinject Mask
2. My Beauty Diary Africa Hydrating Pack
3. My Beauty Diary 2 step America Soothing Pack
4. Dr Wu Basic Care Gentle Soothing Cleanser & Make Up Remover
5. Kose Softymo Mineral Wash Cleansing Foam (Moisture Rich)
6. ampm Super Triple HA Serum
7. MA CHERIE Air Feel Treatment
8. Mod's Hair Aqua Clear Treatment
9. Kose Happy Bath Day Precious Rose Rose Enrich Hair Pack
10. Johnson's Body Care 24hour Moisture Hand Cream
11. Atrix Professional Repair Cream
2013: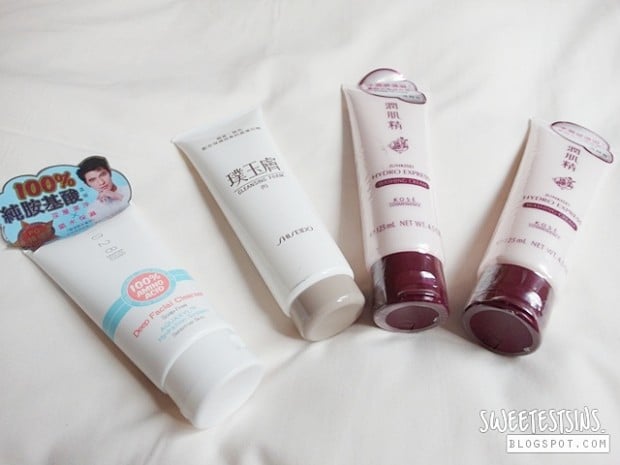 1. 1028 Deep Facial Cleanser
2. Shiseido Cleansing Foam
3. Kose Cosmenience Junkisei Hydro Express
In case you are wondering why I got two Kose Cosmenience Junkisei Hydro Express, there was a promotion going on if I were to get two. So they went into my shopping basket anyway.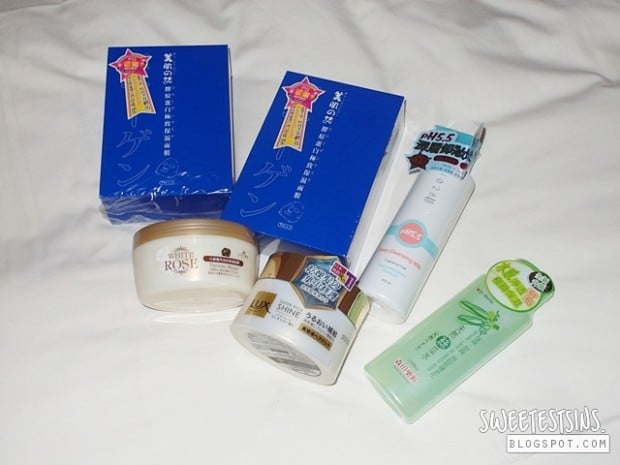 1. BeautyMate Beautymate Hydro Power Collagen Mask
2. Living Tree White Rose Extreme Repair Hair Mask
3. LUX Super Rich Shine Essence Hair Treatment Mask
4. 1028 Deep Cleansing Milk
5. Dr Morita Natural Luffa Cylindrica Water 森田藥粧 天然絲瓜水
If I'm not wrong, 1028 is 小凯老师 Xiao Kai Lao Shi 's brand. My cousin, Lixuan was trying out 1028 Deep Cleansing Milk at Watsons after being drawn to the LCD display that was showing products that 小凯老师 Xiao Kai Lao Shi recommended. She urged us to try. Being a fan of cleansing water, I was quite hesitant initially but upon trying, all of us – Bing, Siling, myself and Xuan included all grabbed a bottle. Although it says cleansing milk, the texture is somewhat in between cleansing water and cleansing serum.
I hope you will love this entry as much as I enjoyed re-visiting Watsons Ximending again, only that it's virtually this time round. I already made plans as to what I want to purchase in the future if I were to go back to Taiwan again.
Love,
Patricia
Also read: Cult Beauty Brands You Must Buy While Travelling Asia
Contributed by SweetestSins.