The first time I travelled to Taiwan, I was introduced to mango-flavoured beer, which my friend and I tried out at Wanhua district (sadly, Mango Chacha has permanently closed). I'm not much of a drinker, but I gotta say that that mango beer was probably the best beer I've ever tasted. The fruity flavour mixed with spirit and alcohol left a lasting impression on me; and to this day, I crave for a mango-flavoured beer every time my friends talk about getting together for some chugs. Who knew fruit would be the secret ingredient that would make me a fan of alcohol?
Although Mango Chacha has permanently closed, I'm sure there are several more places in Taiwan where we can get access to some fruity flavoured alcoholic drinks. That said, the Taiwan government recently launched its latest craft beer that's made with pomelo!
Also read: 25 Taipei Souvenirs that You Should Definitely Buy & Bring Home With You
This pomelo-flavoured craft beer was produced by the Hualien District Agricultural Research and Extension Station. The team reportedly held many trials and experiments to ascertain the richness of Taiwan's new pomelo beer. According to Taiwan News, various parts of pomelo, such as the thick skin, sweet flesh, and fragrant flowers, were all incorporated into this new brew to bring out a distinct aroma.
Taiwan's innovative use of pomelos stems from the opportunity to capitalise on Hualien and Yilan counties' abundant resources of the fruit. Both counties are reportedly home to 1,243 hectares of pomelo trees. This means 30% of Taiwan's annual pomelo harvest comes from these areas. With such a bountiful harvest every year, the pomelo-flavoured beer is only one of the agricultural sector's initiatives to diversify the use of pomelo trees and boost their economic value. 
Other agricultural pomelo-based items that have been produced over the years range from food to sanitary products. So when in Taiwan, consider souvenirs like pomelo tea, sodas, bread, jams, salt, essence oils, soaps, and detergents. Who says pomelo should only be consumed, right?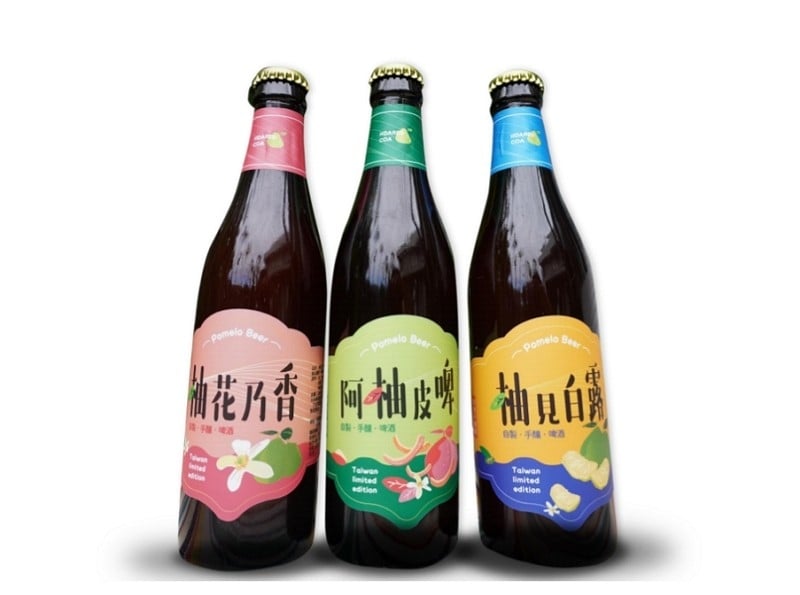 Also read: Taipei in 36 Hours: Your Ultimate Guide to A Fun Weekend in The City
We hear that Taiwan's pomelo craft beer is a limited edition. But you'd expect that from a seasonal brew. Who knows though, we might be able to chance upon this curious fruity beer when we can freely travel to Taiwan again post-pandemic!
---
Image credited to the Taiwan Cabinet's Council of Agriculture.