The best way to learn about the culture of a nation is indeed through its food. But when the country is big in landmass, it proves to be a challenge to discover different food fares from different parts of the country.
While most of us are pretty familiar with palate-pleasing cuisines from Johor, Malacca and Penang, only a handful of us are well-versed in food from the eastern coast states of Peninsula Malaysia.
Henceforth, it is time to rectify this unfortunate situation. Read on as we unveil the hidden epicurean treasures of Kelantan and acquaint you with delectable gastronomies from Terengganu!
Also read: FOOD WAR! Singapore vs Malaysia – Who's better?
Nasi Ulam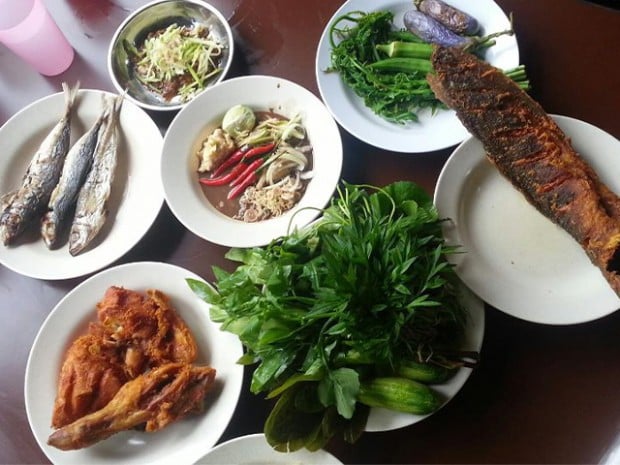 Nasi ulam is a steamed rice dish served with various herbs like the leaves of pegagan (centella asiatica) or kemangi (lemon basil), with vegetables and spices and accompanied with several Malay side dishes.
For that extra oomph, try Nasi Ulam with Budu, a fermented anchovies sauce with a drop of lime juice, chilli and onions! Get an authentic Nasi Ulam experience, by visiting Nasi Ulam Cikgu Kampung Kraftangan in Kelantan!
Nasi Ulam Cikgu Kampung Kraftangan, Kampung Kraftangan, Jalan Hilir Kota, 15300, Kota Bharu, Kelantan, Malaysia
Tom Yam Maggie Ketam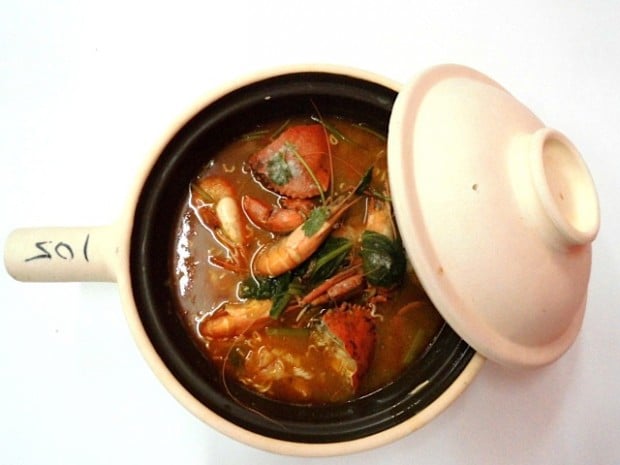 The name of the dish speaks for itself. Maggi Mee instant noodles in a sweet spicy Tom Yam broth with generous amount of prawns and crabs – what's there not to like!
Make dinner plans at Indra Tomyam Restaurant to try this mouthwatering Kelantan dish.
Tomyam Restaurant, 128-A, Sri Damai, Pasir Pekan Rengah, 16060 Kota Bahru, Kelantan, Malaysia
Nasi Kerabu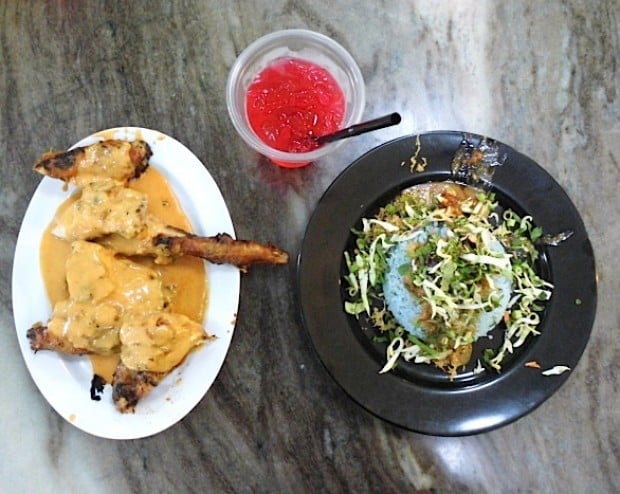 A type of nasi ulam, this blue-coloured rice dish is a popular dish in East Coast Malaysia. The rice is blue as a result of cooking the rice using petals of Kembang Telang (clitoria ternatea flowers).
Typically served with various herbs, fried keropok (crackers), pickles and vegetables and often eaten with solok lada. Nasi Kerabu is a Malay cuisine with Thai influence. In southern Thailand, this dish is called khāoyam. Visit Yati Ayam Percik to have a go at its Nasi Kerabu and while you are at it, try with their legendary Ayam Percik!
Yati Ayam Percik, Jalan Long Yunus, 15200 Kota Bahru, Malaysia
Sup Kepala Ikan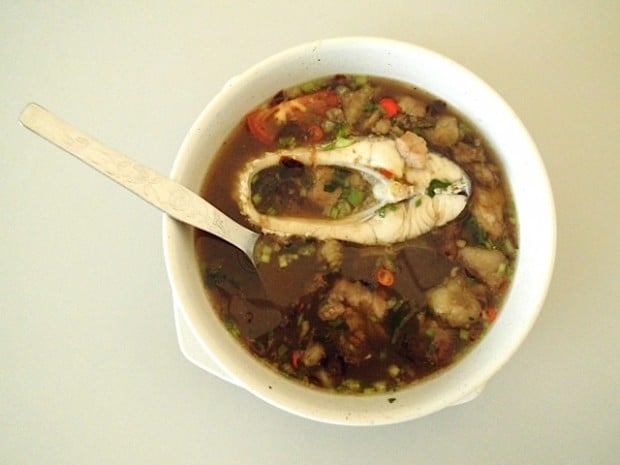 Sup Kepala Ikan for breakfast?
Yes, you heard right!
Fish head soup, served with white rice and other side dishes, is a common breakfast menu for Kelantanese. Back in the olden days where most of the residents in Kelantan are farmers, they would have a heavy breakfast to sustain throughout the day in the fields. This food practice subsists till today.
For a kick-ass Sup Kepala Ikan, head over to Warong Pok Mat at Kuala Besar. Enjoy it with a cup of Pok Mat's famous Teh Tarik Madu!
Warong Pok Mat, Medan Ikan Bakar Kuala Besar, Kota Bharu, Kelantan, Malaysia
Nasi Dagang and Gulai Darat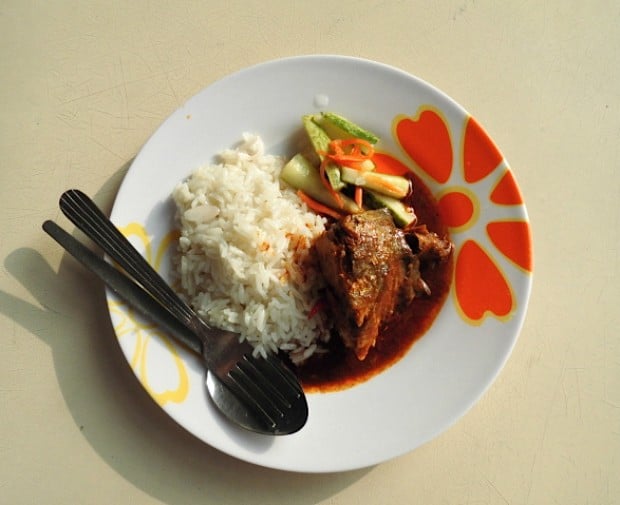 Literally translated to "trading rice", Nasi Dagang is yet another Malay-Thai fusion dish. Made of glutinous rice steamed in coconut milk, spicy tuna fish curry, hard-boiled eggs and pickled vegetables, this dish might startle you when you realise that it is meant for breakfast in Terengganu!
It is also considered as a festive dish served in the morning of Eid ul-Fitr. Remember to ask the locals for location of the best Nasi Dagang!
A good accompanying dish for Nasi Dagang is definitely Gulai Darat. This fish curry dish is made of tuna, salmon or mackerel and a Malay-style curry – from coconut milk mixed with traditional Malay spices such as lemongrass, galangal, chilli paste, and turmeric.
Keropok Lekor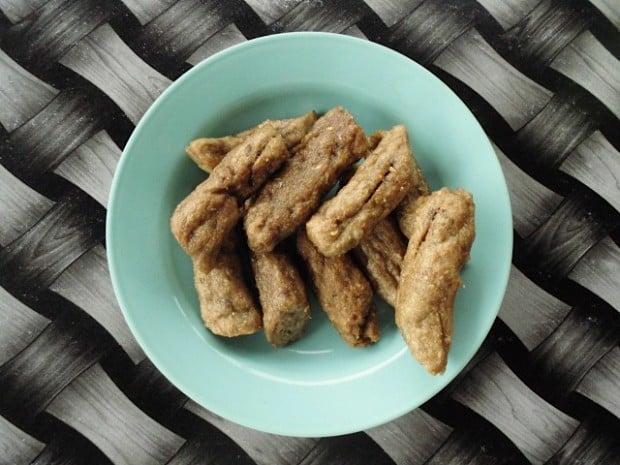 Yes, yes, we know you must have heard of this or even tried it before.
But did you know that Keropok lekor originated from Terengganu? Try this traditional Malay fish cracker snack, made from fish and sago flour and seasoned with salt and sugar, in Terengganu itself – they are definitely tastier and super addictive.
Fun fact: "Lekor" derives from a Terengganu Malay word, which means roll!
Ikan Celup Tepung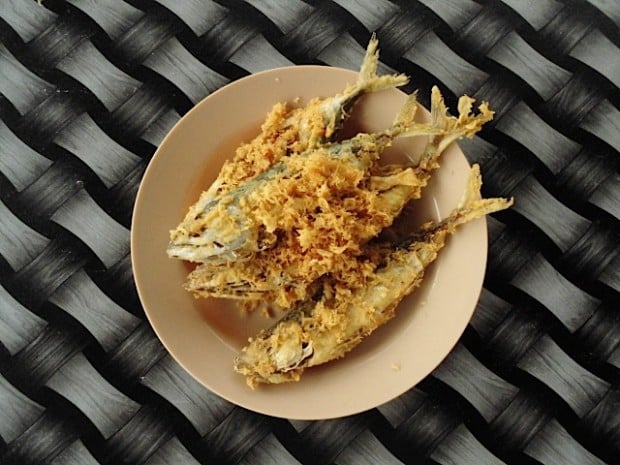 This very common dish is available at almost all the warungs in every corner of Terengganu. Ikan Celup Tepung is basically deep fried fish coated in flour. The fish that they'll generally use is Ikan Kembung.
Interestingly, the Terengganu people usually enjoy this simple dish for tea break, just like how we enjoy pisang goreng for afternoon tea!
We've gathered that Warung Pok Nong at Mengabang Telipot is a hit for Ikan Celup Tepung.
Warung Pok Nong, A1693 Jalan Pantai, T145, Kampung Teliput, 21030 Kuala Terengganu, Terengganu, Malaysia
Terengganu's Chinese Peranakan Cuisine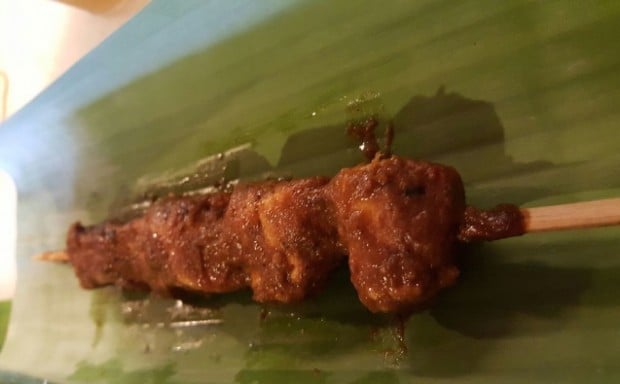 Image Credit: Fiona Estrop
Terengganu's Chinese Peranakan cuisine is definitely different its counterparts in Malacca or Penang. Several must-try dishes of Terengganu's Chinese Peranakan food include Kay Bachok (chicken satay wrapped in banana leaves), Kicap Telur (sweet savory omelette) and Kerabu Sotong.
If you want to taste the best of the best of Terengganu's Chinese Peranakan cuisine, the popular Madam Bee's Kitchen is your go-to place!
Madam Bee's Kitchen, No 177, Jalan Kampung Cina, Terengganu, Malaysia
Getting hungry thinking about the delicious food in Malaysia's East Coast? Make your way to Kelantan and Terengganu for the authentic gastronomic experience!
Special thanks to Tourism Malaysia (Singapore Office) for taking me to Malaysia's East Coast to sample all the delicious food fares and more!