Speaking of Taiwan, the heavenly good food always comes to mind first, and I shall agree–with all my heart and soul–that the Taiwanese food certainly lives up to its reputation. For every night after I came back from Taiwan, the food album has been the only thing that can 'comfort' me to sleep…well not really 'comfortable' if you ask me, as my stomach has to growl so fiercely before I find myself happily strolling down the Taiwanese night market street – in my dreams (tears).
Before I share my precious food album with you, I will do you another favour by listing down our full 7-day Taiwan itinerary which I would proudly say serves a good mix of Taipei, Taichung and Alishan, and is well suited for first-timers. I myself had been to Taiwan for two times before the trip, while this was the first time my boyfriend set foot on the island, and both of us enjoyed ourselves very much. (Because I was the one who did most of the planning…psst)
Also, (I insist on emphasizing this in a separate paragraph) we spent less than SGD 850 per person including round-trip flight by Scoot (SGD 243) and all accommodation (SGD 180, see below for the list of accommodation)!  *please excuse my proud cheapo face for a moment*
Also read: How to Travel Taiwan on a Budget
Day by day Itinerary, Tips and Travel Highlights
Day 1: Singapore – Taipei
Taiwan Taoyuan International Airport 台灣桃園國際機場 – Breakfast @ airport food court – National Taiwan Library 國立臺灣圖書館 (don't laugh, it's quite cool actually) + Chiang Kai-shek Memorial Hall 中正紀念堂 – Lunch @ Dongmen Market 東門市場 – Longshan Temple 龍山寺 + Bopiliao Historic Block 剝皮寮歷史街區 – Shop and Dinner @ Ximending 西門町 – Supper @ Shida Night Market 師大夜市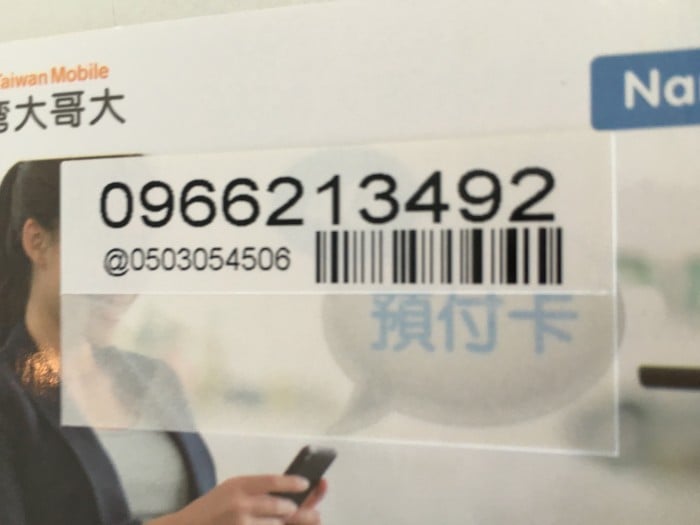 You can buy your Taiwan data and mobile SIM card at the airport. I would recommend using Taiwan Mobile 台灣大哥大 as we were recommended by both our Airbnb hosts in Taiwan (other mobile network companies offer similar packages with similar prices though).
We bought the 3G 7-Day Pass for TWD 500 and it comes with unlimited data (very stable throughout our trip) and TWD 150 airtime. So you can use Google Maps (and Google) to navigate your way in Taiwan. An MRT map that you can easily grab at any station will be useful too.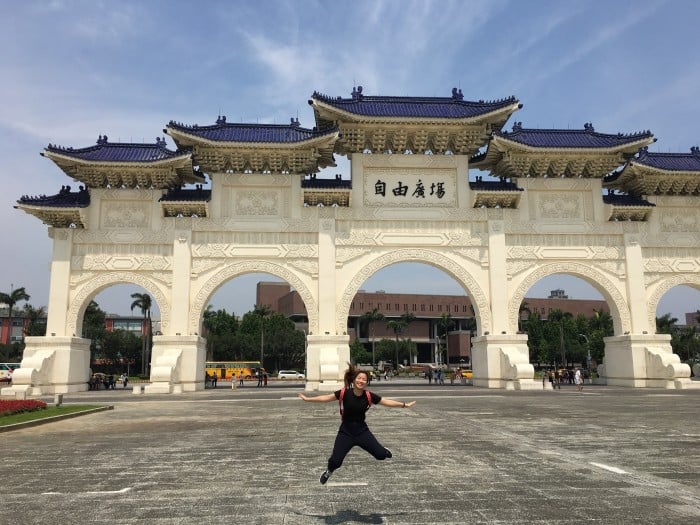 The Freedom Square Gate 自由廣場牌樓 is at the opposite of Chiang Kai-shek Memorial Hall 中正紀念堂, feel free to take your tourist-must-do-jump-shot here. Right behind the gate (the brown rectangular building) is the National Taiwan Library 國立臺灣圖書館, where you can see mugging Taiwanese students and a lot of other cool stuff (no spoiler, you shall explore them yourself!).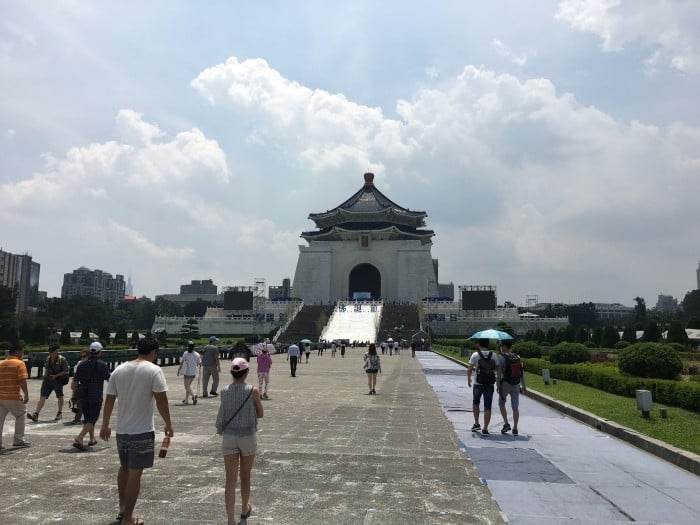 You can witness the 'Changing of the Guards' inside Chiang Kai-shek Memorial Hall 中正紀念堂 from 0900 to 1700 at the top of every hour (i.e. 0900, 1000, 1100…1700).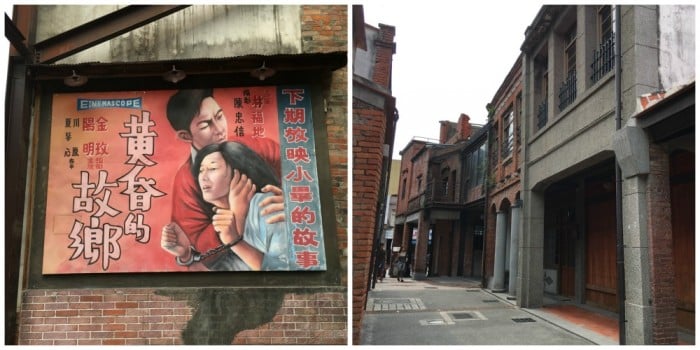 Old school movie poster at Bopiliao Historic Block 剝皮寮歷史街區 (a 5-minute walk away from Longshan Temple 龍山寺), I bet you already started imagining which pose to strike for your Facebook/Instagram 'candid' shots at Bopiliao Historic Block.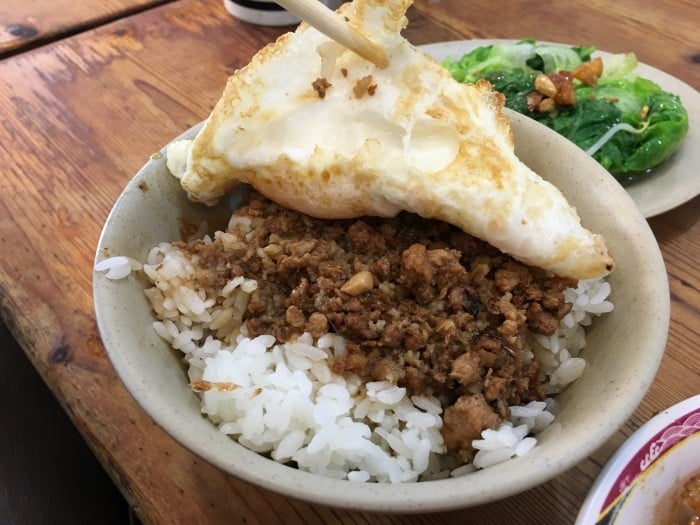 Ladies and gentlemen, boys and girls, please put your hands together for the best Braised Pork Rice/Lu Rou Fan 滷肉飯 in Taiwan! While most of the tourists head for Jin Feng 金峰, the locals prefer Tian Tian Li 天天利美食坊 and so do we!
I swear by the name of a (very serious) foodie that this is the best Lu Rou Fan I have ever had in my entire life! The rice and the egg (yes, with the dreamy egg yolk burst…wahhh) were perfectly cooked, the taste of the braised pork was just–for the lack of a better word–PERFECT. So perfect that we had to visit the same restaurant again before flying back to Singapore.
And by the way, the Pineapple Bun 菠蘿包 at Shida Night Market 師大夜市 was surprisingly good, well at least I think it is better than any I've had in Hong Kong and Macao. Sorry, I didn't manage to take any picture before we gulped down that killer pineapple bun, but trust me, it certainly won't disappoint!
Day 2: Taipei
Eslite Bookstore Xinyi 誠品信義店 + Xinyi Shopping District 信義商圈 + Lunch @ Taipei 101 台北 101 – Snacks/Dinner @ Tamsui Old Street 淡水老街 + Fisherman's Wharf 漁人碼頭 + Lover's Bridge 情人橋 – Supper @ Shilin Night Market 士林夜市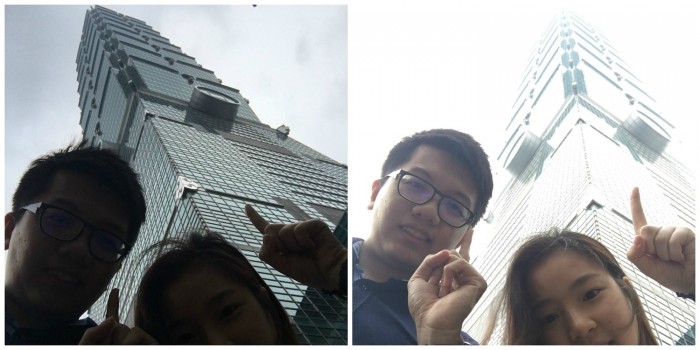 Left: Trying-so-hard-yet-failed Taipei 101 wefie; Right: Failed again. And we gave up. Rofl. I am sure you guys can do better.
While bookworms would definitely love Eslite for its extensive collection of reading materials, non-bookworms can enjoy themselves at Eslite too. I spent half an hour checking out their stationery and handicraft section and I would say it was a 30-minute well spent – all kinds of cool, cute and interesting stuff, truly eye-opening!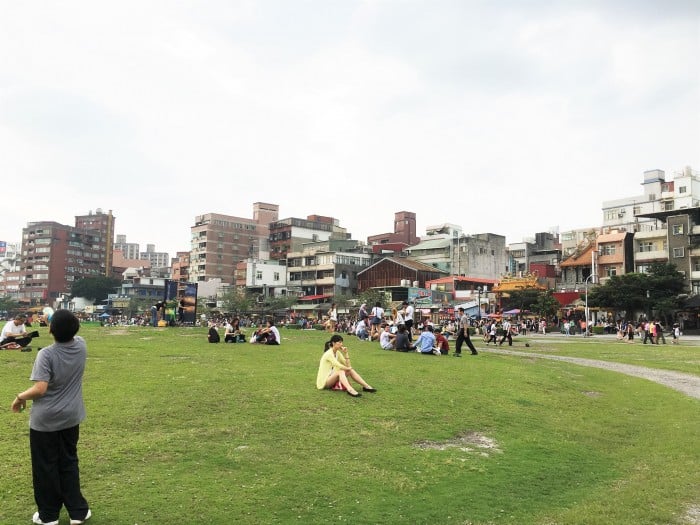 It takes around 45 minutes to reach Tamsui Station from Taipei Main Station. We were there on a Sunday afternoon hence ran into the local picnic crowd at the grass field beside Tamsui Old Street 淡水老街. The must-try food at Tamsui Old Street would be Fried Squid 花枝燒 and Grilled Squid 烤魷魚 (both of us are not huge fans of squid but those were what the locals would buy as what we saw).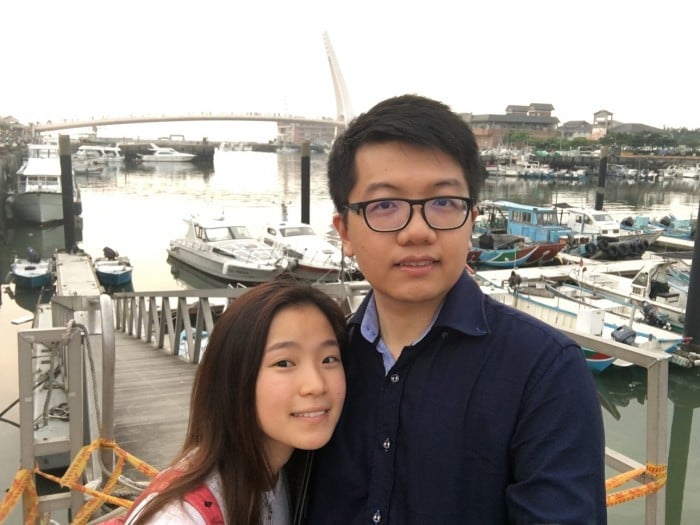 Along Tamsui riverside, you will see ferries taking people to Fisherman's Wharf 漁人碼頭, do not hesitate to hop on board! Or else you would end up like us, walking for more than an hour to reach the wharf (still a nightmare when I recall the painful 7 kilometres walk now). On the picture above, behind us was the famous Lover's Bridge 情人橋 a.k.a. the colour-changing bridge. As you may or may not tell from the picture, we were really exhausted.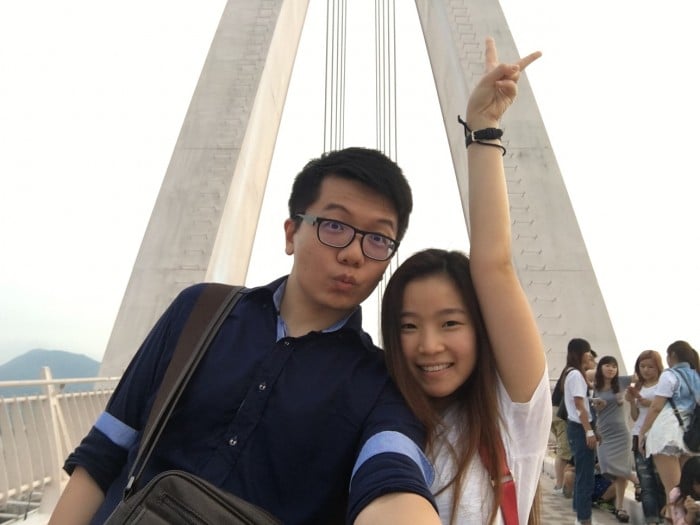 A picture of me and my lover on Lover's Bridge. *shy*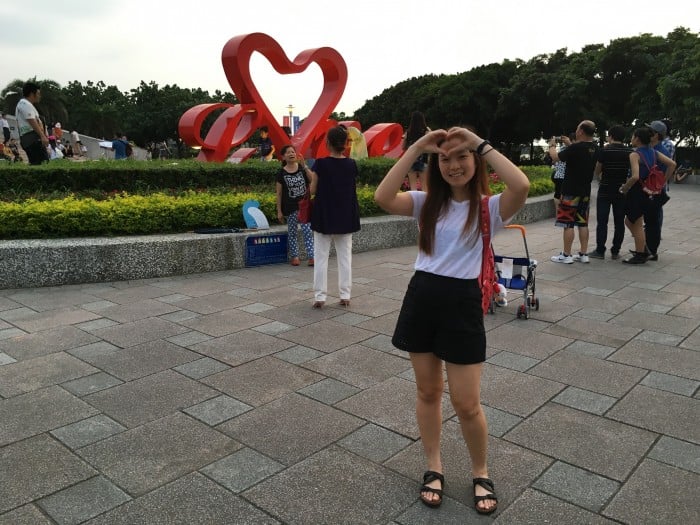 You will find this signature LOVE structure at the other side of Lover's Bridge. Well, in case you are curious, we were too lazy to queue up and take a picture together right in front of the structure hence my solo appearance.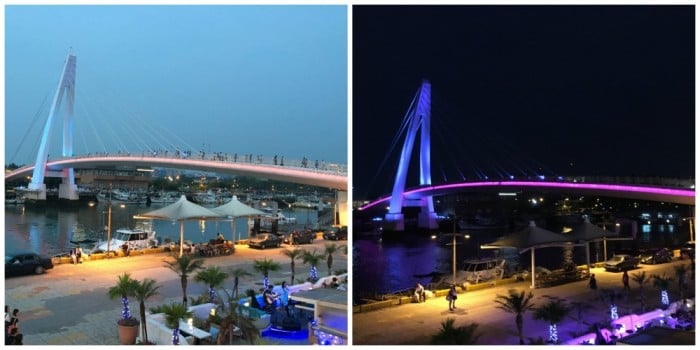 The colour-changing bridge when the night falls.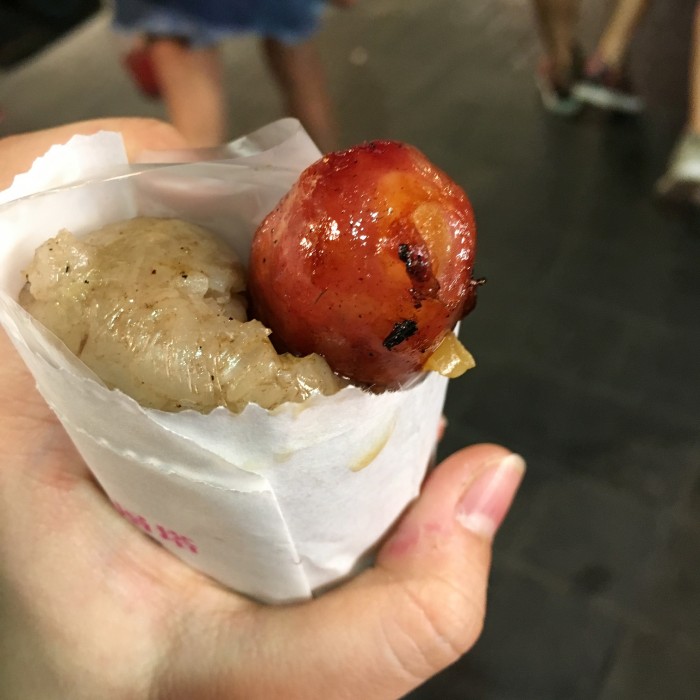 My boyfriend and I both agree that this Da Chang Bao Xiao Chang (Taiwanese sausage in sticky rice) 大腸包小腸 is the No. 1 must-try food at Shilin Night Market 士林夜市. There are several stalls selling Da Chang Bao Xiao Chang, but do make sure you get the most authentic one from 千喜福, the stall signage was purple/blue in colour and it is located right in front of a temple. The queue can be quite long but it's definitely worth the wait!  
Also read: Unique Things To Bring Back From Your Visit To Taiwan And Where To Buy Them
Day 3: Taipei
Lunch @ Jiufen Old Street 九份老街 – Houtong Cat Village 猴硐貓村 – Starry Paradise 梵谷星空草原 – Dinner @ Keelung Miaokou Night Market 基隆廟口夜市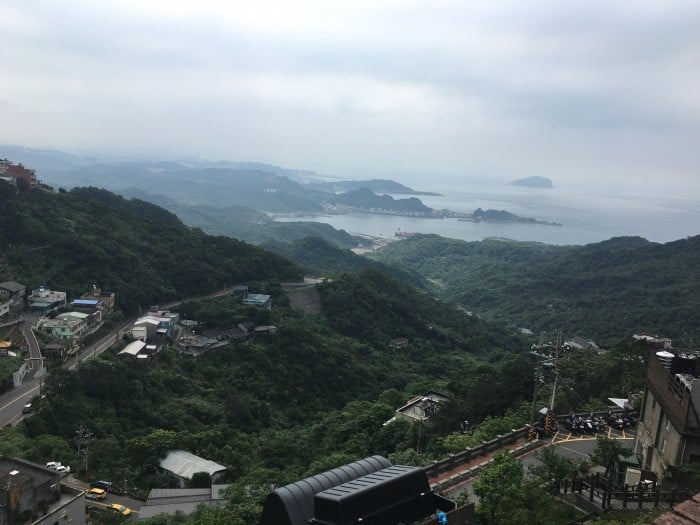 The spectacular view from the observatory at Jiufen 九份.
It is said that the famous Japanese animation producer Hayao Miyazaki used Jiufen as an inspiration in Spirited Away, well, this place definitely reminds me of the village where Chihiro's parents were turned into pigs (I mean the background setting, not the scary part).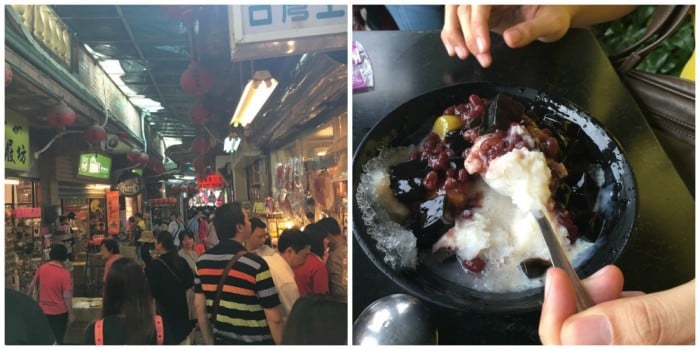 Left: At Jiufen Old Street 九份老街; Right: Jiufen's signature handmade yam balls (we also ordered pumpkin and black sesame balls, all equally chewy and tasty) 九份手工芋圓 paired with ice, fresh milk, red beans and glass jelly. Yummy!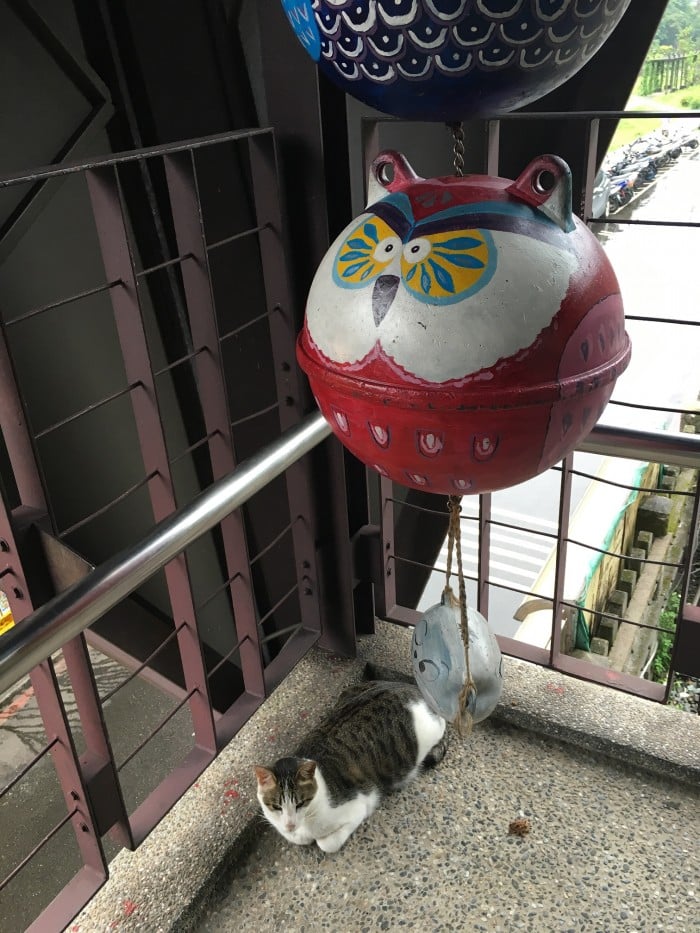 And then we went to the much-anticipated Cat Village at Houtong 猴硐貓村! This is a must-visit place for cat lovers. Here, you can see dozens of cats (duh), roaming freely around the village full of cat structures and murals as if they were the bosses, taking control of their human servants.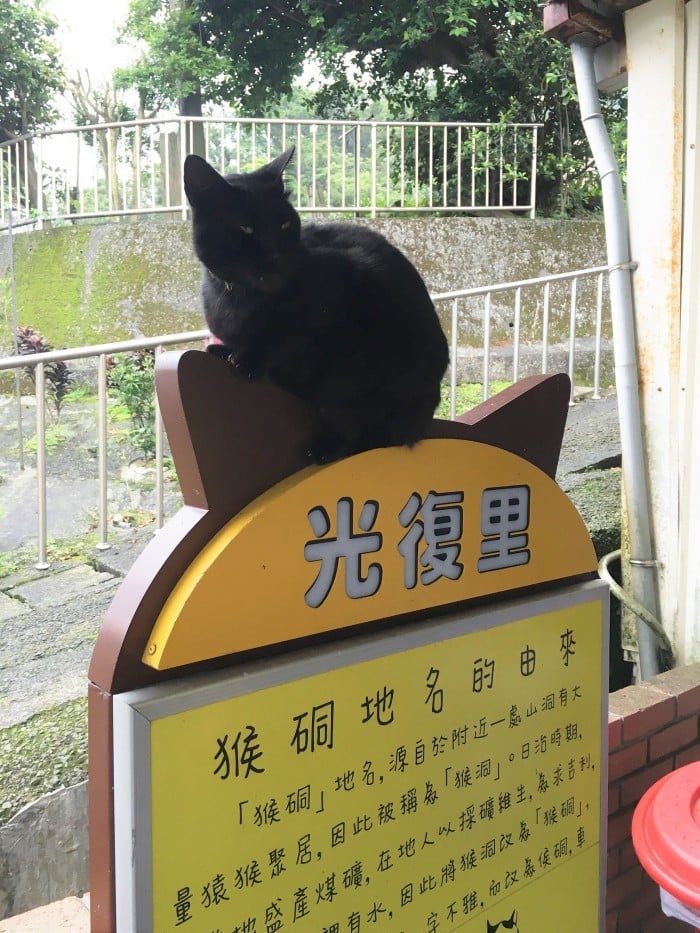 We were there on a rainy afternoon hence the cats were inactive (well it's not like they are going to be very active any time of the day) and most of them were napping at some hidden corners. As an obedient cat slave myself, I shall just leave my cat lords alone and I urge you to do the same! My masters need space and privacy dude!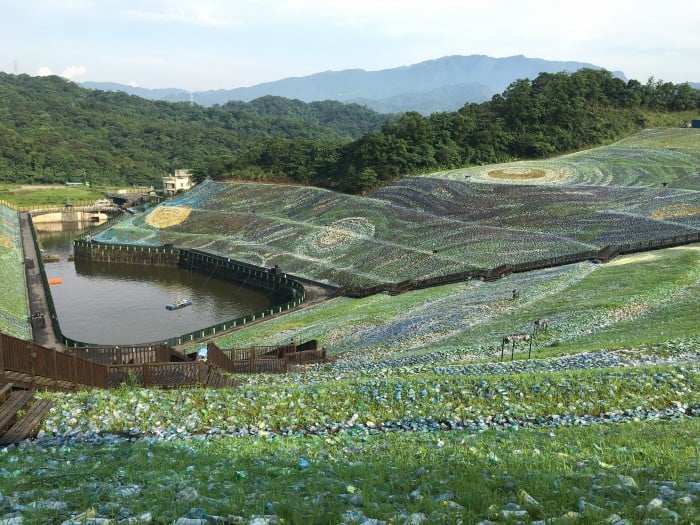 Next up is a rather new attraction in Taipei – the Starry Paradise 梵谷星空草原. There is a free shuttle bus to take you to the place from Badu Station 八堵車站 and the entrance fee to the park is TWD 100 per person. Let's have a better view of the place.

(Click on the picture for clearer view) Hmmm…I am not sure if this is 'better'…but trust me, the Starry Paradise is simply gorgeous! And I am sorry if our picture cannot make the statement as convincing as it should be. We were both not professional photographers and all images were taken by IPhone 6S (not even Plus you see).
Close up: the gigantic version of Vincent van Gogh's masterpiece The Starry Night was recreated by…millions of plastic and glass bottles?! How cool!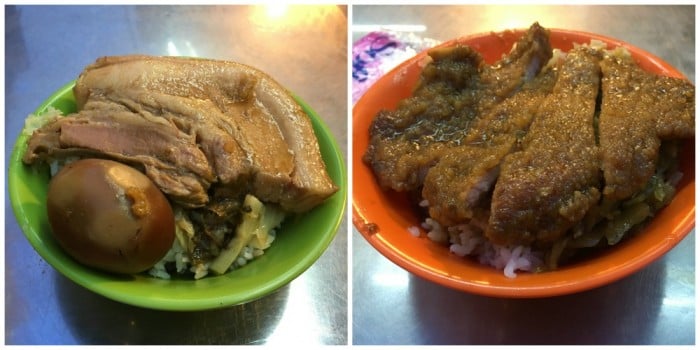 Keelung Miaokou Night Market 基隆廟口夜市 turns out to be our favourite night market in Taipei (we went to 3 night markets in Taipei alone). The picture above shows (left) Stewed Pork Belly Rice 焢肉飯 and (right) Braised Pork Ribs Rice 滷排骨饭 from the same stall. I would say the extraordinarily long queue is pretty recognisable so you can't possibly miss the stall. Fortunately, the queue moved very fast as there were five staffs working (five staffs for a very small stall, now you know how good their business is).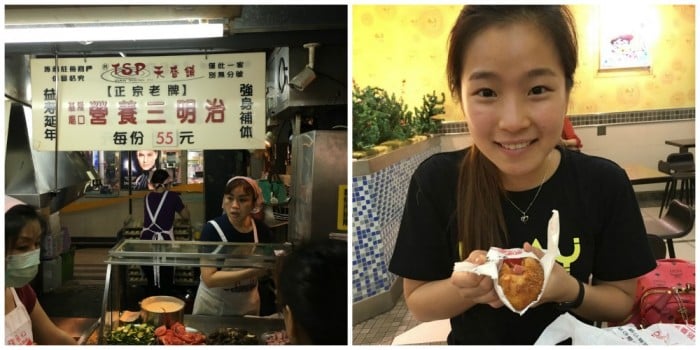 Despite the name 營養三明治 literally translates to Healthy Sandwiches, it is not healthy at all lol (how can a combination of fried bread roll, ham, tomatoes, pickles and a generous amount of mayonnaise not be sinful). However I assure you the taste is mind-blowingly good!
Day 4: Taipei – Alishan
Half of the day spent on travelling – Dinner @ Alishan Shan Bin Restaurant 阿里山山賓餐廳 (must order their Signature Stone Steamboat 招牌石頭火鍋, I repeat, MUST!) – Slept early as we needed to wake up at 4.30am the next morning for the sunrise.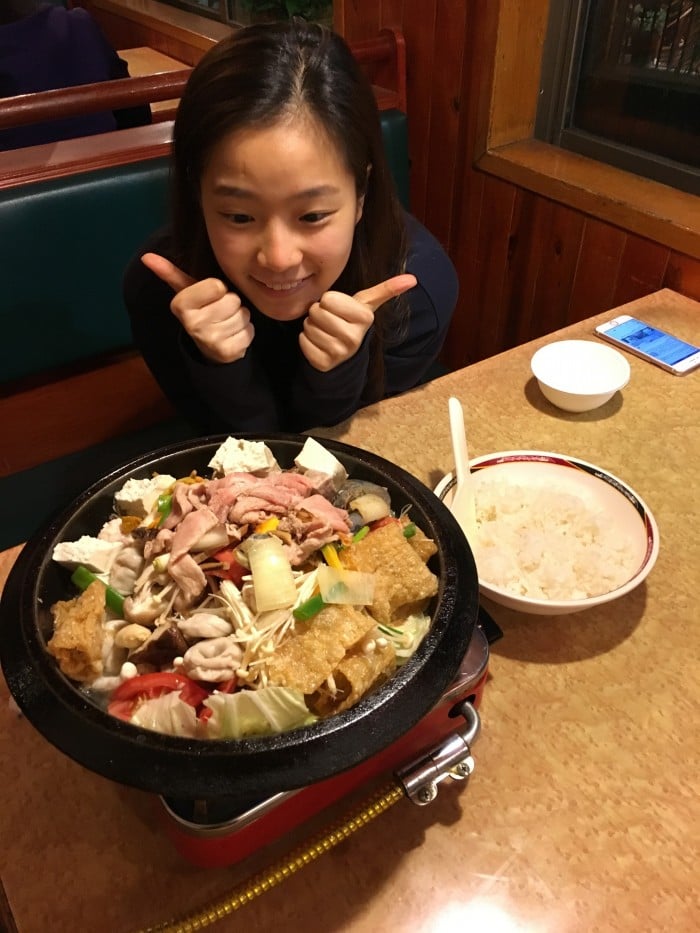 Don't say you visited Alishan if you don't drop by Shan Bin Restaurant 山賓餐廳 (located right opposite of Alishan Post Station) to try their Signature Stone Steamboat 招牌石頭火鍋! I can't really tell you what's all inside the hot pot as there were too many ingredients (beware of the huge portion) and I enjoyed it so much that I couldn't be bothered to memorise the content lol. All I can say is that, this is good, like legit good, must-eat-once-before-you-die kind of good.  
Day 5: Alishan – Taichung
Sunrise @ Jade Mountain/Yu Shan 玉山日出 + Alishan Sacred Trees 阿里山神木 – Alishan Mountain Railway 阿里山森林小火車 + Trekking @ Alishan National Forest Recreation Area 阿里山國家森林遊樂區 – Travelled to Taichung (by bus + train) – Dinner @ Feng Chia Night Market 逢甲夜市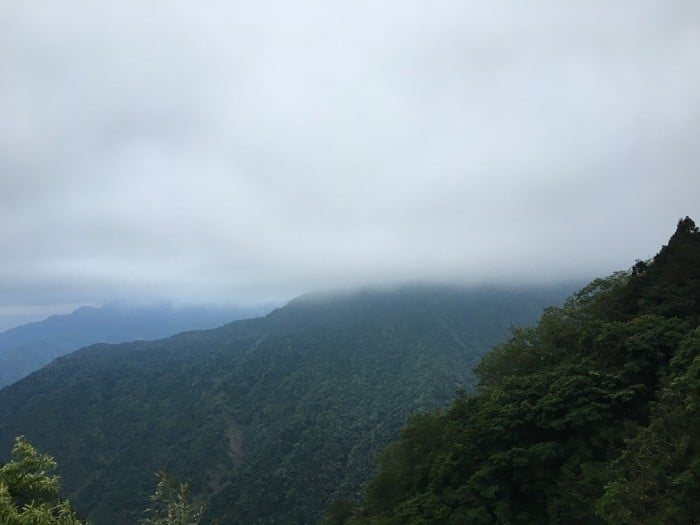 Woke up at 4.30am and the sunrise was a no-show. Mehhh no luck. Well, the mountain view was still breathtaking and we shall be grateful for there was no rain.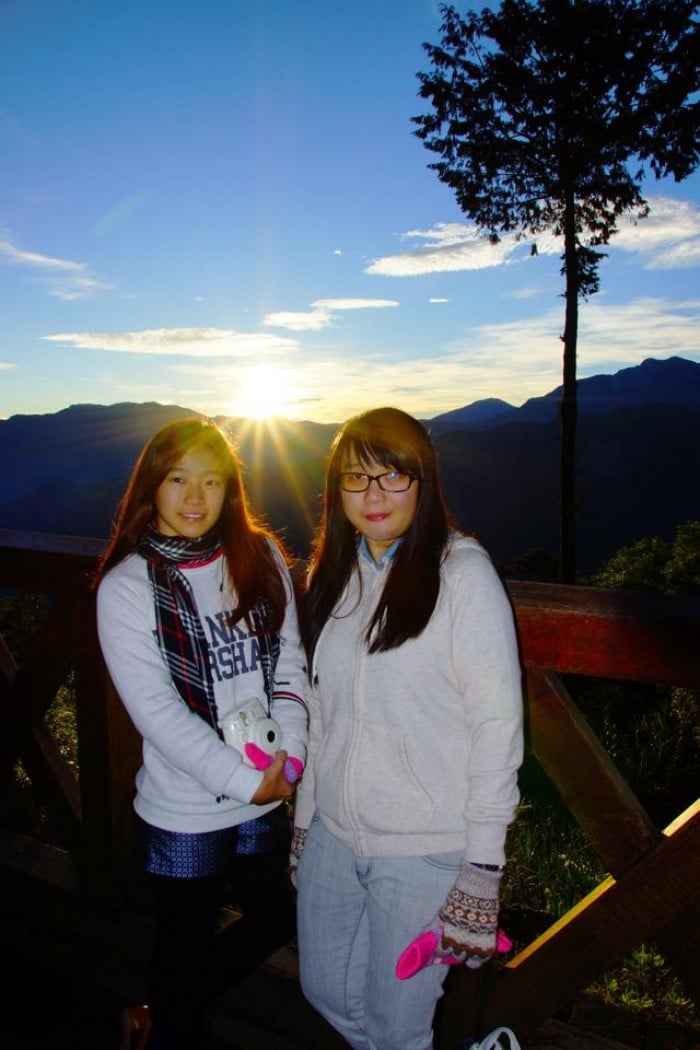 This was two years ago when I visited Alishan with my bestie. We were really lucky to witness the gorgeous sunrise in full even though it had been raining cats and dogs for the last few nights, and we were told not to put much hope in catching any sunrays. The weather and even the sunrise forecast are somewhat unpredictable so my advice: keep your expectations in check but do not lose faith.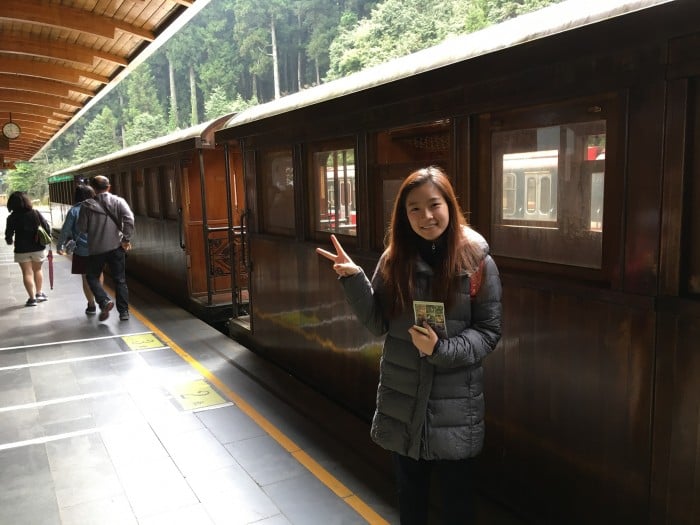 We had fun even without sunrise! Here's me posing in front of the wooden train of Alishan Mountain Railway 阿里山森林小火車. We later took the train and the scenery along the way was amazing — definitely worth the ticket price!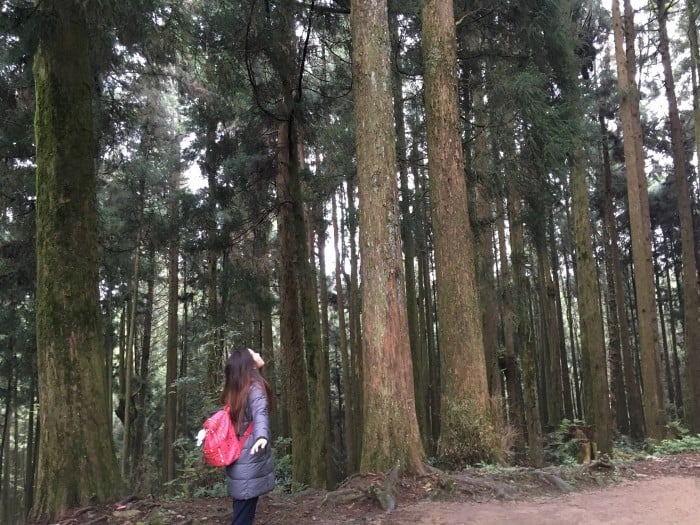 We also did around an hour of trekking within Alishan National Forest Recreation Area 阿里山國家森林遊樂區. Here's me marvelling at the Alishan Sacred Trees 阿里山神木. The air was so refreshingly cool that my tiredness for the lack of sleep was washed away so easily.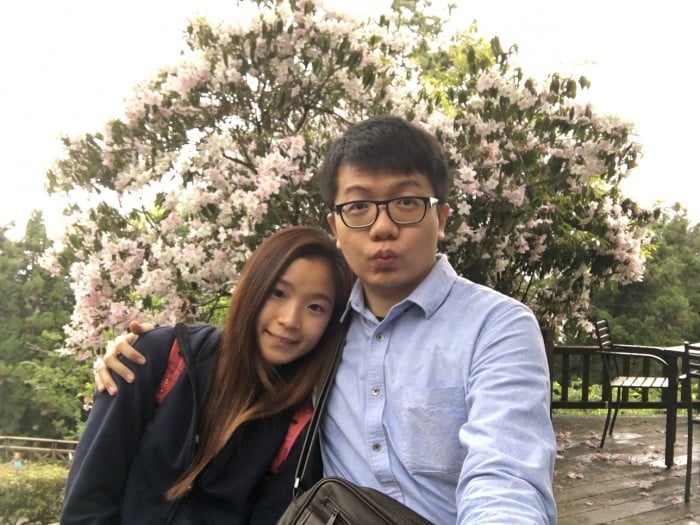 For 10 minutes, we thought we miraculously caught the last batch of cherry blossoms and we were so busy taking pictures with it. Only then we found out that it was not sakura but some kind of Azalea or Rhododendron (西施花 in Chinese). Lol.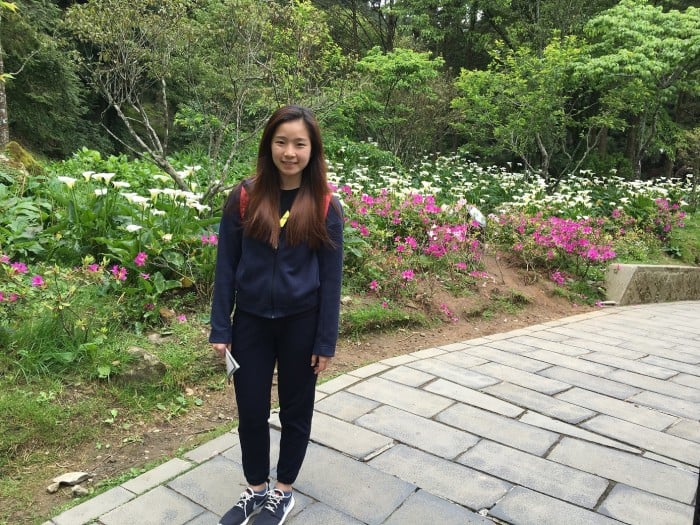 Beautiful flowers, sacred trees, fresh air and the best steamboat I've ever had…how can I not love Alishan? This was (already) my third visit to Alishan on my third trip to Taiwan and I am sure I will come back again!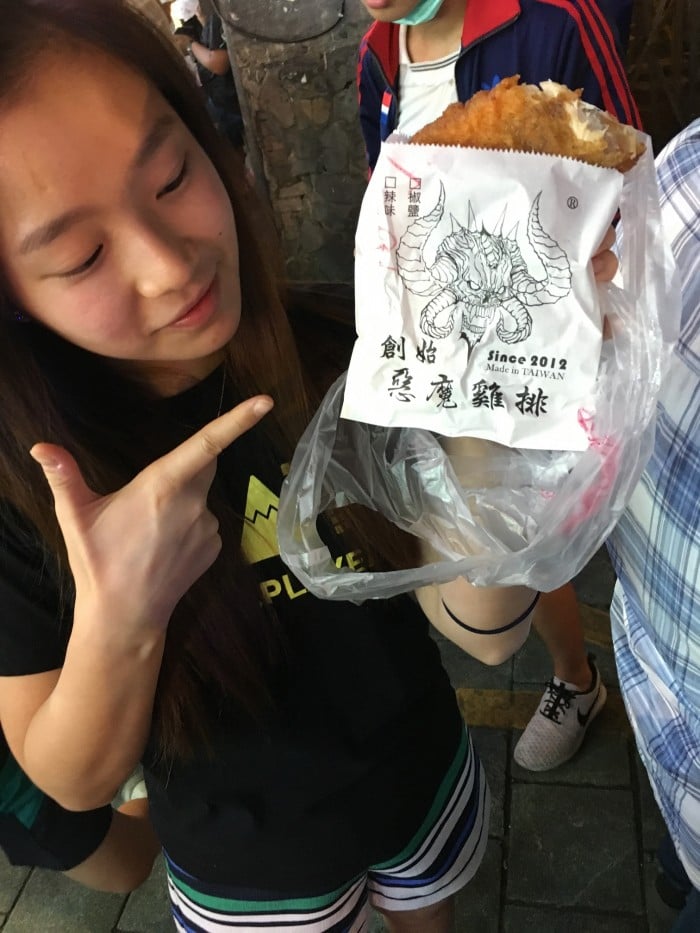 I was never a fan of Taiwanese Fried Chicken Steak until I tried this Devil Fried Chicken 惡魔雞排 at Feng Chia Night Market 逢甲夜市. This…completely blowed my mind and was really finger lickin' good! For the meat was super tender and juicy, and the absence of the usual thick crust was a huge plus for me.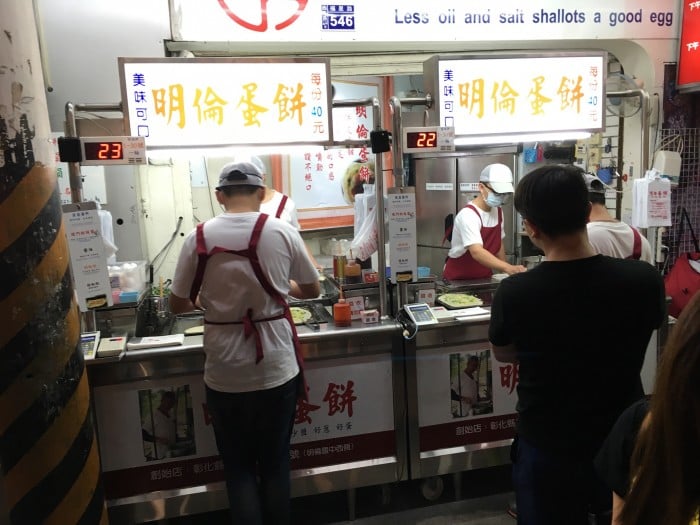 I must recommend this Ming Lun Taiwanese Egg Crepe 明倫蛋餅! I never believe in love at first sight, but I certainly feel 'love at first bite' for their handmade on the spot egg crepe (extra chewy and tasty). Best served hot!   
Day 6: Taichung
Miyahara Ophthalmology Department (for ice-cream, not eyeglasses) 宮原眼科冰淇淋 –  Budokan Martial Arts Hall 刑務所演武場 – Tunghai University 東海大學 – Qingmei Commercial District 勤美商圈 + Eslite Bookstore Green Walkway Qingmei 勤美誠品綠園道 – Dinner @ Feng Chia Night Market 逢甲夜市 again because we love it so much!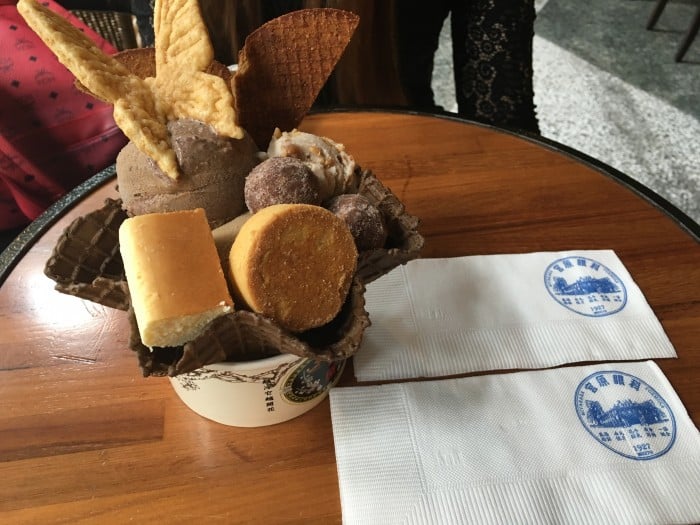 Dessert in the morning? Why not. This Speciality Sundae, available at Miyahara Ophthalmology Department (but it is actually a dessert shop and a souvenir store) 宮原眼科, was topped with Taiwanese Pineapple Tart, Handmade Cheesecake and the dreamy dessert was even dreamier with the fairytale-like butterfly-shaped Milk Biscuit! Not to mention you have more than 60 flavours of ice-cream to choose from.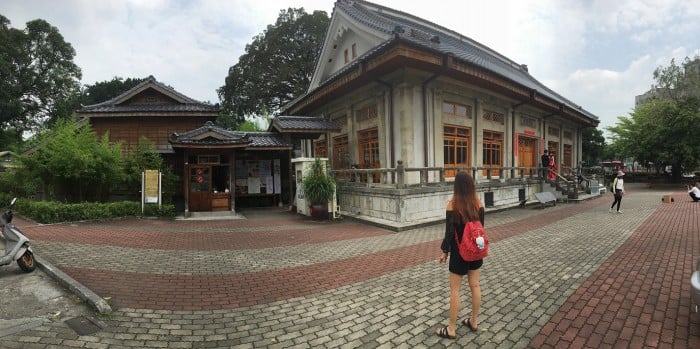 Budokan Martial Arts Hall 刑務所演武場 is a 15-minute walk away from Miyahara Ophthalmology Department. This is where you can get an authentic taste of Japan in Taiwan. There's a Japanese garden, a kendo practice hall, a traditional archery practice range, a small museum and a Japanese tea/dessert shop within the compound.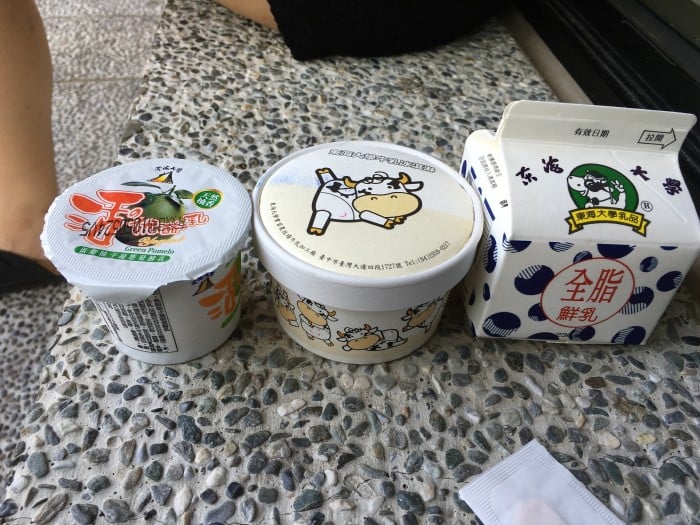 Later in the afternoon, we travelled by bus (the main transportation in Taichung) to Tunghai University 東海大學. To be honest, there's really nothing much to see at the university except the Luce Memorial Chapel where most of the tourists would stop by to take a picture. However, while you are at it, make sure you try their produced-on-campus dairy products including fresh milk, milk ice cream and yuzu yogurt. And yes, there is a farm in Tunghai University!
The weather was really hot (and I was almost dehydrated), so we decided to find ourselves some shade and free air conditioning at Eslite Bookstore Qingmei 勤美誠品. We also walked along the Green Walkway 勤美誠品綠園道 and wandered around Qingmei Commercial District 勤美商圈. Nothing really special to see or enjoy at the area but anyway we just want to relax ourselves so we did.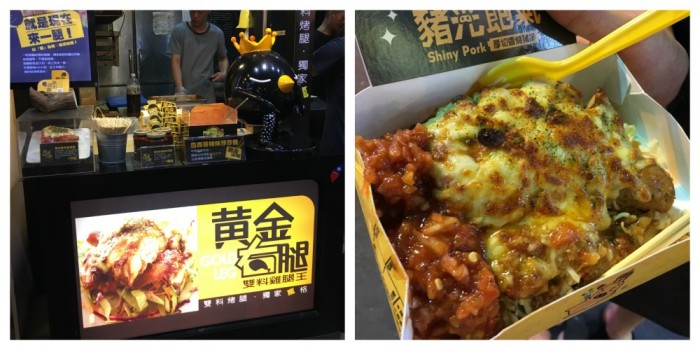 Time for Feng Chia Night Market 逢甲夜市 again! Tonight we had this Golden Right Leg 黄金右腿, basically it's grilled chicken thigh topped with cheese as you may see from the picture on the right. We also added their homemade Mexican salsa sauce on our Golden Right Leg and it turned out to be the best grilled chicken thigh I've ever had!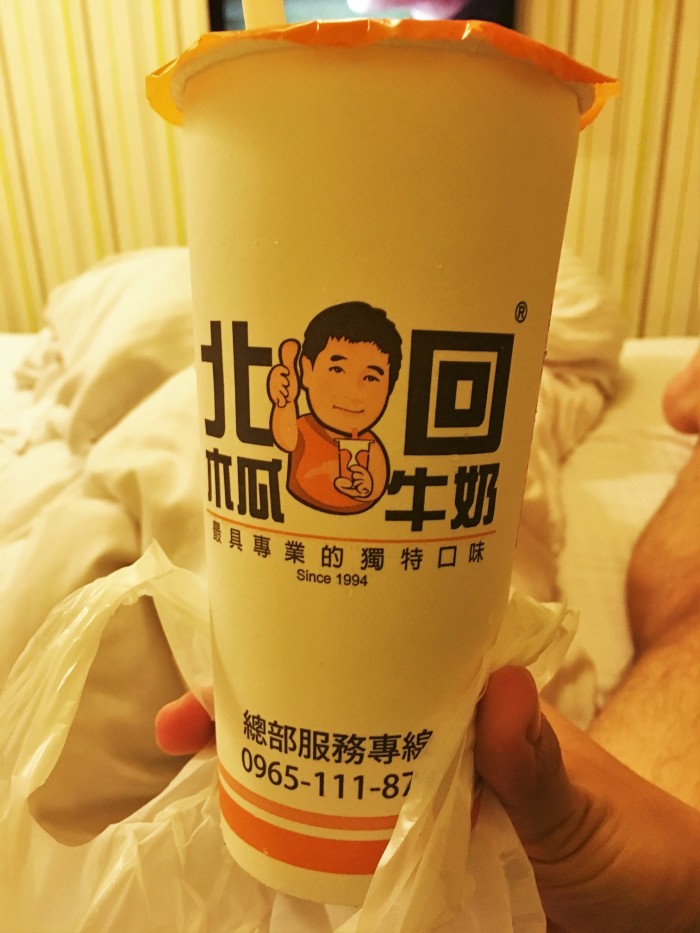 Highly recommend this Bei Hui Papaya Milkshake 北回木瓜牛奶! We had papaya milkshake almost every night in Taiwan (thinking it would be good for digestion as we ate so much everyday) but this is by far the best we've had – generous amount of papaya was used and the level of sweetness was just right (do ask for a 50% cut of sugar if you do not like sweet drinks).
Day 7: Taichung – Taipei
Took our time in the morning and spent 2 hours 30 minutes on train 自強號 travelling back to Taipei – Late lunch @ Ximending 西門町 (Tian Tian Li Restaurant 天天利美食坊 again because we were dying for that killer bowl of Braised Pork Rice before flying back to Singapore) – Last minute souvenir shopping @ Taipei Main Station 台北車站 – Bye Taiwan! (sob sob)
Accommodation
Taipei: Taipei No.5 Apartment 台北5號公寓 – Great Location, near Zhongshan Station 捷运中山站 and from the station, you can easily access most of the tourist spots in the city.
Alishan: Alishan Kaofeng Hotel 阿里山高峰大飯店 – Great location as it is very near the restaurant area and the train station. It is also among the cheapest yet comfortable hotels you can get within the area. Their staff were really friendly and helpful (taught us how to trek around Alishan National Forest Recreation Area).
Taichung: Fengchia Golden Sun 逢甲金色太陽 – Located right beside Fengchia Night Market, the best location a foodie can ask for. Follow the host, Jenny's recommendation for must-eat food at the night market and I promise you will never regret!
Also read: 4 Days Taiwan Itinerary: Unconventional Things to Do for Your Next Weekend Getaway
So here's our 7-day Taiwan itinerary for you! Since we have done the research and planning for you, all you need to do is book your flight and you are good to go! So no more excuses my fellow friends, happy holiday in Taiwan…and well, you're welcome.