Taiwan's capital is filled with interesting corners and bustling neighbourhoods. But let's be honest, Taipei isn't the most beautiful of cities. Don't get me wrong – I instantly fell in love with the friendliness of its people and the appetite-inducing food. However, occasionally you just want to step out of the city in search of sheer natural beauty.
Taipei's answer for spoiled beauty-seeking travellers, like myself, is the Shifen Waterfall, located about 30 kilometres east of the capital. Easily reached by train, a day trip reveals more than just cascading water. Along the way, I found little treasures that will please any admirer of grandeur – the rural town of Shifen, the charming Jiufen Old Street and the energetic Keelung night market.
Shifen Town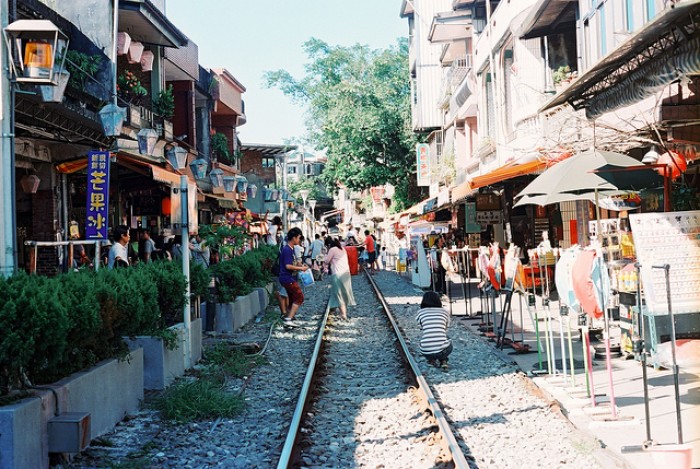 Image credit: wsifrancis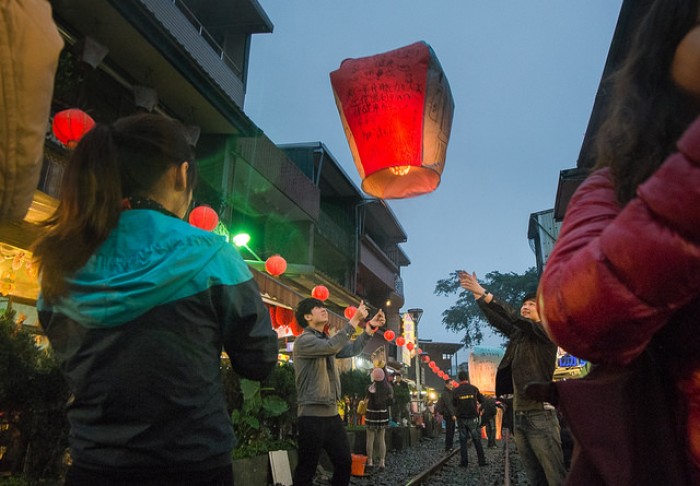 Image credit: Andy Enero
Travelling to Shifen will take about 1.5 hours from Taipei main station. Unless you take a train during Chinese New Year, as I did, the train ride should be rather comfortable and spacious, which will let you appreciate the scenic ride alongside the Keelung river. The easiest way to get there is switching at Ruifang station and taking a slow train up to Shifen.
Your arrival at the station might evoke memories of Maeklong Railway Market in Bangkok, where trains pass only inches away from stalls and humans. Shifen isn't that extreme, but on a busy day, you might wonder if anyone ever got hurt. The railway tracks are also an extremely popular spot to send hand-painted lanterns into the sky. During Chinese New Year they were virtually taking off every minute.
The village is rather small, but a lack of size is made up for in charm and tranquillity. The setting of rural houses, surrounded by impelling green mountains is quite a contrast to the bustle of Taipei and already worth my trip. I recommend though leaving the exploration of the village for later, as you might have to wait for a returning train, and head straight for the waterfall.
Shifen Waterfall
Image credit: Reece Cheng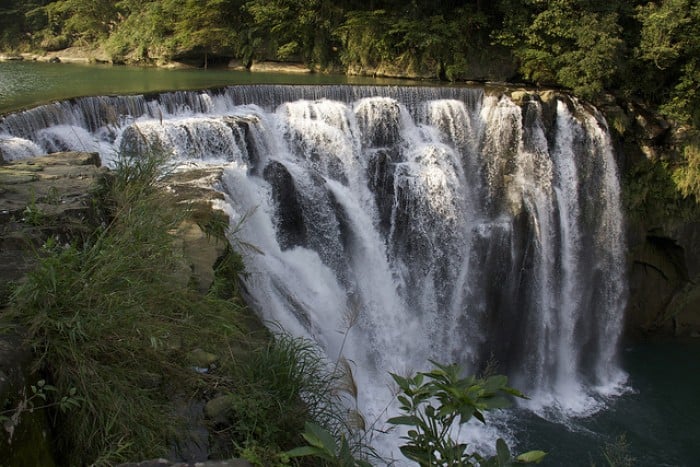 Image credit: Jennifer
A short 20-minute walk will lead you to the destination. Surrounding the waterfall is nature in abundance, leaving you with plenty to calm your eyes.
Jiufen Old Street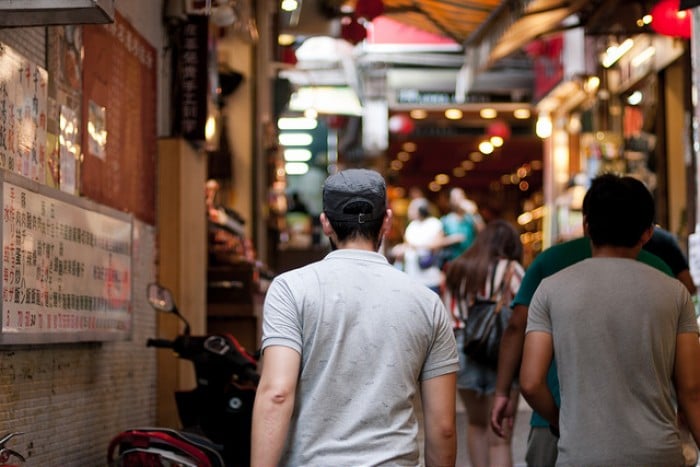 Image credit: Tim Lee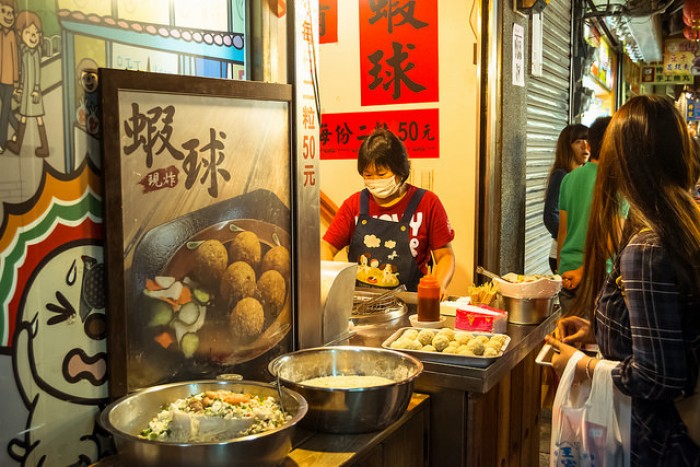 Image credit: Alexander Synaptic
Before catching the train back to Ruifang, don't forget to get some 'one-bite' snacks. One thing I noticed in Taiwan is that people always eat on trains. As soon as the train is in motion, bags of food are unpacked – so do as the locals do.
Arriving once again at Ruifang, take a bus from the station up to Jiufen in the mountains. Although it might seem walkable, the distance and the incline are not to be underestimated.
Jiufen Old Street is the obvious highlight in the town, meaning most shops and eateries are concentrated alongside or in close vicinity of the long and step pathway. Although the street is an incredible beauty and doesn't lack charisma and appeal, one should really explore the rest of the town. When venturing though hidden walkways, you will find many spots from which you can see the surrounding mountains and the East China Sea crushing against Taiwan's shores.
As Jiufen offers great spots for sunset lovers, I strongly recommend staying in this gentle mountain village until twilight descends over the hills. Observe the change of light in one of the many cafes and wonder through the alleys as Juifen lights up at night.
Keelung Night Market
Image credit: Alexander Synaptic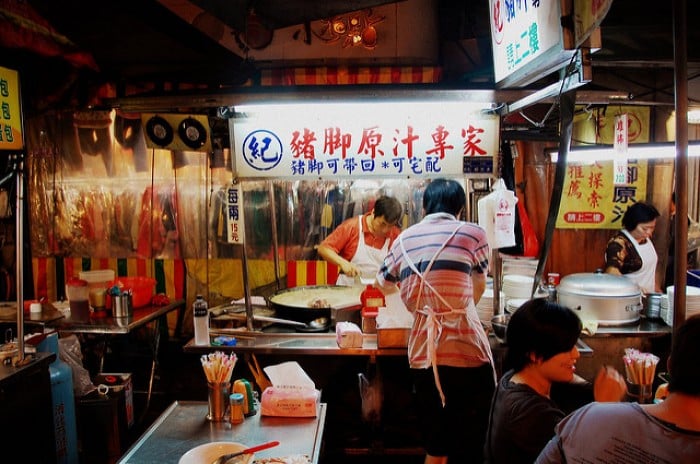 Image credit: LWYang
As buses from Jiufen to Ruifang run frequently, you shouldn't have any problem returning to the station. Although Ruifang itself doesn't have an immediate appeal, it doesn't hurt to stroll a little through the town if you have some time. As there is no need to be at the Keelung Night Market before night has fallen over Taiwan, there is no rush to get there.
In order to get to Keelung City, you will have to take a short train ride to Badu and take an even shorten ride to Keelung itself. The Keelung Night Market (also known as Miaokou Night Market) is only a further straight 10-minute walk from the station. Once you reach the market, you will be spoiled for choice – ranging from oyster omelettes and one-bite snacks to caramelised tomatoes and delicious glutinous rice. Don't forget to leave some space for unbelievable sesame ice cream.
I recommend not eating too much of one thing, but rather a little of as much as possible. Should you be in the need of a digestive walk, which you probably will be, then you should take a look at the temple next to the market. Although it is very beautiful, many visitors seem to forget about it as their hunger controls their eyes. Can't blame them, can I?
Once you have feasted well, there will be a train waiting to take you back to Taipei, concluding your one-day adventure to Shifen Waterfall, Jiufen Old Street and the Keelung Night Market. 
Also Read: 13 Unconventional Things to Do in Taiwan for A Smashing Vacation