If there is anywhere in Singapore to throw a huge party, Clarke Quay is the place to do it! With the March Holidays fast approaching, Clarke Quay is gearing up for Singapore Festival of Fun 2018. From 8 to 18 March, watch this vibrant area house a slew of family-friendly attractions. There is definitely something here for everyone!
8 to 11 March
Magners International Comedy Festival
The festival kicks off with the 5th edition of the Magners International Comedy Festival, which is Asia's biggest comedy festival. Kick back with a cold one, and have a good laugh with some of the best local and international comedians. Over these four nights, there will be a total of 12 comedians performing across eight venues (including pubs and bars). Wherever you choose to chill, be prepared to laugh out loud and be left in stitches!

This year, US comedian Doug Stanhope makes his appearance as the headline act of the comedy festival. For one night only (10 March), catch his solo performance at Shanghai Dolly and let the "most dangerous comedian in the world" leave you absolutely tickled!
There are many other big names gracing the festival with their comedic genius. Yuriko Kotani, awarded UK Best Newcomer to Comedy 2016, has certainly made a mark for herself in an extremely male-dominated industry. In addition, Jim Brewsky, the winner of Hong Kong's International Comedy Competition, is slated to perform. He will bring out your best nervous laughter with his personal recounts of racism and discrimination.
Local comedians will also have the opportunity to take the stage – apart from Malaysians Kavin Jay and Sulaiman Azmil, we will also see our very own Singaporean acts; Samuel See, Fakkah Fuzz, Jocelyn Chia and Deepak Chandran. Some of them are so popular that they even have their own Netflix shows running!
Since there are many shows that will run concurrently across different venues, be sure to check where your favourite acts are and book tickets ahead of time. Prices for each show may differ, although most start at S$35 and have an Early Bird price of of S$25. If you want to catch more acts, get the Comedy Passport Ticket at S$130 and gain entrance to a whopping six shows!
Dates: 8 – 11 March
Timing: 8pm onwards
Location: Beer Xchange, Crazy Elephant, McGettigan's, Get Juiced, Shanghai Dolly
Admission Fee: Depends on which show | S$130 for Comedy Passport Ticket (6 shows),
Age Restriction: 18 years old and above
10 to 11 March
Nickelodeon Fiesta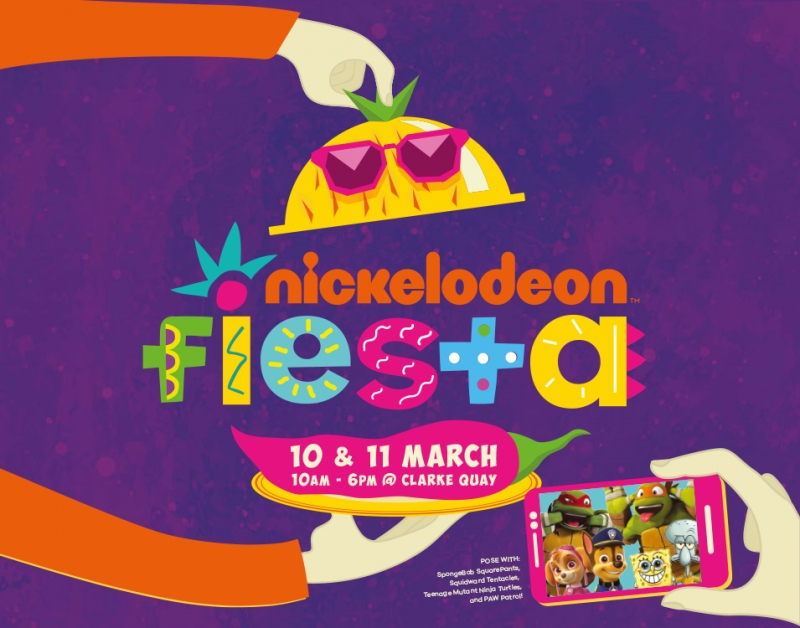 Back for the second year, the Nickelodeon Fiesta is an amalgamation of the two things that Singaporeans love best – television and food. This time, the fiesta is centered around a heritage theme to simultaneously promote Clarke Quay's rich history and local cuisine. Food-themed game booths are available on-site for you to win some exclusive Nickelodeon collectibles (no actual food is provided). Be one of the first 200 of the day to sign up at the Nickelodeon Trail booth and take part as a family to discover the origins of well-known local delights together.
Also, there will be stage games and photo opportunities with everyone's favourite Nickelodeon characters! Both parents and kids are sure to have a great time interacting with the cartoons that we grew up with, like Spongebob Squarepants, PAW Patrol and the Teenage Mutant Ninja Turtles.
Dates: 10 – 11 March
Timing: 10am – 6pm
Location: Fountain Square, Clarke Quay
Admission Fee: Free Entry
13 to 18 March
Clarke Quay Streetfest
For the first time ever, world-renowned street performers from London's Covent Garden will roam Fountain Square in Clarke Quay and do what they do best – put on a show. They boast a wide plethora of acts and will certainly keep everyone entertained from start to finish. From acrobatics, to escapology and hair-raising daredevil acts, it'll be hard to hold your jaws together!
Don't be deceived by their demure smiles – these two ladies can (and will pack) some serious punches. Emma, or more affectionately referred to as Bendy Em, is a contortionist who can twist and turn her body to fit into a 16 inch glass box. If you already think this is impossible, stretch your imagination even more when she adds a basketball into the equation. Aside from Bendy Em, there is Betty Brawn, the Strong Lady who is sometimes referred to as the strongest lady in the world. Not only can she rip through novels and twist solid metal, but she can lift two grown men up into the air without breaking a sweat. Definitely someone you don't want to mess with.
The next two acts are exceptionally entertaining for those who enjoy a bit of thrill, especially if it involves heights. Jump Stilts Extreme is a pair of professional stilt jumpers who will somersault and perform tricks as they bounce up and down in the air. If you are lucky enough, you may even be chosen as a volunteer to participate in their act! Pancho Libre will also make your heart race as he defies gravity with his stunts. Having trained with some of the world's best acrobatic coaches, it is a breeze for him to remain in the air while balancing on a Cyr wheel or doing handstands on a high pole. Easy peasy.
Be prepared to laugh from both comedic wit and anxiety – wait in nerve-wrecking anticipation as Guinness World Record holder and escapologist Rob Roy Collins takes the floor with his 'escape from chains' routine, while maintaining an impeccable sense of humour and perfectly-timed jokes. Remember to look out for Circus Sonas, the Northern Ireland father and son duo who will perform their circus acts of juggling and magic tricks.
Don't miss out on a chance to catch all of these choice acts!
Dates: 13 – 18 March
Timing: 6pm – 11pm
Location: Fountain Square, Clarke Quay/ Read Bridge/ Tan Tye Place 
Admission Fee: Free Entry
With such a diverse range of activities, there's no reason for you not to check out the Singapore Festival of Fun 2018. Mark your calendars and of course, have fun!
---
Information extracted from press release issued by Magic Rock Pte Ltd.

The Singapore Festival of Fun is proudly organised by Magic Rock Pte Ltd, supported by Singapore Tourism Board's Leisure Events Fund and presented by Clarke Quay and partners Nickelodeon and Magners Irish Cider.