Tired of the typical bus or DIY tours? Well, if you make your way to Scotland sometime in the future, you can catch an epic 84-mile cycle tour that will allow you to experience Scottish whiskey and the country's refreshing outdoor attractions!
What to see
This new bike tour called the Whiskey and Burns Cycling Tour was organised by the Galloways Cycling Company in Scotland. It's aptly named considering that the first day of the tour will lead you to Annandale Distillery, where cyclists will be offered a taste of Scotland's finest whiskey. Among other featured destinations during the tour are historical sites such as the Caerlaverock Castle and Nature Reserve, The Twelve Apostle Stone Circle, and Drumlanrig Castle. 
Also read: Top 8 Castles to Visit in Scotland on Your Next Trip
If you're a romantic or a lover of literature and poetry, you'll surely appreciate cycling by the market town of Dumfries, where you can follow the footsteps of Scotland's national poet, Robert Burns. You'll stop by the Globe Inn, which was the poet's most popular haunt and was referenced in many of his works. Cyclists can also visit the Robert Burns Centre along the same route. 
The bike tour will challenge your stamina and cycling abilities too, as it highlights Wanlockhead, said to be the country's highest village and home to Scotland's highest pub. No worries if you miss out on this though, because you can always customise the last day of the tour according to your liking! 
What you're signing up for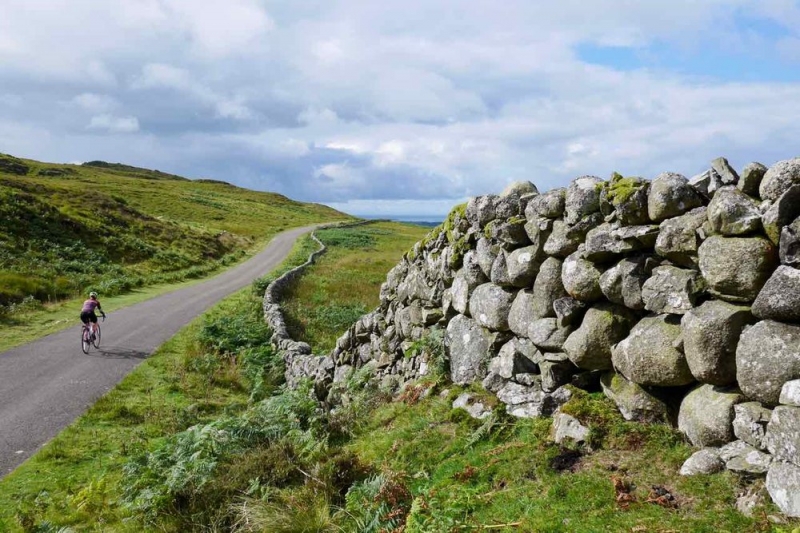 This whole journey is a three-day guided tour; needless to say, you'll have to be experienced in riding a bike if you're interested in plying this scenic and adventurous route. Should you sign up for this tour, you'll cover approximately 30 miles per day. 
You may find yourself out of breath at some points, but the tour promises its customers great food, drink, a slow pace of touring, and breathtaking views of mountain, river, and sea! Prices start at £430. This is inclusive of luggage transfer and accommodations with four to five-star ratings. 
Visit the Galloways Cycling official website for more information. 
Also read: The Scotland Highlands: My Road Trip Experience
So cyclists, do you think you're up for this epic Scotland tour once the pandemic is over? We'd love to hear about what you think and see photos of your future cycling adventures. Tag us on Instagram @tripzillamag for features!
---
All images credited to Galloways Cycling | Official Website