The Philippines is blessed with so many beautiful waterfalls which vary from sprawling humble tumbles to extremely majestic ones. If you're planning for your next hiking adventure or nature trip in this tropical country, consider visiting these waterfalls that will, quite literally, take your breath away!
Also read: 12 of the Most Awe-Inspiring Waterfalls Around the World
1. Maria Cristina Falls, Iligan City, Lanao del Norte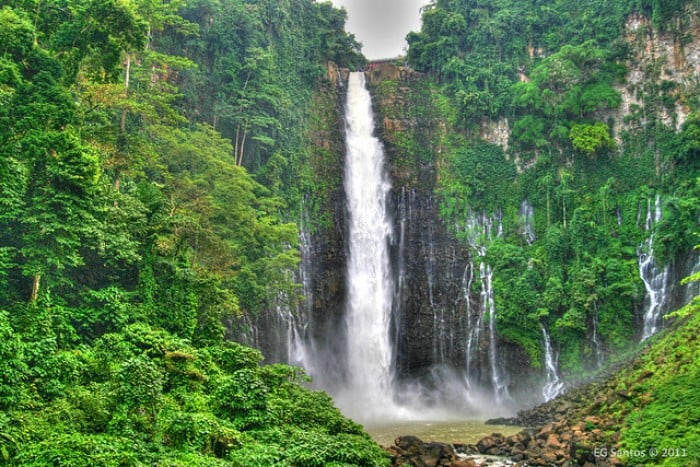 Image credit: EG Santos
Iligan City is blessed with more than 20 tumbling waterfalls. Hence, the moniker City of Majestic Waterfalls. Let's start the journey by visiting the city's most popular waterfall and the main source of electric power in Iligan, the Maria Cristina Falls.
The falls is widely known for its stunning beauty that reaches to a height of 98 metres and with a  320 m water drop. It is also called as the "Twin Falls" because the flow is separated by a rock at its brink. Iligan City's leading industries and the rest of Mindanao are enjoying electric power provided by the falls. Thus, earning the nicknames "Mother of Industry" and "Fountainhead of Progress".
2. Tinago Falls, Iligan City, Lanao del Norte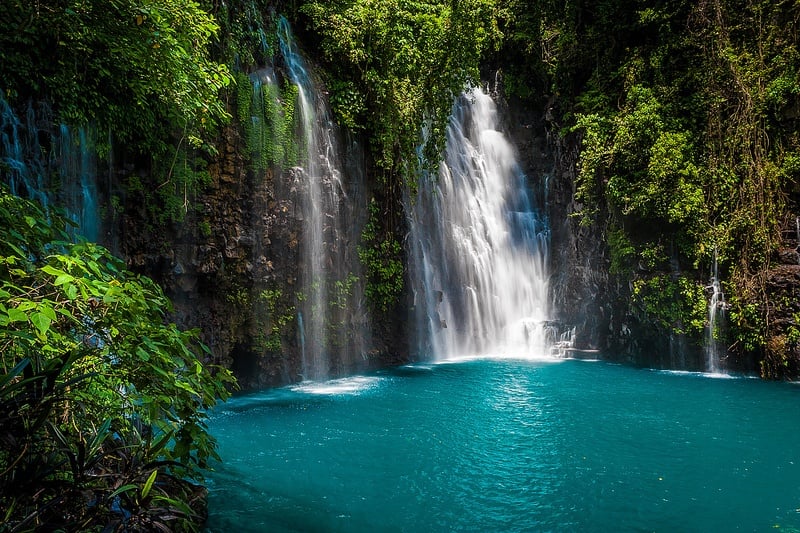 Image credit: Jojo Nicdao
In Filipino, tinago means "hidden". Visiting Tinago Falls is a challenge because it is hidden in a deep ravine that requires 500 descending steps called the winding staircase.
Legend has it that an influential and powerful Sultan Agok and his wife ruled a kingdom. They became too proud and selfish as rulers. When the sultan's wife was pregnant, an enchantress disguised as a beggar and asked for their help, but they rejected her. The enchantress became angry and cursed the couple that their child will become ugly. When the wife gave birth, the child was cursed with ugliness, and so they hid the baby in a cave to avoid embarrassment. They called her Tin-ag, which means "hidden face".  When the child grew up, she wandered out of the cave, and the enchantress who cursed her parents saw her and offered to turn her into something beautiful. She accepted and became the Tinago Falls.
3. Mimbalot Falls, Iligan City, Lanao del Norte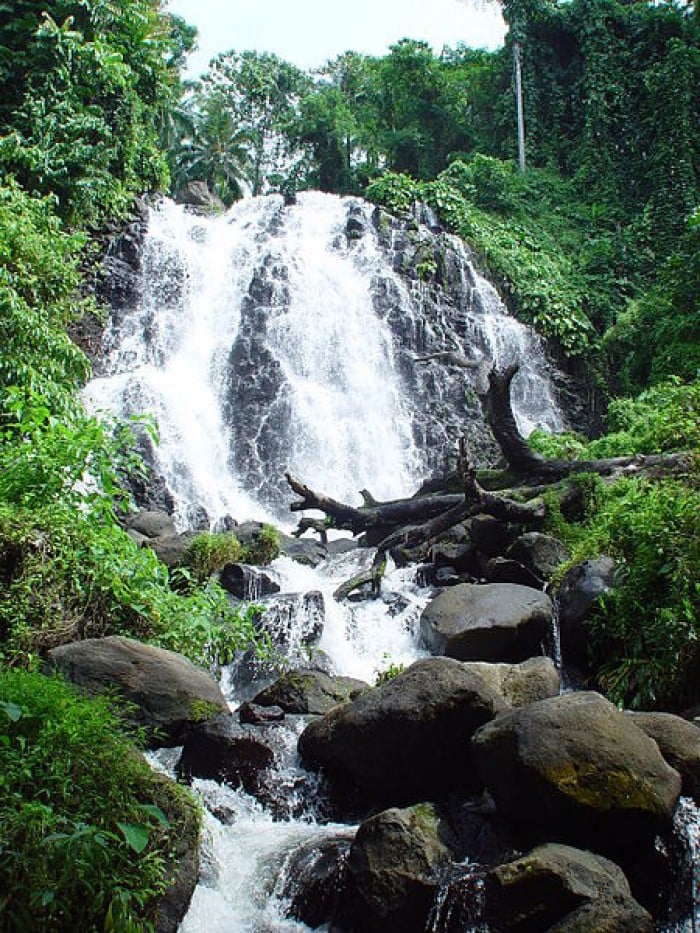 Image credit: Paul van der Vegt
Mimbalot is the most accessible waterfall in Iligan. It descends down a path with large rocks forming smaller rivulets and mini falls. Visitors are advised to take extra caution when treading the rocks because they tend to be very slippery.
4. Limunsudan Falls, Iligan City, Lanao del Norte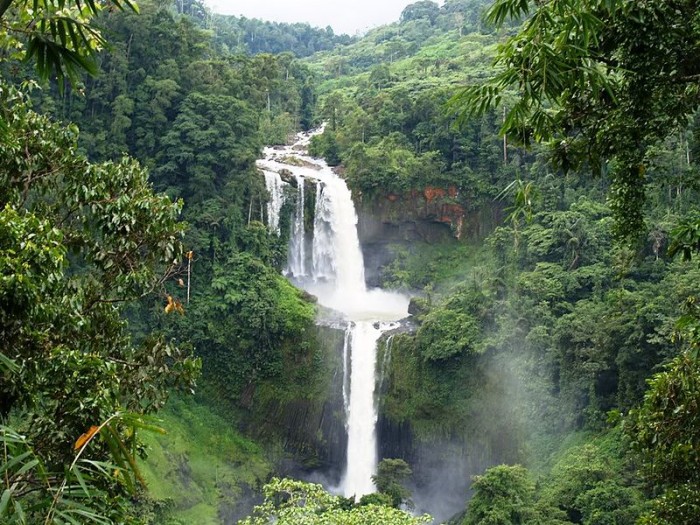 Image credit: Floresa816
This two-tiered falls can be found in Brgy. Rogongon, Iligan City. With a height of 870 feet, it is considered one of the highest waterfalls in the Philippines. It's lower cascade is even higher than Maria Cristina Falls. So you can just imagine it's staggering height.
5. Tinuy-an Falls, Bislig, Surigao del Sur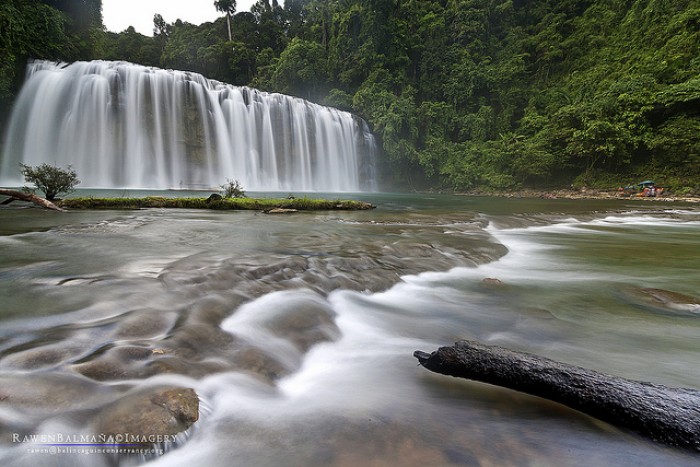 Image credit: Rawen Balmaña
Tinuy-an Falls is located in Barangay Burboanan in Bislig, Surigao del Sur. Locals said that a rainbow appears between 9 am to 11 am, which is a result of the sunlight's reflection through the frothy mist. Because of its stunning cascade and incredible beauty, Tinuy-an Falls has been regarded as the little Niagara Falls of the Philippines.
6. Asik-asik Falls, Alamada, North Cotabato
Image credit: rex songcayauon
Asik-Asik is a Hiligaynon term of "sprinkle". It stands about 140 metres wide and 60 metres high. Visitors can swim and enjoy the cold, clear waters of the falls. Interestingly, unlike most waterfalls, the waters come from the rocks, instead of a stream, passing through from the lush foliage that covers the side of the cliff.
7. Seven Falls, Lake Sebu, South Cotabato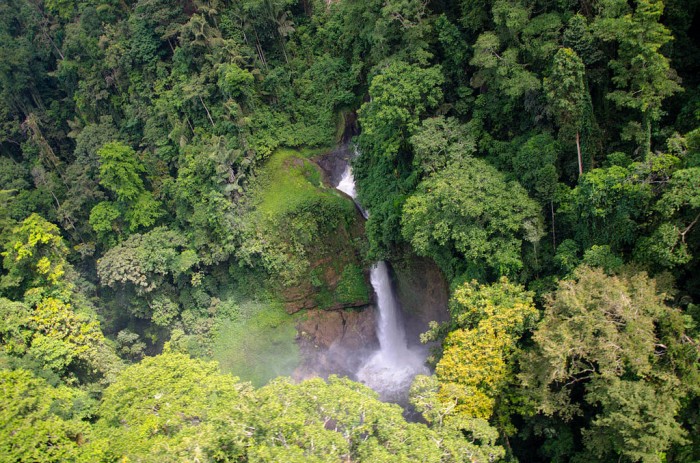 Image credit: I Travel Philippines

Of the Seven Falls, only two can be easily reached — Hikong Alo and Hikong Bente. The first one, "Hikong Alo" which means "passage" in T'boli,  stands at a height of 11 metres (35 feet). Though not as tall as the others, it is the widest, and admirers can gaze at its magnificence because it flows gracefully across the park and under a bridge. Falls 2 or "Hikong Bente" is located 40 metres away from Falls 1, and towers at a height of 70 feet.
Both falls can be enjoyed through a breathtaking zipline ride. The other five falls can be seen when riders zipped past, while the other falls can be reached by hiking, depending on the weather.

Falls 3 to 7 have their own corresponding T'boli name and meaning:
Falls 3: Hikong B'Lebel, meaning "Coil/Zigzag"

Falls 4: Hikong Lowig, meaning "Booth"

Falls 5: Hikong Ukol, meaning "Wild Flower"

Falls 6: Hikong K'Fo-I, meaning "Short"

Falls 7: Hikong Tonok, meaning "Soil"
8. Aliwagwag Falls, Cateel, Davao Oriental
Aliwagwag Falls in Cateel, Davao Oriental is a series of more than 130 cascading waterfalls dotted with various rock formations. Each tier differs from another and ranges from 6 to 110 feet.
Folkflore has it that Aliwagwag Falls is a gift by the gods to the Mandaya Tribe of Cateel as a source of living and fountain of their lives. It is also the home of Sawugnun, a fish that has a bitter taste and best served as paksiw. Locals say that the fish can only be found in the waters of Aliwagwag.
9. Cambugahay Falls, Lazi, Siquijor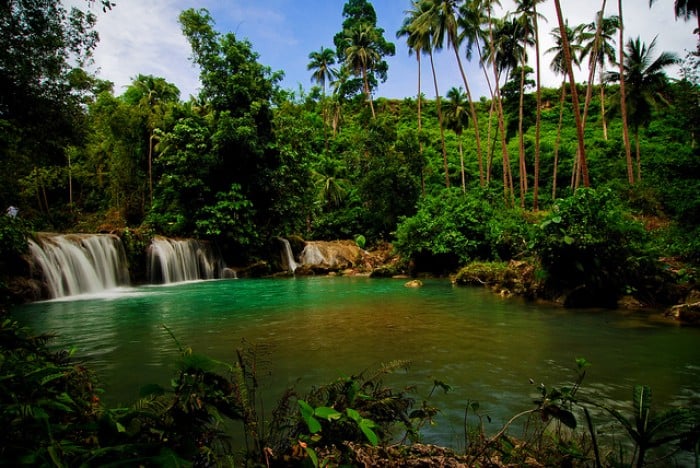 Image credit: Reuel Mark Delez
The falls is located 2 kilometres outside the historic town of Lazi. One has to climb down the 135 stone steps to enjoy the clear blue waters of the multi-tiered falls. There's a natural swing to cling to in case you want to be like Tarzan.
10. Lulugayan Falls, Calbiga, Samar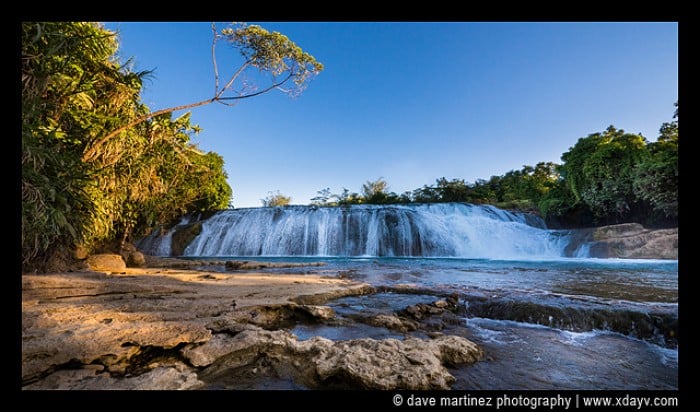 Image credit: Bahandi 700
Like Tinuy-an Falls, Lulugayan Falls in Calbiga, Samar is also dubbed as the "Mini Niagara in the Philippines". It is composed of hundreds of waterfalls cascading down the 14-kilometre rapids from Lake Kalidongan to the Calbiga River.
11. Tarangban Falls, Calbayog City, Samar
Like Iligan City, Calbayog City in Samar  is also dubbed as the "City of Falls" because it boasts an array of falls and caves. One the majestic falls you must see in Calbayog is Tarangban Falls. It is popularly known for its crystal clear waters cascading from an interesting rock formation. You may also visit the nearby Bangon Falls, which has an equally stunning beauty.
12. Bomod-ok Falls, Sagada, Mountain Province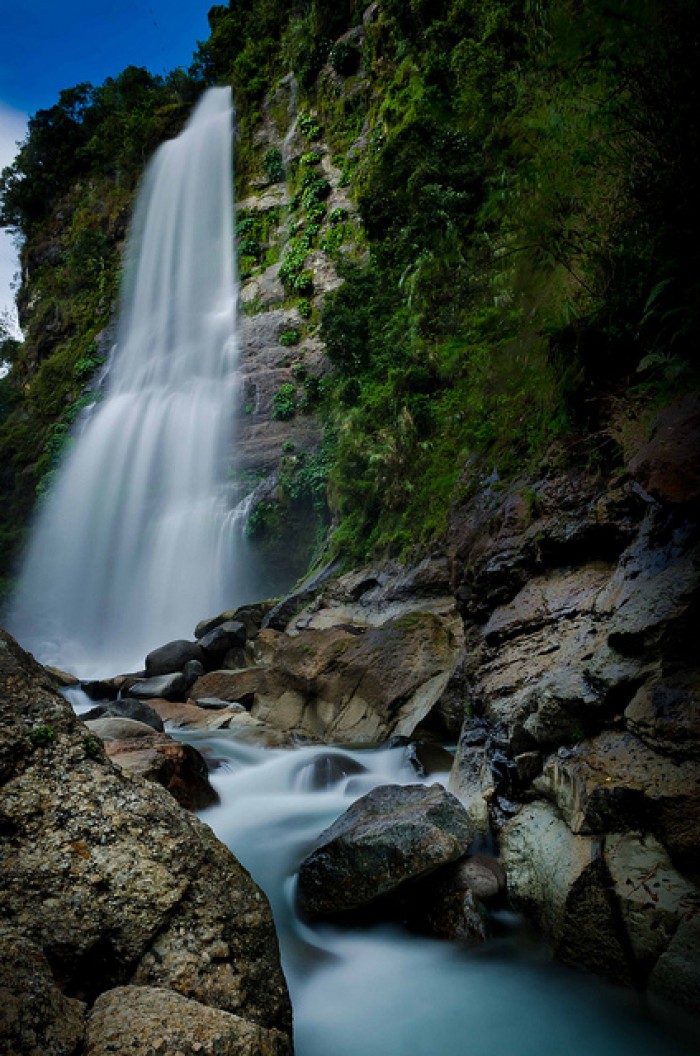 Image credit: jojo nicdao
One of Sagada's most visited tourist attractions is Bomod-ok Falls. The word bomod-ok simply means "big" thus the name, Bomod-ok Falls or the "Big Falls". It is nestled in the northern part of Sagada Rice Terraces, sandwiched between the villages of Aguid, Pide and Fidelisan.
13. Kaangrian Falls,  Burgos, Ilocos Norte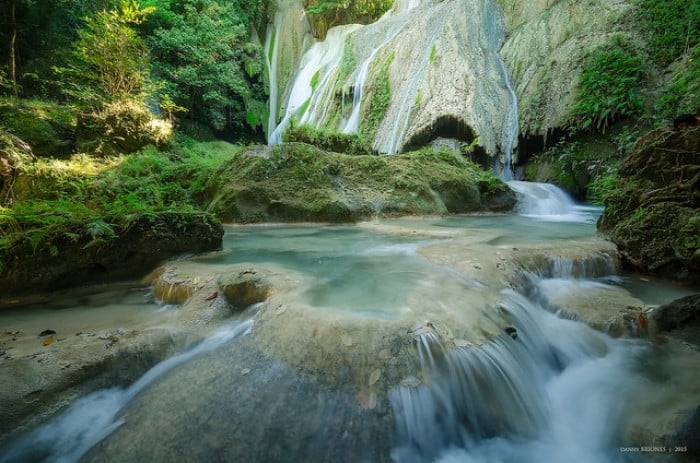 Image credit: Danny Briones
Kaangrian means pungent smell or smelly place in the local dialect. The falls earned this name because of the guanos from nearby bat caves. Karaangrian Falls is one of the most beautiful waterfalls in the country with  its multi-layered waterfall forming a scenic stair-like view. Definitely a sight to behold!
Also read: 12 of the Most Awe-Inspiring Waterfalls Around the World
These are just a few of the many waterfalls Mother Nature has blessed the Philippines with. What's the most awe-inspiring waterfall you've ever visited in your life? We'd love to know your waterfall adventures!