Contributed by Quotient Travel Planner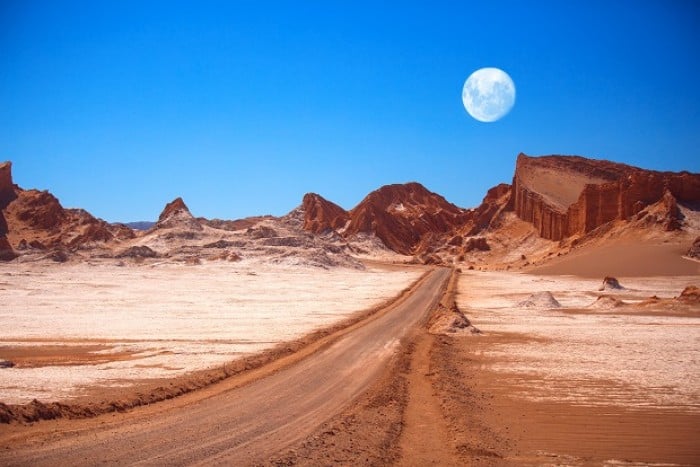 Chile is home to some of the most extreme and beautiful landscapes in the Southern Hemisphere. The sheer length of the country is mind-boggling, and even more compelling is the variety of geographical wonders; you will experience everything from surreal-looking deserts to craggy mountains to humongous glaciers to relaxing beaches to lush vineyards producing some of the best wines in the world.
With the Atacama Desert in the north, the sprawling wine country in the middle and the raw beauty of Patagonia in the south, this Latin gem surely knows how to make a big impression on first-timers and seasoned travellers alike.
If you feel the South America wanderlust kicking in, resist not! Quotient's list of must-do experiences in Chile will get you off to a good start to that amazing journey in a faraway continent.
Also read: Cheapest Way to Get from Asia to South America
1. Hike in the surreal-looking Torres del Paine National Park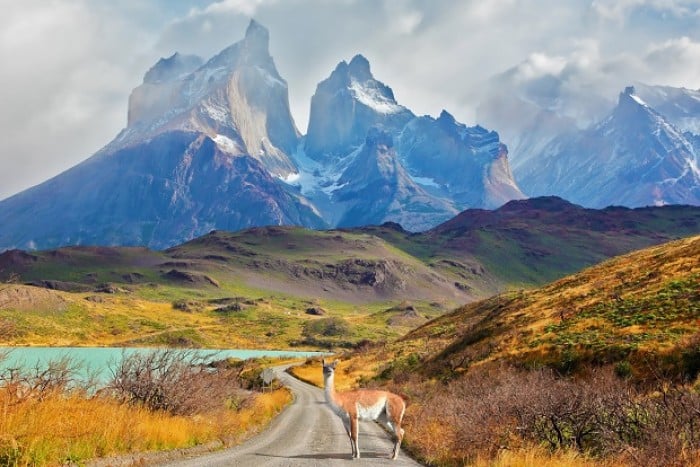 A solitary guanaco roams freely in the beautiful Torres del Pain National Park.
The landscape here is definitely not the barren expanse that covers much of the awe-inspiring region of Patagonia, but a breathtaking meld of glorious glaciers, dazzling azure lakes and craggy snow-capped mountains. And there's more — a raw, thrilling beauty can be felt and seen in Torres del Paine National Park, a remote wilderness, where the puma still hunts, the rivers and lakes are pristine, the forests are lush, and jaw-dropping vistas can be enjoyed at nearly every point along the main trails. With a superb hiking infrastructure, Torres del Paine is an incredibly rich place to explore.
Depending on your fitness level, you can tackle different trails, which will require a few hours to a few days. The most popular remains Mirador Las Torres, two granite pillars, which are mesmerising in shape and appear to dominate the infinite steppe below.
2. Explore the otherworldly Atacama Desert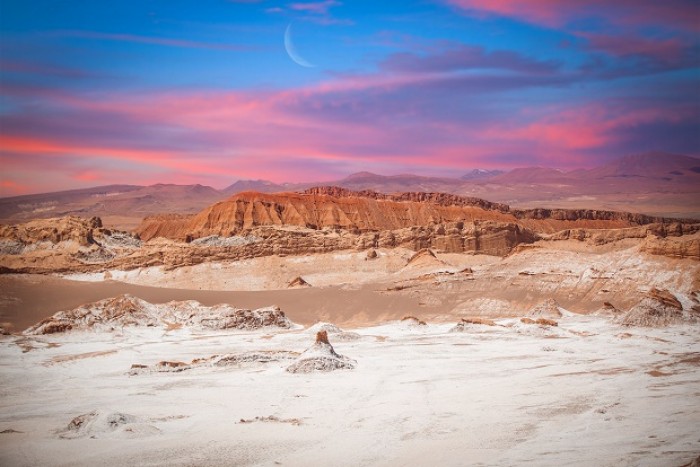 Valle de la Luna or the Moon Valley in the Atacama desert resembles a Martian landscape.
Stretching all the way from the northern coast of Chile to southern Peru, the Atacama is considered the world's driest streak of land. Weird and wonderful, this alien-looking desert teems with salt lakes, exploding geysers, moon valleys, lavender-hued mountains and even Andean flamingos.
For astronomy enthusiasts, this lunar landscape also boasts low-to-zero light pollution and is home to cutting-edge observatories, which allow you to enjoy unobstructed views of the Milky Way.
3. Get your urban fix in quaint Valparaíso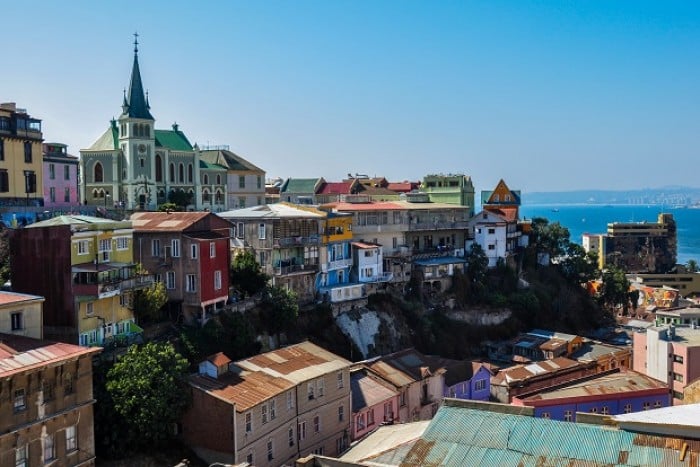 Valparaíso is a vibrant little port town, which brims with art, culture and a rainbow of colourful buildings perched on a hill.
A visually appealing city, the coastal town of Valparaíso or Valpo as the locals call it, needs little introduction. Referred to as "Little San Francisco" thanks to its similar climate, coastal location, historic transit system and funicular, and hilltop neighborhoods, this gem awaits with plenty of street art, a UNESCO World Heritage old town brimming with restaurants and cafes, several small museums and quirky art galleries, and a maze of cobblestone streets, which lure you for long strolls. Besides, the dominant Andes in the distance and the nearby glittering Pacific Ocean are always a nice bonus!
4. Visit world-class wineries in the fertile Central Valley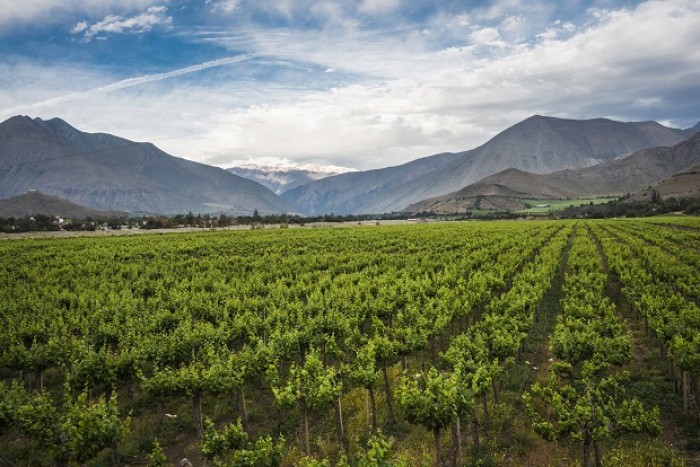 Chile teems with lush vineyards, which produce world-class wines.
Located between the Andes and Coastal Range, Chile's Central Valley is home to fertile lands bathed by swift rivers; this is the heart of Chile's wine country where lush vineyards, bountiful orchards and verdant pastures dominate the landscape. Here, there is plenty of opportunity to taste the delicious wines, from full-bodied reds to refreshing, crisp whites.
In Casablanca Valley, Loma Larga has been the first winery in the valley to plant red varieties such as Cabernet Franc, Malbec and Syrah; over in Colchagua Valley, get a taste of the Chilean countryside and its bounty at Viña Casa Silva, one of the most attractive wineries in the Colchagua Valley, which impresses with the colonial architecture of its old cellar. But before visiting these don't forget to make your appointment!
Also read: 8 Adrenaline-Packed Adventures in South America
5. Take in the tranquility of Lake District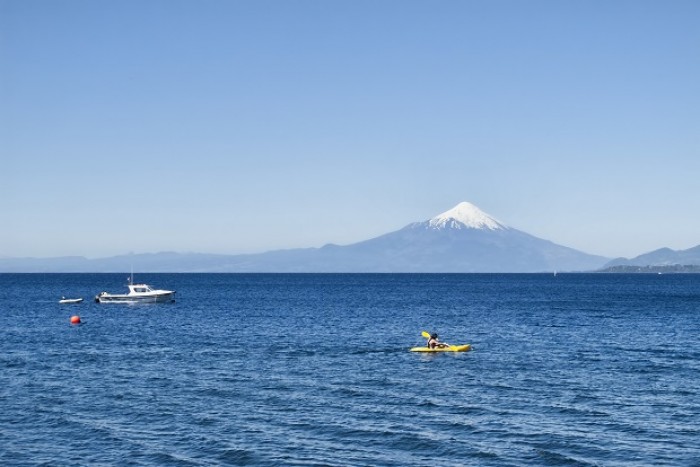 Image credit: CC BY-SA 2.0 (Dan Lundberg, 2013)
Kayakers enjoy a sunny day on Llanquihue Lake as Osorno Volcano looms large in the background. 
Known as the Switzerland of Chile, this scenic region is easily lovable for its slew of shimmering blue lakes, lush valleys, ancient forests and ice-capped volcanoes. Stretching over 300 kilometres from Conception in the north to Chiloe and Chilean Patagonia to the south, this region is a visual and adventure treat for any inquisitive traveller.
For a dose of adrenaline, head to Pucón, which is considered a mecca for adventure sports. While Lake Villarica is the main draw here and attracts kayakers, adventurers also opt for one-day hikes to the lava-fulled crater of Villarica Volcano or activities such as horseback riding, hikes in national parks and visits to hot springs. Over at Llanquihue Lake with Puerto Vara as the largest town on its shore, you will have plenty of opportunities to try canyoning or rappelling through waterfalls, mountain biking, horseback riding, motorbike and quad bike riding, trekking, kayaking and rafting.
Excited to immerse yourself in these scenic experiences in Chile? Take your pick from the destinations above and start building that epic holiday or choose from one of these Ready to Tour packages. Quotient TravelPlanner specialises in bespoke travel, so you can make that desired trip happen according to your preferences. A tailor-made holiday for discerning travellers like you – how great is that?