When fellow friends talk about their travel plans to Japan, Osaka is often overlooked as compared to its popular counterparts, Tokyo and Kyoto. This underrated city, however, has much more to offer beyond its delectable range of local cuisine. The colourful sights and fun activities will definitely be worth a few days in your Japan itinerary!
Here are eight prime attractions that will give you a taste of Osaka's vivid landscape in three days.
DAY 1
1. View the beautiful scenes at the Osaka Castle
Start off your Osaka adventure at the magnificent castle behind the great stone wall. The Osaka Castle is one of the main symbols of Osaka, displaying not just a beautiful facade but years of Osaka's history as well. In autumn, the castle's gardens make for a great spot to catch the scenic foliage. What better way to capture fall's beauty than with centuries-old Gingko trees and the Osaka Castle in the backdrop?
2. Go shopping (or window-shopping) at Shinsaibashi-suji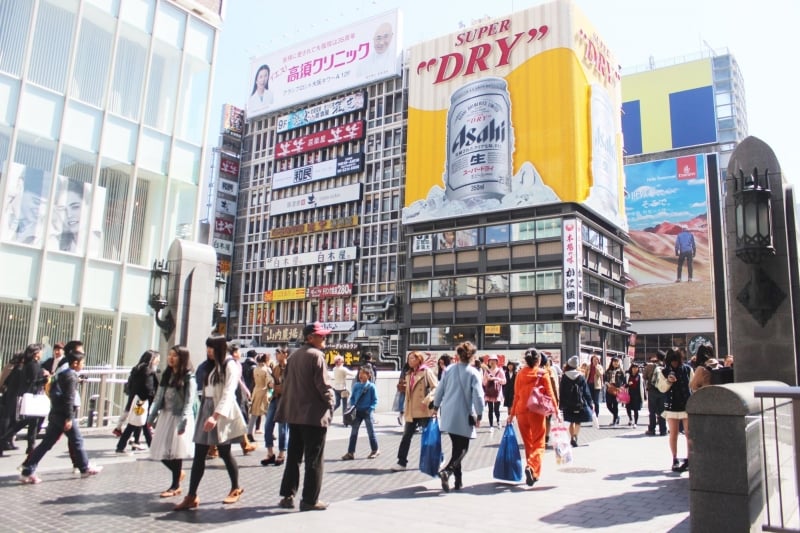 Have your lunch along the shopping arcades of Shinsaibashi-suji. It's the perfect nexus for you to get your hands on souvenirs, local sweets, and some of Japan's latest (and cutest) fashion items. Whether you're an electronic fanatic, a fashion aficionado, a bargain hunter looking to bag goods at only 100 yen, or a lover of local boutiques, there is something for you here. After all, the shopping arcade stretches 600 metres long. If you get weary from all the walking, take a pancake break at one of the dessert cafes along the arcade. You'll find some of the fluffiest pancakes ever.
3. Have a feast at Dotonbori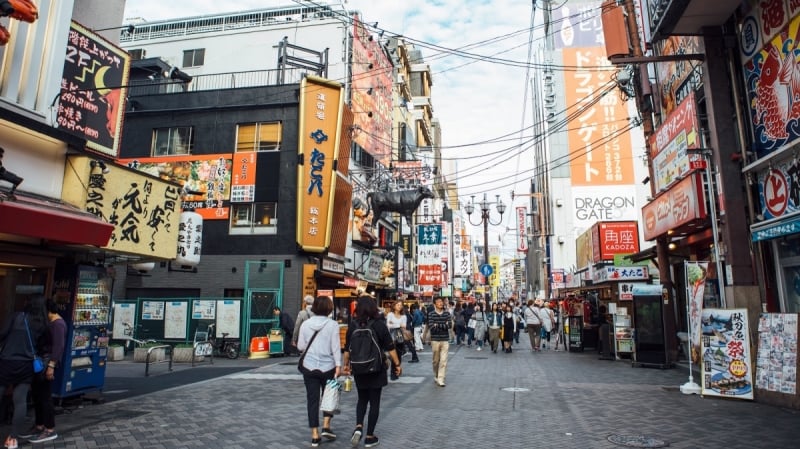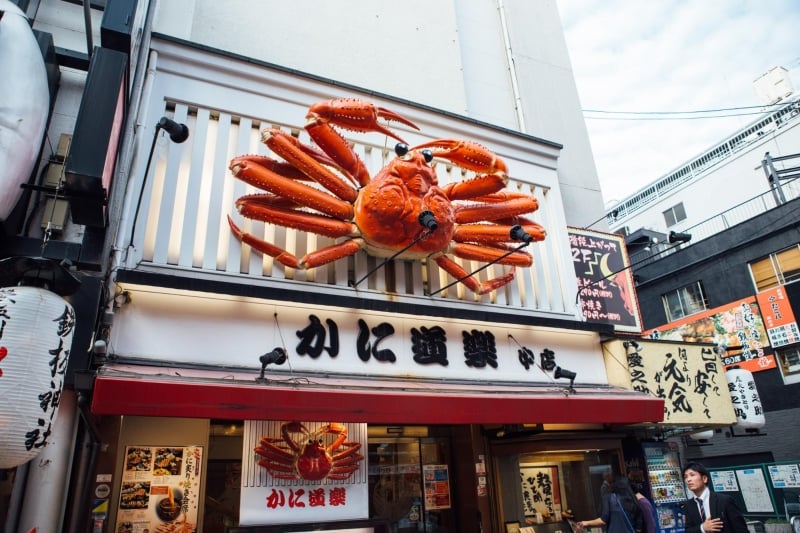 Within walking distance is the immensely popular Dotonbori Arcade, known for its iconic blinking billboards and gigantic signages of food items such as a moving mechanical crab. If there is one place in Osaka that you must visit, Dotonbori would be it. This gastronomical paradise encompasses the full Osaka experience with its streetside stalls, snack shops, bars and restaurants. Takoyaki, okonomiyaki, kushikatsu, gyoza, shabu-shabu – you name it, they have it. If having a feast for your bellies isn't enough, the showy neon lights at night will also make for a stunning visual treat.
DAY 2
4. Have a 300 yen lunch at the Instant Ramen Museum
This is Japan, the world of ramen. So don't miss the opportunity to create your own ramen! Start off your second day at the Instant Ramen Museum where you can choose your favourite flavours and fillings for a quick meal. You can even design your own ramen cup! All that for just 300 yen – talk about an affordable meal. The entry to this interactive museum is free, making it ideal for travellers who are looking for activities that don't require a penny (or yen) in Osaka.
5. Go back in time at the Osaka Museum of Housing and Living
Even if history wasn't exactly your favourite subject, looking at how Osaka was in the late Edo era might still be interesting. This museum showcases Osaka's streets and the local's way of life back in the past. Visitors can also rent a yukata in the museum for a picture-taking session against the rustic backdrop!
6. Dine at an izakaya or eat kushikatsu in Shinsekai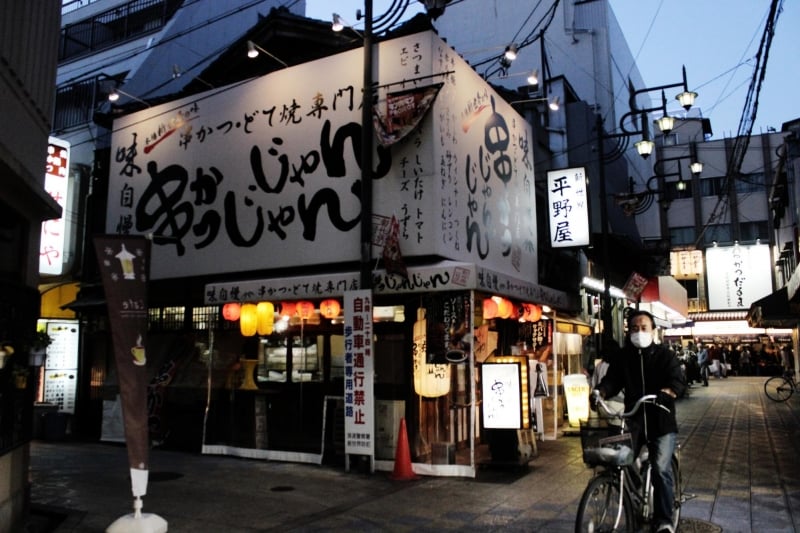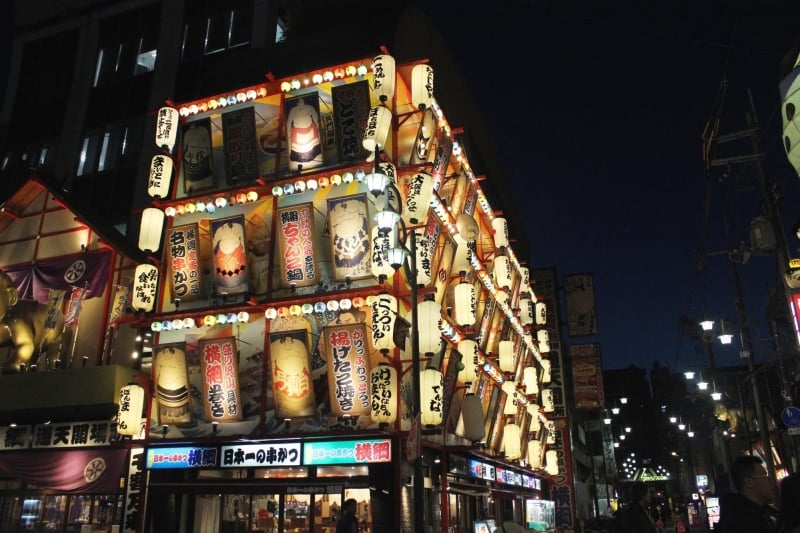 Directly translated as "new world", Shinsekai is a neighbourhood district that is home to Tsutenkaku Tower, the huge bath complex SPA World, and an abundance of eateries that serve Osaka's highly-raved deep fried battered skewers, kushikatsu. Many blue- and white-collar workers have their dinner along the stretch of izakayas in Shinseikai. The izakayas here are usually more affordable than those in the popular districts such as Dotonbori and Shinsaibashi.
7. Unwind at SPA World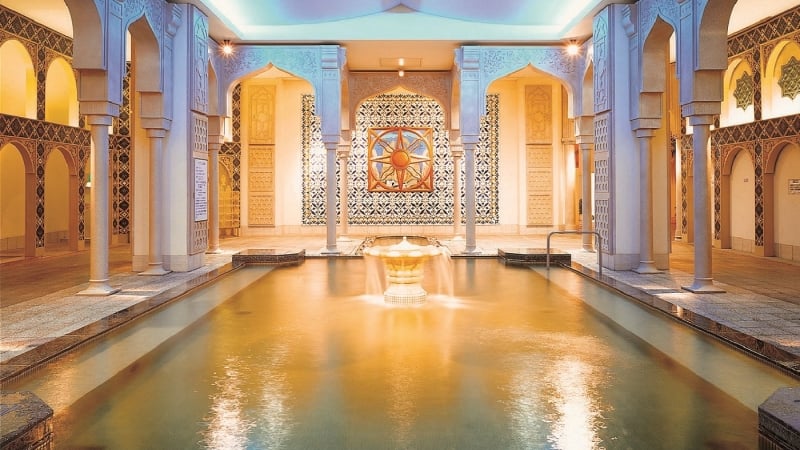 End off your second day with a relaxing bath at SPA World. You can't say you've fully experienced Japan if you haven't tried their one-of-a-kind onsen baths. SPA World has a variety of themed baths, from Japanese wood style baths to an Ancient Rome styled jacuzzi. They also have open-air bathing areas that make for a rejuvenating hot springs experience, especially during the colder seasons.
On top of that, SPA World is home to a gym, a swimming pool, and a children's play area. At about approximately 1,000 yen (the entry fee varies depending on the campaigns running), you get unlimited all-day access to the baths and all its facilities! The public bath operates 24/7, so if you're looking to soak late in the night (which is nothing out of the norm for visitors at SPA World), consider staying at their hotel which overlooks the Tsutenkaku Tower, or at a hotel around Shinseikai.
DAY 3
8. Unleash your inner child at Universal Studios Japan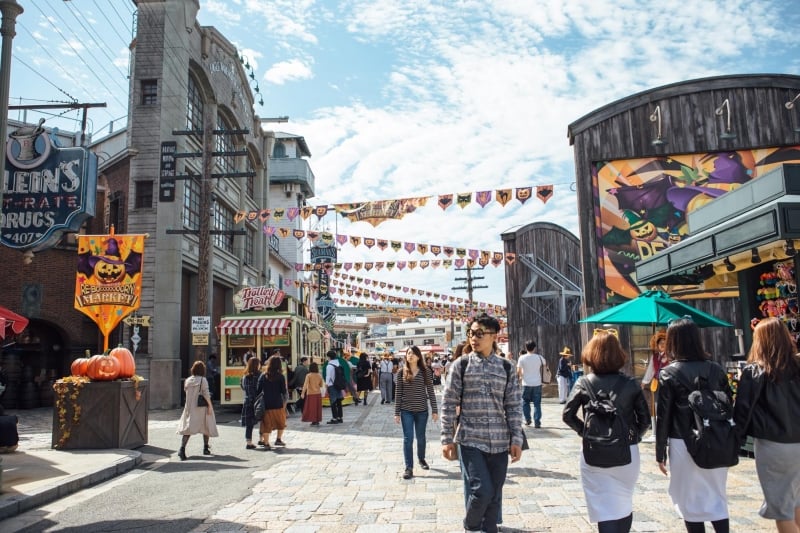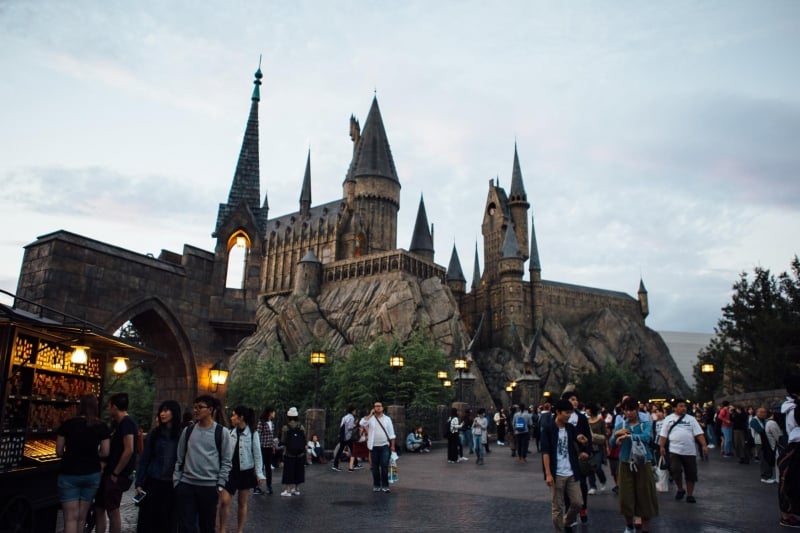 This theme park has been critically acclaimed as one of the top few theme parks worldwide, and if you're looking to please the dreamlike fantasies of the child in you, look no further. I mean, have you seen just how The Wizarding World of Harry Potter looks like in USJ? Harry Potter fan or not, you will love the whole atmosphere that is unlike any other part of Japan you've seen. Other top thrill rides include Hollywood Dream, Jurassic Park, and Space Fantasy. USJ is so breathtakingly huge that it is almost impossible to cover it in a day! Start here early to make the best out of your time, and consider getting an express pass to cut some queues.