Until recently, the island of Borneo had been densely covered with pristine rainforest. Tragically, in the last few decades, the island suffered devastating environmental damage and this natural wonderland is being destroyed at a frightening pace. The 1980s and 1990s saw logging on an unprecedented scale, and numerous fires have been used to clear vast tracts of jungle thereafter. Today, deforestation continues unabated and precious rainforest is relentlessly being replaced by endless palm oil plantations, eradicating the natural habitat of the unique creatures once found there.
Despite the destruction, Sabah continues to retain some corners where the jungles still stand and the animals still roam. In this second part of our feature on East Malaysia, we head into the heart of Sabah in search of the final pockets of wilderness where visitors can still see Malaysian Borneo as it once was.
Although it is possible to enter Sabah from Brunei or Sarawak by road, the easiest way in is to catch a flight to the state's capital, Kota Kinabalu. Even though Kota Kinabalu lacks the charm of its Sarawakian counterpart, Kuching, it is nevertheless an ideal location for organising numerous outdoor activities, including diving, beach trips and fishing. There is also an eclectic selection of food options which reflects Sabah's diverse population — you can find restaurants serving the usual Chinese and Indian cuisine as well as more exotic fare from places like Indonesia's Sulawesi.
Also Read: Exploring Sarawak: Attractions to Visit and Things to Do
Kota Kinabalu: The gateway to Sabah and the mighty Mount Kinabalu
Kota Kinabalu, meaning "Kinabalu City" in Malay, is renowned for being the gateway to the mighty Mount Kinabalu. As its name suggest, the city was named after this very mountain. Easily accessible from the city by mini-van, Mount Kinabalu is the highest peak in Malaysia and one of Sabah's preeminent tourist attractions. First glimpses of the Mount Kinabalu are awe-inspiring as its peaks seem to rise up almost interminably into the clouds. The UNESCO-listed mountain also stands at an estimated 4095m and is home to a range of flora and fauna, including the Rafflesia, pitcher plants and orangutans – although climbers are extremely unlikely to see the latter during the climb.
While the fastest recorded ascent to the peak is 2 hours 44 minutes, most climbers typically take two days to reach the top and return to base camp. The most common route involves staying overnight in the Laban Rata Resthouse at 3270m, followed by a final scramble to the summit the following day. The climb is suitable for anyone with good physicality and does not require any special equipment. As a result, despite being the tallest mountain in Malaysia, many have claimed that it is, in fact, a much less demanding climb than The Pinnacles in Sarawak's Gunung Mulu National Park.
Do note that all climbers must be accompanied by an official guide and there is a limit to how many permits are issued per day. The mountain can be fully reserved up to several weeks and anyone who plans to make the ascent should reserve early in advance.
Ranau: The town for spotting Rafflesias
After conquering Kinabalu, visitors can head inland in search of Sabah's natural treasures. On the road to the town of Ranau, one cannot help but notice the depressingly apparent environmental damage the state has suffered. What used to be hills and valleys covered in dense rainforests and teeming with wildlife are now replaced with miles and miles of monotonous palm plantations. Undoubtedly, this spells an ecological disaster for what was once an important region for biodiversity.
Stopping over for one night at Ranau also offers visitors an opportunity to head into the countryside in search of Rafflesias, giant parasitic flowers that grow only on certain host trees. When the flowers open, they release a pungent odour resembling rotting flesh, thereby attracting flies and other insects who will help with its pollination. These flowers only bloom for a few days and can thus be quite difficult to track down.
Locals are encouraged to advertise if they find a blooming Rafflesia on their land. They are also allowed to charge tourists a small fee to see them. Although this is not quite the same as seeing one in the wild, it may be the visitor's best chance to see the flower in person. Furthermore, this also helps to protect the species since locals will view Rafflesia flowers as a potential source of income instead of as a pest that would otherwise be removed. 
Sepilok: The home of an orangutan sanctuary
From Ranau, the road leads through more expanses of palm plantations before reaching the Sepilok Orangutan Sanctuary in Sandakan. A visit to Sepilok, one of Sabah's well-known attractions, will allow visitors an intimate interaction with rescued and orphaned orangutans.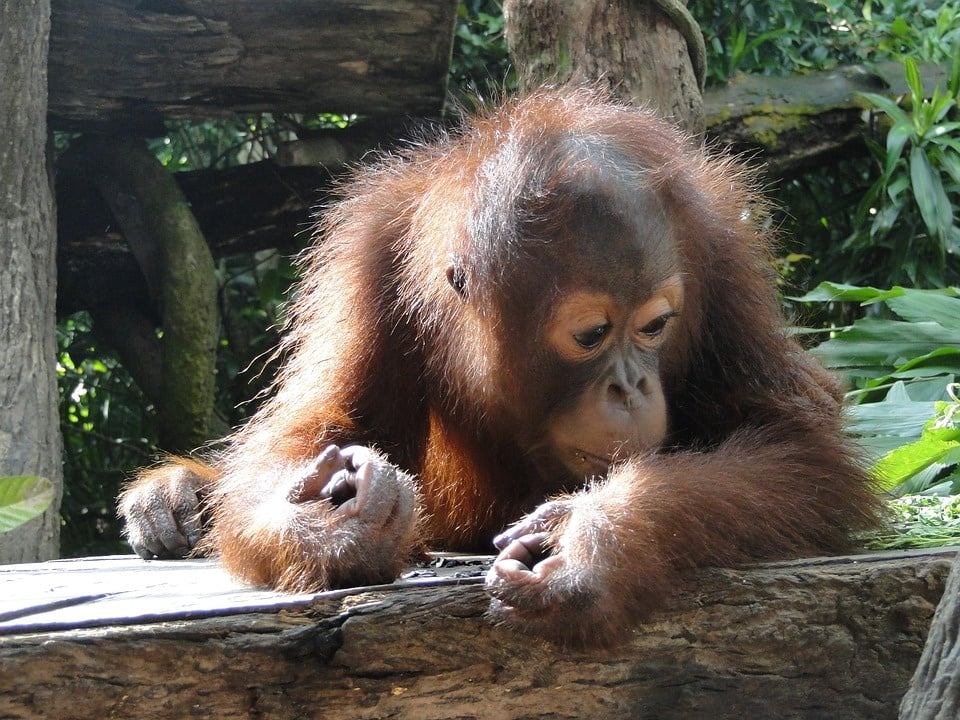 Increased deforestation, coupled with rampant illegal animal trade has resulted in the death of many adult orangutans, with its infants sold on as pets. At Sepilok, these injured and orphaned orangutans are taken in for treatment and rehabilitation. Orangutan babies are also taught skills required for life in the jungle and once they are old enough, they are released back into the wild.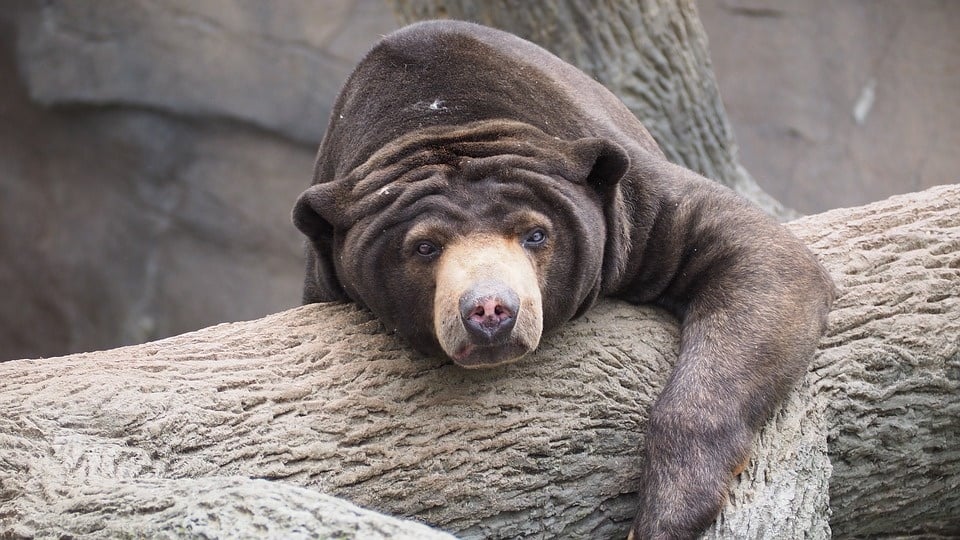 Next to the Orangutan Sanctuary is a Sun Bear Rehabilitation Centre dedicated to the rescue and care for of sun bears. Sadly, the world's smallest bear is often captured and farmed for its bile, an ingredient which Chinese medicine values. When you visit, be sure to look out for a troop of mischievous wild macaques who regularly steal food from these adorable bears and loves to terrorise visitors at the bears' enclosures.
While you are there, you should also make an excursion to the Rainforest Discovery Centre that houses canopy walkways and watchtowers. From those viewpoints, you stand a good chance of seeing several different species of hornbills and – if you are very lucky – wild orangutans. 
Kinabatangan River: The spot for wildlife cruises
Continuing south from Sandakan brings you to Kinabatangan River. A clutch of guesthouses lines the river, each offering wildlife-spotting cruises at varying times of the day. Participants will be amazed by how acute the senses of these cruise guides are – they can spot a resting monitor lizard camouflaged in a tree! Notably, the protected forests in this area contain one of Borneo's highest concentrations of wildlife so visitors may spot various species of hornbill flying overhead and even the endangered proboscis monkeys swinging on treetops. However, as with any wild animals, there is no guarantee you will see them and you will need to have luck on your side.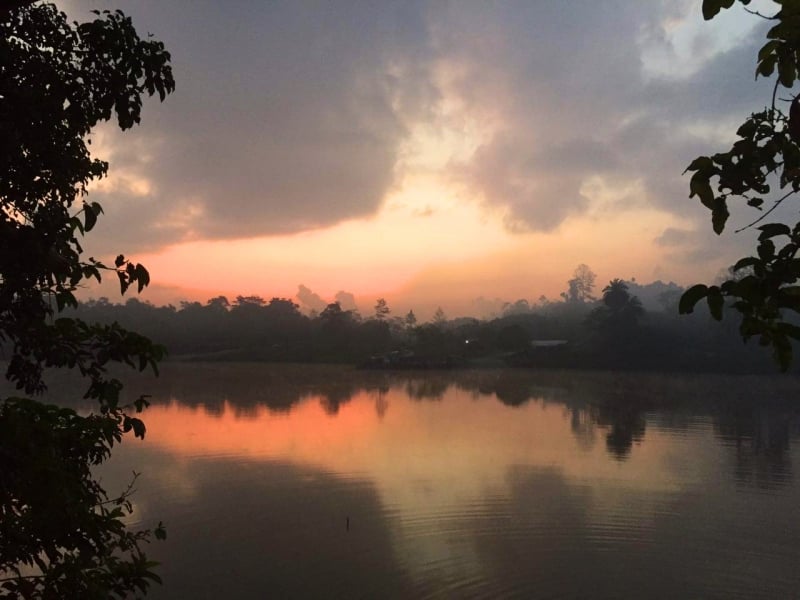 Perhaps the most exciting trips are at dawn and dusk when it is possible to see giant saltwater crocodiles sleeping on the mudbanks, as well as other nocturnal creatures such as the rare and elusive slow loris. Being out on the river after dark in a small boat knowing that four-metre crocodiles might be swimming below is an exhilarating if unsettling experience.
Sipadan Island: The paradise for diving enthusiasts
A short journey southwards to Semporna will lead you to Sipadan, one of the world's most famous and most spectacular dive sites. Travellers who make it as far as this remote spot will be rewarded with an amazing opportunity to dive with a multitude of reef fish, witness huge schools of barracuda and even swim with white tip reef sharks! One might even catch a glimpse of larger pelagic species, including manta rays, hammerhead sharks and whale sharks, all of which pay sporadic visits to the island.
It was once possible to stay on Sipadan. However, the island's resorts are now closed to preserve the area and dive trips are organised from Semporna. Do note that only a limited number of dives are allowed per day at Sipadan – if you don't book ahead, you should expect to wait several days before your turn! However, there are other lesser-known dive sites in the area that you can check out in the meantime. Be warned though that this area of Sabah is considered to be at an elevated level of terror alert as terrorists are known to be active here. However, if you stay in the main tourist areas, you should have little to worry about.
Back to Kota Kinabalu
Having taken in everything that Sabah has to offer, it's time to make the long journey back to Kota Kinabalu. As you travel back, spend ample time reflecting on the wonders and diversity of the natural world which you have just witnessed. As your transport passes through the never-ending palm plantations, you might find yourself contemplating how it is possible that, through selfishness and greed, we can allow the natural treasures of our planet to continue to be lost in such a tragic way.