I only spent a weekend in Penang, but during my 3 days there, it felt like I ate my way through the whole state. We were eating from the moment right we checked into our room up to the time we boarded the plane for home. We tried to sample as much of Penang's famous street food as we could, but even between the two of us we still missed out many dishes. We ended up eating some non-typical Malaysian cuisine as well.
There's an extensive map and listing of food places in Penang that you can pick up at the airport. Lucky for us, Karen from our guesthouse, Mango Tree Place gave us their own guide to food and amenities around the area.
Here's what we ate and where you can find it.
Apong @ Apong Guan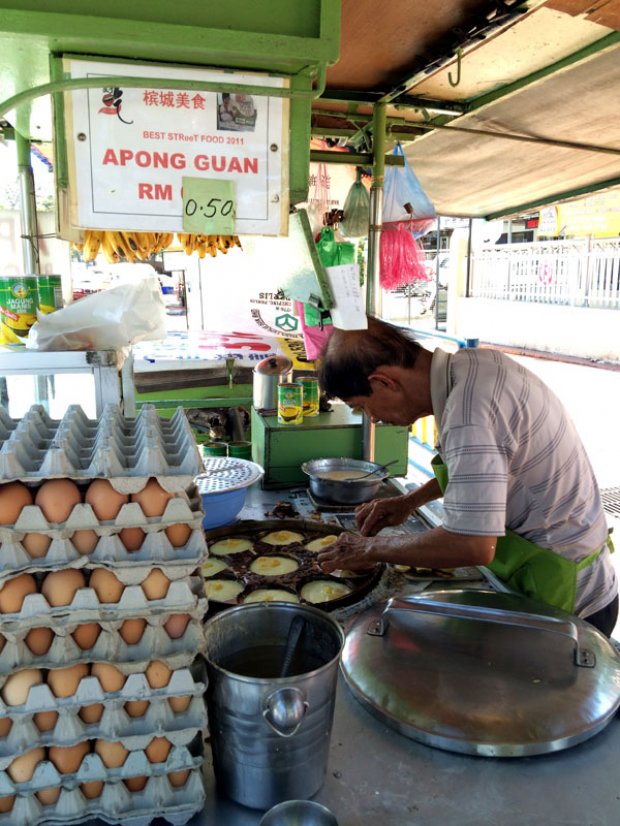 Apong is a little pancake-like food with egg, flour, coconut milk and some banana and corn bits. Uncle Guan, as the store is named after, is preparing several Apong in the picture above. He's has been operating out of his little pushcart store for a long time. It is along Jalan Burmah, right at the junction of Jalan Phuah Hin Leong, outside Union Primary School. You have to wait patiently for him to be done because it's all freshly made, and he was a little bit cranky as we only bought 1pc each – most people go away in batches of 10 or more!
We took a long, sweltering walk down Jalan Burmah and turned onto Lorong Selamat. Take a walk down the road and you should come to this bunch of pushcart stores in Lorong Selamat Hawker Centre (84 Lorong Selamat). This hawker centre seems to attract some famous people because there was a whole collection of photos up on the wall. We sat inside Kedai Kopi Dan Ice Kacang and ordered a whole bunch of food: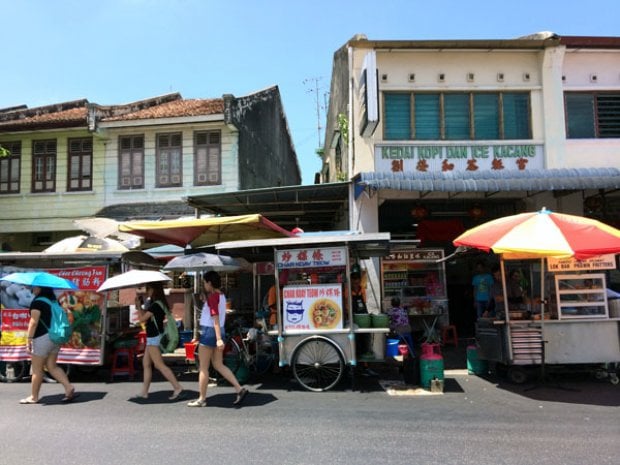 Char Koay Teow @ KTG Char Koay Teow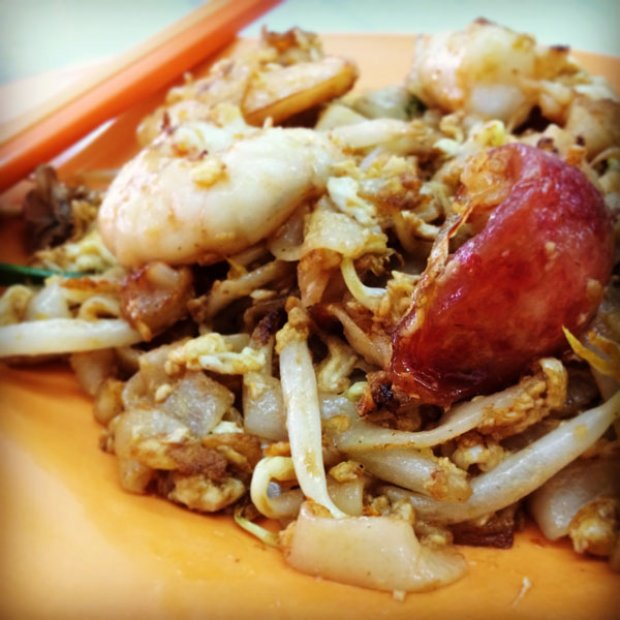 I thought this was that famous one with the lady in the red hat who had a big attitude problem that everyone kept talking about, but apparently there are more than one Char Koay Teow shops here. KTG however is still quite famous, and while the noodles weren't that cheap (RM 8.50 for a medium portion), they were really quite good. It was my favourite dish for lunch – very tasty and just the right amount of spiciness without being too spicy.
Fruit Rojak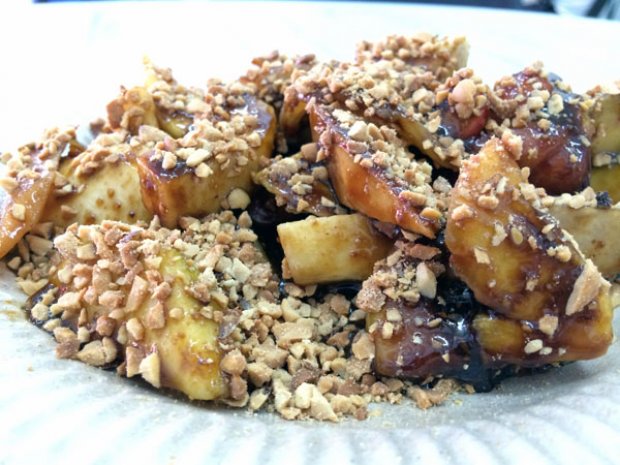 You might be familiar with Indian Rojak, but this is not quite the same thing. I prefer to call it fruit rojak where various slices of fruits are coated with a thick sweet sauce and chopped peanuts. For RM 6 it was quite a sizeable dish.
Chee Cheong Fun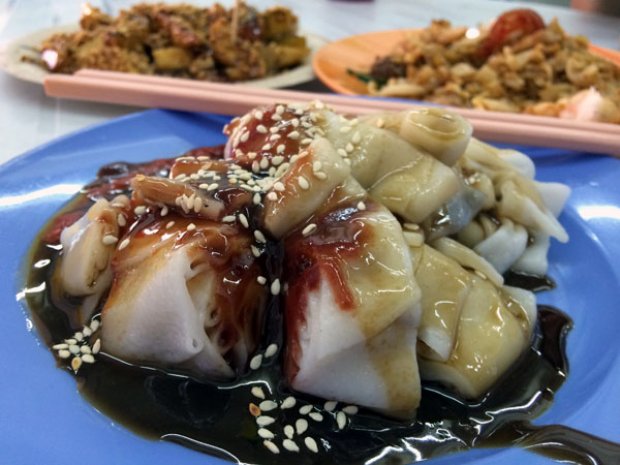 Chee Cheong Fun can be done several ways – this Penang-style Chee Cheong Fun takes thin rice sheets, rolls them up with a sweet and spicy prawn paste, before finishing with a thick sweet sauce and sesame seeds. I personally like the Hong Kong style best, with super thin rice sheets and char siew or prawns. I am not a fan of the weird sweetness of this style!
Ice Kacang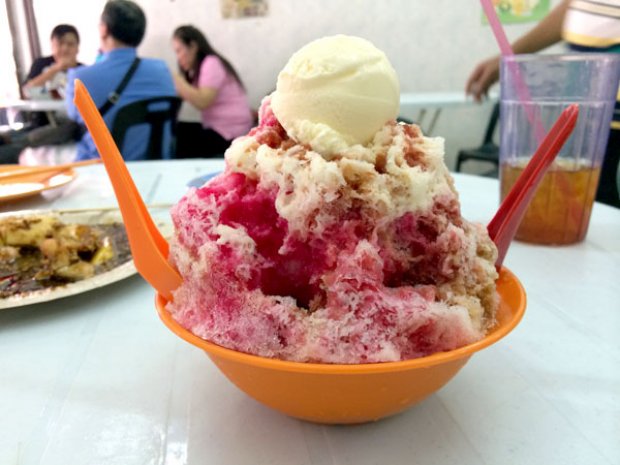 We ordered this after our 3 dishes and it was such a relief wolfing down this cold dessert on a hot day. Ice Kacang is basically a pile of shaved ice covered with syrup, condensed milk and gula melaka,red bean, corn and atap chee. This special bowl comes with a scoop of vanilla ice cream.
After a good lunch, we walked around the George Town area and ended up in a café called The Dine. I am not going to  write much about the place because I was not than impressed by their poor service.
We headed back to the guesthouse to refresh before heading out to dinner. We walked towards Jalan Sultan Ahmad Shah and ended up at Northam Beach Cafe (58 Jalan Sultan Ahmad Shah, open daily from 6 to 11pm but closed on Tuesday), a hawker centre located right on Penang's coast with a nice view of the sea. This time I did the ordering and here's what we ended up with: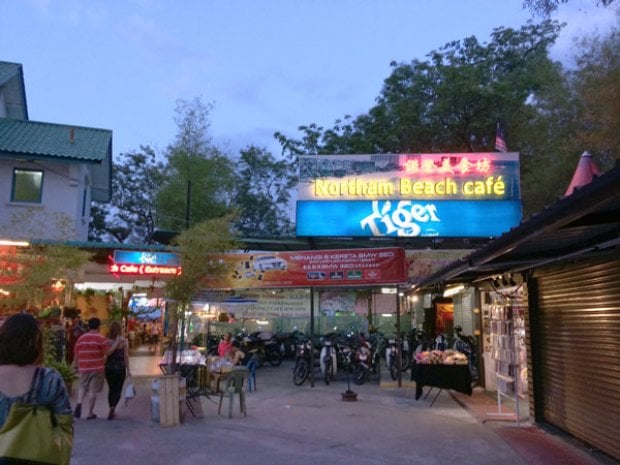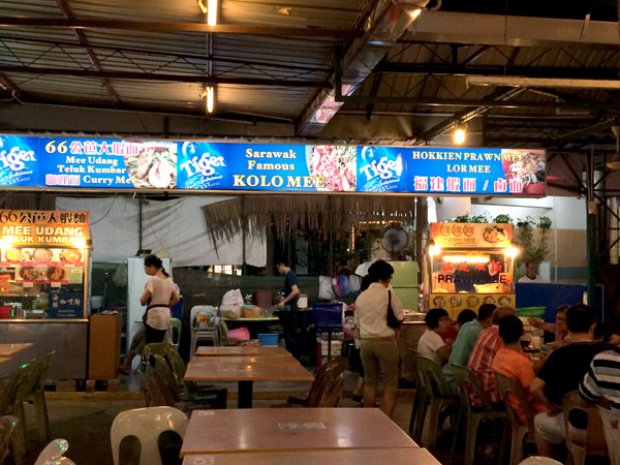 Mee Udang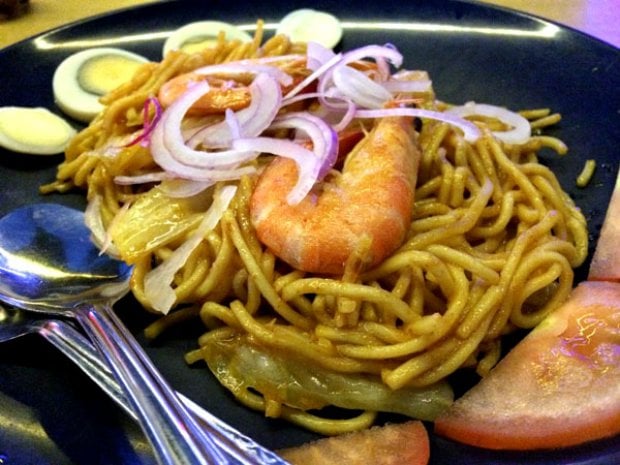 This dish of dry noodles is apparently a speciality of the Udang folk. It looks like an Asian version of spaghetti. The dish was decent, the prawns were nice but it was a bit too much for one person to finish.
Hokkien Prawn Mee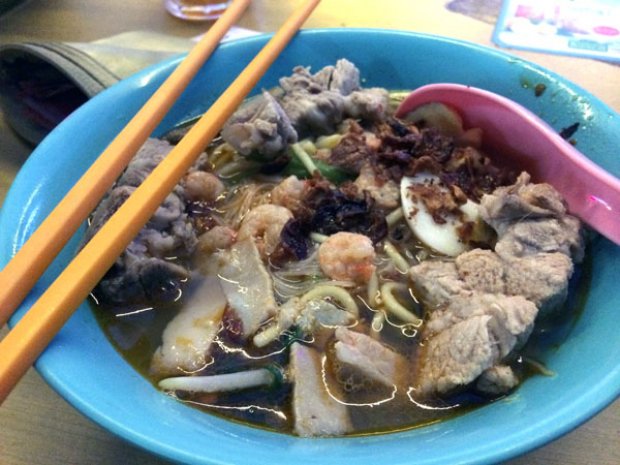 Two stalls away from Mee Udang was the Hokkien Prawn Mee store. It came with small shrimps and pork ribs. You have the option to add more ingredients if you pay a little more! Fairly simple noodle soup dish but quite tasty.
Still feeling peckish, we took a cab ride over to Jalan Gurney Hawker Centre (Anjung Gurney), which is a sprawling area of hawker food stalls. We were not hungry so we settled for snacks instead. Do take note that some of these tables are owned by specific stalls, so you have to order food or drinks from them if you want to use that table.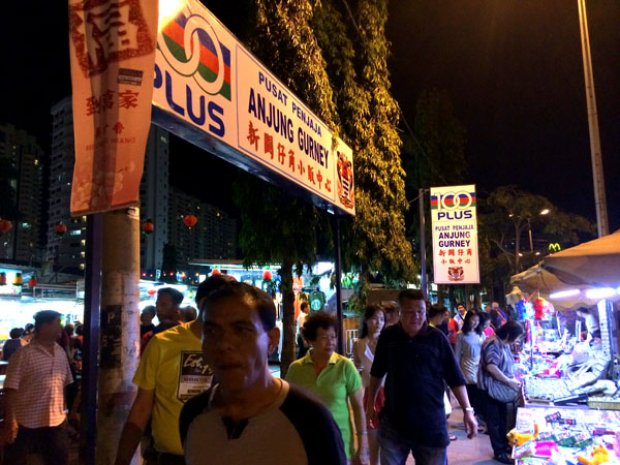 Muah Chee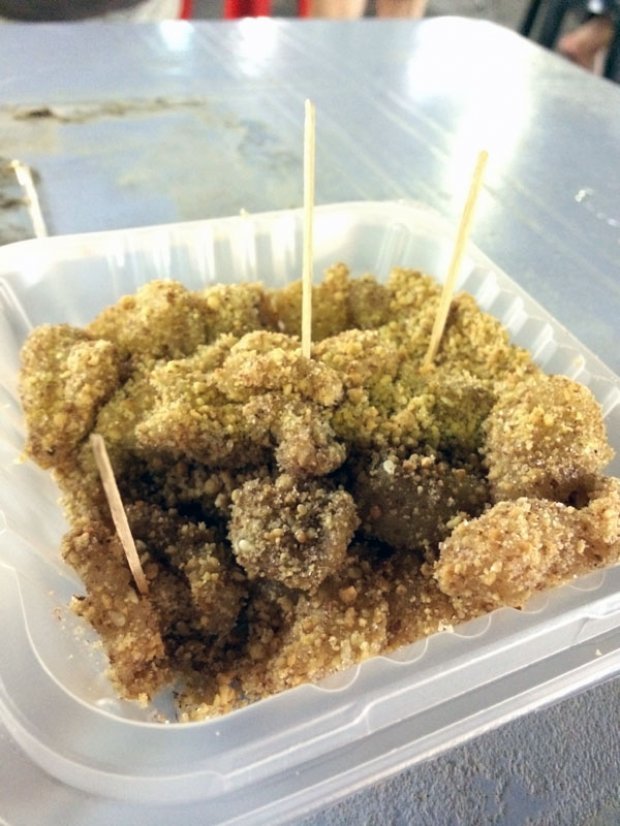 Muah Chee is different from the more popular cousin Mochi – it is a sticky glutinous dough that's rolled in crushed peanut sugar. Quite a yummy snack and surprisingly filling.
Cuttlefish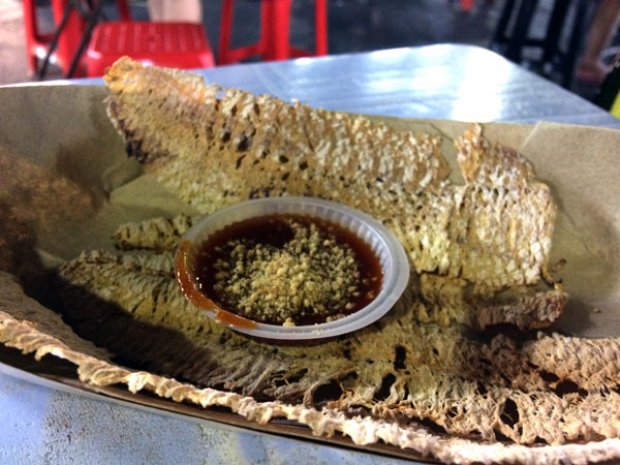 Fried cuttlefish when done well can be really addictive, but this one was not that good and the sweet sauce not really to my liking.
The next morning we were all ready for more food. First we headed down to Occupy Beach Street, which is a little weekly affair where they close off a portion of Jalan Pantai  and Beach Street and lined up the little stalls. It was like a mini fun-fair atmosphere. It's just a small stretch so you can finish walking it quite quickly.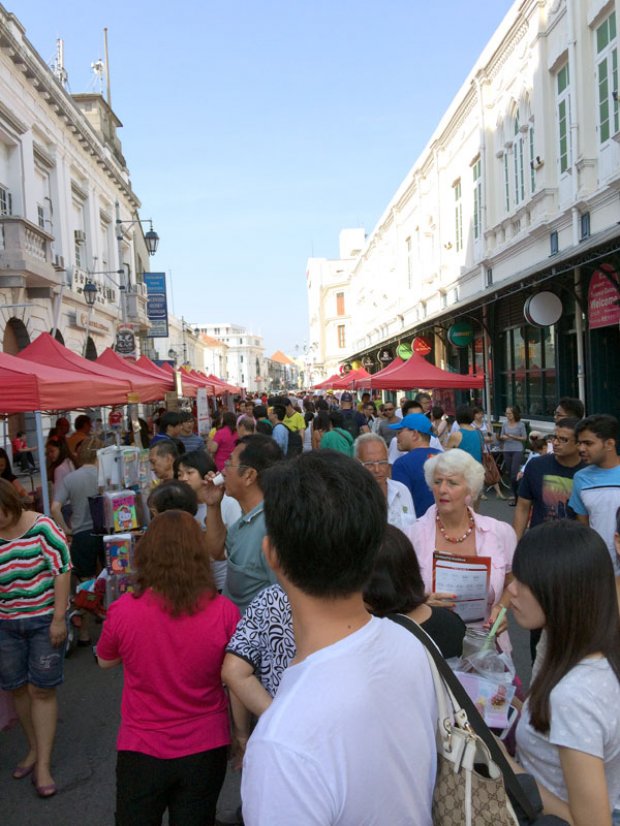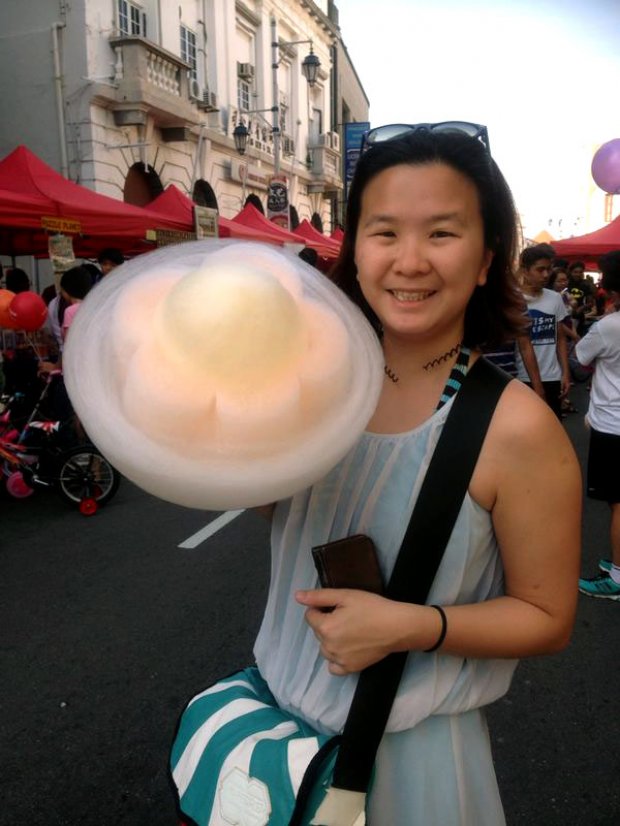 The flower-shaped candy cotton candy was a fun treat. It was pretty sticky and gets on everything.
After that we headed into Georgetown and went street art hunting, we ended up spending a lot of time Armenian Street.
Ice Ball @ 70′S Ice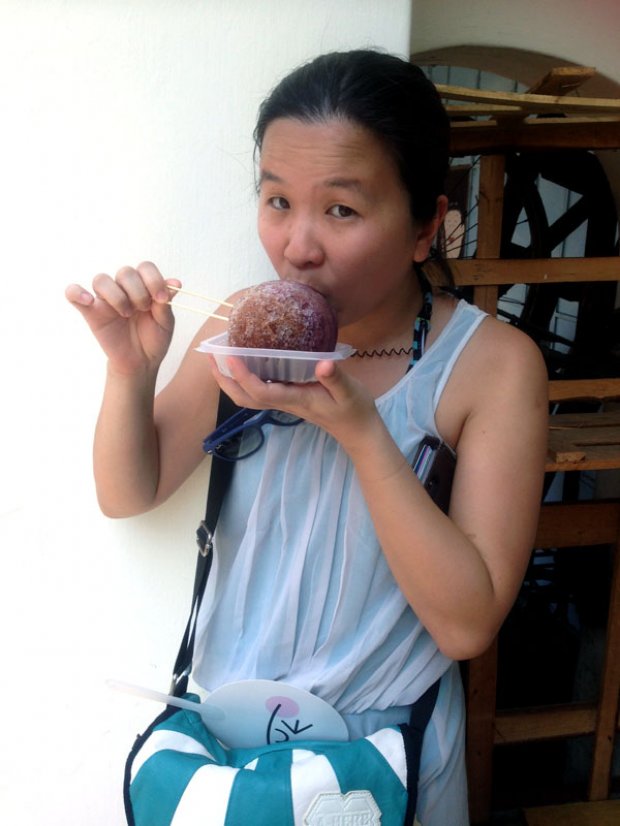 This classic snack was once a mainstay in Singapore but you can't get it any more! It's basically crushed ice shaped in a ball and covered with flavoured syrup which is served up in a little plastic tray with 2 satay sticks, which you slowly rotate and suck on. My iceball was Sarsi and Ribena flavoured, and a huge relief from the heat. Look for the little 70′s Ice stall at the junction of Lorong Soo Hong and Armenian Street in front of Street Art House.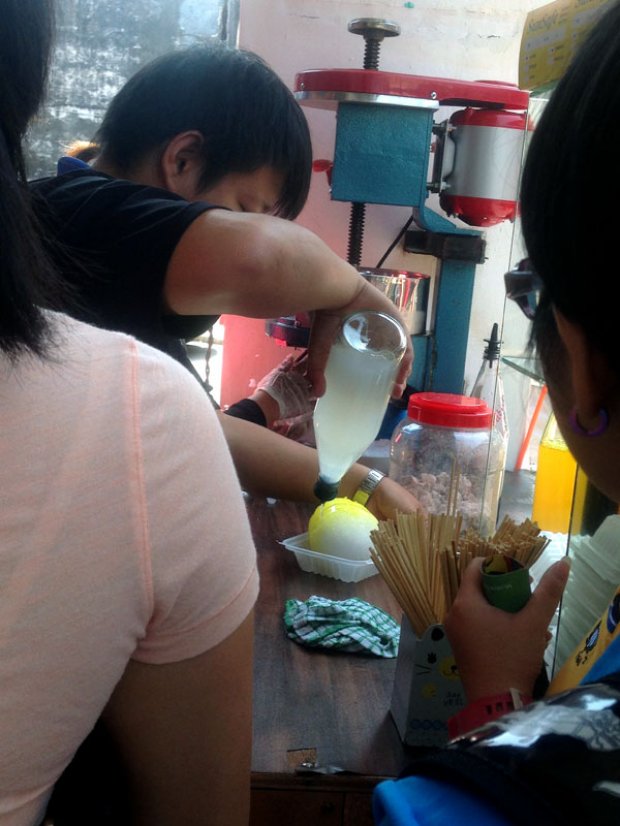 We took a detour from Armenian Street and headed to China House along Lebuh Pantai, a refurbished old shophouse which has been converted into a rather hipster eating place and perhaps the longest cafe ever. The food there was decent though it was the most expensive meal in Penang (about RM 99 including non-alcoholic drinks). The main course was approximately RM 30 and you can get drinks at the bar or pop upstairs to view some art piece. It was a nice respite from the sweltering heat.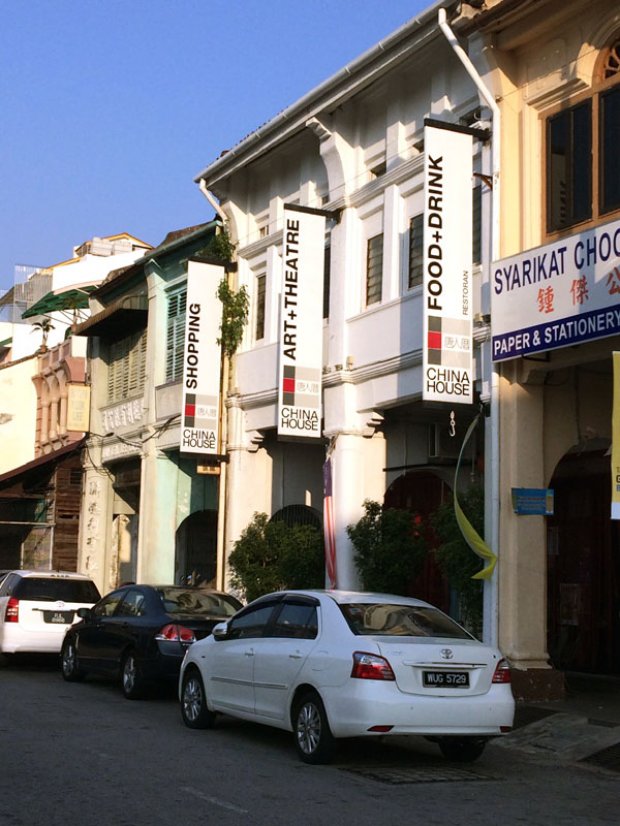 Western Food @ China House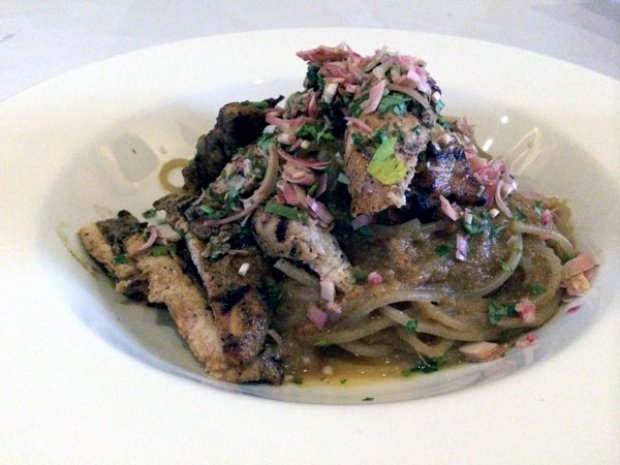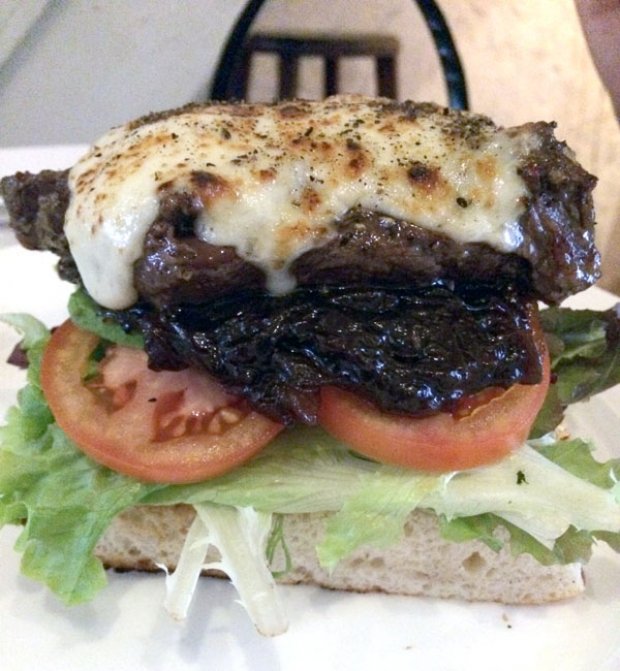 We headed to Enso spa later that afternoon, followed by dinner at the nearby Bali 77 hawker centre along Jalan Burmah.
Sliced Fish Porridge 
Nothing particularly revolutionary, but the porridge was tasty and a really huge portion!
Lor Bak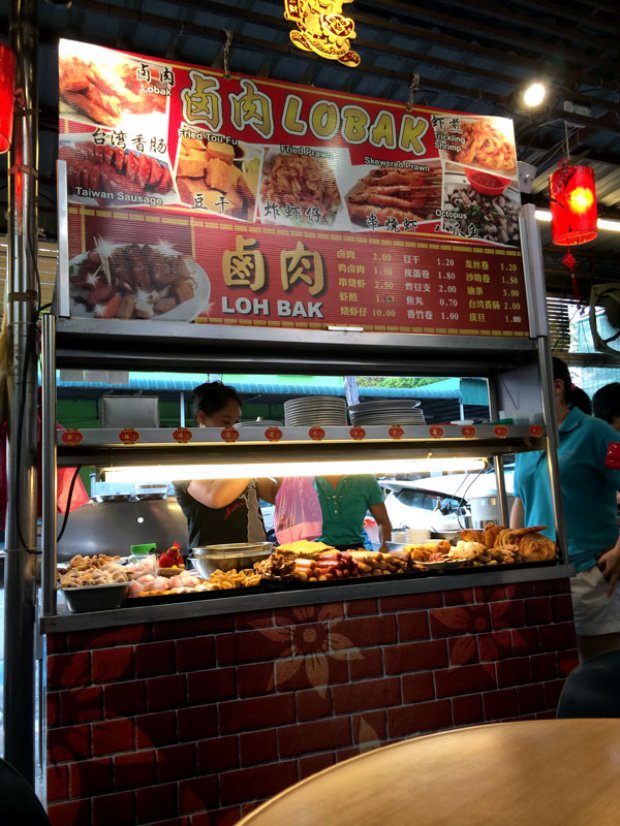 Lor Bak is usually referred to as Ngoh Hiang in Singapore which is minced meat in soybean skins. In Penang Lor Bak is just one of the ingredients from a whole selection of deep fried that you can pick and dip in a sweet sauce to eat.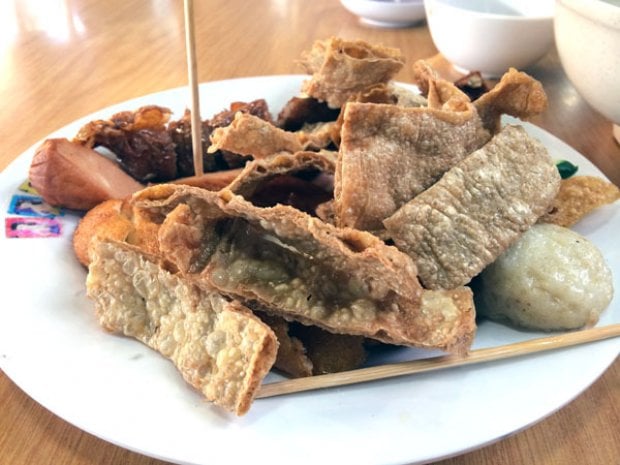 Later that night, after visiting Kek Lok Si and Penang Bridge, our taxi driver brought us to a hawker centre along Jalan Macalister for a quick supper.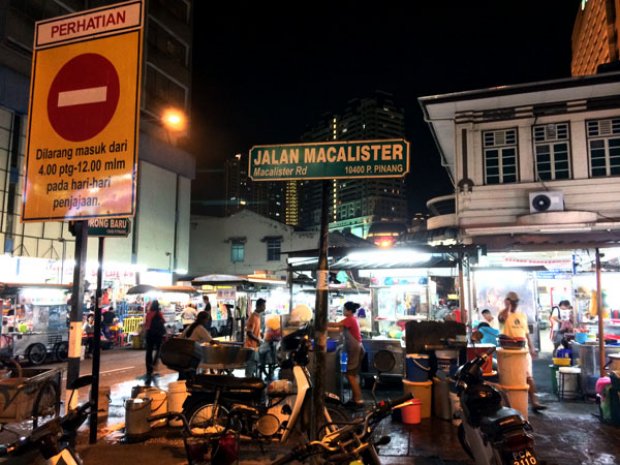 Char Koay Kak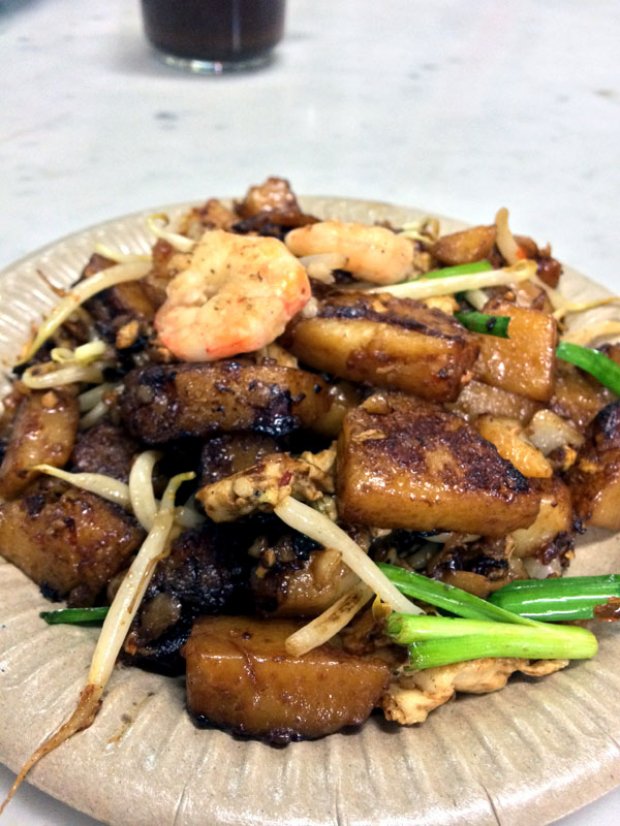 Char Koay Kak is known as Chai Tow Kuay in Singapore or Carrot Cake. Rice cakes with radish, bean sprouts, prawns, egg and topped off with chilli. You can usually find it in Singapore or Malaysia either doused in dark sauce (black) or no sauce (white). This one was not bad.
Lor Mee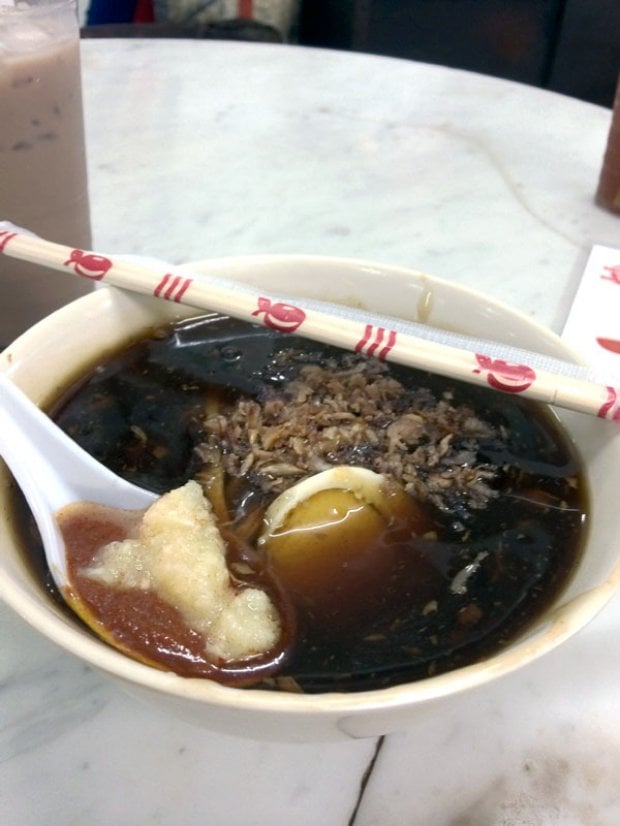 This noodle dish is distinct because of its 'lor' or the dark sauce gravy that the yellow noodles are soaked in. Mix in some fried shallots, ginger and chilli and you have a yummy dish, this one was just okay.
On our last day we booked a table at the Eastern and Oriental for the high tea brunch. It's a place that reminds me of Raffles Hotel in Singapore. After a whole weekend of hot stuffy hawker centres, being in a nice air-conditioned and quiet dining room was quite the change! Although it was not particularly Penang local cuisine but for a fancy hotel tea it was quite affordable. High tea in Singapore would easily cost 2 times the price. The high tea was RM 65 per person inclusive of taxes.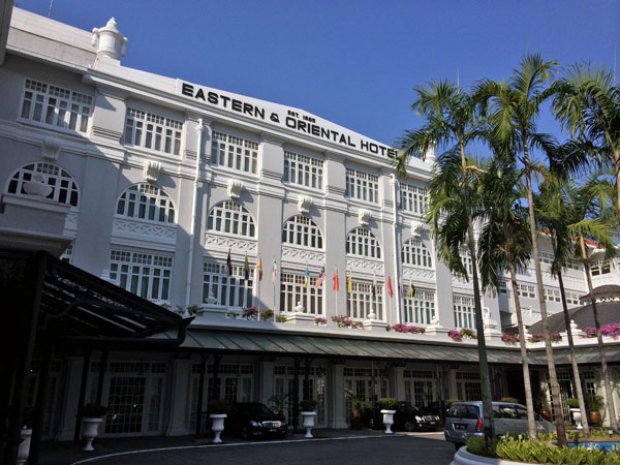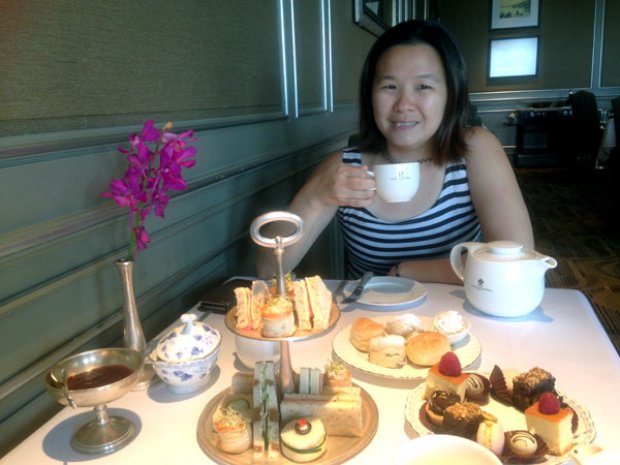 We brought a little bit of Penang back with us – MyKuali Penang White Curry Mee is a very popular souvenir for tourists. Some tourists even bought entire cartons of it! They tend to be sold out at supermarkets so grab yours once you see them. You can try to get them at smaller shops, who have marked up the prices significantly. The Mee is usually RM  6.90 but we bought ours at RM 8!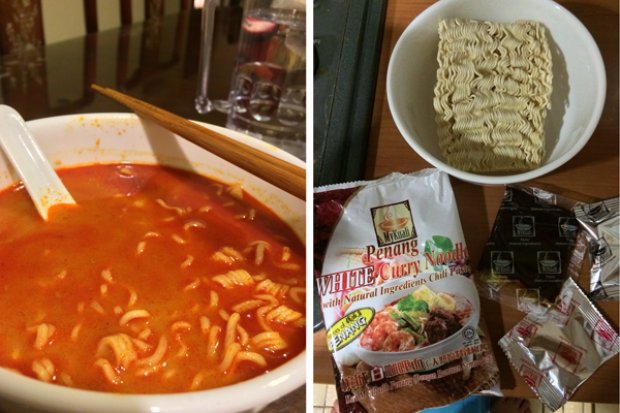 There's a lot more food that missed, like the Penang laksa, koay teow tng, curry mee and chendol. This just means I need to go to Penang again!
Contributed by The Occasional Traveller.