With over 7,000 islands, there's no need to travel out of the Philippines to look for the perfect spot for your pre-nuptial photoshoot. Be it a secluded beach or a mesmerizing ruin, there are tons to choose from.
Soon-to-be married couples only need to search their own backyard to find the pre-nuptial photoshoot location of their dreams.
Also read: Where to Go In Hawaii For Your Pre-Wedding Shoot, Wedding, Honeymoon & More!
1. Fortune Island, Nasugbu, Batangas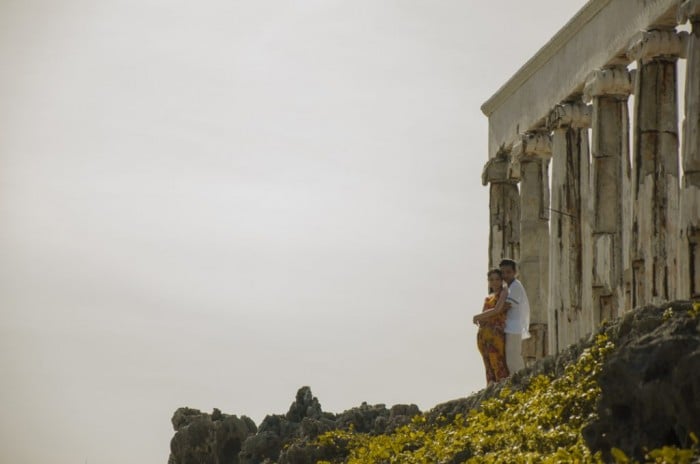 Image credit: Chasing Trails and Tales
Want a Greek-inspired pre-nuptial photoshoot? You don't have to go all the way to Greece for that, you only need to visit Fortune Island. Lying 14 kilometres off the coast of Nasugbu, Batangas, the resort island with its grand ruins of Greek architecture looks like a scene from a movie.
2. Batanes
Sceneries that look straight out of postcards, clouds juxtaposed on deep blue skies, a couple with arms entangled around each other—sounds picture perfect, doesn't it? Having a photoshoot at this majestic island will almost feel like a honeymoon before the actual wedding.
3. Fort Ilocandia, Ilocos Norte
You have all 77 hectares of land to create the most romantic (and dramatic, if you must) pre-nuptial photos. It covers acres of pine forests and sand dunes, so you have the freedom to be as creative as you want.
4.  Cintai Coritos Garden, Batangas
At Cintai Coritos Garden, make your photos as eccentric and creative as possible. Look like the powerful king and queen of your own tribe with larger-than-life striking sculptures. And if you want something gentler, their gardens can provide that nice touch.
5. Pinto Art Museum, Antipolo, Rizal
The Instagram-perfect art gallery is also an ideal pre-nuptial location, with the unique architecture of the buildings, intricate art pieces and  beautiful gardens. For the artsy-fartsy couple, the flawlessly contemporary space can provide the idyllic backdrop.
6. Pacific Cebu Resort, Lapu-Lapu City, Cebu
What can possibly make better the view of the white sand and coconut trees at Pacific Cebu Resort? The stunning sunset—of course!
7. Pililla Wind Farm, Tanay, Rizal
Overlooking the cascading hills of Tanay, Rizal, the Pililla Wind Farm is the right spot for a carefree and colourful pre-nuptial photshoot. The windmills are not yet operational, but hey, they already look great in photos! And for those in the North, the Bangui Windmills is an equally beautiful spot.
8. Boracay Island
Thousands have probably chosen the ever popular Boracay as the backdrop of their romantic shoot, but the magic and charm of this island remain. After all, the powdery white sand and crystal blue water of this paradise will never grow old.
Also read: How to Spark the Romance When Travelling With Your Partner
9. Intamuros, Manila
When we talk about romance, we think about courtship. And what better place to remind us of the olden ways of courtship than the old walls of Intramuros, guarding the walls and the romantic people of Manila for decades?
10. Camp Netanya, Anilao, Batangas
Ever dreamed of having your pre-nuptial shoot in Santorini? Great news—you don't have to go all the way to Greece for that. Anilao's latest attraction, Camp Netanya, is dubbed as the "Little Santorini" in the country, with its blue and white architecture.
11. Phil Florencia Resort, Sarangani, General Santos City
Nothing can be more romantic or dramatic than the sea and the sky as the background of your photoshoot.  The sky's the limit with the amount of inspired shots you can execute here.
12. Casa Salome, Pampanga
Ancestral homes will always look romantic. Casa Salome provides a good backdrop for a couple photoshoot. It's where cascading bridal gowns or handwoven Filipiana or Maria Clara gowns will never be out-of-place. This is perfect if you're aiming for a traditional Filipino-themed photoshoot.
Also read: 10 Blissfully Romantic Valentine's Day Getaways in Southeast Asia
13. Ninoy Aquino Parks & Wildlife Center, Quezon City
You do not have to go all the way to the province if you need nature in your pre-nuptial photos. The zoological and biological park in Quezon City can also double as the location for your shoot. From the lush greenery to the calming lake, endless amount of creative photos can be produced here.
14. Lake Caliraya, Laguna
The lake, the sky, and your partner are all you need to create such gorgeous shots. Of course, the stunning sunset over Lake Caliraya is not just an added bonus—it's the icing on top of an already perfect photoshoot.
15. Las Casas Filipinas de Acuzar, Bagac, Bataan
If you're aiming for a sophisticated and vintage feel for your pre-nuptial photos, look no further than Las Casas Filipinas de Acuzar. This attraction in Bagac, Bataan restores ancestral houses from all over the country, breathed back into life. For sweeping photos and glamorous overhead shots, this is a pretty hard place to beat.
Also read: 20 Experiences Every Filipino Traveller Must Complete Before Getting Married
And if you're on a tight budget, you can just find a pretty wall somewhere near you and start posing. With your partner beside, any empty lot can look like a paradise.