Planning a beach trip to the Philippines anytime soon? It's high time you book a stay in Boracay! After a well-deserved break from taking in tourists, the famous summer destination is back and more beautiful than ever. To help provide you with an authentic island experience, we found the best Boracay Airbnb options. Check them out below — we're certain you'll discover your perfect home away from home on the island.
Also read: 15 Best Beaches in Asia for Summer Travel
Top Boracay Airbnb rentals you'll want to book soon
1. This beachfront bungalow for two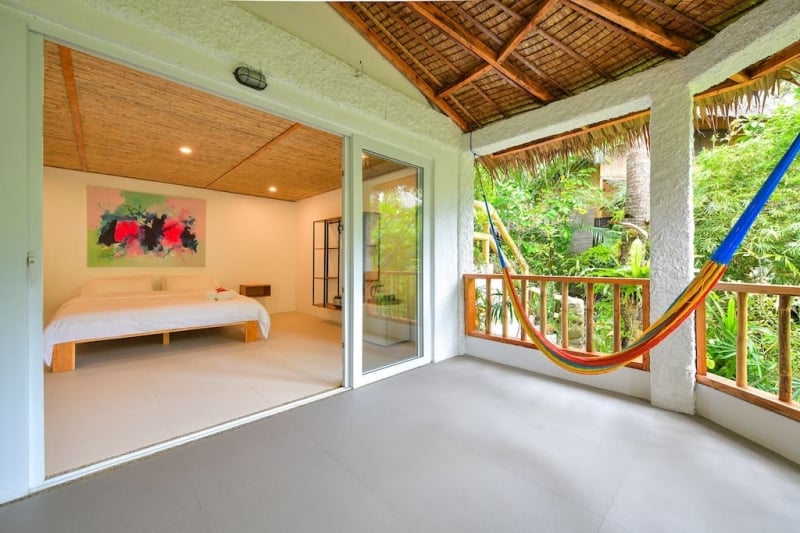 Listing name: Ac2 – Bamboo Bungalows Rest House by white beach
Listing type: Room in hotel
Max. no. of guests: 2
No. of bedrooms: 1
Looking for a beachfront stay for two? Look no further. This modern bungalow is a tranquil retreat albeit its location in Station 2, right in the middle of the famous White Beach. From here, you can quickly get to D'Mall — Boracay's open-air mall, often considered the island's centre. You'll also have an easy time getting to the meeting points for cliff diving at Ariel's Point, sunset sailing on a paraw (a type of traditional Filipino boat), and other activities!
2. This secluded penthouse studio with 360° views of the island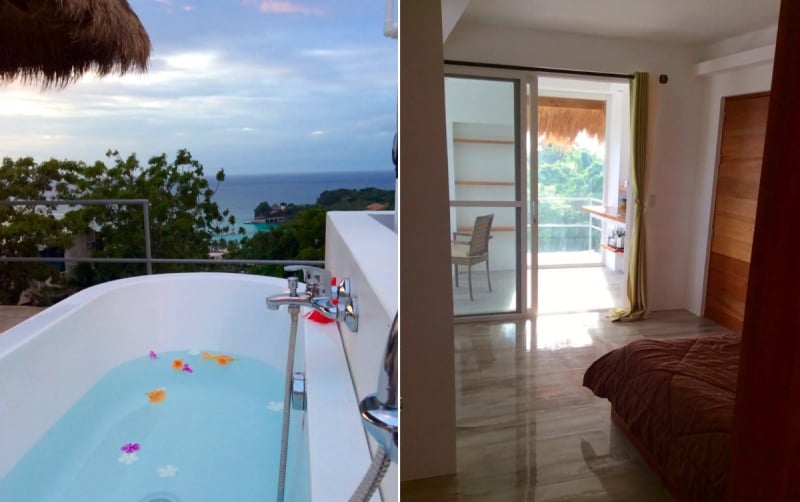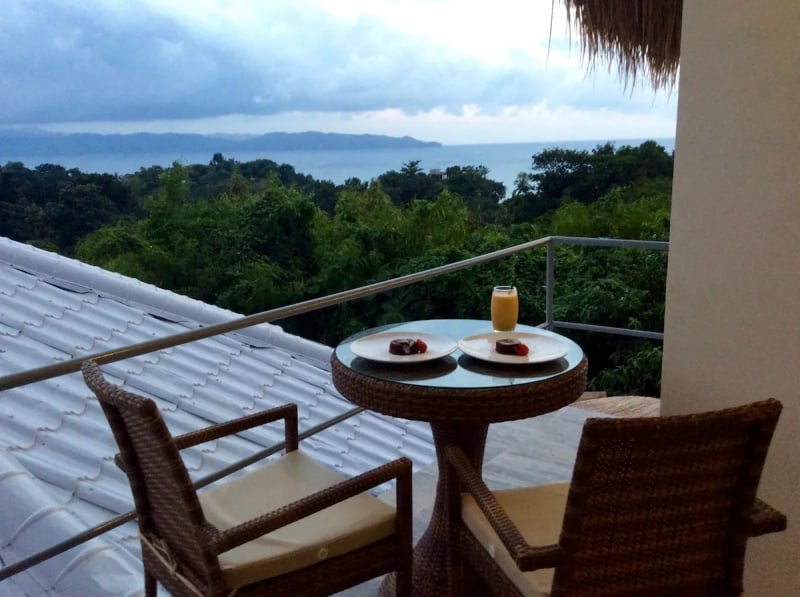 Listing name: Penthouse Studio & Rooftop with 360° views Boracay
Listing type: Entire rental unit
Max. no. of guests: 2
No. of bedrooms: 1
If you're looking for a secret spot on the island, congratulations! You've found it. A stay at this Boracay Airbnb will get you three storeys all to yourself, a rooftop with exceptional 360° views of the island, and easy access to three secluded beaches: Balinghai Beach, Banyugan Beach, and Punta Bunga Beach. While this hilltop home is tucked away from Boracay's touristy locations, everything is just a tricycle ride away! 
3. This impressive private villa overlooking Diniwid Beach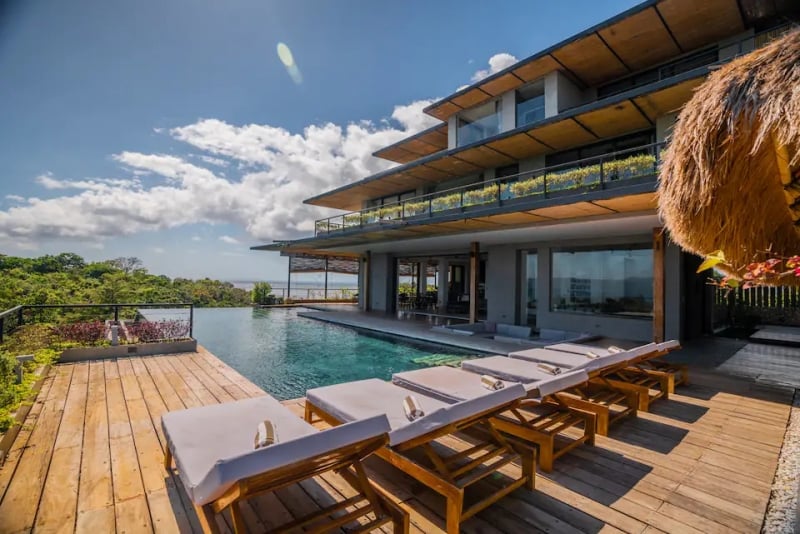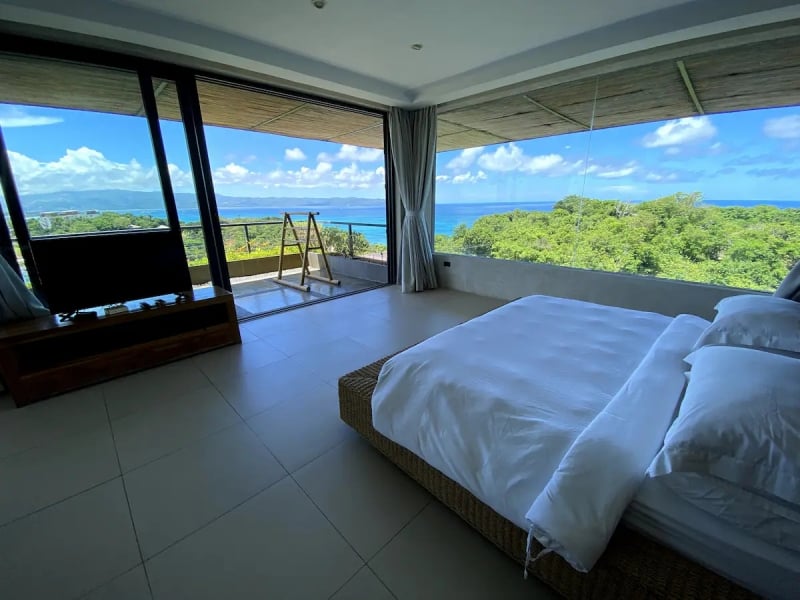 Listing name: 9 double bedroom luxury villa with infinity pool
Listing type: Entire home
Max. no. of guests: 16+
No. of bedrooms: 9
How about a quiet Boracay getaway? This luxury home is close to Diniwid Beach — one of the island's under-the-radar beaches that happens to be a great snorkelling destination! A spacious and private space, this Airbnb in Boracay Station 1 is also perfect for big groups. Its features include an infinity pool, a large living area, a complete kitchen, an indoor bar, a billiard room, and an al fresco dining and BBQ area. 
Additionally, their van service is available to take you around from morning to midnight for an additional fee! The best part is, the house is exclusively for guests only, so you can enjoy absolute privacy.  
4. This tropical-themed room with perfect sunset views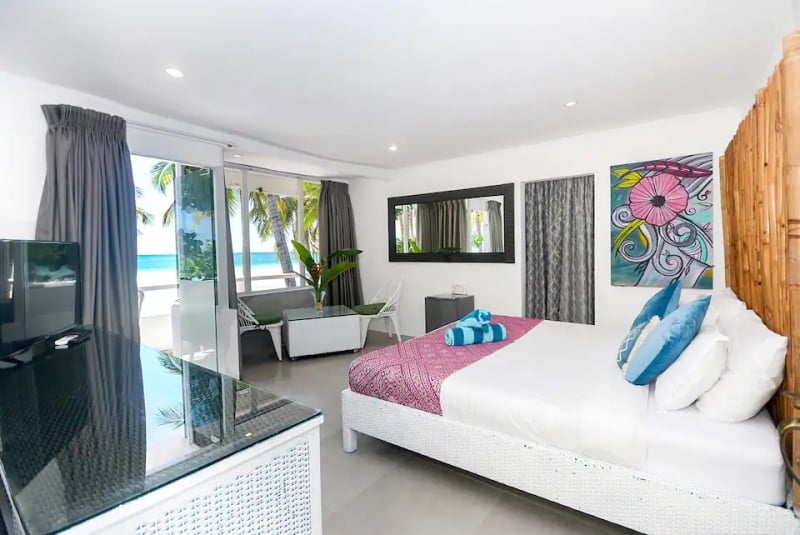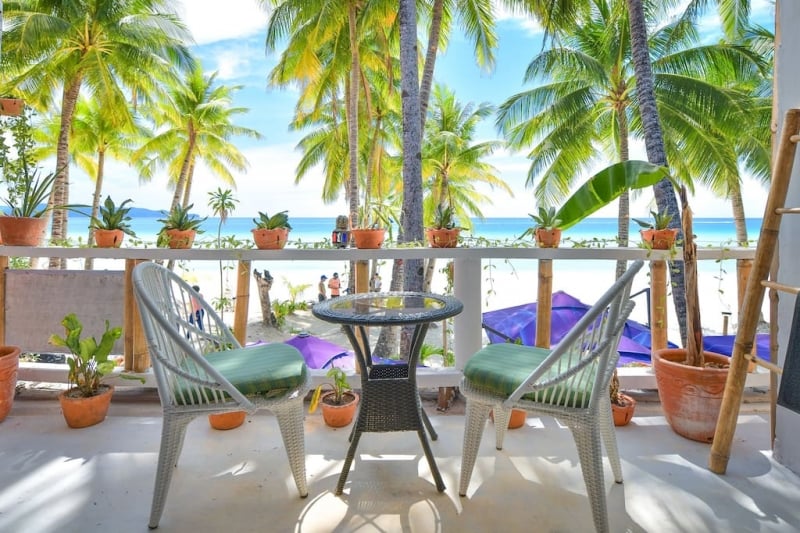 Listing name: Marrakesh Resort Boracay – Ocean View Suite
Listing type: Boutique hotel
Max. no. of guests: 2
No. of bedrooms: 1
At this brightly coloured Boracay Airbnb right at White Beach, you're guaranteed to enjoy some of the best sunset views the island has to offer. It's also located next to some of Boracay's famous resorts like Discovery Shores, Fridays, and Two Seasons. You'll want to eat at their in-house restaurants and enjoy their happy hour offerings! Make sure to add Kasbah (the Moroccan restaurant you'll find below this Airbnb) to your list of places to eat, too! 
Also read: Where to Eat in Boracay: 20 Restaurants You Shouldn't Miss
5. This private hilltop Boracay Airbnb with a rooftop tub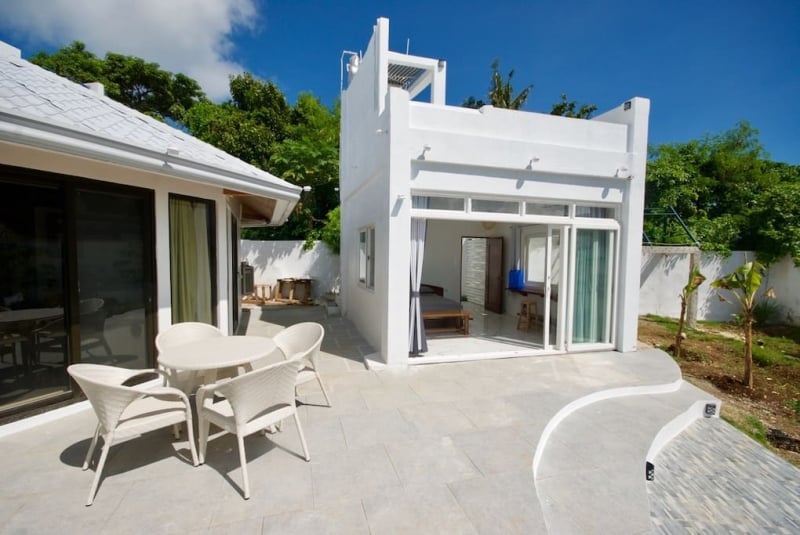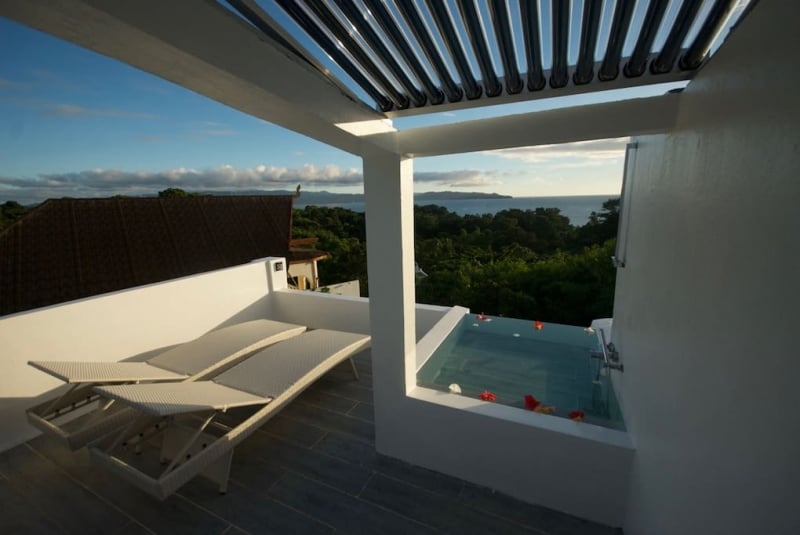 Listing name: Octagon Villa with rooftop bathtub & 270° view
Listing type: Entire villa
Max. no. of guests: 4
No. of bedrooms: 2
Tucked several kilometres (but just a scooter ride!) away from Boracay's centre is this private two-bedroom villa. Because this is Host Jean-Luc's former home, you'll find that it's well taken care of, with lots of high-end furniture and a fully equipped kitchen. Owing to its hilltop location, you can enjoy the amazing views from anywhere in this villa — including the infinity-edge rooftop tub! 
6. This spacious Boracay Airbnb villa with a jacuzzi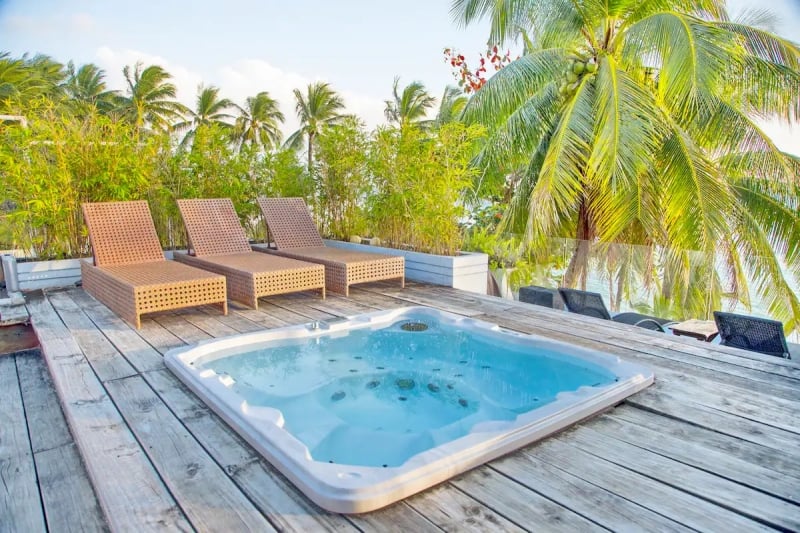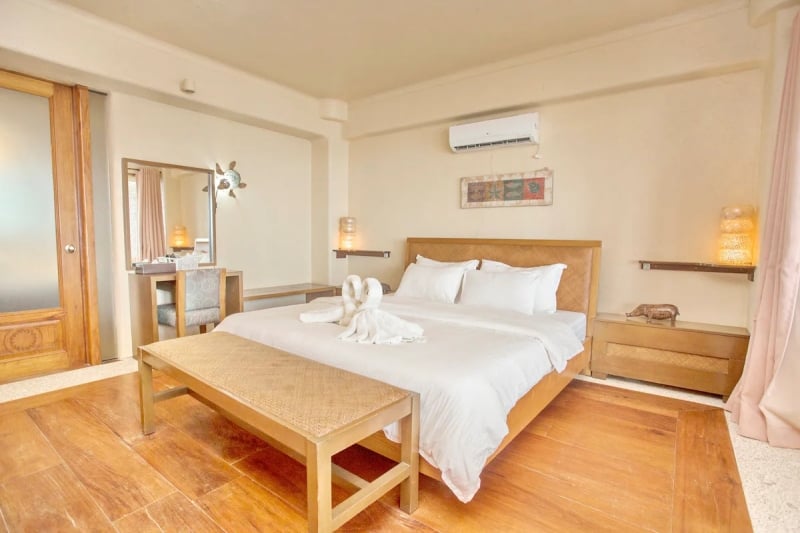 Listing name: Mayumi Beach Villa
Listing type: Entire villa
Max. no. of guests: 14
No. of bedrooms: 5
This beachfront Airbnb in Boracay Station 1 will certainly get those travelling in groups more bang for their buck. Besides the fact that it boasts five bedrooms and seven baths, its warm and inviting interior is also what we love a lot. The bedrooms and living rooms feature wooden elements and a chic minimalist design. Meanwhile, the addition of yellow lights and green plants adds a touch of nature and aesthetics to the cosy villa. There's also an outdoor jacuzzi and a balcony area overlooking the beach. How cool!
7. This sumptuous Balinese-style villa that's worth the splurge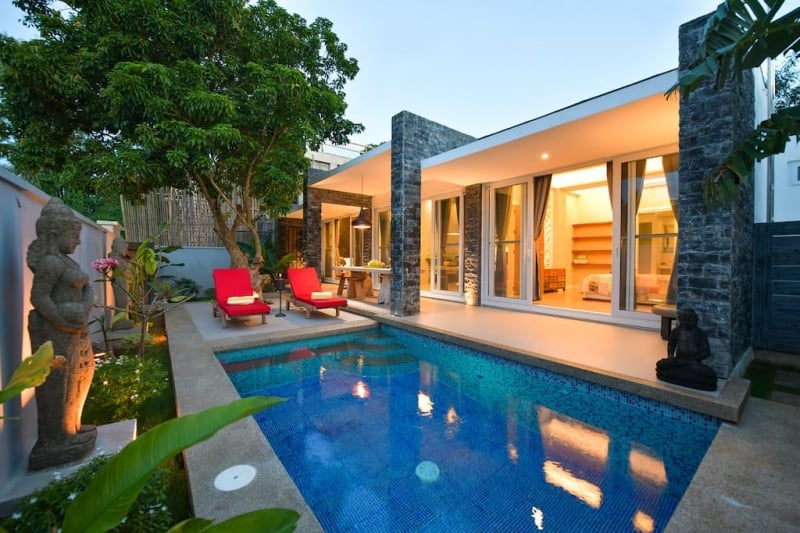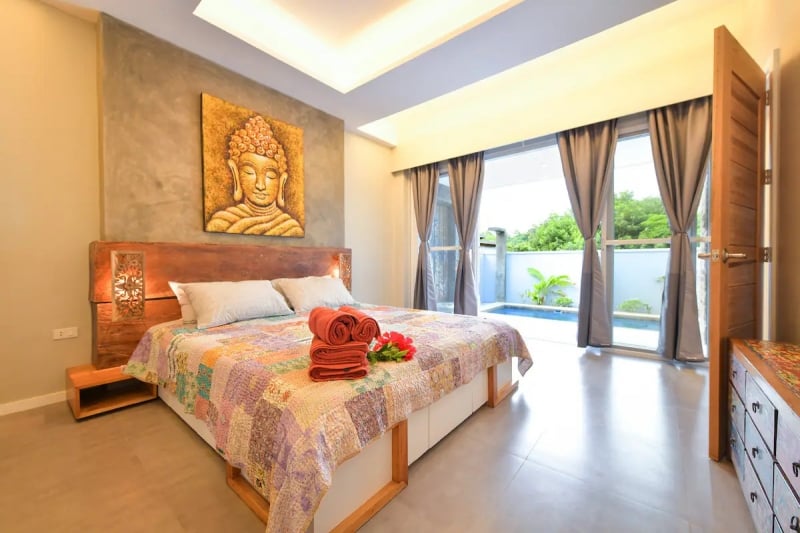 Listing name: Villa Onyx Boracay
Listing type: Entire cottage
Max. no. of guests: 4
No. of bedrooms: 2
This Balinese-style villa is certainly one of Boracay's best-kept secrets! In addition to the beautiful interiors and outdoor lounging area, you'll be welcomed to this Boracay Airbnb with fresh fruits and a bottle of wine. At this remote location, you'll be right by Diniwid Beach: one of the island's more secluded beaches. The property is absolutely Instagrammable and it's perfect for exploring more of Boracay's under-the-radar spots! 
8. This minimal yet luxurious studio apartment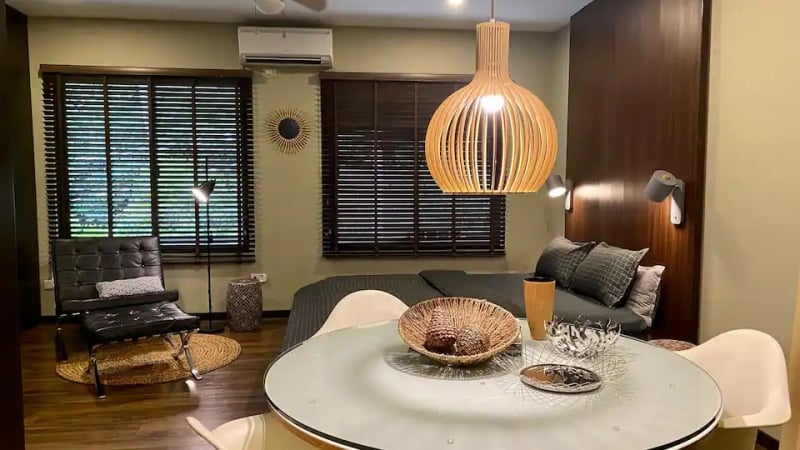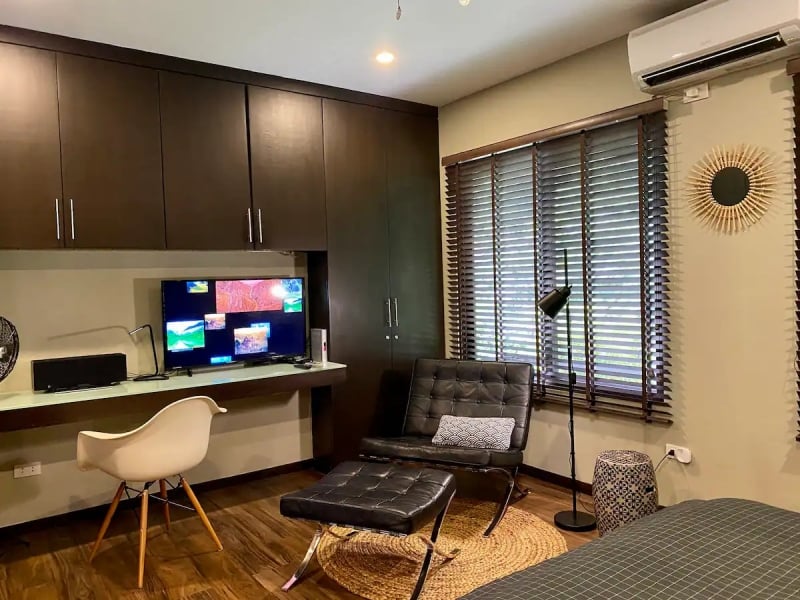 Listing name: Mod Studio 3 Minutes to White Beach
Listing type: Entire rental unit
Max. no. of guests: 2
No. of bedrooms: 1
This modern studio is situated in an upscale residential neighbourhood — away from buzz, but just three minutes to White Beach. Thanks to Superhost Ron, the apartment is fully furnished with everyday living essentials and thoughtful touches here and there — definitely more than your average hotel stay. When stepping out of this Airbnb in Boracay, maximise your time at this not-so-touristy spot and discover more of the island's hidden gems! 
9. This beautiful loft overlooking the surrounding hills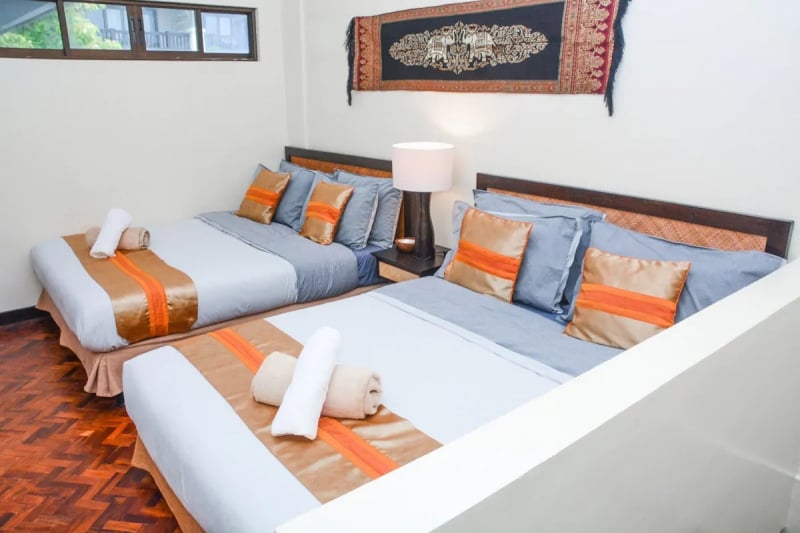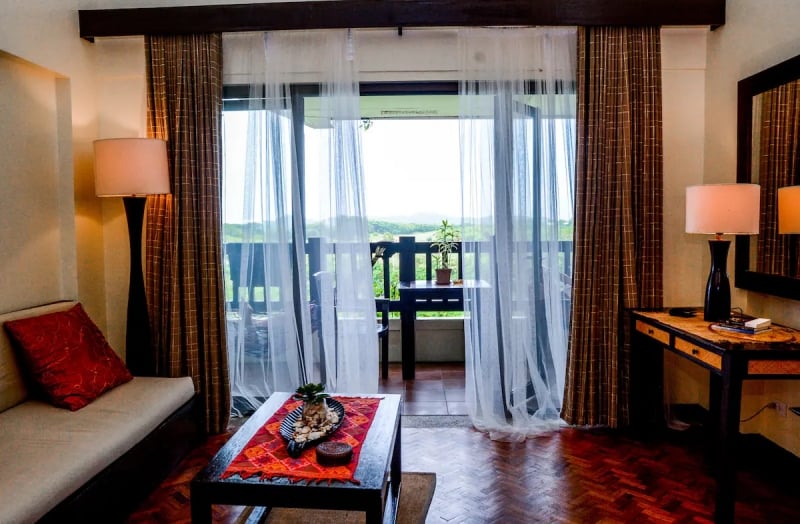 Listing name: Alta Vista de Boracay Loft Unit
Listing type: Entire loft
Max. no. of guests: 6
No. of bedrooms: 1
Those who often travel in big groups know it's a challenge to find accommodation that is affordable and fits everyone! With that in mind, the fact that this cheap Airbnb in Boracay can house up to six guests makes it even more of a great steal. It's located inside an eco-resort on the northern tip of the island, so you can enjoy a tranquil escape surrounded by lush hills while supporting sustainable travel. Guests can also pay an additional fee to enjoy the shuttle service that will take you to the famous White Beach and Puka Beach, both only a short distance away. 
10. This apartment tucked in a gorgeous, under-the-radar part of Boracay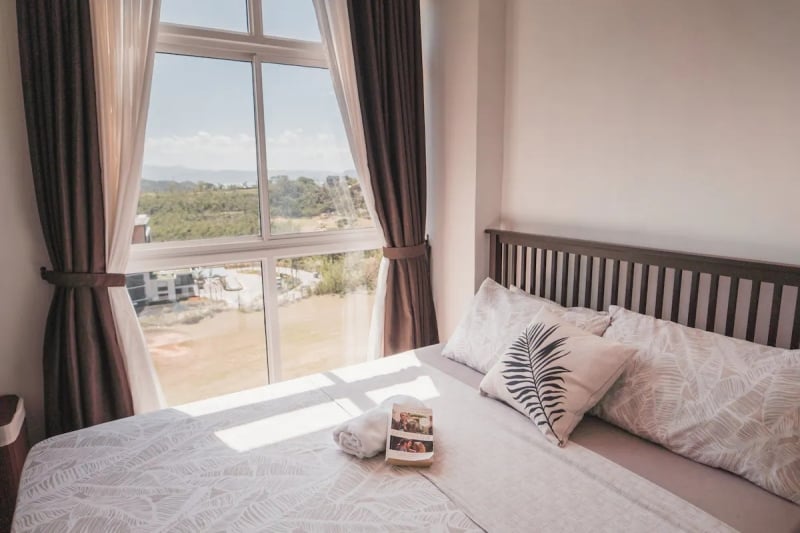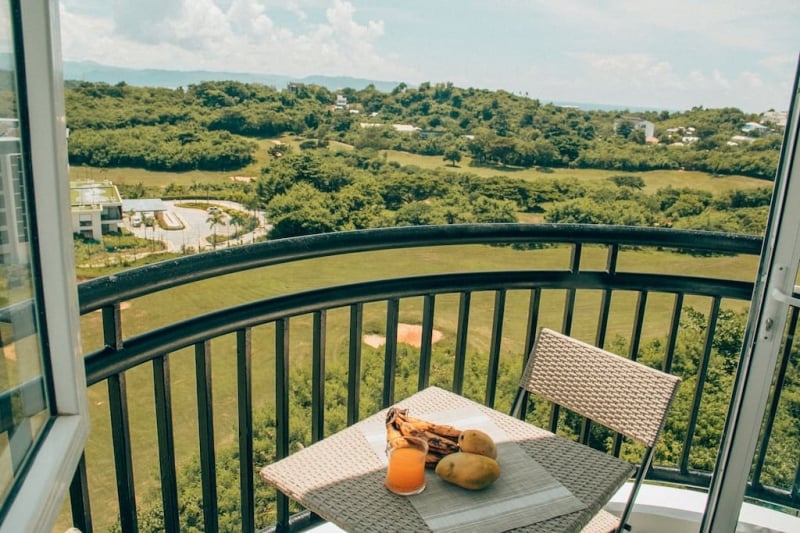 Listing name: Modern Tropical Luxe Apartment – Ilig-Iligan Beach
Listing type: Entire condo
Max. no. of guests: 3
No. of bedrooms: 1
A great choice for a not-so-typical stay on the island, this trendy apartment is located near the lesser-known Ilig-Iligan Beach. While it's a significant distance from Boracay's centre, it's very much worth the travel. With almost no commercial establishments or other tourists in sight, you can better enjoy the white-sand shores and crystal clear waters. 
No need to worry about getting to the island's main areas, though. This Boracay Airbnb provides a free shuttle service to take you to and from the central area! 
11. This cosy Japandi-themed unit for a peaceful retreat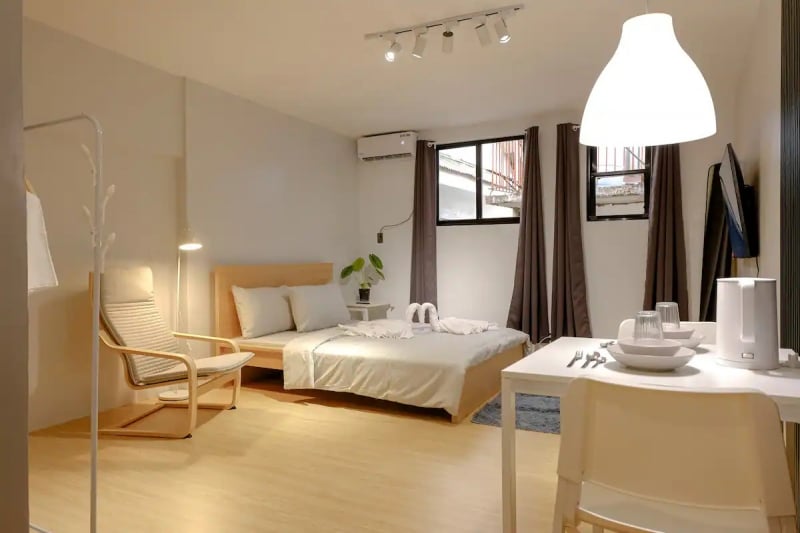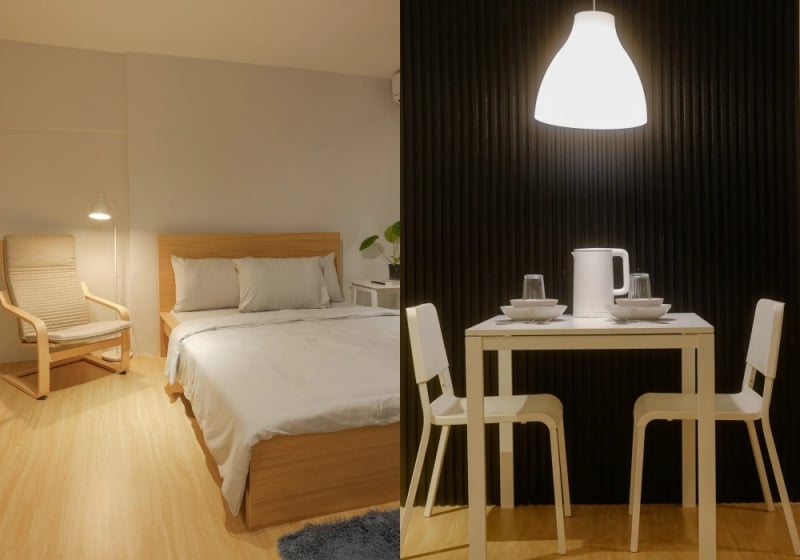 Listing name: Siesta Spaces Boracay-Room 201
Listing type: Hotel
Max. no. of guests: 2
No. of bedrooms: 1
Situated near D'Mall and a plethora of restaurants is this comfy and budget-friendly Boracay Airbnb. Its location in Boracay's centre makes it an ideal choice for travellers looking to explore the island's many cafes, bars, shops, and other attractions. For its extremely affordable price per night, you'll be surprised that this unit is quite well-equipped and features a lovely and pleasing Muji-inspired aesthetic. Surely, a cheap Airbnb in Boracay Station 2 that's worth bookmarking!
12. This gorgeous hotel room in front of a quiet beach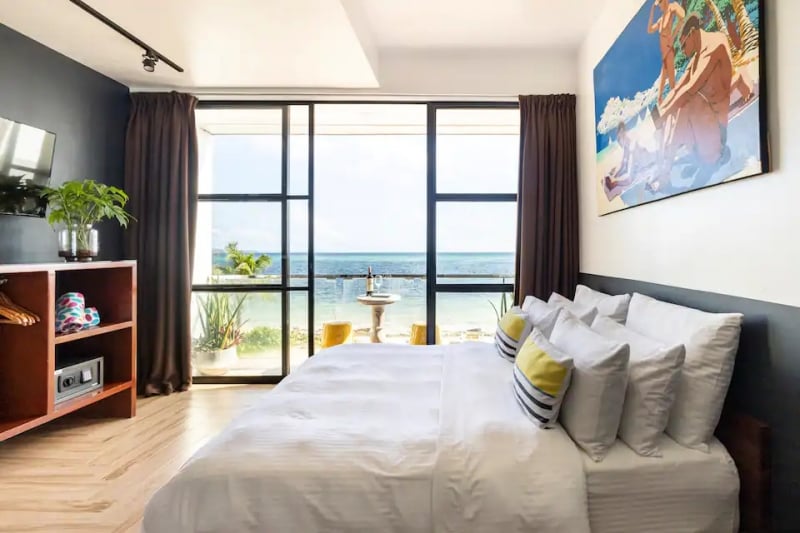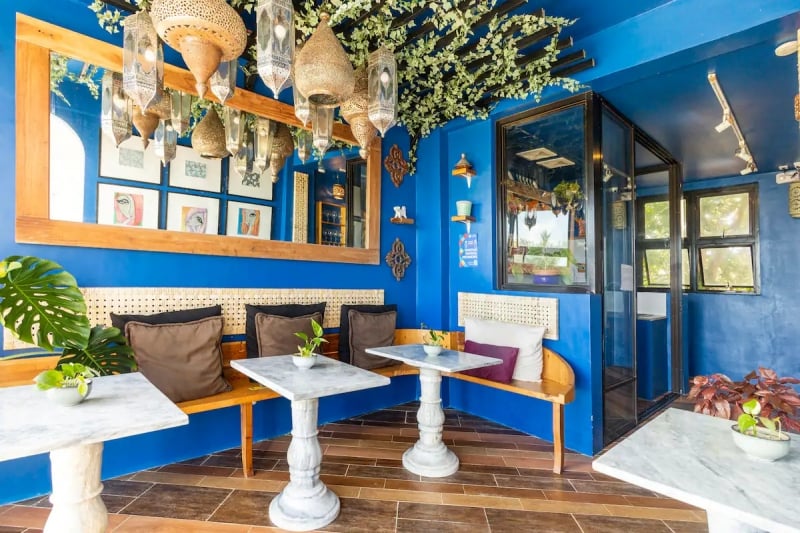 Listing name: Double room w/ balcony, Ocean view, Bulabog Beach
Listing type: Boutique hotel
Max. no. of guests: 2
No. of bedrooms: 1
This Airbnb near Boracay Station 2 is perfect for couples or solo travellers. It's spacious, equipped with ample amenities, and most importantly — you can directly look out to the pristine, less crowded Bulabog Beach from your room! Previous guests love how delicate and clean the accommodation is — and we agree. From the graceful arched doors to the sophisticatedly crafted chandeliers, it's definitely one of the prettiest and the best Boracay Airbnb homes where you can come back and rest well after a day of fun water activities. 
13. This Boracay Airbnb apartment with a tropical-rustic vibe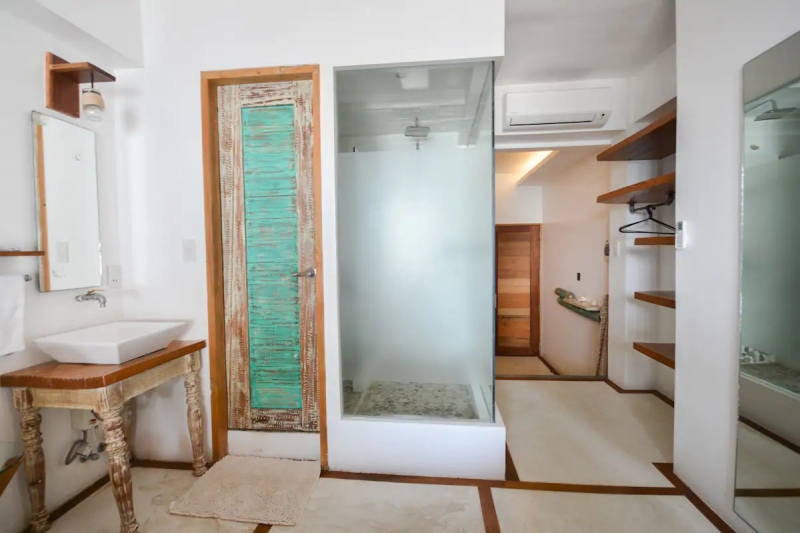 Listing name: Ocean View Studio Apartment Boracay
Listing type: Room in a rental unit
Max. no. of guests: 2
No. of bedrooms: 1
Want an Airbnb in Boracay Station 3 that's near the beach and restobars that serve delicious food? Look no further! This simple yet commodious room is located on the second floor, and includes a large window with a spectacular view of the ocean. 
It's only a short walk from must-try eateries like Tita Magz Home Kitchen, Bei Kurt und Magz German Filipino Restaurant, and Surf Beach Bar Boracay. It's also in an area that's not as crowded as other parts of Boracay. So, you can peacefully relish in activities such as surfing, snorkelling, and sunset-watching. 
14. This large and vibrant beach house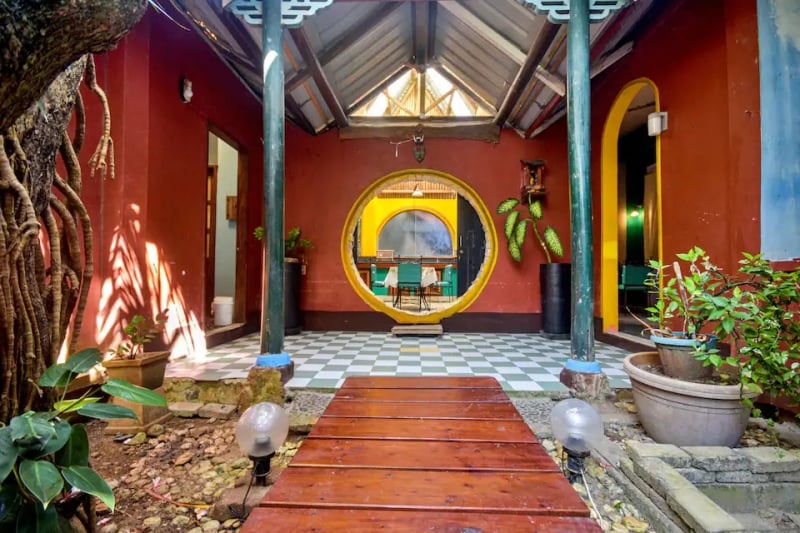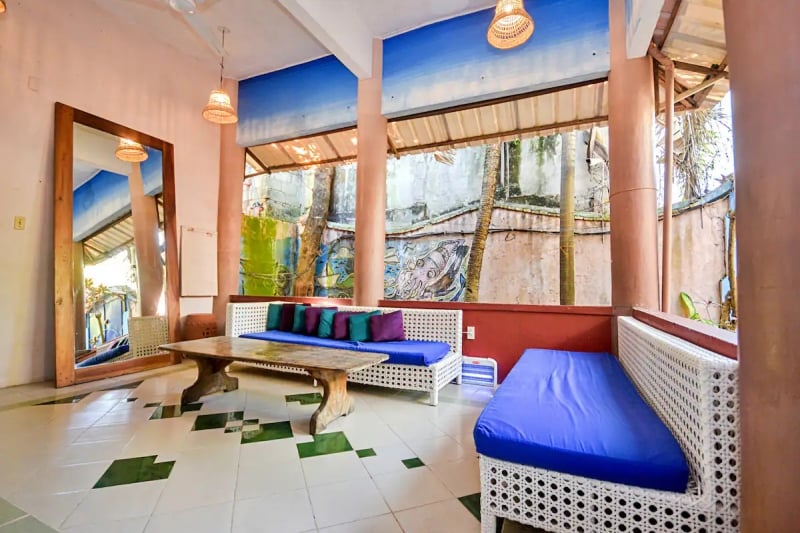 Listing name: Beach House at Station 2 White Beach
Listing type: Entire home
Max. no. of guests: 16+
No. of bedrooms: 4
You'll be amazed the moment you enter this massive and bright Airbnb in Boracay Station 2. From rooms to the kitchen, the walls are painted in different colours, creating a cheerful and vibrant atmosphere. More than that, this house is also immense and perfect for hosting large families and/or friend groups on vacation.
Our favourite part of this beach house is the pathway to the kitchen, which houses a tree and a round door that will remind you of The Hobbit. The living room also boasts a large mirror for guests to take pictures of their #OOTDs. What's better, famous spots like White Beach and D'Mall are only within walking distance!
15. This two-storey beachfront villa in Station 3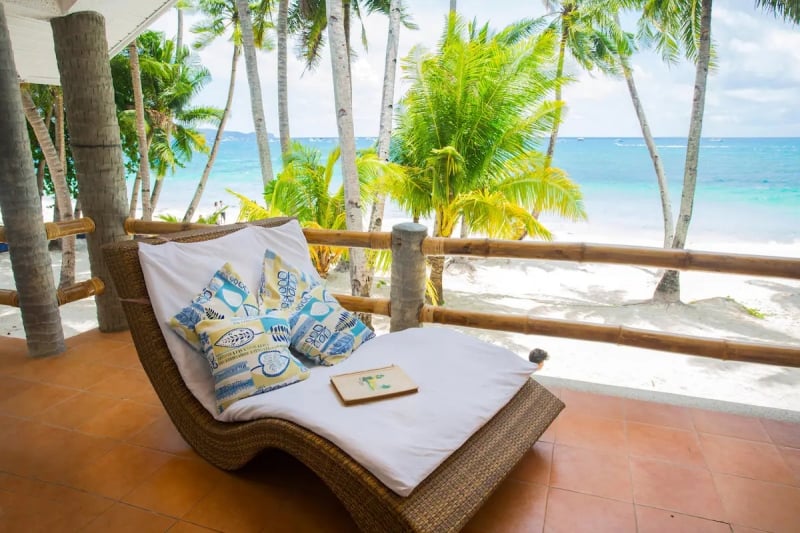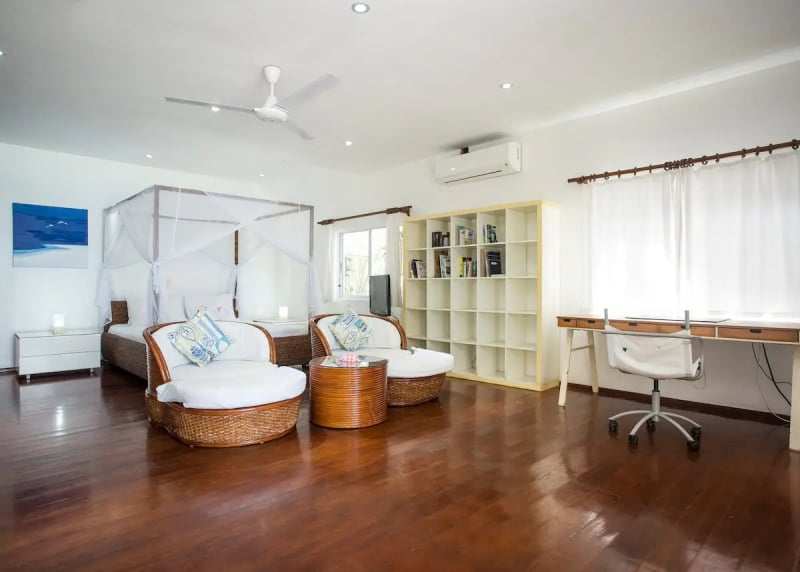 Listing name: Mabuhay Beach House – Accredited- Beachfront!
Listing type: Entire villa
Max. no. of guests: 8
No. of bedrooms: 4
This stunning villa is nestled on the southern part of White Beach: in a more secluded spot away from the more crowded parts. Built with hardwood floors and adorned with rattan furniture pieces, it exudes a rustic homey vibe. The magnificent beach view from the house and the fact that it is within walking distance to almost everywhere are what previous guests appreciate the most. After a day of exciting water activities such as parasailing and kiteboarding, you would love to come back and rest in this comfy Airbnb in Boracay Station 3!
Also read: 10 Private Islands in the Philippines You Can Rent Right Now
Well, what are you waiting for? Judging from the reviews and ratings, these listings are very popular with travellers, so you better act fast. Don't miss your chance to stay at one of these Boracay Airbnb homes!
Got a property you'd like TripZilla to feature? Inquire with us here.
---
This article contains affiliate links. When you book through these links, we may earn a small commission at no additional cost to you. All images courtesy of the respective property listings.