"So long as I am with you, everyday is Valentine's Day." We have heard this cliché phrase many times and we agree that expressing love and devotion to your partner is not something exclusively saved for 14 Feb. But ladies, admit it – you probably have some expectations for Valentine's Day. Perhaps not the generic flowers, chocolates and teddy bears but at least a romantic Valentine's Day dinner.
If you want to impress your partner this coming Valentine's Day, our comprehensive guide to these eight romantic yet affordable restaurants in Singapore will have you covered.
1. SONS by ilLido Group
S$30 per person (mains + desserts + drinks)
Reminiscent of an authentic Venetian bacaro, SONS is a buzzy Italian cafeteria by day but a hip and trendy bar by night. Nestled among the traditional shophouse enclaves of Nankin Row with close proximity to the Central Business District (CBD), couples can consider dropping by SONS after work for one of the best Italian cuisines in town, accompanied by the finest whiskies and cocktails.
With an affordable price of S$30 per person, couples can savour delectable mains like Wagyu Beef Cheeks and Casserece Truffle Pesto and Porcini Mushrooms, enjoy a drink or two with Prosecco or House Wine, and end the Valentine's night on a sweet note with a slice of cheesecake.
Address: 20 Cross Street, China Square Central #01-19, Singapore 048422
Opening hours: 11.30am – 3pm, 5.30 – 11.30pm (Mon – Fri), 6 – 11.30pm (Sat), closed on Sundays
Telephone: +65 6221 3937
Valentine's Day promotion period: 14 Feb 2018
2. Saveur
S$36.90 per person (3-course meal); S$9 per glass/S$40 per bottle (wine)
Known for offering affordable and quality French cuisine, the familiar homegrown restaurant brand, Saveur, will be your go-to romantic dinner saviour this Valentine's Day.
At S$36.90 per person, its 3-Course dinner set is a steal – Lobster Bisque as the starter, the signature Duck Confit with Truffle Mash and Steak Au Poivre as the mains and the Dark Chocolate Fondant or Mango Passionfruit Cake as after-meal desserts. Not to mention, you get to complement the mouthwatering French dishes with wine, at a reasonable price of $9 per glass or $40 per bottle.
Purvis outlet
Address: 5 Purvis Street, #01-04, Singapore, 188584
Opening hours: 12 – 9.30pm (Mon – Sun)
Telephone: 6333 3121
Orchard outlet
Address: Far East Plaza, 14 Scotts Road, #01-07B, Singapore, 228213
Opening hours: 12 – 9.30pm (Mon – Sun)
Telephone: 6736 1121
Dhoby Ghaut outlet
Address: The Cathay, 2 Handy Road, #01-11/12, Singapore, 229233
Opening hours: 12 – 9.30pm (Mon – Sun)
Telephone: 6735 1141
Valentine's Day promotion period: 10 – 14 Feb 2018
3. Privé
S$52 per person (3-course meal)
Set in a lush alfresco garden setting, Privé offers a rustic charm and romantic ambience for some lovey-dovey nighttime conversations with your significant other.
Lovebirds who are looking to indulge in an affordable, tantalising meal under the starry night sky can try the recently launched S$52 3-Course Valentine's set dinner – think succulent, juicy Citrus-Cured Norwegian Salmon and Red Wine-Braised Beef Brisket. If your partner is an avid dessert lover, seal the unforgettable night with a Dark Chocolate Ganache Tart infused with salted caramel honeycomb and raspberry sorbet.
CHIJMES outlet
Address: 30 Victoria Street, #01 – 33, Singapore 187996
Opening hours: 11.30 – 12am (Mon – Thurs), 11.30 – 1am (Fri & Eve of PH), 10 – 1am (Sat & PH), 10 – 12am (Sun)
Telephone: +65 6776 0777
Keppel Bay outlet
Address: 2 Keppel Bay Vista, Marina at Keppel Bay, Singapore 098382
Opening hours: 9 – 12am (Mon – Fri), 8 – 12am (Sat & Sun)
Telephone: +65 6776 0777
Asian Civilisations Museum outlet
Address: 1 Empress Place #01-02, Singapore 179555
Opening hours: 8.30am – 10.30pm (Mon – Thurs), 8.30 – 12am (Fri & Sat), 9am – 10.30pm (Sun)
Telephone: +65 6776 0777
Clarke Quay outlet
Address: Blk 3C River Valley Road, #01-09A Clarke Quay, Singapore 179019
Opening hours: 5pm – 2am (Mon & Tues), 5pm – 3am (Wed – Fri), 11.30am – 4am (Sat), 11.30am – 2am (Sun)
Telephone: +65 6776 0777
Valentine's Day promotion period: 9 – 14 Feb 2018
4. La Nonna by Senso Group
S$58++  per person (3-course meal)
True to its meaning of "Grandmother" in Italian, La Noona serves a good hearty array of traditional Italian comfort food in a cosy unpretentious setting, just like what a grandma would usually prepare in a trattoria.
Contrasting with the bustling streets of Holland Village, you and your partner can enjoy some private moments while digging into the S$58++ 3-Course dinner set with a glass of Prosecco. Its carefully curated menu features the Tuna Ceviche with Avocado and a choice of Conchiglie pasta with crab meat or Beef tenderloin with Truffle sauce. To complete this meal, nothing is more satisfying than a slice of Red Velvet cake with Raspberry sorbet.
Address: 26 Lor Mambong, Singapore 277685
Opening hours: 12 – 2pm, 6 – 10pm (Mon – Sun)
Telephone: +65 6468 1982
Valentine's Day promotion period: 9 – 16 Feb 2018
5. LeVeL 33
S$78 per person (3-course meal)
Lovebirds working in the Marina Bay financial district, if you are not looking to travel far after work for your Valentine's date night, LeVeL 33 is another romantic dining venue for your consideration.
Crowned as the World's highest urban craft-brewery, LeVeL 33 is offering a palatable 3-Course set dinner with a glass of bubbly at S$78++ per person. Couples can look forward to feasting on lightly poached Hokkaido Scallop and Beef Carpaccio made from premium Australian Wagyu, while overlooking the picturesque view of the city skyline. LeVeL 33 even caters to the taste buds of vegetarians with its creation of Truffled Kumara, which is truffled sweet potatoes. Fix your sweet tooth cravings and end your meal with the chef's selection of curated desserts.
Address: 8 Marina Boulevard #33-01, Marina Bay Financial Centre Tower 1, Singapore 018981
Opening hours: 11.30 – 12am (Mon – Thurs), 11.30 – 2am (Fri & Sat), 12pm – 12am (Sun)
Telephone: +65 6834 3133
Valentine's Day promotion period: 14 Feb 2018
6. Coastes by C-Side
Drinks promotions (from $9)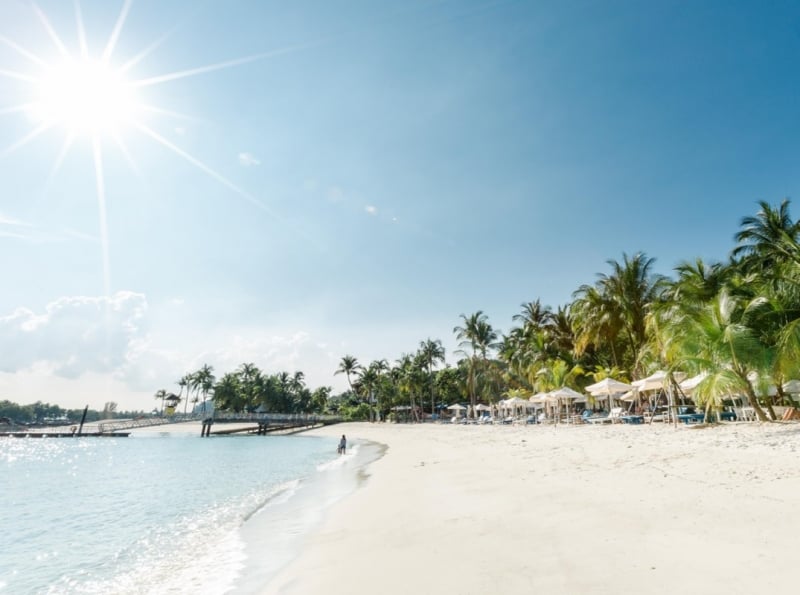 If your loved one is a beach bum, Coastes would be the perfect venue for your Valentine's date night. Residing along the idyllic coastline of Sentosa's Siloso Beach, Coastes is a casual, laid-back beachfront bar which transforms at night into a charming, dimly-lit date spot at night.
Besides its wide plethora of burgers, pastas and seafood, Coastes is having a special drinks promotion this Valentine's period from 10 to 14 Feb. You and your partner can have a good heart-to-heart chat over a glass of Heineken Draft (S$9), Housepour Wine (S$10) or Sparkling Wine (S$12).
Address: 50 Siloso Beach Walk 01-06, 099000
Opening hours: 9am – 11pm (Mon – Thurs, Sun & PH), 9 – 1am (Fri, Sat & Eve of PH)
Telephone: +65 6631 8938
Valentine's Day promotion period: 10 – 14 Feb 2018
7. Cafe Montigo
S$18 dessert set (Lava cake + smoothie)
Cafe Montigo, the first maiden cafe opened in The Star Vista, Singapore, might be worth a visit if you need to nurse the post-vacation withdrawal symptoms you had at Batam's Montigo Resorts.
With a renowned head chef at the helm, its specially curated menu not only features top-notch Indonesian cuisine such as the signature Ayam Panggang Berempah (S$13.50) but also Western favourites such as Truffle Fries (S$5).
If you crave for an all-Indonesian meal this Valentine's Day, round off your meal with their Martabak Manis (S$6), a classic Indonesian sweet treat (some flavours with a Café Montigo twist!) that is not commonly found in cafes in Singapore.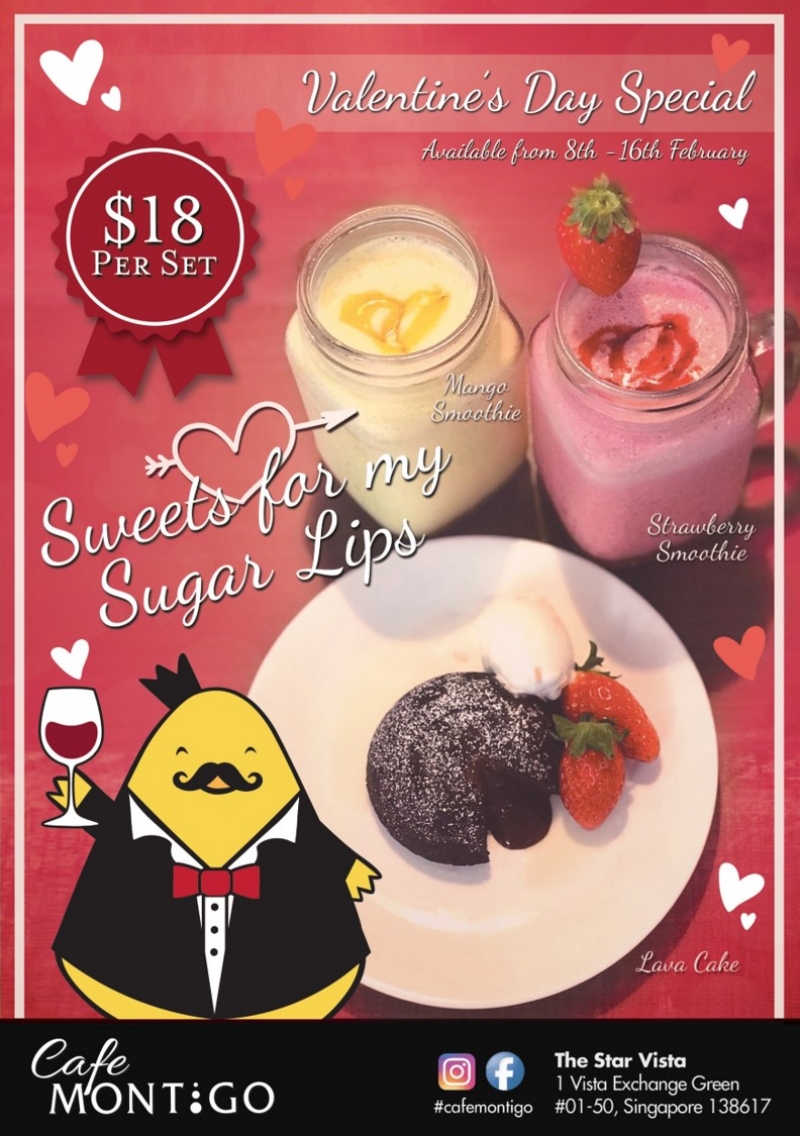 To celebrate the sweetness of Valentine's Day this year, Cafe Montigo is offering a special promotion where couples can indulge in a decadent Lava Cake accompanied with Strawberry and Mango smoothies, all for the price of just S$18. 
Address: #01-50 The Star Vista, 1 Vista Exchange Green, Singapore 138617
Opening hours: 10am – 10pm
Telephone: +65 6694 1136
Valentine's Day promotion period: 8 – 16 Feb 2018
8. The White Rabbit
S$188 per person (4- or 5-course meal)
If you are willing to splurge a little bit more, treat your loved one to a meal at The White Rabbit, a chic minimalistic restaurant atop Dempsey Hill which best exemplifies the whimsical old-school vibe inspired by Alice in Wonderland. From S$188++ per person (4-course meal) or S$138++ per person (5-course meal), couples get to indulge in timeless European classics set in a beautifully restored 1930s chapel. Highlights include the refreshing Cured Barramundi dressed with a lime espuma and briny ikura pearls, and Aged Challans Duck Breast imbued with sanshō pepper and cherry sofrito. Leave some space for their delish Tomato tart, an ethereal textural juxtaposition of buttery pastry and juicy tomatoes.
If you wish to bask in the company of your beloved a little longer, visit The Rabbit Hole, The White Rabbit's gin garden bar. Gin and Tonics start at S$15++.
Address: 39C Harding Road Singapore 249541
Opening hours: 6 – 11.30pm (Tues – Thurs & Sun), 6pm – 12.30am (Fri & Sat), Closed on Mondays
Telephone: +65 6473 9965
Valentine's Day promotion period: 14 Feb 2018
Take your pick from our comprehensive guide to the 8 restaurants to go for your Valentine's Day indulgence!