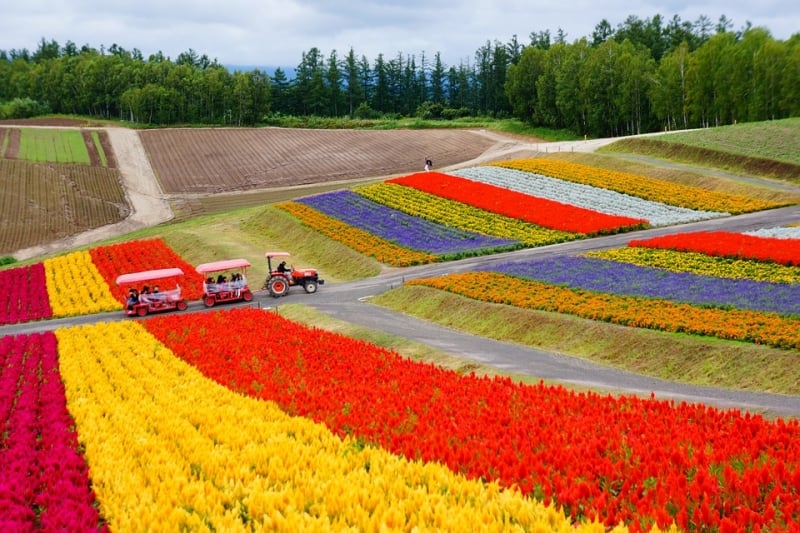 A single trip – unless, of course, you're talking about a month long trip or one that spans across all 4 seasons – is never enough to see all that Hokkaido has on offer. One has to bear in mind that Hokkaido is 116 the size of Singapore and is for ease of planning, can be divided into 4 parts; North, South, East and West. Even then, each of these areas have entirely different, yet equally majestic, sights and sound to offer in each season. Some mountain ranges may provide a majestic backdrop in the summer but turn into world-class ski resorts in winter. The landscape ie ever changing, but the beauty is consistent and unparalleled.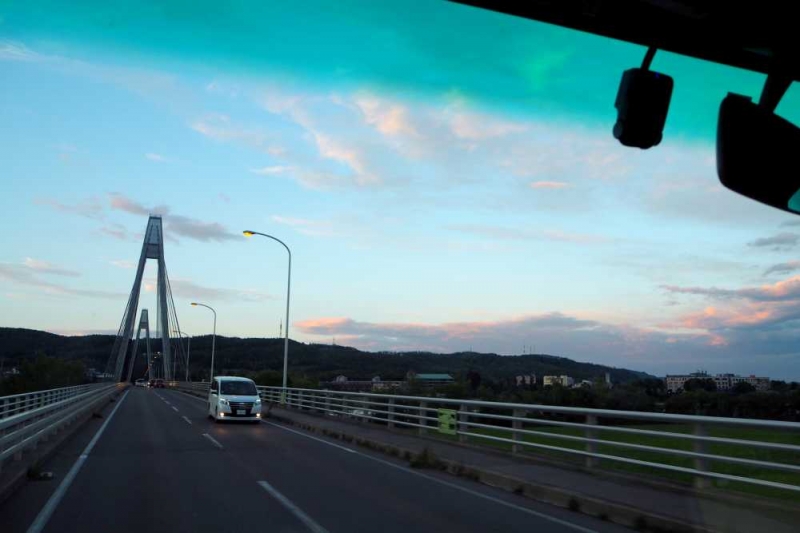 Having spent the last week road-trippin' through Eastern Hokkaido, I wish to share some tips and must-haves for your road trip in Hokkaido in this article. I will pen a separate article in due course on the highlights of Eastern Hokkaido.
Before we get started, let's get this out of the way. Unless you wish to spend your time in Hokkaido only in it's main cities like Chitose and Sapporo, renting a car is a must. There are plenty of rental companies to choose from and some of them even offer free shuttle bus services from the Airport to the Rental Car pick up point. There are no two ways around this.

One thing that is a must-get to save costs and hassle is the Hokkaido Expressway Pass ('HEP'). With the HEP, you will be able to enjoy unlimited use of Hokkaido's Highways for a fixed price.

An inside joke amongst tourists and locals alike who frequent Hokkaido's roads is that every driver should bring an oxygen tank with him/her… as the breath-taking sceneries are endless.
1. Know that Michi-No-Ekis are MORE than just a rest-stop
Michi-No-Ekis (MNEs) are the lifeblood of Hokkaido's scenic roads. When directly translated, Michi-No-Ekis are defined as road-side stations. In reality, they are much more than that. All MNEs come equipped with basic amenities such as free parking, wifi, restrooms, ATMs, cafes and the like. In Hokkaido, there are a total of 119 MNEs. During my road-trip, we visited no less than 11 road stops and everyone of them were unique in their own way. Some MNEs are food paradises, others offer amazing experiences and a handful of them offer spectacular views of Hokkaido. The folks at Scenic Byway, who oversee Hokkaido's roads and the development of MNEs shared with me that no two MNEs, among all the 119, are alike. Every MNE is managed by the area's local government and they are meant to be public, not private, facilites.

Allow me to share 3 of my favourite MNEs. I must add that I had a hard time deciding the best three but I will share one that is of significant historical value, another that has the best cuisine and one that offered a unique experience. 

Akkeshi Gourmet Park
This Michi No Eki is located at the South-Eastern Coast of Hokkaido. It's location in itself offers a beautiful view of the sea. Step inside the Michi No Eki and you'll be greeted with the unmistakable aroma of Oysters and Barbequed Seafood. Imagine slurping oysters and whiskey while having an obstructed view of the ocean. If you prefer BBQs, you also have the option of picking your own seafood from a variety of ingredients.
Being a literal stone's throw away from the sea means the freshness of your dishes are guaranteed.

Akan Tancho No Sato
If the only experience you have with cranes is Kung Fu, this MNE is a must visit. This MNE houses the Akan International Crane Center ('AICC'). AICC is a 3-in-1 museum, sanctuary and breeding center for Cranes. In Winter, the Kushiro Marshlands that surround AICC will be filled with beautiful red crowned cranes which flock there to breed. Here you can get a chance to view and feed Cranes from 2 large open viewing areas. You can also visit the handful of cranes that AICC houses.

Mashu Onsen (In Yokozuna's Hometown)
The Mashu MNE is a 20 minute drive away from Yokozuna's place of birth. Yokozuna is world-famous for his prowess is not only the Sumo Arena but outside of it too. Older fans of WWF (now known as WWE – World Wrestling Entertainment) will remember Yokozuna going toe-to-toe with some of wrestling's finest. This MNE houses not only a Onsen but also a mini-museum on Yokozuna where you can read more about him and see some of his artifacts. Some other MNEs that are of historical significance include the Jomon Roman Minamikayabe (Page 41), the Obira Herring Fishermen's Cottage (Page 96) and Churui (Page 116).
In the true spirit of Japanese innovation, Scenic Byway has come up with an ingenious way to make the whole MNE experience more fun by developing a Stamp Booklet. This Stamp Booklet is a must have for any road-trips in Hokkaido. The booklet is divided into colour-coded sections for the different sections of Hokkaido and is pretty easy to use. The objective of the Booklet is to visit as many MNEs as you can and stamp your booklets to show that you have been there.
Some of the stamp designs are really kawaii. At every MNE, the stamps for the are prominently displayed so as to remind you to complete your, forgive my Pokemon reference, StampDex. You are given a 2 year time-frame to get all 119 stamps and then you will be bestowed with a special prize from Scenic Byway. I would argue that having the opportunity to experience all of the 119 MNEs in itself is rewarding. I have been informed that Scenic Byway is exploring the possibility of giving foreigners a small token for completing 10 stops – which is definitely feasible within a week-long holiday in Hokkaido.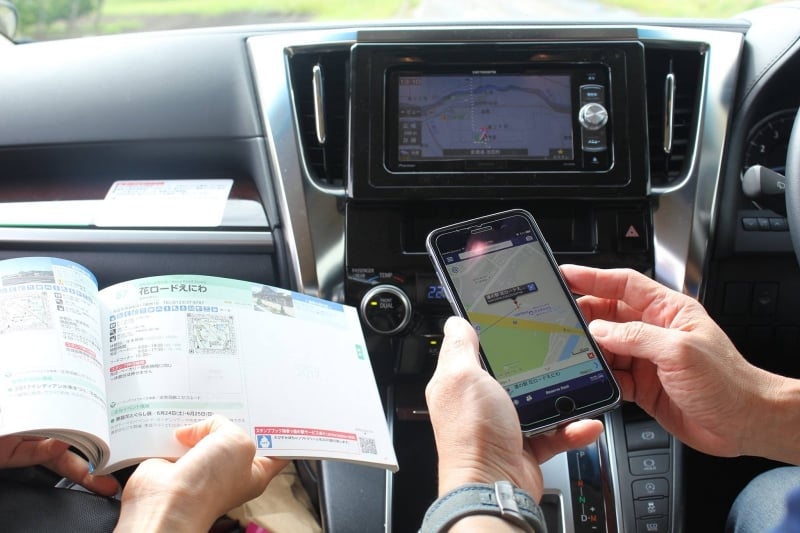 The Stamp Booklets also come in handy in displaying key information about each MNE (ie. Amenities, Opening Hours, Contact Details). On each MNE's page, you'll also see a unique QR Code ('MapQR') that are a godsend for all Drivers.
2. Say goodbye to MapCode and hello to MAPQR
Drivers familiar with Hokkaido's roads will understand the importance of Mapcodes – 9 digit GPS co-ordinates that one inputs into his GPS. This is the main form of input, especially for foreign drivers as the GPS keyboards are, for the most part, in Japanese. The other issue with mapcodes, as some of us learnt the hard way, is that the GPS does not prompt you if your GPS co-ordinates lead you to the middle of nowhere but instead, just directs you there. One typographical error and you could well be on the road to nowhere.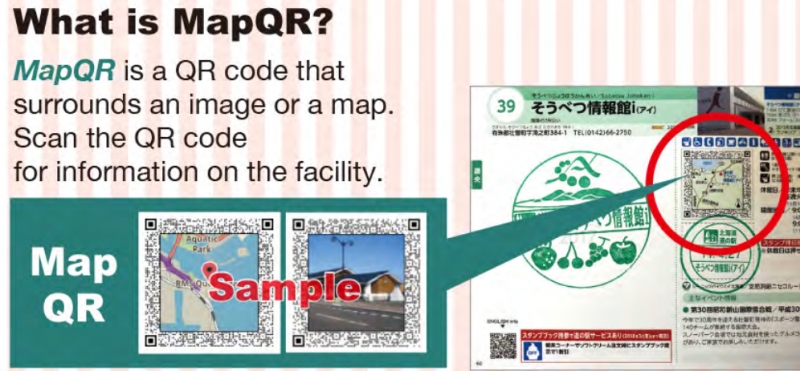 However, with the Stamp Booklet's MapQR Codes (Unique QR Codes on the page of each MNE), one can do away with the onerous task of remembering and keying in mapcodes.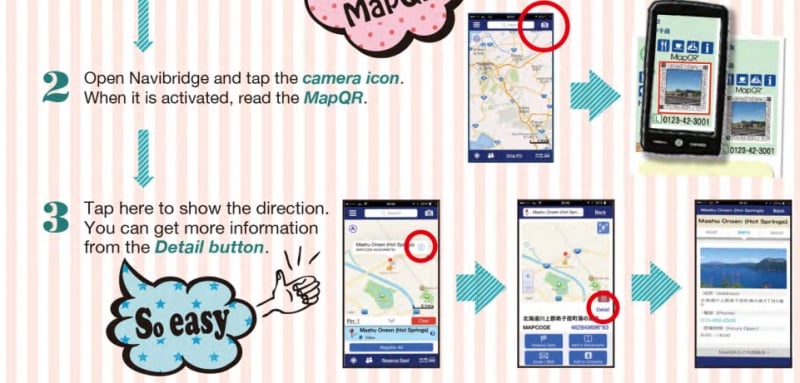 All you need to do is to download the Navibridge App and scan the MapQR Code. Navigating in Hokkaido has been made a lot easier with the introduction of MapQRs.
Besides Navigation, the other issue most foreign drivers face in Japan is communication. Even with the advent of Google Translate and other translation apps, a lot of time is wasted with typing and even then, grammatically incorrect and/or downright inaccurate translations cannot be avoided.
3. Make VoiceTra your friend in Japan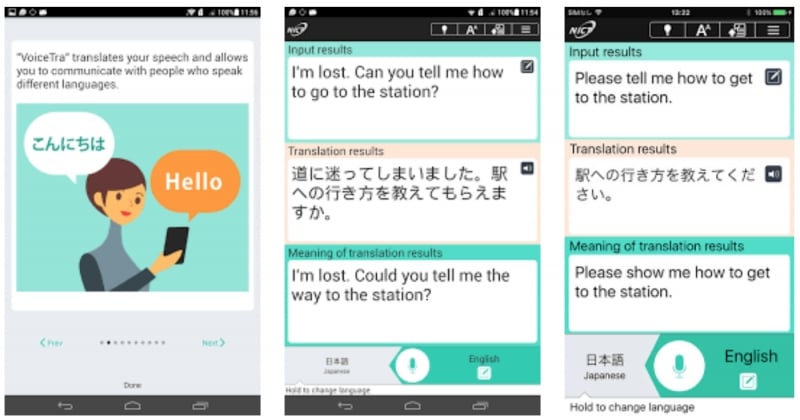 Once again, the day will be saved by Japanese innovation. Enter VoiceTra, an AI based app that facilitates instant Voice Translation developed by the National Institute of Information and Communications Techonology. In essence, you speak into the phone in English and then when you face the phone and your Japanese friend, your words will be read out to him/her in Japanese. The input is not limited to English, it can also recognise 29 other languages but they are still in the process of developing voice outputs for the other languages.
After using VoiceTra for a week or so, I find that actually recognises the 'Singaporean' accent better than Siri. VoiceTra is also based on Artificial Intelligence so it actually gets 'smarter' with more inputs and more people using it. VoiceTra has helped me communicate with many Japanese people. Many of them were also amazed by the app and downloaded it soon after, sometimes even during, our conversations. Most Japanese people in Hokkaido who aren't in the tourism sector do not have a strong command of English. Likewise, most tourists do not know more than a smattering of Japanese too. This is why VoiceTra will be your best companion during your time in not only Hokkaido, but all over Japan.
Equipped with these couple of apps and a stamp booklet, you will be all ready to make the most of your road trip in Hokkaido!
---
I would like to express my deepest gratitude to Scenic Byway, FollowMeJapan, and its partners for their world-class hospitality and putting this trip together. I can't wait to visit you guys in Hokkaido again.