Bangkok is famous for its vibrant street scenes, endless shopping, and active nightlife. It is organised chaos pretty much everywhere, from clogged street markets to avenues chronically choked in gridlock. People wouldn't usually associate Bangkok with an efficient transport system like that in other Asian cities such as Singapore or Hong Kong. However, we feel that Bangkok's transport system is rather amazing in its own way! Here's why:
1. There're so many different modes of transport
Indeed, you'll be spoilt for choice! For maximum comfort, you can always rely on taxis and private hire vehicles, especially with mobile apps like Grab where the fare is quoted up front (say bye bye to overcharging!). For thrill-seekers, there's always the tuk-tuk and even motorbike taxis that will give you that adrenaline rush as you zoom past pretty much everything on the street.
For a more predictable journey, you could always rely on the BTS Skytrain or the MRT, which allows you to beat the jam and chaos on the streets. Last but not least, you have the good old buses, river boats and ferries. Save for those tourist boats, taking such transports provides you with an insight of everyday life in the capital.
2. It's very affordable
Just when you think that getting around by taxi is already quite cheap (especially when you travel around in a group)…Guess what? You can save even more money if you have the luxury of time. Fares can start from as low as 7 baht (~S$0.35) for a short ride on one of these non-air-conditioned buses. Fares shouldn't exceed 20 baht (~S$0.84) as long as you're travelling within the boundaries of the city.
Boat rides within the city can be really cheap as well! That's because they cater to locals who actually use them regularly in their commute. Such boat services are available along the Chao Phraya River, serving the various places of interests such as the Grand Palace and its surroundings.
There's also another boat service along Khlong Saen Saep, a canal which passes by the prominent district of Pratunam and further into the suburbs. Once again, a single trip within the city shouldn't cost you more than 20 baht.
3. It's down to earth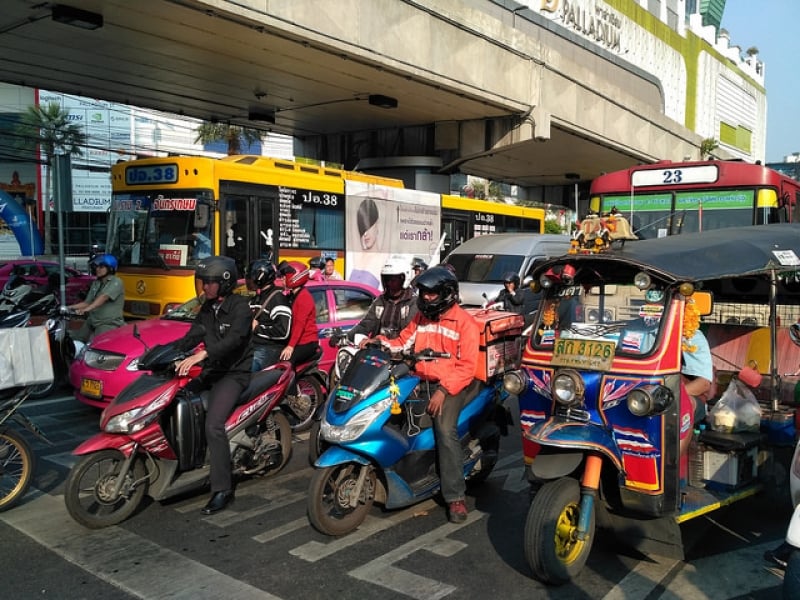 How do you address the organised chaos on the streets of Bangkok? By having a transport system that is equally chaotic!
You might struggle to find the logic behind it, but it's true! Travelling by bus is incredibly cheap, yet it's rather confusing and time-consuming; tuk-tuks zip through the streets efficiently but you may encounter cases of drivers overcharging you; BTS Skytrain and MRT beat the jam but their coverage is rather limited. At the end of the day, it's all about being practical. Each and every kind of transport has its pros and cons, so that's why Bangkok has so many types of transport that serve to complement one another! Bangkok's transport system is indeed chaotic in an incredible way.
4. Getting around is an adventure
Yes, you'll be forced out of your comfort zone to experience the overwhelming traffic, be it getting stuck in a taxi or experiencing nerve-wrecking near misses at the mercy of the reckless tuk-tuk driver. You might end up at a wrong place because somehow you didn't manage to communicate with your driver clearly due to the language barrier.
You might have finally figured out a bus route and boarded the bus after an unpredictable wait, only to find out it wasn't scheduled to operate the full route and you had to alight way before your destination. Or you might have experienced that heart-stopping moment when you almost fell into the water while scrambling to board that commuter boat that docks precariously for seconds.
Bangkok is a haven for such adventures. Journeys from one place to another would always keep you on your toes. I can't think of any other cities that parallel Bangkok with an equally exciting transport system!
5. It's an authentic showcase of Bangkok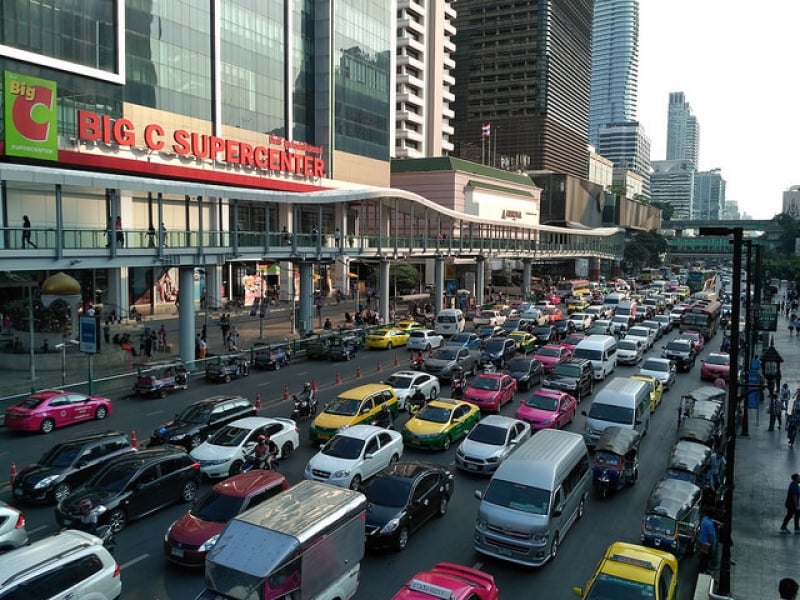 Bangkok's such a happening megacity be it in the day or night. It's always busy with good food, shopping, and nightlife for both locals and tourists alike. Bangkok's one-of-a-kind transport system is always there to support such establishments, cramming passengers onto overcrowded public transport and choking the streets with a wide variety of traffic. But that's what Bangkok's supposed to be with such organised chaos!
Do you have any more reasons to add to the list?