The Thai capital of Bangkok is home to a plethora of attractions and activities to suit varying tastes and interests. Hearing the constant calls of tuk-tuk drivers and street vendors, navigating the crowded streets and pavements, feeling hot and sticky, and hopping from sight to sight can, however, become exhausting. It helps to take a day out sometimes for some good old-fashioned fun and giggles and to reconnect with your youthful side. Dreamworld can be the perfect place for a day out of the frenetic city.
Located just outside the city proper, in the neighbouring province of Pathum Thani, Dreamworld offers heaps of fun for people of all ages. Whether you're visiting with friends or your significant other, looking for somewhere to take the kids, or fancy some fun solo time, Dreamworld is sure to please.
Here's what you can expect from a day at Dreamworld, the best theme park in Bangkok:
1. Wild water rides that WILL get you wet
You know some theme parks have water rides that warn that you "may" get wet, and you prepare with rain ponchos only to have a few drops of water land on you? Expect to come off Dreamworld's water rides drenched! Luckily you'll dry out quickly in the sunshine, but do make sure that your cameras and phones are well protected. You may also want to consider taking off your shoes if they won't dry easily. Board the circular pods of the Grand Canyon and bump along the raging rapids and squeal as you plummet down to land with a gigantic whoosh on the Super Splash. There's a small water park area with slides and chutes if you want to cool down even more, though it is mainly aimed at younger visitors.
2. Fast and thrilling rides to please adrenaline-rush seekers 
Dreamworld has several rides that are sure to get your heart racing and your stomach churning. Sky Coaster is one of the park's most thrilling rides. Feel the rush as your legs dangle below you and you twist and turn around the high roller coaster. My favourite ride is Raptor; it's oh-so-simple but so much fun! Imagine being in a giant mixing bowl (without the blades!) that occasionally tilts and jams and you'll understand a little of what it feels like to ride Raptor. Tornado takes you to dizzying heights while spinning you in the air, Hurricane flips you over like a limp rag, and Vikings is sure to make your stomach lurch. Try something different and ride a rollercoaster in the dark on the Black Hole.       
3. Smaller rides that are perfect for kids
There's no need for little ones to miss out on all the fun with rides like the laid-back Indian Boats, the cute train of Monza, the vintage cars, and the fast-for-kids Speedy Mouse. Other kids' rides include Thunderbird and the Flying Fish, and younger guests can also enjoy the bicycle boats and bumper boats. If the heat is a bit too much, take children to Play Port, where they can work off excess energy at the indoor and air-conditioned soft play area.  
4. Cute animal farm where you can meet an assortment of creatures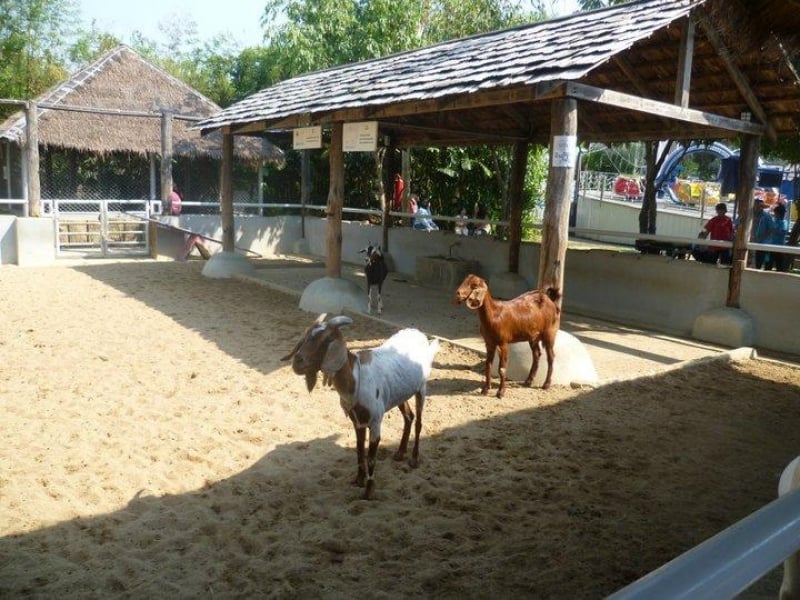 Popular with adults and children alike, Animal Farm is home to rabbits, a variety of birds, miniature pigs, ponies, goats, horses, deer, and other small creatures. Stroke the animals and fall in love!
5. Lovely landscaped gardens that are great for selfie lovers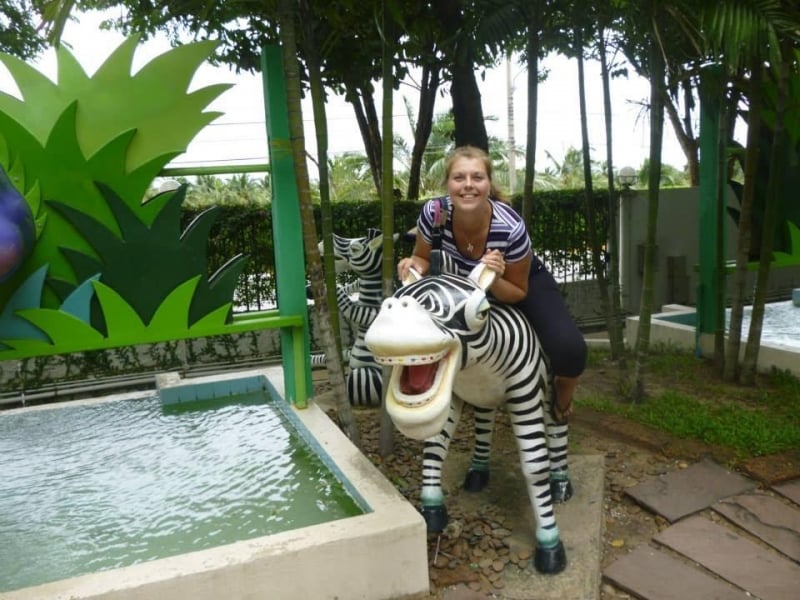 The well-maintained grounds of Dreamworld have several enchanting gardens filled with cool statues, water features, and other aspects that make for fun and playful photographs. Pose with a gigantic weight and look like a champion weightlifter. Wander around mini versions of iconic world wonders. Feel cute among the hearts, flowers, and butterflies of the Love Garden. Gaze up at the Sleeping Giant, sit on a bench next to Chester Cheetah or another famous character, strum a giant harp, play cards with skeletons, admire the lake, and more.
6. Quirky attractions geared at photography fans 
In addition to the gardens and statues spread throughout the park, Photopia is a magical land that demands the attention of a camera lens! Wander through the land of fairytales and legends and find charming scenes around every corner. Small Hobbit-like houses are buried in the small hills and you'll come across a giant boot house, towering fruit, and a house made from (plastic) candy. A large caterpillar, a grinning train, and Sleeping Beauty's home are just a few more delights you can expect to find. Be a hero and try to pull the sword from the stone, though, granted, you won't be able to!  
7. Family-friendly rides that let you soak up the views 
Travel at leisure between different sides of the park and soak up the views below with a ride on the monorail or cable car. Rides don't take long, but it's just enough to give you a breather and to help you get your bearings.
8. The chance to experience snow in the heart of steamy Bangkok 
Snow? In Bangkok?! Yes, it is possible! Well, it's possible in Dreamworld's Snow Town. A cool place, in both senses of the word, don the provided thermal jacket and rubber boots to trample through crisp, cold snow. As well as being able to build a snowman and all the normal ways people usually play in the snow, there are various cute features to clamber all over and pose next to. Sit in a sleigh, peer into the eyes of a polar bear, stand fearlessly next to a mammoth, enter an igloo, and be enchanted by the large snowman. A toboggan run offers a bit of an icy thrill. Do note that extra charges apply for Snow Town unless you have bought an inclusive package.
9. Attractions that play with your mind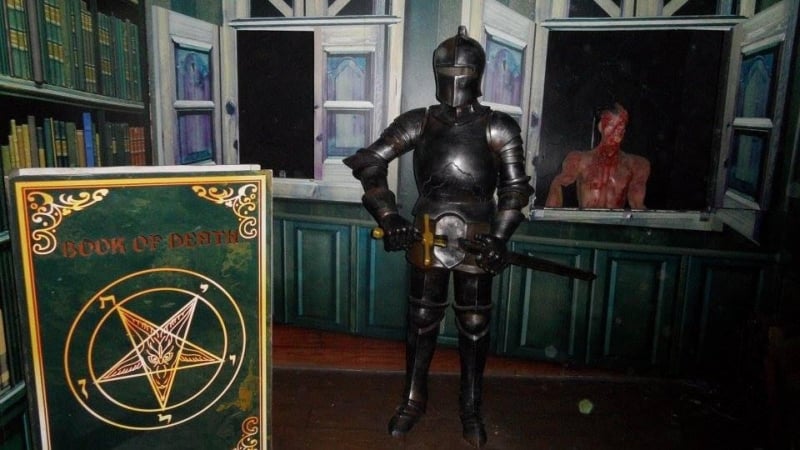 While some of Dreamworld's rides rely on speed and the unexpected, there are also those that play with your mind and prey on your fears to give you goosebumps. Try not to squeal as you're strapped in and a fearsome creature prowls in the dark on Alien. Have your senses muddled in the 4D Cinema. Try not to run as shrieks and strange noises fill the air and horrifying sights loom large around each corner of the Haunted Mansion.  
10. The opportunity to feel tiny as a mouse in the Giant's House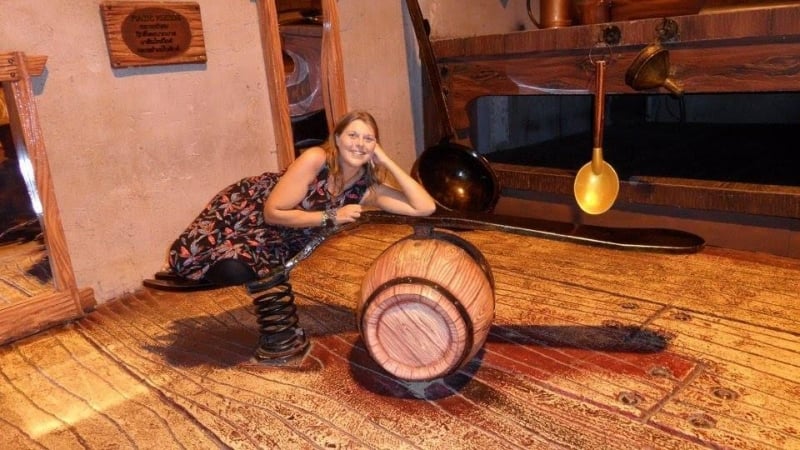 One of my favourite attractions at Dreamworld, the Giant's House is a top place for messing about with over-sized objects and striking a pose for a miniature effect. The giant slumbers at the back of the room, leaving you free to swing in a giant birdcage, try on his boots and slippers for size, be revolted by a huge cockroach in his kitchen, clamber up onto his chair, walk under his huge table, and more. It really is a whole lot of fun because, after all, who wouldn't love to sit in a giant teaspoon or lie down on a gigantic fork?!
11. A joyful afternoon parade
The Colours of the World Parade takes place each afternoon, with loud announcements made throughout the park so that you don't miss the cheerful characters coming together for a cute spectacle. Featuring Dreamworld's costumed performers, it's especially popular with kids.
Feeling hungry? There are many F&B outlets throughout the park offering a range of cuisine and snacks. Shops sell an array of souvenirs and you can try your luck and attempt to win a prize at the varied carnival-like games and competitions. Show off your skills in shooting, darts, fishing, and similar to be in with a chance of winning a huge plush toy or other prizes. Street performers can be spotted throughout the park and the Hollywood Action stunt show takes place at intervals throughout the day.
So do something different when in Bangkok and spend a day at Dreamworld.