More often than not, while planning an itinerary for a trip to Japan, we're bound by the seasons and what each place has to offer. Of course, Hokkaido is best in winter, Tokyo in spring, Okinawa in summer and Kyoto in autumn, but unfortunately our budget doesn't allow to experience all four seasons.
While trees might not be evergreen, there's no need to despair. Just a short train ride outside of Tokyo is a mountainous town famed for its hot spring resorts — Hakone. Commonly considered the most scenic day trip from Tokyo, Hakone proves to hold so much more to see and enjoy. The best part is? It doesn't matter what season it is, there's always something to be amazed by.
1. Foliage
Every year without fail, Japan sees to throngs of tourists flocking in for their seasonal foliage, notably for their sakura as it transforms Japan into an arresting sea of pink.
While most would crowd around Tokyo's hotspots to bask in its soft, beautiful splendour, Hakone offers a quieter alternative that allows for the perfect picture opportunity. Here you can spot different sakura varieties such as someiyoshino, shidare-zakura, mame-zakura and yama-zakura. For the entirety of April, the pink banks lining Lake Ashi becomes a stunning visual not found elsewhere.
Even as the sakura flowers wilt and cover the ground, Hakone remains breathtaking with shades of red, pink and purple of azaleas. Odakyu Hotel de Yama alone is filled with 30 varieties of azaleas. Over at Hakone Hotel Kagetsuen, you'll find the paths lined by the stark contrast between the fiery red and soft white azaleas.
Come summer, Hydrangeas spring up all over Hakone, replacing pink with soft baby blue and purple pastels. It's highly advised to take a trip on Hakone's Tozan Train, also known as the hydrangea train. During this period of time, the hydrangeas bloom so close along the railway that you could almost touch them from the window.
A large rolling field of pampas grass covers the west slope of Mount Hakone that glitters golden in autumn under the large expanse of clear blue sky. To truly enjoy its splendour in full glory, It's best to trek up the single path through the field to the highest vantage point before sunrise. As day breaks, the morning rays recreate the visuals of a sea of gold with the clouds below that's absolutely Instagram-worthy.
Of course, Momiji leaves are to autumn what sakura are to spring. Hakone, in particular, claims to have the best fall colour in Japan. The atmospheric sight of brilliant red and gold coupled with the crunch of leaves below your feet is both breathtaking and relaxing. Over at the Hakone Museum of Art, Momiji trees form a spectacular view as thrust their utmost beauty onto the moss garden below.  
2. Food
It goes without saying that as the season changes, so does the food. The most popular form of accommodation in Hakone is a ryokan, of which most would provide kaiseki-style dinner. While it might seem strange to have sashimi in the middle of the mountains, the Port of Odawara is only less than an hour away, so rest assured the ingredients are incredibly fresh.
As with any kaiseki, only seasonal ingredients are used, and this encompasses both the food and the inedible leaves and twigs that decorate the plates. This means there's always a different menu every season, every year. If their schedules match up, tourists can also experience special menus related to traditional events such as hinamatsuri.
Across Lake Ashinoko where Hakone-machi and Moto Hakone is are plenty of restaurants that specialise in wakasagi, a species of freshwater fish known as smelt. These tiny fishes are commonly served grilled on top of rice, fried or as tempura and taste rather delicate. Raised in the pristine waters of Lake Ashinoko, they're available all year round but taste best between autumn and winter when they're at their fattest.
3. Festivals
Festivals — or matsuri, as they're referred to here — are an integral part of Japanese culture. Each matsuri is held in honour of an event, or of a season, with great significance unique to each individual area.
Hakone is no exception. One of the biggest traditional summer events is known as Hakone Daimonji-yaki (箱根強羅夏まつり大文字焼). Similar to Gozan no Okuribi in Kyoto, bonfires are arranged in the shape of the kanji 大 and lit on the side of Mount Meijogatake as part of their obon festival. This ceremonial bonfire is carried out to appease all spirits and closed with a show of fireworks.
Another more unique festival is the Sengokuhara Susuki Matsuri, which is held to celebrate the beauty of the pampas grass. Just like any matsuri, it features the classics such as food stands, traditional matsuri games and performances from singers, dancers and even magicians. It's definitely a must-try for all.
4. Hot Springs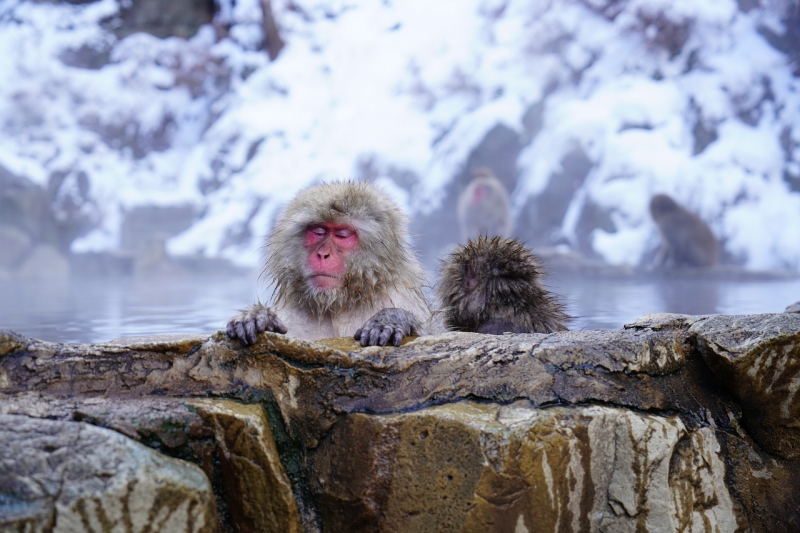 Hot springs are an indispensable part of Hakone, after all, it is the main reason why tourists and locals alike go out of their way from Tokyo to visit. With over dozens of hot springs all across Hakone, there's no shortage of hot springs to choose from.
Notably, rotemburo (outdoor baths) provide some of the best experience throughout all the different seasons. While there might not be changes in the type of water, the scenic views add appeal to the whole experience. Each season's colours can be enjoyed from the comfort of the hot springs, and on clear days, certain rotemburo allow for a clear view of Mount Fuji too.
Winter, in particular, is the most popular time to indulge in a soak at a hot spring. For those easily light-headed or those afraid of the heat, the temperature difference helps to keep a cool head. Even though you won't get to experience snow in Hakone, a soak would help to relieve the fatigue in your muscles after a long day in the cold, especially with a hot mug of tea or cocoa afterwards.
5. Museums
Now you might be thinking, what do seasons have to do with museums? Sure enough, the exhibits themselves don't change much, but there's definitely a different experience to be found with every season.
One of the more popular museums is The Museum of The Little Prince, based on the book Le Petit Prince written in 1943. The exhibition is a replication of the book's whimsical iconic illustrations, with a dedicated space recreating the world as the author, Saint-Exupéry, knew of when he was writing the book.
In the middle of the museum space is an expansive garden designed by Keiko Yoshiya and features an impressive rose garden to pay homage to the story. It features other flowers such as hydrangeas during other seasons, and in winter the main building is illuminated with projection mapping that recounts the stories from the novel.
The other must-see museum is Hakone's Garasu no Mori (Glass Forest Museum). The entire complex is a study in elegance, housing over 100 pieces of traditional Venetian glasswork that simply sparkles with every step you take. Not just indoors, but the garden outside is every bit as breathtaking.
The garden's blooming fauna is a sight in itself, but through the use of seasonal art the garden takes on a magical, almost dreamlike feel. Glass pieces meant to represent the changing of seasons adorn the garden, resembling anything from sakura to momiji leaves. Set against the scenic background that stretches beyond the horizon to the peaks of Owakudani, there's nothing you'd want to do more than to sit and relax in the garden.
Are you already preparing for your next trip to Japan? Don't forget to add Hakone to your itinerary!
Also read: Exploring the Nagano & Niigata Regions: Best Autumn Viewing Spots, Food & More