OH RAMEN, my one true love. You always tempt me at ungodly hours and seduce me with your delicious taste. Not to mention – slurping up a good, hearty ramen broth always nourishes the mind, body and soul.
If you're an avid lover of ramen and have been eating ramen in its original form only, you're missing out terribly. You'd be aghast at all the creative and slightly weird ramen concoctions people have come up with. It's so cheap and delicious, the perfect ingredient for broke college kids or for experimental enthusiasts looking to whip up a party in their kitchen.
So without further ado, I present to you…Ramen Reinventions.
1. Pepperoni Ramen Pizza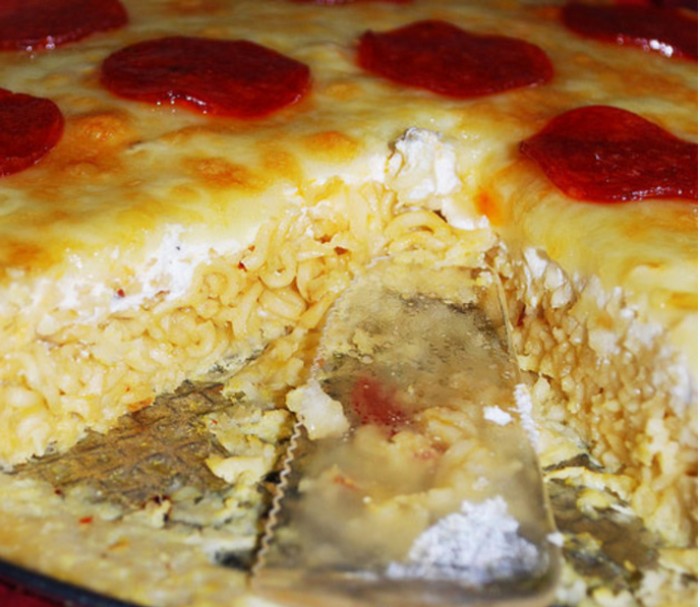 Image credit: Serious Eats
If you've ever had a dilemma deciding between ordering pizza or having ramen for a cosy night at home, now you won't! Get the best of both worlds with this amazing and creative dish. Mmm… every slice seems so delicious yet sinful! Try making it yourself with this recipe here.
2. Ramen Brownies with Whisky Caramel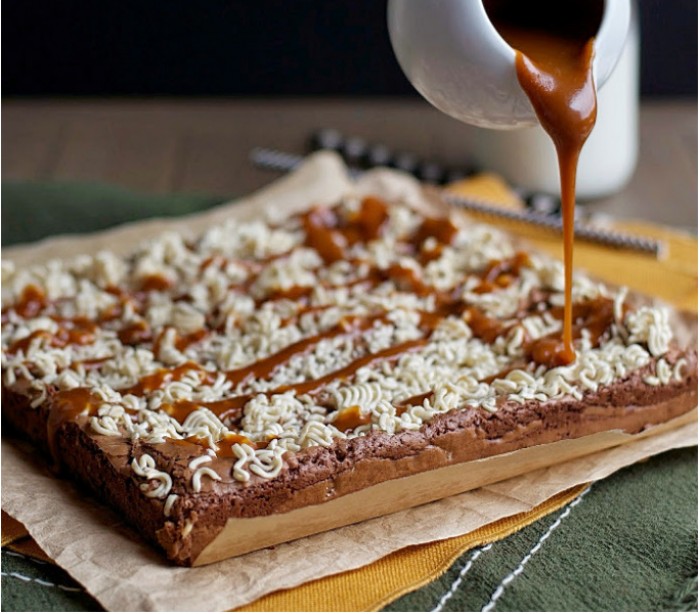 Image credit: 10th Kitchen
Ramen as dessert?! I know what you all are thinking…That's just weird! Ramen actually doesn't add much taste to the brownies, as seen from its heavy reliance on MSG for flavour. It's simply a unique way to add some crunch and make the dessert more visually appealing! Tempted? You can try your hand at experimenting with this recipe.
3. Raspberry Ramen Rocky Road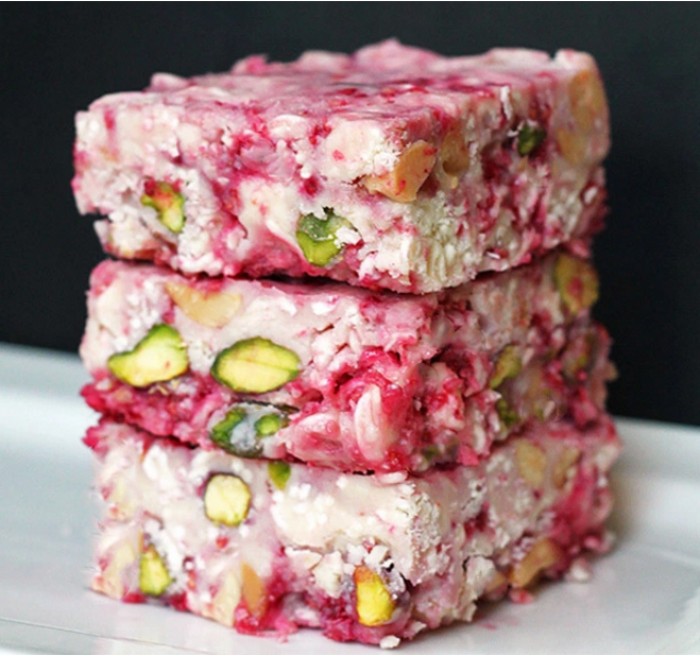 Image credit: The Cherished Bite
Raspberry Ramen Rocky Road?! Phew, that is one long alliteration. And what a combination! Together with instant ramen noodles – toasted peanuts, pistachios, white chocolate, and raspberries amalgamate into a wondrous flavour. Sweet, salty, and crunchy all at the same time. Your mouth will be bursting with joy. Make it yourself with this recipe!
4. Ramepherd's Pie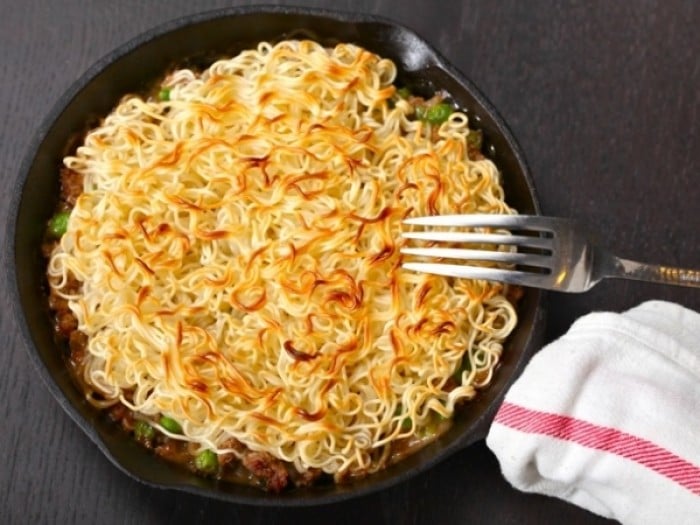 Image credit: Seriouseats
This is the normal Shepherd's Pie with an added twist of ramen! The top layer of ramen is golden brown and crunchy, while the bottom layer remains soft. Contrasted with the juicy ground beef below, you will never forget the taste of a Ramepherd's Pie! Impress your family and friends with the recipe here.
5. Ramacos (Ramen + Tacos)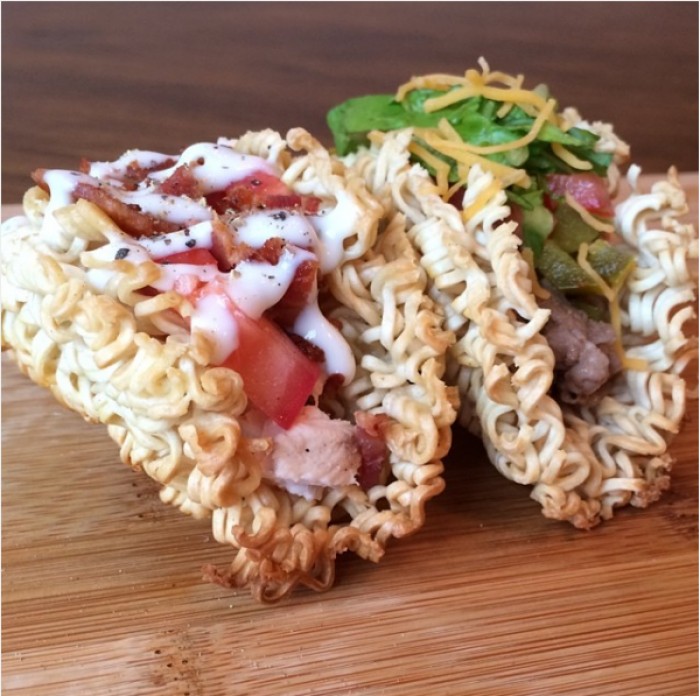 Image credit: The Vulgar Chef
OH MY, just take a look at these two mouthwatering beauties. The Vulgar Chef has created this amazing hybrid which definitely packs a punch with every single bite. The one on the left is the chicken bacon ranch ramen taco and the right one is a shaved beef-pickled jalapeno taco. Get these babies into my stomach, please!
6. Ramac and Cheese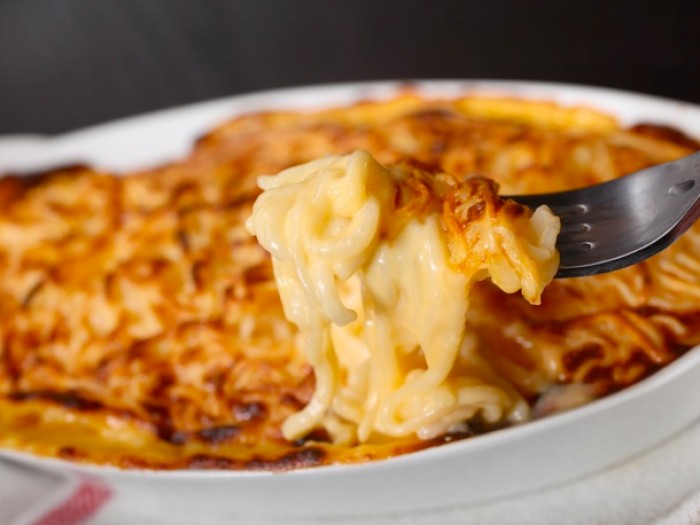 Image credit: SeriousEats
Well obviously somebody would substitute the macaroni for ramen someday! And doesn't that just look so sinfully delicious? The velvety cheese sauce slathered all over soft, bouncy ramen noodles is exactly what dreams are made of. A wonderful example of a Western and Asian fusion dish.
7. Kimchi Ramen Grilled Cheese Sandwich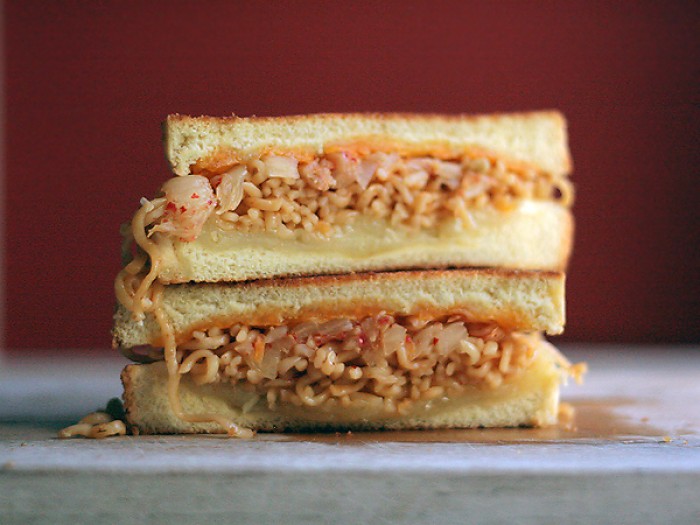 Image credit: Tastespotting
Ramen and kimchi is like THE basic combination every Korean loves. So obviously putting them together was a no-brainer – but in a sandwich? You may find this incredibly disgusting or delicious, but I'd put my bet on the latter. Cheese, kimchi and ramen in a sandwich will never go wrong! It's also so simple and fuss-free, you can have it ready for breakfast in no time.
8. Savory Ramen Chocolate Bar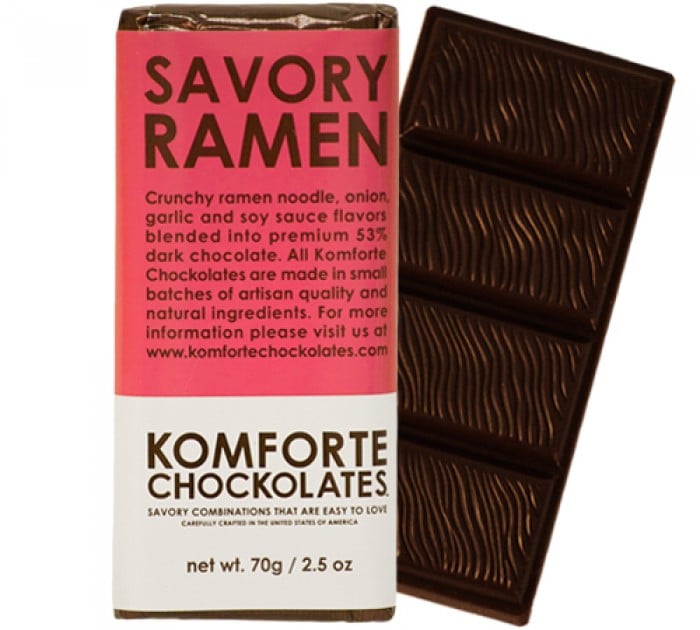 Image credit: Perpetual Kid
This is one product that sounds as dubious as it looks. This chocolate bar does not just include ramen, but onion, garlic and soy sauce as well! UMMMM…This combination seems highly questionable, having both savoury and sweet ingredients mixed together. For the adventurous souls out there, you can challenge your tastebuds and purchase it here.
9. Asian Style Ramen Pancakes

Image credit: Aunt Peg's recipe box
These pancakes with an Asian twist look oh-so-inviting! Modify it by adding any type of vegetables that you like to suit your taste. Fry it till it turns golden-brown and savour it while it's crunchy and hot. Bon appetit! Try it out by following the instructions right here!
10. Fried Ramen Snack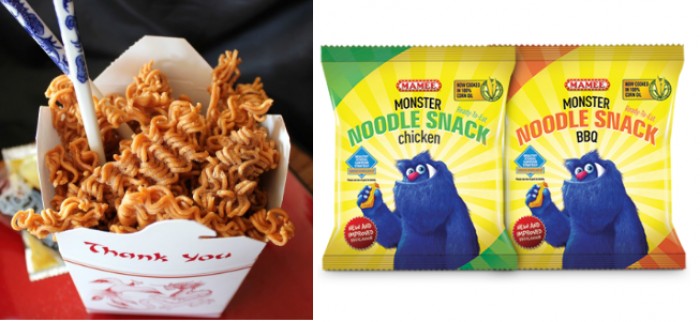 Image credit: Ohbiteit and Mamee
This is an insanely AWESOME alternative to munching on popcorn during stay-in movie nights! Most Asians might already be familiar with this because of the famous Mamee snacks that are similar. You can choose to fry them yourself and add the seasoning accordingly, or buy premade Mamee ones that come in chicken and BBQ flavours. BE WARNED: they are extremely addictive!
11. Ramen Burgers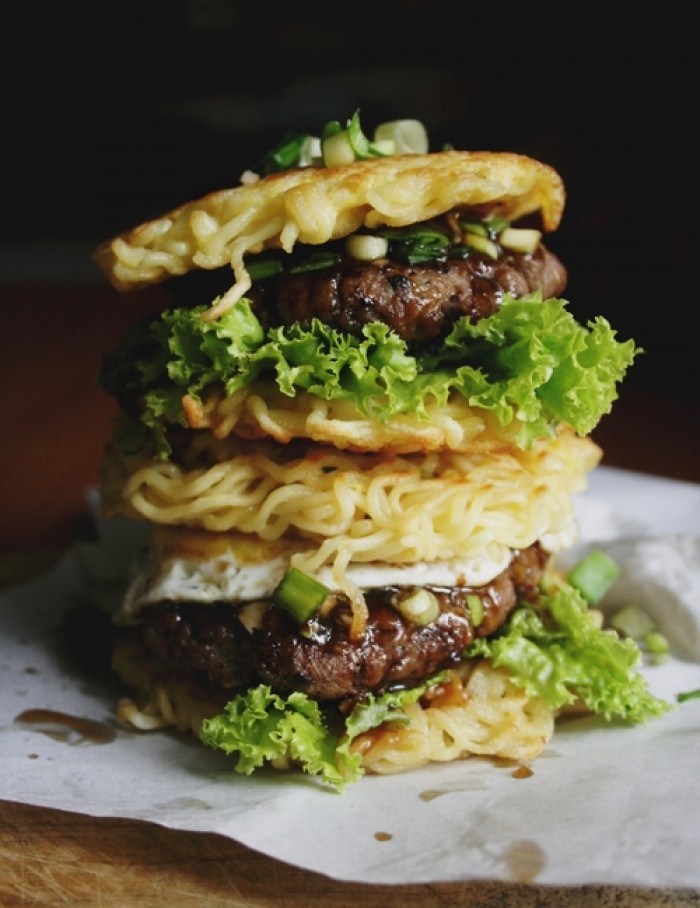 Image credit: Pigamitha Dimar
Originally created by Keizo Shimamoto, the Ramen Burger was a HUGE sensation three years ago when it first surfaced as one of New York's latest culinary creations. But did you know that you can easily make it at home? That's right! Just follow this recipe and you'll be good to go. The crisp and chewy ramen "buns" juxtaposed against soft, juicy meat patties will leave your tastebuds shrieking in delight.
12. Ramlette (Ramen + Omelette)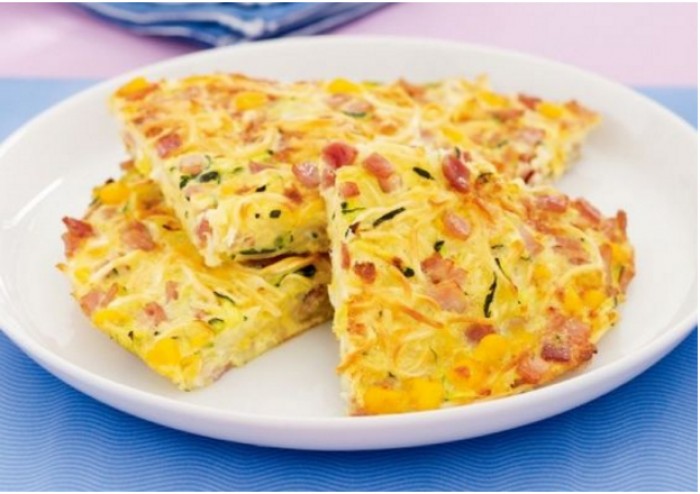 Image credit: Pinterest
This is the ultimate breakfast hack – especially for college students or thrifty professionals looking to save some money! It's simple, fuss-free, and can be prepared in less than 10 minutes. Throw in bacon, cheese, and any other additional ingredients you love in your omelette and voila! Follow this recipe to make your mornings easier.
13. Spicy Shrimp and Saucy Guacamole Ramen Noodle Bowl
I absolutely LOOOOVE guacamole – but I'm not too sure if ramen and guacamole belong together. Nevertheless, Karen from the Soup Addict has created this astounding combination complete with spicy prawns, tomatoes and cucumbers. And guess what – it's actually pretty delicious! The creamy guacamole blends well with soft, springy ramen noodles, while the tomatoes and cucumbers add a refreshing kick to the whole dish. The succulent prawns are also not TOO spicy and complement the other ingredients perfectly. Try it out yourself and you'll be equally amazed as I was.
14. Bacon Ramen Scrambled Eggs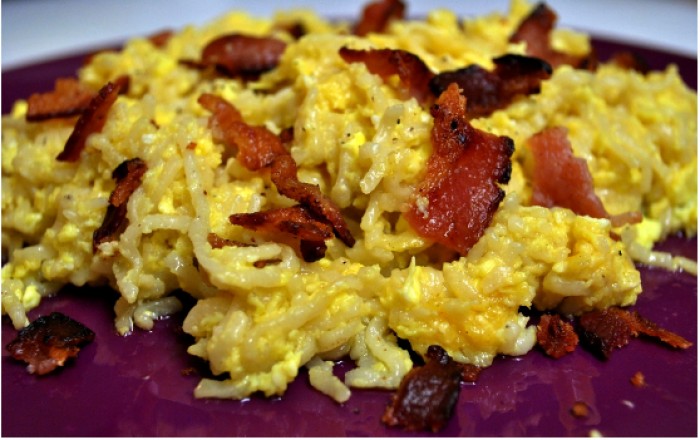 Image credit: Justin Shannin/ Spoon University
Now, this looks like one SINFUL combination! Whoever said that ramen belongs only with soft-boiled eggs?! Another strong breakfast contender, this dish will surely brighten up your morning. You will never go wrong pairing anything with bacon, that's for sure! Any cooking beginner will be able to whip up this dish, because it's that easy. You can refer to the detailed cooking procedure here!
15. Peanut Butter Sriracha Ramen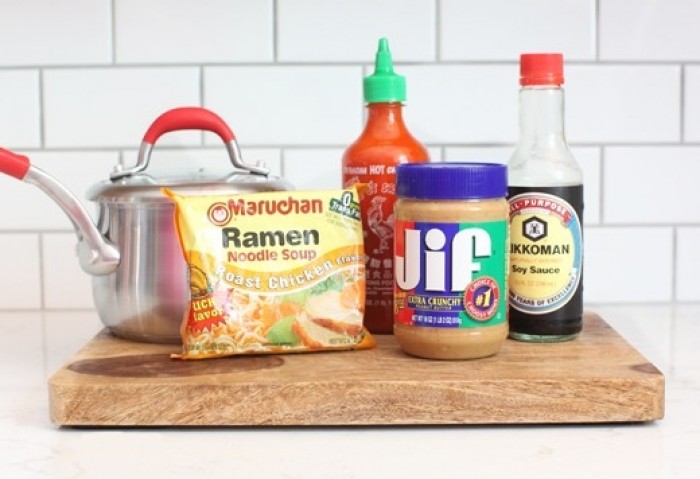 Image credit: Indulgy
All you need to make this dish are just FOUR ingredients! Easy peasy. The combination of ingredients may seem highly dubious…BUT you'll never know until you try it yourself! Creamy with a kick of spiciness, this dish is not for the faint-hearted. Daredevils can challenge yourself with this recipe.
16. Chocolate Fudge Ramen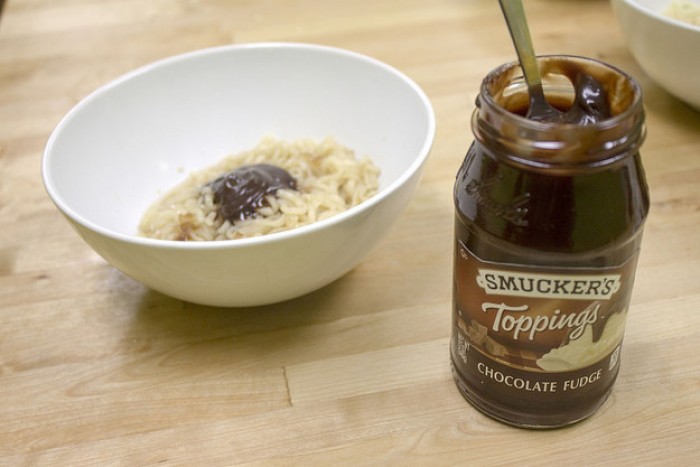 Image credit: Meredith Marcus
I'm not sure about you, but this looks positively puke-inducing to me! Comprising chocolate fudge, brown sugar and vanilla extract, this ramen dessert is not visually appealing AT ALL. Maybe a scoop of vanilla ice-cream might make it taste even better? Feel free to experiment as you like! Follow this recipe if you're insane enough to try this out.
17. Ramen Crispy Treats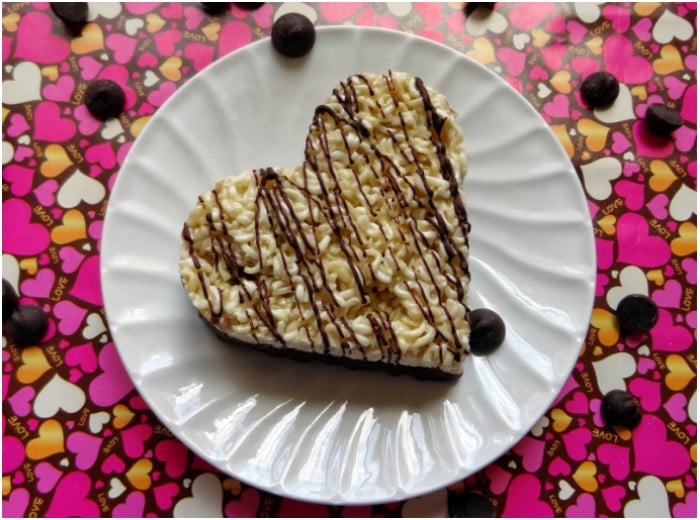 Image credit: MissMochi
This would be the perfect Valentine's Day present ever!  It also seems much more edible than the aforementioned Chocolate Fudge Ramen. What a unique spin on everybody's favourite rice treats! This would also be extremely popular amongst young children HANDS DOWN. Get busy in the kitchen with this recipe!
18. Ramen Lobster Roll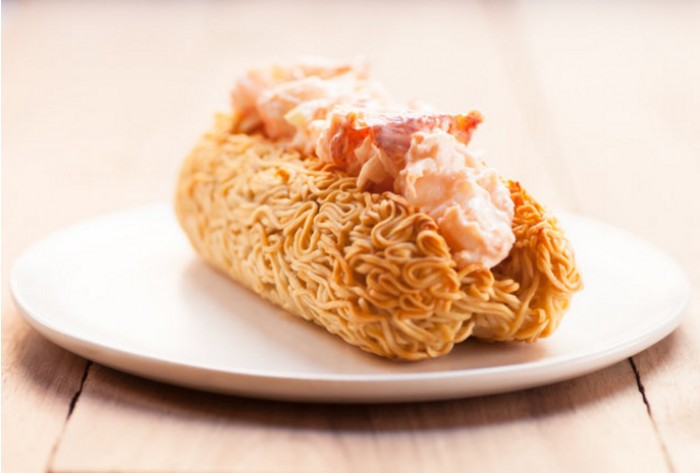 Image credit: Thrillist
Normal lobster rolls are like…PFFT. So yesterday. Toss away those toasted buttery buns and go for an awesome crunch instead! Uh huh, I bet you've never seen a lobster roll wrapped in ramen like this before. Blow everyone away with this cool recipe right here!
19. Ramen Chicken Nuggets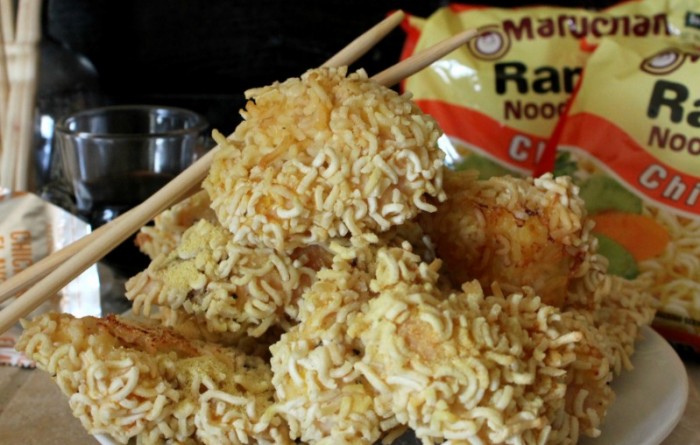 Image credit: Ohbiteit
Oh boy oh boy, this harmonious union of chicken nuggets and ramen is a wonderful creation! Crunchy, chewy, and lightly seasoned, you'll never be able to stop at one. Find out how to create these lovely babies over here.
20. Ramen Waffle Sandwich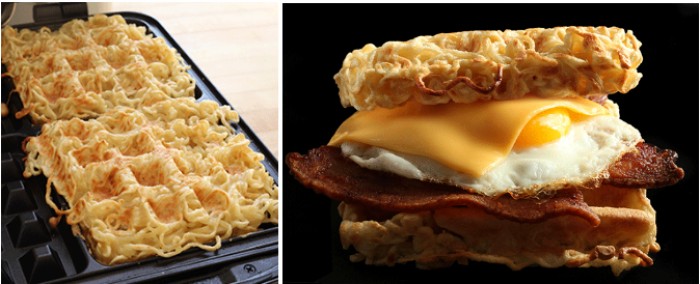 Can you believe your eyes?! Crunchy on the outside and tender on the inside…This ramen waffle sandwich looks absolutely delectable. In fact, it could also be a sweet dessert as well if you place a few scoops of ice-cream between them, don't you think? You could even drizzle it with chocolate sauce or maple syrup! Either way, we'll never get tired of eating this interesting combination.
21. Ramnuts (Ramen + Doughnuts)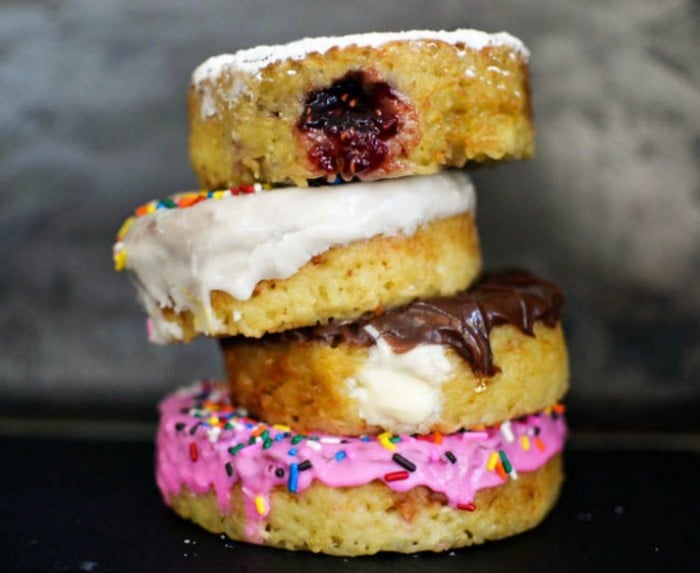 Image credit: Joshua Scherer
Ramen doughnuts with flavoured fillings?! I'M SOLD. Joshua Scherer took 12 hours to create this successful invention, all by himself. This ultimate hybrid is a perfect combination of sweet and savoury! Take a bite and you'll know that these insane treats are certainly worth all the calories. You don't even have to buy it, make it yourself with this recipe!
22. Ramen Flavoured Oreos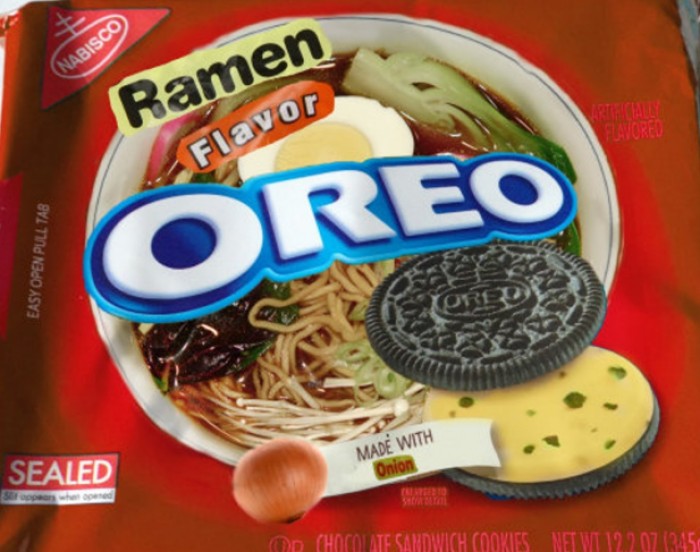 Image credit: WrecklessEating
Need we say more about RAMEN FLAVOURED OREOS?  
Are you completely floored yet? Next time you think of eating ramen, why not try these creative and crazy combinations for an added twist? Your tastebuds will surely be in for a HUGE surprise.
Also Read: 32 Unique Kit Kat Flavours You Must Hunt Down in Japan