India is a vast country, but a trip to India is simply incomplete without visiting Rajasthan. This colourful and culturally rich state is filled with majestic ancient structures, some of which still carry the legacy of the royal families while others lie in ruins bereft of their once glorious past.
Should you get daunted by the sheer size of India itself, we highly recommend kickstarting your discovery of the country with an exploration of Rajasthan. From history to wildlife to culture and food, it has everything for a curious first-time visitor. Here are 5 itineraries for a first time traveller to Rajasthan – so take your pick and start exploring!
Also read: 20 Exciting Things to Do in India that Will Completely Change Your Perception of the Country
Itinerary #1: A glorious introduction to Rajasthan
Recommended route: Jaipur > Pushkar > Ajmer > Udaipur > Kumbhalgarh > Ranakpur > Jodhpur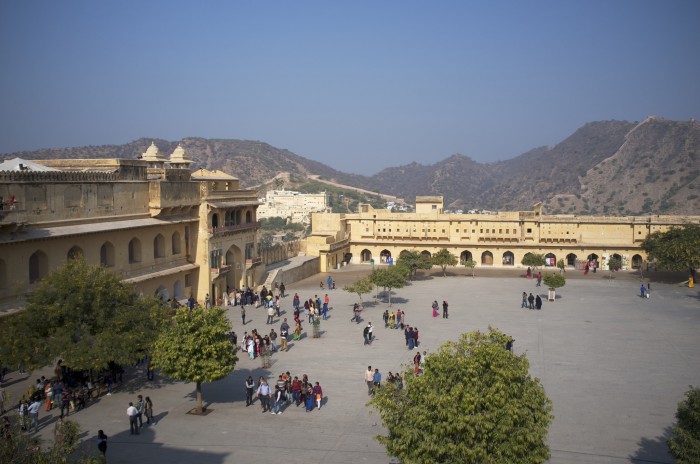 Amber Fort | Image credit: Aleksandr Zykov
Arrive in the pink city of Jaipur and visit its distinct forts and palaces made of pink sandstone – Amer Palace, Jaigarh Fort and Nahargarh Fort. Also, drop by to visit the  Hawa Mahal aka the Palace of Windows, a distinct landmark of Jaipur located on a busy street. Fun fact: it was designed for the royal women who could delight in watching the daily lives of the people without anybody seeing them!
A DIY food walk is also a perfect way to indulge in the street food of Jaipur. Hunt down lots of delicious eats, the most recommended being Lassiwala which is a sweet yogurt-based drink. Shopping at Bapu Bazar for mojris (handcrafted shoes) and khadi (hand-woven cloth) is one of the must-do affairs in Jaipur.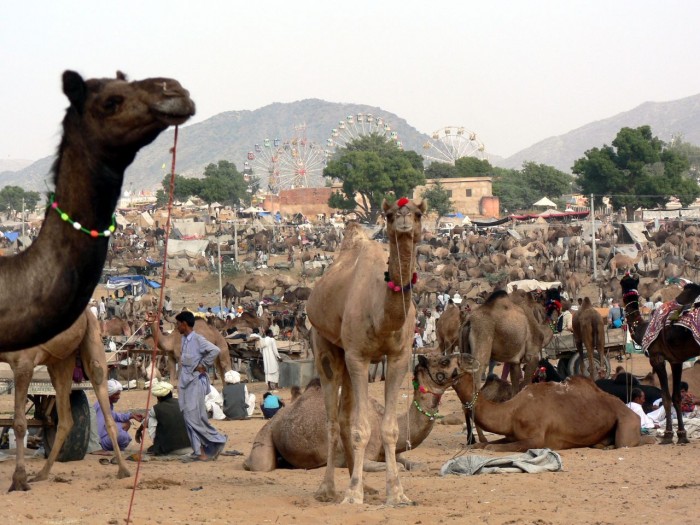 Pushkar Camel Fair | Image credit: Cordelia Persen
Head to Pushkar for some spiritual vibes, especially as this is the only place in the world where Lord Brahma – one of the Hindu holy trinity – is worshipped. Visit Man Mahal, a beautiful palace by the Pushkar Lake. The town also has many temples of which the most famous are the Brahma Temple and Savitri Temple, both of which offer breathtaking panoramic views of the lake. If you can, make your travel plans coincide with the Pushkar Camel Fair, an annual cultural festival where you can witness the nomadic tribes and, of course, the renowned camel safari!
A short drive from Pushkar will take you to Ajmer, a major Rajasthani city famous for the Ajmer Sharif Dargah, a famous pilgrimage spot for both Muslims and Hindus. Other lesser-known attractions include Nareli Jain temple, Shah Jahan's Mosque and Daulat Bagh gardens. These not as well known but definitely still worth a visit!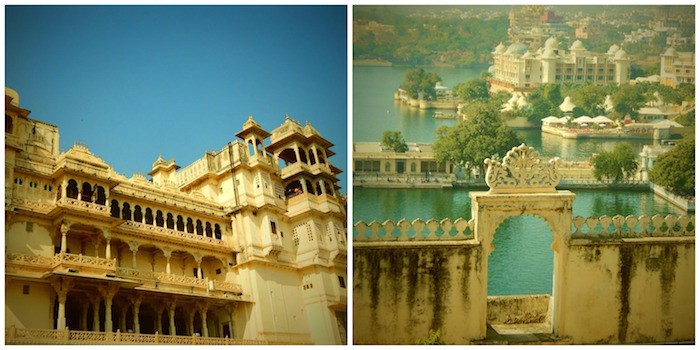 (left) City Palace, Udaipur; (right) view of Lake Pichola| Image credit: Aditi Mittal
Continue onwards to Udaipur to visit the glorious City Palace in the morning (the Palace still serves as the residence to the royal family) and take a sunset boat tour on Lake Pichola. Later in the evening watch the Light and Sound show and then head out for a romantic dinner at Ambrai Restaurant by the Lake.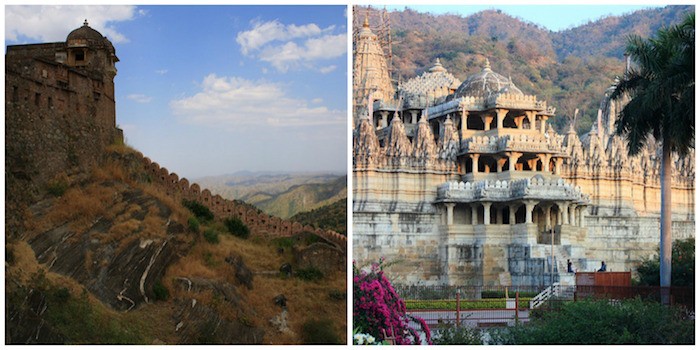 (left) Kumbhalgarh Fort; (right) Ranakpur Temple | Image credit: (left) Benjamin Vander Steen; (right) Strudelt
Move on to Kumbhalgarh, a world heritage site that invites you to its humongous fortress often compared to 'the Great Wall of China'. The fort was built in the 15th century by the ancestors of the royal family of Udaipur. After, visit Ranakpur for its intricately sculpted Jain temples.
Jaswant Thada | Image credit: Aditi Mittal
Continue to the blue city of Jodhpur and visit the enchanting citadel, the Mehrangarh Fort. You can even zip-line across the entire fortress! Next door is the beautiful cenotaph Jaswant Thada, where you can admire the royal collection at Umaid Bhawan Palace. A short trip out of Jodhpur will take you to Mandore, the old capital of the kingdom. Opt for a visit to Bishnoi Village to get a taste of the community living, meeting local artisans and wildlife of Rajasthan. Have a traditional Rajasthan Thali meal at Gypsy Restaurant or enjoy a rooftop dining experience overlooking the illuminated fort. A short drive outside the city will take you to Osian, an ancient city popular for Jain temples and camel rides on sand dunes.
Tips:
Pushkar Camel Fair has recently gained immense popularity, especially among photography enthusiasts who wish to capture the colorful and vibrant fair. You can stay in tents to enjoy the best of it, however we do recommend booking well in advance to ensure availability.

There is a Light and Sound show at Kumbhalgarh Fort which is definitely worth a watch!

The temples in Ranakpur are open to tourists only in the afternoon. Do take precautions to dress conservatively so as to show respect.
Itinerary #2: See a little bit of everything in Rajasthan
Recommended route: Jaipur > Ranthambore > Bundi > Kota > Chittorgarh > Udaipur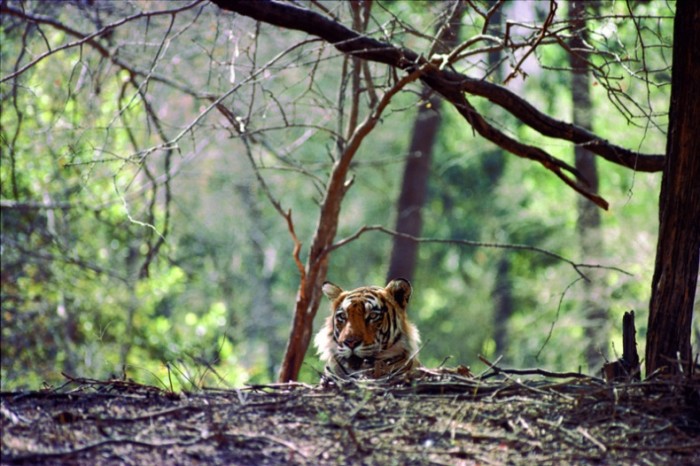 Image credit: India Tourism Singapore
Start off at Jaipur and enrich yourself through its distinct forts and palaces as mentioned in the above itinerary. Then move on to Ranthambore, a town famous for its Tiger Reserve. Spend a night in a luxury camp, aim for an early start and take a wildlife safari (which is included in your stay) to catch a glimpse of the majestic cat. In your spare time take a short visit to the Ranthambore Fort.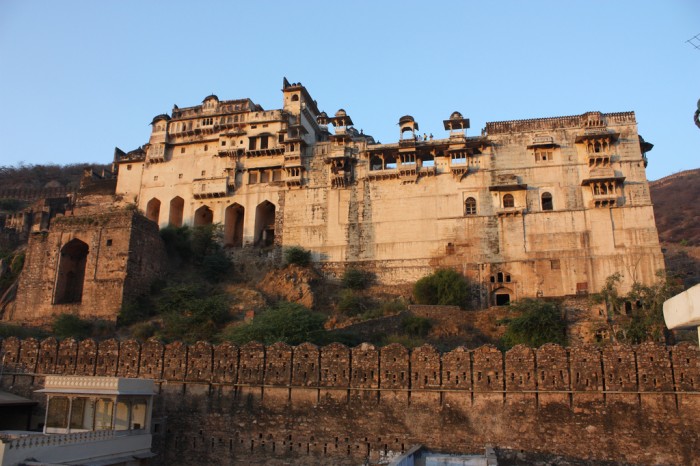 Bundi Palace | Image credit: Arian Zwegers
Afterwards, head west to Bundi, a relatively less touristy town famous for its frescoes. Visit Taragarh Fort and Badal Palace which boast frescoes featuring brightly colored miniature art. Witness the prehistoric rock paintings from the Mesolithic era and 11th century temples with erotic sculptures.
Only an hour ride away lies Kota, a small town which was once a part of the erstwhile kingdom of Bundi. Walk through the history at the beautiful red sandstone palace Garh Palace, Jag Mandir (located in the middle of Kishore Sagar Lake) and Maharao Madho Singh Museum which exhibits a collection of murals, miniature paintings, the royal armory and ancient sculptures. If you have some spare time, take a boat ride on the Chambal river and you might even find a lazing alligator.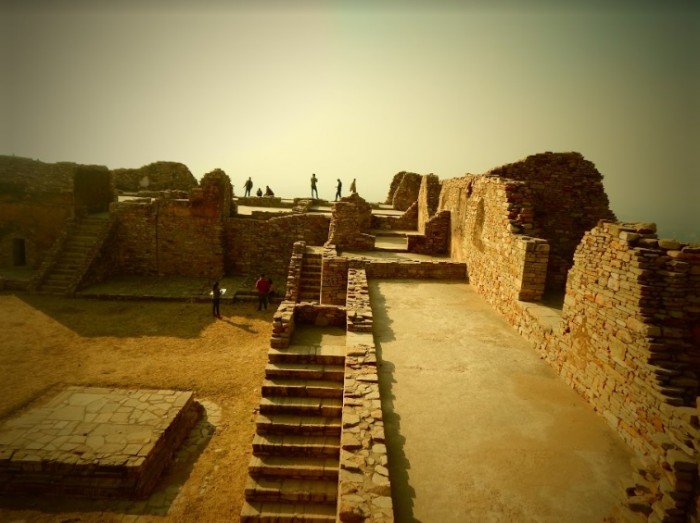 Ruins of Chittorgarh Fort | Image credit: Aditi Mittal
At your next destination, walk through the ruins of the Chittorgarh Fort from the 8th century which tell the legendary tale of Queen Padmini's sacrifice. Most of the attraction sites are actually within the Fort complex, so you can see them all at one shot. Continue to Udaipur which belongs to the descendants of the same royal family who once ruled Chittorgarh. Follow the itinerary as suggested above.
Tips:
Winter (Nov-Feb) is the most comfortable time to take a wild safari in Ranthambore, while summer (Mar-Jul) is the best time to catch a glimpse of the Tigers. Wildlife enthusiasts like to stay put in Ranthambore for 2-3 days and take multiple safaris to increase the probability of seeing a Tiger.

There is a Light and Sound show at Chittorgarh Fort as well. It's a great watch that allows you to understand the history of yesteryear's Mewar kingdom.

At the City Palace, you can either opt for an audio guide for free or hire an official guide for just US$3. We highly recommend an official guide for a more enriching and personal experience!
Itinerary #3: Experience nature, wildlife and the fetish of royals for hunting in the older times
Recommended route: Jaipur > Bharatpur > Deeg > Sariska > Alwar > Delhi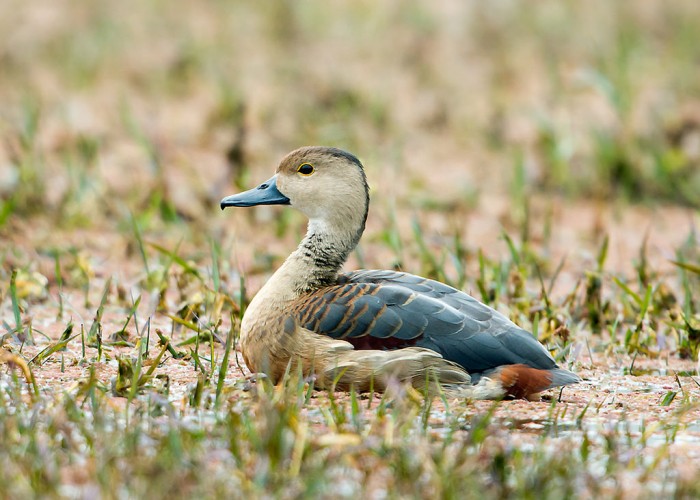 Whistling Duck | Image credit: Koshy Koshy
Start at Jaipur – the to-do list remains the same as above. Move on to Bharatpur and visit the popular Keoladeo Ghana National Park, which is home to over 350 species of birds including Shelducks, Gulls, Great Bull Herons and more. The park is especially famous for the migratory birds that visit to take advantage of the mild Winter in the area – the most famous being the Whistling Duck! It is a protected site and also a declared World Heritage Site. You can also visit Loha Garh aka the Iron Fort to learn about the royals of Bharatpur.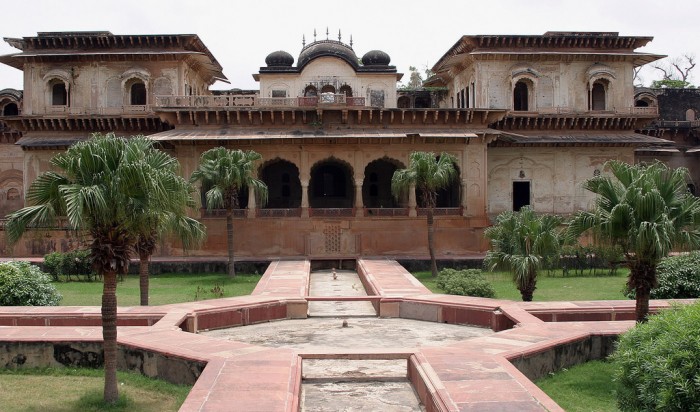 Deeg Palace | Image credit: Carol Mitchell
Roughly 35km away from Bharatpur lies Deeg – the erstwhile royal seat of the Jat rulers. A day trip from Bharatpur is highly recommended for its beautiful palace, Jal Mahal. The palace has an array of fountains and was designed in a way to keep the whole premises cool even in the extreme summer heat.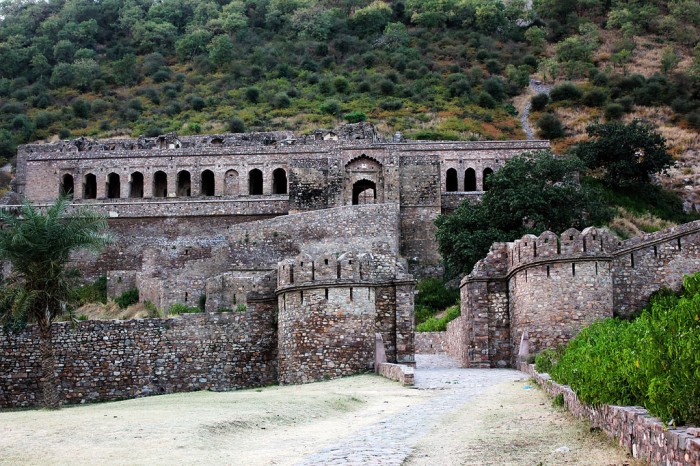 Bhangarh Fort | Image credit: A Frequent Traveller
Not so far away from Bharatpur lies Sariska which is famous for its Tiger Reserve. We recommend a stay in a camp on the foothills of the Aravalli range for the chance to catch a glimpse of an Asian Tiger. The place is also good for nature walks and cycling trips. For a spine-chilling experience, take a short drive to the spooky Bhangarh Fort – said to be among the world's top haunted spots – if you dare!
Alwar Palace Tank | Image credit: Carlton Browne
Moving on to Alwar, a princely state containing many forgotten heritage monuments. Visit the underrated Bala Quila for the history and enjoy splendid views from its top, take a quick look at the City Palace, and if you have the time – squeeze in a short hike to Naldheshwar Temple. There are few other attractions in the vicinity for an offbeat traveller – Moosi Maharani ki Chhatri, Ajabgarh Fort, Jai Samand Lake, and Fateh Jung ka Gumbaj Tomb. On your way to Delhi, take a halt at Neemrana Palace which is a majestic fort-turned-hotel. You might even want to extend a night here if your schedule allows for it!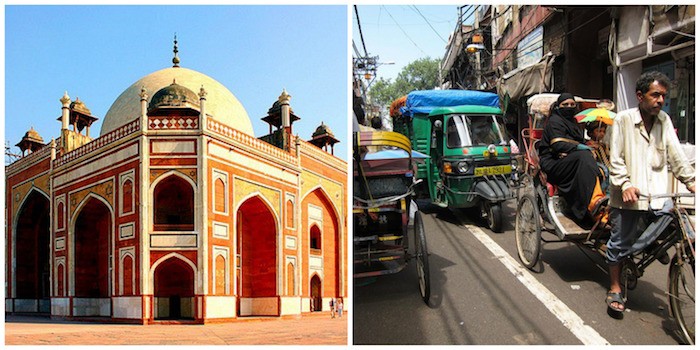 (left) Humayun's Tomb; (right) Street in Old Delhi |Image credit: (right) Deepak Gupta; (left) Neiljs
A melting pot of cultures, Delhi absolutely deserves to be one of your stops. The influence of the last dynasty (the Mughals) is also evident from the monuments all around the city. There are just so many things to do in the city – test your photography skills at the magnificent Humayun's Tomb, learn about the history of Qutub Minar, watch the Light and Sound show at Purana Qila in the evening, attend a Qawali (Sufi devotional music) session at Nizamuddin Dargah, café hop at Hauz Khas Village, or roam around in Old Delhi. We highly recommend the Food Tour at Chandani Chowk as well – it's a must-do experience. The options are endless, we guarantee you'll never get bored!
Tips:
For avid bird-watchers, the best time to visit Keoladeo Ghana National Park is during the months of August-November for resident breeding birds and during the months of October-February for migrant birds.

The trip to Deeg and Sariska can be combined in one day, which might save you some time!

Before going to the Hotel Neemrana Palace, make it a point to check with them first as entry is not permitted if the property has been booked for an event.
Itinerary #4: Introduction to the Mewar Kingdom, as well as the important Forts and Temples of Rajasthan
Recommended route: Chittorgarh > Nathdwara > Kumbhalgarh > Ranakpur > Mt Abu > Udaipur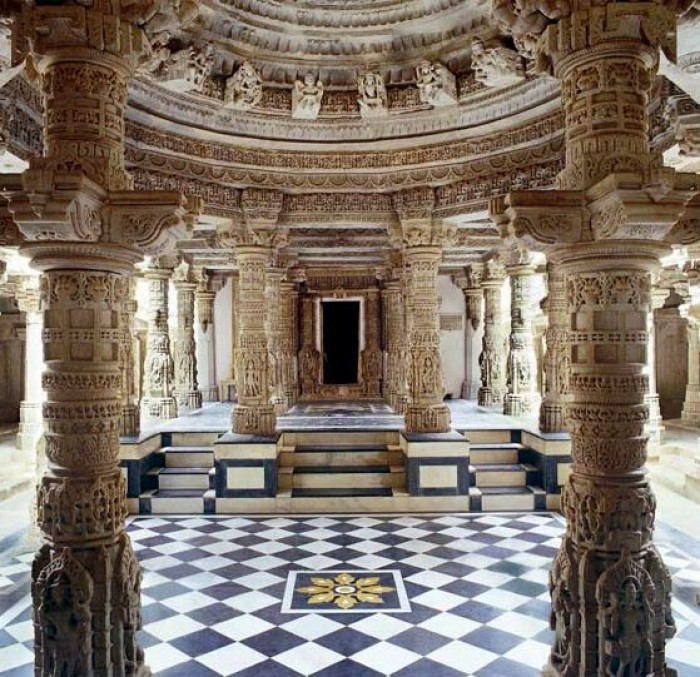 Dilwara Temple from Inside | Image credits: Malaiya
Fly to Udaipur and head straight to Chittorgarh which is only 2 hours drive away. The itinerary is as suggested above. Move on to Nathdwara, a small town famous for Shrinath Temple, which is another short drive away. Aim for an early start to watch the glorious ceremony of dressing and beautifying the idol of Lord Vishnu. Next visit Kumbhalgarh and Ranakpur. Details are per the above itinerary!
Make Mt. Abu, the sole hill station in Rajasthan, your next stop. It is famous for the finest Jain temples such as the Dilwara Temple, and consists of many small temples built between the 11th to 13th century. The marble walls and ceilings are intricately carved, a prominent display of phenomenal human craftsmanship.
Finish your trip in vibrant Udaipur (refer to the above itineraries for more details).
Tips:
The ceremony of offerings (called as aarti) happens twice a day morning and evening. Check the schedule with the temple authority before you go. Avoid big Hindu festivals for the visit, it can really get crowded.

Camera is not allowed inside the Dilwara temple, let your eyes and mind do all the work.
Itinerary #5: Experience the Best of Rajasthan
Recommended route: Jaipur > Bikaner > Jaisalmer > Jodhpur > Mt Abu > Udaipur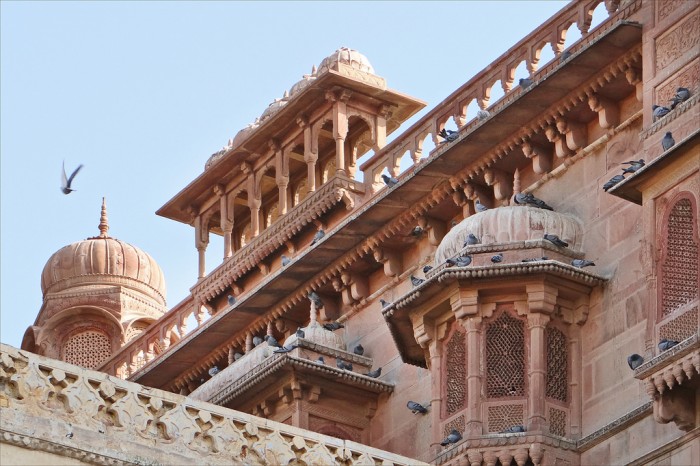 Image credit: Jean-Pierre Dalbera
Arrive in Jaipur. Read above for things-to-do. Next, make your way to Bikaner which falls within the Shekhawati region of Rajasthan. Visit the magnificent Junagarh Fort which tells the enchanting story of its past, as well as Ganga Singh Museum that exhibits remarkable excavations from the Harappa civilization and Gupta era. If you are fascinated by camels, take an educational visit to National Research Centre on Camels. Should you be brave enough to encounter a million of rats in the open, consider visiting the famous Karni Mata Temple which is roughly 30 kms from Bikaner. The place is overrun with rats, but keep in mind that the rats are considered sacred and are to be undisturbed.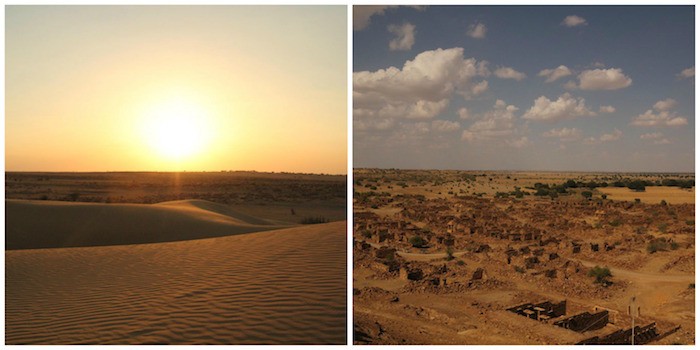 (left) Thar Desert; (right) an abandoned village | Image credit: Aditi Mittal
Head to the Golden City of Jaisalmer and get ready for an offbeat overnight camping experience in the middle of sand dunes at Thar Desert. On the way to Thar, check out the abandoned villages which actually have a riveting story behind them. We won't tell you the stories – the fun lies in finding out for yourself! Later on visit the Jaisalmer Fort and Patwon-ki-Haveli where you can learn about the Rajputana architecture.
Continue your trip to Jodhpur, Mt. Abu and Udaipur. Look above for a complete list of activities.
Also read: In 20 Photos: Why India Could Just Be The Most Beautiful Country in Asia
So there you have it, 5 itineraries for any first-time traveller looking to explore Rajasthan. We're sure you can find one that suits your liking, and we hope that these will come in useful in your discovery of this beautiful country. Do check out the Incredible India website as well as their Facebook page should you need more information!
---
Brought to you by India Tourism Singapore.