Ah, India. How much do you really know about the country? Let the beautiful rivers, spectacular scenery, heartwarming hospitality as well as jaw-dropping architecture change your mind. Here are 20 cool things to do in India that you never even knew you could do!
Trust us, you're going to want to book your ticket to India right away.
Also read: In 20 Photos: Why India Could Just Be the Most Beautiful Country in Asia
1. Make your way across the rope bridges of Meghalaya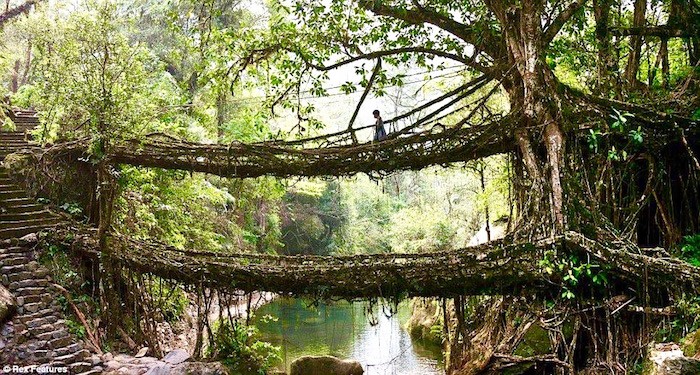 Image credit: India Tourism Singapore
In our countries, we have long grown accustomed to bridges fashioned out of cement, concrete, or even wood. But here in India, we find bridges that actually grow from the aerial roots of trees. Just imagine that!
The locals strategically position two large fig trees vertically opposite each other on opposite sides of the banks, and let nature take its course. It takes about 10 to 15 years, but gradually the roots grow, meet and intertwine, forming this gorgeous natural bridge. And yes, it's perfectly stable and safe to cross! They even grow stronger over time. In fact, there are even double-decker bridges that are over 200 years old, just as the one pictured above. It's just like a scene out of a movie!
2. Get lost in the ancient city of Varanasi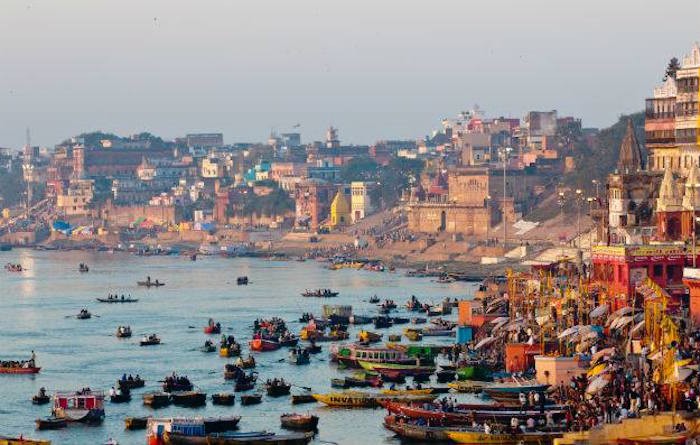 Image credit: India Tourism Singapore
Varanasi is an ancient city in India that has a unique charm and flavour infused into every nook and cranny of its city walls. Besides its alluring skyline due to its location along the Ganges River, it is actually one of the oldest inhabited cities in the world! It's one of India's seven sacred cities, and many come here to attain nirvana.
Venture beyond the ghats – stone slab embankments by the side of the river – and you come face to face with a dizzying labyrinth of cobbled streets, narrow alleys, and haphazardly signposted shops. It feels like utter chaos, but there's a certain magic in this chaos that draws visitors back to its shores again and again. Should you get lost in the maze – don't worry! Getting lost is all part of the experience, and what can we say? Continue wandering and soon enough you'll find yourself back next to the Ganges River once again.
3. Explore the Thar desert on camelback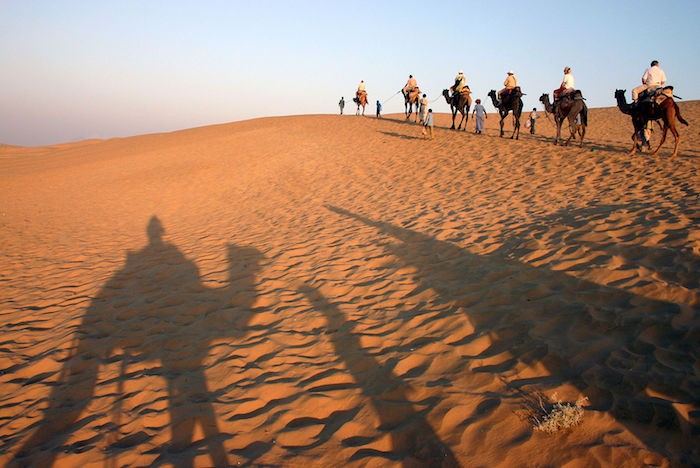 Image credit: Flicka
The idea of rolling sand dunes across a flat expanse of desert, stretching out in all directions with nothing in between, have always seemed intriguing, perhaps even daunting, to most. In cities, all we have is the constant cacophony of blaring honks and frenzied shouts, but here in the desert, we get something that is prized above all – the liberty of silence. And by silence, we mean complete silence.
Here in the Thar desert you will feel minuscule, a tiny speck amidst a wider universe. A popular way to traverse the desert is on camel-back – watch your shadow rise and fall against the sand dunes as your camel trudges its way across the sand dunes. Opt to spend a night in desert tents with a blanket of stars overhead to complete the surreal experience. If you're lucky, you might even spot a shooting star or two! It's an adventure to say the least, right from to the start to the very end.
4. Frolic among the tea plantations of Darjeeling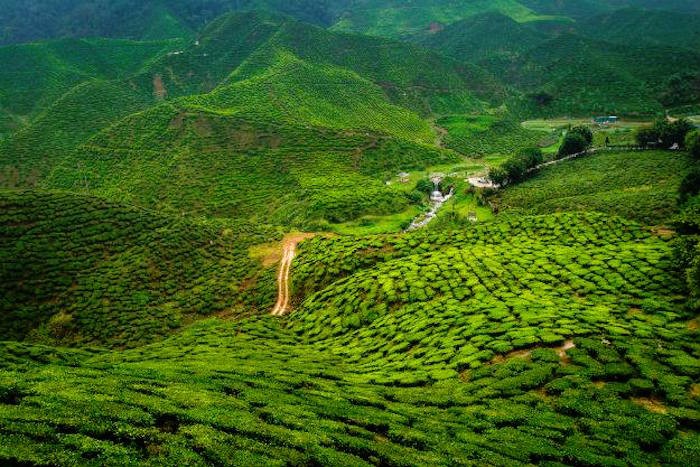 Image credit: India Tourism Singapore
Perhaps one of India's most iconic sites, the landscape of Darjeeling's lush green plantations is one that has made it onto the cover of many a guidebook. Darjeeling is one of India's most famous hill stations, made even more so for its plentiful tea estates and toy train rides. It's best to visit on a cool misty morning, where dew glistens on the leaves and the air is heavy with promise.
The area is home to over 85 tea gardens, each more plentiful than the next. Tea lovers will delight in sampling some of the region's finest tea produce, or even stay at one of the tea estates for a more complete experience. Wake up to panoramic views and, on clear days, feast your eyes on a stunning view of the Himalayan peaks in the background.
5. Spot wild tigers at Pench National Park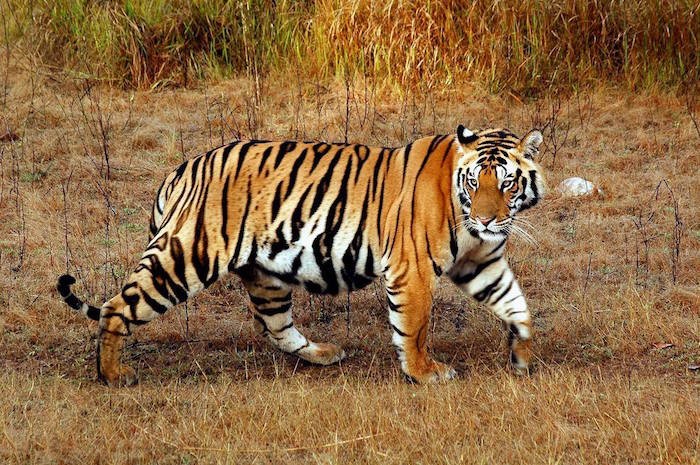 Image credit: India Tourism Singapore
We have a tip for you – save on that ticket to Africa and go to the safari here in India instead! Unlike in Africa, here in India you get to see the world's largest cat – the majestic tiger – in all its unabashed glory. The best place to do so is in Pench National Park, which was the inspiration for the famous 'Jungle Book'. In fact, certain scenes in the book-turned-movie was based on actual places within this National Park!
A wildlife sanctuary is in fact nothing like a zoo; here animals roam free, completely at ease in their natural habitat. Chase after sightings of these animals in fortified jeeps, accompanied by adept guides who will ensure your utmost safety. Besides tigers, catch glimpses of leopards, wildebeests, birds of every variety and more. There are various resorts situated within the National Park itself should you wish to spend a night or two!
6. Ride a train themed after the world's largest cat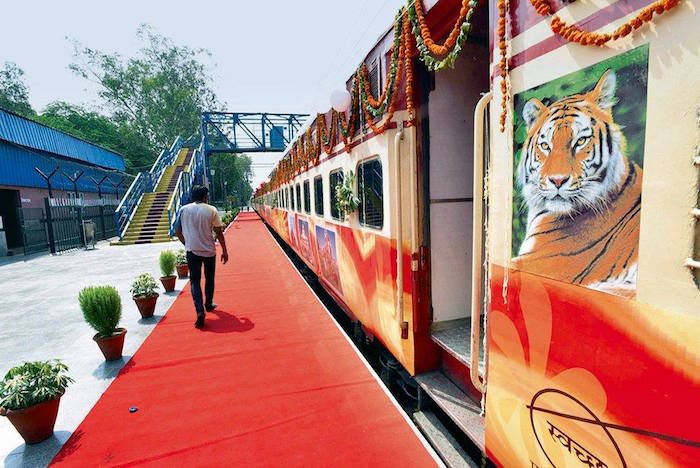 Image credit: India Tourism Singapore
One of the most popular ways to travel across India would be by train, and what better way to travel than on the Tiger Express – a semi-luxury train themed after the Tiger itself? The Tiger Express journeys from Delhi to Rajasthan, passing by Udaipur, Chittorgarh and Ranthambore National Park on the way.
The whole train is a safari in itself; the exterior is splashed with resplendent images of the Tiger, as well as ravishing jungle scenes. The 6D5N trip passes through three national parks, giving you the chance to catch the beast in the flesh! The train is equipped with modern cabins, a dining room, a bathroom with showers, and even a small library. This might be cliche to say, but a ride on the Tiger Express certainly promises a roaring journey like no other.
7. Marvel at neon-blue bioluminescence waves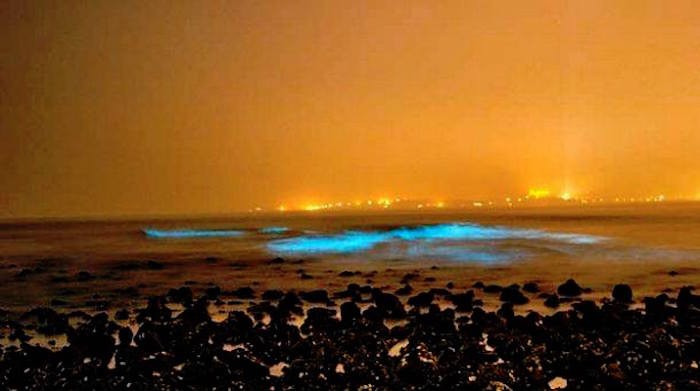 Image credit: India Tourism Singapore
You might not believe your eyes, but this isn't a work of science fiction and is instead a pure art of nature. The waves at Juhu Beach in Mumbai actually glow a startling neon-blue in colour, giving off a shimmering pop of colour in the dead of night! This is due to the presence of phytoplankton, combined with a protein called luciferase which is activated when tides vibrate when washed ashore, triggering a series of chemical reactions that produce the fluorescent sparkle.
The waves first glowed iridescent in January and November this year, and there's no telling when it will happen again. The best place to view the marvellous sight is from the cement jetty on the beach, which will give you an elevated vantage point. Don't miss this spectacular glow-in-the-dark phenomenon should it ever come round again!
8. Wander around the Mehrangarh Fort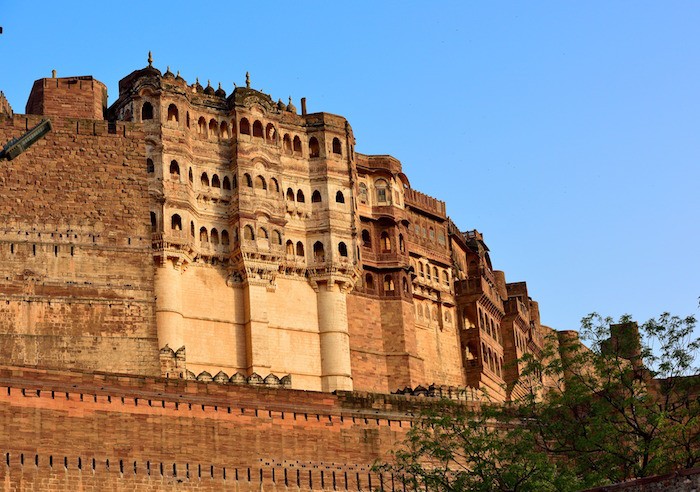 Mehrangarh Fort is a stunning architectural masterpiece that sits snug on a hill 125 metres above Jodhpur in Rajasthan. It is characterised by its high fortified walls, encasing a cluster of elaborately designed palaces with sprawling gardens. The entire place is steeped in history, as evident from the imprints of cannonball attacks inflicted by attacking armies of Jaipur years ago.
To reach the fort, visitors have to pass through seven gates. The cannonball imprints can be seen at the second gate! Choose to walk up through the gates, or embark on a rickety rickshaw ride. Besides chiseled architecture, the fort is also home to museums and galleries inserted within a lattice of winding staircases and narrow passageways.
9. Stay in a houseboat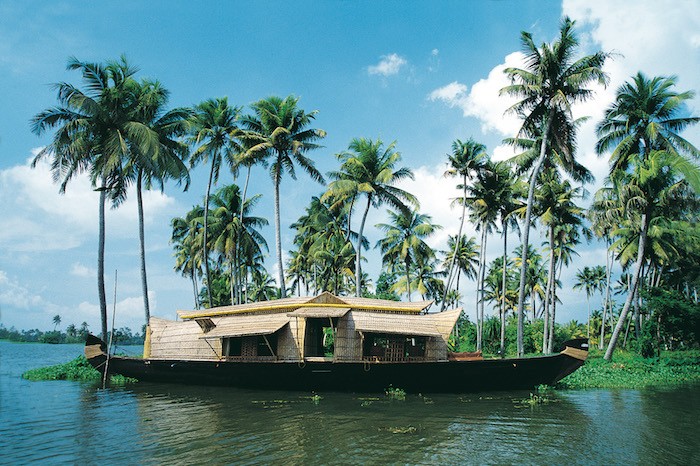 Image credit: India Tourism Singapore
Staying in a houseboat is possibly one of India's most unique experiences. Cruising along the backwaters in a houseboat gives you far more spectacular views than a normal hotel room can offer. This form of accommodation is especially popular in Kerala.
Feast your eyes on reflections of coconut trees in the still waters, watching as the stern of your houseboat stealthily cuts through the calm. The whole experience is therapeutic, and even charmingly rustic to say the least, passing through a couple of local villages and other houseboats bearing beaming children. The boat crew is welcoming and hospitable and, after a while, even start to feel like family. There are even luxury boats available should you wish to cruise along in splendour!
10. Feast your eyes on panoramic views during the Hampta Circuit Trek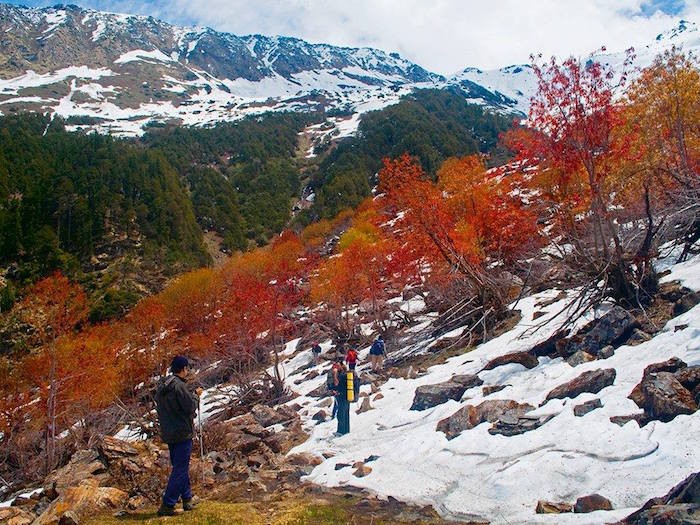 Image credit: India Tourism Singapore
There are countless hiking trails in India, but none – dare we say – as beautiful as the Hampta Circuit Trek. What the Hampta Circuit Trek has that makes it stand out among the rest is its hidden beauty – the trek is still relatively undiscovered, its trails not yet beaten down by relentless hikers.
This trek has its base at Manali, and offers stunning views as well as fresh blankets of snow. The trek stretches over the span of six days, offering hikers more than enough time to revel in the fresh mountain air and spectacular scenery consisting of towering pine trees, glistening snow-capped mountains, rolling meadows, and even the occasional ice patch or two.
11. Channel your inner Barbie at the Pink City of Jaipur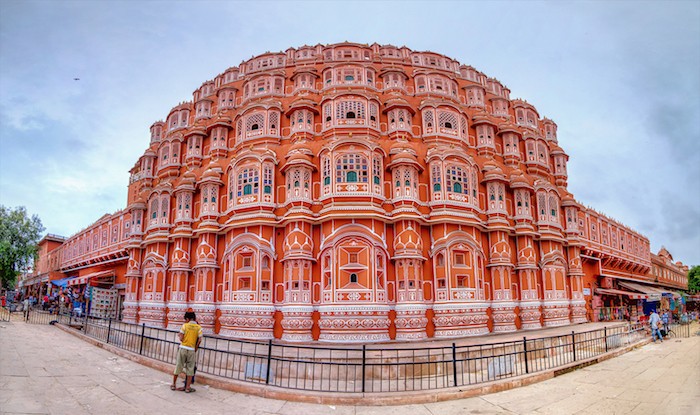 Image credit: Firoze Edassery
Jaipur – also known as the Pink City – is the capital of Rajasthan. So why the Pink City? The entire city is painted a striking pink in colour in order to welcome guests, as pink signifies the colour of hospitality. True to its namesake, Jaipur is home to welcoming locals, grinning street peddlers, as well as intricate architecture all decked out in varying shades of pink.
The city is dotted with palatial architecture, giving visitors a glimpse into Royals' lives of yesteryear. The Hawa Mahal, as pictured above, boasts rows of small windows that were initially built for women who were not permitted to be in the public eye. These windows hence allowed such women to view the outside world through a pinhole view without exiting the building.
12. Go wild at the Holi Festival
Image credit: India Tourism Singapore
Holi is known around the world as the 'festival of colours', and rightly so! Coincide your visit to India with this festival, and expect to find yourself thrown into a whirlwind of sound, laughter, music and above all, colour.
Wear your oldest t-shirt and hurl yourself headfirst into the festivities – where colours are strewn into the air, and smeared on every available surface including faces and limbs. Children and adults alike take to the streets armed with coloured water and powder, and no one is spared. For those few hours, the city comes alive in a glorious rainbow-themed racket where strangers link arms and children streak through the streets in trails of colour; there is no distinction between locals and tourists during this festival, all anyone has to do is get ready to bombard and be bombarded in return.
13. Check out views of four mountains – Everest, Kanchenjunga, Makalu and Lhotse – from one spot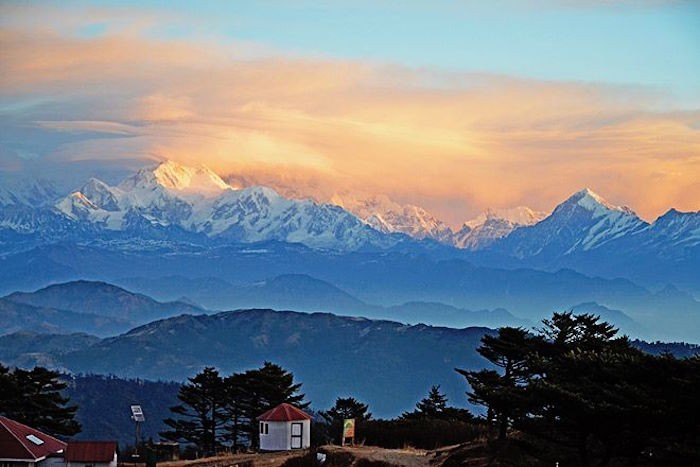 Image credit: India Tourism Singapore
We've heard about stunning awe-inspiring mountain views, and then there's the view from Sandakphu atop the Singalila ridge on the border between India and Nepal. The view from Sandakphu is in another league altogether – on a clear day, feast your eyes on views of Everest, Kanchenjunga, Makalu and Lhotse from just one spot. Yup, just one spot!
This view takes the icing on the cake; nowhere else in the world are you able to set eyes on four of the world's highest peaks from just one spot. The trek is part of the Singalila National Park, and requires an entry permit. The trek is rather easy, with only a very steep stretch towards the end. But you know what they say – the harder it is, the sweeter the summit. And here at Sandakphu, the view from the summit is worth every hard-earned drop of sweat.
14. Have such a view from one of Udaipur's magnificent Palace-Hotels

Image credit: Evonne
The palaces in India are elaborately furnished, as well as ornately equipped with the best of architecture, the most opulent of furniture, and the most stately of exteriors. Royals lived like Kings in these palaces, and now you have the chance to experience this for yourself. In this day and age, anybody can become a Maharaja – even if it's just for a night or two!
Besides sprawling estates, pristine marble tubs and high stone arches, the Palace-Hotels often offer unobstructed views, such as the one pictured above. Some palace-hotels can be reached by speedboats, adding to the whole glamour of the experience. Splash out for the night, you deserve it.
15. Muster up the courage to venture into Kuldhara, Rajasthan's 'Ghost Village'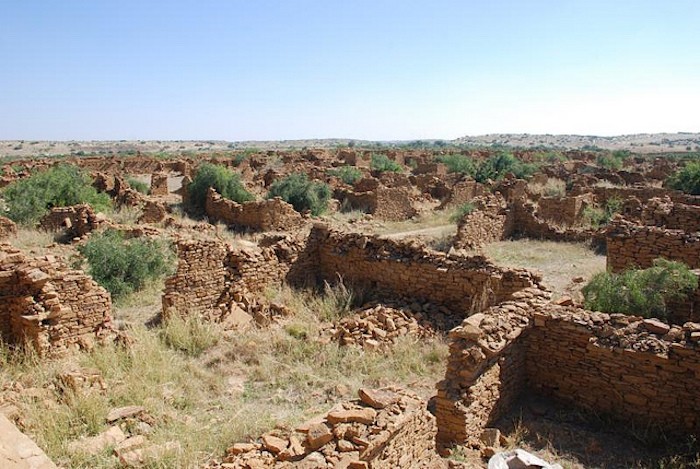 Image credit: Chandra
Kuldhara is an abandoned village in Rajasthan, and is more commonly known as the 'Ghost Village'. No stranger to rumoured ghost sightings, Kuldhara has drawn many tourists to its humble grounds.
As legend tells it, the village was once a flourishing hub of activity. When the local villagers abandoned the village due to undisclosed reasons, they inflicted a curse that will prevent anyone from repopulating the village. Those that tried reported frequent ghost sightings, and undeterred paranormal activity. The abandoned village now is full of crumbling walls, and the remains of houses. An eerie chill settles over the area, and the wind blows in periodic dusty gusts. If you're in the area, do drop by and pay a visit to this site – if you dare!
16. Ride a pony up to Thajiwas Glacier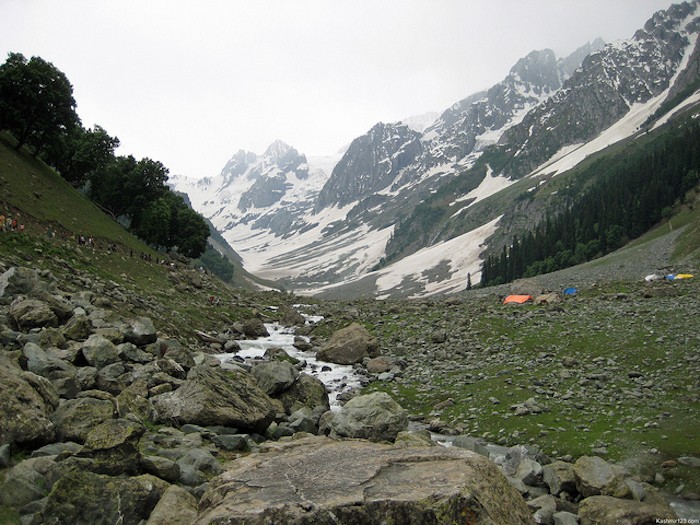 Image credit: Kashmir Pictures
The Thajiwas Glacier is nestled deep within Sonamarg, a mountainous region more commonly known as the 'meadow of gold'.
Visitors can either walk a stretch 2-3 kilometres long to the the starting point of Thajiwas Glacier, or choose to take a pony ride. We highly recommend the pony ride – it's extremely idyllic to trot along at a pleasant pace with facades of imposing mountains on either side. Visitors can even enjoy sledge rides in the winter through to midsummer, or go river rafting in the summer.
17. Give a shout in the echo-y Belum Caves
Image credit: Rajesh Kumar Karumanchi
The Belum Caves are a cluster of caves that are said to be the longest stretch of caves in India. Forage into the cool dark interior of these caves and set sight on dripping stalactites and stalagmites, as well as cavernous sinkholes. Visitors enter through a steeped narrow entrance, which adds a heightened dose of intrigue to the caves.
There are some pretty cool rock formations within the caves, such as stalactite formations shaped like cobras or the heads of lions. The caves go as deep as 150 feet below ground, and even has a natural waterfall buried deep within! Venture in only with a heightened sense of adventure as well as a burning sense of curiosity – the caves will demand nothing more, and nothing less.
18. Gaze upon the reflection of the sky in the waters of Gurudongmar Lake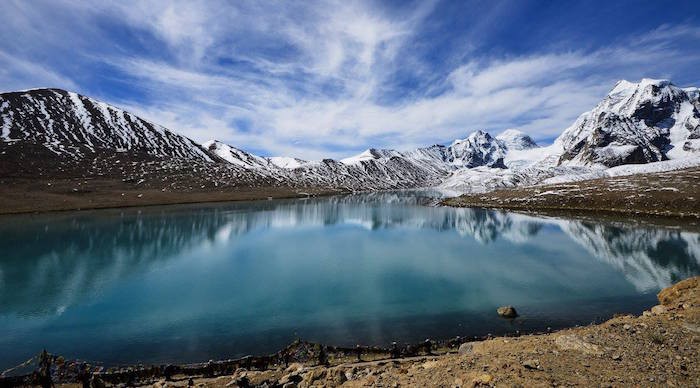 Image credit: India Tourism Singapore
Located at an altitude of 17,800 feet (over 5,400 metres above sea-level) in Sikkim, Gurudongmar Lake is said to be one of the highest lakes in the world. Marvel at the sparkling emerald water, so still that the surrounding snow-capped mountains are perfectly reflected on its surface.
The views here are breathtaking; yet, at this altitude, there remains a part of the lake that does not freeze over even in the dead of winter. Despite this unadulterated beauty, the high altitude affords only a very thin supply of oxygen, and hence tourists are not recommended to stay at this site for more than an hour. Sometimes beauty can be enchantingly fleeting, but it is precisely this quality that makes it even more so.
19. Row across the Nagin Lake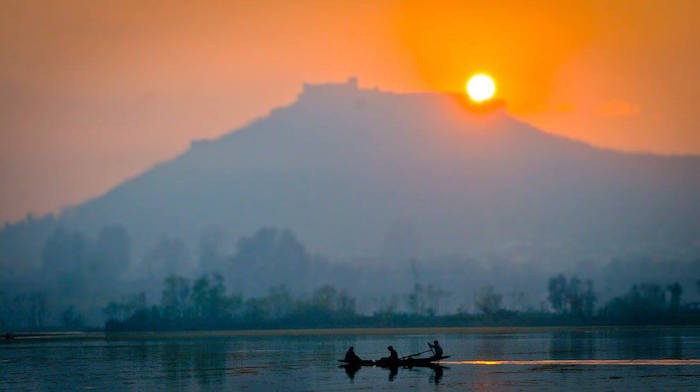 Image credit: India Tourism Singapore
Find a slice of quiet paradise at Nagin Lake, where the air is still, water is tranquil, and birds echo in muted song. Nagin Lake is known to be the 'Jewel in the Ring', and remains a relatively untouristy lake as compared to the popular Dal Lakes. This, naturally, has its advantages – Nagin Lake offers a respite from persistent touts, eager tourists and the clatter of boats against each other.
Here, you'll feel like you have the whole lake to yourself. Rent a rowboat for a sojourn around the lake, or as a means to get to a houseboat should you wish to stay the night.
20. Shop for bargains at a bustling bazaar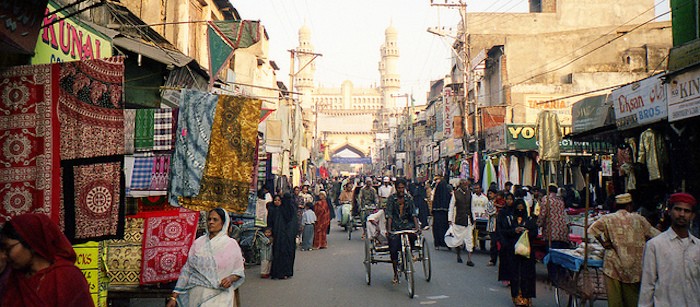 Image credit: Ryan
And of course, how could we leave out everyone's favourite pastime – shopping? Shopping here in India is of a different breed; large air-conditioned malls are a rare sight, the streets instead scattered with bustling markets. Shops are draped with lush detailed carpets and spices of every kind spill over into the street… you'll basically find everything – and we do mean everything – right here in the bazaars of India.
From fresh produce to glimmering saris to electronics to precious jewellery, the bazaars are an elaborate maze full of treasures to be uncovered. Spend an afternoon or two taking in the sights and sounds in bazaars such as the one in Hyderabad (pictured above), the many bazaars of Bangalore, or even in those around the Kote Gate in Bikaner. Visiting one of these bazaars is a delightful assault of all your senses, culminating in a wonderfully chaotic experience like no other. Be ready to brave the onslaught of clamouring peddlers, the throngs of bargain-hunters, and the stark variety of culture and hospitality that spell out all that India is.
Have we convinced you yet? On your next trip to India, make sure to check off these 20 things off your list. For more information about India and the places to visit, check out the Incredible India website, or their Facebook page for everything you need to know and more.
India really is, incredible. Start planning that trip now to experience it for yourself!
---
Brought to you by India Tourism Singapore.