I've always harboured a strange fascination for snow. And if, like me, you've been born and bred in a perpetually hot Southeast Asian country, I'm sure you know exactly what I mean. Forbidden fruit always tastes the sweetest and, in this case, the season that we don't usually get to experience will naturally seem the most alluring. Winter just has this magical enigmatic quality about it, bringing with its swirls of white flurries the promise of mystery and charm that has me, admittedly, falling hopelessly head over heels.
Thus, when I was offered the chance to have an exclusive sneak peek into the 2018 Pyeongchang Winter Olympics – how on earth could I resist! The notion of the Olympics is no stranger to the likes of people from all around the world, but the thought of winter PLUS star athletes roughing it out for the coveted Olympic Gold happening under seven hours flight from Singapore? Sign me up.
The 2018 Winter Olympics will be held in Pyeongchang in Korea, which can be reached via a 100-minute KTX train directly from Seoul. This new KTX line will be completed by this year, which is perfect timing for the games in 2018. After two failed bids, Korea won the honour of hosting the Olympic and Paralympic Winter Games – proving that dreams do, indeed, come true. The games will be held over two periods, firstly from 9-25 February 2018 (17 days) and secondly from 9-18 March 2018 (10 days). Sounds exciting? I concur.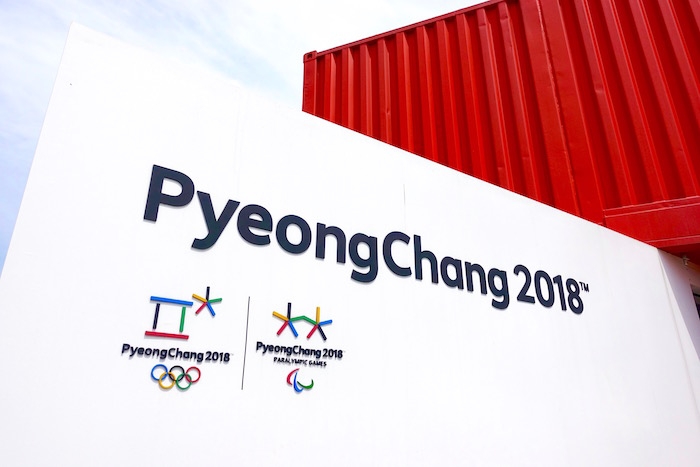 So what can the world expect from the 2018 installment of the Winter Olympic and Paralympic Games? You'll get to:
See snow – lots (& lots) of snow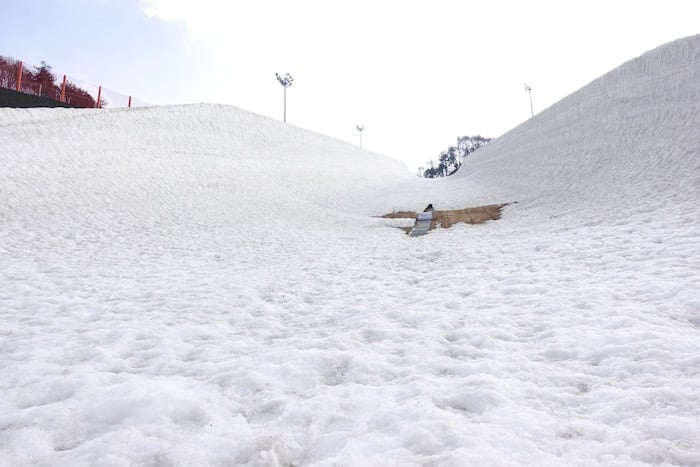 Because what less can you expect from the Winter Olympics? If this doesn't get the romantic in you quivering in delight, I don't know what will. Expect to feast your eyes on glistening fields of soft powdery snow; we managed to visit just as the snow began to thaw and lucky for us, we still had the chance to frolic around! If the ground looks like this in April, just imagine it in February-March in the thick of winter.

There are a total of 12 venues – 6 newly built, the other 6 refurbished. We visited a couple of venues, such as the YongPyong Resort (the main venue), Alpensia Ski Jumping Centre, Phoenix Snow Park and so on. These venues are home to staggering ski slopes that give me weak knees just by looking at them. Ever watched the movie, 'Eddie the Eagle'? This is it, but in real life.
Take in gorgeous panoramic views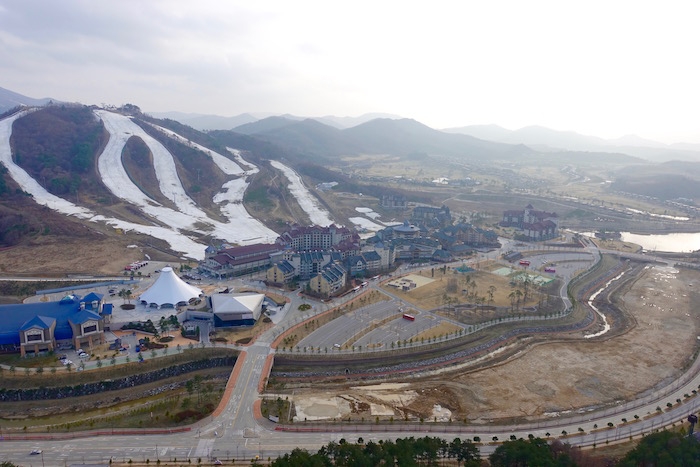 Again, just picture the blanket of snow covering the region as far as the eye can see. It's winter wonderland at its best. I found the observatory tower at the top of the Alpensia Ski Jump Tower to have the best vantage point.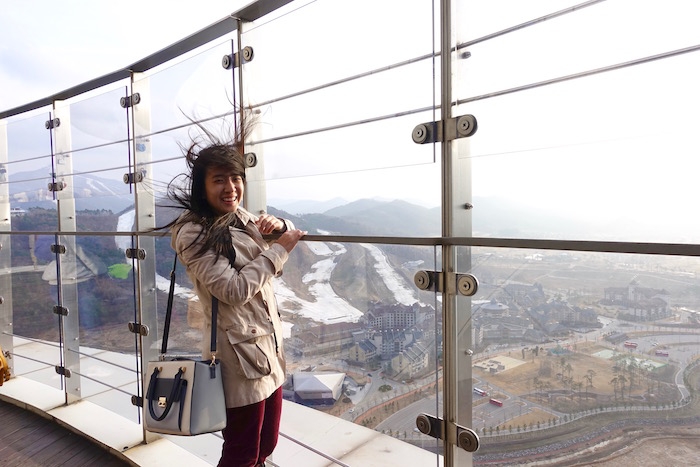 Warning: the strong winds at the top can, and probably will, make the term 'bad hair day' seem like an understatement.
Have a chance to get in on the action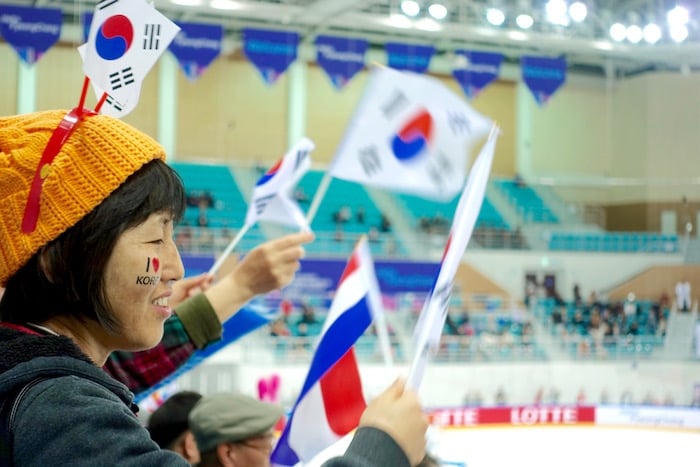 Because who wants to simply spectate without having a little fun? And when it comes to having fun, the Koreans sure know how to do it right. I had the opportunity to watch the 2017 IIHF Ice Hockey Women's World Championship Div. II Group A Korea VS Netherlands match – if this was any indication of the craziness that will sweep across Pyeongchang in 2018, I simply can't wait for the real thing!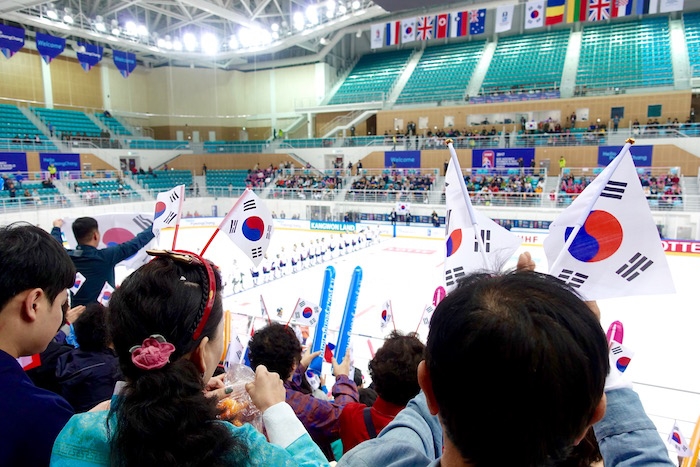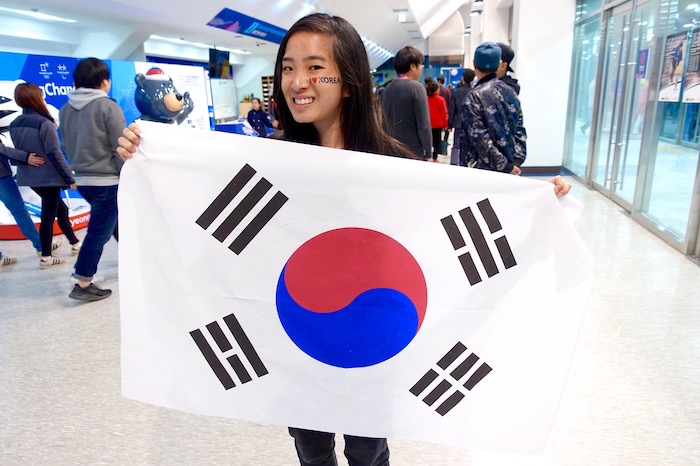 And if you're going to be there in Korea, why not go all out and spruce yourself up with all things Korean-related? Cue cute flags that stick out from your head like bunny ears, "I LOVE KOREA" tattoos plastered across your face and giant flags. Or simply do as the locals do and cheer your hearts (and lungs) out by screaming "DAEHANMINGUK" (Republic of Korea):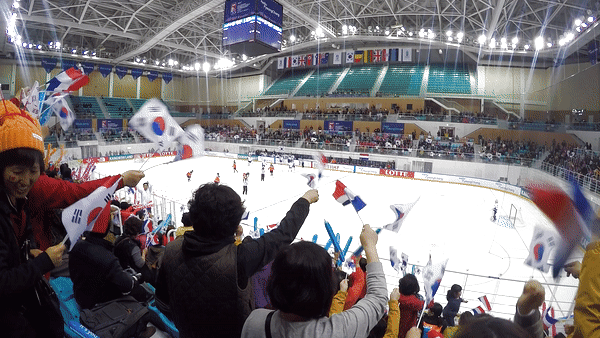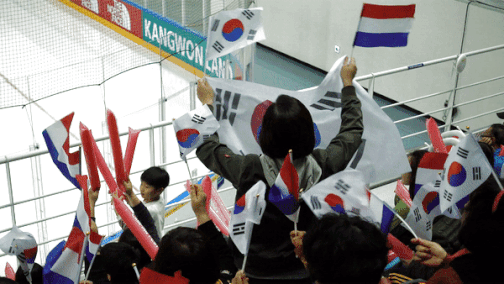 It never hurts to have a little fun on your own as well, a.k.a. me with my imaginary snowboard.

Brb, quitting my job and signing up for the 2018 Pyeongchang Winter Olympics. I may have a phobia of heights, but a girl can dream! Who knows, I may just be the next Joseph Schooling: winter edition.
Try really cool technology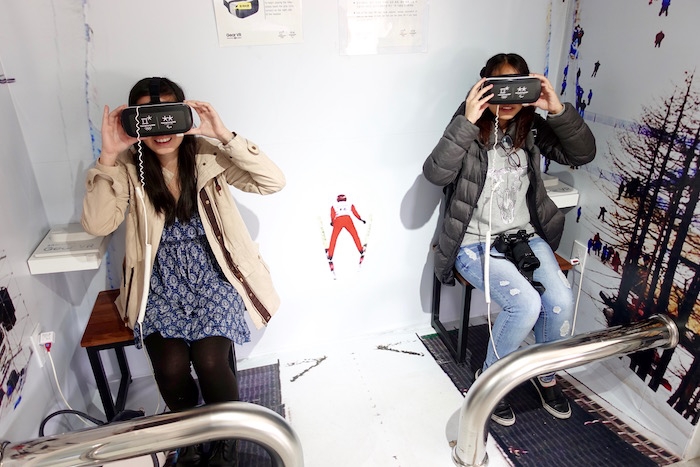 Call me a tech noob, but these VR headsets were the bomb. Grab the chance to give these babies a whirl at the Pyeongchang Olympic Promotion Hall, a site dedicated to educating visitors about the games. Besides the cool gadgets, this is the place where you can learn about Pyeongchang's preparations for the games, the months leading up to the bid and what to expect during the extravaganza itself.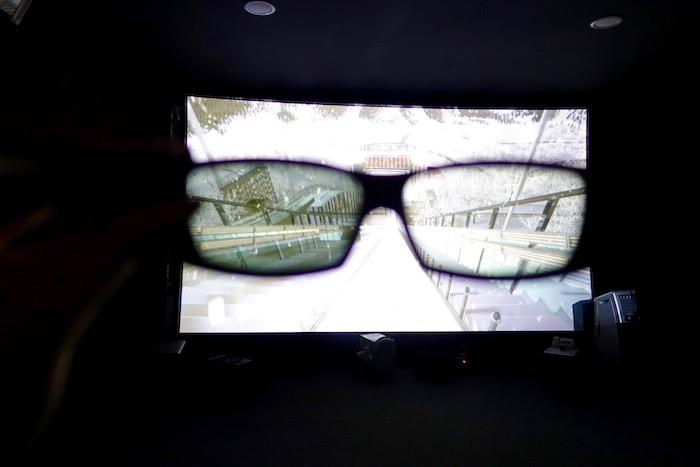 I really liked the 4D experience room as well, where I got to try a ski-jumping simulation. It's thrilling, I certainly give it that, but a 4D experience is probably as far as I'll ever go. The whole thing feels rather realistic, and had me practically on the edge of my seat!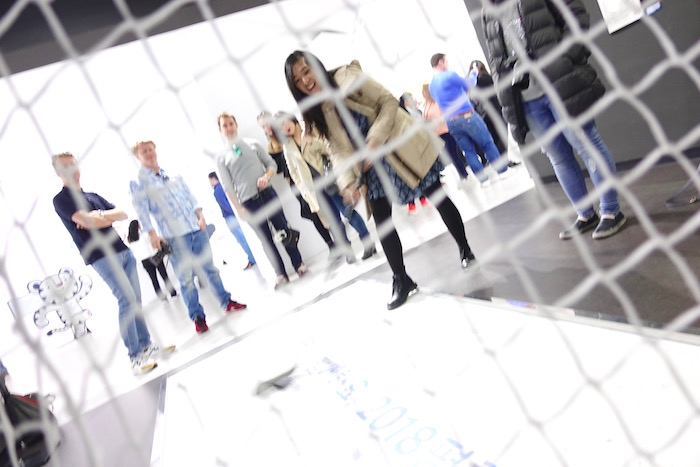 Try your hand at ice hockey; it's actually a lot harder than it looks.

Here at the promotion hall, you'll get to read about the various winter sports that will be in competition during the games. On top of skating (figure skating, speed skating, short track skating), there's also luge, bobsleigh, biathlon, ice hockey, curling and more. Skating is one of the more popular events, but what caught our eye was the biathlon – a sporting event that is a combination of both cross-country skiing and rifle shooting. As if skiing by itself wasn't hard enough!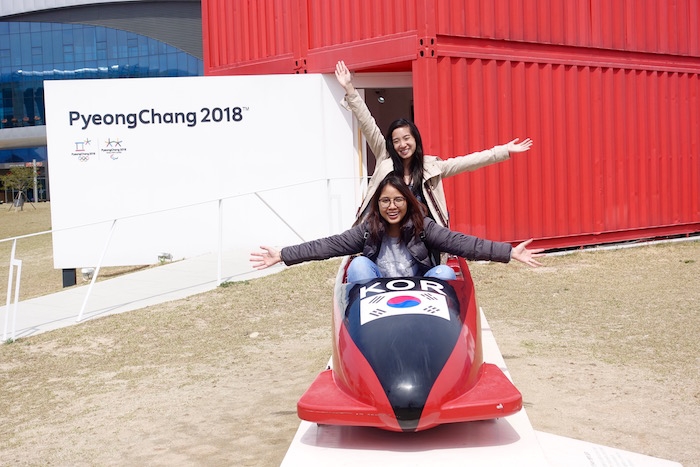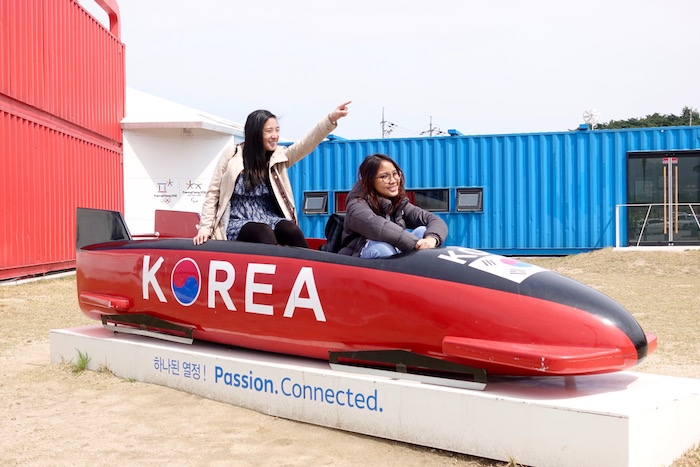 With just a little more practice, I reckon we could stand a chance at the qualifying rounds?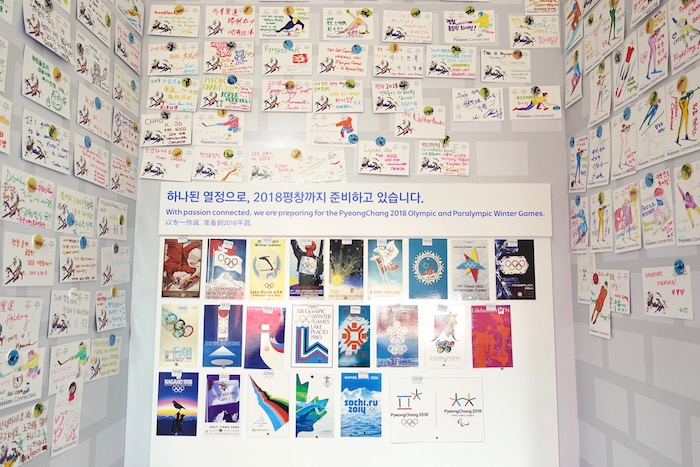 Don't forget to leave your mark and well wishes for the 2018 Pyeongchang Olympic and Paralympic Winter Games. The notes were left by people from all around the world and that's exactly the beauty of such a major sporting event – it brings everyone together bonded by a common passion. And that's a pretty great thing to be part of!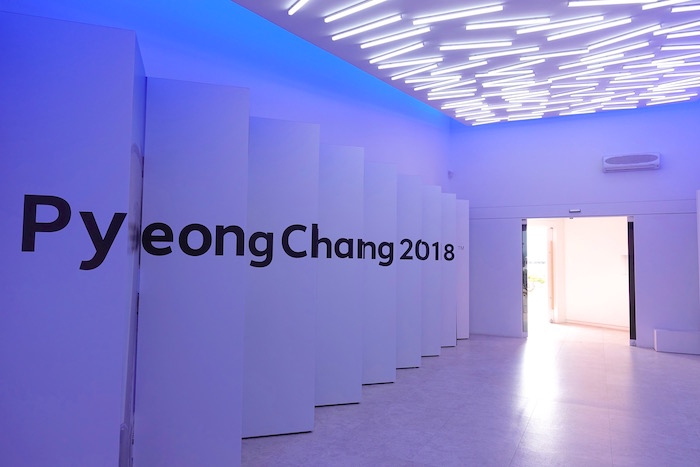 For those already thinking about getting your tickets, there is a lottery system ongoing until 23 April 2017. After which, there will be a few places where you can obtain your tickets – from the main ticket centre (November 2017 onwards), ticket box office (August 2017 onwards), or online (first-come-first-serve basis from May 2017 onwards, and overseas fan-to-fan ticket sales from October 2017 onwards). Check out the official homepage for more information.
If you're worried about the language barrier, simply download the free translation app available during the games! The application will instantly translate Korean into eight different languages – English, Japanese, Chinese, French, Spanish, German, Russian, Arabic – in real time. The games will also offer 5G telecommunications services, and real experience services such as 360 degrees VR, omni-view (where you can spectate from the athlete's point of view) as well as holographic services. There will even be humanoid robots activated!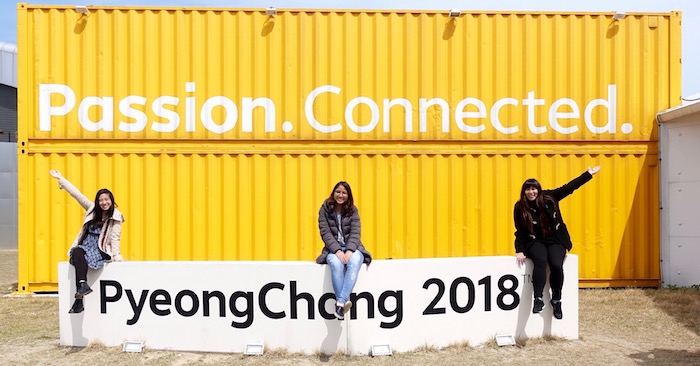 The best part? All this is just under a seven-hour plane ride away. Start 2018 with a bang and start planning your trip to the Pyeongchang Winter Olympics & Paralympics, and I might just see you there!
Special thanks to Korea Tourism Organisation (KTO) for making this trip possible, and for giving privileged insight into the 2018 Pyeongchang Winter Olympics & Paralympics.