The COVID-19 outbreak has virtually ground tourism to a halt and the outlook is no different for Princess Cruises as it takes the crisis in its stride. 
Putting customers at the heart of its business, Princess Cruises and its sister ships, Sky Princess, have voluntarily halted operations for a period of sixty days to safeguard the health, welfare and safety of valued guests, in alignment with the company's core values.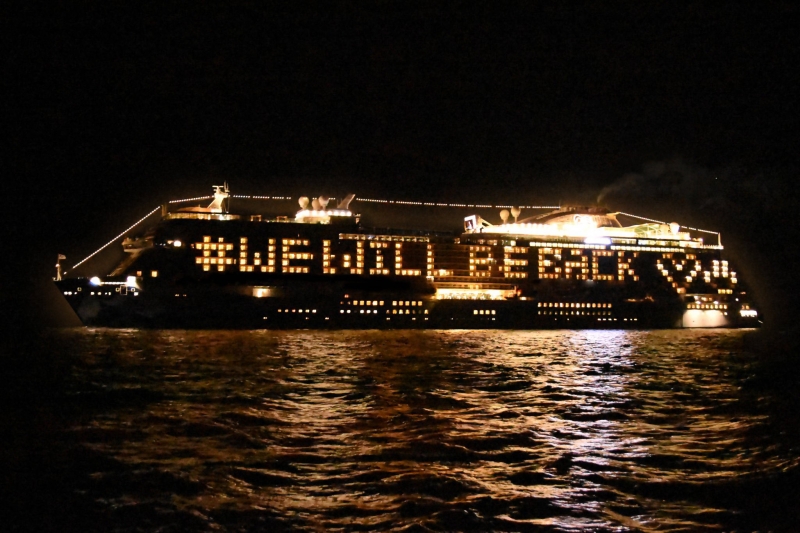 In a bid to reaffirm its dedication to navigate the unprecedented circumstances, the newest ship in Princess' 18-strong fleet, beamed a heartwarming message 'We Will Be Back' from its balcony staterooms – a glimmer of light at the end of the tunnel.
Along with illuminating the message across the ship, the cruise line also displayed a banner at the atrium of Sky Princess, conveying the same message.
Princess Cruises took to social media to share the images and its unwavering determination to welcome guests and teammates onboard once the situation ameliorates. The post received overwhelming responses from truehearted patrons.   
"We love Princess and have four cruises booked. Our first is May 28, the British Isles And then we have Hawaii, Buenos Aires and the Mediterranean. We really hope that Princess will be up and running at the end of May. We were on the Sky for three weeks in February joined by our granddaughter the third week and we had the best time ever," a loyal fan expressed her desire.
Princess Cruises will continue to keep guests abreast of updates and endeavour to respond to queries expeditiously. It will come back stronger than ever. #WeWillBeBack #PrincessProud