If you've heard of Seoul, chances are you've also heard of Jeju Island — the sunny little island off the coast of South Korea that welcomes thousands of visitors each year. With gorgeous views, crystalline waters, an abundance of delectable food, and enchanting sunsets to tie it all together, there's no reason not to love Jeju.
Choose from the plethora of cosy homes waiting to host you during your stay, and you can enjoy the natural beauty of the island to the fullest. We've gone ahead and listed the top Jeju Island Airbnb homes below, so take your pick! From quaint guesthouses to luxurious seaside cottages, there's a place for everyone.
Also read: 15 Affordable Airbnbs and Vacation Rentals in Seoul for Budget Travellers
Best Jeju Airbnb rentals for your island getaway in South Korea
1. This pyramid-style cottage ideal for outdoorsy families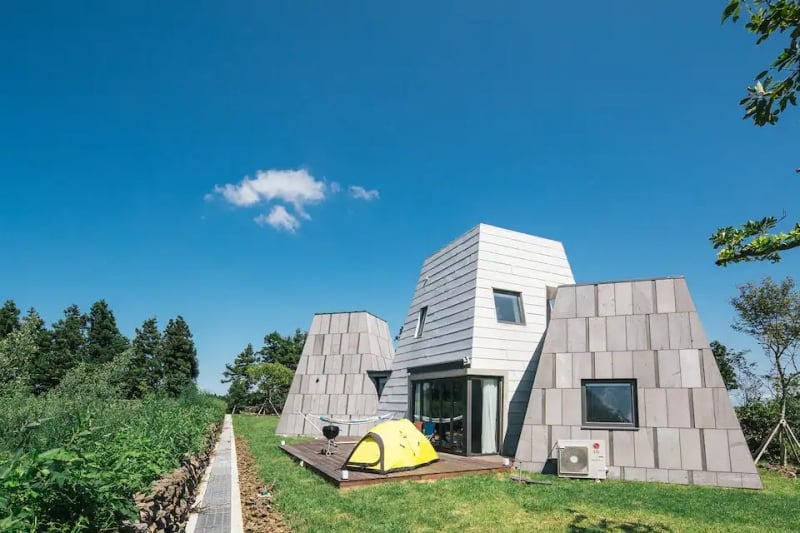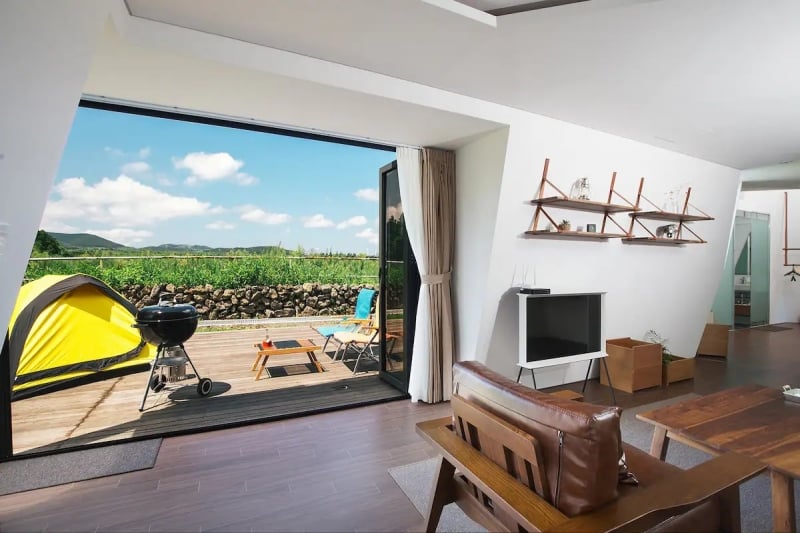 Listing name: JEJU AROUNDFOLLIE LODGE STAY_SUITE B
Listing type: Room in boutique hotel
Location: Seogwipo
Max. no. of guests: 6
No. of bedrooms: 2
Travellers won't be able to walk past this oddly shaped home without taking a second look. For one, the Jeju Airbnb looks like a miniature pyramid in the heart of the island. Here, in a quiet residential neighbourhood in Seogwipo, it definitely stands out. 
Inside, the design doesn't disappoint, either: large windows keep the space sunlit and airy, while unspoiled views of nature will have guests basking in Jeju's beauty even during their downtime. If camping's your kind of thing, feel free to pitch a tent and fire up the barbeque on the private deck outside. There's even a pool facility nearby!
2. This old-fashioned caravan for a magical getaway in the forest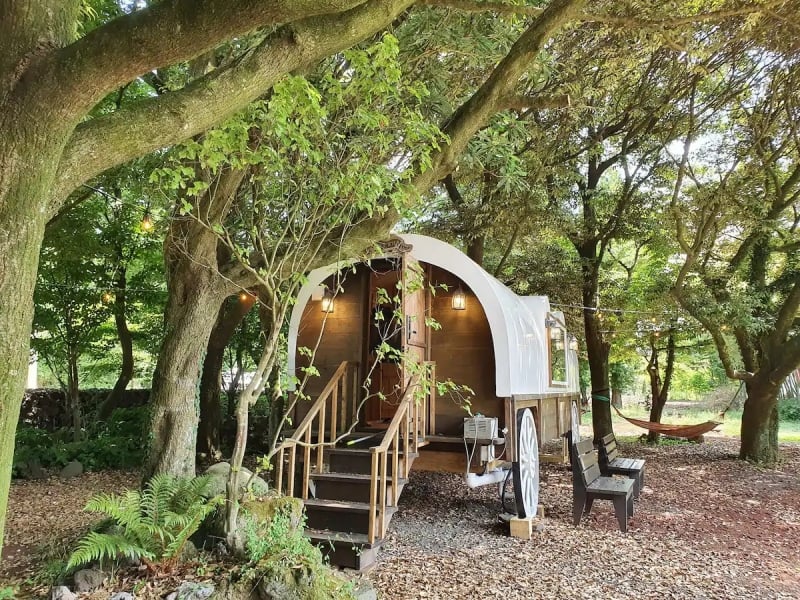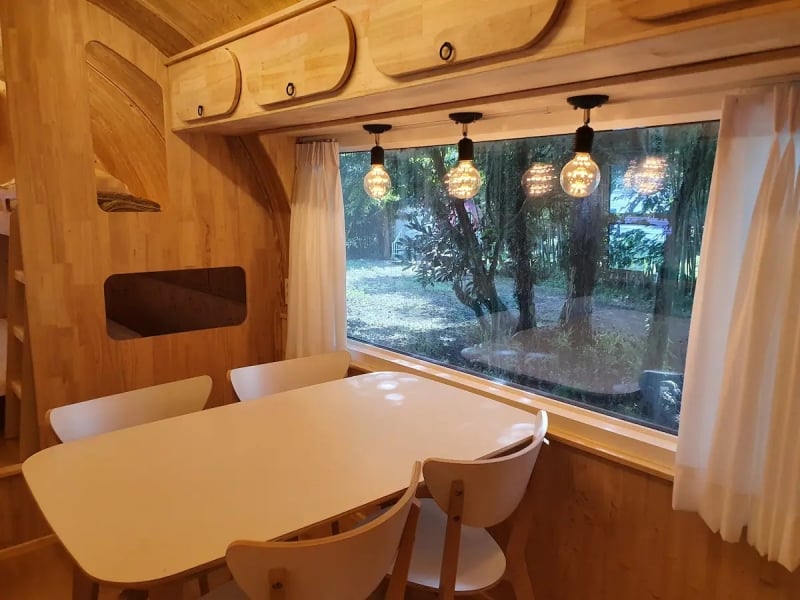 Listing name: A fantastic caravan in the Saryeoni Forest
Listing type: Camper/RV
Location: Jocheon, Jeju City
Max. no. of guests: 2
No. of bedrooms: 1
Under a picturesque grove of trees in the Saryeoni Forest hides this traditional little caravan. The Jeju Airbnb may not be big — it is a camper, after all — but it's spacious enough to fit two travellers comfortably. It's remarkably well-furnished, too, with a TV, a refrigerator, a large bed, air-conditioning, and WiFi.
Impressive, right? But truthfully, we're not sure how much time you'll be spending indoors. The sprawling forest outside presents too many opportunities to roam and explore, while the pony and alpaca farm offers close encounters with the animals for a unique Airbnb experience.
3. This townhouse with beautiful ocean views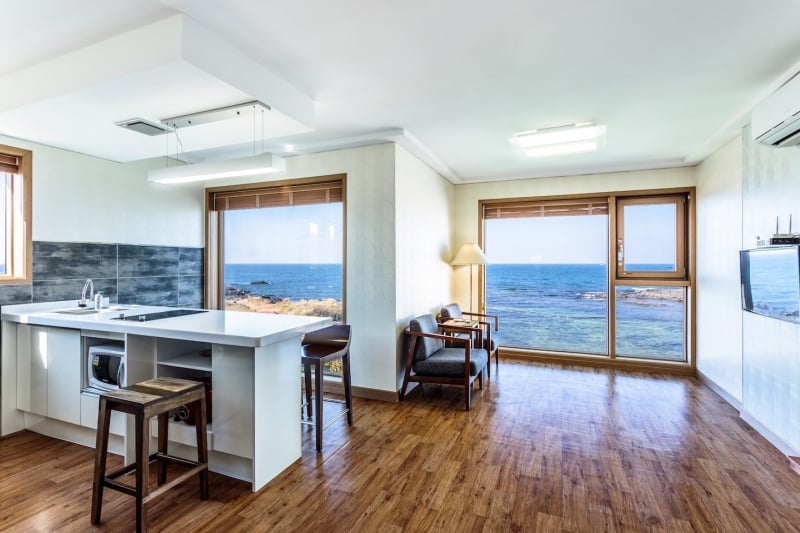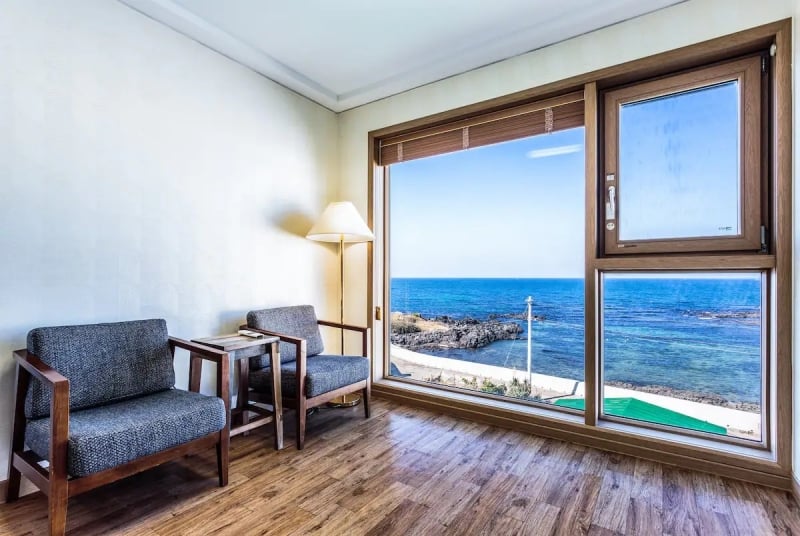 Listing name: Enjoy ocean view,10min from airport
Listing type: Entire home
Location: Jeju City
Max. no. of guests: 4
No. of bedrooms: 1
For travellers visiting Jeju Island, taking advantage of the amazing views is a must! The ocean views at this modern townhouse are definitely something you and your friends will want to wake up to every morning. You can even enjoy a leisurely stroll along the shore just right outside this Airbnb on Jeju Island.
Located just 10 minutes away from Jeju International Airport, this home sits a little farther away from Jeju City's popular downtown area. But if you're looking for a quieter, off-the-beaten-path rental on the island, then this is something you certainly won't want to miss out on!
4. This Jeju Airbnb on the southern coast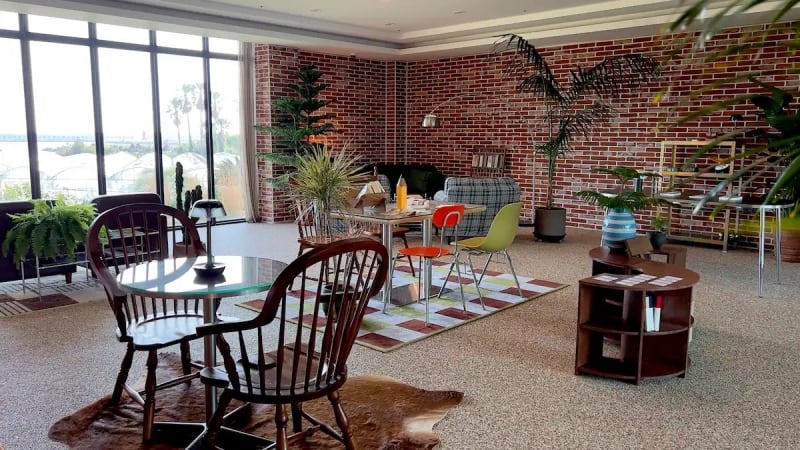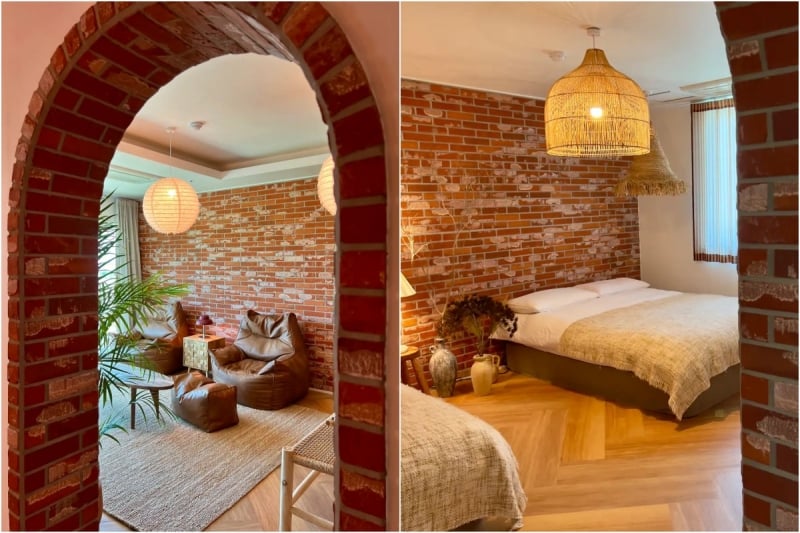 Listing name: Breezy Studio In Seogwipo #1.4
Listing type: Entire home
Location: Seogwipo
Max. no. of guests: 4
No. of bedrooms: 1
Nestled in Seogwipo on the south coast of Jeju Island, this picturesque little studio is perfect for travellers who want a tranquil place to stay. Sunlit, spacious, and stunningly designed with brick detailing and tropics-inspired furnishings, it's also ideal if you value aesthetics as much as comfort. A crowd favourite, this Jeju Airbnb is such a great find that previous guests say that they were even tempted to stay in during their vacation!
Fancy exploring the island? There's a nearby bus stop that will take you to the main Jeju attractions. Plus, the apartment sits close to wonderful hotspots like Cheonjiyeon Falls and Hwangji Beach.
5. This handcrafted eco-friendly house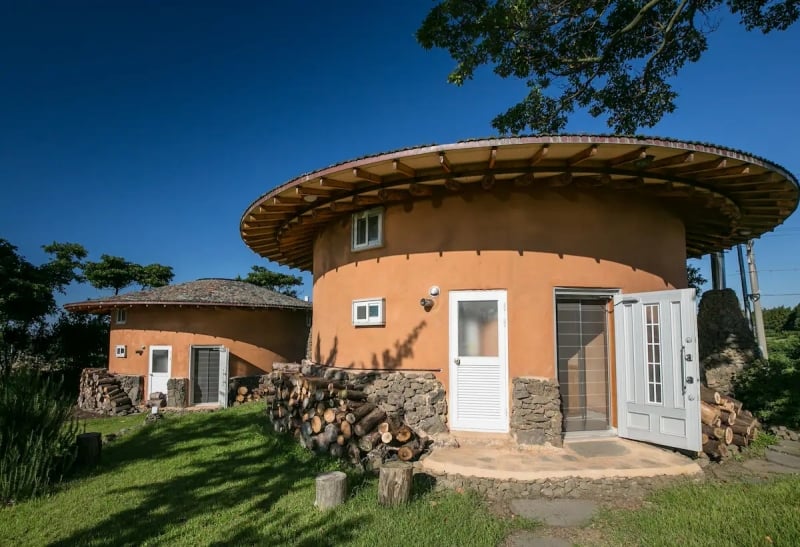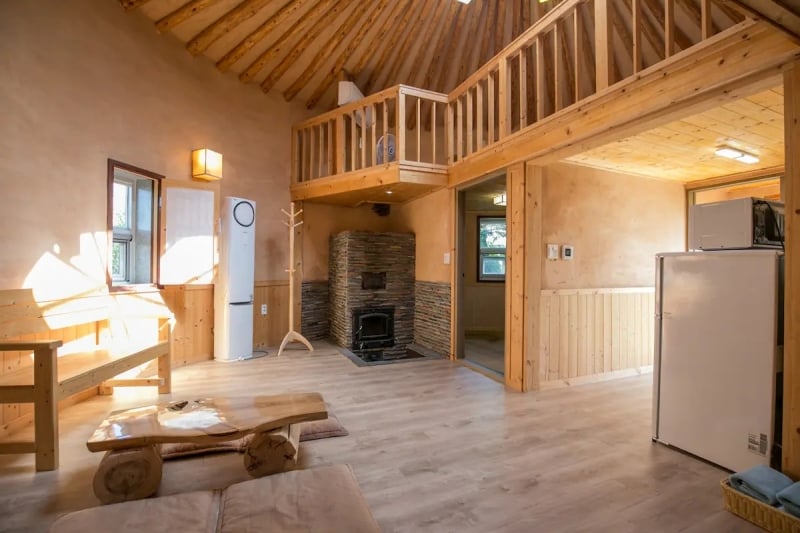 Listing name: The Earth House 'Hue'
Listing type: Entire cottage
Location: Aewol, Jeju City
Max no. of guests: 12
No. of bedrooms: 2
The moment you step inside Hue, a wave of zen washes over you. All-wood interiors, ancient Ondol-heated floors, and walls filled with Jeju volcanic clusters  — the earth house embodies its name perfectly. Let stress seep out of your bones when you stay in this eco-friendly home, with circular skylights where you can watch the stars before falling asleep each night. 
Even more impressively, Hue was painstakingly built and designed by the owners themselves. Moreover, they're farmers! You can visit their surrounding orchard, where they grow organic hallabong, a tangerine native to Jeju island. If you're on the lookout for Airbnbs in Jeju that lets you appreciate the land, then we can't recommend this one enough.
6. This retro caravan on the beach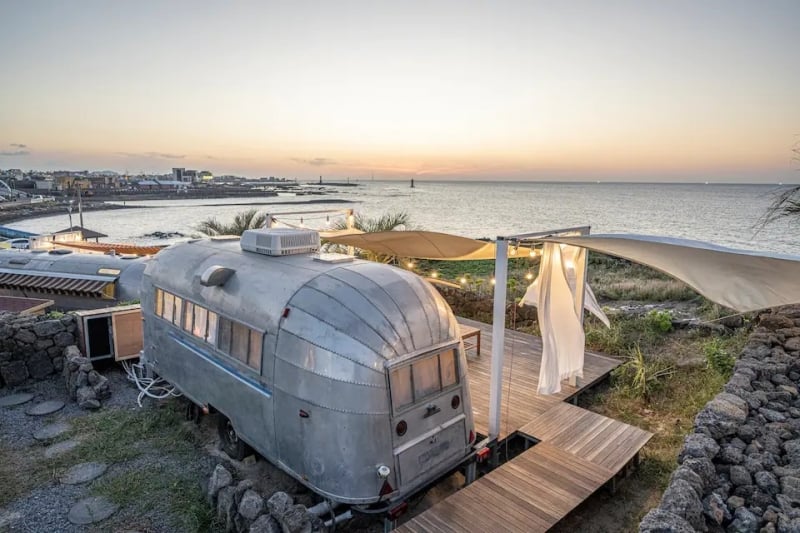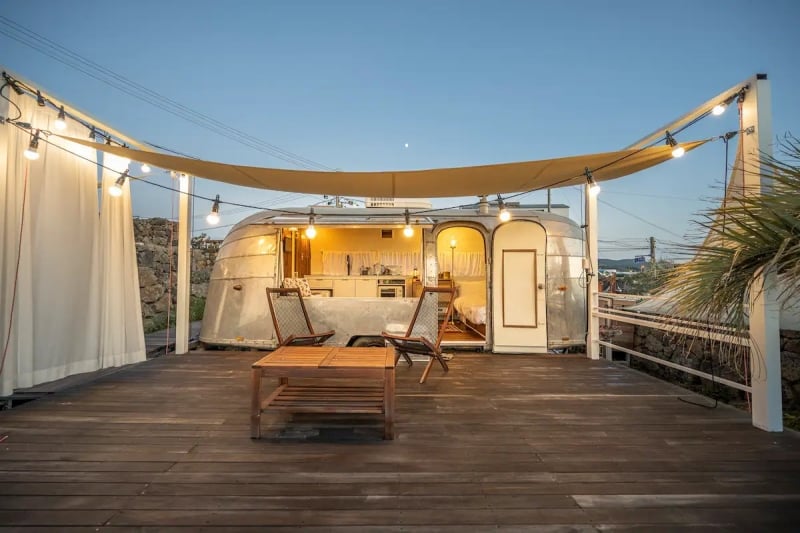 Listing name: Retro Emotional Caravan Airstream, Beachboys_Boy21
Listing type: Camper/RV
Location: Aewol, Jeju City
Max. no. of guests: 2
No. of bedrooms: 1
Located near Jeju Island's famous Gwakji Beach, this pretty caravan dubbed Beach Boys will make your seaside holiday truly unforgettable. Travellers drawn to vintage style and laid-back beach living will fall in love instantly. Sure, it's only big enough for solo travellers or couples, but it's one of the most Instagram-worthy Airbnbs in Jeju, for sure!
Aside from the '60s retro vibes, this cosy Airstream features a sprawling terrace facing the ocean. From here, you can enjoy the lovely sunset over the coast and bask in spectacular ocean views while chilling on lounge chairs. We can already imagine how relaxing sunsets are from this spot. 
7. This playful Jeju City Airbnb for those looking to socialise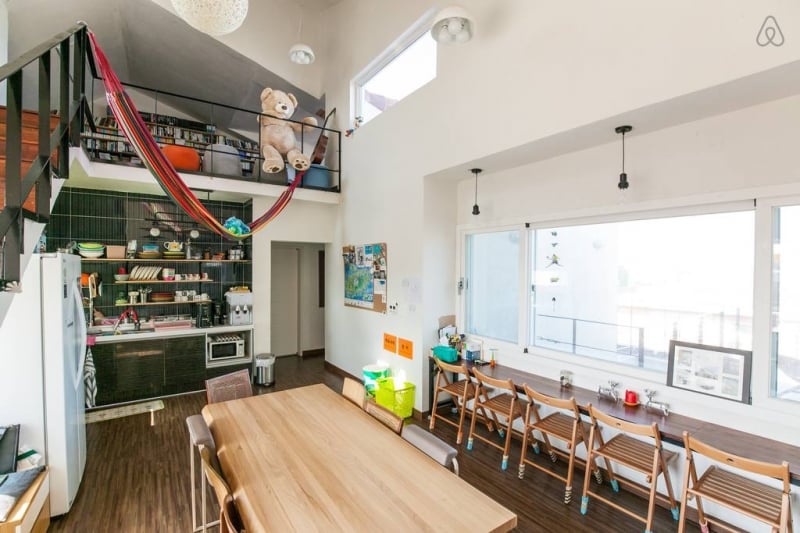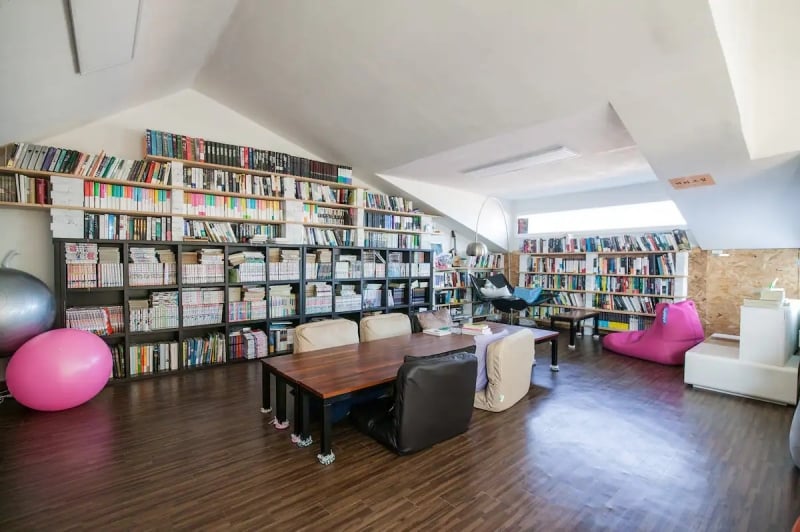 Listing name: # 3-person-triple room – Starlight tour – Clean and quiet accommodation in front of the sea – Warak Guesthouse
Listing type: Private room in a bed and breakfast
Location: Jeju City
Max no. of guests: 3
No. of bedrooms: 1
If meeting new people sounds like your kind of thing, then Warak Guesthouse is right up your alley! With a huge common area perfect for hangouts, it's one of the Airbnbs in Jeju that allows guests to mingle and lounge freely. The first thing you'll notice is the picturesque view of Port Sehwa from the living room, followed by the vibrant colours that pepper the kitchen and the attic. A thousand books fill the attic and a dizzying array of arcade and board games beckon to guests — at this affordable Jeju Airbnb, you'll never be bored!
The best part? John, the host, puts his guests' comfort at the forefront. Not only does Warak Guesthouse serve breakfast, but it also provides all the essentials, from hairbands to nail clippers. Just keep in mind that the guesthouse has a strict 11pm lights-out rule, so make sure you don't stay out too late.
8. This pristine hideaway in a serene village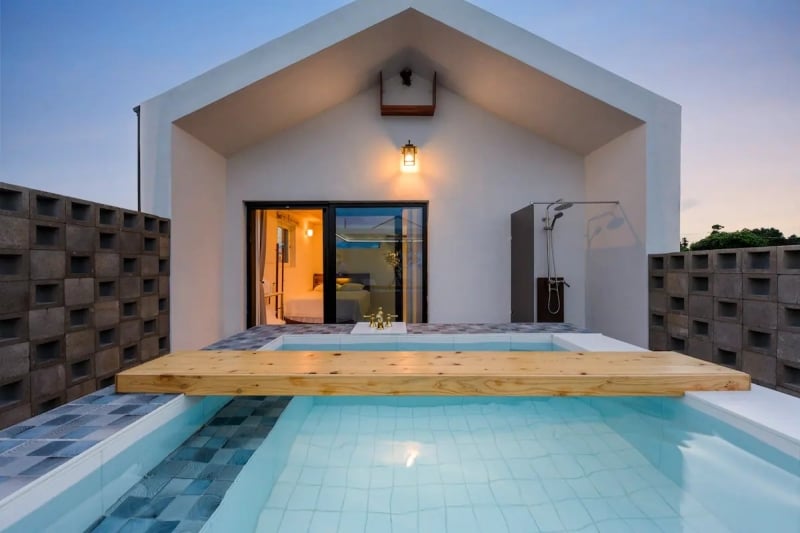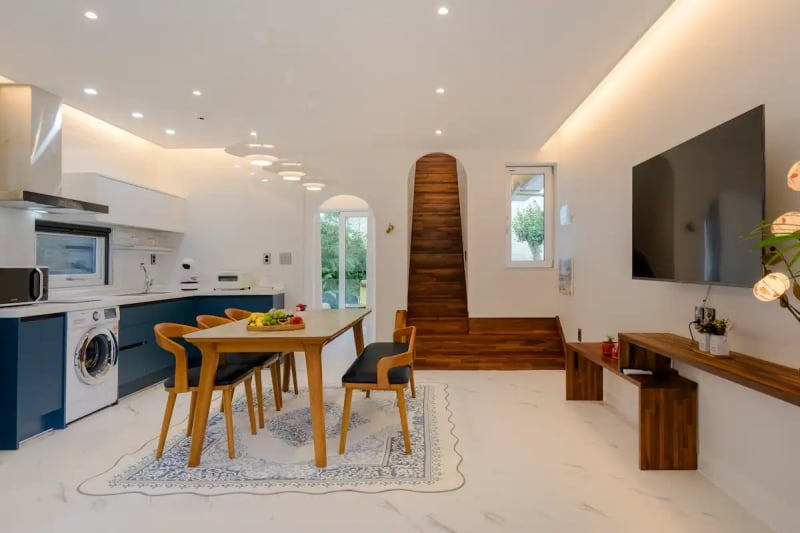 Listing name: StayArm Samdal
Listing type: Pension
Location: Seongsan, Seogwipo
Max. no. of guests: 6
No. of bedrooms: 2
Planning a relaxing vacay on the island? Look no further than this pretty modern house in the serene Samdali Village on the eastern side of Jeju. It's filled with luxuries, including an outdoor jacuzzi, a rooftop deck, and a beautiful garden. Inside, everything is sparkling clean and contemporary, with large windows that keep the rooms pleasantly bright and airy all day long. 
Families and friends looking for affordable Airbnbs in Jeju, we recommend this place for groups of four to six to get the most bang for your buck.
9. This cosy home in a quiet neighbourhood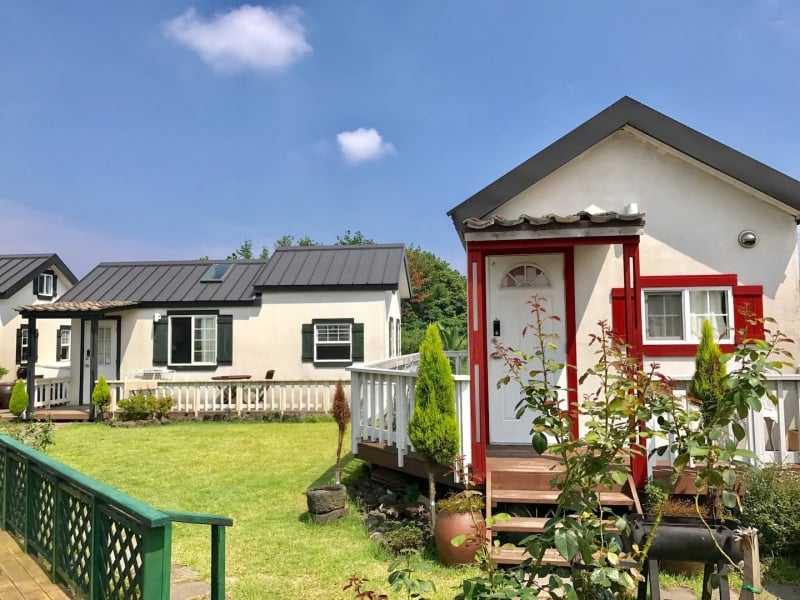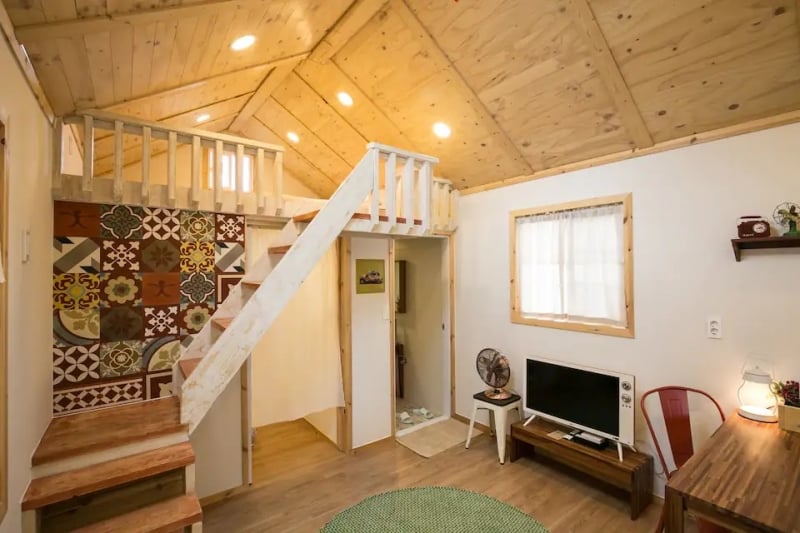 Listing name: Romantic Day Duplex Private Pension Jeju House from Jeju
Listing type: Entire home
Location: Seongsan, Seogwipo
Max no. of guests: 3
No. of bedrooms: 2
This quaint two-bedroom Airbnb feels like a cosy little cottage in the countryside of Jeju. It may be on the small side, but you'll find that it has everything you need! Amenities include a well-equipped kitchenette, heated floors, and a comfy couch. An added bonus? Breakfast is also served at this Airbnb on Jeju Island. Host Yuna and her mother have truly made it their mission to make guests feel at home!
A short drive from Seongsan Ilchulbong, this Airbnb is an ideal choice for travellers who plan to visit Jeju's famous Sunrise Peak. Taking a car rental will definitely be helpful as this Airbnb offers free parking, but if you're not planning to drive, Yuna will be happy to arrange your transportation.
10. This beautifully designed hanok near Woljeong-ri Beach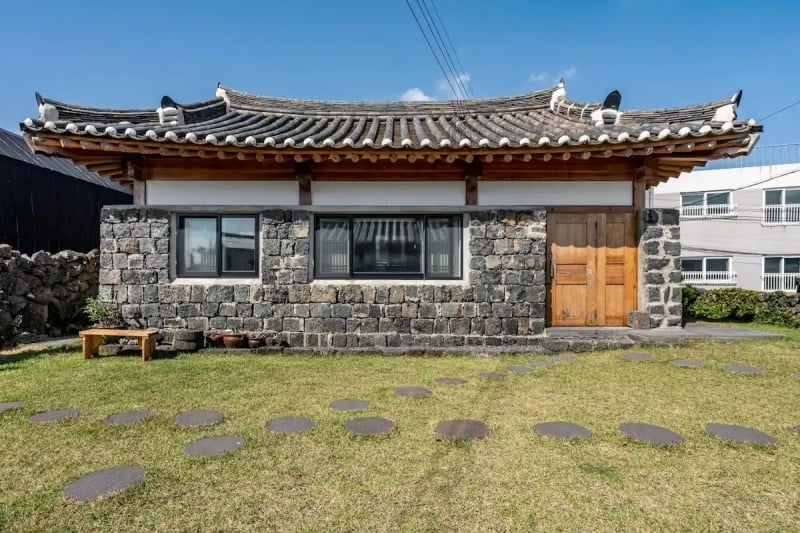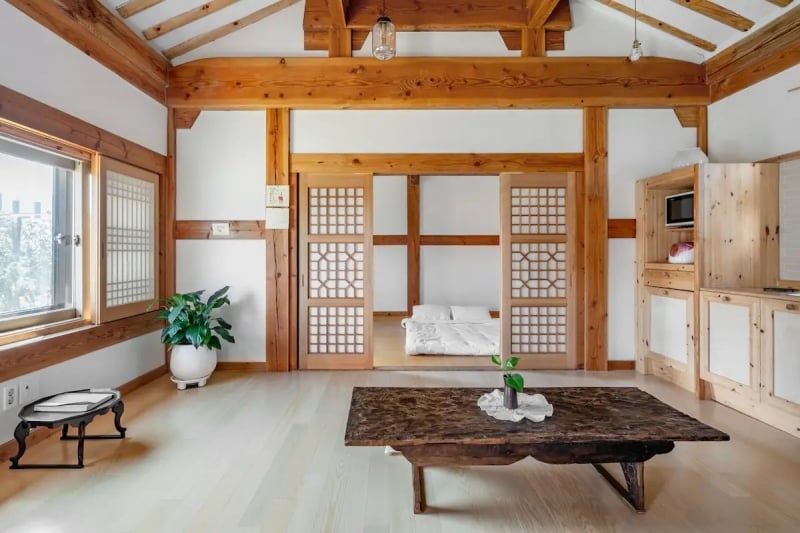 Listing name: Decompress with Soothing Tea at a Traditional Stone Retreat
Listing type: Entire guesthouse
Location: Gujwa, Jeju City
Max. no. of guests: 4
No. of bedrooms: 1
Rest, relax, and rejuvenate in this traditional stone retreat within walking distance of the white-sand Woljeong-ri Beach. Fusing classic hanok design with modern comforts, it's a spacious sanctuary that lets you really dive into your South Korea getaway. For the full authentic experience, be sure to sip some tea at the low wooden table at the end of the day — it's a soothing drink that's the perfect wind-down activity. 
Plus, this retreat keeps you close to charming cafes and tourist spots like Gimnyeong Maze Park, Manjanggul Cave, Bijarim Forest, and Seongsan Ilchulbong Peak. If you're looking for the best Airbnb in Jeju to experience traditional Korea, then you'll definitely want to consider this one!
Also read: 20 Stunning Hanoks in South Korea You Can Book on Airbnb
11. This chic Jeju Island Airbnb with an industrial touch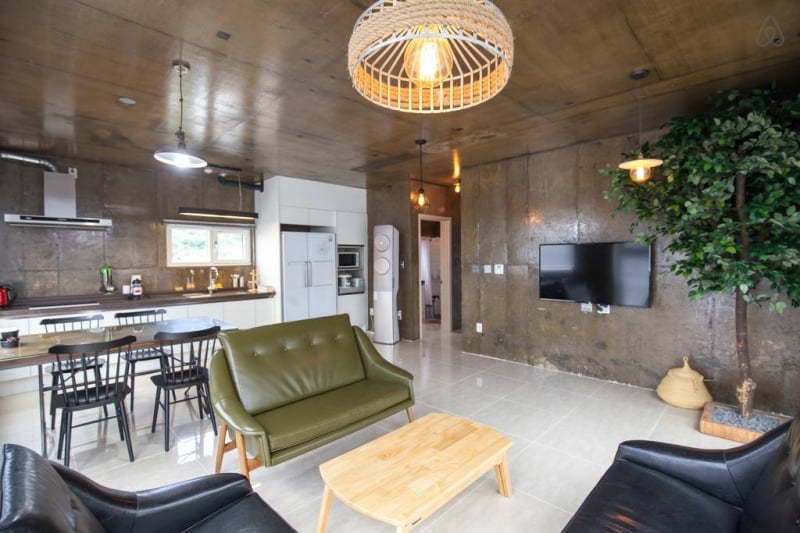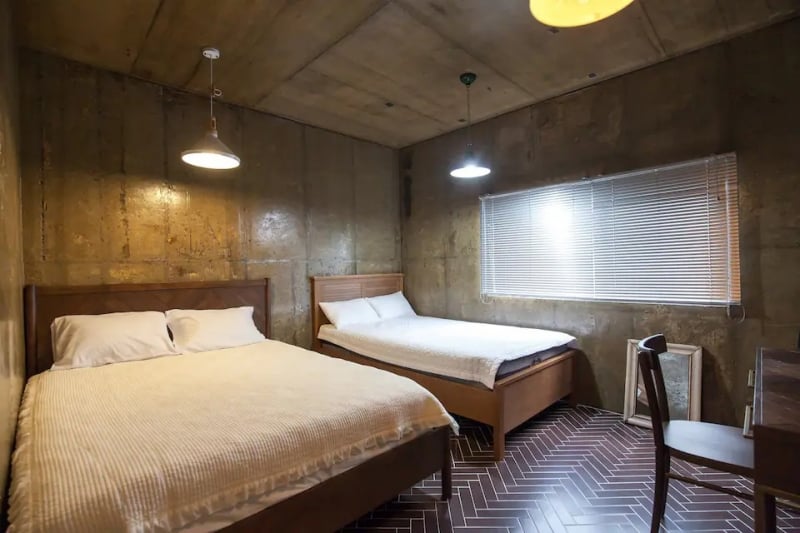 Listing name: 보보스테이[BOBOSTAY] 1F _ modern and vintage
Listing type: Entire home
Location: Aewol, Jeju City
Max. no. of guests: 4
No. of bedrooms: 1
Fancy starting your day with a stunning view of Mount Hallasan and ending it with the captivating sunset flooding your home? Do so in this sleek and modern apartment! Accentuated by clean-cut lines, earth tones, and pristine marble flooring, the Airbnb is furnished with one single bed and one queen-size bed, accommodating four guests comfortably.
The only downside is the need for a rental car to access the location, so if you don't plan to drive, this might be out of the question for you. Otherwise, this Jeju Island Airbnb is in the vicinity of the famous O'sulloc Tea Museum, Teddy Bear Museum, and the ever-popular Shin Jeju Shopping Street. Shopaholics, rejoice!
12. This private stone house with a jacuzzi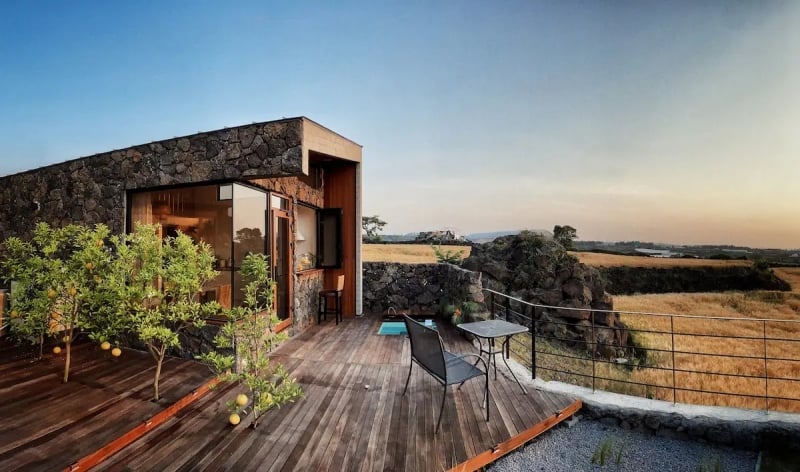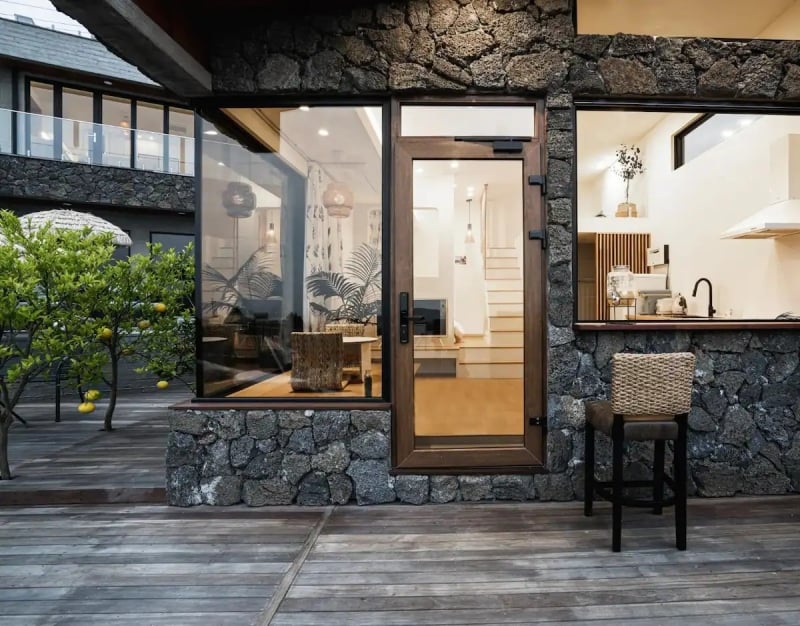 Listing name: [Stay in Thamla] November Tangerine picking experience/A jacuzzi with the Aewol Sea and Sunset! Newly-built private garden Jeju stone house
Listing type: Entire guesthouse
Location: Aewol, Jeju City
Max. no. of guests: 3
No. of bedrooms: 1
Tucked in a quiet corner of Jeju Island, this charming studio is a stone building that was tastefully renovated with traditional and modern elements. The result? An exquisite and authentic Jeju Airbnb experience. Plus, you'll get to enjoy views of Biyangdo Island and breathtaking sunsets over the sea.
Small groups will love the property's cosy outdoor area, decked out with a heated outdoor jacuzzi and a mini-pool. After sightseeing the classic hotspots, immerse yourself in the local lifestyle by spending a day tangerine picking. Best of all, picking and sampling the tangerines are free!
13. This contemporary refuge inspired by nature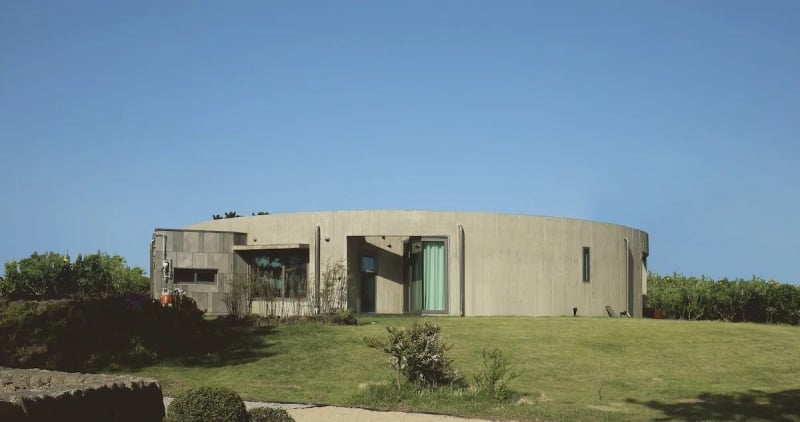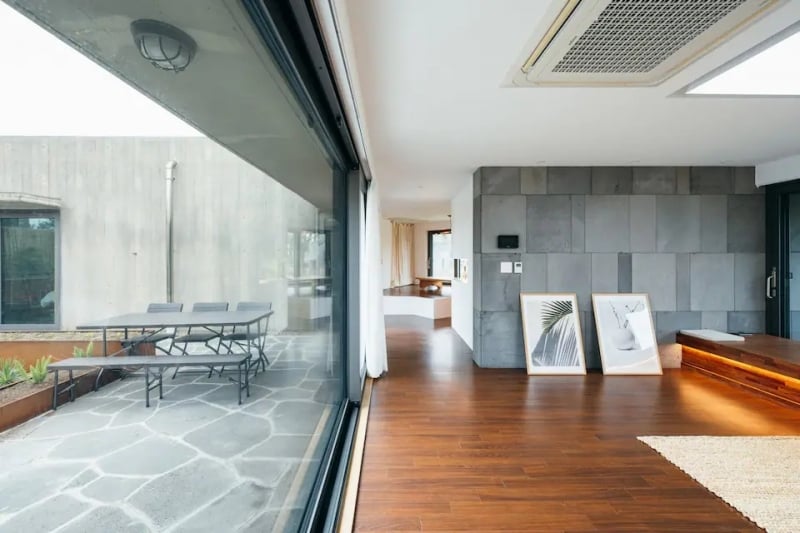 Listing name: Rasong – a private pension near Yyejae Beach
Listing type: Pension
Location: Hallim, Jeju City
Max. no. of guests: 8
No. of bedrooms: 3
Beautiful design, pristine interiors, and sprawling outdoor spaces — this circular architectural marvel makes for an impressive stay wherever you are. At first glance, one can almost believe that you've stepped inside a museum! Huge windows open to let in warm sunshine and fresh ocean air, but if you really want to bask in the balmy outdoors, spend some time in the tranquil bamboo garden. 
While the aesthetics of this Jeju Island Airbnb are reason enough to visit, the Superhost also made sure that it's exceptionally appointed for guests' comfort and enjoyment. Some of the standout features include a fully equipped kitchen, a BBQ grill and al fresco dining area, and even a projector and Netflix for cosy movie nights. 
14. This secluded cabin outside the city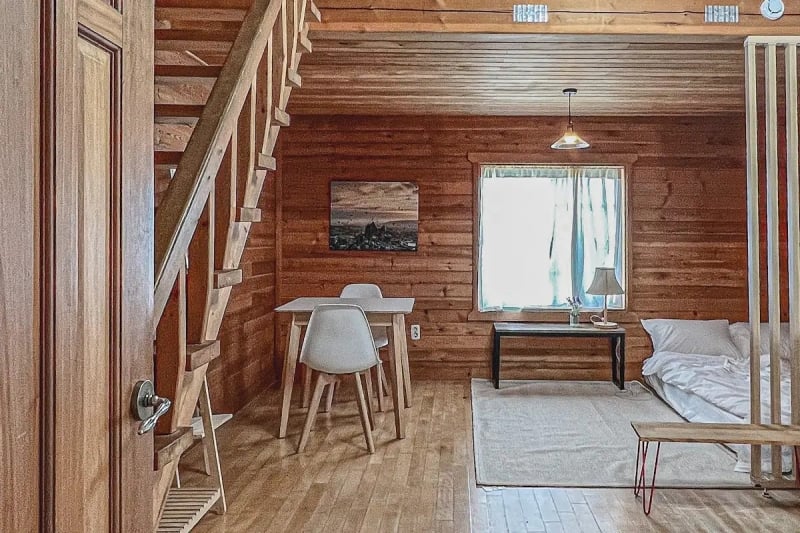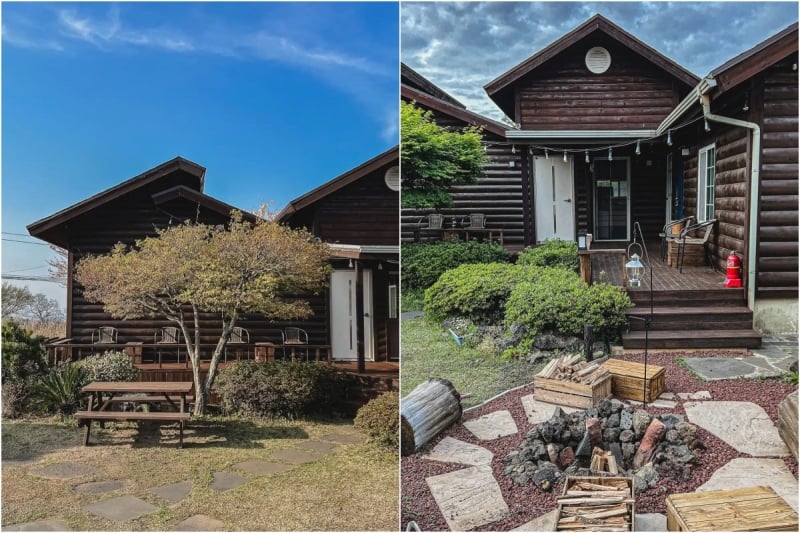 Listing name: @ grida.jeju_ [Ilho] Quiet cabin annex between Jocheon Zhongshan Mountain
Listing type: Entire guesthouse
Location: Jeju City
Max. no. of guests: 4
No. of bedrooms: 1
Find your way to this quiet cabin, a warm and cosy Airbnb retreat on Jeju Island. Found in a quiet little village, it's perfect for a restful vacation surrounded by nature. The cabin set-up is ideal for small families, with a plush queen bed on the first floor and a queen topper on the second floor. 
Although this rental is beautiful all year long, there's no doubt that it's extra-alluring in spring, when travellers will be delighted by the cherry blossoms and azalea blooms outdoors. At night, gaze at the star-filled skies — you won't see such starry heavens in busier cities, after all!
15. This oceanfront UFO-style retreat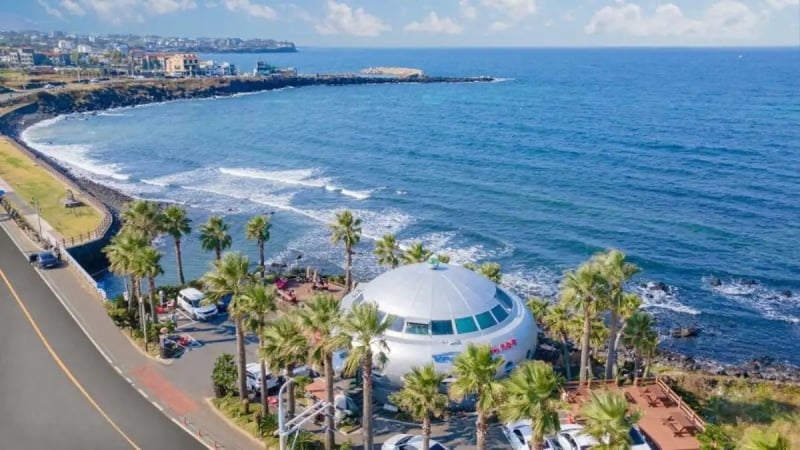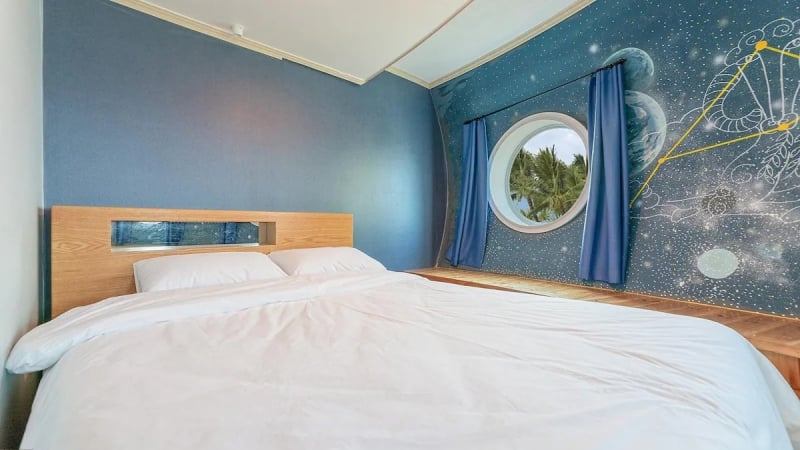 Listing name: UFO 5 (no self-catering/random assignment) to heal in a space with a sea noise
Listing type: Pension
Location: Aewol, Jeju City
Max. no. of guests: 4
No. of bedrooms: 1
The location alone makes this hideout a winner — right on the shores of the island, so rolling waves will lull you to sleep each night. But it's the offbeat decor that makes it one of the most unique Airbnbs in Jeju. Each room in the bed and breakfast is designed like a spaceship, with round windows and starry walls. In the dead of night, it's easy to imagine that you're actually floating through space!
Admittedly, the king-size bed takes up most of the space in the bedroom. That said, it's filled with essentials, including air-conditioning, WiFi, a mini-fridge, deskspace, and a private bathroom. 
16. This enchanting Jeju Airbnb in a remote village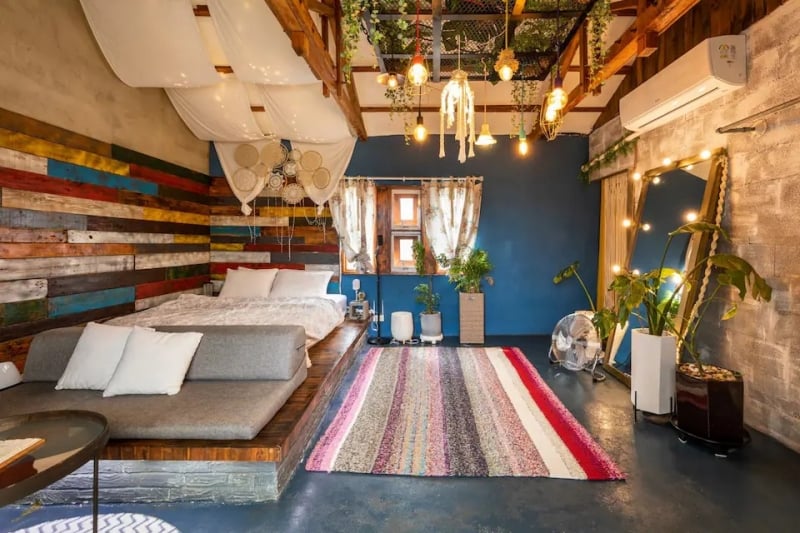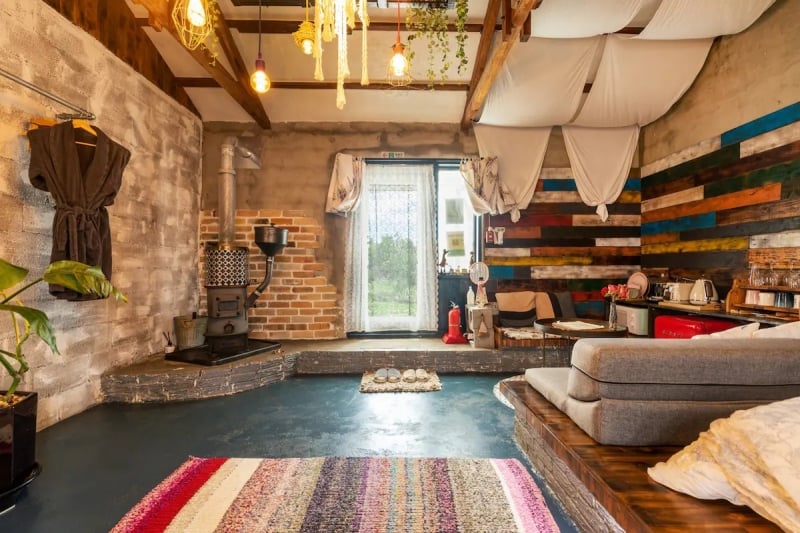 Listing name: Lanistay Outside Street/Indoor Jacuzzi/Fire
Listing type: Entire cottage
Location: Daejeong, Seogwipo
Max. no. of guests: 2
No. of bedrooms: 1
Lovelier in person than in photos, this one-bedroom hideaway features a kitchen, a private deck, and even a barbecue. Charm-filled vintage interiors guarantee a cosy vacay that feels worlds away from the rest of the tourist track. There's a furnace, so you're kept toasty and comfortable even in the wintertime. 
However, make sure you're prepared for its off-grid location; the bohemian cottage is an hour or so away from most island attractions. But if you're renting a car, this is one of the Airbnbs in Jeju perfect for couples who want to spend a romantic getaway in Seogwipo.
17. This sprawling pet-friendly flat near Jeju International Airport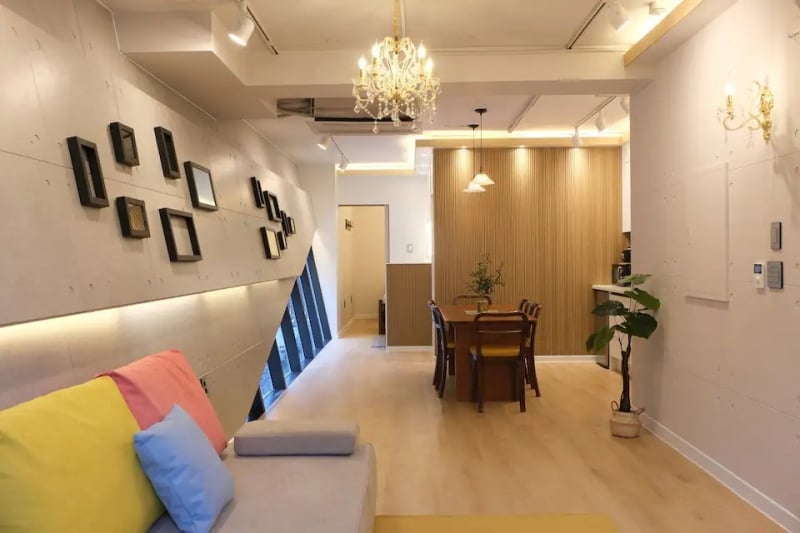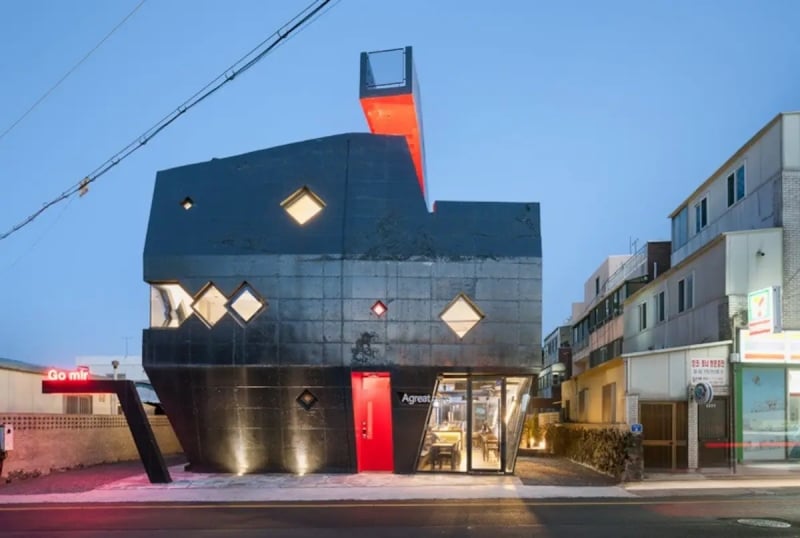 Listing name: Near Jeju Airport_Private House_Famous Architecture Works_Private Garden_5-4 people_My Terrace
Listing type: Entire home
Location: Jeju City
Max. no. of guests: 5
No. of bedrooms: 2
Rest your head in this modern escape tucked in a building designed by renowned South Korean architect Moon Hoon, who's known for his out-of-the-box creations. Indeed, the massive UFO-like monolith jumps out amidst the standard boxy buildings in the city. Keep in mind that you won't be renting the whole thing; your vacation rental sits on the ground floor with a private garden. Modern interiors, elegant decor, and warm lighting make it feel like your home away from home. 
Moreover, you won't find a more convenient base on Jeju Island than this Airbnb. Not only is it close to Jeju International Airport, but it's also right by Yongduam Coastal Road for early morning jogs or leisurely strolls by the sea any time of day. 
18. This serene sanctuary that's as pretty as a picture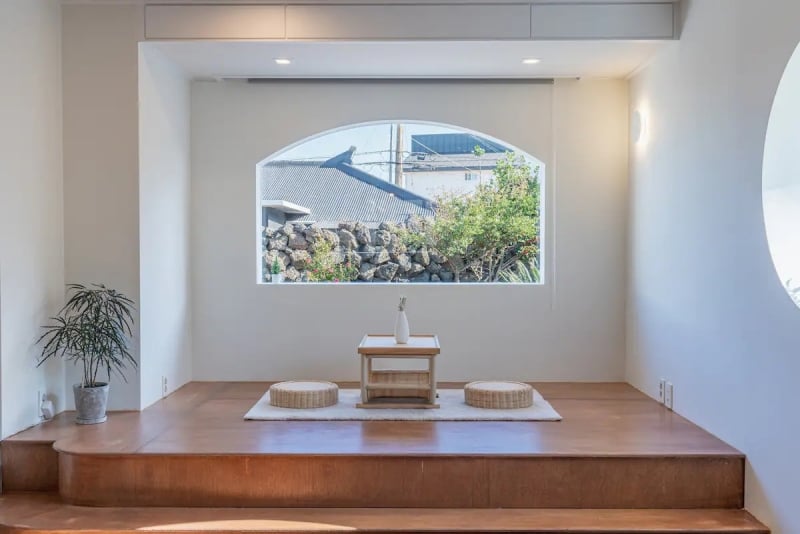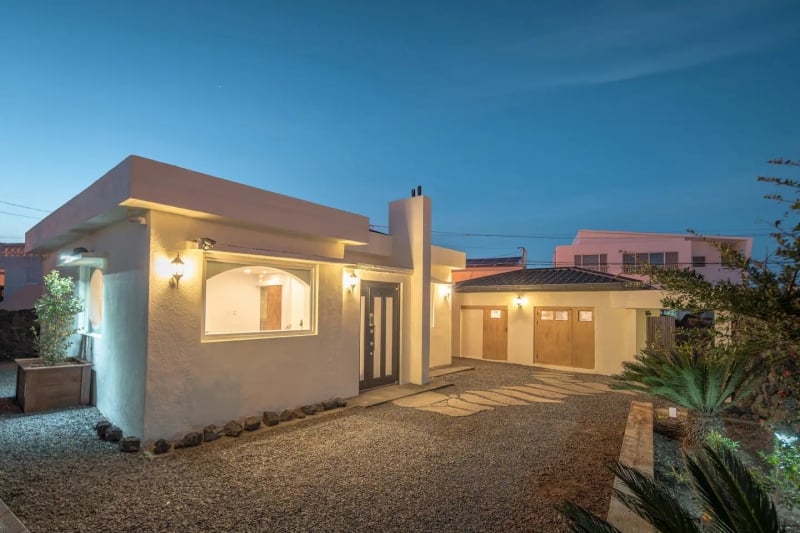 Listing name: [Dokchae Bed & Breakfast] Jeju Sea Village, a sanctuary for two people – Stay Hojae
Listing type: Entire cottage
Location: Gujwa, Jeju City
Max. no. of guests: 2
No. of bedrooms: 1
This cute little cottage has it all: From the cosy movie room for Netflix nights to the sun-drenched indoor deck overlooking the tangerine trees outside, we can't help but fall in love with everything about this Jeju Airbnb. Every corner of the house is designed for complete relaxation, including the spacious bathtub that can fit two adults. 
Located in the quiet seaside village of Gimnyeongri, it's perfect for travellers who want some time away from the tourist crowd. And did we mention that the famous Olle Trail passes right in front of the house? 
19. This lovely stone Airbnb in Jeju that's perfect for families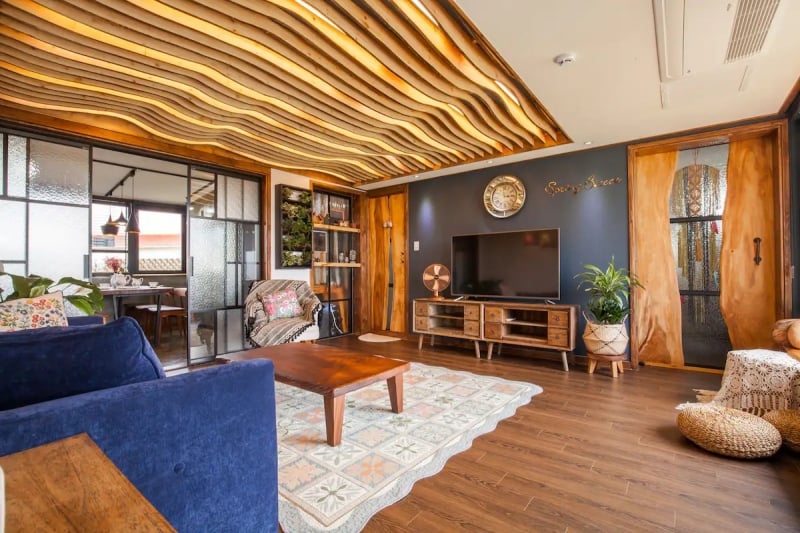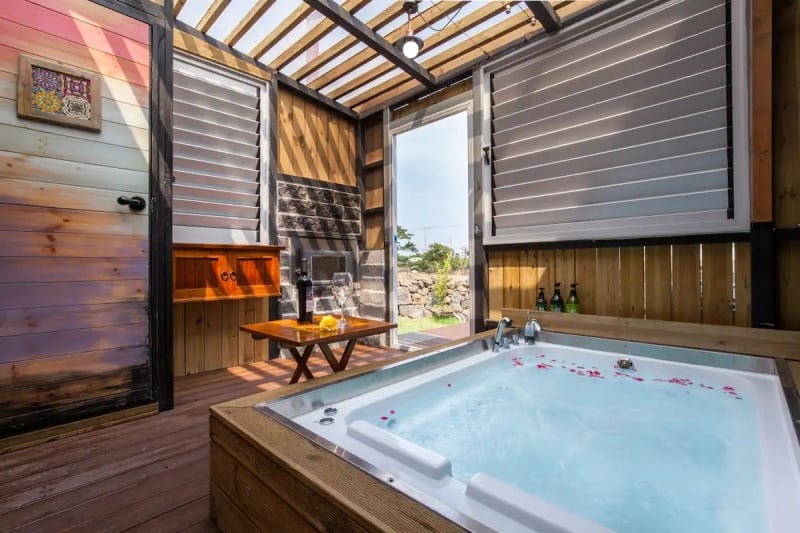 Listing name: Quality & interior, special private pension_[Bomboreum] # 5 minutes to the beach. Stone house, whirlpool, barbecue
Listing type: Entire home
Location: Chocheon
Max. no. of guests: 5
No. of bedrooms: 2
Looking forward to spending time at the beach? This beautiful stone house isn't quite on the beach, but it's close enough that you can reach Hamdeok Beach within five minutes. On a clear day, you'll even be able to glimpse the iconic Hallasan in the distance!
Meanwhile, local art pieces and one-of-a-kind decor add character to the interior of this sturdy cabin. And the family house comes with just about everything you need for a laid-back vacay on Jeju Island. We're talking comfy queen beds, coffees and teas, a hot tub, and an outdoor barbecue. Free WiFi is provided, too. What more could you ask for?
20. This beachfront villa featuring amazing views of the sea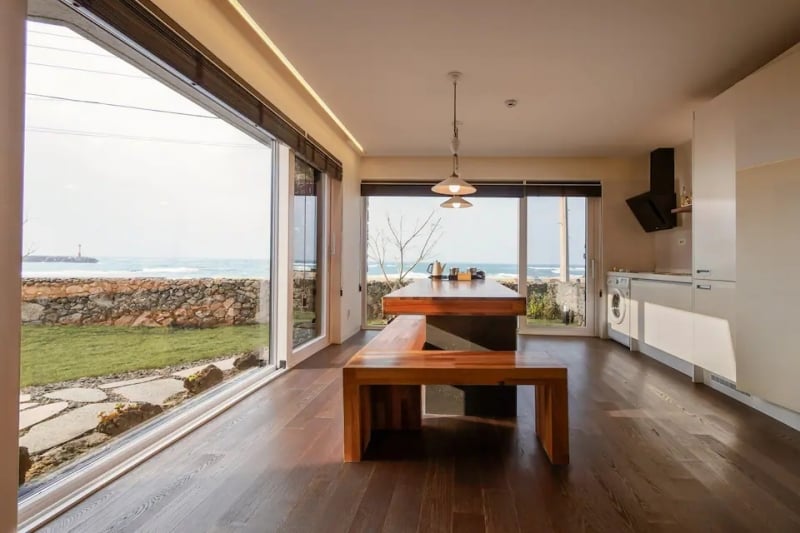 Listing name: Ariin Earring – Private rental house in the sea
Listing type: Entire home
Location: Hallim, Jeju City
Max. no. of guests: 5
No. of bedrooms: 2
Beachfront or beach-adjacent Airbnbs in Jeju are definitely in high demand. So, if you spot this stunning seaside dwelling available on your trip, we recommend booking it ASAP! It sits on Gwideok Coastal Road, allowing sun-seekers to explore Aewol, Handam, and Gwakji Beach easily. 
Thanks to the extra-large glass windows, you can enjoy breathtaking sea views throughout the house. Previous guests say sunset views are especially exceptional, so take some time to peek outside as the day winds down to a close! 
21. This charming home filled with vintage knick-knacks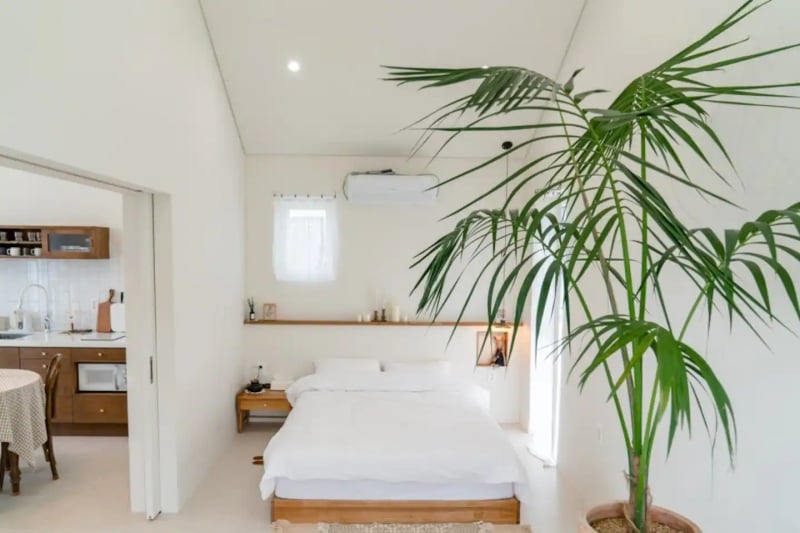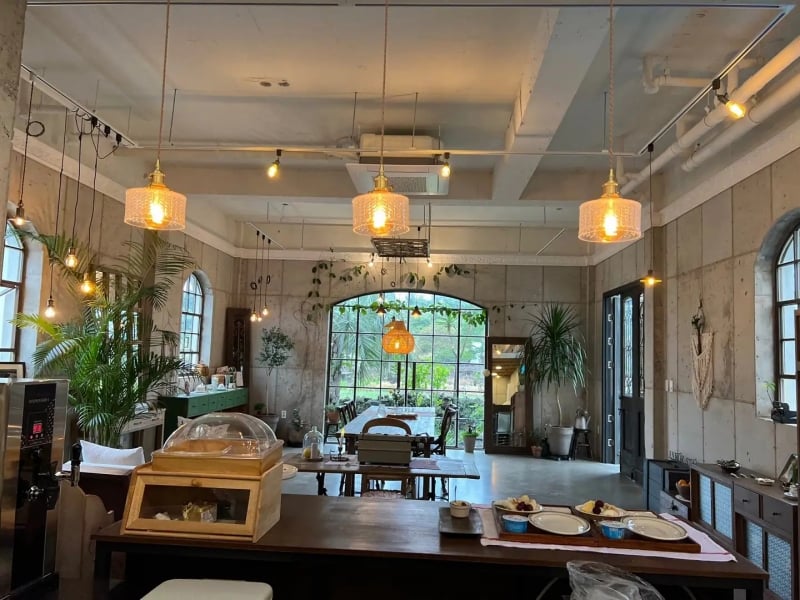 Listing name: The BEST Jeju location! Charming Private Cottage
Listing type: Pension
Location: Aewol, Jeju City
Max. no. of guests: 3
No. of bedrooms: 1
Expect tons of semi-envious likes when you share this postcard-pretty home on the 'Gram! It looks good on the feed — and previous guests say it's just as beautiful in real life. Artsy knick-knacks and lifestyle magazines fill the well-curated space, while modern comforts like a coffee dripper, a large bathtub, and a coffee dripper make travellers feel instantly at ease. At night, the living area transforms into a cosy cinema, thanks to the projector and free Netflix access.
22. This luxury residence near a surfer's paradise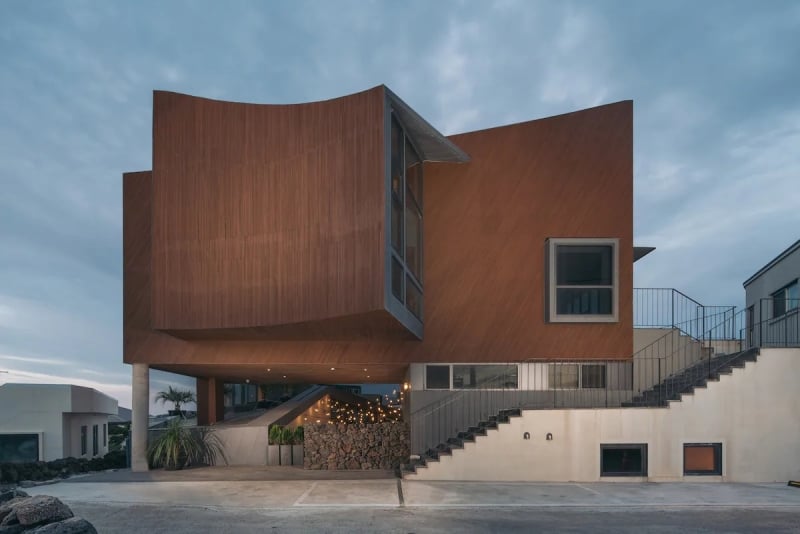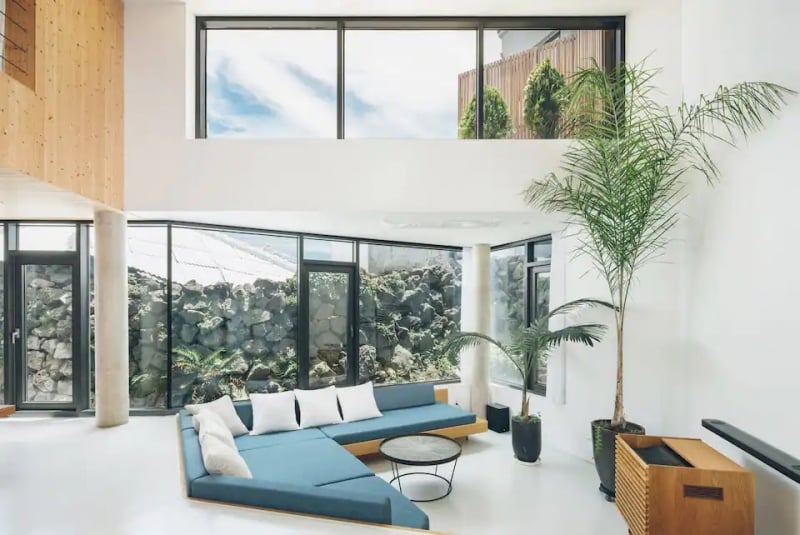 Listing name: ilsanghosa A+B : Architect's Luxury Beach House
Listing type: Entire vacation home
Location: Gujwa, Jeju City
Max. no. of guests: 13
No. of bedrooms: 4
Design lovers looking for cool Airbnbs in Jeju can't skip this five-star beach property. Made for extra-large groups, it's actually two separate houses facing each other with a combined number of four spacious bedrooms. High ceilings, top-notch amenities, and picture windows framing the sparkling ocean in the distance combine for a luxury home to remember. 
The stunning residence comes with so many wonderful features that we're finding it hard to pick a favourite spot! The sunken living room equipped for movie nights? Maybe the sprawling dining area or the gleaming state-of-the-art kitchen? Or perhaps the huge bathroom with the massive bathtub of our dreams? All we know is that we never want to leave this home. That said, the surf-friendly Woljeong-ri Beach is only a three-minute walk from the house.
Also read: 13 Magical Cabin Retreats in South Korea to Book on Airbnb
Whether you're in the midst of some last-minute vacation planning or simply getting some inspiration for your next trip, our advice is to stay away from typical resorts and hotels and opt for a one-of-a-kind Airbnb experience instead. So, which of these Airbnbs in Jeju Island are you most interested in?
Got a property you'd like TripZilla to feature? Inquire with us here.
---
This article contains affiliate links. When you book through these links, we may earn a small commission at no additional cost to you. All images courtesy of the respective property listings.