There aren't many people who would say no to a revitalising soaking session in hot thermal water. I can't think of any good reason why you wouldn't, given the therapeutic and claimed health benefits. While Japan holds the top position when it comes to Onsen (hot spring) popularity, its next-door neighbour, Taiwan, has started to carve its own place on travellers' hottest Onsens to visit lists. More and more travellers are turning to Taipei for the thermal oasis of relaxation. Should you go to Japan or Taiwan for this mineral-rich hot spring experience? Let's see if we can sort that out for you.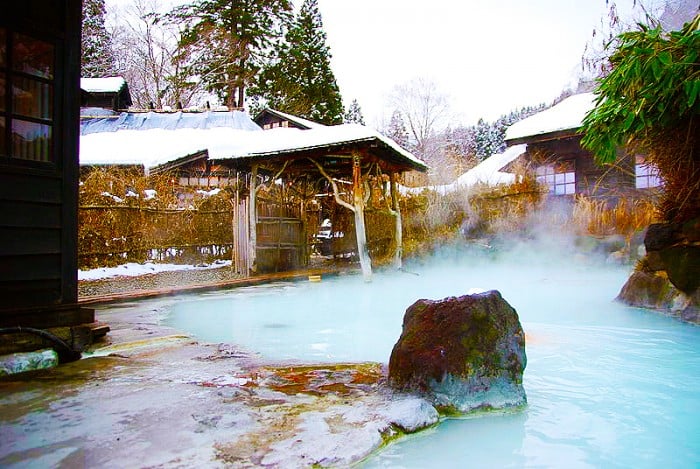 Image credit: Fumiaki Yoshimatsu
Location and Accessibility
In Taiwan, you'll be able to soak in the geothermal goodness of mother nature not far from the capital of Taipei. That makes getting your hot spring fix shortly after you land in Taipei very possible. And very tempting.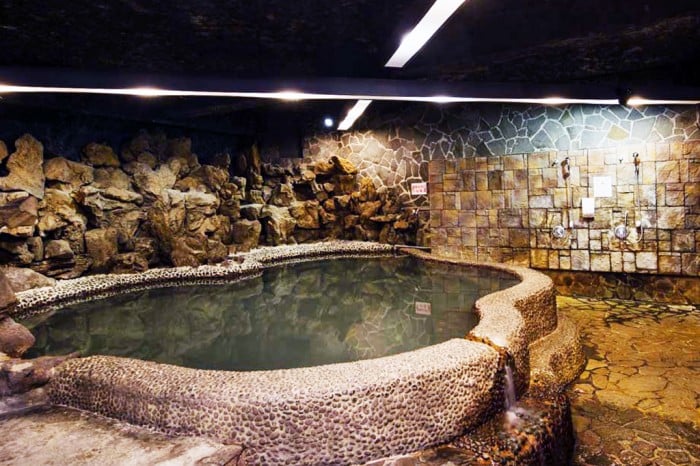 Beitou Onsen | Image credit: Taipei Atami Hotel
Just half an hour north of Taipei's city centre is Beitou. The suburb is home to some of Taiwan's best hot springs. Being conveniently close to the country's capital, locals and tourists can make an easy day-trip to this little Onsen paradise. It also explains why holidays in Beitou's thermal hot springs are in high demand. Given its popularity, the Beitou Hot Springs area is easily accessible by the Taipei MRT line to Xin Beitou Station.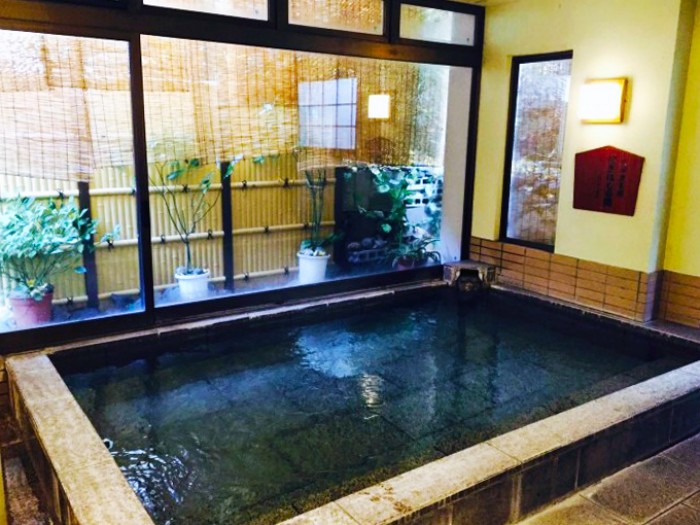 Yubara Onsen. Image credit: Welcome to Okayama
Japan has numerous Onsen-towns, which makes it almost unfair to only pick one. However, when travelling in Japan, you are most likely only going to see one. Our pick would be Yubara, which is a small town in the Okayama prefecture. Mostly unknown to and unfrequented by foreign tourists, this Onsen-town is one of the hot spring delights in western Japan. It is also very popular amongst Yakuzas for family holidays. So if getting up close and personal with a Yakuza is on your Japan wish list, this is the place to be!
It does require some effort to get to Yubara. You will have to head to Okayama and transfer to a bus from there. The Japan National Tourism Organization has more details on how to get to Yubara Onsen.
Our Verdict:
Beitou beats Yubara as the former is just 30 minutes away from the city centre of Taipei by MRT; while it's more complicated for the latter and you might need to spend up to 150 minutes to get to the place from Okayama Station by bus.
Single-Sex or Coed Pools
Some people may be concerned about soaking in a hot pool naked with members of the opposite sex. Or have a lot of reservations being naked in front of others in general. Here's the low-down on where you can get naked and with whom.
Beitou mixes male and female in the same boiling pot, and wearing a bathing suit is strictly mandatory.
Whilst in Yubara, men and women are rigorously separated, and naked bathing is the rule. But don't be shy about it – no one really cares what you look like without clothes. They're neck deep in serious mineral goodness with their minds likely in another zone altogether. It's normal for locals to use these public spaces as gathering places for families, friends, and communities to enjoy a good soak together. Naked.
Also read: Get Naked: Top (And Topless) Places In Asia to Bare It All
The town has a public and free(!) hot spring, called Sunayu, right next to the famous Yubara Dam on the Asahi river (there is no free-flow Asahi beer though, in case you were wondering). In the centre of town, you can find another public bath that is quite similar in simplicity and style to the one in Beitou – except that you are naked and amongst members of the same sex.
Our Verdict:
We would rather do as the Romans do and get naked with the locals at Yubara. Why let bathing suits soak up the nourishment instead of your own skin?
Food
After soaking in pools of around 40 degrees celsius, you're bound to get a little hungry. What types of food are available in the vicinity of the hot springs?
In Taiwan, many queue at Man Lai Hot Spring Ramen for a soothing bowl of hot noodles in soup. It feels good to feel as warm inside as you do on your body after a good hot soak. Their most popular item on the menu is the hot spring egg, which traditionally is a soft boiled egg prepared using hot spring water. Enjoy this dish together with another favourite in the restaurant — the Miso Ramen with braised pork.
Image credit: athenakuo
Just like the rest of Taiwan, there is street food close to the Beitou Hot Spring area, so if ramen is not up your alley, you have plenty of other Taiwanese food options.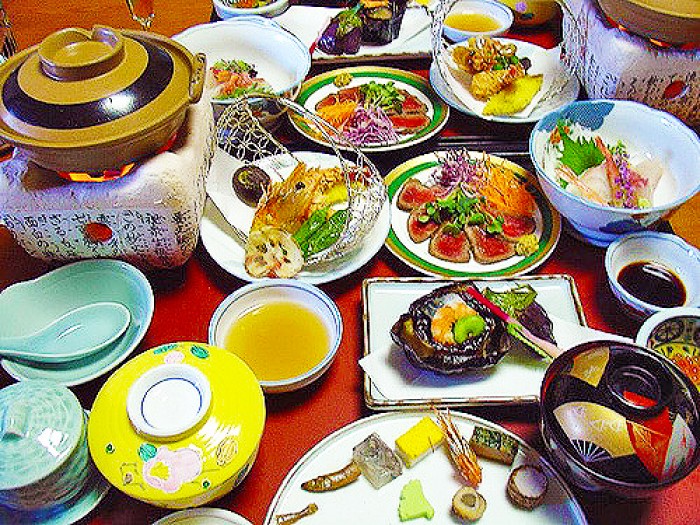 Image credit: amanderson2
At Yubara, your best bet will probably be having kaiseki (a traditional multi-course Japanese dinner) at one of Yubara's ryokan. It is said that kaiseki is a meal at one with nature. In fact, guests will often find such things from nature as flowers and leaves adorning the food. The ingredients are natural, of high quality and chosen according to the season. Most important of all, the ingredients are all freshly served. One kaiseki dinner comprises of anywhere between 6 and 15 different kinds of food, from sashimi, soup, simmered vegetables, Japanese pickles, grilled fish, to food marinated in vinegar. That sounds very nutritious after soaking in a healthy bath, doesn't it?
Also read: What to Eat in Japan: 23 Must-Try Foods Other Than Sushi
Our Verdict:
As tough as this decision was, we finally decided that having a delicious and authentic kaiseki at a Japanese ryokan would be both a delight on the palette as well as a great experience to have in Japan. Sitting on a tatami floor, sipping on some sake, and enjoying a multi-course healthy meal sounds right up our alley after a good soak in an Onsen!
Accommodation Types and Rates
The most remarkable spa in Beitou is the Yitsun Hotel, which is named after Dr Sun Yat-sen. The hotel is so comfortable and relaxing that even kamikaze pilots spent their last night on earth here during the Second World War.
Nowadays, one can stay in a Japanese-style room, complete with tatami flooring. The hot springs of the hotel are communal, just like most pools in Beitou. The view from the pools couldn't be more enchanting than the beautifully tended garden, which includes a pond. Alternatives to the Yitsun Hotel are the Hotel Royal Beitou (NT 6600 / SGD 280), offering therapy and wellness treats, and the Whispering Pines Inn (NT 3600 / SGD 150), which excels as a calm oasis that is frequented by VIPs.
Besides hot springs, Beitou has its very own Hot Spring Museum. Although the museum doesn't have a bathing opportunity, it presents Beitou's hot spring history vividly for those who are interested. The Millennium Hot Spring is the village's only public bathhouse, costing only NT 40 (SGD 1.65) entry fee. The four hot spring pools (ice cold to boiling hot) are set beautifully on a hill, radiating the thermal charm of yesteryear. About 90% of the visitors are locals, but as one of them assured us, there are more and more tourists coming to take a dip.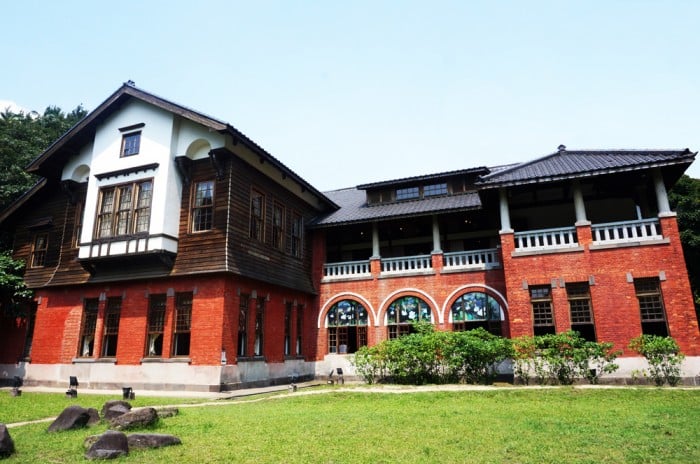 Beitou Hot Spring Museum | Image credit: Beitou Hot Spring Museum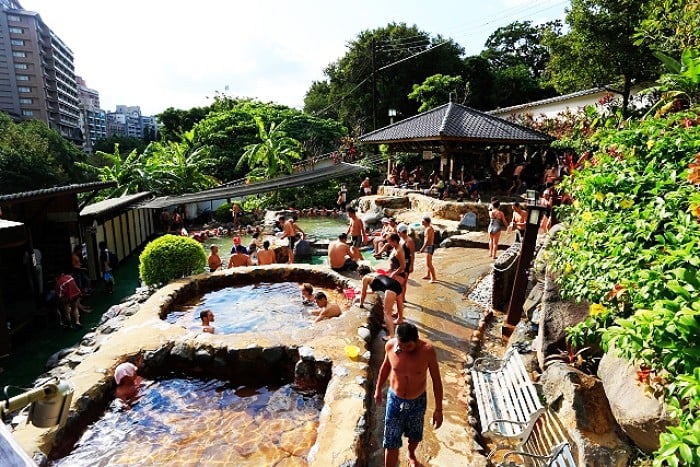 Millennium Hot Spring | Image credit: TaipeiTravel Net
While most hot springs in Japan will not allow access to men with large-scale tattoos, the Genroku-Hatago Abura-ya is one of the Onsen spas in which you might see a Yakuza (and his tattoos) on a family vacation. As beautiful and traditional places are often Yakuza holiday favourites, Yubara seems an excellent choice for them. Breakfast, dinner, and reserved bath are all included for JPY 15.900 (around SGD 200).
If you're looking for a cheaper option, you can stay at the Taneya Ryokan or the Satsuki Sou. Both will cost around JPY 8.500 (just over SGD 100) per night.
Our Verdict:
Both Taiwan and Japan offer a wide range of accommodation types and rates so you can easily find one that suits your needs. No real winner here.
Also read: Top 20 Historic Japanese Inns You Can Stay In
Etiquette
For both Japan and Taiwan, it is essential that you clean yourself before and after entering the communal pool. There are usually showers or taps in plain sight. In traditional hot springs, there's a bucket for you to use the hot spring water to clean yourself first. It would be useful to bring your own toiletries and towel.
It may also be helpful to bring a shower cap as it is mandatory in some Taiwanese hot springs to keep your hair from touching the water at all times. You may also balance your towel above your head.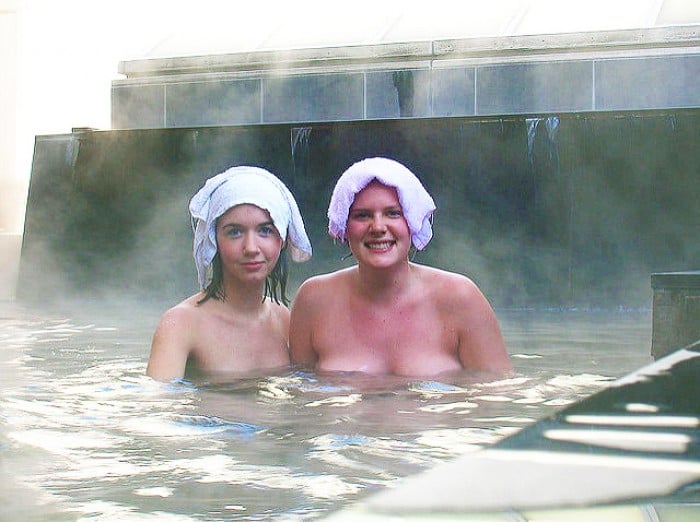 Image credit: Meg Scheminske
People with tattoos on any part of their body, no matter the size of the tattoo, are not allowed in Japanese Onsens. Tattoos in Japanese culture have heavy association with gangsters, and are frowned upon.
Finally, people with high blood pressure, heart disease or open wounds should not enter the baths.
ULTIMATE VERDICT: Spoilt for Onsen Choice
There isn't a clear favourite, but each Onsen towns offers something truly unique. While Beitou is easily accessible and perhaps a softer entry to the naked bathing culture for shy people, Yubara convinces with sheer beauty and nature. (So, if you're okay with being NAKED, go to a Japanese Onsen.)
However, it isn't really easy to get to Yubara – the car is pretty much your only option, as there isn't any Shinkansen nearby. No matter where you soak in thermal waters, dipping into hot springs is an unforgettable pleasure, making you want to live right next to one for the rest of your life.