Japan is renowned for its quirks and eccentricity, earning itself a reputation of offering idiosyncratic surprises nary found anywhere else in the world. Indeed, where else are you able to find AN ISLAND POPULATED BY BUNNIES?!?!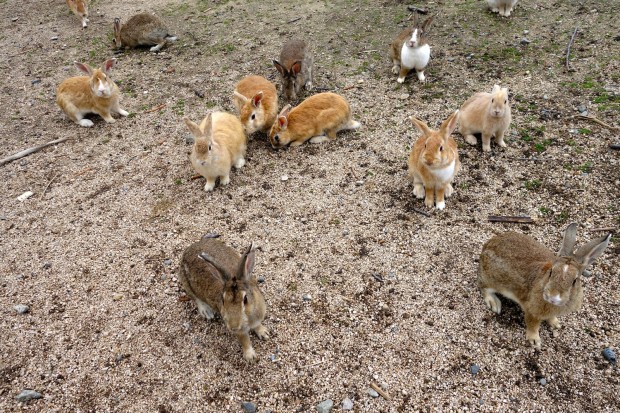 Okunoshima (affectionately known as 'Rabbit Island') is an island found in the Seto Inland Sea, belonging to Takehara City of the Hiroshima Prefecture. The island has a small circumference of only 4.3km, making it an easy (and an extremely, extremely cute) day trip!
Also read: The Cute Bucket List: 15 Places You Must Visit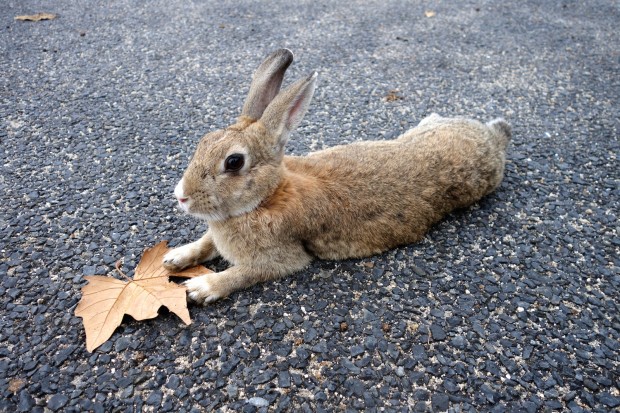 How to get to Okunoshima
Getting there can be a little tricky! Most people opt to get to Okunoshima from Hiroshima, but others do make the longer trip from either Kyoto or Osaka.
To get there from Hiroshima, first take the Kodama shinkansen (bullet train) for 30 minutes to Mihara. From Mihara, it is a 20 minute journey to Tadanoumi Port via the JR Kure Line. If you have a JR Pass, both trains will be covered! However, be warned: The second leg (Mihara-Tadanoumi train) only runs once every hour. Remember to check the train timings for your chosen day of travel in advance so you can spend less time waiting and more time with the bunnies!
Tip: Remember to buy your rabbit food beforehand from a supermarket, as no rabbit food is sold on the island! Visitors have been seen arriving with whole heads of lettuce and bags of carrots, the sight of which sends all the rabbits running to them! Should you forget to buy some beforehand, the Family Mart to the left of Tadanoumi Station sells some lettuce and carrots that are nicely cut up and all ready to be fed to the eager rabbits.
Tadanoumi is a sleepy fisherman town, with picturesque views greeting you at every turn.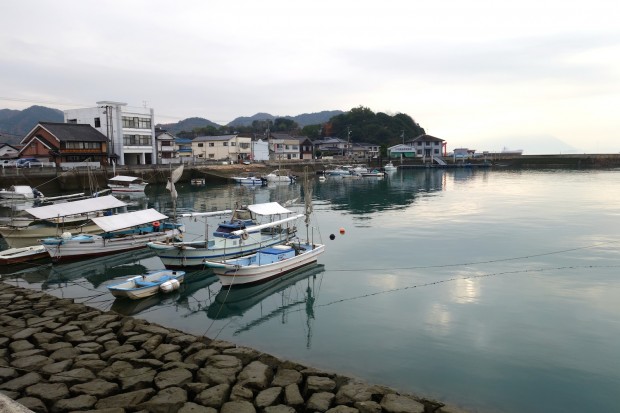 From Tadanoumi Station, it is a 5 minute walk to Tadanoumi Port. Upon exit from the station, turn right and walk straight until you see this bend in front of you: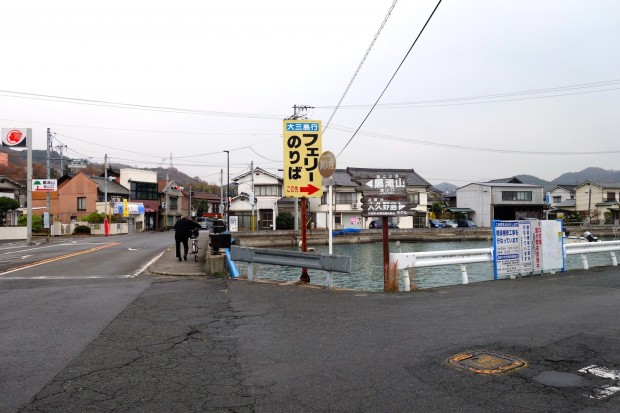 Turn right in the direction of the arrow! Follow the road and you will reach Tadanoumi Port.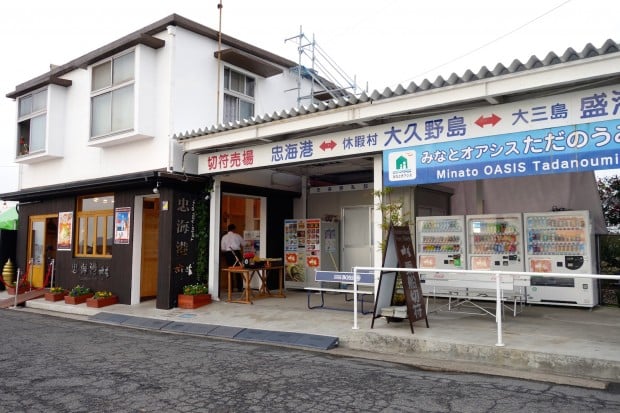 The shop at the ferry terminal sells dried pellets as well – your last chance to buy some rabbit feed! Ferry tickets can be purchased at the shop, and the ferry departs at intervals of 30–60 minutes. Ferries depart as early as 8am, and return latest by 7pm.
Try to contain your excitement as the ferry approaches! From Tadanoumi Port, it is a short 12 minute ride to Okunoshima.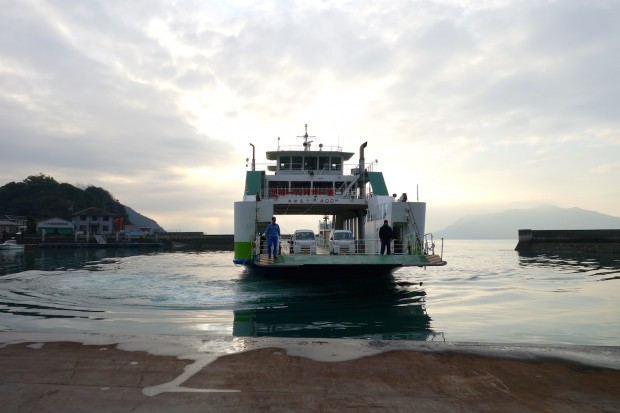 Once you step off the ferry and onto Okunoshima, it's just rabbits, rabbits, rabbits everywhere! Some immediately come bouncing up to greet visitors, complete with sniffly noses and twitchy ears.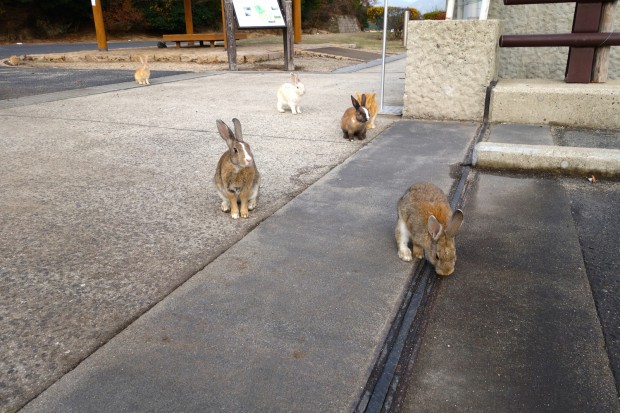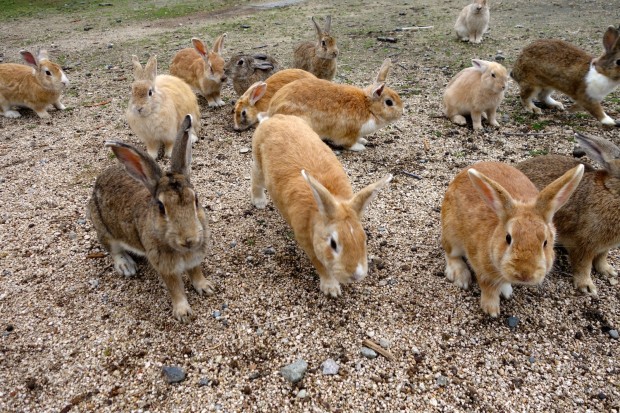 There are a couple of best "rabbit spots" on the island: The hotel, ferry terminals, shrine, the visitor's centre and the observation platform. At Okunoshima's ferry terminal, there will be a free shuttle bus waiting to take you to the hotel. Should you wish to walk, you will be able to circumnavigate the island in approximately 1.5 hours as the island has a circumference of only 4.3km. However, we recommend hopping on the shuttle bus, and taking a leisurely walk back to the ferry terminal after. A return schedule for the shuttle bus can be obtained from the hotel's reception.
There is a huge green lawn in front of the hotel filled with…. Wait for it, wait for it…. Lots and lots of bunnies! They come running up to you regardless of whether you have food (Yay! Superficial, these Japanese bunnies are not), but they definitely run a lot quicker when they hear the rustling of a plastic bag.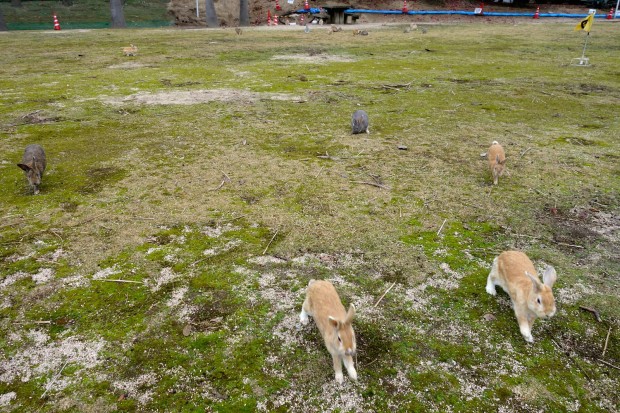 Be sure to wear shoes, as the lawn is filled with rabbit poop! However, if you managed to find a (relatively) clean spot, it's great to plop yourself down and indulge in an overdose of cuteness!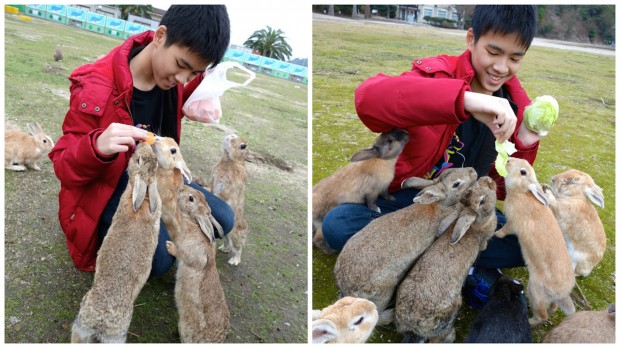 They tend to swarm all around you, and even stand on their hind legs to 'beg' for food adorably!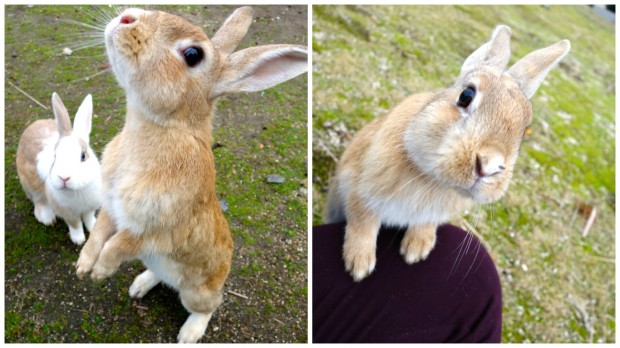 If you manage to find a clean spot, be sure to take the quintessential Rabbit Island picture of yourself surrounded by a SWARM of rabbits: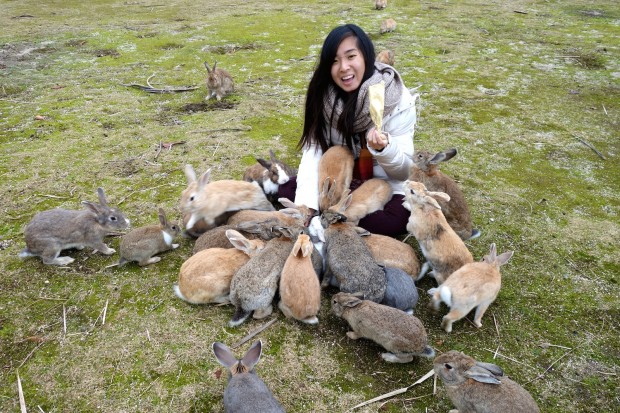 Enjoy the moment as a true blue Rabbit Whisperer!
The rabbits aren't afraid to climb all over you,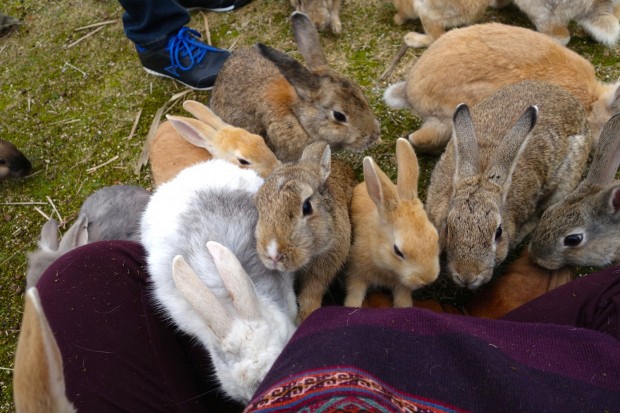 and some even let their curiosity get the better of them!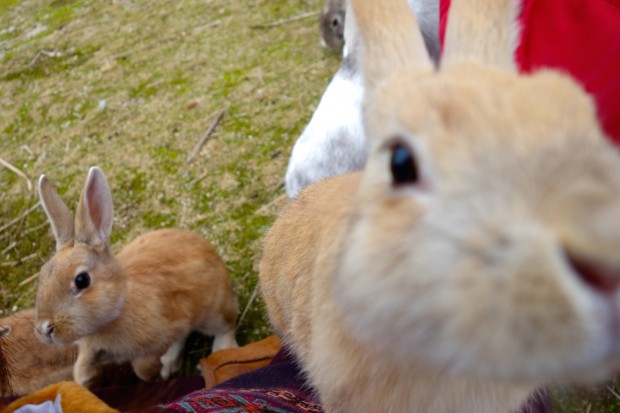 There is only one hotel on the whole island, and room rates range from 9,000–13,200 yen (approximately SGD 110–160) per night. Most rates include dinner, and breakfast is optional. Should you be unable to get enough of the bunnies, it's a great idea to stay a night at the hotel, and have the bunnies right at your doorstep! All rooms at the hotel are Japanese tatami style, adding to your authentic Japanese experience. In the summer, visitors can indulge in beach activities, swimming, as well as camping.
Also read: Cuteness Overload: 10 'Kawaii' Things to do in Tokyo
History of Okunoshima
Most visitors flock to Okunoshima in pursuit of rabbit "cuteness", but there is in fact a darker history behind the island. In 1929, the Japanese military used Okunoshima as a site for manufacturing poison gas for the war. Okunoshima was chosen due to its isolated location far from Tokyo, making it an ideal spot to construct facilities that could be hidden from the public eye. Okunoshima acquired the status of a "secret island", and was even deliberately excluded from maps. In other words, Okunoshima became invisible.
At its peak, the factories on Okunoshima manufactured up to 5000 tons of poison gases each year. When Japan lost the war in 1945, the factories were closed down and abandoned. The manufacturing of poison gas took its toll especially on the workers, and many of them suffered from persistent – and in some cases, fatal – health effects. Many of the workers' health conditions lingered on long past the war, and some only manifested years after.
Throughout the island, there are the remains of laboratories and traces of power plants: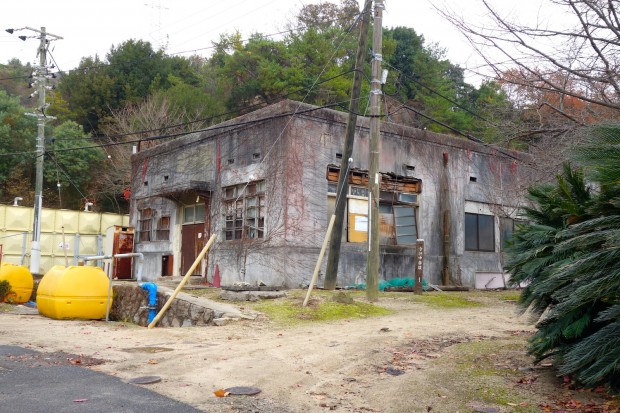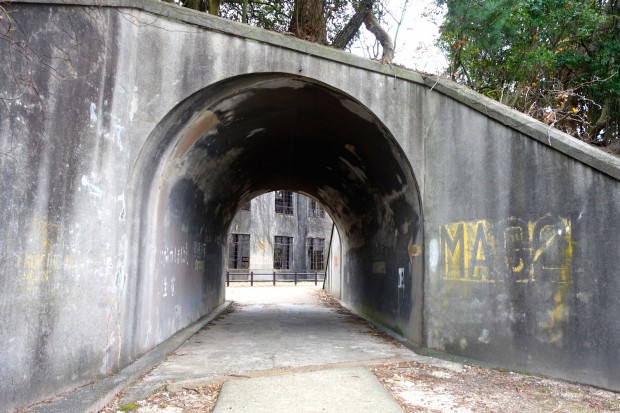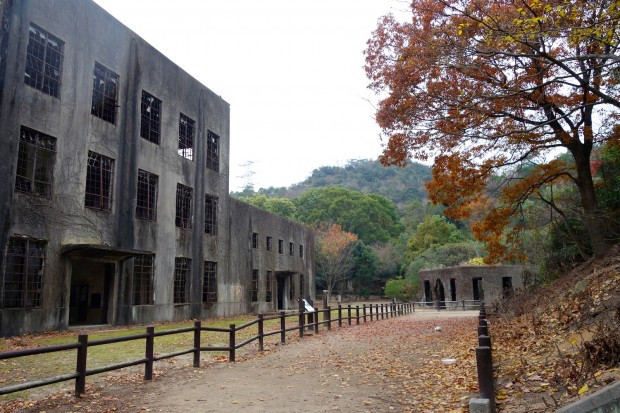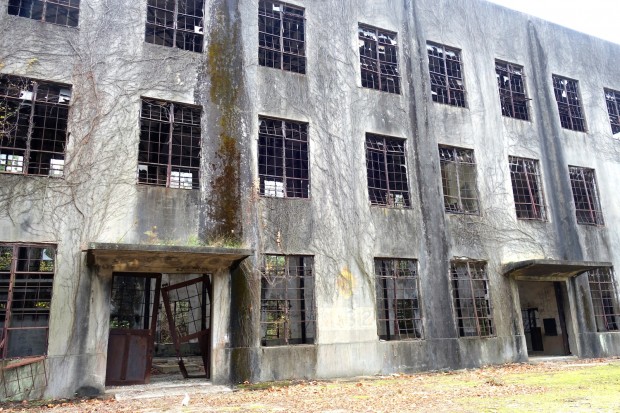 Many speculate about the reason why there are so many rabbits on the island, and the true reason still remains undisclosed. There are two popular theories that run rife:
The rabbits were used as guinea pigs in the poison gas factories, and abandoned on the island when the facilities were shut down.

The rabbits were brought as pets by Japanese school children on school excursions, and left behind.
In both cases, the rabbits multiplied and voila! Rabbit Island. Which theory rings true? It's anyone's guess!
The poison gas museum is well worth a visit as well, and only costs 100 yen to enter. The museum is situated a short 2 minute walk from the hotel, and a map can be obtained from the reception. Tickets are bought vending-machine style, and there is no one manning the museum; as with the whole of Japan, the operation is based on integrity.
From the hotel or museum, it is a leisurely 15 minute walk back to the ferry terminal. Just follow the coast, and you will be rewarded with sweeping views: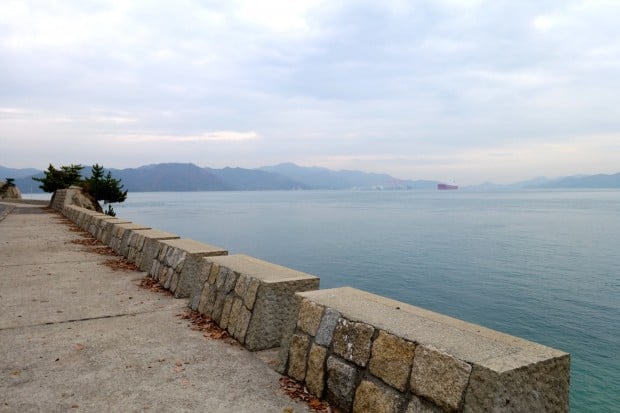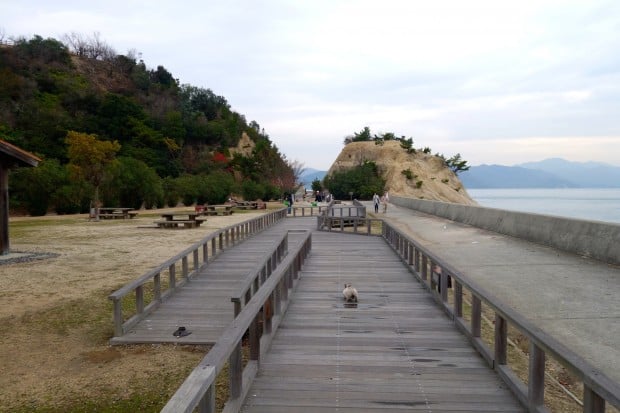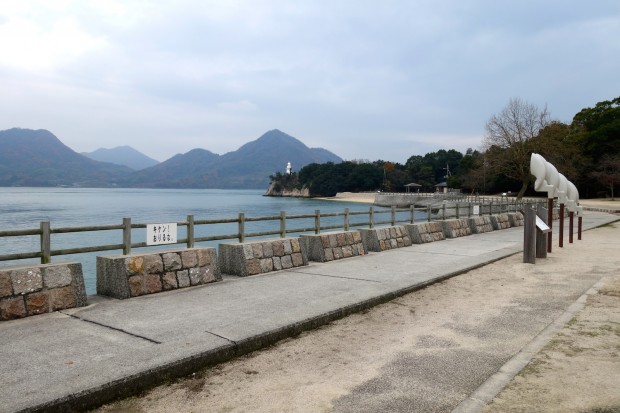 Tip: Don't spam all your rabbit food at the beginning, and remember to keep some for the bunnies along the way! And trust us when we say there will be many, many, many more rabbits along the way.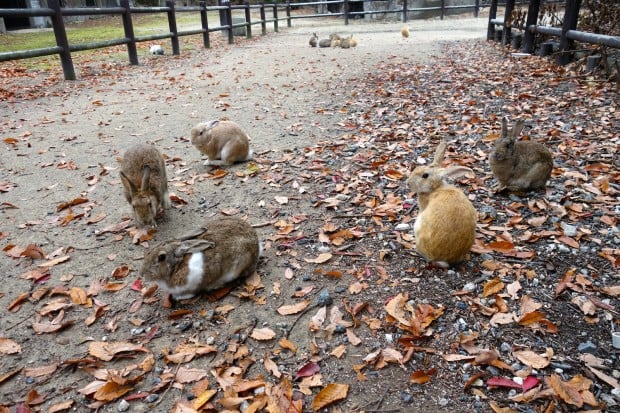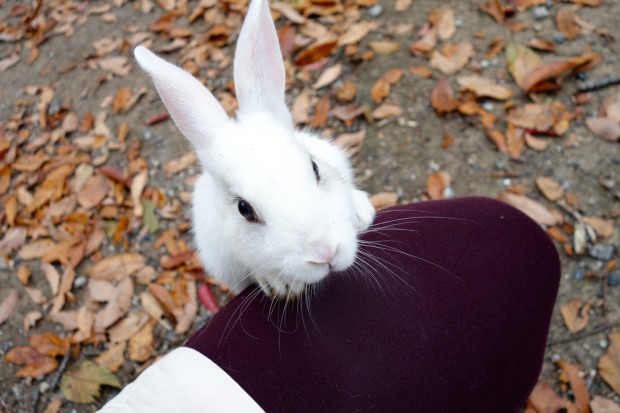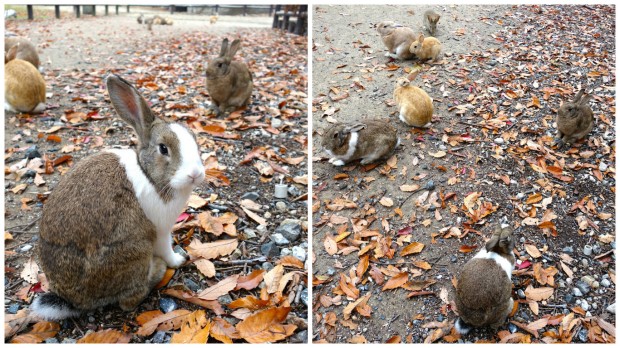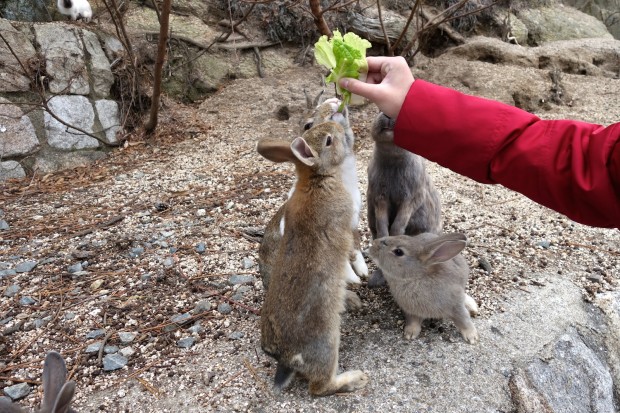 You can also opt to take a walk to the lighthouse, shrine, or take a hike up to the observation platform.
Once you get to the ferry terminal, you can have one last "bunny-loving" session before you board the ferry.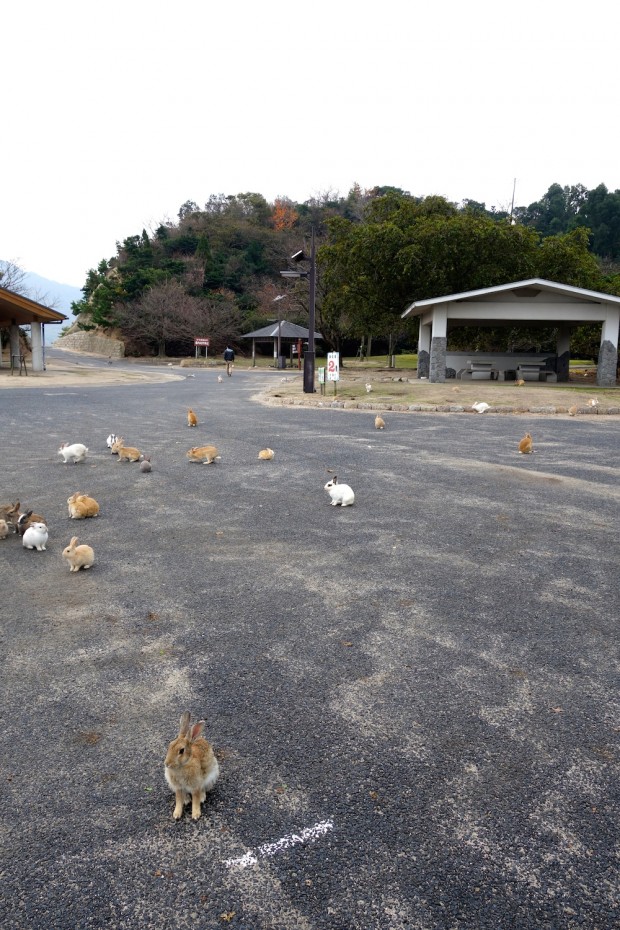 Okunoshima, Japan's Rabbit Island, is indeed one of Japan's hidden gems. It is an exotic destination for anyone who's a fan of all things fluff, brown doe eyes, and as the Japanese say it – anything kawaii (Japanese for 'cute')! So what are you waiting for? Plan your journey to Okunoshima now!
Also read: Cuteness Overload: 10 'Kawaii' Things to Do in Tokyo