Contributed by OneThreeOneFour
Many couples love Bali as a pre-wedding destination because it offers plenty of photoshoot locations, from the grand mountains in the north to the rocky cliffs in the south. But sometimes, the Island of Gods can get a little crowded and touristy. Here, we will share with you seven photoshoot locations beyond the island of Bali for couples who are looking for a unique look and feel for their pre-wedding photos. For those who seek something different, venture out of Bali to the nearby islands of Nusa Lembongan and Nusa Penida, because there are picturesque hidden gems littered across these islands!
Nusa Lembongan
More and more couples these days are considering Nusa Lembongan. This small island just 30 minutes by ferry from Sanur beach offers plenty of options for your pre-wedding photography. Besides Devil's Tears and the Yellow Bridge, there are other locations such as Dream Beach and Mushroom Bay that you can consider.
1. Devil's Tears
Devil's Tears is probably the most iconic photo location in Lembongan Island, and for a good reason: this spot offers an AMAZING sunset view.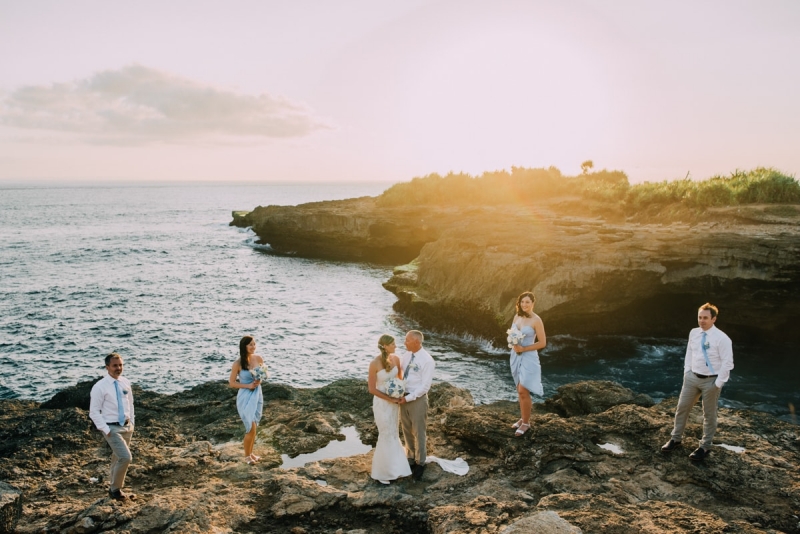 Komang of Diktat Photography shared some tips, "avoid the tourist crowd by doing your pre-wedding session during a weekday. Wait out for the wave to come for a water blow to have a beautiful backdrop, but be careful because the rocks can be sharp and the ground slippery."
2. Yellow Bridge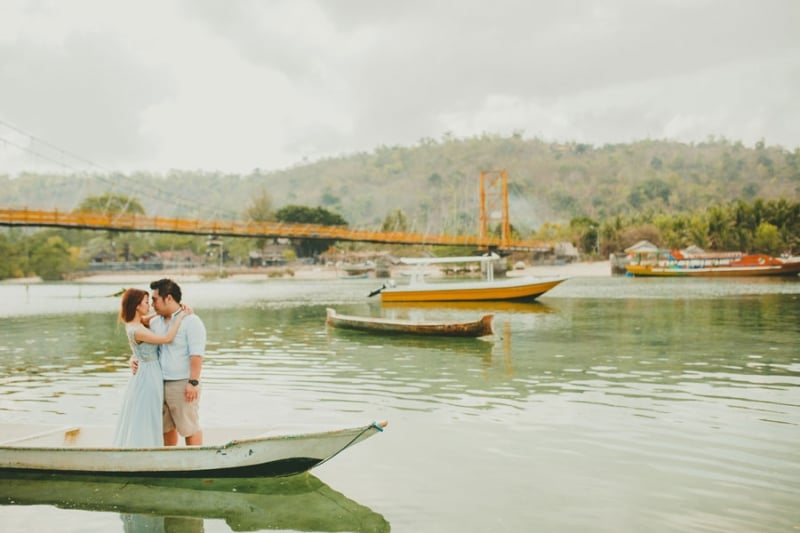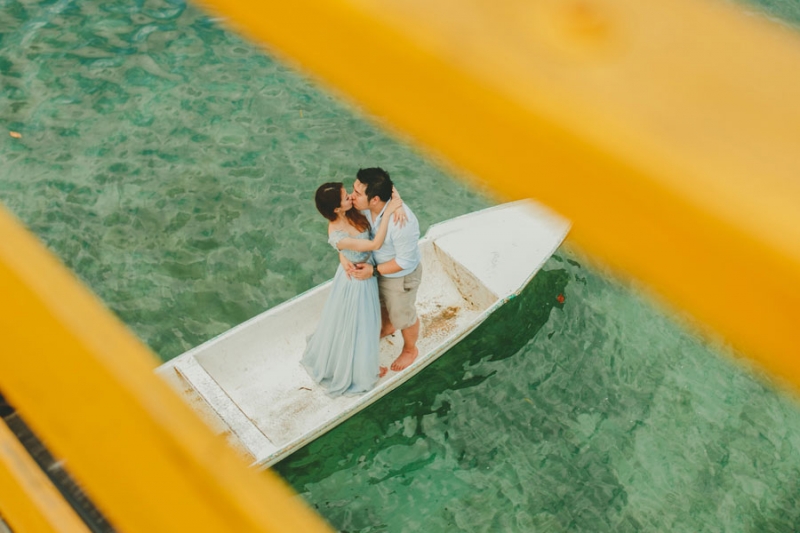 The suspension bridge connects the two islands of Nusa Lembongan and Nusa Ceningan. Rent a small boat and let your photographer capture beautiful photos. We highly recommend you to come here in the morning to catch the soft light. There are seaweed farms just a short stroll away, where you can take a few shots too.
3. Mangrove Forest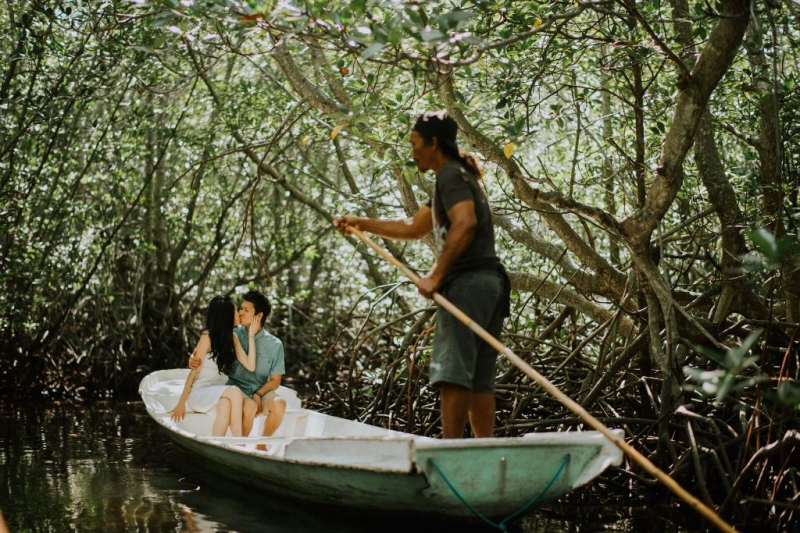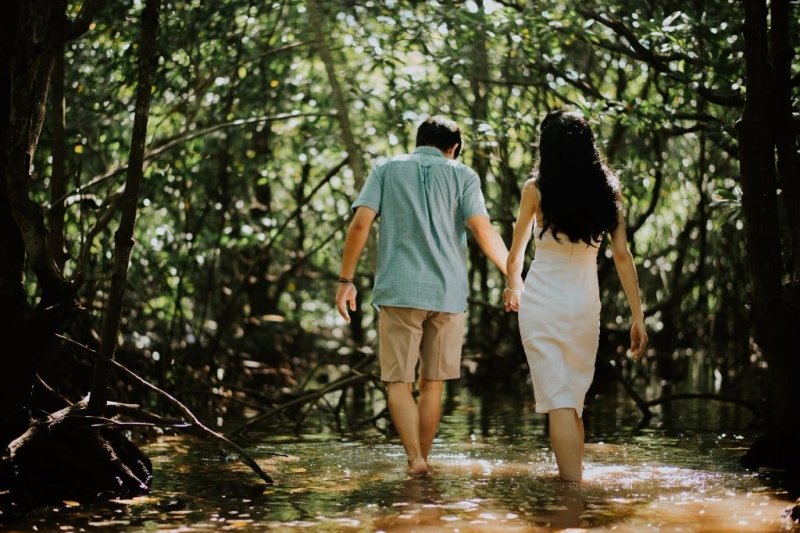 Nusa Penida
The largest of the three islands off the southeastern coast of Bali, Nusa Penida is well known for its pristine diving sites. Nusa Penida lacks many tourist facilities, so do not expect the modern luxuries you'll find in Bali here.
4. Crystal Bay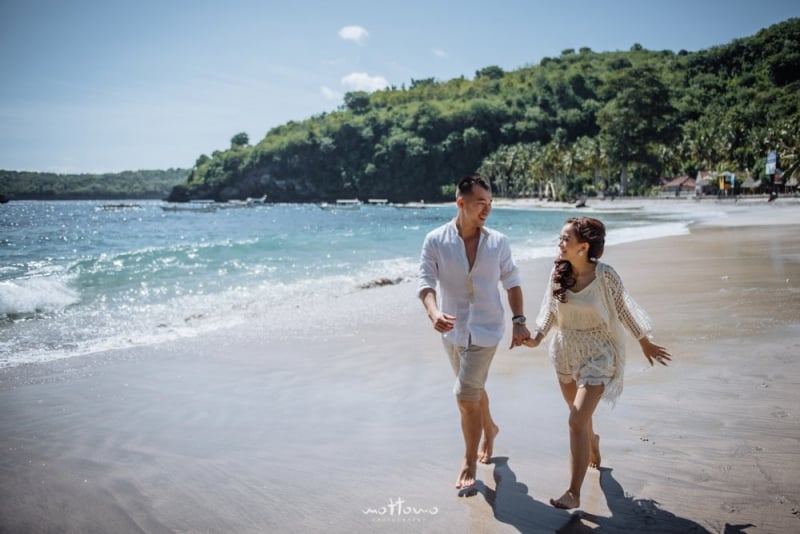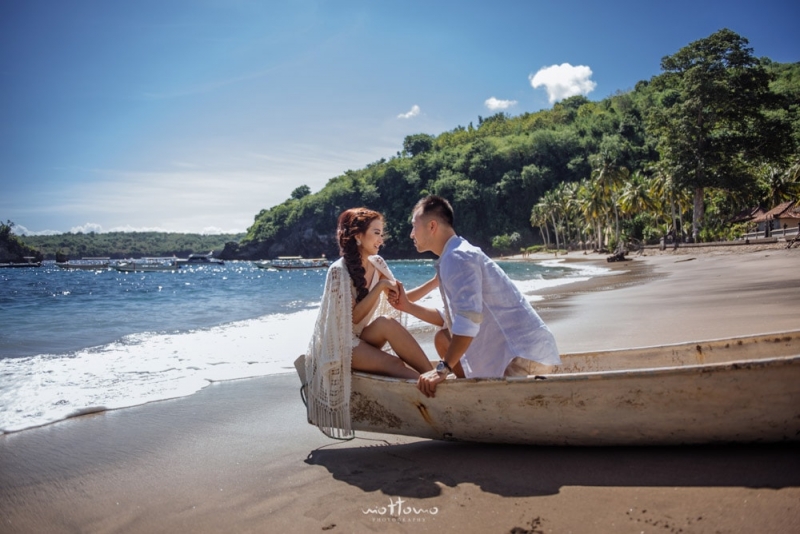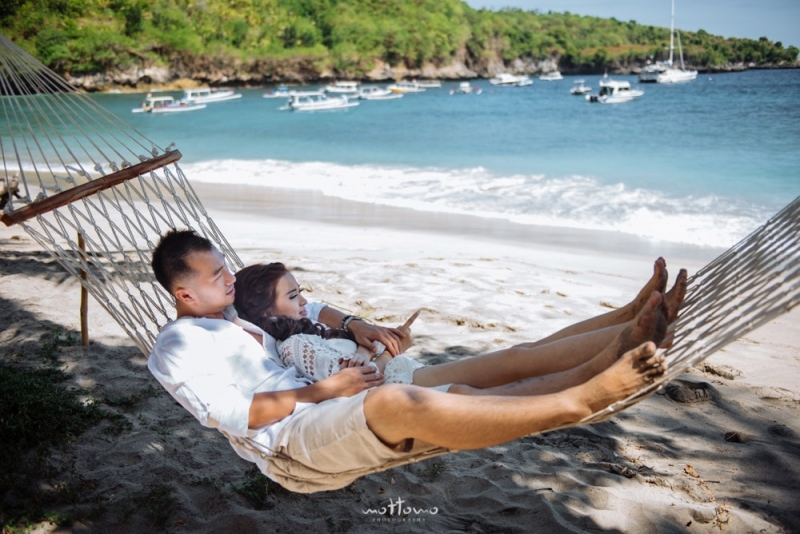 Crystal Bay is one of the defining beaches of Nusa Penida. Here, beautiful coconut trees line up along the crescent-shaped beach. The best part is that it is easily accessible by car! "Be sure to check out the hidden cliffs on both ends of the beach", says Krishna from Mottomo Photography.
5. Bukit Teletubbies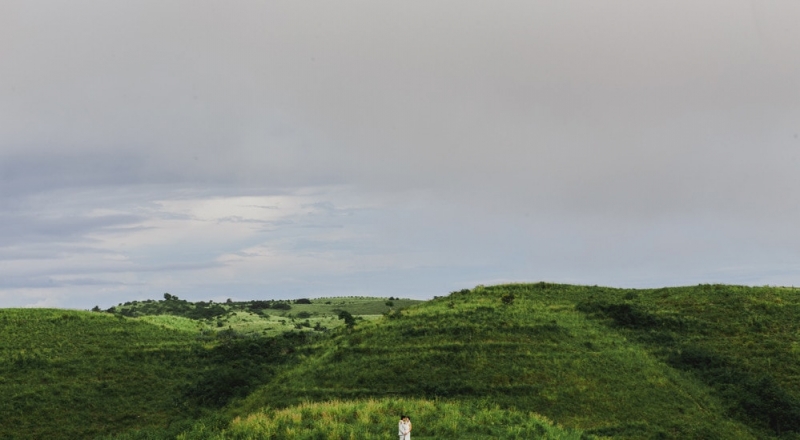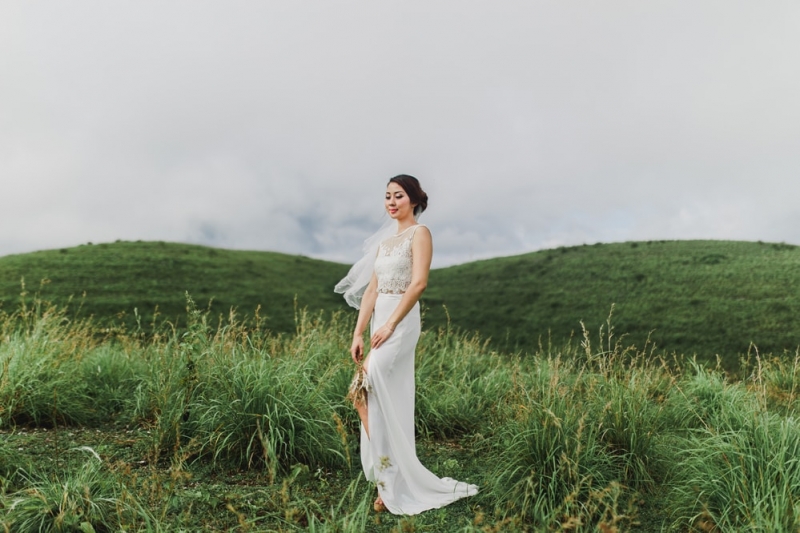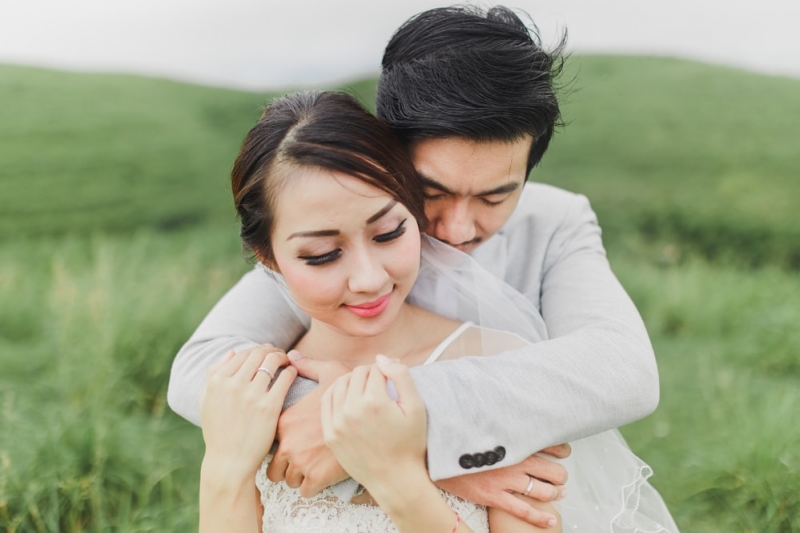 The hills' name is inspired from the popular children's TV show Teletubbies. "I would highly recommend this location. A good timing for the photoshoot would be in the morning, during sunrise", says Bayu from Punyan Photography.
6. Pantai Pasih Uug and Angel's Billabong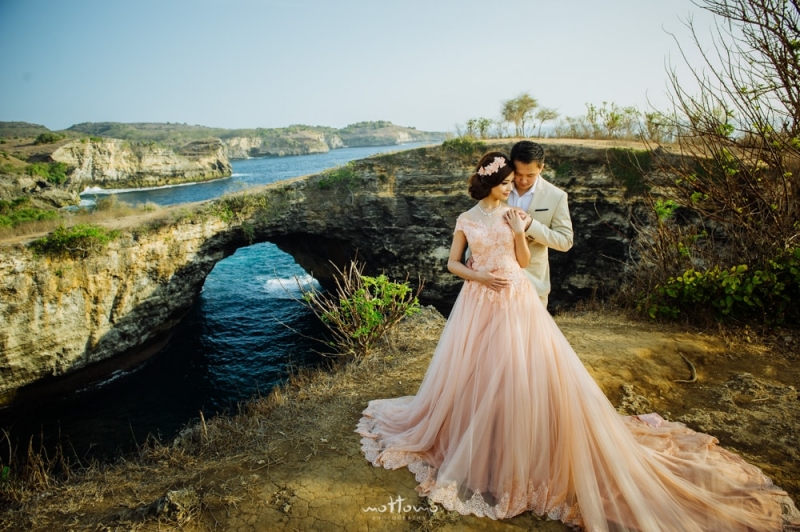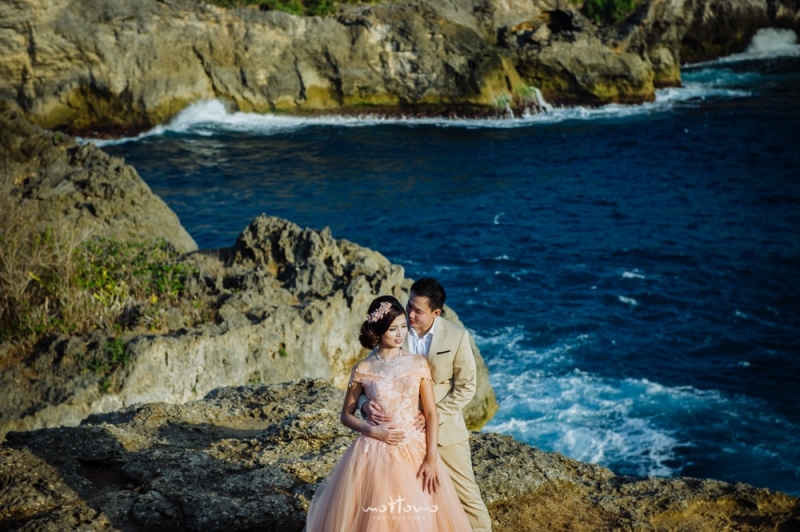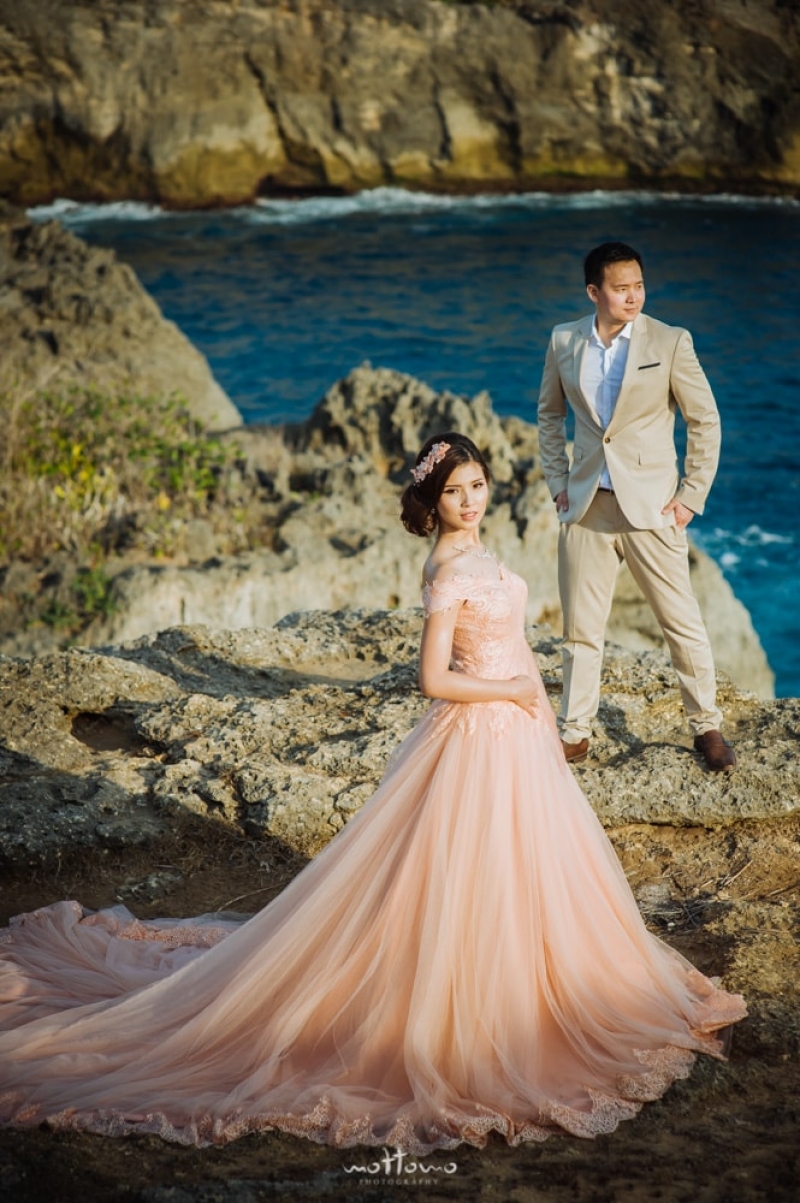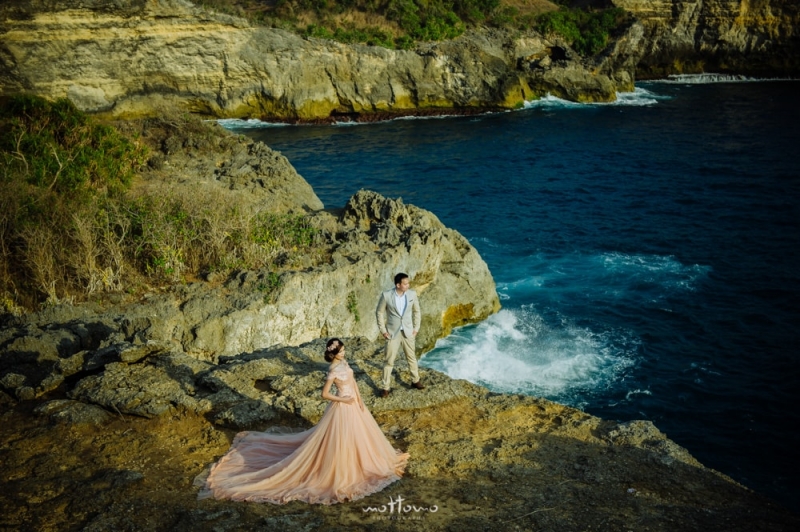 Located near Sumpang Village, Pantai Pasih Uug, meaning "damaged beach", is a unique formation of rock and waterways. Angel's Billabong, which is a short walk from Pasih Uug, is another amazing rock formation that creates a natural infinity pool.
Tip: Take extra care when climbing down to the "pool". It is not advised to swim during high tide or when there is a swell.
7. Atuh Beach
This is one of the most incredible views of limestone cliffs and clear blue waters you will ever see. Alight from your car and take a 10-minute walk to the viewing points of magnificent Atuh Beach.
These seven photoshoot locations off the main island of Bali are great alternative choices for couples looking for an untouched location. Do you have any other great locations to share? Let us know in the comments!