Travellers would flock to Mount Fuji for the spectacular views on the other side of the peak. Meanwhile, Buddhists believe that it serves as a gateway to another world. Whatever the noble cause for one's visit, we can all agree that this near-perfect symmetrical mountain with its white crowning glory is a stunning view from afar. That said, why not find the best places to stay near Mount Fuji for your next getaway in Japan?
Imagine waking up to the breathtaking view of this summit from the comfort of your bed. Magnificent! And that can be made possible with these incredible Mount Fuji Airbnb homes blessed with splendid scenery.
Also read: 10 Unique Airbnb Homes in Japan for the Trip of a Lifetime
Best places to stay near Mount Fuji that you can book on Airbnb
1. This adorable cottage in the woods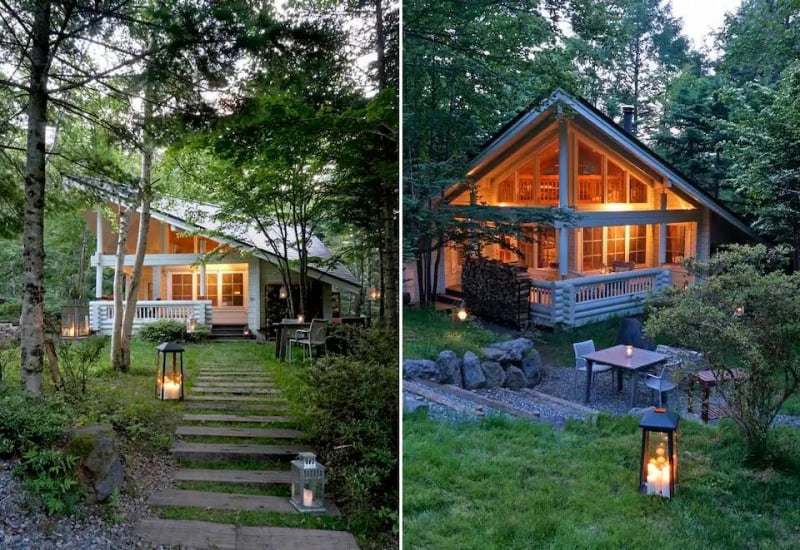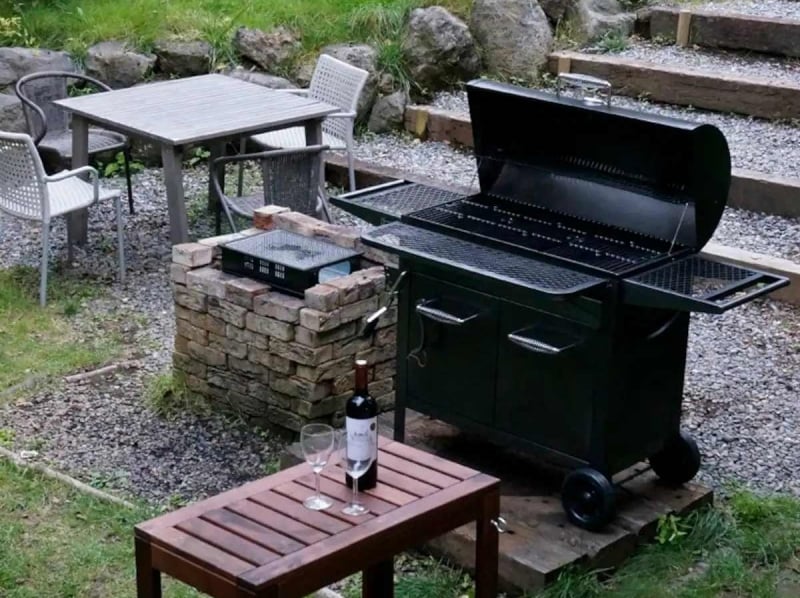 Listing name: 富士山ログハウス(富士山)
Listing type: Entire cabin
Max. no. of guests: 4
No. of bedrooms: 2
Tucked away in Mt. Fuji National Park is this little log house that immerses you in nature's beauty. The clean wooden interior with natural light penetrating through the windows adds to the space's tranquillity — perfect for a quiet time with your loved ones!
Have fun BBQ-ing with your family near the cottage's terrace. And if you're craving Japanese cuisine, feel free to order sushi, donburi, kamameshi, and more with the delivery service provided by the host. Travelling with furry friends? Be sure to bring them around the house's garden for a great playtime. 
Psst, don't miss the chance to get cosy around their fireplace before you sleep in their futon bed!  And when you're ready to explore, the cottage is already a few metres up the mountain. So, continue your hike up the snow-capped mountain whenever you feel like doing so. Hands down the most convenient Mount Fuji Airbnb you should check out!
2. This minimalist room in a hotel near Mount Fuji Station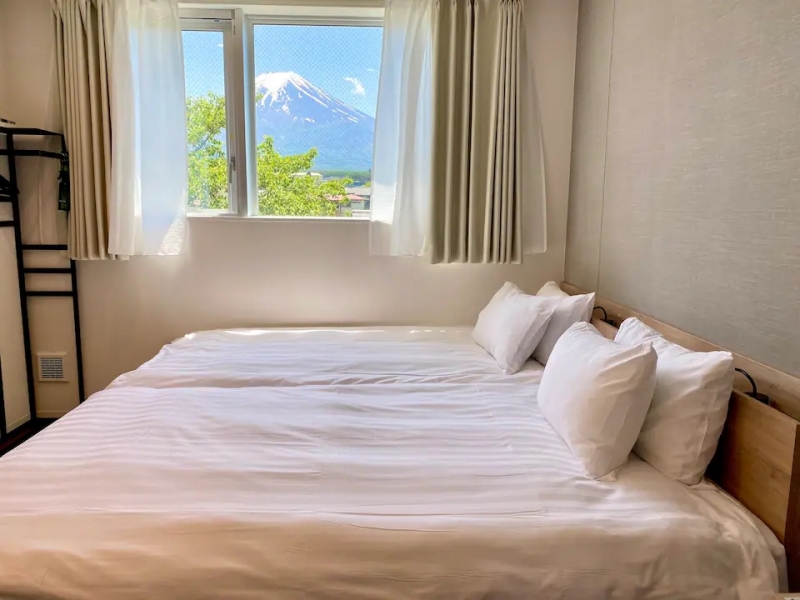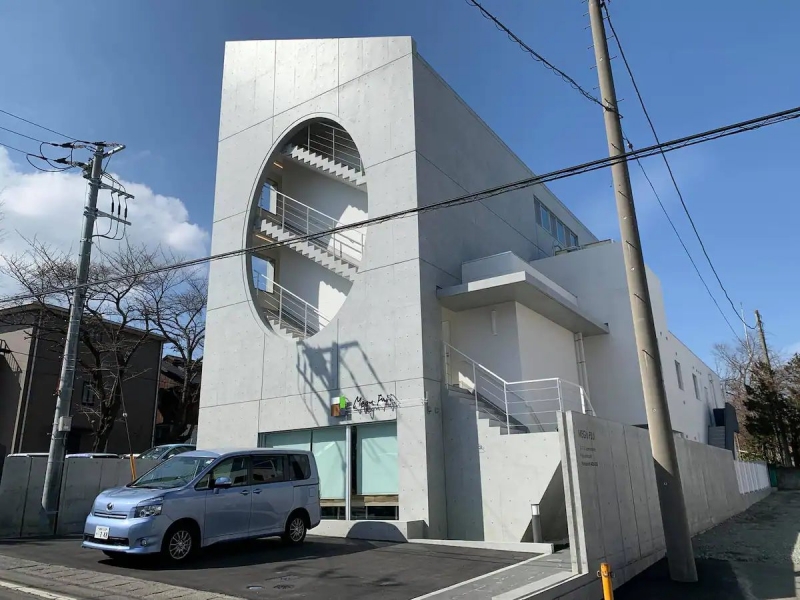 Listing name: Mt. MeguFuji 2021 – 富士山付きツインルーム
Listing type: Entire room
Max. no. of guests: 2
No. of bedrooms: 1
This white-themed lodge for two offers more than stunning views and comfort. Imagine waking up from a good night's sleep to the postcard-like scenery of Mount Fuji? Heavenly! Plus, the fair-coloured walls and bed help clear your mind as it exudes a relaxing ambience to the eyes.  Oh, and did we mention free parking?
Enjoy free beverages from their kitchen or take some fresh air on their rooftop. And worry not if you forgot your basic skincare products — their lotion and facial cleanser are real saviours! When you're out of indoorsy things to do, Fujikyu Highland, Tsukiji Temple, and Lake Kawaguchi are just a few stations away from the space. Definitely a hotel near Mount Fuji that's worth your holiday!
3. This spacious villa in the midst of lush greenery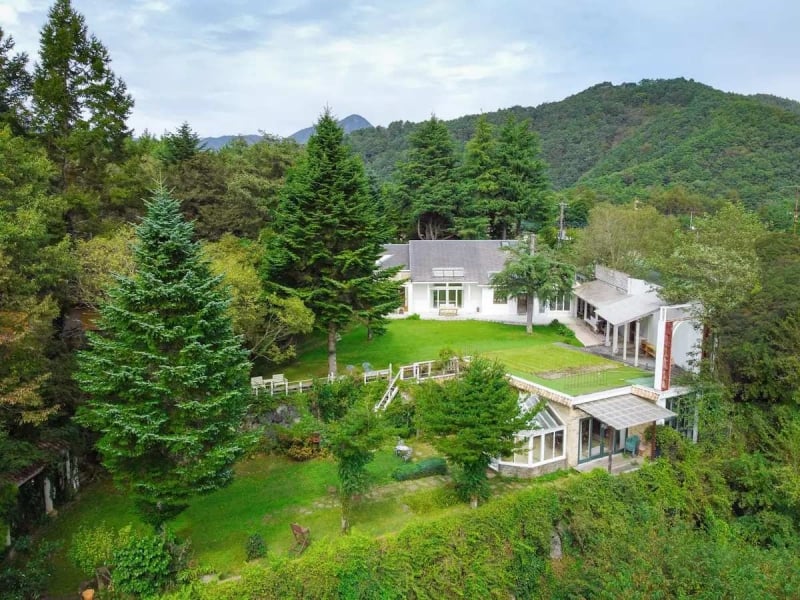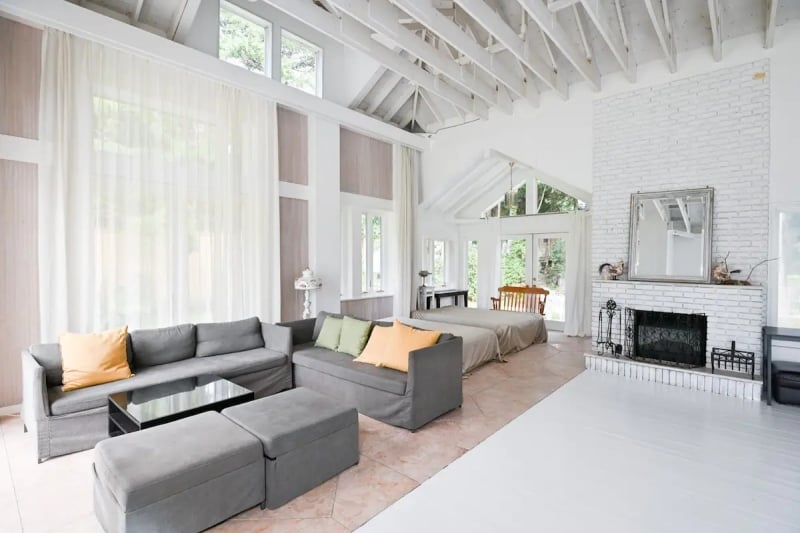 Listing name: 【GO TO 適用】富士山が素晴らしい景色のプライベートガーデン
Listing type: Entire villa
Max. no. of guests: 16+
No. of bedrooms: 2
For those planning to travel to Japan in a large group, this stylish Airbnb near Mount Fuji welcomes you with open doors. The modern design embedded with a neutral colour backdrop gives the space a more welcoming and much cosier atmosphere — just the things you need for a peaceful getaway with your fun bunch. 
Get your itinerary ready for all sorts of exciting games with your friends, as their spacious garden is a perfect place to stretch out and breathe the fresh air. Want some alone time? Sip a coffee or two in their kitchen, or take a refreshing dip in their cool designer bath.
You can easily spot Mount Fuji from the stay's backyard, so expect numerous open space photo-ops around the lawn. FYI, supermarkets, shops, and restaurants are easily accessible by car within a 10-20 mins drive. So, be sure to explore the outside, too, while you're there!
4. This pristine abode that lets you live like an anime character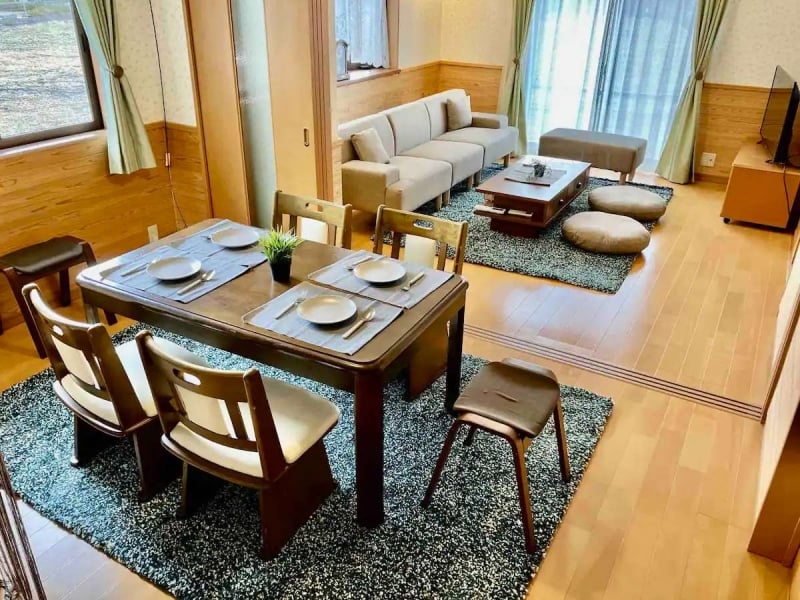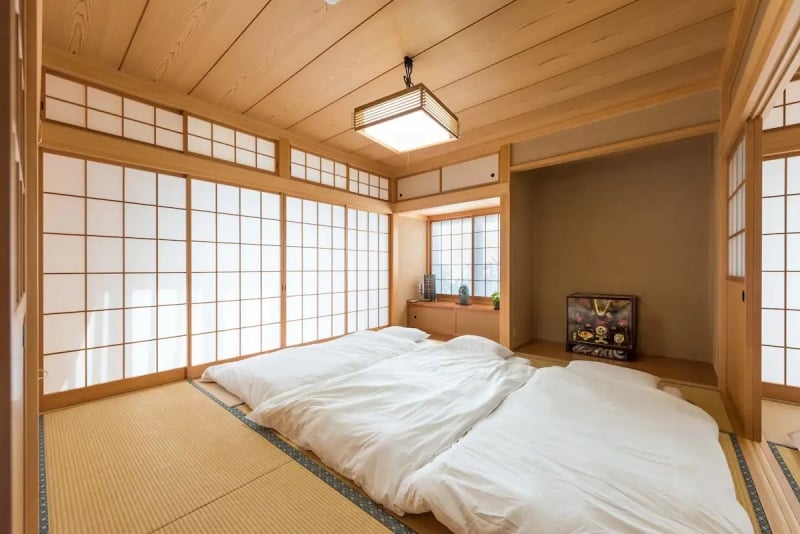 Listing name: Mt.fuji! Kawaguchiko /Japanese House /Bearhouse #2
Listing type: Entire home
Max. no. of guests: 10
No. of bedrooms: 3
Relive slice-of-life scenes from your favourite anime series in this gorgeous Japanese house fit for large groups. We're talking neat open floor plans and iconic tatami rooms with sliding doors! Plus, the space combines ancient architecture with modern minimalist concepts that exude a homely vibe to every visitor.
What's a Japanese house without a bathtub, right? So, don't miss the chance to get a relaxing dip in their clean, modern-like hot tub before you get on the day. Afterwards, watch some TV shows with your family in their living room. Or, simply have a fun chit-chat with your loved ones as you steal the breathtaking view of Mount Fuji every chance you get. 
Getting bored inside? Walk to Kawaguchiko Station, that's only five minutes away from your stay, and explore the beautiful Lake Kawaguchi up close. And when your tummy's rumbling, convenient stores and restaurants are easily accessible on foot. So, next time you seek places to stay near Mount Fuji, include this Airbnb on your list!
5. This neat residence with a spacious terrace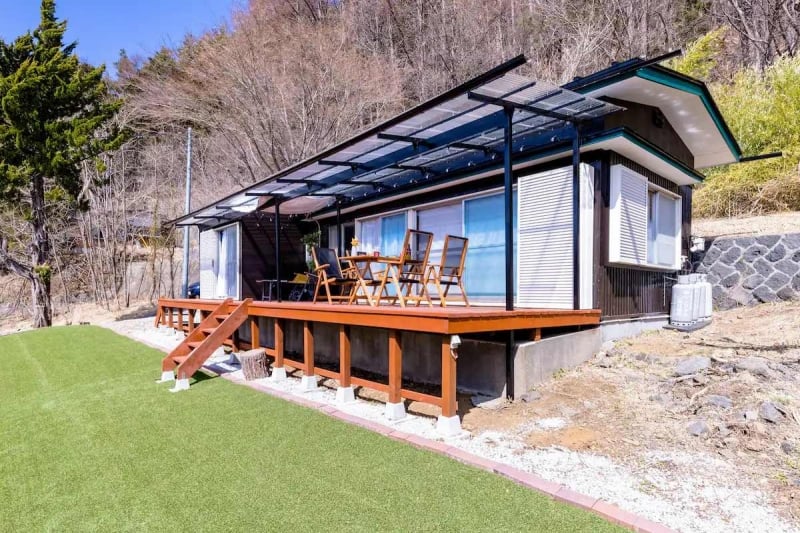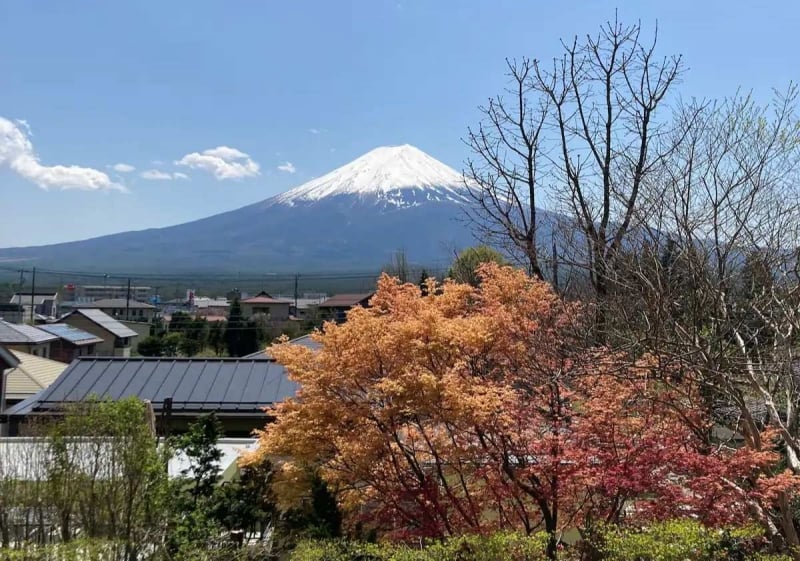 Listing name: 富士山の素晴らしい眺め!ペットOK!広々としたテラスと庭園で非日常体験!河口湖や富士急ハイランドからも近い!
Listing type: Entire home
Max. no. of guests: 4
No. of bedrooms: 1
Among the best places to stay near Mount Fuji is this cosy cabin-like home with a wooden interior. The immaculate interior, plus the great lighting from every corner of the house, add a stylish and warm touch to the space. 
Aside from lazing around your comfy bed and watching Netflix all day, why not have a fun BBQ time with your friends? Afterwards, munch down your hearty meals as you view the beautiful landscape of the majestic mount from the space's terrace. At night, you can stargaze to your heart's content from the spacious deck.
Psst — did we mention you can bring your dogs too? Although the stay is located in a quiet neighbourhood, you can easily access Kawaguchiko Station and take local buses to explore its iconic lake… or even travel to Tokyo! So, book this peaceful and convenient Mount Fuji Airbnb now before it's too late.
6. This traditional Japanese inn with free bikes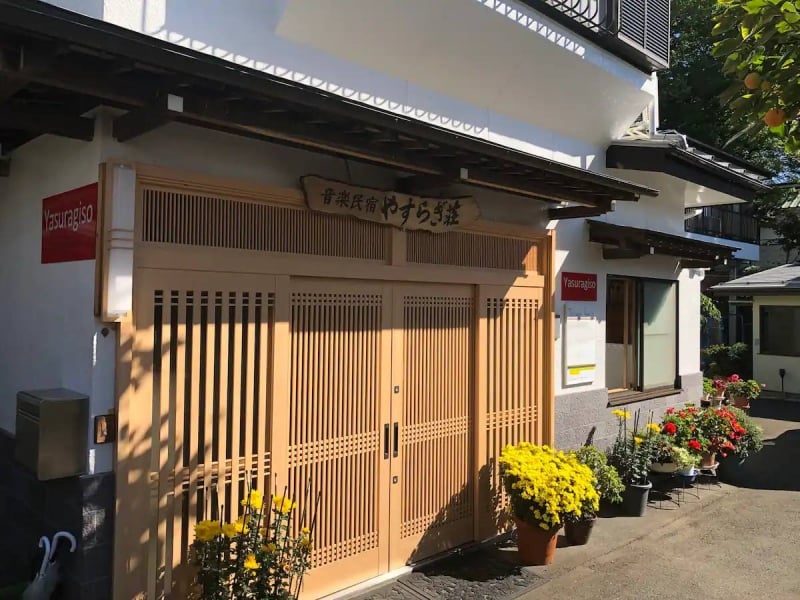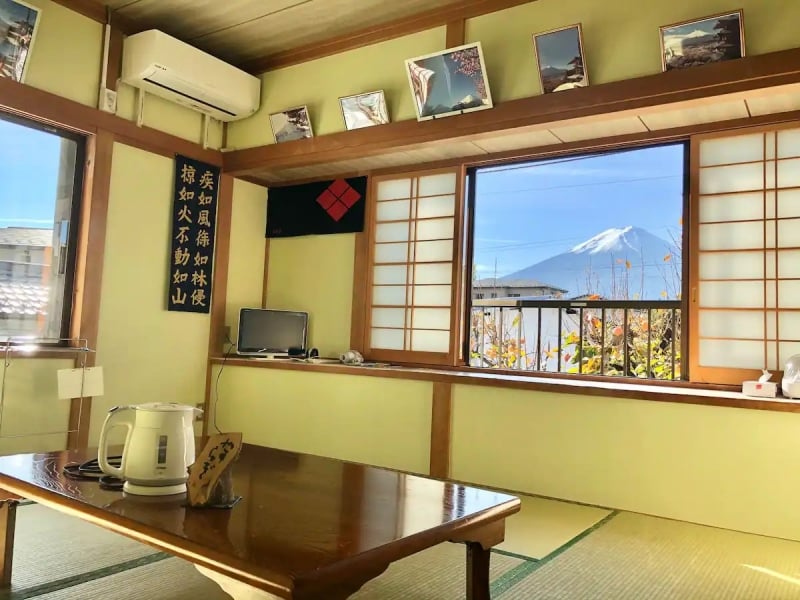 Listing name: A room where you can feel Fuji beautiful , close!!
Listing type: Entire room
Max. no. of guests: 2
No. of bedrooms: 1
If a contemporary Japanese house doesn't fancy you much, this classic Japanese lodge will be a perfect place for you to stay. Not only can you take in the splendid view of Mount Fuji from the comfort of your bedroom, but you can also borrow the host's bicycle to tour around Kawaguchiko town during your free time. 
Looking for something to explore other than the iconic Lake Kawaguchi? Head to the hot spring within walking distance of your stay. And grab some food from the convenience stores or dine at the nearby restaurant along the way. Undoubtedly, a convenient Airbnb near Mount Fuji that will let you experience an authentic Japanese stay!
7. This luxurious dwelling with a balcony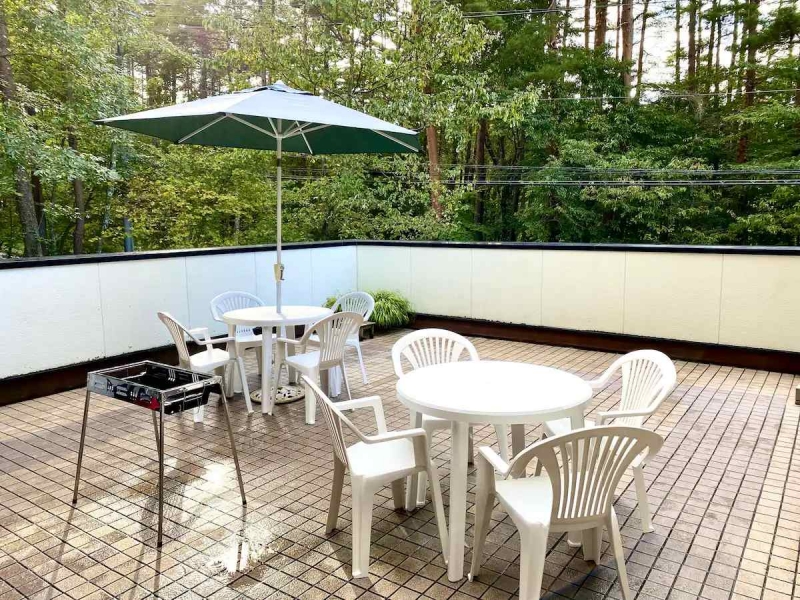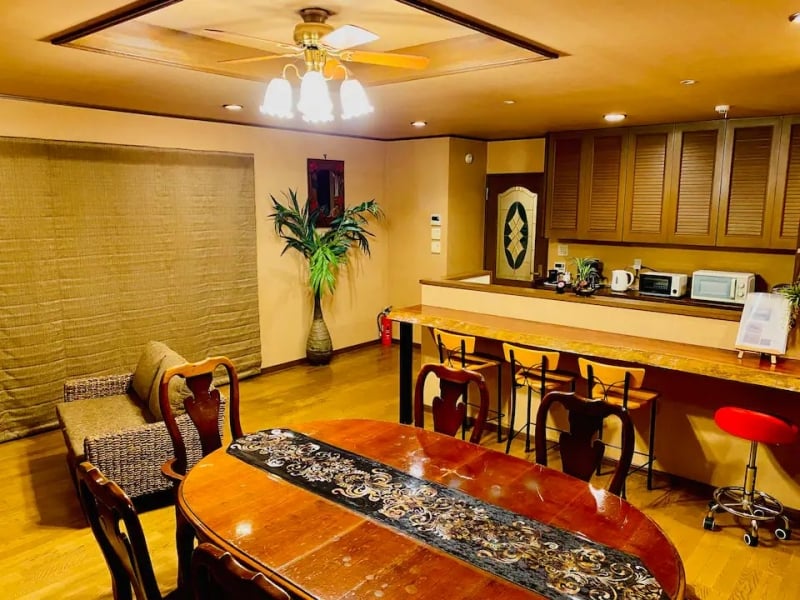 Listing name: 富士Q門司山の近くのガーデンヴィラ  ハイランド
Listing type: Entire villa
Max. no. of guests: 10
No. of bedrooms: 4
Nestled in between the greenery at the foot of the highest peak in Japan is this private Airbnb near Mt Fuji that screams luxury all over. The shiny wooden furniture and floorwork, paired with aesthetically pleasing yellow lights, evoke a warm and exclusive ambience to the space. 
Wake up to the sound of birds singing in the morning and eat your breakfast on their spacious balcony afterwards. At night, enjoy BBQ-ing with your loved ones or simply stargaze at the starry sky above you. Psst, if you go to this abode in summer, the little ones will enjoy dipping inside the children's pool on the terrace.
And when you feel like exploring the outside, Arakurayama Asama Park and Fuji-Q Highland are within the vicinity of your stay. Hands down a commodious and strategic Mount Fuji Airbnb that's worth the splurge!
8. This minimalist Mount Fuji Airbnb perfect for big groups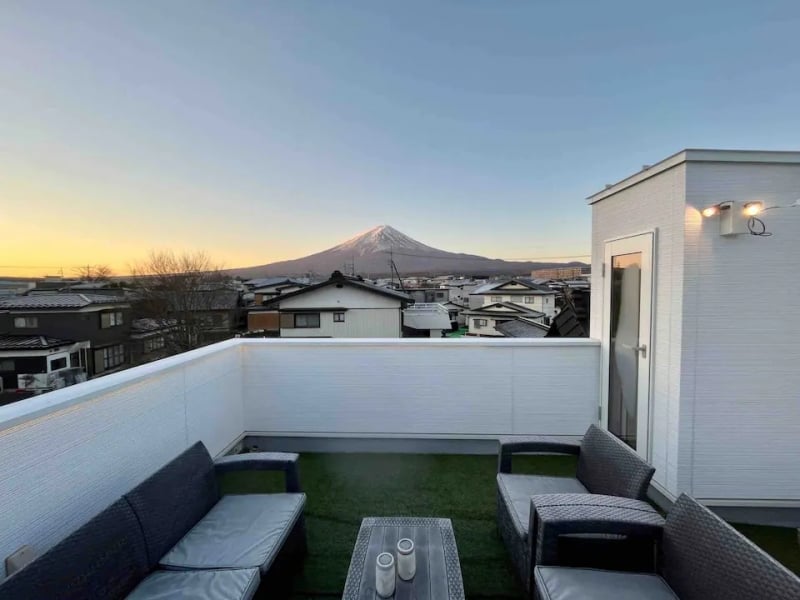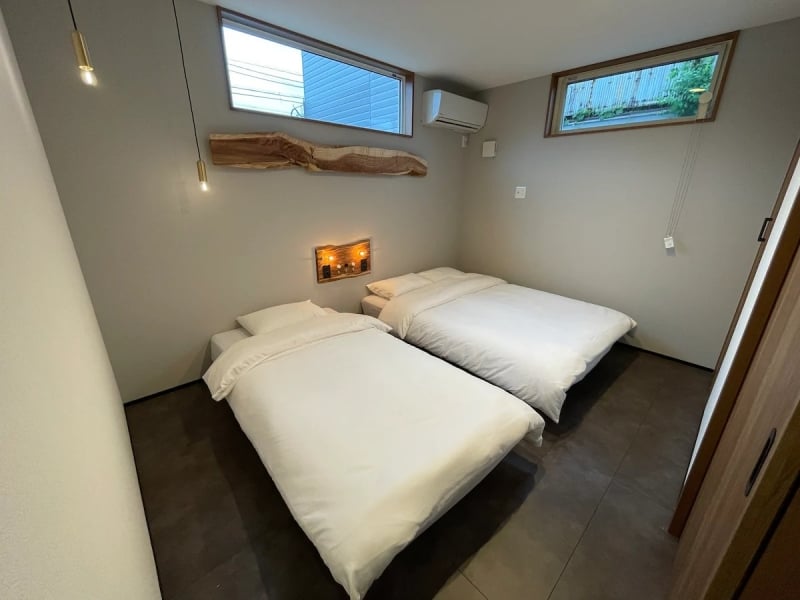 Listing name: ザ・ルーフ1889から富士山と河口湖を満喫!
Listing type: Entire villa
Max. no. of guests: 10
No. of bedrooms: 4
When we talk about the most scenic places to stay near Mount Fuji, this monochromatic vacation home will always make it to the list. Many spend their days on the rooftop that lets you marvel at Fujiyama's panoramic views, and you should do that too! The top reviews also praised the host for keeping the space neat and clean at all times meanwhile, the amenities provided are brand new.
You will find four Western-style bedrooms with six tatami mats and futons at your convenience. Plus, you can cook a simple dish in their well-equipped kitchenette. If you feel like taking in the fresh air, Kawaguchiko Station and Lake Kawaguchi are within a six-minute walking distance from the stay. Psst — local restaurants are also nearby if you're craving Japanese cuisine. So, add this awesome Mount Fuji Airbnb to your bucket list today!
9. This kawaii hostel for travel buddies on a budget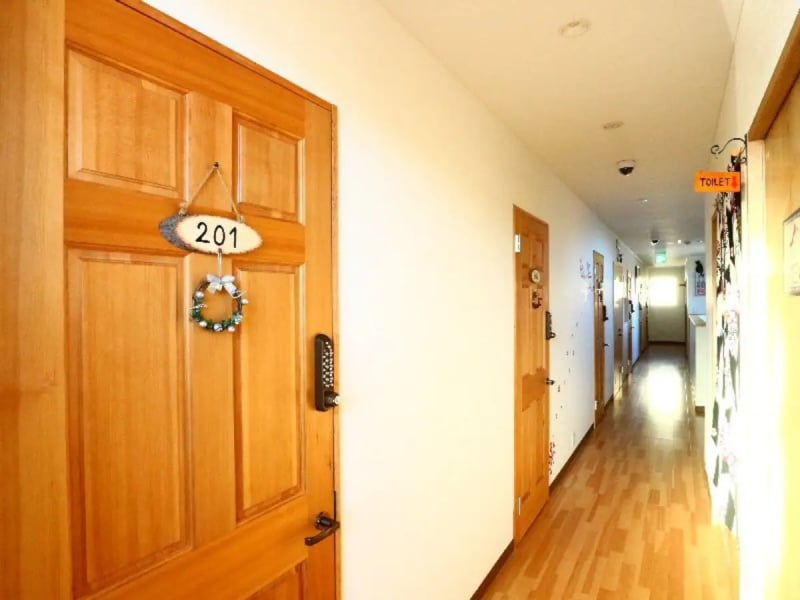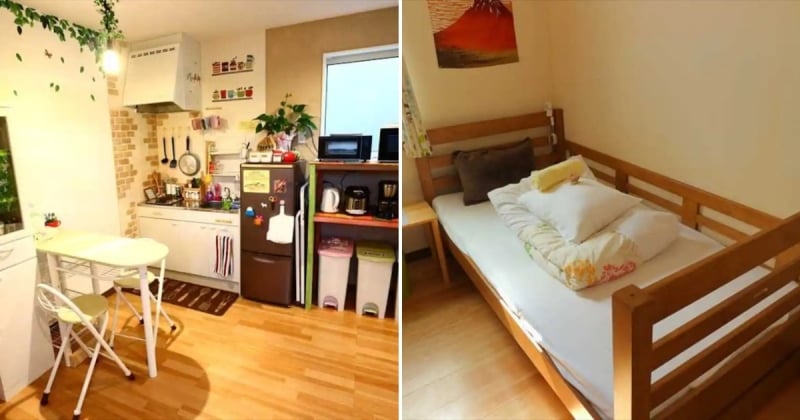 Listing name: Hostel Fujisa YOU Private room
Listing type: Entire room
Max. no. of guests: 3
No. of bedrooms: 1
This hostel-style Mount Fuji Airbnb will be a refreshing experience for travelling friends who seek a comfy stay near the majestic peak. Aside from the stunning vista of Fujisan from the bedroom's window, you'll also be blessed with a cosy bunk bed and a single bed for sleep.
You can rent a bike for ¥1,000 per day from the host and tour around the nearby attractions such as Lake Yamanaka, Oshino, Chureito Pagoda, Aokigahara Forest, and Gotenba Premium Outlet. And after you're done exploring, return to this homely abode for a peaceful rest!
10. This pleasant hostel in Fujiyoshida City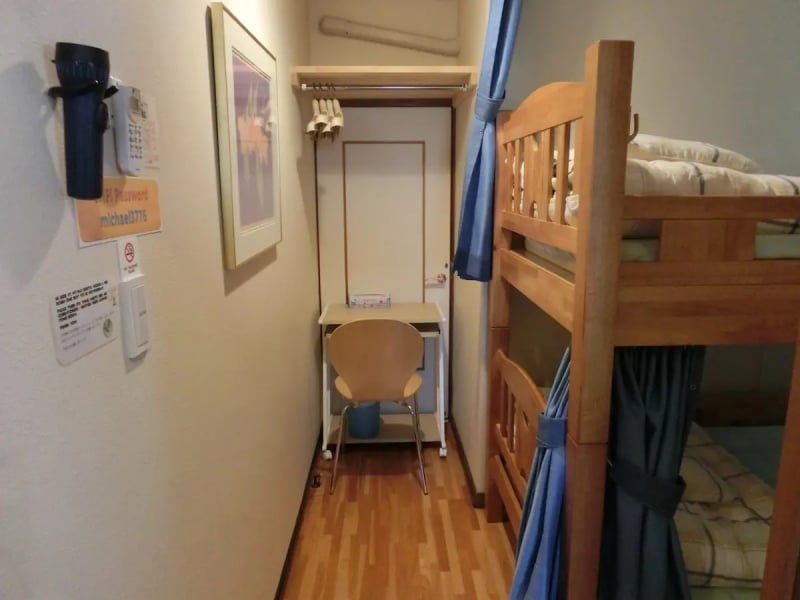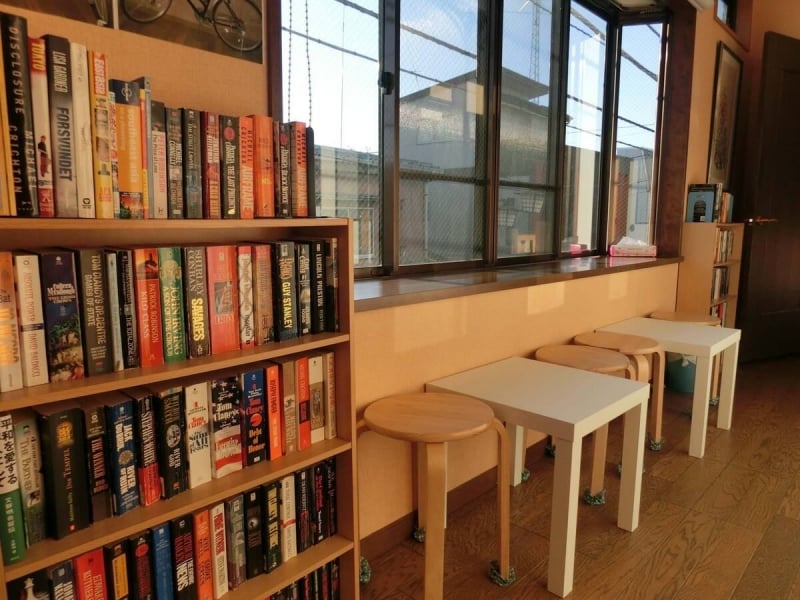 Listing name: Mt Fuji Hostel Michaels Western Style Private "P2"
Listing type: Entire room
Max. no. of guests: 2
No. of bedrooms: 1
One of the comfiest places to stay near Mount Fuji is this homey hostel room, perfect for couples and besties. The room's arrangement can be a good conversation starter for some throwbacks to high school or uni days, especially if you used to live in a dorm. 
Get your tasks done at the space's desk if you're working while travelling. Or if you prefer some quiet reading, a mini library with English books and magazines can be found on one of the floors. If you're up for some adventure, take your travel buddy to Chureito Pagoda: a remarkable Fujiyama vantage point that's only a 20-minute walk from your stay.
And after a long day of exploring, fill up your tummy with some heart meals from Michael's Cafe and Pub (owned by the host)! We assure you that this hostel-inspired Mt Fuji Airbnb will give you nothing short of comfort and a welcoming vibe throughout your stay. 
Also Read: 10 Affordable Airbnbs in Tokyo for Budget Travellers
So, what are you waiting for? Pick the comfiest Mount Fuji Airbnb of your choice then book your next Japan trip today!
Got a property you'd like TripZilla to feature? Inquire with us here.
---
This article contains affiliate links. When you book through these links, we may earn a small commission at no additional cost to you. All images courtesy of the respective property listings.